Time: April 30 2003 at 23:14:00
Name: Sonny Hollingshead
Location: Sand Springs
Comments:

Two more amusement parks to recall were Crystal City along old Route 66 (Southwest Boulevard) in Red Fork, and Sand Springs Lake, which also had a zoo.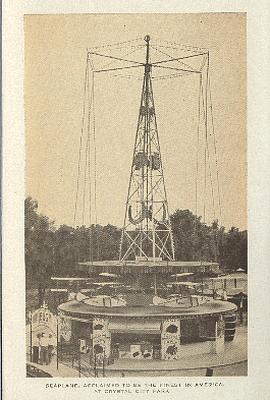 My dad and father-in-law both told me about taking the Interurban down Charles Page Boulevard to Sand Springs Lake to swim. Don't know when the park and zoo closed. The Interurban trolley stopped in 1956.
Older West-siders still talk about Crystal City, at the site of the now somewhat run-down Crystal City Shopping Center. Bought a few pairs of pants at Rebel Jeans there in the early 70s.
Sand Springs cinema houses were the Star and Harmony. The Star was on Main Street and the Harmony was along Second Street between Lincoln and McKinley. If you walk down the south side of 2nd street today, the old tiled entrance from the sidewalk into the theater remains with the word "Harmony" still embedded in the remaining tiles.
I saw my first drive-in movie, "Konga", at the Capri Drive-in on Charles Page Boulevard circa 1959. The Capri was then owned by a Mr. Jones, father of a friend of mine. The new Bowl-Ero Lanes were next door.
And, speaking of bowling establishments, I remember reading a few months ago about the death of the owner of Huckett's which was, I believe, located about 12th and Main.
I found these two images on eBay a few weeks ago with this text:

Souvenir of Crystal City Park, Tulsa Oklahoma contains 18 views of amusement or carnival rides, Zingo giant roller coaster at night, airplane or seaplane ride, concession stand, Casa Loma dance hall, swimming pool, man riding train at miniature railway station, roller skating pavilion, Ridem Dodgem ride building, picnic areas, boating on lagoon, monkey island, juvenile playboy ride at playground, midway at night with lights glowing. Fun to look at, dated 1927.

So Zingo has been around quite awhile, in one form or another. The look of the park reminds me of amusement parks described in Ray Bradbury stories.