M. Ransom - 05/15/99 01:47:15
Location: Tulsa
Favorite Tulsa TV personality: Tuffy the Tiger


Comments:
How about that---Tuffy has entered the building! Wayne, we're glad to hear from you. We'd like to hear more about your career.
I just had a long chat with Roy Pickett, KTUL Photog mentioned by Mike Bruchas today. He is still sharp at 86. He told me some stories about working at Armed Forces Network in Munich before coming to work at KTUL radio. Roy was quite a wheeler-dealer with mead (also known as "wild moose milk" and made from sugar and whey) produced at a cheese factory in Germany. He parlayed this into a large supply of Italian wine that improved the AFN mess considerably.
He also recalled the time that AFN was broadcasting from Munich and Stuttgart. Planes used the Munich signal for direction. Munich was on a flat area, while Stuttgart was higher in elevation. When a plane crashed into a mountain due to assuming the Stuttgart signal was the Munich signal, they were ordered to broadcast a warning every 5 minutes or so.
He also remembered when Griffin-Leake acquired the station in Muskogee that became KTUL. He remembered a fellow named George Ketchum shooting pictures of Patti Page before she was Patti Page.
He confirmed Mike's surmise that management at some point directed that all those files of pictures be thrown away.
He is not on the internet, alas, but I will be talking with him again later.

---

Wayne "Tuffy" Johnson - 05/14/99 20:13:47
My Email:tuffy78637@aol.com
Location: Tulsa, Oklahoma
Favorite Tulsa TV show: Mr. Zing and Tuffy, of course
Favorite Tulsa TV personality: Myself
Stupidest local commercial: The Rib Crib starring Tuffy
How did you find TTM?: KTULPHOTOG Link


Comments:
I am alive and well, still working at Channel 8 in production. Also, Shaggy Dog (Tom Ledbetter) is alive and well, living the retired life in Canyon City, Colorado.

---

Mike Bruchas - 05/14/99 16:17:50


Comments:
If I could step back in time....Roy "Pierre" Pickett was formerly with KTUL radio I think then later was the house photographer at KTUL. He also repaired and ran the film processor. Everyone on the Betty Boyd Show or of any note stopping at KTUL was captured by Roy on film. Probably long since thrown out now were hundreds and hundreds of "grip & grin" B&W shots in numerous file cabinets at the back of the news studio at KTUL in the 70's. Some of which are in Betty Boyd's book I recall. I remember seeing a shot of Mike Denney at his drums in these files when I worked there and learned Mike was "with the band" before his climb to success. If any of these still existed - it would be a great resource in the pictured history of KTUL. Knowing life - I am sure some newer manager had a studio crew member dump all in the trash. Hey it HAS been more than 20 years since I saw the files. Probably Betty Boyd took a lot of the best shots with most famous folks with her.....

As it happens, Roy still lives in Tulsa, and I left a message with his wife...let's see what happens...

---

Mark - 05/14/99 02:37:48
My Email:mjh5364@compuserve.com
Location: Jenks,OK
Favorite Tulsa TV personality: Beth Rengel


Comments:
I wonder if could find that music theme "Upbeat Institutional" if that's the title and if it's available in "wav" file, where can I be able to download it and play it on my system? That music theme was used at the start of KOTV 6 NEWS in the early/mid 70's. As I remember the pictures of Tulsa, the newspeople and the KOTV 6 NEWS logo interacted to the beats of that music. Remember Lee Woodward as announcer as well as weatherman? He did station identification in a sounding matter. KOTV Channel 6, First in Tulsaaa. And Clayton Vaughn, before closing the newscast with "Thank you for sharing your time. Good night." in the late 80's and 90's, he closed the newscasts in the 60's and 70's with a pause after reading letters from viewers and then Good Night!

"Upbeat Institutional"...seems like an oxymoron, or a Kraftwerk song.

Unfortunately, this is really a long shot unless someone happens to have a recording of it from TV.

---

Mike Denney - 05/14/99 01:10:07
My Email:kfmd.fairlanewest@gte.net
Location: Solvang,CA
Favorite Tulsa TV show: Mazeppa
Favorite Tulsa TV personality: Uncle Zeb & Betty Boyd
Stupidest local commercial: Reasors Foods
How did you find TTM?: Carl Bartholomew


Comments:
This is such a great idea ! Tulsa has a rich Television history. My TV career started in August 1966 at KTUL playing drums in a trio on the Betty Boyd show. I spent a little over 8 years there working my way up through the studio to Director and finally to Production Manager. In January 1975 I moved to LA to accept a position as cameraman at CBS. I spent about 14 years doing camera on a wide variety of CBS shows including the last three seasons of the Carol Burnett show. I also did a lot of sporting events including 4 Super Bowls. I'm currently directing the daytime drama The Young and the Restless. There have been quite a few KTUL alums at CBS, Toby Brown, Bob Welsh, David Finch, and Terry Clark. Bruce Grey was also at KTUL but he wound up at NBC. I produced and directed a short film that was shot in OK and I cast my good friend Carl Bartholomew in a small but important role. I saw Hurst Swiggart's name, it's great to hear he's still around. He mentioned Chuck Bowman's name. I met him at a party some time ago, it was really fun to find out he was from Tulsa. At the time I spoke to him he was directing Dr. Quinn, Medicine Woman and his son was producing The X-Files. I better stop I'm leaving for NYC for the daytime Emmys. This is my tenth nomination for directing and so far I won three times. Keep up the good work!

Well, praise from an Emmy-winning director is heady stuff, indeed! We appreciate your stopping by, Mike, and good luck in NYC.

Thanks to all the gurus here, we already knew a good bit about your career, but it's great to hear directly from you.

What was the title of your short film?

We'll be lookin' for ya!

---

Mike (Trivia is my middle name) Bruchas - 05/13/99 21:25:24
Stupidest local commercial: Any OK political spot - most were NASTY!


Comments:
We need JIM BACK to help here on politico stuff!

For Hamp Baker- his slogan was PUT YOUR STAMP ON HAMP! but can't remember the music. Wasn't he running for Corp. Commissioner or something arcane but powerful like that? He spent a lot of money on ads - as I recall.

I also seem to remember Sen. Jim Inhofe recycling video of him and kids riding in a Jeep from one campaign he lost - maybe as US Rep. to his gubernatorial campaign. KTUL did dubs or some of his spots I recall. I guess he figured he'd look just as boyish 2 years later...

It was funny because we were doing both work for him & Jim Jones and one day had to make a detour of Olivia Jones thru the film chain room to avoid running into Inhofe's folks in the KTUL 2nd floor hallways. I think also Olivia & Jim "took over" VP of Engineering Bob Snyder's office as a lounge when working at KTUL. 2 & 8 seemed to do most of the local pre-election spots.

Going back aways farther - the Page Belcher vs. Jim Jones first race which Jim Jones lost. Okies must have hated LBJ then - Jones was part of LBJ's staff in the White House. As a newly arrived Chicagoan in Tulsa, I could not believe the slogan that returned the semi-senile sounding but semi-effective Belcher to Congress. It was: "What do you want? A Page Belcher Republican or a (said sneeringly) Lyndon Johnson LIBERAL (again sneeringly) representing you in Congress? Vote Belcher!". All I can remember of Belcher is doing something to bring the waterway to Catoosa and having a Federal building named after him in Tulsa. What else did he do for Tulsa? Clue me in??

Do you remember the stupid 70's campaign for former Lt. Gov. Spencer Bernard? Something like, "Cast your vote for the man with 2 first names - Spencer Bernard!".

I can remember answering phones after the late news at KTUL several times - just before election day when some good ole boys up for minor posts would be callin' in and wanting to buy time to do a "talk" after Ironside - in the pre-Nightline era. Why they ever called during office hours, I'll never know. Probably they were sitting at home with Momma and got the idea it was time to "do TV".

In '74 or '76 at KTUL we stayed on late Monday night before primary day because KTUL had so much "inventory" of political spots sold that it exceeded normal daytime windows. We ran an old "B" Western movie till 2:30 in the morning with nothing but political buys and Buffalo Ranch Western Store slide spots. It may been the year Sen. Fulbright in Arkansas lost out - KTUL beamed into NW Arkansas and we saw a lot of media buys from there.

Any other T-town political stuff ya'all can think of????

Hamp sure didn't spend much on his signs--they were pieces of junk with "Hamp Baker says 'Drive safely'" painted on. These littered the turnpike before anyone knew who he was, or what he was running for (Corporation Commissioner).

"The man with two first names"...quite a distinction. I can think of a man with three first names: Lee Harvey Oswald.

I seem to remember commercials for Arkansas Governor Orville Faubus (what a handle!) on Tulsa TV.

How about:
"Oklahoma's candidate,
Oklahoma's candidate,
Oklahoma's candidate,
Ron Shotts.


Or, "E-D-M-O-N-D, S-O-N spells Edmondson"?

Or,

"David Hall, Oklahoma,
He's for all Oklahoma,
He's what it takes to make our country strong.
David Hall, Oklahoma,
He's for all Oklahoma,
What Oklahoma needs is David Haaaaaaalllllll!"

(This did not prove to be the case)

---

David Bagsby - 05/13/99 20:04:09
Location: Tulsa
Favorite Tulsa TV show: Fantastic Theatre
Favorite Tulsa TV personality: Beth Rengel
Stupidest local commercial: Lynn Hickey (yechh)
How did you find TTM?: by accident


Comments:
Does anyone remember Tink Wilkerson's cars or that song Hamp Baker used for his campaign (to the tune of 'This land is your land'?) Great site and many thanks for providing Sonik Re- Entry...I'm doing a cover version of it as we speak. I used to have Mazeppa's 45, 'Scope them Turkeys Out' but can't seem to locate it...if I do I'll let you know.

I remember the slogan, "Try Tink."

A cover of Sonik Re-Entry...it's about time! I'll be anxious to hear it.

"Scope Them Turkeys Out" is proving to be elusive. Maybe it will turn up soon.

---

Mike Bruchas - 05/13/99 19:35:31
Location: The Twilight Zone


Comments:
Yup - have to agree with John Hillis on Star Wars. Back then - liked #1 & #2 and never saw #3 - "The Empire Gets Back Together Again to Raid Your Wallet". Now - they are just okay in retrospect, but ain't Citizen Kane". Nor are they as baaaad as the CBS late night movie package that KOTV ran in the 70's. Culture and films have taken the ole quantum (how big is a quantum? pretty darn small...MR) leap since then.

The DC newspaper critics today are panning the new Episode #1, even calling my hero, Liam Neeson, a bit wooden in his acting in the role of Obi Wanta Paycheck.....

Yeah, I'm more of a 2001 man myself.

---

John Hillis - 05/13/99 12:51:34
Location: Out in the Ether
Favorite Tulsa TV show: State Fair Remotes
Favorite Tulsa TV personality: The Rubber Dog
Stupidest local commercial: And Shawnee Adds the ME!


Comments:
Apropos of this week, in summer of '77, Bruchas was looking up slides in the 6 news zone when he mentioned this great movie that was on the cover of TIME that he had to go see again...Star Wars. I saw it a month later at SouthRoads Cinema, I think, and didn't think it was that big a deal then...or now.

TW3 ran on NBC probably in '64. One season, two tops. David Frost hosted/was a writer on both the Brit version and NBC's, but otherwise the cast was American. Buck Henry was one of the writers and occasionally performed.

A highlight was the theme, which had new topical lyrics each week, sung by the "TW3 Girl," Nancy Ames.

Oh yeah, somebody asked a long while ago, the Channel 6 news music in early-mid 70's (before the "take a look" package) was from an industrial music package and had some wonderful title like "Upbeat Institutional" or something like that. Doug Dodd would probably remember the exact name.

Why can I remember this stuff, but can't recall where I put the car keys?

Other interesting facts about TW3 ('64-'65) from "The Complete Directory to Prime Time Network Shows":

Some of the other cast members were Alan Alda, Tom Bosley, Henry Morgan, Phyllis Newman, Sandy Baron and Burr Tillstrom's puppets. Tom Lehrer wrote many songs for this show which he later recorded, such as "The Vatican Rag", "The Dance of the Liberal Republicans" and "Whatever Became of Hubert?". The show was live from New York and set in a cabaret. TW3 was repeatedly pre-empted in the fall of election year 1964 by speeches and documentaries paid for by the Republicans. Coincidentally, Barry Goldwater was a frequent target of the show's satire.

The show was once interrupted with a news report from Jackson, Mississippi: UN paratroopers had just been dropped by Guatemalan Air Force planes to rescue Negro ministers, missionaries and civil rights workers.

Want to watch a little of the show? Go to:

http://www.tvparty.com/fall64.html

P.S., what was "The Rubber Dog"?

---

Mike Bruchas - 05/13/99 12:19:51
Favorite Tulsa TV show: Go for Dough on the Early Show w/ Gary Chew


Comments:
This is really one and I could not find a website for it...Anyone remember TW3 (that's what it was nicknamed in Britain) or "That Was The Week That Was". For some reason I thought David Frost produced or anchored it. I was pretty young when it aired - I believe on NBC. It was a news satire show - on the big stories of the week. It lasted 1-2 seasons here but was a British TV run of several years longer. Help me - my brain is fading!

---

Erick - 05/13/99 04:37:50
My Email:ericktul@webtv.net
Location: Tulsa


Comments:
I'm thinking I would love to see that footage of the '74 tornado...

Remember, if anyone can get footage to me in VHS, I can convert it to a RealVideo clip that can be seen on this site.

---

Mike Bruchas - 05/13/99 01:06:02


Comments:
I'm not sure if it was on John Hillis' watch or Jan Berry's - that we were told to never, never write, "Good Evening, I'm Bill Pitcock" on the first page of Pitcock's newscopy or promptercopy.

Because if the writer did - Bill would do his live top of show opening of show greeting, "Good Evening, I'm Bill Pitcock" -- then go to read the prompter copy. Which might make him say the same thing again! I remember folks talking about this happening and rolling on the floor. - LOL - It still is one of my favorite "Moose" stories....

Speaking of Henry Lile - I think ace cameraman Buddy Allison told Henry used to be a milkman who liked to fly. I do remember Henry liking grass strips more than concrete pads to land on. Before 8 had SkyRoamer - 6 had Henry and his wind-up 16mm Kodak covering "aerials" of news stories.

Henry went to that great airstrip/newsroom in the sky I heard - but a lot of us will remember him....

---

Mike Bruchas - 05/13/99 00:53:29
Favorite Tulsa TV show: KOTV News at 6 - produced by John Hillis


Comments:
John Hillis lives! One of the best producers to ever work at KOTV and still keep his sanity!

John runs ALLNEWSCO here - a sister company to KTUL. He also worked//created at CNN and News 12 Long Island - the NYC/Long Island 24 hr. cable news channel.

I think the best compliment John ever made to broadcasters and the people of Tulsa was - when he was developing ALLNEWSCO's News Channel 8 format here in DC -- he wanted a news channel that might emulate the kind and quality of news someone might see in Tulsa or a Tulsa-sized market. Like a lot of us "ex-pats" - we all felt there is/was good news work down in TulseyTown.

A lot of folks here watch News Channel 8 more than the local DC affiliates. He made it a success with a good mix of decent producers, younger reporters and older likeable personalities, good graphics, and some pretty good shooting/editing. It covers most of No. Virginia, the District and suburban MD with a unique way of splitting news coverage and spots to those 3 cable "neighborhoods" of the Capitol area for more regional coverage at different parts of the day.

Howdy, John! Let's hear more from ya!

---

John Hillis - 05/12/99 21:16:39
Location: Our Nation's Capital
Favorite Tulsa TV personality: Lewis Meyer
Stupidest local commercial: Whether you call it balogna or baloney..


Comments:
Since I'm here..about the Moose.

The hearty big-guy look and voice and the propensity to malaprop from scripts (some of 'em mine, I confess) that perhaps weren't the best written I think led the King/Woody to the "Moose" nickname.

Bill was a warm, likeable guy off-camera as well as on, and was, like his brothers Bob Gregory and Jim Pitcock, quite a newsman. Bill was trained in a CBS program at Columbia in the early-mid 60s.

I met Bob only once, but spent a fair amount of time with Jim in my work here.

Down in the basement, I also have a 3/4 tape of Bill dissolving in laughter after calling the Hong Kong Flu the "King Kong Flu." All Irv Johnson could do was roll the break...but it was a long, long three second pre-roll.

---

John Hillis - 05/12/99 20:52:14
Location: Washington, DC
Stupidest local commercial: Don't forget poor old Pappy
How did you find TTM?: Web Search for my name


Comments:
Sheesh! What a devilish time-waster! Amazing stuff that fired up a few million dormant brain cells with names I hadn't thought of in decades. I started in December 76 as news producer at KOTV, which had converted from "KOTV News" to "Channel 6 News." This was a large issue to some at the time.

Let me remember Henry Lile, who had the world's coolest job description: pilot-prompter operator. It was before my time in Tulsa, but I dubbed the film before I left of Henry's shots of the '74 E. Tulsa tornado onto a 3/4 tape, which no doubt still resides in the basement. Henry was flying back from somewhere to Harvey Young, a grass strip out east of TUL, ("I just don't feel right landing on concrete," Henry'd say), when he sees the funnel cloud. So, being Henry, he pulls out the trusty Kodak viewfinder camera, winds it up, and squeezes off 100 feet of twister-in-action, holding the wheel with his knees as he flies parallel to the path of destruction. I was told that after the film ran on the news, the FAA called Henry and suggested the proper course of action was to go _away_ from the tornado, and that if he did it again, he'd be running prompter full-time.

Henry got his first plane during Prohibition, with tanks that didn't hold gas. He was also one of the first pipeline patrol fliers. An amazing guy, and one of the constellation of characters at KOTV, which included Wayne Johnson (John Bateman shot a great feature when Merle Haggard brought Wayne and some other aging Texas Playboys to Nashville for a CBS special). Mike Bruchas will remember that Wayne would run commercials as Master Control for a Bob Wills record offer with a still of young Wayne on horseback with the sax. I always wondered how he felt about that.

Enough fun for one day. Let me recover strength and we can talk about Bob Losure's suit and M.Conto!

Welcome, John. I'll bet you have millions more untapped brain cells...

---

Erick - 05/12/99 04:03:29
My Email:ericktul@webtv.net
Location: Tulsa


Comments:
I'd love to see those schedules, Mike. I have some from '73 and '81, if you want them.

Erick, I will plan another trip to the library's microfilm vaults. Are there any preferences on the years I might cover? I can always add more later; the files do not take up that much space. Thanks for the offer of the schedules; do you have them already scanned? If not, I can do it and return them to you.

---

M. Ransom - 05/12/99 01:37:20


Comments:
Anyone remember the Kon-Tiki (I think it was) on Admiral near Yale? There was a big tiki statue whose eyes were lit up. I believe this was a bar. Would have been in the early 60s during the general craze for exotica (see the Links page for more about that).

I'm thinking about putting a lot more TV schedules out there, Monday-Sunday for several years. Would that be of interest?

---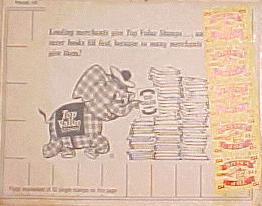 Erick - 05/12/99 00:20:08
My Email:ericktul@webtv.net
Location: Tulsa


Comments:
There were actually a few McCartney's located in the OKC area. There was one in Edmond...the exact location escapes me...and there was one in SW OKC near 74th & Western. I also thought there was one near 63rd & May, but my sister disagrees. What else? I remember Humpty Dumpty...that was yeeeeears ago, and Food World...there's still one in north Moore. Correction...there WAS one in north Moore.


| | |
| --- | --- |
| How about the stamps you got at the grocery, like Green Stamps or Gunn Bros. or Top Value? | |
---

Mike Bruchas - 05/11/99 21:31:36
Location: Atlantic Media Center - Alexandria, VA
Favorite Tulsa TV personality: "The Shade Tree Mechanic"


Comments:
Let's talk defunct businesses in Tulsa! McCartney's was an upscale local food chain. Most of their managers were the brightest folks from Safeway's better stores (Safeway was dying but still had good folks waiting to be snapped up...). I got all this from a film shoot I did there as a free-lancer.

The McCartney family I think came from the Chicago area. They had been with IGA or some other chain, picked Tulsa because it seemed likea good place to open up financially.

The stores were in Tulsa and with I think 1 in OKC. The store robbed I think was at 71st & Sheridan.

Oertle's (say URT-lees) was on Sheridan by the BA Expyway. It like Looboyle's seemed like - "Tulsa only stores".

Oertle's was drug/food/Kmart type store.

Looboyle's - who sponsored Joe Krieger - started selling lube oil and gas at 11th & Xanthus way back when - a great funky location. I think before the chain went bust - got up to 4 or 5 stores in Tulsa. Good prices on auto, stereo - even knew a Tulsa World photog who used to buy his Nikon lenses at Looboyle's. They took over a big space at South Roads Mall on 2 floors plus expanded to larger new stores all over Tulsa. This may have led to their financial collapse. Us Looboyle's shoppers miss 'em.

Here's a name for you: the Norman Angel drive-in at Admiral and Memorial. This dates back to the 50s and early 60s.

---

Erick - 05/11/99 20:57:59
My Email:ericktul@webtv.net
Location: Tulsa


Comments:
No, I'm familiar with McCartney Foods in the OKC area. I've only been in Tulsa a few years. Oertle's...umm...no.

---

Jim Back - 05/11/99 20:17:59
My Email:jback@soonernet.com
Location: Edmond, OK


Comments:
McCartney's was about 28th and S. Memorial. I think it is a printing co. now -- Premiere Printing or something. If McCartney's isn't familiar to you, I guess Oertle's is out of the question.

---

Erick - 05/11/99 16:21:37
My Email:ericktul@webtv.net
Location: Tulsa


Comments:
A few people have talked about the attempted robbery at McCartney Foods in 1982. Where was McCartney Foods located??

---

Mike Bruchas - 05/11/99 12:01:37


Comments:
Bill Hyden or Hayden - seen his name both ways - was alive and kickin' when last seen at the KWGS reunion in the Fall of '97. Still sounds good. He owned KTBA-FM in downtown Broken Arrow for a couple of years. Thought he also worked at NBC or CBS on the West Coast at one time.

He still lives in B.A. Hoping to get him on this site eventually.

---

Loz - 05/11/99 07:55:21
My URL:http://www.geocities.com/EnchantedForest/3214
My Email:loz@ragemail.com
Location: Australia
Favorite Tulsa TV show: None
Favorite Tulsa TV personality: none
Stupidest local commercial: none
How did you find TTM?: Geoguide ad


Comments:
Nice site. I'm afraid most of it was lost on me though since I've never even heard of Tulsa TV. Keep up the great work.

---

Hurst Swiggart - 05/11/99 03:29:52
My Email:traceway@aol.com
Location: Tulsa. Ok


Comments:
Hello again!!! I worked at KOTV from 1962-1964.... my wife Barbara Jean was Continuity Director at 6 and lured me away from Ktul-Tv. I worked for a time as a cameraman on Sun-Up, an early morning show beginning at 6am and hosted by Chuck Bowman (ultimately he was in Airplane 1 as a pilot) I wonder if he is still in Hollywood? The first host of Sun-Up was Bob Mills and he was revered as the king of morning TV. Bowman did a quite admirable job of filling his shoes. Lee Woodward was a co-host as I remember and was the host on the monday after the Beatles 1st USA appearance on the Ed Sullivan Show. Lee's comments were a hoot and I wish the tape had survived (the show was live and taped for the archives ). Lee was and is an extremely creative Soul. When he was host of Lee and Lionel he was a very articulate funny man and still is. He also designed and built the castle for King Lionel. I will never forget the double takes from the King when Lee would make some audacious comment. Lee is a sales executive with Thomas Cadillac as I recall. 6 had two of the premier camermen in the country...Leon Myer and Buddy Allison...I learned a lot from them. Leon was the only person I knew that could dolly and zoom the camera at the same time and make it look right. Where is Sam Stewart, Bill Hyden...News at 6? Better run. audios

Betty Boyd's book said that Lee was canned because it was decided by management that he could not function as a weatherman since he was not a meteorologist. Even though he had been doing it quite successfully for years.

Lee is one of those great personalities they never should have let get away. He is one of the wittiest people I've ever seen.

---

Mark - 05/11/99 00:57:02
Location: Jenks,OK
Favorite Tulsa TV show: 6 in the morning
Favorite Tulsa TV personality: Beth Rengel


Comments:
In the last guestbook before #7, there was a message written about the gunman that held up McCartney Foods and a question on which news anchor the gunman was talking to on the phone. A few years ago , I was watching a crime show called "Top Cops" on channel 6 and it showed the scene of the gunman holding up McCartney's. While the camera was focused on the gunman, it also showed a television set in the background. It had Sam Jones on 2 doing the special report on the McCartney siege. I think he may have talked to Jones on the phone while it was live on the newscast. If reruns of "Top Cops" shows up again, maybe anyone of you guys might watch and look for it.

I watched a special with Clayton Vaughn as he was reminiscing about news, sports and weather nachors from the past. He mentioned Dale Hogg who did the weekend weather on 6 was in Washington D.C. and is in good health.

Maybe the reason Bill Pitcock was given the name "The Moose" was because he was tall and big.

Maybe so. Was he, in fact, big and tall? Hard to tell on television.

---

Jim Back - 05/10/99 21:30:16
My Email:jback@soonernet.com
Location: Edmond, OK
Stupidest local commercial: "Ugh. U-Need-um Tires?"


Comments:
Dan Baxter's been mentioned a couple of times on your web site. He worked at KRMG (after leaving KTUL) starting in late 1970 or early 1971, to help pay his way through med. school. He didn't stay there more than a year or so, however, as the demands of classwork became too great.

My wife had him as her ob-gyn after he established his practice. She says he moved to Poteau in the early-to-mid '80s and that he has since moved to Stillwater. She says he told her he was raised a country boy and wanted his son to grow up the same way.

---

Ray L. Rivera - 05/10/99 15:11:09
My Email:rlrivera@worldnet.att.net
Location: Louisville, KY
Favorite Tulsa TV show: Uncanny Film Festival
Favorite Tulsa TV personality: How Could I Have Forgotten "The Moose?"
Stupidest local commercial: Linda Soundtrak-endearing, but annoying!
How did you find TTM?: Floated on by in the Web


Comments:
During my brief stint in Tulsa radio/TV I heard a story about how some Tulsa TV engineer supposedly got fired for running (at the close of the broadcast day) video of a TV tower being blown down. As the story goes the engineer merely got reprimanded for that but he promised to make amends. The next morning during station signon the engineer ran the video in reverse--which prompted the firing. Any truth to this rumor? Did this really happen, and if so, can somebody provide the juicy details?

---

Mike Bruchas - 05/09/99 23:11:33


Comments:
Got a nice e-mail from Billy Parker - yep, write and he will get back to you! Was looking for any of his stuff on disc, Amazon doesn't carry but an German import of old material and they are out of it. A music store in Nashville has more titles - he wrote back....

There is a Billy Parker CD I've been meaning to buy...It is a recent Bob Wills tribute album. I heard it on KVOO, and it is really good. Could you let me know if it is available?...Never mind, I sent an email to Billy myself!

---

Erick - 05/09/99 16:59:25
My Email:ericktul@webtv.net
Location: Tulsa


Comments:
There's no real special equipment for TV DXing ...as far as I know. I've always just used one of those "exaggerated" sets of rabbit ears from Radio Shack. You know, the kind with the little dial on front. Anyway, it's usually best to see other stations late at night during this time of year. From Tulsa, I've picked up stations in Kansas City and Little Rock.

---

M. Ransom - 05/09/99 15:52:53
Location: Tulsa
Favorite Tulsa TV personality: Peggy Shaber, cooking up a storm on "Coffee Break"


Comments:
John Boydston of Daddy A Go Go (see Links page) wrote in email:

I'm still going over your site whenever I get a chance. Great stuff. I used to watch Uncle Zeb and actually used to live in John Chick's neighborhood and watched his morning show on KTUL after Mr. Zing left the air. I thought about him last Feb when I performed on the KOTV morning show (They've been very nice to Daddy A Go Go) and how he really was unique in having live and local music on the air. And I laughed out loud reading that story about Don Woods and the Ice Tea. I worked with him at 8 and that is exactly what he would have done. Don was an amazingly great guy to work with.

I think everyone who knows Don from TV enjoys that spontaneity of his that makes him so likable and fun to watch.

---

Erick - 05/09/99 15:08:36
My Email:ericktul@webtv.net
Location: Tulsa


Comments:
From someone who used to do TV DXing as a hobby (still does sometimes), it's much easier to get KNOE rather than WFAA. KNOE shoots their signal into southern Arkansas, while WFAA doesn't have much of a directional pattern. Nowadays, you'd probably get the PBS station in Wichita on 8 though, as they shoot straight southeast and cover some of the Joplin viewing area. In OKC, it was quite common to receive KAUZ in Wichita Falls rather than KOTV on 6. Could never pick up KTUL, as KWTV's powerful signal bled over on 8.

Do you use a special antenna for TV DXing?

---

Mike Bruchas (again) - 05/09/99 13:17:03


Comments:
Okay Zeb has been found - how about some other missing Tulsans?

Like Dr. Dan Baxter - former KTUL anchor and producer - now delivering babies in Tulsa. Should have some tales of KTUL in the mid-70's.

Or Doug Dodd - now an attorney but a fixture at KMOD, KTUL and KOTV before he got his law degree. A great raconteur - if you can e-find him - on TulseyTown broadcasting in the 70's/80's. He can probably explain how Pitcock became the "Moose"....

Kitty Roberts was at KMOD and KXXO before going on to start the American Theatre Company. She is still doing voice talent work. She, too, might have some good radio stuff to chuckle at....

Dale Hogg - worked at 6 as a back-up everything guy as talent on weekends - usually sports but I think he did weather and anchored too. His real job was either with Southwestern Bell or PSO I think. Where is he now?

Duane Jones was a Today Show cut-in talent at 2 for years. It seemed he was relegated there forever - never made it to the 2 News at Noon. Where did he go?

His brother Alvin Jones also worked at 2 in the studio but forsake it to come to OKC. Alvin worked a couple of tours at OETA in the studio as a senior cameraman and was part of the founding tech crew with me that put KGMC ch.34 on the air.

So many people - so much e-space to search!

Appreciate all the ideas, Mike. I will see if I can track them down. We've had pretty good luck so far.

---

Mike Bruchas - 05/09/99 12:55:02
Location: Stuck in the 70's in TulseyTown
Favorite Tulsa TV personality: Hands down - Uncle Zeb!


Comments:
Hooray for Uncle Zeb! Glad you connected with him - he is a Tulsa TV treasure!

On another note - Doctors Jan Kizziar and Judy Hagedorn of Generation Gap - Dr. Judy was/is married to Frank Hagedorn - who was a US Attorney in Tulsa for a while. I think Dr. Jan was or is in Bartlesville. I could not really tell them apart at times! They were very earnest in all they did, considering the show aired late late at night or Saturday afternoons with almost zero audience then.

Speaking of station sign-offs and Indian signer Dick West - we got calls for him at 8 a lot - they thought he was on staff there. We used him as talent on this one thing only.

8 ran 3 different sign-offs for variety - High Flight from the USAF and the other 2 I forget. We had envy for the snazzy sign-off WKY-TV ran for years starting in '76 - very snazzy montage of pictures.

Speaking of off-the-air times at KTUL. 8 went dark at midnight on Sundays for maintenance - all the senior engineers worked 11pm-7am except the junior ones. With spit and bailing wire it all ran well due to their efforts and a generally cheap Jimmy Leake who took all the profits to play with his car collection - made money.

On Mondays - coming in at 5:45am and KTUL being off air we saw another station. On our Conrac off-the-air tuner with pick-up antenna on the Look-out Mtn. antenna, we watched KNOE in Monroe, LA (ch.8) sign-on thru the buzz before we signed on. It was weird watching ANOTHER ch.8 in Tulsa. We assumed WFAA TV in Dallas was closer but evidently KNOE was kicking out more power or had a more directional antenna pattern. We were probably the only folks in Tulsa to ever see this...

Somehow, I find it satisfying to have filled in my memory gap with "Generation Rap".

"High Flight" is still seen in Tulsa on KOED at sign-off time. You know, if you actually listen to it, the guy who wrote the piece sounds more egotistic than reverent about the whole thing.

Is Dick West a Tulsan? Any more information about him?

---

M. Ransom - 05/09/99 06:22:34
Location: Tulsa
Favorite Tulsa TV personality: Mike Miller, KOTV reporter


Comments:
Remember "Generation Rap", starring twin psychologists, Judy Hagedorn and Jan Kizziar? A friend at work recently filled a gap in my knowledge by remembering Jan Kizziar as the other twin. Mike Bruchas, TTM guru, had previously mentioned that this show was spoofed by Mazeppa's "Tulsa Teen Town Topics".

---

M. Ransom - 05/09/99 00:37:17
Location: Tulsa
Favorite Tulsa TV personality: Bill "Moose" Pitcock


Comments:
I just created a new page for Tulsa TV newsmen of the past, but I need help. Anyone have any good anecdotes about Clayton Vaughn, Mike Miller, Bill Pitcock, or Lee Woodward? There is already a good one for Cy Tuma.

(p.s., why was Bill Pitcock called "Moose"?)

---

Carl Bartholomew aka "Uncle Zeb" - 05/08/99 15:55:20
How did you find TTM?: Hurst Swiggart


Comments:
Howdy! I've been lookin' for ya! Here's a few old and new facts about ZEB. Did the show from '69 to '79. Shelved the character to concentrate on 8's The Place promotions. Great fun and times in both positions. Leake sold the station in the early '80's to Albritton. They canned me fast and I moved to Tulsa Cable. Did promotion work for them until they sold out to TCI. They let me go too, but I was able to convience them that they needed a kid's show and I knew someone who could do one. Zeb was back on the air (cable) in 1990 for seven more years. Show became a second generation show which worked well for me. Retired myself and the character in '97. Finished a family, fiction chapter book: GRANMAX --- The Saving of A Steam Train, and got it published last year. Think it's listed on Amazon.com. Played a small part in a short film Mike Denney produced and directed. Incidently, I visited Mike recently, who lives just north of the Santa Barbara area, in his incredible 8,000 sq. ft. home. Also watched him direct Young and Restless.

Most vivid Zeb memory was on Zoo Day when a spider monkey climbed atop my hat and peed from there down into my boot and sh*t carrot chunks all at the same time, live, on the air. Mike Denney was directing that show and captured all the action. If you want to get in touch with me, contact Hurst Swiggart. Uncle Zeb is still back woodsey and without a computer. Thanks for the memories boys and girls. I'll be lookin' for ya!!!! P.S. Produced, directed, wrote, and played the lead in a straight to video feature, Cole Justice, in 1988. Was in all Blockbuster stores, 20 foreign countries and two schedules on Showtime and The Movie Channel. Think it is also available on Amazon.com.

Thanks for writing in, Carl! There have been some people lookin' for ya on this site.

During that spider monkey episode, did Mike Denney have any trouble keeping the camera from shaking?

I'll check Amazon.com and get links up here to your book and movie.

Great to hear from you!

---

M. Ransom - 05/07/99 15:45:03
Location: Tulsa
Favorite Tulsa TV personality: Wirt Cain


Comments:
Did you know that George Reeves (Superman) appeared on "Kid's Korral" with Don Marvin in the early 50s?

---

Bob Bailey - 05/07/99 00:05:02
My Email:bobby.d.bailey@boeing.com
Location: Moundridge,KS


Comments:
Does anyone remember back in 1965 an Oertles commercial with this guy named "Leroy Leafy"? And his schpeal was "Howdy folks I'm your old friend Leroy Leafy". I later in 1966 0r 1967 saw him as a character on an episode of Bewitched. Am I hallucinating this?

Possibly. I don't remember that myself. Anyone?

This is the beginning of Guestbook 7.

---
Tulsa TV Memories Main Page