Time: May 16 2003 at 22:49:38
Name: Frank Morrow
Location: Austin. TX
Comments: I was reading some previous pages, and saw the entry about Huckett's bowling alley. The original one was near 15th and Peoria near the Plaza Theater, but I can't remember the location of the other Huckett's alley.

The Wagle brothers had their alley on Main Street, one block west of the Boston Ave. Methodist church. Both Huckett and the Wagle brothers were very good bowlers, partipating in the top league in town. I think it was called the Classic League. All three men were very friendly, and, if they weren't too busy, would give you free pointers on bowling.

Tulsa had some very good teams at that time. Some would compete at the national tournament. Pacific Pump was the top team in town, and Meryl Middaugh had the highest average at a little over 200. Bill Lilliard later became nationally prominent. I remember seeing him a few years later in a match game on national TV.

It was rare to see teenagers bowling back then. I was the only youngster in a regular league, bowling each week on a team that my dad formed. I was in 9th grade at the time. One of the Tulsa newspapers had a story on me when I rolled a 242 one night, using a 12 pound ball.

Oh, yes. It cost you 20 cents a game at Huckett's, and 30 cents at Wagles.

Webmaster, 10/21/2008: Other lanes no longer with us: Crystal Bowl (1993 Tulsa World story), Brookside Bowl, Yale Bowl, Northland, Harvard Lanes, Bowl-a-Rama, Utica Bowl, Tiffany Bowl, Bowl-Ero in Sand Springs.

Art Harrison Made Bowling History An Art in Tulsa (1994 Tulsa World story)

Innovator Sieler dies at age 81 (2002 Tulsa World story)

Still going are Riverlanes, Sheridan Lanes, Mickey's in Eastland Mall, Broken Arrow Lanes, Sahoma Lanes in Sapulpa.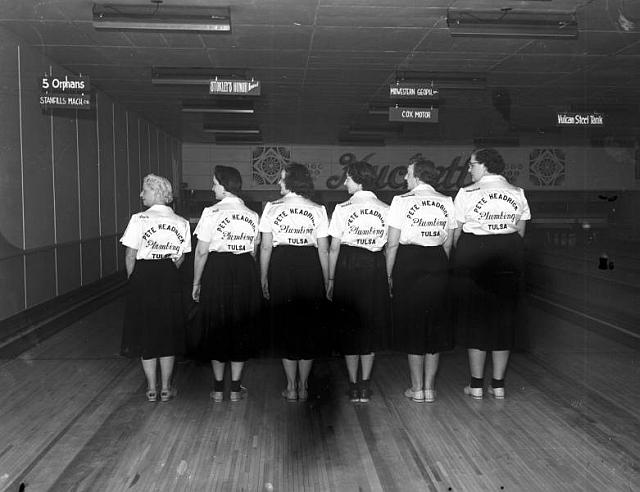 Courtesy of the Beryl Ford Collection/Rotary Club of Tulsa, Tulsa City-County Library and Tulsa Historical Society
Pete Headrick Plumbing ladies bowling team at Huckett's