Tulsa TV Memories Guestbook 163

TTM main | What's new on TTM? | GB Archive




May 31 2004 at 15:51:18
Name: msbv2
Location: On the front porch looking for a twister
Comments: I remember Witchie-poo! One of my favorite characters (especially that Lidsville episode where the dating service matched her up with Hoodoo.)
I don't really recall Pufnstuf running regularly in Tulsa, and when I saw it, I'm pretty sure it was in reruns. I recall Lidsville was on on Saturdays...sometimes (on 8?). Seems like every other week they'd pre-empt it for some talk show, forcing us kids away from the TV and out into the fresh air (this was before Atari. ;-) )
Pufnstuf, Lidsville, and The Krofft Supershow are currently playing on TV Land, Fri 11 pm to Sat 1 am, Tulsa time. I had never seen them until recently. The weirdest thing about the shows is how canned laughs are liberally added to scenes that don't seem funny...at least, not funny in a laugh-track kind of way.
---

May 31 2004 at 12:10:38
Name: Wilhelm Murg
Email: wilhelmurg@yahoo.com
Location: Magic Island
Comments:
While writing that last bit I got an email from Billie Hayes, aka Witchiepoo on H.R. PUFNSTUF and aka Weenie the Geenie on LIDSVILLE (and aka Mammy Yokum from 1959's "Li'l Abner"...webmaster). A few months ago I bought the PUFNSTUF box set (my favorite childhood memories) and looked her up on the web. I first saw Pufnstuf at Six Flags over Georgia, a year or two before the show aired (he didn't have arms back them) so I always felt like I was more in on the joke than the other kids.
Billie is a great talent and a great person; she is the President of Pet Hope, an organization dedicated to the care and placement of abandoned animals. I recommend you check out her website: BillieHayes.com.

---

May 31 2004 at 11:41:12
Name: Wilhelm Murg
Email: wilhelmurg@yahoo.com
Location: Chasing after Dr. Lao's Circus and juggling with tears in my eyes
Comments: I just moved into a new house off of Yale and Pine, which is as far North as I have ever lived in Tulsa. It's VERY peaceful, and it's nice to see the old Bill's T store (Harvard and Admiral) every time I drive somewhere (It's now a rather elegant used furniture store now that doesn't live up to it's name: Affordable Furniture).
I just wanted to clear up a nit-picky bit of trivia; THE SEVEN FACES OF DOCTOR LAO was usually shown on the CBS LATE MOVIE (pre-cable's answer to HBO). I don't know how film rights worked back in those days, but it seemed to be locked into the package for a decade, along with the Hammer Horror films and some of the later Jerry Lewis comedies (before CBS gave up and just started showing the NBC MYSTERY MOVIES; McMillan & Wife, McCloud, Columbo, etc.)
The only reason I know this is because it's one of my all-time favorite movies (great philosophical point of view, great effects, and Barbara Eden at her most orgasmic) and I never missed it when it came on. THE LATE SHOW was what KOTV played on Friday and Saturday nights at 10:30 (the Friday CBS LATE MOVIE was recorded and played back on Sunday nights) and they had some cool movies (THE DAY THE EARTH STOOD STILL, THE ILLUSTRATED MAN, DR. STRANGELOVE, etc.) but I don't know about LAO. I think it was later broadcast on KOKI/Channel 23 when they had an all-movie format, before the formation of the FOX Network.
(The "Movie Star" was one of KOKI's first movie programs around 1980. The opening was an elevated night-time slow zoom down Boston Avenue toward the Williams Center, with the Atlas Life Building prominent in the foreground. The title "Movie Star" was superimposed on this scene...webmaster)

Like everyone else in the world, I too was saddened to hear about the passing of Tony Randall. While everyone else remembers him as Felix on the ODD COUPLE, or the groundbreaking character on LOVE, SIDNEY (beating the whole metrosexual movemement by a decade,) or that guy that complained about smoking on the TONIGHT SHOW, Mr. Randall will always be Dr. Lao to me. The only problem I ever have with Tulsa is that the people in charge of the city's image often sweep some of the most interesting parts of Tulsa's history and culture under the rug to present a squeaky clean image, which in my view often makes Tulsa look boring. They will pay tribute to Mr. Randall's great legacy, but none of them would last ten minutes in Dr. Lao's circus.
I hope this site succeeds in showing some of Tulsa's lesser-seen faces, "Lao" as well as "high" culture.
---

May 31 2004 at 09:51:03
Name: Mike
Email: Mike@TulsaVideos.com
Location: Tulsa
Comments: The second "sneak peek" episode of TULSA MUSIC EXPOSED, which was to have aired at midnight on Saturday, May 29th, was not seen due to KOKI FOX 23 weather coverage. These things happen and the local TV stations are obligated to keep viewers infomed about severe weather conditions.
The good news is KOKI assures me the air time will be credited (it's that or they give me a refund) and the 5 bands scheduled to appear on May 29th will be seen on the show in the near future.
Less understandable is the fact that our Friday night June 4th premiere did not get listed in the TV World. FOX 23 is contractually obligated to see that TULSA MUSIC EXPOSED is listed as TULSA MUSIC EXPOSED and not "Paid Program." What to do...?
TULSA MUSIC EXPOSED will air at 12:30 am on KOKI FOX 23 and will still feature a former Beatle in Tulsa. For verificatiion with FOX 23, call Sales Manager David Brace at 491-0023. Thanks to TULSA TV MEMORIES for providing the forum and thanks to all the bands and fans for their support.
Additional info can be got at TulsaMusicExposed.com.

---

May 29 2004 at 23:27:00
Name: Kenneth
Location: Tulsa
Comments: Whoops! Here comes a tornado.
It only missed us by a mile or so. We were ready to do a "duck and cover".

For weather info, links to the web sites of all the local stations are at the top of Links page 1 (just updated). The Tulsa World, also linked from that page, has a special section on the 1984 Memorial Weekend flood.
---

May 29 2004 at 15:33:20
Name: Kenneth
Location: Tulsa
Comments: Right on Mr Woodward! I remember as a kid coming out of the movies on a Saturday afternoon and being pleasantly surprised and thrilled by a couple of feet of snow and big thick fluffy flakes everywhere!
I guess things are better today but it wasn't so bad way back when the weather took care of itself.

---

May 29 2004 at 11:05:38
Name: Lee Woodward
Location: Tulsa
Comments: An article in this morning's Tulsa World about the upcoming apocalyptic movie, "The Day After Tomorrow," brings us back to the real reason the Weather Channel and all local TV stations have slowly and surely turned their attention to the fact that people are mesmerized by disaster. It can be made up or implied.
In the case of potential severe weather, it is a ready-made mini-series reality show. Of course when it's overdone, you run the risk of alienating viewers, but your only recourse is to have cable or dish...so you can tune out; because all the locals are going to be devoting all of their resources to "rotation."
The movie of course is pure fantasy. The possibility of a twister though, while very rare, is fuel for hours of endless descriptions, field reports from amateurs, computer-generated animation, and a color palette overlaid on lines and then tilted for further effect...until the viewer is filled with the sense that it is indeed, the "Diluvian!"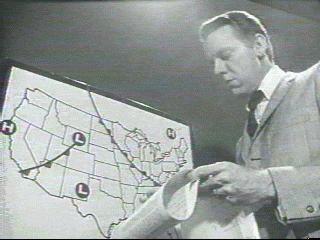 Why do you think the Weather Channel now runs a series called "Storm Stories?" It's the ratings, folks.
What's good about today's technology? Computers. A person can come on the air and say; "Here's a very strong cell, it's located at this point and in so many minutes will likely travel on this line to such and such a place. I suggest...if you're in that path, turn your TV off and find a safe place...keep your ears open and hope for the best!"
But if you like all that hype, then you should sit there and watch it and flip channels to see who you think is producing the "best thrills" and then read a synopsis the next morning or two in Jay Cronley's column in the morning newspaper. He loves that stuff!
In the end though, it reminds of the old weather joke about the little old lady who ran to her basement every time the weather people foretold a tornado. She had done this twelve times over a period of three years. Then, one day she emerged from such a warning, to find her house completely blown away. She looked around and then smiled; saying, "Now that's more like it!"
Like Gary Shore's lucky strike..."Once right...you can do no wrong!"
Okay! "Get the Hook." (echo)

---

May 28 2004 at 11:01:17
Name: John K. Young
Email: johnk662561atyahoodotcom
Location: At Otasco buying a new BBQ Grill
Comments: Thanks for clearing that up, Mr. Woodward! Just so ya know, I always liked your weather presentations better than some of the "Stuffed Shirts" on the other channels. You and Don Woods are sorely missed by those of us who grew up watching you guys nightly!
I hope you, Lionel, Granny and family have a fun and safe Memorial Day weekend!
Daddy A Go Go (aka John Boydston, formerly of Channel 8 and CNN) has a take on TV weather, "Don't Blame the Weatherman", from the new CD, "Mojo A Go Go". You can hear a musical sample at the link.
---

May 28 2004 at 08:52:57
Name: Lee Woodward
Location: Tulsa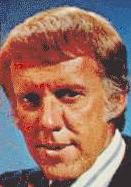 Comments: Ah, the great TV rumor mill...
The real deal on Gary Shore's great prediction and good luck concerned his using his own prediction of some snow one evening. The official NWS forecast made no such prediction.
It snowed! This created great word of mouth and newspaper coverage of Gary and elevated his bonifides a quantum.
This was also the straw that would soon run off all non-meteorologists from the air waves, including yours truly.
Dear reader can ponder whether this was a good thing or not. If you look like Christine Abernathy, it was a good thing; if you were as witty and charming as most certified meteorologists...it was not!
Fair and balanced? You decide. Anyway, that's the straight poop on Gary's star rising into the troposphere where a small pileus cloud formed over his head as he ascended into the heavens.
By the way; the fellows at the local NWS office were NOT amused.

---

May 27 2004 at 15:17:47
Name: John K. Young
Email: johnk662561atyahoodotcom
Location: On the roof, watchin' fer tornaders!
Comments: Regarding Gary Shore...there was a story going around a few years ago that he had angered several folks at the NWS when he correctly called the tornado activity near Mannford and the NWS did not. Was there any truth to that rumor? Or was it just one o' those "Urban Legends"?

---

May 27 2004 at 12:17:35
Name: Chuck Fullhart
Location: Bicycle at Pennington's waiting for my order
Comments:
I stand corrected. I'm glad to hear Linda Soundtrack is alive and well, and worshipping at The Shrine of The Golden Transmitter, Alabama Synod.
Like Mark Twain said, the news of my death is greatly exaggerated.

---

May 26 2004 at 23:49:21
Name: Lee Woodward
Location: Tulsa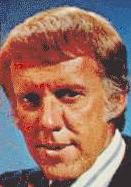 Comments: The Taff family from Chelsea asked if everyone would push for a return of Gary Shore? Well, he is certainly better than most when it comes to knowing his stuff. I assume he is happy up in Iowa or some such place?
He was quoted in the Tulsa World series last week concerning the 100-year flood we had back in the eighties. I would vote for him if he would promise to do only a few minutes when a summer storm came up...unless it really got cooking; then I would give him one minute every fifteen! Shore Nuff! is enough.
I saw this KOTV glass on eBay (but didn't buy). Lee says he has a very similar set.
---

May 26 2004 at 21:55:13
Name: Lowell Burch
Location: Tulsa
Comments: I just spoke with Linda Soundtrack. She claims to be alive and well in Birmingham, Alabama. Linda said she is producing some bad commercials for a lawyer in the area. Also, she misses Tulsa and sends her greetings.
Great to hear that! Please ask her to drop in sometime.
---

May 26 2004 at 16:37:01
Name: Chuck Fullhart
Location: Oertles, No... David's, Wait, No... Yes, Clear Channel
Comments: Saw David's comments re: some of the various Tulsa pitchmen of the 70's and 80's.
Flint Reeves is gone, of the Reeves Boys fame, he died last year, I believe.
Doc Rock left us about 5 years or so ago, and I think Linda Soundtrack has passed on as well.
Ernest Moody - "Your Jeweler" - passed away about 10 years or so ago, but his sons are still running the operation, and it is alive and well.
John Mount, of Mount's Appliances, I think is still with us, but living in retirement.
Bill Brewster, of Brewster's Toys, and his wife, passed away last year, and while that is not really the particular era mentioned, they were known to an entire generation of kids.
Every time I think of the subject of pitchmen, I remember Chick Norton's campaign for his auto dealership from the early and mid 50's, "Chick Don't Care!!!".
"We'll make the prices lower than anyone else in town, and to prove it, we'll bust the front windshield with a ball bat."
Sure got my attention.
I thought Linda (Verin) Soundtrak was alive and well in Atlanta. I have a report that Flint Reeves is also in the pink. Never have been able to find out anything about Doc Rock up until now.

Chick Norton's commercial was mentioned in the very first entry in Guestbook 1 in late 1998 (see bottom of that page).
---

May 25 2004 at 18:21:09
Name: David
Location: North Carolina
Comments: Just wondering and thinking back to the 70's & 80's, is Lamar, the QT mascot alive and well..... and other Tulsa pitch men. Doc Rock, etc...

---

May 25 2004 at 17:24:17
Name: Bryan Taff
Email: thetafffamily at netzero dot com
Location: Chelsea
Comments: I was wondering if anyone could please tell me what music was used on the Channel 8 promos of the early 80's that featured the news and weather personalities in a Hollywood setting getting out of fancy cars?
Thank you and help start a Bring Back Gary Shore Campaign!!
That promo was a Carl Bartholomew production...here it is on the 8's The Place page. The music sounds like library music to me, not a specific piece.
---

May 25 2004 at 09:24:03
Name: Joe
Location: from inside the padded room
Comments: David Batterson mentioned Mr. Randall appearing in 7 FACES OF DR. LAO. What a great memory, all thanks to KOTV. I remember the LATE SHOW running it on Friday nights, several times during the early 70's. That movie is still in my top 15 all time favorites.

---

May 24 2004 at 15:26:04
Name: Dave
Location: looking for kicks
Comments: A question for the webmaster: will Tulsa TV Memories have a presence at the Route 66 Festival next month?
Yes, the TTM staff of me, myself and I will be there at some point.
---

May 24 2004 at 12:05:43
Name: Erick
Email: ericktul at yahoo dot com
Location: Tulsa
Comments: A link to TTM's Tony Randall memories is on TVParty's front page.
Sad to hear of his passing. He always seemed much younger than his age. A great talent.

---

May 24 2004 at 09:19:34
Name: Lee Woodward
Location: Tulsa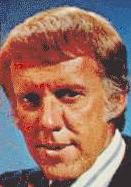 Comments: I had the great pleasure of interviewing Tony Randall way back in the black & white, no-tape days of early KOTV. I don't know the year or why he was in town.
I made the usual intros and before I could start, he spotted my woven Italian Johnston & Murphy loafers (mentioned here previously) and exclaimed: "Your shoes sir...'Are a thing of beauty and a joy forever'." Leon did a quick lens rack for a close-up.
The only other thing I remember was a story he told - of when John Barrymore was staying just up the street (3rd & Detroit?) at the "Tulsa Hotel." Supposedly there was a fire alarm and Barrymore rushed to the lobby...quite upset, even more so by the fact that he was "off the sauce" at the time and had no recourse but to shout in his stentorian way: "Somebody get me a chocolate!"
I suspect this was one of those partially true stories one hears in the "Show Bidniz."
Tony was also a devoted opera fan and appeared many times on "Opera Quiz" during intermissions of the Texaco Radio Network Met Opera broadcasts. He was just as amusing in that venue as any other. He was a very funny man and had a lot of funny stories to tell regardless of where he found himself.

---

May 23 2004 at 22:39:26
Name: Don Norton (via email)
Comments: Larry King remembered Tony Randall tonight. Repeats on CNN at 11 p.m. and 2 a.m.

---

May 21 2004 at 18:23:46
Name: Webmaster
Email: mike~at~tulsatvmemories~dot~com
Location: Tulsa
Comments: A preview of Tulsa Music Exposed will be in Beef Baloney's former Fox23 time slot of Saturday midnight.
Speaking of Beef Baloney, they are selling all of their cool stuff Saturday and Sunday at this address:
2524 East 12th Street
Tulsa, OK
They are heading to L.A. soon, so check it out. Wish we could keep 'em in T-town.

---

May 20 2004 at 16:53:09
Name: David Batterson
Location: Las Vegas
Comments: Tony Randall made a wonderful movie released in 1963: "The Seven Faces of Dr. Lao."
It's well worth renting. I saw it when it first came out, and thought it was outstanding, and perhaps his best work on film.
You can read a review of it here.
That movie was written by Charles Beaumont, one of the principal "Twilight Zone" writers.
---

May 20 2004 at 07:04:43
Name: John Young
Email: johnk662561atyahoodotcom
Location: Toy Dept at Oertles
Comments: I just found a website that has a lot of toys from the 1960's and 1970's. Most, if not all, of these toys would have been available at places like TG&Y, Oertle's, Otasco and Sears...along with many other places.
To take a walk down memory lane, go to Sam's Toybox.

---

May 19 2004 at 19:16:22
Name: Webmaster
Email: mikeattulsaTVmemoriesdotcom
Location: Tulsa
Comments: Watch or tape A & E Channel tonight at 11 pm CDT -- "Biography" is featuring Tony Randall.

---

May 19 2004 at 18:36:50
Name: Dave Harmon
Location: Where the 405 & 110 Collide
Comments: I can imagine how Tony Randall must have felt when he discovered that his home in Tulsa had been razed. I would hate to have that happen to me...thank goodness my home is still looking pretty good and is in a still very desirable area.
After having been gone from Tulsa now for 42 years this month, I'll bet I would cry too if my home was destroyed. There is just...something about Tulsa...I can't describe it but whatever it is has made me think about Tulsa almost every day of my life since then...it just keeps pulling me back...pulling me back.
Now that I am retired I am going to do an Ahhnold....
I'll be back....

---

May 19 2004 at 17:03:20
Name: Barton Webster
Email: barton.g.webster at lmco dot com
Location: Fairfax, Virginia
Comments: Was on KOTV Dance Party a lot, did some modeling for Clarke's on it late 50's, early 60's. Hello to Tom Shepard, Gailard, and all old friends from those times.

---

May 19 2004 at 09:38:04
Name: edwin
Location: just sittin
Comments: Mr. Randall was in town to dedicate a new building at TU....Student Union, I think. Must of been in the early '70's? In any case, KTUL covered it live for some reason & I, having less work to do than others, got to drive him around town because he wanted to see the "old home". I, knowing it was torn down due to the Broken Arrow Expressway, tried to talk him out of it. Located near the 14th & Peoria area, it was, indeed, long gone. He was crushed, then cried, then cursed. He vowed to never come back again & made a horrible scene - live - during his speech on "progress" in his old hometown, reading the original speech as it was written, but inserting "remarks".
Mr. Randall was awarded an honorary doctorate when he was here in 1975 for the dedication of Kendall Hall at TU, according to Thomas Conner's article in today's Tulsa World. The article touches on his reaction to the razing of his childhood home at 14th and Norfolk. But he had good things to say about Tulsa and its cultural opportunities during his youth by the time of a 1997 interview.

Thanks for that personal angle, Edwin.
---

May 19 2004 at 08:27:40
Name: John Young
Email: johnk662561atyahoodotcom
Location: Working My Buns Off...Can't ya tell?
Comments: I was sad to hear of the passing of Tony Randall. I remember watching him on TV in "The Odd Couple" when I was a kid.
Someone mentioned a time when Tony was in Tulsa and swore he'd never come back. What was the deal with that? Did something happen? Or was he just upset that his childhood home was no longer around?

---

May 18 2004 at 21:38:58
Name: Dave
Location: not in ny
Comments: Tony Randall's origins often surprised people. I recall in the 1970s he was a guest on one of the daytime talk shows (maybe Mike Douglas) with fellow guest Dale Robertson. Dale was drawling on in full Southwestern accent about being from Oklahoma City. Then the host casually, and apparently unwittingly, asked Tony where he was from, probably expecting him to be from NYC or Philadelphia. The erudite Tony simply replied, "Tulsa," to the amazed looks of Robertson et al.

---

May 18 2004 at 17:57:10
Name: Jim Ruddle
Email: jruddle at earthlink dot net
Location: Rye, NY
Comments: Alexander Woolcott, a noted and acerbic theater critic, saw Randall in a number of costume dramas during his early years on the New York stage and said, "He was the finest British actor to come out of Tulsa, Oklahoma."

---

May 18 2004 at 15:29:26
Name: David Batterson
Location: Las Vegas
Comments: Jim,
Tony Randall is mentioned in many guestbooks here. And there's also a photo of him in his early Tulsa days.
He was a superb actor, humanitarian and is one actor I would always wish I could have met in person.

---

May 18 2004 at 09:48:08
Name: Jim Ruddle
Email: jruddle at earthlink dot net
Location: Rye NY
Comments: Tony Randall, Tulsa Central Grad, has died at age 84. Another of Isabelle Ronan's students.
I was very surprised when I first learned that Tony Randall was from Tulsa. He seemed the quintessential New Yorker in movies like "Pillow Talk" and "Will Success Spoil Rock Hunter?" He was one of those talk show guests who could be depended upon to be spontaneous and funny. I'll miss him.

Here is more about Tony Randall on this site.
---

May 17 2004 at 13:05:02
Name: Erick
Email: ericktul at yahoo dot com
Location: Tulsa
Comments: Beef Baloney's last episode is probably the best I have seen. They didn't focus on the fact that it was the last episode, as it seemed the show was a tribute to Japanese culture (those who haven't seen Japanese television probably wouldn't understand).
The thing I will miss most about Beef Baloney is their occasional parody of the Tulsa cable auction show...much too funny.
Thanks to the guys for the great laughs. We will see them again, although it will probably be on MTV or some other national cable outlet.
BB emphasized the garish colors and the "kawaii" (cute) aspect of Japanese TV.
---

May 17 2004 at 09:55:59
Name: Joe
Location: from inside the padded room
Comments: Heard a radio spot for Myers-Duren Harley-Davidson the other day and I swear it sounded like the radio spots Mazeppa voiced back in the 70's. Was that you, Mazeppa?
Email from G. L. Sartain: "yepydoodle." He further advised that the spots are current.
---

May 16 2004 at 02:05:21
Name: David Worrell
Email: djworrell at hotmail dot com
Location: Canyon Country
Comments: In high school (early 70's), some of my friends and I used to do something kind of crazy which is related to recent discussion. There was an old abandoned amusement park down south of Tulsa (pretty sure it was Skyline), and we used to go there after dark, climb the fence and get inside, and go and WALK the giant wooden rollercoaster all the way around in the dark. And yeah, we'd get high while we did that (again, early 70's). I remember messing around in there 3 or 4 times until we got caught one night by a security guard while out on a small lake in some paddle boats. We didn't get in trouble; he just made us leave. :-)

---

May 15 2004 at 19:17:14
Name: Dave
Location: on the phone
Comments: I'm only a couple of weeks late with this, but about Tulsa telephone exchanges: NAtional was an offshoot of RIverside south of 51st Street when things started growing in that direction. People there who had RI were switched over to NA.
As for LUther, I think it was Troy Gordon who pointed out the irony that it was the prefix for a few downtown Catholic churches.

---

May 15 2004 at 14:05:03
Name: Webmaster
Email: mike~at~tulsatvmemories~dot~com
Location: Tulsa
Comments: This is a really sad day; Beef Baloney's last show is tonight. I wish them well, and have no doubt we'll be hearing more from them, one way or another. I just received...
The Last Beef Baloney Brief

Thanks for the great.....uh.....memories Tulsa!!!

Beef Baloney --- Saturday nights at midnight on Fox.
Saturday 2:30 a.m. on Cox 71.
Friday nights 2:30 a.m. on Cox 71.
Wednesday nights midnight on Cox 71....

This week's LAST episode:

Uh okay...this is kind of depressing...I don't know how to say this to you...but this is the last time you will ever have the opportunity to watch Beef Baloney on Tulsa TV.

It's a good episode, full of weird and wild adventure.

We would like to thank everyone who has tuned in over the last 10 months, all of our sponsors who have supported us and believed in us, all of the people who helped creating the show.

Where we will be----
Los Angeles, California....that's where...........You can pick up Beef Baloney shirts at Groovy Threads and Zane's on Cherry Street!
---

May 15 2004 at 07:33:31
Name: Karl M
Email: k2738-at-hotmail-dot-com
Location: The Vast Wasteland
Comments: Whoa! Had a severe flashback last night:
Sandy's Hamburgers
Shoppers Fair
The Par 3 course at 51st and Lewis - and Revere Elementary across the street
Conner's Corner - best burgers in town, just off 31st and Harvard
The Anthony's store in Ranch Acres that still had an overhead pneumatic tube change/receipt system in the mid 60's
Mazeppa's classic Xmas commercials for Coney Islander ("Coneys sizzlin' on an open grill, Jack Frost nippin' at your buns...")
There was discussion of Sandy's in Guestbook 44. You can see the Shopper's Fair logo near the top of the Oom-A-Gog page. The photo of Shopper's Fair on Discount Stores of the '60s looks very much like the one formerly in the 21st & Sheridan shopping center that still hosts Casa Bonita.
---

May 14 2004 at 17:20:56
Name: Sandra M.
Email: larsan180-at-yahoo-dot-com
Location: N.C.
Comments: Can someone please post an obituary for Rob Wilson "Rob on Your Radio" KTBA? I went to OU with him in 1963, and am saddened to hear of his passing. Thank you.

---

May 14 2004 at 14:55:17
Name: Karen Strader
Email: karen.strader-at-eds~~dot~com
Location: Tulsa
Comments: Do you have a list of all of the people from Oklahoma who have become famous?
There are several of these lists on the internet, but probably the largest is at YourOklahoma.com.

The About TTM page has links to the Internet Movie Database. Those IMDb pages link back to TTM about a number of locally-connected people.
---

May 14 2004 at 13:42:37
Name: Webmaster
Email: mikeattulsatvmemoriesdotcom
Location: Tulsa
Comments: Archived Guestbook 162, where we just saw a couple of photos of Gailard Sartain as a young lad. We also learned that Saturday night is Beef Baloney's last show. We discussed Tulsa-area amusement parks and letter-prefixed telephone exchanges of the past.
There was a new photo from KOTV in the early 50s, with an unknown host. We need more help identifying the host, and the Girl Scouts and Brownies in the picture.
Mayfest reminder: the great conguero, Poncho Sanchez, will be at Mayfest tonight with his Latin jazz band. If you're a jazz fan, this is one to see! (Later: kudos to whoever booked Poncho. The show was world-class entertainment. Also, thanks to MidFirst Bank for sponsoring Mayfest this year.)

---
Back to Tulsa TV Memories main page