Tulsa TV Memories Guestbook 213

TTM main | What's new on TTM? | GB Archive




June 01 2006 at 21:40:32
Name: Webmaster
Comments: Thanks to a link provided by Mr. Lloyd Wallisch, here is a "map" of the TTM main page. Those clusters must be the Channel Changers, the yellow nodes the Search Engine.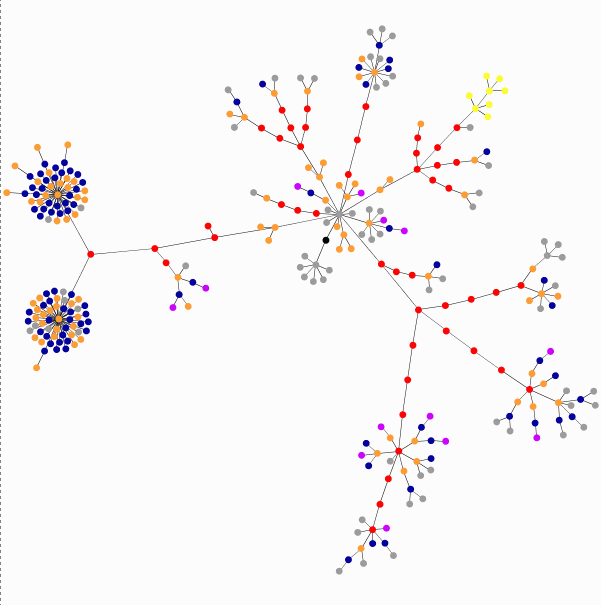 Legend:
blue for links
red for tables
green for the DIV tag
violet for images
yellow for forms
orange for linebreaks and blockquotes
black for the HTML tag, the root node
gray for all other tags

---

June 01 2006 at 21:04:27
Name: Webmaster
Comments: I have been remiss in getting this out here: from Bob Jernigan (Captain Ben): photos of the 3/5/2006 Captain Ben reunion at McNellie's. The link is at the top of the Captain Ben page.
The new pics are on Flickr, a free, convenient way to display photos. I'm trying it out. If you have any comments to add about the pictures (and I'm sure some of you will) you can do it there.
---

June 01 2006 at 18:14:48
Name: Lee Woodward
Location: Tulsa
Comments: Americans and the world's people are constantly surprised to read or learn about man's inhumanity towards his fellow man. From whatever country or race or level of intelligence, we find ordinary people inflicting unforgivable atrocities against his brothers and sisters.
If you would like an insight as to how this can happen, you will want to watch or record: "The Human Behavior Experiments." Tonight (at 9:00 Central) on the "Sundance" Channel. (repeats at 1:00 am Central)
Produced by the same fellow who did the documentary, "Enron: The Smartest Guys in the Room."
---

May 31 2006 at 17:05:49
Name: Mike Miller
Email: michaelmmiller@hotmail.com
Location: NW Houston
Comments: Good job, Frank. That's all. I'm done. Using "done" for "finished" should finish a few broadcasting careers!
---

May 31 2006 at 16:10:45
Name: Gary Thompson
Email: Gary@KXOJ.com
Location: CityPlex Towers
Comments: Just saw that Bob Cooper has resigned his morning position at KOOL 106.1.
Says he's going to go after interests outside of radio
He'll be missed. He's been on the air off and on for...what?...like 30 years in Tulsa?
---

May 31 2006 at 15:44:04
Name: Frank Morrow
Email: frankmor@io.com
Location: Austin
Comments: Regarding some of the things that pique some people about the media past and present, here are some of mine. They are mainly about word and grammar usage of today's media people. Many errors started with the semi-literate sports announcers and color men and have gained popular usage. For instance----------
Using "media" and "criteria" as singular nouns.
Hearing the trite phrase "No doubt about it." repeated constantly.
Such redundancies as "He has a fine future ahead of him."
Abusing the word "allusion," using it as if it the word meant "said previously," as if the word meant a direct, repetitive referral instead of an indirect reference or suggestion.
Word mispronunciations:
accenting the second syllable of "applicable," "despicable," "formidable" and "affluent"
making "short-lived" rhyme with "give" not "eye"
sounding the 't' in "often"
making two syllables out of "toward"
accenting the first and third syllables of "hegemony"
saying a long 'o' in "onerous"
The worst one I've heard was in a local Austin recorded announcement, saying that we should protect our "un-a-LEEN-a-ble" rights.
Note that I didn't even mention more obscure pronunciations such as with the adjective "consummate" being pronounced like its verb, with the accent on the first syllable rather than on the second.
I think that's a lost cause along with pronouncing the 'e' at the end of "forte." It's all right if it's for music, but not for other usage. Actually, "for-tay" has become acceptable in dictionaries as a second alternative, not even the first alternative.
I know. I know. I'm being picky. I know. This is the way the language changes. Some of the above mispronunciations are so pronounced now that they are being accepted as secondary. But, I'm still living in the shadow of my Central teachers Miss Beckington and Miss Ronan, not to mention the teachers from grade school on up. In the second and third grade we were drilled not to say "chimmilly," and to pronounce "often" and "toward" correctly, i.e., "offen" and "tord."
Our language is one of our jewels.
But it's taught by illiterate fools.
The language must change,
But its way out of range
Of what we were taught in our schools.
According to the Merriam-Webster Online Dictionary, the first choice for "despicable" is with the accent on the second syllable.

Speaking of trite phrases, how about "if you will" and "quite frankly"? Or the frequent and incorrect use of "myself"? Network TV morning shows are the worst for those.
---

May 31 2006 at 11:18:58
Name: Jason
Location: Tulsa
Comments: You can see some toy commercials from the '70s at msn.com. It's about midway down the page on the left side in the "video" section. Brought back some memories!
---

May 30 2006 at 19:52:05
Name: John Hillis
Location: Sweatin' and Swattin' Skeeters
Comments: No drive-ins for 70 miles or more to my knowledge, so we have to live on memories here in the high-rent district.
I do recall a drive-in somewhere in Georgia that had, along with the cast-iron lo-fi speakers, sheet metal boxes on the end of flex duct that you inserted into the window, and rolled up for in-car A/C. Given the summers there, that was probably the only way they could get patrons into the passion pit.
Like most drive-ins and a surprising number of directional AM tower sites, I suspect it has made way for a strip mall by now.
---

May 30 2006 at 19:19:11
Name: Mike Bruchas
Location: digitizing anaconda and killer whale footage at work
Comments: I don't know about now, but maybe 10 years ago - Vermont had 5 or 6 very seasonal drive-in theatres - warm season can be short near the St. Lawrence!. Some places you have to dodge blackflies, deerflies AND skeeters. One drive-in outside St. Alban's had lush rolling green lawn area for a parking lot. I also remember "WallyWorld" were looking to hijack some drive-in space for potential stores and it caused a state-wide ruckus!
---

May 30 2006 at 18:22:34
Name: Erick
Email: ericktul@yahoo.com
Location: Tulsa
Comments: I agree about the FM transmitters at drive-ins. Very big improvement. I recently read an article about how drive-ins could be making a comeback of sorts. Just in the last few years, several drive-ins across the country have reopened. It seems that patrons enjoy the price, ability to bring in food and drink, and the privacy. With the advent of HD radio, we could be seeing a whole new great reason to hit the drive-in. Don't look for HD radio transmitters at the Admiral Twin anytime soon. Most drive-ins still make just enough money to pay the bills.
---

May 30 2006 at 17:32:57
Name: DolfanBob
Email: MiamiPhin@yahoo.com
Location: Broken Arrow
Comments: Yes, Mike. Gone are the days of the built-like shot put, sound-like AM transistor radio speakers. Short-distance FM radio transmitter to your FM radio dial and rolled-down window bug-biting nights are the new drive-in way to save money on those stolen collector item speakers. Just like the highly sought-after Sonic drive-in metal trays.
Actually, the FM radio thing is a big improvement, in my opinion. Most cars have much better speakers than the tinny old metal-housed speakers.
---

May 30 2006 at 17:07:05
Name: Mike Bruchas
Location: VA
Comments: Question re the Admiral Twin - do folks listen in on FM in cars with windows down or are all burning gas to keep the a.c. on in the car on hot Tulsey nights? My last drive-in visit was when ya had speakers on a wire to the car for audio!
---

May 30 2006 at 13:47:41
Name: Lisa Hoke
Email: lisapics@aol.com
Location: OKC
Comments: Edison Class of 1966
Hi, I'm trying to putting together an A/V production for my sister's 1966 reunion.
We are looking for snapshots taken of anyone who is a member of the Edison Class of 1966. By snapshots we mean candid photos, party pics, sports pictures, fun pictures anything that is NOT in the yearbooks and anything that is not a headshot (i.e., school portrait).
Also looking for photos and/or video of Tulsa Landmarks during that era, especially landmarks, etc., that would be popular with teenagers, such as Penningtons.
Don't have much material except the yearbooks to work with so any help would be greatly appreciated whether it be actual photos emailed or suggestions for sources.
Thanks!
Have you tried EdisonEagles.com?
---

May 29 2006 at 10:51:06
Name: Webmaster
Comments: Article in the Tulsa World today about the Admiral Twin Drive-In:
"Owners say theater having its best season"
---

May 29 2006 at 04:17:27
Name: Jim Reid
Location: Dallas
Comments: I'm so sorry to hear about Pete Abram's wife. Pete's a great guy and I owe him a lot. I may have not made it past my first month in the TV business without him.
---

May 28 2006 at 20:33:20
Name: Randy Kindy
Email: rkindy@mac-dot-com
Location: Tulsa - Listening to Mike Flynn's "The Folk Sampler"
Comments: Steve Sadler, good to hear from you.
I worked with Steve at KELi during his Dan Chase days. One guy I've often wondered about from that era is Scott Wilson. (He's in one of Craig Kitch's pictures on the KELi page.) Scott was a good friend, and I've been unable to find him on the web because he has such a commonplace name. Anyone have any contact info?
---

May 28 2006 at 04:32:00
Name: edwin
Email: you know my name, look up me number
Location: in mourning
Comments: Bro' Tyrone Wilkerson, another brother of the arts, has left us. While persons on this site may not know of the Master, persons still training young ones may find a few of the Masters cult-like students coming to them. I will tell you this (in OUR pain of loss) it is those teachers whom send them to us (to begin with) who need to be helped!.....Check out the Brother on Google....see. Toward the end (cancer) His Students protected Him, drove Him about to His duties, and lied about their Masters ill health! INDEED! The Glory!
---

May 27 2006 at 14:08:53
Name: David Batterson
Email: davidbat(at)yahoo.com
Comments: OK, I don't toot my own horn THAT much. But I'm tooting for this new song I wrote (the words) with Mark Giles (composer and singer). It's called RATTLING THE DISHES. Check out the video I made.
---

May 27 2006 at 10:22:16
Name: Dana LeMoine
Email: d4wdw@valornet.com
Location: In "The Round" at E.C.
Comments: Channel 8 has a story on their website about the time capsule buried in downtown Tulsa.
See Dave's entry at the bottom of this Guestbook for more about the buried Plymouth.
---

May 27 2006 at 10:05:36
Name: Mike Bruchas
Comments: Just heard from Pete Abrams - they are having a Memorial gathering Sunday in Jax. Here is a snail-mail address for cards.
The Abrams Family
43663 Ratliff Rd.
Callahan Fl. 32011-7253
---

May 27 2006 at 09:27:30
Name: Lowell Burch
Location: Oiler Park, first base line
Comments: Besides the rides and attractions mentioned by Jerry, there was a Ferris Wheel, Loop-the-Loop, a beautiful Carousel, a variety of Carnival Games, the thrilling Rocket Ride, a Kiddie Train, a Watermelon Patch, Picnic Grounds, and many special events. They had an annual Pow-Wow and I do have some very dark footage of a Smiley Burnette concert. We visited with him and got his autograph on an album jacket.
The spookhouse was a classic Pretzel ride, complete with the Laughing Lady. (Check out the "Laff in the Dark" D.A.F.E. website and learn more than you want to know about those subjects.) When I figure out how to capture images from a DVD I will send in some shots of Skyline and Lakeview. We are missing some of the better Lakeview footage but some of it still survived.
In the early '70s, a movie company bought the carousel and Leon Russell bought the rest of the equipment (for about $10,000, I believe). After storing the stuff out on the Okmulgee Beeline, he moved everything to California.
My cousins came down from Fargo one summer and they kept asking if we were going to go to "Buck Day". I finally figured out that they meant "Dollar Day" at Lakeview. I think the reason everyone liked Lakeview so well was because it was the most comprehensive park in Tulsa during that time.
---

May 26 2006 at 11:00:28
Name: Jerry Oberg
Email: pastorjao209@yahoo.com
Location: Wilkesboro, NC
Comments: I have read with interest the stuff about Bell's Amusement Park, and about the Skyline Park near Jenks and Glenpool. But does anybody have anything on Lakeview Amusement Park near Mohawk Park?
I remember going there as a child for "Dollar Days" when you got a stamp on the back of the hand and could ride all the rides you wanted for $1.00. There was the Tilt-A-Whirl, Spook House, Bumper Cars, Hand Cars of the Kids, and a great arcade. I also remember the adults could play bingo for packs of cigarettes.
---

May 25 2006 at 23:40:57
Name: Mike Bruchas
Location: DC area
Comments: I spoke with Pete Abrams tonight. Pete spent years at KTUL, KOKI and with the Challenger remote crew. His lovely wife, Linda, passed in the early morning hours of Thursday at a Jacksonville hospice. Four weeks ago Wednesday - they were packing up to move from Tampa back to a new home in Jacksonville - when she took ill and went to the hospital. She had cancer surgery at a Tampa hospital and was air ambulanced to Jacksonville last week to the Mayo Clinic there.
When I get an address for Pete in Jax - will post one for cards.
I am so sorry for Pete, his daughter, and his father-in-law.
---

May 25 2006 at 17:05:51
Name: Mike Bruchas
Comments: KTUL's Jimmy Leake for a long time owned a BIG boat on Grand Lake as one of his many toys. Leake invited staff to "cruises" on his yacht - "to make nice" with the staff for "being loyal to him" after the failed union drive of '75. But Mr. Leake's mega-boat was notably inferior in size to Ike Horn's. Ike owned the BIGGEST boat on Grand Lake for like 30 years! He loved to brag about it - sold an awful lot of home packs to buy it!
---

May 25 2006 at 12:26:54
Name: Margaret Janeese Brixey Flanagan
Location: B.A.
Comments: (from 4/21/2006 email by permission)
When I was 9 years old, in 1963, I began singing on the live TV show on Channel 8. At that time, Billy Parker was the emcee. Al Clauser was the producer. Wayne Johnson was a cameraman. Wayne was also Tuffy the Tiger on the Mr. Zing and Tuffy show.
At that time the show was called Longhorn Round-Up. It became the Longhorn Wingding and later, Longhorn Barndance. I sang on the show for several years. We had as emcees, Billy Parker, Ike Horn, Jack Beasley and a young guy that dressed up like an Uncle Zeb-type character, and I cannot remember his name (probably Boyce Lancaster as Grandpa Zeb...webmaster).
But I DO have hours of audio of the show, and a video clip made in '63. It shows me singing "Mountain Dew". Billy Parker can be seen in the video and Speedy West was on the steel guitar, so you can see him. I sang under the name Margaret Brixey.
Leon McAuliffe was on the show for a guest spot shortly after I started singing on the show, and he hired me to sing with his band which I did until I was 17. He flew me in his private plane to shows and we also went Caravan-style. I sang at the Cimarron Ballroom on Saturday nights as well.
Ernest Tubb caught the show on a Saturday afternoon when he was in town to play Cain's Ballroom in 1964. He had Cal Smith, who was his front man at the time, to call Channel 8 and get my phone number. He called and asked me to be at Cain's that night to sing with his band. I did and ended working for E.T. for the next 7 years.
When I was 16, E.T. got me a contract with Decca Records in Nashville. Owen Bradley produced my session. You can find me on Bill Anderson's website if you google Margaret Brixey/"Before Charlie Gets Home", which was written by Bill. (buy it for £3 at this site in the U.K....webmaster)
I quit singing when I was 17, because I wanted to get married and have kids.
I started singing again a year ago when my marriage was over and my kids were all gone but one.
Rusti Love is my sweet little boss lady at the Casino where I sing now and then under the name Janeese Flanagan, which is my middle and married name.
As I read this website, I know the answers to many of the questions that people ask. Roy Ferguson played guitar and sang with the band. Candy Noe was a regular. Bobby Wooten did guest appearances on the show and went to work for Johnny Cash after Luther Perkins (his lead guitar player's) death, and was Johnny's lead player till the end. Hank Killion was a Johnny Cash impersonator when he was a kid and did the show a lot. MANY people sang "Kansas City" on the show, including myself and Candy Noe, but I do not remember Hank Killion ever doing it.
---

May 25 2006 at 09:27:09
Name: Joe
Location: from inside the padded booth
Comments: The Tulsa World obits page (5/25) is reporting that Ike Horn has passed away. I can't remember the Horn Brothers Show, but I certainly remember him from the North Carolina Furniture commercials.
I'm sorry to hear that. Thanks for letting us know.

Ike Horn was once on track to be co-owner of a proposed KTOW Sand Springs TV station on Channel 29. This was discussed in the 1967 masters thesis on Tulsa TV history by former TU student Greg Corarito.
---

May 25 2006 at 08:13:47
Name: David Bagsby
Email: dcbatsunflower.com
Location: Lawrence KS
Comments: Wasn't 'Matte Black' actually Davit Souders? If so, last time I checked, he was still running Diabolical Productions in Tulsa.
---

May 25 2006 at 02:15:38
Name: Aleister
Email: rossja@cox.net
Location: Tulsa
Comments: Found the site by doing a search for EOI network. Wondering whatever happened to "Matte Black", "Mother Theresa", and "China" after all these years. I recorded a lot of those shows and am in the process of getting them off old cassette tapes and onto the PC. Pretty cool to hear "the brink" after all this time... :D
We heard from "Mother Teresa" in Guestbook 186.
---

May 22 2006 at 20:33:53
Name: Mike Miller
Email: michaelmmiller@hotmail.com
Location: Houston: Deep in the heart of TAXES!
Comments: For those who might be confused over an item in Monday's Tulsa World death notices, I'd like to set the record straight. The item reads: Miller, Lewis "Lew," 100, retired Lewis Miller Dance Studio owner, died Sunday. Services pending. Moore's Memory.
This would be a major story if true. But my dad, Lew Miller, died in November 1988 the day after an election that cost me a job in Washington with Nevada Sen. Chic Hecht. The funeral home, not The World was responsible for the error. I had calls from his friends who had already attended one funeral. Lew Miller would have been about 100.
Coincidently, former Senator Chic Hecht died last week at the age of 77.
I enjoyed reading about Lew Miller and Sen. Hecht in Mike's new book, How High Can A Guy Stoop?
---

May 21 2006 at 13:07:32
Name: Webmaster
Comments: We saw a double feature at the Admiral Twin Drive-In last night: "Poseidon" and "RV". They still play the old "10 minutes 'til show time!" countdown trailers, which are a lot of fun. The weather was perfect for sitting outside on folding chairs while chowing down on movie snacks.
On our way to the drive-in, we tuned in KWGS at 89.5 and John Wooley's "Swing on This" program. First tune out of the radio was a pleasant surprise: "Legion Hall Strut" from Steve Bagsby's new "Talahina Hula" CD.
As we approached the theater, Alan Lambert's "Big Band Saturday Night" program opened with Nelson Riddle's "Route 66" theme. That was apropos, since the Twin is on the original Admiral Place alignment of Route 66 (during the years 1926-1932).
Once the show started, we tuned over to 88.3 for the movie sound.
Great way to spend a Saturday evening in Tulsa
---

May 20 2006 at 20:24:33
Name: Mike Bruchas
Comments: KTUL tried doing Don Woods weather tease outside the studio backdoor if in daylight and in good weather in the 70s, but the angle of view was just the north side of Lookout Mountain. Don did the show inside and it was a pain to drag a big GE camera thru the studios to the door for just :30 of tease. In the days of wired mics, we were afraid of Don getting his mic caught and unplugged, too!
When Mike Ransom and I visited 8 about 6 years ago, Larry Miller took us up to the station roof, which was windy and had no guard rail, probably a good target for a lightning strike, too. 8 news had a pad on the roof for "live shots" but the Tulsa skyline may have been smallish in aspect behind.
---

May 20 2006 at 17:49:43
Name: Webmaster
Comments: Pics of the new Starship Music and Gifts location, along with the previous photoset, at Lost Tulsa.
---

May 19 2006 at 19:43:28
Name: Dana LeMoine
Email: d4wdw@valornet.com
Location: Teen Nation at Lewis and Clark Jr. High
Comments: Here is something I either forgot, or never knew.
Sam Kinison is buried in Memorial Park Cemetery at 51st and Memorial.
Also laid to rest at Memorial Park are Bob, Johnny Lee and Billy Jack Wills.
Here is a link to the page on the site I found this info on:
---

May 19 2006 at 12:25:52
Name: Marc Hall
Email: fox23stormchaser@yahoo.com
Location: Muskogee
Comments: I was wondering if anyone here has any contact info for Gailard Sartain such as address , email , agent etc...? This is for a possible appearance request in OKC . Thanks for any help . Marc
---

May 18 2006 at 17:57:03
Name: Rick Clark
Email: clarkrick@yahoo.com
Location: German Corner
Comments: Good to hear my former fellow KVOO 'ranchhand' Steve Jackson is still on the right side of the grass. I also was a former KVOO-AM jock in the late 90`s into 2000. This after earning my 'air check' under the great Alan Lambert. Someday I`ll share the tale how I thought I killed Billy Parker (accidentally). Perhaps after the statute of limitations has expired.
---

May 18 2006 at 15:24:42
Name: Gary Chew
Email: garychew(at)comcast(dot)net
Location: Sacramonius, California
Comments: With regard to the "Gimme The Mike" shtick someone has written about being in Tulsa TV as well as other markets: this is the "work" of what were called (when I was in that bidness) Nooze Doctors. They seemed to be quacks then, too.
---

May 18 2006 at 13:50:25
Name: Erick
Email: ericktul@yahoo.com
Location: Tulsa
Comments: Jim Ruddle's comments about pointless "in the field" live reports made me think of KOTV. Every night, an anchor will tease a story, then make the toss to a reporter "live in downtown Tulsa" (despite the fact that often times the story has nothing to do with downtown). The reporter pops up, with the Tulsa skyscrapers behind him/her. I would guess they are standing on KOTV's roof. Why don't they just put the reporter in front of the weather green screen with a live shot of KOTV's tower cam behind them?
---

May 18 2006 at 12:25:45
Name: Dana LeMoine
Email: d4wdw@valornet.com
Location: Looking for Hoffa under the Rose Bowl
Comments: This one always drives me nuts.....
There is a report about the death of someone, and the reporter refers to a video of the deceased, stating that it was taken BEFORE their death. Really? Gee, I'm glad they tell us the person is alive in the video, because it's so hard to tell.
This scenario is similar to an autograph seller that offered an item for sale that was signed by Mickey Mantle. He described it as being signed by Mickey before his death.
I decided to pass on it, as I'm wanting a post mortem autographed ball from Mickey.
---

May 18 2006 at 12:09:34
Name: Erick
Email: ericktul@yahoo.com
Location: Tulsa
Comments: "Gimme the Mike" is not Tulsa-exclusive. Stations around the country are doing it as "Gimme the Mike Charlotte", "Gimme the Mike Chicago", etc.
---

May 18 2006 at 09:46:21
Name: Steve Bagsby
Email: sbagsby@tulsacc.edu
Location: Talking to Ted Mack
Comments: Watching "Gimme The Mike" reminds me of the old cartoon "Amateur Night". I want to see "Egghead" come out and start singing "SHE'LL BE COMIN' AROUND THE MOUNTAIN WHEN SHE COMES LA-DE-DAH!!"
---

May 18 2006 at 08:43:29
Name: Jim Ruddle
Email: jruddle@earthlink.net
Location: Rye, NY
Comments: Adding to the peeve list:
There's one consultant-driven technique that curdles my interest: the tease that asks a question, then promises an answer.
"Is this flesh-eating bacteria (never bacterium) in the lettuce at your supermarket? We'll tell you at ten."
Or:
"Can you avoid paying any property taxes for the rest of your life? Our Consumer Unit has the answer, at six."
Don't quiz me, you idiots. If you've got information of importance, give it to me now, or just keep quiet until show time.
Referring to the phony outside shots, even when on actual locations they seem contrived and insulting. Somebody standing in front of dark building telling me that it was here that police found the body of a spotted gorilla earlier in the day simply says "We weren't here when anything was happening."
But by far the most annoying to my sensitive ears is "City officials are saying..." or "Senate aides are saying..." or "Friends of the victim are telling...." No. They said and they told. Unless they have a mental problem which forces them to continue talking long after they have uttered the first time.
I'm surprised that on-location shots are not yet blue-screened, given the frequently low level of interaction between the reporter and the news environment. Geraldo could be placed in a wind tunnel with a fire hose and viewers would be equally satisfied.
---

May 18 2006 at 03:39:44
Name: Steve (Jackson, Dan Chase) Sadler
Email: stratfan1953[at]cox[dot]net
Location: Tulsa, Oklahoma
Comments: I recently had a friend tell me to look at this web site because there was a picture of me at the KELi studios. Sure enough there I was, with hair, I might add.
I was Dan Chase on KELi from about the spring of 1976 until the summer of 1977 when I went to Oklahoma City with Dwight Williams, aka Jon Michaels to start KZUE, a sister station to KTOK.
I left radio for a while and then returned to Tulsa and went to work at KRAV in 1983. I worked there for about 4 years as Steve Jackson. Then in 1987 I was offered the afternoon shift at KVOO-AM 1170 by Billy Parker and then program director Mike Wilson.
I worked at both KVOO-AM and KVOO-FM as Steve Jackson until 1999 when I decided on a career change that took me back to school and a degree as an Occupational Therapy Assistant.
I currently work for a private hand therapy clinic in Tulsa. There are some good and bad memories of radio, but I still miss the music and the people.
Thanks for the look back.
Thank you for the visit, Steve.
---

May 17 2006 at 20:41:47
Name: Rick Clark
Email: clarkrick@yahoo.com
Location: Cardinal Drive In
Comments: Is it just me or does anyone else feel insulted by the local news (6 & 23 I most notice) doing evening live spots from "the field"? They're actually standing in their parking lot mostly attempting to show they're on the job & on the spot. And also KOTV hosting "Gimme the mike"-- shouldn't a news station promote the proper grammar as in GIVE me the mike?
My pet peeve---and they all do it---is the withholding of potentially vital information as a tease.

"The Four Horsemen of the Apocalypse arrived in Green Country early this evening. We'll tell you where they are headed at 10."
---

May 17 2006 at 17:08:30
Name: Dave
Location: Hey! Where are the keys?
Comments: Don't forget, folks, we can now link to Tulsa World articles without paying to view. So you should be sure to see the article in today's World about the car buried under the street by the courthouse these past 49 years: "Memories of a buried Plymouth are resurrected by Tulsa chronicler".
Thanks for the reminder, Dave. More Tulsa time capsule-related links are on the new Tulsa Car Dealers page on this site.
---

May 17 2006 at 10:23:15
Name: Webmaster
Comments: Archived Guestbook 212, where writer Wilhelm Murg just caught us up on his recent activities. Thanks to Karen Manasco, we saw a bust of Dick West, the Native American artist who performed KTUL's sign-off in the 70s and 80s. Dino Economos and Candace Conley checked in.
Ed Colton sent a video of KOTV's coverage of the first ladies' mud wrestling at the Cain's. The webmaster showed his Back Seat Driver's License. David Batterson and Mark Giles presented an original song with video.
Gretchen Quoss queried where she might obtain an "I Whipped Walls!" T-shirt. Cheryl Stewart wondered about the identity of a Tulsa or OKC hands-in-pockets, 1950s or 60s weatherman.
That, and more is Guestbook 212.
---
Back to Tulsa TV Memories main page