Tulsa TV Memories GroupBlog 327

TTM main | What's new on TTM? | GB Archive


June 10 2011 at 16:00:00
Name: Webmaster
Topic: Admiral Twin groundbreaking tomorrow
Comments:

From the Tulsa World:

"Architect puts love of Admiral Twin into plans to rebuild drive-in"

"The public is invited to a 10:30 a.m. Saturday (6/11/2011) groundbreaking ceremony at the drive-in - bring your shovels to turn some dirt, Navarro said - which will serve as a kickoff for the rebuilding effort."

Hope to see you there!
---

June 09 2011 at 12:51:22
Name: Steve Smith
Topic: Bell's
Comments: Thanks, Lazzaro. That news wasn't what I had hoped for, but I appreciate your relaying it.

I wonder if the Zingo got zold.

---

June 06 2011 at 07:48:53
Name: Tulsa Area Music Archives
Topic: Tommy Allsup Interview
Email: info at preservemusic dot org
Comments: Tulsa Area Music Archives VOL. 6.2 "Bonus" Podcast now available.

THE TOMMY ALLSUP INTERVIEW.

TAMA is pleased to share this interview by our founder Steve Todoroff with premier Western Swing guitarist and producer, Tommy Allsup. Tommy is probably best know for losing the coin flip to Richie Valens on February 3, 1959, allowing Valens to join Buddy Holly, The Big Bopper, aka J.P. Richardson, and Roger Peterson, the pilot of the private plane they had chartered, to meet an untimely death. A Tulsa-area native, Tommy has had an amazing career as a session guitarist, arranger and producer, with a career that has spanned over six decades. Listen to Tommy talk about his days as a session player with the likes of Buddy Holly, Buddy Knox, Walter Brennan, The Everly Brothers, Eddie Cochran, Kenny Rogers and many, many others. Tommy also talks about working in the studios of Los Angeles in the early Sixties with a young Leon Russell, who was just starting out in the session world. Hear Tommy also address the current controversy involving the recent claim by Dion that he was actually the one that flipped a coin with Richie Valens for the infamous seat on the private plane on that fateful night, and hear a selection of Tommy's work, both well-known and obscure, straight from the vaults of TAMA!


1. A Little Bitty Tear - Johnny Burnette
2. Walk On By - Johnny Burnette
3. Jambalaya - Tommy Allsup & The Raiders
4. Little Hollywood Girl - The Everly Brothers
5. Down On Deep River - Leon Russell
6. Hey Punkin! - The Bowman Brothers
7. It's So Easy - The Crickets
8. Heartbeat - Buddy Holly
9. Wishing - Buddy Holly
10. Peggy Sue Got Married - Buddy Holly
11. Ling Ting Tong - Buddy Knox
12. Blues In "A" - Bob Wills
13. Old Rivers - Walter Brennan
14. Milk Cow Blues - Eddie Cochran
15. Guitar Twist - The Ventures
16. When You're In Love - Bobby Vee
17. Watusi '64 - Jay Bentley and The Jet Set
18. 500 cc - The Eliminators
19. Fools Paradise - Tommy Allsup
20. Peppermint Beatle - The Standells
21. In The Year 2525 (Exordium & Terminus) - Zager and Evans
22. Stand By Your Man - Tommy Allsup and the Tennessee Saxes
23. The Gambler - Kenny Rogers
24. Bob's Breakdown - Asleep At The Wheel
25. I'll Fly Away - Tommy Allsup

http://www.PreserveMusic.org or via iTunes.

Direct from the vaults of the Tulsa Area Music Archives,
Preserving Tulsa's Music History...

Running Time: 1:57:34

---

June 04 2011 at 17:28:57
Name: Mike Flynn
Topic: Moby Anderson
Email: mike at folksampler dot com
Comments: What a terrible shock to hear about Moby's death. He was one of the nicest people I ever knew in Tulsa ...funny... caring... a great friend. He was a mainstay at the Dust Bowl. He helped paint the walls... build the kitchen... and played on stage with everybody. I'm not ready for this... at all... it's hard to believe. God bless you Martin.


---

June 04 2011 at 10:01:37
Name: Webmaster
Topic: Moby Anderson
Comments:

I saw a notice in the Tulsa World today that Moby Anderson passed away. Moby was a bass player and contributed a comment about a Tulsa coffee house he performed at in the early 1960s, the Purple Cow. He was also a regular at the Dust Bowl. We mourn his loss.
---

June 03 2011 at 12:48:45
Name: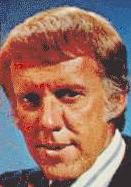 Lee Woodward
Topic: Jim Arness
Email: DeCastleDotCom
Comments: Brother Morgan informs me that his friend James Arness passed away this morning. A great friend to many an aspiring actor.

His legacy will live on in that great series.


---

June 02 2011 at 15:33:24
Name: Scott Linder
Topic: Bell's Amusement Park Stories
Comments: Well, I have some Bell's family stories from the 50s, but I think that I say too much here on TTVM, so I'll leave this line to others.

---

June 02 2011 at 12:45:06
Name: Lazzaro
Topic: Bell's
Comments: I ran across this in the World:

"Wagoner County pulls vote on Bell's"

"6/2/2010 WAGONER — Wagoner County commissioners voted Tuesday to rescind a July 27 special election to vote on a sales tax increase to relocate Bell's Amusement Park to the county."

Didn't sound too promising at the time of the article.

Then there's this story from 1/12/2011:

"Zingo parts are on eBay; name, design remain with Bell family"

Which kind of sounds like Zingo is history at least.

---

May 31 2011 at 15:33:04
Name: Steve Smith
Topic: Current status of Bell's Amusement Park?
Email: esskayess at hotmail dot com
Comments: Greetings from the Pacific Northwest!

Could some kind, in-the-know soul let me know the current status of Bell's Amusement Park? The last information I gleaned from the web was that the Bell family had signed an agreement with Coweta to move there if a ballot measure was approved. It was supposed to go to voters last summer and I've heard nothing since then. I may never have the chance to come back and patronize it (as I so often did 30-plus years ago), but it would warm my heart to know that it got a new life in an area where it could grow and not be struck down by weasels such as those who ran it out of the Fairgrounds.

Thanks!

---

May 30 2011 at 15:09:57
Name: Scott Linder
Topic: Memorial Day
Comments: My thanks to all who are remembering Memorial Day in whatever way you do, and giving thanks to those to have defended and protected us for so many years.

Although it may mean little to some, I urge you to recall those men in Special Services who did what they could to lift the spirts and provide a smile to our soldiers during many conflicts.

They fired no guns, and drove no tanks, although they were often under fire. Their task was provide communications, sound systems and the occasional movie that kept our boys fighting when they were lucky enough to have a break. My Dad told me that he probably saw the same movie at least 20 times in Austria and Gemany, and he loved it every time.

I have heard quite a few stories from old Operators about how they kept Bell and Howell JAN 16mm projectors working in the field, along with 35mm Devry Portables aboard ship and the occasion Simplex on a supply base.

Spare 1000 watt Mazda lamps were hidden as if they were trade secrets, and boxes of National Arc Carbons often had to be dried in gun magazines, or on top of the stoves down in the mess hall to make them run in the lamps.

Meanwhile, you had to do what you could to invent a "sound system" using radio parts, and maybe make some "noise for the boys" if they were lucky enough to catch a show from Bob Hope or one of those leggy gals, who gave my Dad a reason to keep fighting, as he said!!

OK... as usual I have said more than I should. I just ask that you take a moment to honor our troops, no matter what their skills or assignments may have been.

---

May 30 2011 at 08:02:37
Name: Webmaster
Topic: Former KKUL DJ passes away
Comments:

From the Tulsa World today:

"Tulsa radio's 'Showdown Preacher' dies at 81"

"Jesse Thompson started Elite Cab Co. in 1981.

"In the 1970s, Thompson had his own popular Sunday morning radio show on station KKUL."
---

May 29 2011 at 15:20:34
Name: Scott Linder
Topic: Jim Reid's screening
Comments: Mr. Reid, I wish I could be there for your June 17 screening and the organ accompaniment. The last time I heard a theatre organ with silent film music was from organist Gaylord Carter in about 1998, or thereabouts.

Have a lovely time screening real movies, and enjoy "putting them in the top, and taking them out of the bottom"... as we say.

---

May 29 2011 at 11:00:56
Name: Lazzaro
Topic: Oh
Comments: I was imagining an electronic something-or-other and not a full-blown theatre organ. Wow. Very cool. Check you guys out.

---

May 29 2011 at 10:29:04
Name: Jim Reid
Topic: Silent Comedy in Broken Arrow
Comments: The TTC is where they house their vintage 1920s theater organ. There will be three different people, each playing for one of the films. I think there is no admission, but they will be happy to take donations. It should be a fun night.

---

May 29 2011 at 06:48:44
Name: Lazzaro
Topic: Silent Comedy
Comments: That sounds like fun Mr. Reid.
Wish I could be there. Will the Tulsa Theater Organ Society be providing accompaniment? Will they have to cart in an organ to Tulsa Technology Center if so?

---

May 28 2011 at 21:07:08
Name: Jim Reid
Topic: Silent Comedy in Broken Arrow
Comments: Just wanted to spread the word that I'll be doing a show with the Tulsa Theater Organ Society on June 17. That's a Friday night. It's at the Broken Arrow campus of the Tulsa Technology Center at 129th E. Ave (Olive) and 111th St.

I'll be running my 16mm prints of what I consider the funniest silent shorts. First is Max Davidson in "Pass the Gravy", followed by the greatest comedian you've never heard of.....Charley Chase in "Fluttering Hearts". The third film is a really fun Our Gang called "Sundown Limited".

I hope to meet some of you there.

---

May 28 2011 at 14:57:35
Name: Scott Linder
Topic: Digital projection, etc.
Comments: With regard to the various remarks here about digital projection, I'll offer a few words.

The bright and stunning images that we see as a part of various awards shows such as the Oscars, Emmys, etc. are produced by the use of "stacked" video projectors, most often in sets of 3, running either full video, or RGB. These are carefully merged on the screen to provide a high level of screen brightness, even when using rear projection screens.

Those lovely bright and well-focused film images that we enjoyed in motion picture theatres in the past were due to several factors. I'll just speak of those from the Fox Theatre in Tulsa, but the same is true everywhere.

Beautiful lenses, such as the Zeiss glass at the Fox are most important, and must be carefully matched to the theatre for each film format. Glass is a subject of its own, so I'll move on.

The carbon-arc lamps at the Fox ran at 135 amps which provided a great deal of light, but also a good deal of heat at the projector gate. Fortunately, the Norelco machines and the lamps were equipped with water-cooled gates. In addition, the gates were "curved" which prevented film-buckling and poor focus.

Despite the picture provided from the booth, the theatre screen is equally important. At the Fox, the screen was not a flat picture sheet. Instead, it was hundreds of overlapping vertical strips, all of which faced the projectors. This provided excellent focus, and equal light intensity to every patron in every seat without "beaminess" from other screens.

Anyone familiar with projection fundamentals knows about the importance of the screen. By the way, the finest screens have been made by Stewart and Hurley for decades.

Hey, it's just like mayonnaise. Hellman's in the East, and Best Food's in the West... Hurley in the East, and Stewart in the West... OK, that's probably more Operator stuff than you want to know.

There is much more to say about the digital projection stuff, as well as how us old guys made bright pictures, but this is all I have to say now. Again, thanks to all and our Webmaster for allowing me to speak.

---

May 28 2011 at 12:37:04
Name: Webmaster
Topic: Leon Meier of "Shock Theatre"
Comments:

From the Tulsa World today:

"One last cut"

This story about retiring Brook Plaza barber Joe Reeves also features Leon Meier, who was "Hornstaff" on KOTV's 1950s horror movie show, "Shock Theatre".
---

May 27 2011 at 15:03:55
Name: Scott Linder
Topic: The New Admiral Twin
Comments: Gee, I wish I could be there on June 11 in Tulsa to turn a spade of dirt for the reopening of the "new" Admiral Twin.

I send my best wishes to all of those who understand the importance of this Tulsa landmark, and to those who will contribute to its future success.

Boy, I would love to be there to do the first east-side screening, but operators are no longer welcome in theatres these days.

May God bless the new Admiral Twin... I will always remember you.

---

May 27 2011 at 14:24:39
Name: Daniel Wright
Topic: Digital Cinema
Comments: Not only have projectionists been eliminated, the projection booth is now a thing of the past as well.

boxofficemagazine.com/christie-dlp-cinema-projectors-power-missouris-first-booth-less-theaters

---

May 27 2011 at 05:22:30
Name: Webmaster
Topic: Admiral Twin groundbreaking
Comments:

From the Tulsa World today:

"Admiral Twin sets groundbreaking ceremony for rebuilding effort"

"The Admiral Twin Drive-in will begin its rebuilding effort with a June groundbreaking ceremony, meaning the historic cinema will likely re-open in mid-August, according to co-owner Blake Smith.

"Dirt will first be turned at 10:30 a.m. on June 11, a Saturday morning event that the public is invited to attend."
---

May 26 2011 at 16:46:43
Name: Scott Linder
Topic: Digital and DolfanBob
Comments: I'm sorry that you had a bad experience at THOR. Of course, a power problem can't be helped. However, I might mention that your remarks to the "projectionist" fell on deaf ears, because THERE IS NO PROJECTIONIST!! The studios and theatre owners got rid of us several years ago, and replaced us with "managers" and popcorn-boys.

So, did you enjoy your day at the theatre?

---

May 26 2011 at 15:32:17
Name: Scott Linder
Topic: Digital... Sorry
Comments: Sorry to those with regard to Digital video, etc. I just spent two hours responding to all of you, but that thing we have to do to post here wouldn't let me do it. I might try again... but I don't remember the words.



I hate when we lose a contribution to an internet glitch. My best advice to is save your text just in case something like this happens. If you can't get it to work, you can always email your post to me, and I'll get it out here for you.
---

May 26 2011 at 12:42:58
Name: DolfanBob
Topic: Movies
Email: DolfanBob@lycos.com
Comments: I went to see THOR its opening weekend at the Cinemark in B.A. 45 minutes into the film, we had a power outage. 15 minutes later, they restarted the movie. In the wrong spot. Now back in the day we would have heard that familiar clicking sound and the audio slowly coming back to life.

Not so with today's digital projectors. We spent over ten minutes yelling at the projectionist go back, no not there, forward etc. etc.

The manager came in the theatre letting us know that the process was like forwarding a DVD. I thought to myself, are you kidding me. Just another example that newer is not always better.

---

May 25 2011 at 20:40:20
Name: Lazzaro
Topic: Ebert on Digital
Comments:
Good link Jim. I doubt I would have seen the article otherwise. Maybe there will be a popular groundswell for better standards. Sounds like there ought to be.

I appreciate your passion over theatre attendance, especially given the cool things you are doing at the Texas Theatre, but I'm seeing several fine films a week with Netflix on my creaky old analogue teevee. Beats the 2 hour round-trip to the nearest movie house (not to mention the gas, ticket price, popcorn and soda x 2). That's working for me these days but I sure do remember those big bright screens in Tulsa. And am damned glad I lucked into being around to see the real thing, professionally presented.


---

May 25 2011 at 17:42:14
Name: Rick M
Topic: Digital Cinema
Comments: Mr. Linder, you are truly a gentleman. You sir are much kinder with your words than I would be.

Quote: "but the look, feel and art of projection are becoming things of the past, along with those of us who understood it."

And that is a shame. I enjoy reading your posts about working the projection booth. Please don't retire from doing that.

---

May 25 2011 at 15:50:05
Name: Scott Linder
Topic: Jim Reid and others
Comments: Jim Reid, thank you so much for your forward from Roger Ebert's well-written thoughts with regard to digital projection. I don't need to say any more... just read Ebert's article. Thanks also to others for their similar views.

As I mentioned in an earlier post, things are changing with regard to motion picture presentation... but the look, feel and art of projection are becoming things of the past, along with those of us who understood it.

Gee, I would love to speak with Mr. Ebert about such things, but I don't think he would have the time to chat what an old Tulsa Operator. That's OK... we seem to be on the same page.

---

May 25 2011 at 14:24:42
Name: Jim Reid
Topic: Ebert on Digital
Comments: http://blogs.suntimes.com/ebert/2011/05/the_dying_of_the_light.html

---

May 24 2011 at 15:38:02
Name: Scott Linder
Topic: Digital Cinema, etc.
Comments: It's always great to hear about digital cinema, and movies in general from those where on TTVM.

I could certainly spend more hours than have already been spent about such things. Instead, I'll just speak from my mind and heart.

We all must realize that we are now in a time when the technology used to capture, distribute and view picture and sound is rapidly changing, along with the definition of quality and what we might know from our past. Indeed, we must work to develope technologies that allow us to preserve our past, such as is being done by the Library of Congress,and others.

Our children and grandchildren may never see a motion picture that was produced by light passing through film, or listen to audio that was not heard through an MP3 player. That's too bad, but at least the art will be saved in some way.

As a final thought, the last film that I saw as a patron in a theatre was "The Little Mermaid" in about 1979. I went there with my little daughter and her friend. The print was dirty and out-of-focus, the sound was out-of-balance and the theatre needed cleaning. Too bad.. Maybe things will get better as the technology continues to improve.

I hope so. Until then, I'll remember the films that I put on the screen.

---

May 24 2011 at 09:09:00
Name: Jim Reid
Topic: Movie Theaters
Comments: I have little or no opinion about the current 3D craze. I believe it's another fad that will die down and go away like it has every other time.

I do have a strong opinion about not attending movie theaters. You are robbing yourself of great experiences if you only watch movies at home. I don't care how huge and theater-like your home setup is. It can never give you one thing. The social aspect of sharing a film with a large, appreciative audience.

Most films were made to be seen in this way, and lose something when they are not. I can't tell you how many times I have watched a film at home, only to have it fall flat. Then later, I see it at a film festival with a good audience and it kills.

I have heard from people about the problems with movie theaters. Talkers, cell phones, etc. Sometimes, this happens. But it's not worth losing the entire experience just because of a few rude people. I go to many theaters every year, and I can count on one hand the times when I've had this happen.

If you've stopped going to movie theaters, give it another chance. Pick a fun movie, and there are a few coming out this summer. Eat before you go so you don't have to pay those concession stand prices. Although that is the main profit for the theaters. The studios get most of the ticket money. Give it a shot.

---

May 23 2011 at 18:54:00
Name: Lazzaro
Topic: Digital Cinema
Comments: "Name: Rick M
Topic: Digital Cinema
Comments: Mr. Linder I would like to hear your comments on this recent article about digital projection. It seems many are not getting what they are paying for."

Wow! I'm interested in hearing Mr. Linder's comments as well. I've not stepped into a motion picture theatre in 12 or 13 years and it appears maybe that's for the best.

---

May 23 2011 at 18:14:22
Name: Rick M
Topic: Digital Cinema
Comments: Mr. Linder, I would like to hear your comments on this recent article about digital projection. It seems many are not getting what they are paying for.

boston.com/misuse_of_3_d_digital_lens_leaves_2_d_movies_in_the_dark

---

May 23 2011 at 17:27:58
Name: Lazzaro
Topic: Shark
Comments: I found this comment:

"There's only three Dwight Twilley Band TV appearances. One seems to survive only in a copy Dwight has in an obsolete tape format that he hasn't transferred -- American Bandstand (July 1975, "I'm On Fire" and "Shark in the Dark"). The masters were accidentally bulk erased when an employee of the network was bulk erasing a game show."

at:

http://www.stevehoffman.tv/forums/archive/index.php/t-94030.html

If this is true, I wonder if attempting to contact Mr. Twilley himself might work?

You might also try contacting the most excellent TAMA (Tulsa Area Music Archives) at:

http://www.preservemusic.org

---

May 23 2011 at 16:04:38
Name: John Morgan
Topic: Dwight Twilley Band on American Bandstand
Email: John_73107@yahoo.com
Comments: I'm looking for a tape of the Dwight Twilley Band on American Bandstand back in 1975. They did a song called "Shark". I have a friend's mom who was associated with the band who wants to see a copy of this before she dies. Amercian Bandstand wants over $1000 to see it. I can't afford that. If someone has a copy or know where i can get a copy resonable, let me know. Thanks... John, Checotah, OK.

---

May 23 2011 at 15:25:47
Name: Scott Linder
Topic: Jon and Mitch
Comments: Thanks to Jon and Mitch for your memories of Tulsa music. I did jazz gigs whenever I could, but also enjoyed doing other stuff. Actully, I learned a lot by playing with The Don Lindy Orchestra on those country-club society gigs. He had a great book, and you were in trouble if you couldn't sight-read!!

Names that come to mind from the 60s and 70s beside those you have mentioned are Sonny Gray, Susan Gray, Dave Reynolds, John Rigney, Kenny Quinn, Gayle Williamson, Bill Raffensperger, Jon Dethridge, Bob Summers, and many others who escape my memory.

By the way, The Don Lindy Orchestra gigs included all the older cool first-call guys in Local 94.

When I got my first call from Don Lindy to do this band, I was really scared. After all, it was at the Southern Hills Country Club!... the gig of gigs in Tulsa at the time.

OK... I'll be quiet.

Again, "Thanks For the Memories".

---

May 23 2011 at 07:18:04
Name: Mitch Gray
Topic: Music Guys
Email: North Of You
Comments: My prior step-father, Bill Crosby played bass with Bob Clear
back in the early 70s. They had the house gig at the Copa Hilton Club when Johnny Bayouth was managing.

The others in the group at that time were Jimmy Markle on trumpet and Mike Denney on drums. Mike worked at KOTV or KTUL and later became a camera operator for the Carol Burnett show on CBS. Jimmie has passed on.

I guess Bob is still at The Green Onion? Bill performs with and is married to Pam Van Dyke. I haven't seen any of them in years.


---

May 22 2011 at 19:05:29
Name: Jon Cummins
Topic: Right back at you Scott Linder
Email: studieman@aol.com
Comments: Wow my friend, have we got a lot in common! I got involved in playing (bass) with my Dad's aged musicians back in early 70s and became known as a kid who wouldn't get drunk and knew most of the old tunes, or fast learn. Why haven't we crossed paths?

My mentor was the guy who taught Bunky in his earliest days. That was Bob Kiser the first guitarist for Leon McAuliffe. He was self-taught but knew so much about getting the right sound. I spent many Saturday nights until daybreak with those two since we live in the same neighborhood.

I just ended a 15 year run with Bob Clear on piano, and I think all the greats are gone now, but hopefully there is some young cats who know the great tunes and a venue that appreciates that stuff.

Please contact me email or phone book still has me.

---

May 22 2011 at 14:18:27
Name: Scott Linder
Topic: Thanks to Jon Cummins
Comments: Jon Cummins, thanks for your diner info and, most of all, for speaking of Bunky Harper.

I played many gigs with Bunky back in the 70s, along with every musician in Tulsa. He was a great player, and could do any style. He couldn't read a note, but I think he knew every tune ever written! Many of us would pick him up at his home and take him to our various gigs, and to Saied Music to keep his ax working the way he liked it.

Bunky was a wonderful guy. I learned a lot from him. For some reason, he always called me "Scooter Scotty", and I would then call him "B------ Bunky". I can still remember his laugh.

Thanks for the fond memory.

---

May 21 2011 at 17:50:32
Name: Webmaster
Topic: Moody Blues on 6 in the Morning, 5/3
Comments:
---

May 21 2011 at 15:05:34
Name: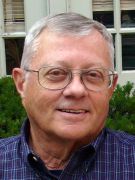 Mike Miller
Topic: Jim Hewgley RIP
Comments: Sorry to see the passing of former Tulsa Mayor James M. Hewgley. He was mayor for two terms from 1966 through 1970 during which time the city was involved with construction of a new city hall and the Port of Catoosa.

Mayor Hewgley had a wonderful sense of humor and had very good relations with the news media. Very saddened to read his of his passing in today's Tulsa World.

---

May 20 2011 at 22:12:26
Name: Jon Cummins
Topic: Diner on 11th Street
Email: studieman@aol.com
Comments: About the time of this picture is when I discovered this great place. My musician friend "Bunky" Harper lived near Lewis on 7th Street, and walked several times a week there to bring back meals for he and his wife. That was about 5 blocks each way but just consider that he and his wife were totally blind.

I want to agree with the previous post that it was a couple that ran it but I believe it went by the man's name George's who reminded me of a burnt-out old hippy trying to get real again. His partner I think was an ex-girlfriend who also was dedicated to make something happen. You could feel the tension at times! They had maybe 2 choices on the lunch menu pork chops, meat loaf and stew, all very grandmotherly tasting, but his burgers were to die for. And had they stayed in business I might have met that fate.

I think they rented, and the owner may have had a better offer they couldn't match sending them to Bartlesville. George (in question) said his seasoning salt was 4 components and he was liberal in using it too. Add to that the high fat ground beef of those days made it so tasty. Without doubt my favorite burger ALL TIME!

Next I knew it became Route 66 Diner remodeled with black & white checker board linoleum and pictures in that theme. They added a couple of round tables out front, but the food never compared to me.

I know this has been rehashed to death here, but where's the best burger around nowdays? I truly believe beef has become less flavorful with livestock producers bottom line being yield and profit. I break down and get some ground lamb and cook it well done and that fills my void.

Anyone remember Bunky Harper a guitar player who played all over town taking a taxi and lugging his guitar and Fender Twin which is quite a load especially for his small stature?

---

May 19 2011 at 20:52:30
Name: Lazzaro
Topic: 11th Street Cafe
Comments: I also posed this question to an old friend of mine and this is his response:

"Crap! I remember it well, was the breakfast place of choice when I lived on 10th St. I think it was Claud's and then changed to Bill and Debbie's, or something like that. Loved that place!"
I think it was Claud's when I frequented the place (at least that sounds right to me). Did this place later become the Route 66 Cafe? That's the impression I'm getting but that must have been well after I left Tulsa.

---

May 19 2011 at 15:48:50
Name: Scott Linder
Topic: Lazzaro's diner photo
Comments: I agree that Lazzaro's diner photo may have been the original Route 66. As I recall, it was close to Skelly Stadium there on 11th Street, just before you got to Lewis.

I'm remembering this only from my visits to Tulsa after I moved to the Big Apple in the early 70s, so my memory is blurred by time.

---

May 19 2011 at 15:11:16
Name: Webmaster
Topic: Beatles film tonight
Comments:

From the Tulsa World today:

"The Everlasting Beatles: Film finds Oklahoma influence on Fab 4":

"British filmmaker David Silver will present "The Everlasting Beatles" at 7 p.m. Thursday at the OSU-Tulsa campus, current home to the Oklahoma History Center's 'Another Hot Oklahoma Night: A Rock and Roll Exhibit.'

"Silver will highlight the many Oklahomans who played a part in the Beatles' history.

"Silver joined the speaking project because he's a strong believer in the proposed Oklahoma Pop Culture Museum, he said."

(See the webmaster's footage of George Harrison in Tulsa, 1974, in GB 319.)
---

May 19 2011 at 13:29:30
Name: Lazzaro
Topic: Diner
Comments: "Is that Patty Hearst?"

Nope. But I briefly lived a coupla-three blocks from where she was snatched by the SLA just following the big event. Does that count?

---

May 19 2011 at 09:11:10
Name: Mitch Gray
Topic: Diner
Email: North Of You
Comments: Is that Patty Hearst?

---

May 19 2011 at 06:07:49
Name: over in Ranch Acres
Topic: Diner photo
Comments: I believe it was the original Route 66 Diner...

---

May 19 2011 at 03:55:24
Name: Lazzaro
Topic: Speaking of hamburgers and joints
Comments: Can someone name this place? It was a quonset hut type affair located on the north side of 11th either between Lewis and Delaware or Delaware and Harvard (I think). I mostly had breakfasts there but think I remember a decent burger and a pretty good chicken fried steak. Name escapes me. I wonder if it's still there? Photo circa 1977.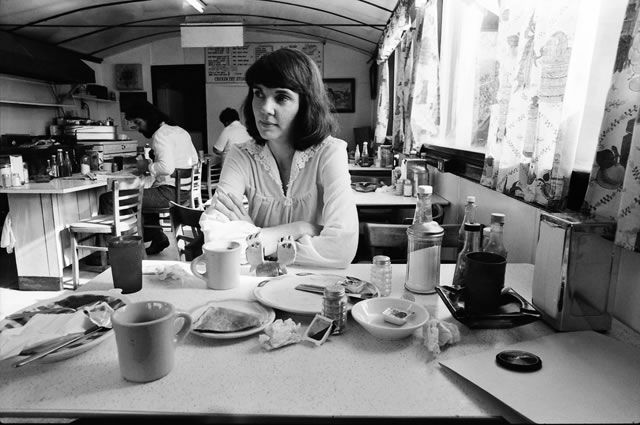 ---

May 13 2011 at 10:59:20
Name: Webmaster
Topic: Previous GroupBlog link
Comments:
Archived GroupBlog 326.
---
Back to Tulsa TV Memories main page