Tulsa TV Memories Guestbook 186

TTM main | What's new on TTM? | GB Archive




June 18 2005 at 21:06:42
Name: Delmeaux de Gillette
Email: garychew[at]comcast[dot]com
Location: Sacratomato, CA
Comments: It's always nice to find agreement on this wondrous website which Maestro Ransom handles so well.
Yes, Stan Freberg is the King of Auditory Satire. My favorite of Stan's is "The History of the United States of America." I bought it on one of those old-fashioned 12-inch Capitol LPs. I think I went through two copies of it.
The scene from this LP, in my mind's eye, sees quite clearly the track called The Fourth of July, wherein young Tom Jefferson, played by Freberg, is running around getting other famous radical Americans to sign-off on a little thing he's put together called The Declaration of Independence.
I think it's Ben Franklin Jefferson is trying to convince, in his 20th century adman jargon, that this will be a good thing for the country. After Franklin reads a few lines of the piece---one of them being "the pur-ffooot of happi-nehff,"---allows young Tom that---and I'm quoting---"A little overboard, isn't it?"
First time I heard that, I just about fell out of my chair and have been a Freberg disciple since.
Yes, young Tom was (and even more today is) a little overboard for some (as the Gershwins once wrote) but not for me.
Happy Father's Day to all you mothers out there.
---

June 18 2005 at 15:22:13
Name: John Young
Email: johnk662561atyahoodotcom
Location: Looking for Stan Freberg records at Oertle's
Comments: The comments about Stan Freberg reminded me of something that some folks may or may not know. The Encyclopedia Britannica commercials of a few years ago had Stan doing the off-screen questioning of a young, blonde haired man about the "good stuff" about the Britannica. That young man was Freberg's son.
I have to agree with the poster who said that in order for Weird Al to get into the RnR HOF, you need Freberg and Steve Allen in there first. I'd have to also suggest Vaughn Meader be in that group as well.
Last, but not least...I gotta ask! When was that picture of Jim Hartz taken? He looks like he's about 12 in that pic! (No offense, Jim!)
---

June 17 2005 at 23:05:21
Name: Mike Miller
Email: michaelmmilller@hotmail.com
Location: Houston
Comments: Ah Stan Freberg. I had a show on KWGS in the late 50s, in which I played cuts from various comedy albums and Freberg's were among the very best. His brilliant satire was lifted from his CBS Radio shows.
One of the best cuts poked fun at the advertising industry. It was a Freberg movie sketch called: "A Gray Flannel Hatful of Teenage Werewolves." Another routine pitted two Las Vegas hotels trying to outdo each other for the biggest attraction. The contest between the El Sodom and the Rancho Gomorrah ended with one hotel detonating an atomic bomb on stage!
He also had a supporting cast of great voices including Peter Leeds and Daws Butler. Stan Freberg, you may recall, also wrote and produced a number of excellent television commercials. A great talent!
---

June 17 2005 at 17:33:06
Name: Mike Bruchas
Comments: To Roy Lee - no, Stan Freberg IS an icon of audio and humor. Just a different generation from Weird Al...I can remember first hearing Stan Freburg in Chicago on records!
---

June 17 2005 at 08:35:12
Name: Mitch Jackson
Email: perimusX@gmail.comX
Comments: On your website you make some mention of the people that ran the Edge of Insanity station a few years back. I listened to the station as a kid, and it really got me into alternative music.
I've got a question that's been driving me mad for months!
The Edge of Insanity station ID soundbytes would use a clip from a song that was played often on the station. The soundbyte was a woman screaming something like "No, it wasn't, it was an asylum, and it was hell, 20 years of pure hell!"
I've been trying pretty hard to find that song! I'm coming up empty-handed! Is there any chance you know the artist/title from that, or know somebody that would?
The quote is from schlock-meister William Castle's movie, "Strait-Jacket" (1964) with Joan Crawford:

http://www.sheilaomalley.com/archives/003665.html

I sent a note to Stacy Richardson asking about the music. Anyone else know?

Theresa said via email, 6/18:
Regarding your EOI music question, I believe that the song you are referring to is by My Life with The Thrill Kill Kult - titled "Cuz It's Hot"
The artist formerly known as
Mother Theresa
EOI Network
---

June 17 2005 at 05:56:04
Name: Ed Brocksmith
Email: brocksmi@tah-usa.net
Location: Tahlequah, Oklahoma
Comments: Yes, I'm at a "home" near Tahlequah but it's not a rest home, it's my house.
I have many great memories of Tulsa radio and folks I worked with. Those were the days!
Welcome, Ed. We'd love to hear about those days from you.

In Guestbook 9 (1999), someone had described you as being "at a home" in Tahlequah. I added your remark to that Guestbook.

Ed was recognized last year as a "Tulsa Radio Icon". That event was described in Guestbook 171.
---

June 17 2005 at 02:40:07
Name: roy lee
Email: beerdrunk@msn.com
Location: hangin' out with Freberg
Comments: If you want Weird Al in the Rock and Roll Hall of Fame, you have to have Stan Freberg and Steve Allen in there first! That's the way I see it, anyhow. Al is OK, don't get me wrong, he's just not quite Freberg. Maybe I'm old.
---

June 17 2005 at 01:59:56
Name: Greg
Email: catra [AT] dohtem [DOT] com
Location: Cleveland
Comments: Very cool web site, particularly the "UHF" section. As someone from a city that's constantly trying to lure films to shoot here, it's always intriguing to read about experiences other locals have working in crews in their own respective areas.
Anyway, speaking of "UHF" I just wanted to also let everyone know that we've been trying to get "Weird Al" Yankovic inducted into the Rock and Roll Hall of Fame for being the genre's foremost satirist, and beginning the week of June 12 we're looking for fans throughout Oklahoma who are willing to send letters to Hall of Fame Foundation in New York to support Al.
Our web site address is below so you can get more info. Tulsa was so very good to Weird Al back in 1988. It's time to again show the love.
Keep up the great work on the site!
Greg Method,
Make the Rock Hall "Weird"
---

June 16 2005 at 22:28:04
Name: Delmeaux de Gillette
Email: garychew[at]comcast[dot]com
Location: Sacratomato...
Comments: .....but I wish it were the BIRD CREEK CULTURAL BASIN.
To quote a T-Town icon, "Lawzee!" Whut a bucolic glade it shur 'nuff must be.
Three---or maybe four---cheers for Rex The Maduko Man for conjuring up such poetic spot in my mind's eye.
Is not cyberspace is a wondrous thang?
---

June 16 2005 at 22:19:34
Name: Jim Hartz
Location: Alexandria Virginia
Comments:
Mike Bruchas and John Hillis opened a discussion a few days ago about the type of microphones that were used by Tulsa radio stations back in the golden days.
Mike suggested that KRMG used the old Altec "birdcage" mikes. KRMG did not use them, at least during my time there in the late 50s and early 60s.
To the best of my recollection, we used RCA 77-DXs and 44 BXs. We also used an 88-A in the mobile unit.
Frank Morrow can probably answer this better than I, and describe the KRMG studio layout and where the mics were.
---

June 16 2005 at 00:41:26
Name: Frank Morrow
Email: frankmor@io.com
Location: Austin
Comments: I have a "Rambler"/Roger Devlin story.
My mother was a blood hound. She could smell a flatus in a hurricane. Actually, she saved an elderly couple's lives with her noted nostrils. The old couple owned a furniture store. I think it was the Gwinette Furniture Store.
My mother was walking by the building where they lived to see them about a furniture purchase when she smelled gas from their second-floor apartment. She went inside and found the couple unconscious. She turned off the gas stove, opened the windows, called an ambulance, and revived the couple.
The newspaper reporter, never calling to talk with my mother, messed up the story by reporting that she came by their place, looked in the window (the second-floor from the sidewalk!) and called for help. That is all.
My dad was furious. He called the paper and chewed ass. He got a call from Roger Devlin of the Tribune who wrote "The Rambler." Devlin talked with my mother, then devoted a whole column to her experience, getting the story right.
---

June 15 2005 at 16:29:33
Name: Maduko Man
Email: maduko@yahoo.com
Location: Bird Creek Cultural Basin
Comments: Tony Mills is still doing great. Loreen is his wife's name and they have a lovely daughter (ahem... sorry, can't recall her name). We see them once every other blue moon when we visit the gang by the Bay.
I met him through the music scene. Tony played in the Mad Daddies with Dave Barber and we played several gigs together.
Tony and I did a couple of radio spots that ran on KRMG in the early `80s. They were silly commercials for a car parts shop I worked at called FDI. The best one featured Tony and I singing a jingle about the machine shop services. My favorite line was, "F-D-I, motor-buildin' mutha's..."
- Rex
---

June 15 2005 at 16:19:26
Name: Mike Bruchas
Comments: 2 notes: Tulsan Tony Mills of KTOW has been mentioned here before. I worked with him in DC at Atlantic Video about 14 years ago. He later married a ballerina and became a very creative Avid video editor and last heard - they were living in the San Francisco area and doing very well.
Thinking of Brer Ruddle's flying jackrabbits and THE RAMBLER - do ya'all old timers remember Stuckey's? Along with "Pee-can" rolls and whatnot - they sold touristy junk. For many years I owned a can of "condensed jackalope milk" - till my Mom threw it out. It came from a Benton, AR Stuckey's courtesy of my late relatives...Jackalopes - another Western urban legend.
---

June 15 2005 at 15:05:24
Name: Rob Bowe
Email: r.boweX@sbcglobal.netX
Comments: I failed to mention that I was a DJ at KTOW 102.3 from about 1987 through 1990 or so.
Tim Baraza was station manager, Tony Mills was our program director and we had some great guys doing on-air, Joe Stone, Sabu, Tony Too, Country Kitty (the station cat) Taylor Chance, Chris Hale, Ceasar Vitalas, Sanchez and JT (God rest his soul, passed away in the mid 90's).
I had dated Rob Wilson's little sister and since he had long passed away, she gave me the informal permission to use, close to his on air name, "Rob on the Radio". I started there to fill in for "Doc" James' (Local Hero fame) Reggae show on Sunday evenings when the station was still AM only on 1340.
I brought in a friend, Ben Griffin and created a pair of characters named Raul and Paul, the "Rasta Twins". We claimed to have come from the New York area after running into a "Natty Dread Rasta" in a grocery store and converting to Rastafarianism, moved to Tulsa to MC the Rasta Twins Radio Show, spinning Reggae and intercutting it with zany fake commercials and wacky on-air antics.
We conjured up many fictional businesses affiliated with our supposed "stardom" in the Reggae industry, one of which was the Rasta Twins Family Rasta-raunt. (Featuring the Little Ziggy, the Rita or the Big Bob Burger!) We then added two old farts named Lawrence T. Redbird and Quincy Frisco Guthrie, (Hmmm, now where did that name come from?) who would come in now and then from their home in a retirement center to add their take on the scene. I still have quite a bit of air checks and those fake commercials on tape, I should rip them to MP3 and let you post some, IMHO they were hilarious!
After we added the FM tower and 102.3 was born, in addition to regular shifts, I created a show called, "Music From Another Point of View", where on Wednesday nights I had from 9 to midnight to spin anything I wanted (unheard of now). The first hour was always modern jazz, 2nd hour would go into more avant-garde stuff and by midnight I was playing really cerebral, trippy stuff. I garnered quite a nice set of listeners, David Bagsby (just as his prolific recording career was starting out, he invited me over to his house to see the Roland D-50 he just shelled out his hard earned $$$ for) for one, and a lot of TU students studying for school, who all supported and helped feed the fire by calling and suggesting music. 90% of the music on that show was completely unknown to 90% of most Tulsans and I absolutely LOVED doing it. This was truly free-form radio and probably Tulsa's last station to do so. I grew up in the 60's and was a big fan of KTBA and the first few years of KMOD, guys like "Hummingbird" and the original "Rob on Your Radio", "Album Oriented Radio", so I was living a dream.
I also did a short lived LIVE (without a delay!!!) talk show called "Nitelite" with Rex Brown (The Insects, Radio Milan and later Maduko fame) which used to scare the pants off of station manager Tim Baraza.
Wacky banter from Rex and I and KTOW's underground listeners. It was always on the edge of collapse. Rex did a character that was supposed to be an all-seeing psychic named "Pierre Beyondee" (look hopefully for Beyondee's return on "Red Dirt Round-Up") and we always had lots of those fake commercials to cut to in case of someone trying to slip something obscene onto the airwaves! Beleive me, I had to keep one finger on the phone line fader at all times!
KTOW AM 1430 and FM 102.3 was a high point in my life and it is a shame that, just as our ratings started to show real promise up against the likes of KMOD, KRMG and all those "big dogs", that we were shelved and the station changed formats. There will NEVER again be anything like it!!!
---

June 15 2005 at 08:46:24
Name: Jim Ruddle
Email: jruddle@earthlink.net
Location: Rye, NY
Comments: I hope the webmaster and the Tulsa TV fans will forgive a rather long-winded recounting of a slice of Tulsa history.
The note about the disappearing kangaroo reminded me of another famous, if elusive, creature who baffled the best minds in Tulsa.
In the mid-1940's and later, a column called "The Rambler" ran five days a week in the Tribune. It was written by a talented and charming fellow named Roger Devlin, and was filled with light amusing reflections and entertaining sidebars on life in Tulsa at the time.
Devlin told the story later, and I wish I had a transcript of what he said to verify what I recall, but it went something like this:
Things had been pretty dull around town. The ink-stained wretches at the Trib were trying to drum up some news that that was interesting, however, the doldrums had taken over.
Devlin and some cronies were sitting around bemoaning the situation when someone offered: "What we need is good old fashioned HO-AX."
It's not enough to say you need a hoax. You need to come up with one. And this bunch settled on a winner.
Inside the Trib a day or so later, was a brief account of someone sighting an odd bit of Oklahoma fauna. It seemed that in the illuminated circle of a residential streetlight, a rabbit was spotted. But this rabbit was different. It had inordinately big ears, even for a jackrabbit. Not only that, when the person who saw it approached it, it bounded into the air and soared a few feet off the ground, supported by the outsized ears.
That, of course, is all it took. No further seeding was needed, because as everybody in the news business knows, once an idiotic idea is advanced, it will immediately receive wide acceptance. So it was with the "Flying Jackrabbit," as it became known. People were calling in with their own experiences, seeing the big-eared beast all around town. And, dutiful as always, the paper printed these yarns. After all, they were actual reports from sober citizens. Everybody in town was talking about the rabbit.
It was great fun for the guys at the paper--for a while. Things began to get out of hand when a couple of airline pilots said they had noticed something very like a long-eared rabbit in their landing lights as they flew into the Tulsa airport.
The wire services jumped on the story and wanted more information for national distribution. It was scary. Starting as a joke during a dull news season, the Flying Jackrabbit was becoming a national story, the kind of thing that could result in some heavy consequences for the reporters and editors if the truth got out.
I don't recall exactly how they finished it. I seem to remember that Devlin said they decided that the best thing was to simply drop it, print no further jackrabbit tales, and hope that the public would just move on to other things. They couldn't kill it. That would have been too dramatic and children would weep.
And they were right. The yarn faded, nobody got fired, and, as far as I know, the Flying Jackrabbit escaped to the wilds. He's probably in Stroud, or Strang, or Sallisaw.
Thanks, Jim. The Rambler was also mentioned in Guestbook 88.
---

June 14 2005 at 21:10:35
Name: Mike Bruchas
Comments: Be ye careful of NEW MOVIE STUDIOS in Tulsey. Unless Coppola, Gaylord Communications or Winnercomm is behind it - look for a one-hit wonder.
Remember actor Peter Breck from "The Big Valley" and some other Warner Brothers' series? Back when I worked at KVII in Amarillo in the late 70's - the story had been (for several years) that he was gonna bring Hollywood to Amarillo! Never did, but somebody got some money out of a dragged out "campaign" - then John Wayne's son, Patrick, was roped into something like it a few years later and got out. The biggest things to hit Amarillo were OPRAH! when she spent 3 weeks there for that stupid trial and filming segments of "Switchback" with Dennis Quaid and Lee Ermey.
I guess I wanna say - remember The Simpsons "Monorail" episode? Think on this.
Down in my former domicile of Charlotte, NC - the next big thing was always gonna be a BIG STUDIO and though 3-4 movies are lensed in NC - its for locations and mixed union/non-union crew cost-savings in productions. Charlotte had a former steel warehouse turned to studio but the owner was losing his wallet on it. I mean the man was an Arriflex rental dealer, great film-maker but no one would commit to long-term usage of his digs.
A former boss is with a video production company there whose local owners decided to "make movies". They did a golf movie - one of 3 released that year - I am expecting it on direct to home video next week, of the 3 made - it never was seen outside of Charlotte! And it was well done with a good story.
To many of us in TV or video production, monied neophytes wanting to create Hollywood in their hometown is a tip-off to folks "playin' in film".
---

June 14 2005 at 15:08:55
Name: Teresa
Email: girdnerg@sbcglobal.net
Location: Tahlequah
Comments: I am so glad I was told about this link. I e-mailed Channel 8 of Tulsa, and asked about the old show, The John Chick Show. My dad played in the Ted Creekmore band. There I found his sons e-mail address. Now I can e-mail him. I loved reading the other guest memories!! Uncle Zeb was my favorite! But if anyone can help! I could use some information or some pictures about the show. Thanks Teresa ;}
Ted Creekmore has been mentioned numerous times on this site. Try "Creekmore" in this site's search engine to see all those pages. Danny Creekmore wrote detailed comments in Guestbook 175.
---

June 14 2005 at 09:23:42
Name: Webmaster
Comments: A few minutes ago, my wife and I were watching the CBS morning show when the channel mysteriously changed itself to Cox 3 (really). A bearded fellow, maybe the author, was talking about a book, The Field Guide to North American Monsters.
He mentioned a 1981 sighting in Tulsa of a phantom kangaroo (maybe we could call him the "Boo 'Roo"). Some cock and bull story about a guy getting the 'roo into his truck to show others, then the truck and the guy disappearing for good. Anyone recall that?
I wonder if the circa 1971 "Wolfman of Lawton" merited at least a bullet item in the book.
Angelique asked about Guestbook spam yesterday. This morning, I removed spam entries purporting to be from the USA and Germany, but actually from the same domain as the weekend spammer. I'll delete these irrelevant posts as I see them; until I do, please ignore them.
---

June 14 2005 at 08:43:44
Name: Lowell Burch
Email: lburch3@coxxxxxx.net
Location: Trying to scrape up fifteen cents for a Kelly's burger
Comments: When I went to high school, I thought it was neat we had a Sandy's (see GB 185), with its Scottish theme, right across the street from us - the McLain Scots. My senior year, the band purchased Guardsman uniforms but the bearskin hats were too tall for the tuba players to wear while they played. I came up with a solution for them. Since Sandy's employees wore tams, we got a couple of the Scots who worked there to liberate some "extra" headgear from the store's supplyroom and soon the tuba guys were wearing Sandy tams for the band's performances.
I have a friend who collects old microphones and I was able to come up with one of the old RCA ribbon mics for him. He had never owned one before and found the sound to be very unique.
By the way, the downtown development at Seventh and Detroit (movie studio) sounds really exciting. Will come through?
---

June 13 2005 at 22:16:58
Name: Mike Bruchas
Comments: Oh, yeah - if you did not have an RCA ribbon mic - you had an Altec "birdcage" ribbon mic - KELi & I believe KVOO and KRMG used them for years. As Bro Hillis noted - ONLY for studio use but I believe some has adjustable pick-up patterms.
If you watched Ted Koppel doing some battle coverage on Nightline last year on a tank - he used the British-built LIP mic (I think by Combs)- originally developed for golf and racing coverage for close talking in either ultra-noisy or ultra-quiet venues. The design hasn't changed in 50 years - they come in wooden storage boxes and are handheld, probably dynamic mics. And probably as sturdy as a B&H Filmo or Eyemo camera.
---

June 13 2005 at 21:07:22
Name: John Hillis
Location: Behind the Ribbon Mike
Comments:
Mr. Bruchas commented while back on the RCA 44 and 77 BX/DX mic series and their high costs nowadays. For non-radio geeks, these are the "old timey" stand-up microphones, and yes, Larry King uses a 77-DX as a prop.
There's a good reason for the affection beyond the look--the ribbon mics had an extremely warm sound, which was extremely helpful for those of us who were, shall we say, a little vocally challenged. Didn't make us sound like John Doremus, but better than we did on, say, an EV-635, the workhorse mic of the 60's and 70's.
The ribbon behind the cover picked up the sounds, but was extremely sensitive to shock and wind. Woe to you if you checked the 44-BX by blowing into it and asking "is this thing on?" One blow and it wasn't until the ribbon was replaced.
Several NABs ago, I ran into a guy named Wes Dooley who had a little business making replica 44s and 77s as well as repairing originals. He had some original ribbon from the 40's RCA factory in New Jersey and was selling that golden sound inch by inch for restorations for recording studios that craved the sound. He also sold replicas that could have a Schoeps ribbon mic mounted inside the shell of the mic, or could just be a very cool $800 paperweight.
Over the years, I've read of stations just tossing these jewels out in the dumpster or leaving them to be grabbed like the ones at KWGS.
Next: Western Union Naval Observatory Clocks!
---

June 13 2005 at 14:00:30
Name: Angelique Keenon
Location: mooching off my sisters email again
Comments: Please answer some questions for me. I am very new at computers so I don't understand a lot that everyone else seems to already know.
How would I recognize the Russian spammers postings if I saw them? Could they go back through my posting to infect my computer somehow? I always thought spam is where they send the same message thousands of times to the same email address.
Thanks for helping me out on this.
Angelique, no, they can't do anything with any previous signing of yours. You would have to go to a URL/link they posted in the Guestbook for anything bad to happen. Of course, all of us get mail spam, none of which should be responded to. I used the term "spam" to also include repetitive and/or irrelevant postings to the Guestbook.

The messages I saw this weekend had an email address with the suffix .ru for Russia. However, I occasionally see Guestbook spam from Lome, Togo; Lagos, Nigeria and other scam/spam capitals. They may not even say where they are from.

The best rule is to completely ignore any Guestbook messages that don't relate to this site. I'll delete them as soon as I see them.
---

June 13 2005 at 12:39:44
Name: David Bagsby
Email: dcbatsunflower.com
Location: Lawrence, KS
Comments: Hello Wondered if anyone out there had a scan of any old Odyssey Mall stickers/calendars/etc?
---

June 13 2005 at 02:16:16
Name: Carl Blanton (via email to webmaster)
Email: carlX@mokandXragway.com (remove X's)
Location: Joplin, MO
Comments: I stumbled onto your site last night and have now spent almost 12 hours re-living some great memories.
I was born in '57, raised near you, at Pine and Sheridan, and lived "near the airport" until I moved to Joplin in 1999.
There is almost nothing on your site that doesn't bring back a great memory for me.
I got here because I was looking for info on KELi. About four years ago I married a young lady from Utah, Kelli, and I was telling her about the KELi jingle, (screaming horn music, with male voices singing, ) .... "Fourteen thirty, KELi!" then a female voice, "this is Kelli".
Do I remember that right?
The burger joint at Pine and Sheridan, on the northeast corner, was called Kelly's (ironic, huh?) (mis-remembered by me as a Sandy's in Guestbooks 1 and 185, now corrected...webmaster) I am thinking, just a guess, it was built around 1960. The huge neon sign had a rainbow type arch that would progressively light until it hit the end where their was a star burst that said "15¢". Which, of course, was the price of a hamburger. I have recently seen a picture of the sign and the restaurant on page 69 of Tulsa Times - Coming of Age.
I could plainly see that sign from my bedroom window at 1601 N Oxford.
On rare occasions, we would get some burgers from there, although we didn't eat out very often.
A funny story about Kelly's Hamburgers. A couple of guys, a little older than me, from Oxford Street, around 1968 or so, were working at Kelly's (I'll change their names to Lanky and Red to protect their non-innocence.)
They were closing the place one night and decided that there was no reason they shouldn't just take the money home and claim they were robbed. I am very sketchy on the details, but I know Red drove Lanky's Honda 90 to do the caper. He also used Lanky's gym bag, clearly marked with Lanky's last name.
It took the owner all of about six hours to figure out Red had robbed him, and they found the money, still in Lanky's gym bag, and of course went right down the street and arrested him. I think the plea deal was for them to join the Army, and within six months they were both in Vietnam.
Kelly's must have been torn down about '75 or so, and they built a Ken's Pizza.
Let's go around the horn at Pine and Sheridan.
SW corner was a Texaco station. Owned by a guy named Jones who lived in your neck of the woods. Last I was in Tulsa, that Texaco building was still there, but no longer a gas station. There was the Safeway, that for most of my childhood was managed by a jerk named Roscoe. We all hated him. Around 1970, they built the new Safeway that is still there as far as I know.
SE corner was another gas station, all though I don't remember the brand. After it closed ('73?) They converted the original building into an Arby's.
NW corner was originally a DX station, and like Arby's, they converted it to the Taco Hut. On weekends, they used to sell seven tacos for a dollar. I would go down and get 14 tacos and watch "Adam 12" on Saturday nights. All that corner and two blocks of the neighborhood is now a Walgreen's.
How about "Neal's Pig Hip" that was in a little building east of Sheridan on Pine, south side of the street. It was still there, I think, when I was last in town, seems as though it was a body shop.
I delivered the Tulsa World in that area in '69 and '70. Neal was a grouch, never could get his paper to him early enough. He would say "Is this the Tribune? I want the MORNING paper!"
---

June 12 2005 at 11:40:33
Name: Webmaster
Comments: Yesterday, a Russian spammer put loads of entries into the Guestbook. I deleted them, but if you see them again, ignore them, and don't try any URL that appears in them. It might introduce a Trojan horse into your computer. Here is an item at Boing Boing that explains what is going on.
---

June 11 2005 at 14:02:05
Name: Mike Bruchas
Comments: For them old RCA mic fans - a guy from Canada - on eBay has created some t-shirts with RCA 44-BX and 77-DX mics on them in picture. It is item 7328980822 - while it lasts.
Several of us ex-KWGSer's mulled over the good RCA mics that Ed Dumit had re-built in the early '70's. In '73 - they were parked in the open hallway the year KWGS was in the McFarlin Library basement after Kendall Hall had been torn down. In a non-secure area. Newest staff thought then they were crap and did NOT use them because KWGS had bought some then new stereo mics. What little did they know about DX mics!
I figured somebody probably stole them for dorm decor. Can't find them on eBay!
Correction - I finally did find some RCA mics on eBay. Now - a 44-BX is $1225...a 77-DX is $914...I am SURE radio stations never paid those prices NEW for them!
---

June 11 2005 at 08:22:39
Name: KountryBill
Location: On my way to Tulsa.
Comments: Word on the street is that another country station will soon make its way to Tulsa.
Apparently, it's an existing signal that's being moved closer to Tulsa.
Supposedly, it'll be city grade on the Tulsa dial soon.
More to come.
---

June 10 2005 at 19:16:51
Name: Peter D Abrams
Location: New Port Richey Fl
Comments: With very little time to forewarn the residents of T-Town, I swooped in last Sunday night. With Mike B's early warning system on high alert, I was able to have dinner with Jack Hobson, other close friends, and our webmaster.
I had not been back here since my departure on 1/18/86, and all I can say is that it was great to see everybody.
Fast forward one more day, and I'm doing vendor work at Clear Channel's bigass complex on Memorial. As a former fixer of broken sh** at the original Tulsa23, I was rather startled at all of the changes.
Well, no, I really wasn't. But the cool thing was meeting 2 employees of the original station that were still around.
I talked one of them into lunch at Goldies. I wasn't disappointed.
The next surprise. I was given a tour of the building, and one office nameplate stood out. He wasn't there at the time, but I came back later and had yet another reunion with a longtime friend and longtime contributor to this website. Sonny Hollingshead.
What goes around comes around.
All in all. I wished I could have spent more time hangin, but next time anything calls me back, I'll try to spend more time.
Thanks to Mike R for this incredible room, and to all that have contributed. The 13 years I spent in Tulsa were not wasted, and seeing even a small group of my old friends for a few hours last week justified it bigtime. I'll be back.
best,
pda
npr fl.
expatriot

Here's a photo from that event. PDA is third from the left.
---

June 10 2005 at 16:29:17
Name: Webmaster
Comments: Courtesy of David Bagsby: a 1950s Boots Drive-In menu. Here are Gary Brumley's comments about Boots from Guestbook 51.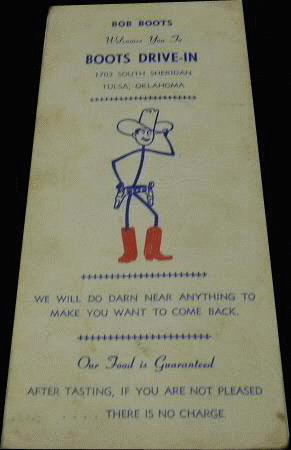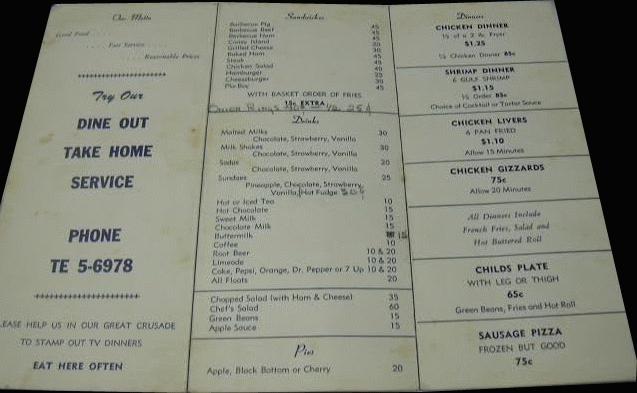 ---

June 10 2005 at 11:52:54
Name: Scott "Scooter B." Segraves (responding to webmaster's query)
Email: gbasilautroisX@netzero.comX
Location: Louisiana
Comments: Yeaux, Mike...still down here in The Valley of The Crawfish...no longer playin' da hits; been off air since this past November, honcho'ing all the commercial and station-imaging production for Citadel Broadcasting's 5-station cluster. Will be leaving here sometime in September, to move nearer 90-year-old Mom on Bull Shoals Lake in north Arkansas. Been trying to get some station in that area interested in a still-capable DJ, but nobody's biting. So after all these years, I may have to blow my whole life plan and get a REAL JOB!!! Not quite ready for "the 168-hour weekend" just yet.
Thanks for the interest. Tell the folks back there they'll always be a big warm spot in my heart.
Scoot.
---

June 10 2005 at 08:37:02
Name: Webmaster
Comments: Sonny Hollingshead mentioned RoadsideAmerica.com's Oklahoma attractions in an email this morning. Another good site with Oklahoma content is RoadsidePeek.com.
Wilhelm Murg pointed out in Guestbook 175 that comic character Zippy The Pinhead has visited the Blue Whale in Catoosa. Zippy conversed cryptically with the Golden Driller a couple of weeks ago.
---

June 10 2005 at 00:40:01
Name: Webmaster
Comments: Archived Guestbook 185 with new pix of Robert W. Walker and Jim Peters of KAKC...

---
Back to Tulsa TV Memories main page