Tulsa TV Memories Guestbook 187

TTM main | What's new on TTM? | GB Archive




July 01 2005 at 20:10:40
Name: Jim Hartz
Location: Alexandria Virginia
Comments: I got a hoot out of Jim Ruddle's remembrance of an authentic NBC chime in Chicago. Alas, by the time I arrived at NBC in New York in 1964, the real xylophone had gone the way of the buggy whip.
Any engineer anywhere in the RCA building could "ring" the chimes simply by pressing a button on any control board. The button activated a cart tape machine somewhere in the bowels of the place.
There seems to be a modern-day reincarnation of this. The last of the old time NBC announcers, Howard Reig (in his 80s), retired to Florida a few months ago, but I still hear him every night introducing Brian Williams, or a substitute, on the Nightly News. I've got this eerie feeling that before he left NY Howard recorded every word in the English language and it's all on a computer somewhere in the bowels of the place, ready to be programmed for any contingency. Any engineer can just push a button.
---

July 01 2005 at 19:58:07
Name: Michael Dean (via email)
Email: mdean[AT]ok[HYPHEN]history.mus.ok.us
Location: OKC
Comments: I have been reading your web site for years now and finally decided to contact you.
I worked in Tulsa Radio in the 60s, some of the 70s and early 80s.
My first Tulsa job was in 1967-68 as a 19 and 20 year old news writer and afternoon anchor on KVOO Radio. Yesterday I was exchanging emails with Alan Lambert and he reminded that I needed to contact you to share stories and more importantly, tape of KVOO, KRMG, KELi, and KRAV.
Quick resume:
KVOO Radio News – 1967 thru April 1968. Let go just before they sold the TV station.
KOME (on South Harvard just past 81st Street) as a R n' B jock for one month, April 1968.
KTOW, Sand Springs May, 1968 to Jan, 1969 (when I was drafted and joined the Marine Corps). I replaced "Country Bob" Losure when he left to go the KAKC to do news.
KELi 1973-74 Weekend jock, overnights (with Bill Cox watching the meters because I didn't have a 1st Phone license from the FCC)
KRMG 1974 to March 1976 – Public Service Director, weekend jock, fill-in for all dayparts except for Watson Jelks morning show. Filled in extensively for Johnny Martin when he was diagnosed with cancer. I replaced Dick Van Dera when he left to go to KTUL-TV
I left for McAlester when Ed Montrey, who had been VP of the Swanson FM division bought KTMC and moved down south. I was his Sales Manager, he and I did an hour along morning newscast 7 to 8 a.m. and all play-by-play sports.
I returned to Tulsa in April 1981 as Sports Director at KRAV and stayed there until August 1982.
I left Tulsa for Kansas was News Director at KGGF, Coffeyville, KSAL/KYEZ, Salina, and KFH/KBRA/KLZS/KXLK Wichita.
Following the death of my mother in 1986 I moved to Oklahoma City and was music director and "Dean of Rock 'n Roll" music director at KOMA when that station changed format to oldies. I worked there full time from 1988 to 1993 when I left (sort of) to work for the state was the PIO at the newly created Department of Environmental Quality. Three years ago I moved to the Oklahoma Historical Society as the public relations and marketing director.
I work for Dr. Bob Blackburn, son of Oklahoma City's Ida B. Bob grew up in the television business so he has a particular appreciation for broadcast history.
We are opening the new Oklahoma History Center November 16th. I have been collecting and editing airchecks from OKC and Tulsa as well as smaller markets around the state.
Yesterday I sent this clip of a KVOO News open to Alan. It is from March 1968. The newscaster was 20-year old Michael Dean. (March 28, judging from this link about the 1968 Memphis Sanitation Workers' Strike...webmaster)
I have some KRMG, KELi, and KRAV I can share with you, if you'd like. And as you might gather, I also have lots of stories and memories I can share.
---

June 30 2005 at 22:34:09
Name: Frank Morrow
Email: frankmor@io.com
Location: Austin
Comments: There is an orchestral work by Don Gillis that refers to the NBC chimes. In the 1950s, Gillis wrote the tone poem, "Tulsa," as well as similar works for Fort Worth and Amarillo.
The title of his opus that has the NBC chimes is "The Man Who Invented Music." It is about an Adam-like man who stumbles onto various natural phenomena and finds that they can make music. He bangs on three rocks that sound the notes of the NBC chimes. As the narrator says, "He then went ahead and invented radio."
Here is a bio of Don Gillis at Amazon.com. "The Man Who Invented Music" is the sole piece on the 2nd CD of "Symphony No. 5 1/2/The Alamo/Portrait of a Frontier Town etc".
---

June 30 2005 at 21:52:52
Name: Lowell Burch
Email: lburch3@cox.net
Location: Tulsa
Comments: I believe there was an intercom station in the Hale Library and probably someone who had worked at KVOO thought it would be cute to strike the bars as a prelude to get the student's attention before an announcment was made.
But that is just a guess. I really don't know for sure why they are up there.
I was hoping one of the top ten movies quotes would be, "Badgers? We don't need no stinking badgers!" Maybe next time.
---

June 30 2005 at 20:28:50
Name: Jennifer
Email: oksteelmagnolia@yahoo.com
Location: Tampa, FL
Comments: I have a question about the chimes. Why did they end up at Hale? I was looking at the chime website and saw that the later version was called the Rangerphone. Is that what is in the library?
Also, I was in an Explorer post sponsored by KELi radio in the early seventies. I used to call in the hockey scores. My biggest thrill was being the gofer that got to go and find fresh shrimp for Loggins and Messina when they played the Old Lady on Brady. I also got to explain why their beer was warm, since I was instructed to get it at the liquor store. Apparently, they knew about the 3.2 thing, but not that six point would be warm. I was only 16, but the little liquor store on 15th Street was none too conscientous about that sort of thing.
---

June 30 2005 at 11:59:36
Name: Webmaster
Comments: Here's a bio for James Aydelott at his new post in DFW. He was a KOTV meteorologist for ten years and a contributor to this site.
---

June 30 2005 at 07:39:11
Name: Jim Ruddle
Email: jruddle@earthlink.net
Location: Rye, NY
Comments: About NBC chimes: At WMAQ, in Chicago, in the sixties and early seventies, we still had chimes sitting on a table in one of the radio studios. They looked like a miniature xylophone and were occasionally used by the staff announcers when we fed News on the Hour into the net. Alas, because it was an announcer's job, I never got to sound them on the air.
I don't know whether I've mentioned this before, but in my home, in Glenview, Illinois, the doorbell--which I won in an NBC auction--rang the good old tones when the doorbell button was pushed.
There's a group of Chicago WMAQ and WMAQ-TV retirees who meet once a month. They constitute The Old Chimers Club.
---

June 29 2005 at 17:36:57
Name: Steve Todoroff
Email: sgtodoroff@sbcglobal.net
Location: Houston, TX
Comments: Paramount Pictures has released the Elizabethtown trailer & website on the web. Our old pal G.Ailard S.Artain is featured prominently on both. In fact, he's speaking in the opening scene of the trailer, and on page 2 of the website gallery. Here's the link: http://Elizabethtown.com.
It will be good to see Mazeppa back on the silver screen in a new release. It's been way too long.
Lawzee!
---

June 29 2005 at 17:31:25
Name: Ron Everhart
Email: rdeverhart@carolina.rr.com
Location: Charlotte, NC
Comments: Hey,
Angela - what a wonderful feeling to come here and see you're still a part of the world. I feel as happy as a first grader to see that! (heck, much happier - I was one maladjusted 1st grader.)
Nice to see the spelling of John's name corrected. I spent about a happy, albeit, strange year working at OJ's while I was in college. I spent so much time browsing in the racks that they finally hired me - I was there all the time anyway.
John cooked the first GREAT steak I ever tasted. John put me on the front row for several shows that remain among my favorites of all time - Todd Rundgren at what became the "Old Lady of Brady," and Johnny Winter / Nils Lofgren in the first rock show at the new PAC, waaaaaaaay back in '78. John got Todd & Utopia to autograph copies of 2 of their albums for me - I still cherish those.
The "magic bus" trip to see Pink Floyd -- John and I trying to sell our 4 tickets to the long-sold-out show in front of Kemper Arena, for face, because we were, mmmm, too shy to be aggressive. (how embarrassing - what was the guy's name that organized those magic bus trips? I was on one to see PF and one to OKC to see Yes. That was about as crazy a thing as I've ever participated in.)
Let's see - the crazy day selling tickets for the Willie / Skynyrd thing at the raceway, the repainting the store for the "Animals" LP release, all that stuff. Great memories, and things that set the course for what's been a lifetime of great musical fun. My family and I all apply those early lessons I learned from John and others I met around that store to our concert-goin' lives today, and all for the better. I have the only 11 year old in town that has pre-approved entrance to the rock clubs we frequent in our city. Just a few weeks ago, there we were, flailing around, my wife with me and my daughter with her HS senior buddy at the front of the stage, the singer standing in the middle of the club on top of our table...did I mention how much I miss Cain's Ballroom?
Happy times, y'all. The good old days aren't just then, they're now. Make the most of them & see ya at the show!
Ron "Ronnie Dean" Everhart
PS: dang if John didn't turn out to right about AC/DC. I thought it was the dumbest thing I'd ever heard, he told me that sometimes simple and fun beats the heck out of complicated and meaningful. He was SO right about that, and a lot of other things. Thanks, John.
PPS: John's mother was a teacher at the little school we both attended (years apart) and graduated from. I knew her well as a child.
---

June 29 2005 at 11:47:07
Name: Jennifer
Email: oksteelmagnolia@yahoo.com
Location: Tampa, FL
Comments: I found this on the Hale Alumni Foundation Website. Thought it might be of interest. Recently went to my 30th reunion which prompted a nostalgic search of the web - I have enjoyed the site.
This letter from Bill Harris was recently received by the school:
"Over the last few years I have been doing research on the chimes that NBC used for their audio identification in the early days of radio and television. When NBC started using the chimes they were hand struck by the announcer at each affiliate station, later the chimes were automated and hand chimes were no longer used. Tulsa radio station KVOO was an early affiliate of NBC and I have information that the hand chimes that were used by the station are now in the Hale High School Library. Could you verify if this is true, and if so I would like to attempt to detour by Tulsa sometime on a future trip to see and possibly photograph the chimes, to add to my web site about the chimes."
Yes it's true, the original KVOO NBC hand chimes are in the school library.
Bill may have picked that up from Lowell's note here awhile back. Lowell had also spotted Bill's site as a good source about the chimes.

Glad you are enjoying the site, Jennifer.
---

June 29 2005 at 10:25:10
Name: Lowell Burch
Email: lburch3@cox.net
Location: Under the A/C
Comments: How appropriate. It is Teddy Jack's birthday and I just found my long lost Uncola Card #11262. I thought that was gone and lost forever many decades ago.
I am heading straight down to Der Wienerschnitzel to celebrate!
---

June 29 2005 at 07:10:16
Name: Joe
Email: robertson@kjrh.com
Location: from inside the padded booth
Comments: Happy Birthday, Teddy Jack Eddy. 6/29/44. "Now, on yer belly, on yer back, belly, back, back, belly".
---

June 28 2005 at 21:47:25
Name: Chuck Adams
Email: cavaky[AT]msn[DOT]com
Location: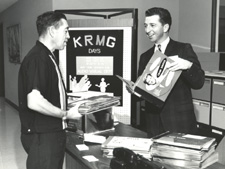 KY
Comments: Hi Gang,
Need some audio engineering help. I am trying to copy some of my old LP records onto CD, for my personal enjoyment. Here's the situation and the equipment I have (presently).
The Situation: I tried copying via turntable through receiver into CD Burner. The sound was muffled, or at least very bassy. It even varied in recording levels at times.
My Equipment:
Onkyo TX 2100 Receiver
Optimus Turntable (about 7-8 years old) I got a new stylus.
RCA CDRW120 CD Burner, Copies great from disc to disc.
BSR EQ 120 X Equalizer, I just purchased this off E-Bay, and have not used it. My thought is I could put it in line between the Turntable and the Burner and thereby control/improve the sound.

Any suggestions?
Thanks.
---

June 28 2005 at 20:17:35
Name: John "Howdy" Boydston
Location: Doing the time warp again already.
Comments: I appreciated Joe's post below on the UFF&CM's airing of "Frankenstein" 35 years ago on this day? Wow. I got my first taste on a ton of great movies like this watching the aforementioned UFF&CM. But I'm curious, did the show run new shows during the summer? Were there repeats?
I believe some of the movies repeated, but I don't recall the Mazeppa part of the show being a repeat. Anyone else have an opinion?

Yes, I'm happy that Mazeppa put me onto Laurel and Hardy.
---

June 28 2005 at 11:52:31
Name: Joe
Location: from inside the padded booth...
Comments: According to TTM, on this date, June 28th, 1970...(35 years ago tonight, for those lacking math skills), The Uncanny Film Festival presented HOUSE OF FRANKENSTEIN. I probably only made it halfway through the movie cuz it wuz hard for this 10 year old to stay up that late. So, in honor of nostalgia, I shall contemplate this event tonight while having a beer or ten. Lawzeee
---

June 27 2005 at 09:43:39
Name: Mitch Kelly
Email: saxman78@yahoo.com
Location: Visiting Tulsa (a suburb of Bixby)
Comments: Did anyone else see Gary Busey on "The Simpsons" last night? It was a pretty good episode. Gary was featured on a video called "Restraining Orders And You." Pretty funny stuff. Can I say hello to someone in Sand Springs?....... OK, Hello Paul!!
---

June 26 2005 at 18:52:46
Name: Tom Baddley
Email: spambadd@tbadd.com
Location: Tulsa, OK
Comments: I've finally started uploading a bunch of photos that I've taken around Tulsa for the past couple of years. There's a gallery of Mayo Meadow Shopping center photos taken in 2003, including some night shots of the neon signs.
Thanks, Tom. One of the neon signs is Sheridan Lanes (animated).

A site with a similar focus: AbandonedTulsa.
---

June 26 2005 at 15:14:32
Name: Tim Quigley
Email: overxposure@mindless.com
Location: Seattle, Washington (http://OverXposure.FM)
Comments: Yeah, I TOTALLY blame Video Concert Hall for my obtuse musical tastes <grin> and also for starting me on my way to be a global audiophile.
I also almost forgot to mention Split Enz's "I Got You" video - that video really tripped me out at first and I grew to love it (hats off to the Finn brothers)!
Simply put, Video Concert Hall was playing the strangest music a kid in Tulsa in the late '70s had ever been exposed to, this also coming from a guy whose parents had a huge cache of psychedelic in their collection and who had cool babysitters....
I would get up at 5 AM every day to see if that show was on (it ran on Eastern time schedules and was never listed in any printed program guides) and would watch it as late as I was allowed if it was on in the evening. I cannot tell you what I might pay to get some Video Concert Hall archive videos, even if they contain the disco/soul stuff I did not like at the time, being more musically open-minded as an adult.
---

June 26 2005 at 13:08:38
Name: roy lee
Email: beerdrunk@msn.com
Location: Tulsa
Comments: I was about 17 when Video Concert Hall came on. Iggy Pop was about the weirdest thing I had ever seen up to that point. When he played Cain's, we talked about going just because we had seen that video, but didn't have the what, 6 dollars, to get in. Yeah, the Gary Numan video was pretty strange as well. Funny, I got really into that stuff a little later. Maybe it was Video Concert Hall that made me into the freak I turned out to be...
---

June 25 2005 at 16:24:09
Name: Tim Quigley
Email: overxposure@mindless.com
Location: Seattle, Washington (http://OverXposure.FM)
Comments: Yes, Video Concert Hall would play this live video of Atlanta Rhythm Section's version of the Classics IV hit "Spooky". I only saw it on occasion. They did play stuff certain times of day I did not like (Village People, Rose Royce, Cameo, etc). My favorites were Iggy Pop's "I'm Bored" (fortunately New Values was re-released about four years ago), The Who's live video of "Baba O'Riley", The Dickies' "Nights in White Satin", Tim Curry's "Paradise Garage", Supertramp's "Goodbye Stranger", etc. I did not mind the Styx videos so much, however, but I was only between the ages of 8 and 10 when I watched it. Being a kid, I always wished they would play some Kiss....
Almost forgot to mention that Video Concert Hall would also play David Bowie videos and they blew my mind every time - especially "Ashes to Ashes". Imagine seeing that kind of imagery as a pre-teen kid in the late Seventies. Talk about screwing with a young and impressionable mind! Same with Gary Numan's "Cars" video. Damn glad they played that stuff though and what a strange and wonderful time in rock music history that was. I cannot imagine what it must have been like to have heard Hendrix for the first time when his music was first emerging upon the world, but my experience hearing "Cars" and "Message in a Bottle" by the Police for the first time as a kid developing his own musical tastes is how I imagine it must have been.
Now, when you mention ARS' "Spooky", it's coming back to me.
---

June 25 2005 at 15:15:30
Name: Jim Reid
Email: jimreid56 at aol dot com
Location: Big D
Comments: Was it Video Concert Hall or some other channel that used to run Atlanta Rhythm Section videos ad nauseum?

---

June 25 2005 at 02:14:02
Name: roy lee
Email: beerdrunk@msn.com
Location: watching Video Concert Hall
Comments: I remember that program. The Dickies still play live sometimes, most of the dead boys are uh, dead, though I hung out with Cheetah Chrome at the Horseshoe Bar in NYC several years ago just because he was always there. It's true, that show was way ahead of the game! Iggy Pop and the Dickies. Then again they played the new Styx video too. That meant it was time to go to bed. When Styx came on. Bleh.
---

June 24 2005 at 11:32:29
Name: Henry Fleming
Email: HFlem29[AT]aol[DOT]com
Comments: I was surprised that there wasn't a mention of Brian Spencer on your site. This URL has a profile of the made-for-TV movie about him. A review to the movie "Gross Misconduct" is about half way down the page.
And look for--
Gross Misconduct (IMDb)
The Tulsa connection is that Spinner was playing for the Ice Oilers when he was called up to Toronto. He came back for a few games before he went to Toronto full time. Hal O'Halloran watched him play many times before Hal had to race to the studio to do the late sports. Tom Lobaugh wrote that part of the story in the Tribune at the time. The best hockey site (www.nhl.ca) is down now because of the strike and it has a lot more information. They did take some small liberties with the story in the movie.
---

June 23 2005 at 19:33:15
Name: Mike Bruchas
Comments: Keep meaning to ask any of the OKC readers if French Market Mall is still there? I am sure TRUST HOUSE JEWELERS has gone to that big channel in the sky...
---

June 23 2005 at 17:50:18
Name: Frank Morrow
Email: frankmor@io.com
Location: Austin
Comments: Regarding Stan Freburg, I have seen his name spelled with two 'e's (Freberg) and with a 'u' as above. Even the Internet has it listed both ways in the same paragraph.
In 1951, I used to play his records on my evening music program, "Music for Listening" (How about THAT for originality?) on KAKC, and later on KRMG's "Music 'Til Midnight." Jim Ruddle had hosted the same KAKC program a year or so earlier. Bob Griffin did it after I moved to KTUL.
Freburg showed his courage by putting out a record about Little Red Riding Hood being hauled up before the McCarthy Committee during the Red Scare days. I'm sure that record alone was enough to get Stan's name placed on the Senator's bad-boy list.
According to the IMDb's bio of Stan, his birth name is Stanley Victor Freberg.
---

June 23 2005 at 17:49:14
Name: Angela Brumley (via email to webmaster)
Email: woodstone[AT]tulsacoxmail[DOT]com
Comments: Just surfed into the Tulsa TV Memories web page. I was Honest John's wife. He died a week before his 30th birthday, due to complications of a deformed heart valve that he was born with. It hurts me to see his name misspelled. (Corrected on all pages...webmaster)
He was born John Wesley Foutz Jr.
It is so amazing to think that John was the master of high tech, always having the best turntable, and the speakers are still in Starship, he knew quality, and bought the best. However, it's unfortunate that John never saw a CD! We wrote down every LP and cassette tape by hand, the man would so have loved computers.
At our wedding, which was HUGE because John wanted it that way, he had four best men. They were Matt Bunyan of Starship, Leon Newton of OZ, Larry Shaeffer of Cain's and Little Wing along with John's brother Rudy Foutz.
Not many people know that John so loved Elvis, that when Elvis died, he postponed our wedding for a whole month. LOL
Yes it's true. I have only pictures to show of this motley crew, but they are a sight to behold, these "hippies" cleaned up quite nicely in their white tuxedos that John chose himself.
Thank you for listening...HONEST ANGIE
---

June 23 2005 at 17:25:42
Name: Mike Bruchas
Comments: Them Brumleys is everywhere! Okay Angie - I thought it was FAUTZ. Am I wrong??
Was wrong..."Foutz" has replaced "Fautz" on all pages. Mike, you making a mistake is pretty rare!
---

June 23 2005 at 14:56:00
Name: Honest Angie
Email: woodstone2@birch.net
Comments: Hey Mike Bruchas, you out there? Shame on you for not spelling Honest John's last name correctly ! Still taking pic?
---

June 23 2005 at 10:58:09
Name: Patrick Bryant
Email: patDOTbryantATgmailDOTcom
Location: Burbank, Caliprunia
Comments: Zoli Vajda! Hey! Just checking @$$h*les! (old "in" joke). Me and Bob Tallman, Larry Mahan, Walt Garrison, Shelley Burmeister, Bob Eubanks, and the late Curt Gowdy were just talking about you over a beer the other day; about how outstanding a director of rodeo telecasts you were and how you always took the right camera every time. You still hanging out with the goat ropers?
---

June 23 2005 at 02:29:44
Name: Tim Quigley
Email: overxposure@mindless.com
Location: Seattle, Washington (http://OverXposure.FM)
Comments: Anyone remember Video Concert Hall, Channel 9 (Cable, pre-USA network, TBS, etc) 1979-1980? Tulsa, being a test market for many fine things acquirable to all, was an early test trick on cable television and we in Tulsa got glimpse of pre-MTV programming in its purest form. This daily program was based upon Michael Nesmith's own personal music video collection and once he got his mommy's Liquid Paper inheritance fortune, this same collection became the foundation for MTV's release to the world. Anyone remember the Police before becoming superstars? The Dickies? The A's? The Deadboys? Paradise Garage? John London? Craziness.....
Hi, Tim. We corresponded a couple of years ago about "chillout" music group, Momma Gravy, and your excellent online radio station (link above). I think I have a dim memory of VCH, but I'm sure some out there remember better than I do.
---

June 22 2005 at 18:23:00
Name: Mike Bruchas
Comments: Zoli Vajda! You are a demi-legend of OKC (4 + 25)! I met with you several times when you were at KOKH - I went on to KGMC. What are you doin' in CO now?
---

June 22 2005 at 05:30:47
Name: Delmeaux de Gillette, Ph.D
Email: garychew[at]comcast[dot]net
Location: Sacramento
Comments: I don't especially recall what the "small" items were as prizes on "Go For Dough On The Early Show." I still can't believe they actually used that for a title. I thought they were kidding when I first heard it mentioned.
But then again, I still can't believe they ran all those C-movies, either. George Montgomery, et al.
I do remember what the big prize was...$666.66. I think that we had three or four winners for it. However, I could be wrong about that. I do remember we did have some "big" winners, though.
What I always recall most clearly about the show was our elderly viewers taking a dim view of any antics that might seep in on the live breaks...and all the TU students already home from their classes, watching, being very supportive of the goofy stuff, for which Mr. Sartain was most responsible. And I hasten to say, in a very creative way.
His being my cameraman is what kept me awake. George Montgomery just couldn't do that.
"Go For Dough" had some truly funny moments for me, and apparently lots of other people too, given Zeppy's local success there on Six, as well as Eight.
Yes, indeed. There's no bidness like show bidness.
(P.s., I don't remember what replaced "Go For Dough," but I'd bet it was an improvement. There has to be someone out there in cyberland who remembers such trivia.)
---

June 21 2005 at 23:39:47
Name: Zoli Vajda
Email: ZoliTV@aol.com
Location: Monument Hill, Colorado
Comments: I have enjoyed reading some of the comments. I will never forget watching Gailard Sartain and his "Uncanny Camp Meeting"! It's one of those great shows that never went anywhere.
Zoli was mentioned by Mike Bruchas in Guestbook 15.

Tulsa was lucky to have an exclusive on Mazeppa. Mr. Sartain himself definitely went places, including Nashville and Hollywood.
---

June 21 2005 at 19:17:48
Name: Mike (my granddaddy was with the Rock Island) Bruchas
Comments: I need to shill here for a Yahoo OKC group if I can.
If any of you are rail buffs or model train buffs and Yahoo members - please visit this group:
Trains_Of_The_OKC_Area at Yahoo.
We are looking for rail pictures but also folks from Eastern OK to share information.
Question of "Doctor" Chew....I was trying to remember what YOU gave away as prizes on GO FOR DOUGH on KOTV *IN THE EARLY '70's*. I recall sometimes it seemed to be like gift certificates for 6-packs of RC Cola or Diet Rite Cola. Did you ever have any BIG prizes on that show?
We used to joke that every movie that GEORGE MONTGOMERY had ever made - seemed to be in the KOTV film library then...KOTV showed enough OF THEM as your movie! Do you remember what eventually replaced GO FOR DOUGH????
---

June 19 2005 at 07:35:30
Name: John Boydston (via email)
Location: GA
Comments: I'm going up to Chicago for the Lollapalooza festival to play the Family Stage at the side event called Kidzapalooza. I'll be doing a show both days, July 23rd & 24th. Here's a link to the day of performances. It's kind of funny to see Daddy A Go Go along side some cool bands.
...such as Weezer, Billy Idol and The Pixies. More about John's DAGG CDs in the TTM Gift Shop.
---

June 18 2005 at 21:19:38
Name: Webmaster
Comments: Archived Guestbook 186, where rock 'n roll satirist/adman Stan Freberg was the most recent subject. Stan came up after a plea for letters to get "Weird" Al into the Rock and Roll Hall of Fame.
Former KAKC jock Scooter Segraves checked in. We heard from Tulsa Radio Icon Ed Brocksmith for the first time. A question was posed about an "Edge of Insanity" (EOI) sound bite. "Zippy The Pinhead" visited the Golden Driller. Rob Bowe told us about his radio career.
Jim Hartz and John Hillis contributed to a tech discussion of microphones.
The Tulsa Tribune's columnist, "The Rambler" (Roger Devlin), was mentioned in the course of a discussion of media-reported "cock and bull stories".
Mentions of Kelly's, Boots and Sandy's fueled the perennially-favored topic of Tulsa burger stands.
That and more in Guestbook 186.
---
Back to Tulsa TV Memories main page