Date: July 13 2002 at 19:00:24
Name: Gary Chew (via email)
Location: Sacramento
Comments:

Hello Mike: And congratulations on tying the knot. All the best to you and your bride.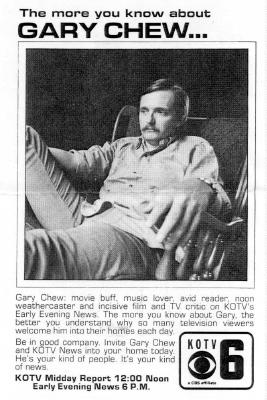 Since last fall, I've returned to an activity that I actually got started with Clayton Vaughn's blessing at KOTV: Film reviews, but on public radio, now.
If your "readers" are interested, they can go to my employer's web site capradio.org and click around and pick up all my reviews since last Fall. When I started doing film reviews at KOTV....NOBODY in television was doing them. Siskel and Ebert had a long time yet to make it on PBS. My first film review was "Doc," starring Stacey Keach (an O.K. Corral Story). Another early review I did was "The Candidate" with Redford and Peter Boyle; good political drama, not unlike the recent "The Contender" with Jeff Bridges and Christian Slater.
Besides feature films that first-run in moviehouses, I've been doing reviews of premieres of made for cable flicks, i.e. HBO.
Two good ones I've recently reviewed from HBO are "The Gathering Storm" with Albert Finney and "Path to War," John Frankenheimer's last directorial effort. He died over the 4th of July holiday. I'll always remember his "Seven Days in May" with Lancaster, Douglas and Gardner as well as his "The Manchurian Candidate" with Sinatra and Laurence Harvey. (Does anyone remember the Korean War?) I'm hoping that Mazeppa and/or Busey will be doing something in the future that I can review.
I've always been impressed with Gary's work in "The Firm," which also boasts another T-Towner, if you'll remember, Jeanne Tripplehorn.
If anyone who browses the Tulsa TV Ghosts Scene would like to be bored even further, they can check me out "live" on our classical music stream at capradio.org I've been programming and hosting an afternoon classical music radio show on KXPR in Sacramento for nearly 15 years. I stream from 4 to 7pm California time. Actually, I'm a radio man first, but with Mike Miller as a friend, I was able to get job a Channel Six and become a second banana weatherman behind Lionel and his friend.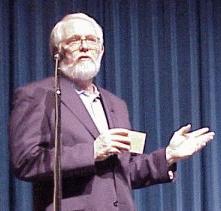 I write, produce and voice a one-hour weekly, classical music program of performances given in the Sacramento area. Some are local musicians...but many times world famous artists are here...and if we can get clearance, which we usually do, we air them as well. The program listings for this broadcast, called Capital Concert, are also on our web site.
I also enjoyed the spread on KTUL Radio. I was one of the original Kelly Jocks. Most everyone used their real first name and took Kelly as the last. Management didn't like Gary Kelly, so I chose Pete Kelly, again thinking about a movie character that was played by none other than Jack (Dragnet) Webb. I moved to KOTV from KTUL when Mike Miller told me there might be an opening. I returned the favor to Mike by introducing him to his wife, Mary Beth, to whom he's still hitched.
Oh, by the way, I quite often email Lionel's friend back there in Tulsa, but I can't recall his air name. I just send my emails to "His Woodness" and I always get an answer.
All The Best To All. Chew says ciao.