Tulsa TV Memories Guestbook 188

TTM main | What's new on TTM? | GB Archive




July 27 2005 at 09:43:27
Name: David Bagsby
Email: dcbatsunflower.com
Location: Lawrence, KS
Comments: Happy Birthday Mike! I'm never sure what to get you, so I hope you like stolen sheriff uniforms.
---

July 26 2005 at 23:38:15
Name: roy
Email: beerdrunk@msn.com
Location: 1st and Denver
Comments: OK, I found out it is quite a boo-boo to have sheriff's dept. uniforms laying around. I had a good time dropping it all off at the dept. to a deputy who thought I was really strange and who was also really interested in which house had all been found at and who might have left it. That was a nice trip downtown though I neglected to stop for a coney.
---

July 26 2005 at 20:56:16
Name: John Young
Email: johnk662561atyahoodotcom
Location: Standing in the beautiful rain
Comments: Happy belated b-day, Mike! I hope you had a good one!
---

July 26 2005 at 08:07:00
Name: Mike Bruchas
Email:
Location: Watching space launch preps, Jim Hartz - where are ya?? Wouldn't be NBC launch coverage 35 years ago WITHOUT him!
Comments: CNN says TV Guide is re-habbing itself again. Isn't the cable guide fed from Tulsa? The magazine will cut TV listings and have MORE articles. It's now a lifestyle mag - or so someone thought. I mean doesn't EVERYONE have cable? That is the point of the publisher.

7/27/2005: Jim Hartz sent a photo from his NBC coverage of NASA with comments in Guestbook 189 (the current Guestbook as of today).
---

July 26 2005 at 07:43:29
Name: Jim Ruddle
Email: jruddle@earthlink.net
Location: Rye, NY
Comments: Harlan, welcome to Jurassic Park. A few of us from the fifties still roam the grass.
---

July 25 2005 at 21:23:52
Name: Webmaster's Bruddah
Email: nalamosnar[AT]yahoo[DOT]com
Location: by the woods
Comments: Sorry Mike........but Happy Birthday. You still look younger than me! (it ain't fair)
---

July 25 2005 at 12:58:05
Name: Harlan Judkins
Email: hjudkins[AT]juno[DOT]com
Comments: Signing in after all these years.
With KTUL as staff from 1946 through 1952. The transferred to KFPW in Ft. Smith as P.D. Left the Griffin stations as Program Director of WMC in Memphis in 1954.
Worked at both NBC affiliate WMC Radio and TV and the CBS station WREC Radio and TV till retirement in 1985. Still do voice overs for Radio and TV.
Some broadcasts accomplished:
Did the Patti Page show from KTUL 1946-47 with Al Clauser, Rudy Cohen, Glen Hardman.
Ole Miss Football color on the net for a couple of years 1954-1955.
Did cut-ins on the NBC "Today Show" from Memphis.
And the one thing I always dreamed of doing while a student at Will Rogers high...the CBS dance band shows late at night on the CBS Radio Net from the Peabody Hotel in Memphis. Some bands...Clyde McCoy, Tony Pastor, The Glenn Miller Band with Tex Beneke...and the big bands of the day.
Had a long and successful career in Radio and TV. There are lots of memories in reading Tulsa TV Memories as the names of friends and associates, some long gone, that bring back a successful career.
Thanks for the mentions and to all the great people I worked with a big Hello!
Welcome, Harlan.
---

July 25 2005 at 12:52:18
Name: Chris Fields
Email: chris.fields@eds.com
Location: Tulsa
Comments:

TulsaNow has a newspaper article about the 1957 time capsule to be opened in 2007.
---

July 25 2005 at 11:27:32
Name: P. Casey Morgan
Email: p-casey-morgan@utulsa.edu
Location: Public Radio Tulsa
Comments: Very very happy birthday wishes today to our webmaster, Mike Ransom. Being Ringmaster over the Tulsa TV Memories regulars and special guest stars cannot be an easy task, but Mike does it with intelligence, grace, wit, charm and a restraint easily deployed when lesser men would have gone barking mad.
Many happy returns of the day, Mike. Thanks for all your hard work on our behalf.
Thanks, Casey.
---

July 23 2005 at 13:46:31
Name: Michael (serious now) Bruchas
Comments: 2 days or so and counting....to the natal day of webmeister, Mike Ransom. He will be XX years young!
Webmeisters stop publishing at ages over 39 a la Jack Benny!
We are so glad that you created TTM! Here's wishing you many more years!
Thanks, but honesty compels me to admit that I am over 20 years old.
---

July 23 2005 at 13:17:22
Name: Stan Bulle
Email: istanbul_le@hotmail.com
Location: Orange, Calif.
Comments: Hello,
I found this site while trying to locate my cousin (Larry Strain). The last post from him seems to be 2001. Does anyone have anything on him that is more recent? I tried to send an e-mail to him at airpros@hsnp.com but received a return DaemonMailer saying the address was unknown. Would like to contact him if possible.
When he was working at KRMG, does anyone remember that he went by the name of Larry Randall for a short time? I was about 14 at the time and went with him while he did the midnight to O-dark-thirty show. I remember going across the hall to use the restroom and then walking back into the studio, to see him scowling at me with his hands over the mic. He said, "Congratulations, when you opened that door you sent out a nice toilet flush over the air." (LOL) Jeebuz, that was almost 50 years ago.
Anyway, thanx for any help if anyone has a current way to contact him.
---

July 23 2005 at 11:52:12
Name: Bart Smith, aka Wildcat of Wildcat's Lair (Comics and Anime)
Location: Wichita (formerly of Independence, KS)
Comments: Hey there! I found your site while doing a websearch, trying to remember the name of a certain 70s afternoon kids' show on Channel 8, and learned of course that that would be Uncle Zeb. Not bad for only remembering the theme song and that Bell's Amusement Park featured heavily in the programme somehow! :)
While browsing through the UHF section -- which is too cool, by the way, as Weird Al's one of my favourites -- I found a "where are they now" thing about the upside-down yodeler, Charles Marsh. Well, I found this at IMDb, which lists the only other two movies he's credited in but, sadly, provides no other info. The rest of the web is even less helpful! By the way, there's a link back to your UHF page from Weird Al's site. :D
Thanks for the site -- I like to check back in from time to time to see what I've missed!
---

July 22 2005 at 23:44:36
Name: Daniel Wright
Location: Okmulgee
Comments: On the subject of who actually gets the Plymouth: I thought there was a contest held when the car was buried. Whoever guessed the population of Tulsa in 2007 wins the car.
---

July 22 2005 at 15:44:49
Name: Webmaster
Comments:
It can now be told...

On March 1, 1981 (only a couple of weeks before the launch of KGCT, Channel 41), a challenging query was phoned in to the Tulsa Tribune's "Call The Editor" column:

"I just want to know one question. What would old Ike do if he was riding in the saddle?"


Apparently the caller (who spoke in a mush-mouthed, silibant manner) felt it to be one for the ages, as he had called it in twice before without success.

When it was finally unleashed the following day, a micro-controversy erupted.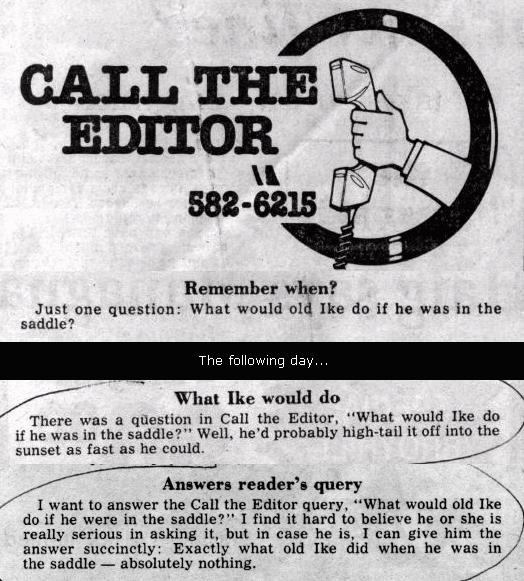 ---

July 22 2005 at 11:24:20
Name: Webmaster
Comments:
From a 1995 Tulsa newspaper insert by a sleazy OKC investment outfit:



Mr. Safer appears glum at being pressed into service hawking "viaticals"; maybe he just had a rough day.
Viaticals are "death futures" (How's that for an oxymoron?) Here's the "60 Minutes" quote IN context.
---

July 22 2005 at 11:22:54
Name: Erick
Email: ericktul@yahoo.com
Location: Tulsa
Comments: Regarding the '57 Plymouth buried on the east side of the courthouse...
If I'm not mistaken, a drawing will be held to determine the winner. I can't recall if the raffle tickets will be issued when the car comes up, or if those tickets were issued in '57.
When I was in kindergarten, our class buried a time capsule that was to be unearthed shortly after what was expected to be our high school graduation. I wasn't there when the capsule came up, but a friend said my contribution included my beloved OU baseball cap and a package of football cards. That friend has kept those items for me, but I've lost touch with him. I fear he may have profited from those cards...
---

July 22 2005 at 02:38:52
Name: Webmaster
Comments: Random clippings from my files...

Does it count if you go to sleep?

(Referenced on Pop Culture Junk Mail, 8/1/2005)
---

July 22 2005 at 01:54:41
Name: roy lee
Email: beerdrunk@msn.com
Location: still digging in the wastebasket??
Comments: Ok, now I found something good. A book called "Talking with Tulsa Teens" by William H. Young, published by something called "professors of the city". It features photos of Tulsa teens on the "restless ribbon" and the great comment "most boys feel under a social compulsion to drink beer." Anyone know anything about this? Looks like 1967 or so.
I wonder if those "professors of the city" included Tulsa TV's twin psychologists, Drs. Jan Kizziar and Judy Hagedorn of "Generation Rap" (circa 1970).
---

July 21 2005 at 21:58:55
Name: Dave
Location: behnd the wheel
Comments: Memo to Chris King: More than anyone may want to know about the car buried by the county courthouse -- right down to exactly how many hours and minutes to the moment it is dug up -- can be found here.
---

July 21 2005 at 21:32:41
Name: Judy Messenger
Email: Judy.Messenger[AT]ebgames[DOT]com
Location: Kansas City
Comments: I was so surprised to stumble on to your website. I did the Sports on KTEW in the mid seventies, and very much enjoyed reading that Frank became a CPA, and seeing the note from Roger Burch. I also wonder what ever happened to George Hummingbird, and whether Jerry is still anchoring. I am an attorney these days, and travel most of the time. While on a plane, a guy from Tulsa told me that John Hudson had passed away several years ago, which made me sad. What a funny guy!
Judy, it's good to hear from you. Erick told us in Guestbook 46 about John Hudson and Jerry Webber, who passed away in late 1998.
---

July 21 2005 at 19:04:12
Name: Chris King
Email: Tulsa99telecom@sbcglobal.net
Location: Camelot Hotel penthouse
Comments: Any word on the exact date that the "time capsule" is to be unearthed in front of the courthouse? Supposedly its going to be in 2007, but no clear date has been announced. Also, who gets that "new" Plymouth? A few years back, the news showed the day it was buried, and some dude putting a case of brew in the trunk. Always wondered what a sealed vault with leaky beer cans inside would create??
---

July 21 2005 at 12:06:00
Name: Ken Ragsdale
Email: Ragsdaleandassoc[AT]aol[DOT]com
Comments: Radio Spirits has compiled a collection of original radio programs starring the late Frances Langford. It may be of interest to her many Tulsa TV Memories fans.
---

July 20 2005 at 21:27:37
Name: John Hilllis
Location: Looking for the Dilithium Crystals
Comments:
One of the amusements of the KOTV intercom during dull moments was Stuart Odell and Irv Johnson doing chief engineer Chan Allen's favorite line "I can't get it to fail for me on the bench" as a Kirk-Scotty dialogue.
---

July 20 2005 at 16:10:42
Name: Webmaster
Comments: The inventor of the TV dinner, Gerry Thomas, has passed away at age 83. Boing Boing has an item about it which references the KRMG page here.
---

July 20 2005 at 12:25:24
Name: Erick
Email: ericktul@yahoo.com
Location: Tulsa
Comments: Someone mentioned the new "Big Switch" ads on KJRH. It's a bit of a gimmick, as it is not KTUL news personalities headed to 2, but it will be the game shows Jeopardy and Wheel of Fortune. The 3 people the ads refer to are Alex Trebek, Pat Sajak, and Vanna White.
Scripps, which owns KJRH and several other TV stations across the country, has tried over the past few years to get these shows on their stations.
---

July 20 2005 at 11:30:43
Name: Mike Bruchas
Comments: Long-time PBS newsman, Paul Duke, has died of leukemia here in DC at 78. He hosted WASHINGTON WEEK for many years and also worked for NBC News way back when. I worked with him twice and found him a good guy. He started as a radio announcer as high school studio in Richmond, VA I believe.
Sad also to say that James Doohan, the chief engineer of the Starship Enterprise in the original "Star Trek" TV series and movies who responded to the command "Beam me up, Scotty," died Wednesday. He was 85. Doohan died at 5:30 a.m. at his Redmond, Wash., home with his wife of 28 years, Wende, at his side, Los Angeles agent and longtime friend Steve Stevens said. The cause of death was pneumonia and Alzheimer's disease, he said.
Webmaster: While talking with the "2001: A Space Odyssey" actors at Trek Expo 2001 (how's that for synchronicity?), I heard a commotion just behind me. It was James Doohan cruising by in a golf cart. We gave him a wave.

Mr. Doohan told the Expo Square audience that after doing "Star Trek: The Next Generation" episode, "Relics", he learned that he had suffered a small stroke during the filming. He had noticed midway through that he began to have trouble remembering his lines. The director got a bit nettled with him.

He was slow of speech, but lucid during his Tulsa visit.

I'll always remember Mr. Scott's advice to Chief Engineer LaForge in that episode. Maybe TV/radio tech types will find it on the mark, too:

---

Scott: "Do you mind a little advice? Starfleet captains are like children. They want everything right now, and they want it their way. But the secret is to give only what they need, not what they want."

LaForge: "Yeah, well, I told the captain I'd have this analysis done in an hour."

Scott: "How long would it really take?"

LaForge: "An hour."

Scott: "Oh, you didn't tell him how long it would REALLY take, did you?"

LaForge: "Well of course I did."

Scott: "Oh, laddie, you've got a lot to learn if you want people to think of you as a miracle worker!"
---

July 19 2005 at 23:33:20
Name: roy lee
Email: beerdrunk@msn.com
Location: the Dempsey dumpster
Comments: Well, no one wanted to buy the sheriff's uniforms I found. I tried both Groovy Threads and Cheap Thrills (both are VERY COOL stores) but I did not walk away with the huge pile of cash I had anticipated... BUT! I did find in the pile another interesting thing that I don't know quite what to do with, that's a Polaroid mug shot of Tommy Morrison! Now what do I do with that thing????
Try Found Magazine.
---

July 19 2005 at 00:06:49
Name: Deric Davis
Email: davisderic@hotmail.com
Location: Broken Arrow
Comments: What is going on at KTUL? Does anyone know what the new commercials on KJRH are talking about? It explains that first Travis Meyer left channel 8, and now 3 more KTUL people are leaving and coming to channel 2 in September. They call it "The Big Switch" Anyone know who is leaving, where they are filling in, or who is leaving KJRH?
---

July 17 2005 at 16:06:42
Name: Mike Bruchas
Location: DC
Comments: Was at Festa Italiana in DC today and ran into a Fox News photog. She says CARLOS HERNANDEZ - who was Chief Photog at WTTG TV here in DC retired as of 2 weeks ago. She did not know where Carlos is headed - maybe back to OK. Carlos worked at 6, 9, 5 and so many other stations.
(Later note from Mike) Per Ben Kretchmar - Carlos Hernandez will spend a few weeks in DC and move to a new home in Arkanas....more info to come...
---

July 15 2005 at 21:14:27
Name: Webmaster
Comments: Central High grad Paul Harvey gave a speech in Tulsa on April 2, 1994 in which he mentioned his teacher, Isabelle Ronan.
Danny "Dark" Croskery, a Ronan student from 1954-57, was the voice of NBC, "Bonanza", Superman, Charlie the Tuna and more. Here is a commemorative guestbook in the L.A. Times.
---

July 15 2005 at 08:48:48
Name: Jennifer
Email: oksteelmagnolia@yahoo.com
Location: Hurricane Alley (Tampa)
Comments: Does anyone know the fate of the "Tuffy" costume from Mr. Zing and Tuffy? I am on the planning committee for an elementary school reunion in Tulsa and we would like to have photo opps with Tuffy. Thanks!
---

July 14 2005 at 08:57:51
Name: Webmaster
Comments: TTM contributor Frank Morrow is quoted in a Tulsa World story today about Norma Perkins, a 70-year-old Tae Kwan Do black belt.
---

July 14 2005 at 08:05:00
Name: Mike Bruchas
Comments: Musical tangent - maybe "Doctor" Murg can help. I am re-discovering Skiffle music after seeing a skiffle tune on Live 8. Have a new Lonnie Donegan (briefly here in the US on a Kraft Summer Music Hall show maybe 30 years ago), Van Morrison and others live concert on CD from Belfast from 1998. George Harrison and Paul McCartney were both Skiffle fans. The music seems folk and also rock based but never seems to have made it here in the US. Anyone out there who can enlighten me more?
---

July 13 2005 at 23:20:11
Name: Mike
Email: mpsosu@hotmail.com
Location: Tulsa, OK
Comments: I just read in the Tulsa World that Mike Ziegenhorn got fired from channel 8, more or less. Then just now, I read that Jack Bunds will be his replacement. Wasn't Jack already the assistant news director? Seems like Jack's just flexing his muscle in getting what he wants. Zig will be missed. Hopefully he won't have to go far to find work. What in the world is happening at Ch. 8????
---

July 13 2005 at 11:13:14
Name: Webmaster
Comments: There is a Jenks Centennial Special section in the Tulsa World today with pix from Skyline Park (discussed here in Guestbooks 162 and 129.) Lowell mentioned that he has a section of railroad track from Skyline in his backyard.
---

July 13 2005 at 07:09:15
Name: John Young
Email: johnk662561atyahoodotcom
Location: That Dirty Four Letter "W" Word
Comments: Roy...
You might wanna take 'em down to the sheriff's office. Surely SOMEONE down there could use 'em.
---

July 13 2005 at 01:51:11
Name: roy lee
Email: beerdrunk@msn.com
Location: in big trouble???
Comments: Walking by the newly abandoned house on my block tonight i noticed a large pile of unused and perfectly cleaned and pressed clothing. I took it home. I am now the uncomfortable owner of several Tulsa Sheriff's Dept. uniforms! Is this against the law? I couldn't resist 'em. even got a raincoat and some manuals too! I have no idea what to do with this interesting junk! any ideas????
---

July 12 2005 at 23:10:00
Name: Lowell Burch
Email: lburch3@coxxxxxx.net
Location: Mission Control
Comments: I always show my students the clip from the Glenn Miller Story where Frances Langford is singing with Ralph Brewster and the Modernaires. In the clip, Frances and the Modernaires are performing in a hangar with the band, led by Jimmy Stewart, for an audience of servicemen.
By the way, one of my favorite evenings was spent at Ralph Brewster's home in Broken Arrow listening to him talk about his work with the Miller band. It was fascinating.
---

July 12 2005 at 11:33:19
Name: Larry Burnett (via email)
Email: LarryBsprt[AT]aol[DOT]com
Location: L.A.
Comments: I heard that some people are still trying to figure out where I am. I've been "hiding" in Los Angeles for the past 15 years. I have hosted the Laker radio broadcasts for the last 9 years and I am currently doing the radio and TV play-by-play for the L.A. Sparks (WNBA). I am married to the former Barbara Goldberg (Tulsa Edison). We met at KOTV. We have 2 daughters.
I hope that info helps and I look forward to hearing from you.
---

July 12 2005 at 07:17:58
Name: Jim Ruddle
Email: jruddle@earthlink.net
Location: Rye, NY
Comments: We always think of Langford as having popped up from nowhere during WWII, but she was a highly regarded band singer in the late thirties.
An interesting note, for some of us crazies who like old music, is that the 100th anniversary of Dorothy Fields' birth occurs this Friday, July 15th.
---

July 11 2005 at 22:50:31
Name: Frank Morrow
Email: frankmor@io.com
Location: Austin
Comments: Frances Langford gained her greatest popularity on Bob Hope's radio show and travels. There was a great documentary a few years ago about the reunion of the group that traveled so much to entertain the troops ("Entertaining the Troops"). It was interesting to hear their reminiscences. Even when they were dogged tired and suffering from jungle rot and other maladies, they still put on shows for "the boys."
On the radio one of the favorite lines that Frances Langford had was a retort to Hope's first comment to her, "Frances, you're looking good."
Frances' line was "And you're looking, too." This remark never failed to get a big laugh from the lonesome, horny soldiers and sailors.
---

July 11 2005 at 17:00:58
Name: Webmaster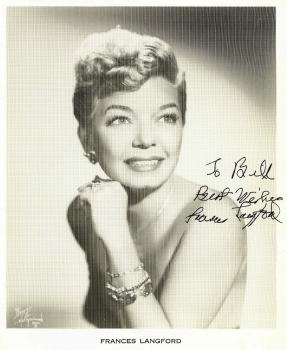 Comments: Former actress and singer Frances Langford, who entertained troops with Bob Hope during WWII, has passed away at the age of 92. She married Harold Stuart in 1994.
(Mr. Stuart was an original co-owner of KVOO-TV, and owned KVOO-AM into the 1970s and 80s. He was previously married to Joan Skelly Stuart, daughter of oilman W.G. Skelly, who built KVOO-AM into a powerhouse, and whose initials form the call letters of KWGS, first FM station in Oklahoma.)
Here's an NPR audio story.
One of Frances Langford's starring roles was in 1935's "Every Night At Eight", which has a Tulsa TV connection. Her signature song, "I'm In The Mood For Love", was written for this film by the great team of Dorothy Fields and Jimmy McHugh.
The above picture is courtesy of Bill Hyden. Bill also took this picture of the Stuarts a year or so ago. Our sympathy to Mr. Stuart and to their many friends.

---

July 08 2005 at 13:00:07
Name: roy lee
Email: beerdrunk@msn.com
Location: Tulsa
Comments: Last I heard, the Mayo has the lobby opened as a ballroom and used for large parties. The hotel part would cost far more than anyone wants to invest, as far as I've been told. If they ever do it, I'm applying for a job there! If you are looking for an impressive hotel in Tulsa, try the Savoy near 6th and Peoria!
---

July 08 2005 at 12:29:25
Name: David Bagsby
Email: dcbatsunflower.com
Location: Lawrence, KS
Comments: The original Saks snow globe has a different array of landmarks...Golden Driller, Williams Center, etc. It also contains a music box that plays "Oklahoma". The 2nd globe can be identified by the tiny airplane suspended over the city by a wire. Ebay has the original almost constantly; but be ready to shell out at least $30-80 for it.
---

July 08 2005 at 11:06:54
Name: Kim Newcomb
Email: kimnewk@netscape.net
Location: California
Comments: I am looking for the Saks Tulsa snow globe as a gift for someone. Any ideas where to find any? Also does anyone have the list of buildings that are in the original one?
Definitely eBay for the snow globe. I understand there is an older one and a newer one, though. Maybe David Bagsby could say more about them.
---

July 08 2005 at 09:04:40
Name: Mike Bruchas
Location: DC
Comments: Is the Mayo fully re-opened now - somebody chime in!
Former Cain's operator Larry Schaeffer has a LOT of stuff for sale on eBay, I have noticed. He is known as larryq45. I am looking at Cain's posters for sale!
---

July 07 2005 at 10:34:57
Name: Michael Dean, Public Relations Director
Email: mdean[AT]ok[HYPHEN]history.mus.ok.us
Location: Oklahoma Historical Society-OKC
Comments: Ceremony to honor Jim Palmer at OHS tomorrow morning (7/8) at 10 a.m. at the 2nd Floor Conference Room, Wiley Post Building, 2100 North Lincoln Blvd (the old building).
Jim Palmer, long time news director at WKY Radio, Broadcast Executive United Press International Dallas, and former morning news anchor at KTOK and KOMA-AM/KOKC recently donated his complete collection of tapes of newscasts, interviews, radio documentaries, and reporter's notes gathered and produced over a thirty year period.
Earlier this year, he was inducted into the Oklahoma Journalism Hall of Fame.
One of the initiatives, I have been working on is to collect as much broadcast news, both radio and television, as possible to augment our collection of Oklahoma newspapers. Broadcast news captured many important events in our history, as did the newspapers. Obtaining the Jim Palmer Collection adds to that effort. His work will be available for scholarly research as well as to the media and public in general.
We are honoring him for his major contribution to the archives of the Oklahoma Historical Society.
(405)522-5241
---

July 06 2005 at 18:35:27
Name: Gary Thompson
Email: Gary @KXOJ.com
Location: Jinx
Comments:
Mike Francen is a "healing" evangelist out of Tulsa. His headquarters are down at 71st and Sheridan right next to the Mr. Klean Car wash.
Seriously.
http://www.gofwo.org is his website.
He's a Kenneth Hagin (Rhema) / Oral Roberts Disciple, I believe.
The location is 6532 E. 71st (the old Ziegfield's building).
---

July 06 2005 at 09:04:50
Name: Mike Bruchas
Location: doing Christian TV programming duplication in stormy DC
Comments: Who is Francen World Outreach? Doing dubs of their tapes on African Outreach. They are from Tulsa but the program editing seems like stuff from 10 years ago. I have never heard of them in Tulsa. Anyone know??
Just learned of a new George Clooney produced movie on Edward R. Murrow - coming in October. They went a great ways to re-create the technology I am told. Here is a link.
---

July 03 2005 at 12:03:13
Name: Jennifer
Location: Tampa
Comments: Along those same lines - I was wondering about Madonna... doesn't a billion-person audience call for a little touch up on the black roots?
I finally stumbled across the women's pages and enjoyed reading about Betty Boyd. I went to the charm school she ran at the 21st and Yale Sears, which culminated in a fashion show. The other TV connection is that I went on Wednesday night instead of Monday, because going on Monday would have meant I would miss The Monkees! Definitely one of the experiences that has stuck with me. When pressed, I can still be rather charming.
---

July 02 2005 at 14:47:27
Name: Mike Bruchas
Location: stormy DC
Comments: Watching LIVE 8 clips at work - am surprised KTUL did not try to tie into it. Wonderin' why Sir Bob Geldof can't afford a decent haircut and a new hat....I think it IS a good effort though.
---

July 01 2005 at 20:18:11
Name: Webmaster
Comments: Archived Guestbook 187, where we just heard from Jim Hartz on the topic of the NBC chimes. Michael Dean sent us a 1968 KVOO ID/news open, featuring himself at age 20....
---
Back to Tulsa TV Memories main page