Mike Bruchas - 08/17/99 18:24:31
My Email:bruchasm@atlanticvideo.net


Comments:
Spoke with "Buford Montaigne" - formerly of KVOO many years ago -- who is really J. Lee Ready of scenic Turley, OK.

He says he has written an article on KWGS' Ed Dumit - slated to appear in the next edition of "Oklahoma Family Magazine". Be looking for it at a grocery store near you!

Incidentally - former KELI/KRMG newsman Randy Kindy was editing the magazine but now joins the media services staff at St.Francis Hospital. Will probably still write for "OFM" though.

---

Mike Bruchas - 08/17/99 15:10:34


Comments:
Odds N Ends...

Jim Back wins! Cains' dance floor has a gazillion automobile springs under it, so it is a spring-loaded dance floor! Ya see, folks had springs before we had shock absorbers...As for Harold Stuart - he WAS W.G. Skelly's son-in-law. Jim's r ght - he did add "flavor" to Tulsa broadcasting. As mentioned here before - at one time he & Jimmy Leake were bidding for Tulsa Cable TV's initial franchise - probably 1 or both would have to have then sold a TV station to get this - but neither got the n d from the City.

Re Pat McGroin - obviously someone at 6 was a Dilbert reader - that is a corporate pseudonym of Dilbert's creator in corporate America.

---

James Aydelott - 08/17/99 13:51:54
My URL:http://www.kotv.com
My Email:weather@kotv.com
Location: Tulsa
Favorite Tulsa TV show: The Plenty Scary Movie
Favorite Tulsa TV personality: King Lionel, of Course
Stupidest local commercial: better not say!


Comments:
Thanks for all the memories! The weather is sooo boring, I've managed to catch up on all that's come to the site since early spring. Great job and kudos from Channel 6.

I'll leave you with one very amusing modern Tulsa tv memory. Jim Giles was doing a Halloween live shot in front of some mock tombstones at some spook house last year. He was kneeling and explaining how scary these tombstones were, but he failed to take notice of the names, which were plainly readable back at the station and at home, our favorite was Pat McGroin!

Thanks for visiting, James. Now, that's dedication, catching up on all the guestbooks. Glad you enjoyed the site.

I see that KOTV has updated its web site. I also see that we both graduated from East Central High School. I would say "Go Cardinals!", but I was a marching band guy who didn't pay much attention to the outcome of the football games.

---

Jim Back - 08/17/99 03:59:11
My Email:jback@mmcable.com
Location: Edmond, OK


Comments:
KVOO moved into their current studio (on the BA Expressway just E. of Yale and N. of 31st) about 1988 or so. I'm a little sketchy on this, but I'm pretty sure the owner during the 1970s and 1980s, Harold Stuart, was (original owner) W.G. Skelly's son-in-law. Harold is deceased, and I don't know if the family still owns the station or not. Harold was the epitome of a big 'ole two-fisted country boy who didn't take any guff from anyone. He loved to hunt and bragged about the game he bagged on his many African safaris, which he continued to take long after it stopped being politically correct to take such trips. He was yet ANOTHER of the colorful players in the history of Tulsa media. (The antenna is still way out east on 11th St. as I recall.)

KRMG moved to 71st and Yale about 1983, shortly after I left. They had been in Liberty Towers (at 15th and Boulder) from about 1968 until 1983. Before that they were in the Cimarron Ballroom downtown.

I wanna guess at your Cain's question: The dance floor is on springs? That's my recollection, anyway.

I used to work at Whitney Supply at 16th and Main. In about 1981, I won an album on KRMG ("The Jacksons - Live") and walked over to Liberty Towers to pick it up. I think Mickey Whitney and the then-VP of the company, Bill Richards, were buddies of Harold Stuart.

---

Erick - 08/16/99 21:26:00
My Email:ericktul@webtv.net
Location: Tulsa


Comments:
KRMG is now at the Bank of America building at 71st and Yale. You can see all of their antenna gear on top.

Clear Channel stations in Tulsa...KOKI and KTFO. Both are located in Fox Plaza on Yale between 51st and 61st. Radio-wise, there's KQLL AM and FM, KMOD, KMRX, KAKC, and I think KOAS. If they were in the same place (KMOD, KMRX, KQLL, and KAKC are in a building near 41st and Skelly), that would be a BIG complex! Sounds cool, though!

---

Mike Bruchas - 08/16/99 18:49:06


Comments:
Saw the NEW KVOO complex when in Tulsa - I was told it was out by the xmitr farm - seems a lot closer than that and off the BA.

Someone said they have a party or concert stage by the studios or xmitr. Anyone know where?

BTW - where is KRMG at now? Guess they are out of Liberty Towers.

Irv Johnson at KOKI says there may be a plan in the future to park all of the Clear Channel radio & TV stations in a shared campus in Tulsa. Can anyone name all???

In other Tulsey news - saw a poster for Cain's 75th Anniversary with Merle (Okie from Muskogee) Haggard coming up in early September. Yeeha! Trivia - why do they say at Cain's "you get more bounce for the ounce?" (this is not a fabric softener or drug question!). Answer soon here....

---

James McDonough - 08/16/99 04:00:45
My Email:jhmowasso@aol.com
Location: owasso,ok
Stupidest local commercial: Sound Track w/ Linda Sound Track
How did you find TTM?: family & friends


Comments:
I remember when channel 41 went on the air along with their "all-news" programs, every evening around 7:00 it turned into "IT" subscription tv. It really didn't last that long, though. Also in late 1986 or early '87, channel 41, then known as KGCT, was slated to be Tulsa's Fox network, but the night it was to change to Fox, it never did. I think the reason was 41 at that time wasn't on Tulsa cable. Then a few months later an ice storm knocked down a tower that channels 41, and 8 were using I think along with a few radio stations. KTUL wasn't off for that long, but it took 41 a few years to come back around 92 or 93 I believe.

That was the station that featured John Erling live from Main Mall, I believe. Thanks for the visit, James!

---

MITCH - 08/14/99 00:57:03
Location: LA
Favorite Tulsa TV show: UFF&CM
Favorite Tulsa TV personality: Alan...Alan...ALAN FUNT!


Comments:
Just a quick note to let you know what your excellent website has done to me. Thanks to everyone's vivid memories I now have the Fantastic Theater theme playing when Windows opens on my computer AND I play the "In Sound from Way Out!" CD (featuring music from Uncle Zeb's Cartoon Camp) over and over. I'm now considering purchasing Betty Boyd! PLEASE STOP ME BEFORE I BUY AGAIN!

P.S. Recently returned to Tulsa for a short visit and Webster High School's 1974 Class reunion. After 23 years of living away, it STILL feels great to

You might like David Bagsby's CD, which has a spoken intro by the actual Peter Hardt.

---

Guido - 08/14/99 00:29:37
My URL:http://www.geocities.com/SunsetStrip/Vine/6895/
My Email:guidomusic@geocities.com
Location: Ohio
How did you find TTM?: surfin' USA


Comments:
I do not have any memories of Tulsa TV, but nice site.

Guido, either this is an incredible coincidence, or you have a way of finding out who visits your site, because I visited YOUR site today before you signed in here (saw a GeoCities banner).

---

rick koontz - 08/13/99 03:45:35
Location: Tulsa
Favorite Tulsa TV show: Channel 6 news, mid 1970s
Favorite Tulsa TV personality: Ken Broo


Comments:
Lawrence Heatley and Lawrence "Night Train" Lane are two different people. Lawrence was, for a time, the assistant on one of Hal O'Halloran's shows. "Night Train" is a Tulsa legend.

Rick

Thanks, Rick.
---

Mike Bruchas - 08/13/99 00:34:05
My Email:bruchasm@atlanticvideo.net
Favorite Tulsa TV show: The John Chick Show
Favorite Tulsa TV personality: Doug Dodd
Stupidest local commercial: Judy N Jody


Comments:
Lest we forget - Bill Hayden (or Hyden) of Tulsa TV and announcing fame - also was owner of KTBA radio, the little station in downtown "Broken A" cited here....

---

Mike Bruchas - 08/13/99 00:27:44


Comments:
Re the old Channel 6 news staff ad on the second new section:

Ralph Bardgett was the dean of 6 directors and for years - some say the best in Tulsa for news. He left 6 to go teach at a college in MO then on to Texas. Irv Johnson filled his shoes as primetime news director (and straight man for John Hillis) and though I only got to know Ralph briefly - he was a class act.

Lee Clark went to TU at the same time I did and was great - but where she went after KOTV - I don't know.

In a sad note of Tulsa TV of the same era - I went to TU with Joyce Skala, who did hospital p.r. in Tulsa and was a general assignment reporter at KTUL. Somehow at sometime her life changed and I learned last year she perished in the Heaven's Gate en masse suicide in CA. Funny where us Tulsans end up....

---

Ray L. Rivera - 08/12/99 17:21:08
My Email:rlrivera@worldnet.att.net
Location: Louisville, KY
Favorite Tulsa TV show: Mazeppa
Favorite Tulsa TV personality: The Dancin' TransFund Guy
Stupidest local commercial: Same As Previous
How did you find TTM?: Surfed By


Comments:
(I've been told that I look like the dancin' Calypso TransFund guy.) Update on Jill Lyon - she's a telecommunications lawyer in Washington, DC.

Thanks for the update, Ray.
---

M. Ransom - 08/12/99 01:34:05
Location: T-Town
Favorite Tulsa TV personality: Denny Delk
Stupidest local commercial: Manufactured Homes


Comments:
I had asked Denny Delk, "Which cartoons and CD-ROM's are you working on?" He responded:

Not so many cartoons right now, though the most fun was doing the Ewoks cartoons for Lucas. I do alot of games for them as well, including Rebel Assault, Tie Fighter, Curse of Monkey Island, Droid Works and others. For Mindscape, I have been the voice of the Chessmaster for about five iterations so far, and we're starting on the next one. Too many other games to mention.

---

Mike Bruchas - 08/11/99 16:00:41
My Email:bruchasm@atlanticvideo.net


Comments:
Contrary to life - workin' in TeeVee doesn't make all look like Wayne Johnson and me! I think we will go on the road as the Tweedledum and Tweedledee of TVland. As seen in the front piece pic of the web-page.

Though at KTUL in 1972, a Pepsi and a Twinkee was breakfast for some many folks - no McDonald's in Red Fork or the West side of Tulsey in the 70's.

Real men/women drank Griffin's (yuck roast) coffee all day and snacked on cigar-eetes.

Wayne told us last week Toby Brown - former KTUL then CBS cameraman had retired back to downstate OK, selling classic cars. Will try to reach him.

Be looking for more pix here on the KTUL visit, was most impressed by the new plant.

Also visited with Tulsa's best TV art director, Monte Toon - who is now a digital artist besides having so many other graphics skills. He worked with Carl Bartholomew on so many 8's the Place spots, too.

Did not immediately recognize former Chief Photog Red Statum who has done Sales since '76 nor Engineer Gary Clausing who was "the young kid" on the transmitter crew then. He worked the studio some back then as a tape op before going out to Coweta.

He reminded us that former GM Bob Muth in the 70's had a short hair/no beard dress code then for staff and that Audioman Matt Bunyan and now owner of StarShip Records (who had both long hair and a beard) - would be tipped off to hide when management crawled the halls upstairs. He said Muth probably never knew Matt worked there and never connected Matt's announcing voice with the face....

See the new Bruchas Wing (now the KVOO page) for pictures of the aforementioned folks.

---

Denny Delk - 08/10/99 20:59:10
My URL:http://www.ddelk.com
Location: San Francisco
Favorite Tulsa TV show: Coffee Break
Favorite Tulsa TV personality: Clayton Vaugh/Lee Woodward
Stupidest local commercial: The Reeves Boys
How did you find TTM?: the webmaster found me


Comments:
Beau Weaver (maybe he's only radio) is living and working in LA. Jim Bunn was working for Channel 5 in San Francisco, then set up his own production company in Sausalito; Susan Bunn was in New York doing children's TV. Nancy Herr was in Mill Valley with a production company. Bob Losure was in Atlanta at TNN or CNN or one of those Turner things.I've just stepped down after 10 years as National First VP of the American Federation of Television and Radio Artists. I'm still doing voices for commercials and CD rom games and cartoons and such. More another time

Any time, Denny! Which cartoons and CD-ROM's are you working on? Mr. Delk later added via email:

"Running through your site is like a tonic for the mind (remember that one function of a tonic is to clean out the alimentary canal after a long, sedentary winter)...Saw a note that you work with (are associated with?) Don Cook. Tell him I said hello. I worked with him at KTBA years ago. I'd left KRMG to try the experiment in free form radio. It was great for awhile, but we got less free and were definitely underfunded."

Yes, KTBA was one of the great, if short-lived, stations in Tulsa history!

---

Mark H. - 08/09/99 21:27:55
Favorite Tulsa TV show: Eyewitness News6 / The News on 6/ 6 in the morning
Favorite Tulsa TV personality: Beth Rengel


Comments:
M. Ransom, I checked out the "News Babes" web page and browsed thru the names index just for fun. Then I went in the "G" listings and stumbled into a familiar name, Mary Grady. I checked out to see if she was the same person that anchored the news on 6 and then 2 and the information is correct. You'll find her name, click Mary Grady and her pic and bio show up. Her bio includes KOTV and KJRH. She works at KCBS 2 in Los Angeles. I used to watch Mary anchor Eyewitness News in the mid 80's.(I think she anchored on weekends.) Then she went to 2 as an anchor.

There are a lot of potential nominees for that site from Tulsa.

---

Mike Bruchas - 08/09/99 17:52:49


Comments:
Can someone confirm that Lawrence "Night Train Lane - who does the stadium announcing at Booker T Washington HS - is really Lawrence Heatley, formerly of KTUL-TV?

Called OETA in Tulsa Friday and discovered KTUL/OETA Engineering legend Leon Holland is still working part-time at OETA/Tulsa but Tulsa Chief Engineer (and KTUL alum) Jack Maynard had retired. Gene Tincher - long-time KTUL and OETA Engineer - they said, "Who?". If any one has heard from Gene - please drop us a line.

I was trying to reach Gene at 1 time for a show called "American Soldier" on GoodLife TV - he was an Army audio tech at the Nuremberg War Trials after WWII - as a kid right off the farm from Illinois. The series is vignettes of WWII veterans talking about their experiences - which GoodLife drops into their WWII programming block. But alas it is out of production right now.

---

Mike Bruchas - 08/09/99 17:37:24
My Email:bruchasm@atlanticvideo.net


Comments:
Wasn't Liz Exon the daughter or niece of former NE Senator Exon from the 70's-80's?

Yup - to confirm webmeister Ransom's message - I got my first tour of KTUL in 5-6 years last Friday courtesy of long-time friend Senior Engineer Larry Miller. I was REALLY surprised at the changes! Be looking here for some pix but a lot was dark inside because of construction. Saw a lot of old friends and I AM stuck in time - some I did NOT initially recognize after 25 years!

If you saw how the interim news-set is right now, you'd be surprised! It takes half of what the old Total 8 Tulsa set took up in Studio B at 8.

Be looking for their new super radar you can see their new mini-water tower with BIG radome on top from most of West Tulsa. More later.

Heard Channel 9 KWBT is hiring and staffing up, too. Also learned that 19 is the ONLY Tulsa station getting geared up for digital TV - it makes sense to do so "going in the door".

My brother confirms the the new Ch. 33 in Wichita is doing signal tests with color bar/tone now but has no other news about the "other" WB station that might reach into No. OK .

---

Rick Koontz - 08/08/99 22:25:17


Comments:
Actually, after the Ice Oilers had some financial hardship in the mid-70s, Hal did talk show for a few radio stations (KXXO, KTOW, KELi) in late 70s and early 80s. He died in 1985.

Can anyone tell me more about Hal's career, pre mid-1970s?

Also, I heard a rumor that Liz Exon (who works weekends on Channel 2) worked at Channel 2 in the early 1980s. Is that true?

Thanks

Rick

---

Jim Back - 08/08/99 20:17:36
My Email:jback@mmcable.com
Location: Edmond, OK


Comments:
Jill Lyon was at KRMG for awhile in the mid '70s. I don't know where she was before that, but a neuron in my brain wants to say she was a California girl who came to TU. Anyway, she went to KRAV before doing a stint at KOTV.

She and Bob Stevens were married for awhile during that time period.

Hal O'Halloran was the PR person (and radio voice) of the Tulsa Ice Oilers in the early '70s. When the team fell into one of its many financial hardships in that era, he was out. I had wanted to find a way to get him on KRMG, but we never got it worked out. He died sometime in the late '70s, as I recall.

By the way (or BTW -- see I'm picking up Internet slang) someone should track down Len Morton for early Tulsa radio/TV stories. He was at KVOO (radio and TV) in the late '50s and a little into the '60s.) Last I knew he was an ad sales rep. at Tulsa Cable -- or TCI Cable -- or ATT Broadband -- or Cox Cable -- or whatever it's called now.

I knew Jim was the man on those questions. I'll see if I can find Len Morton.

---

Mark H. - 08/07/99 21:23:28
Favorite Tulsa TV personality: Beth Rengel


Comments:
I don't know where Jill Lyon got her start from. Maybe somebody else knows. Last I heard, she left 6 (don't recall why)and was doing a local shot for Magic 99FM and Mazzio's Pizza at a site where someone was going to win this big house in a contest.

---

Rick Koontz - 08/07/99 20:20:23
Favorite Tulsa TV show: Channel 6 news -- late 1970s


Comments:
Does anyone have any recollection of Hal O'Halloran? (I used to call into his sports call-in shows when growing up.)

Thanks

Rick

Yes, he used to coach a Little League team that played against my brother's team. I believe Hal's son, Tim, played on that team. And I think Tuffy may have a story about a problem with getting tape cued during one of Hal's sportscasts (a problem not of Hal's making....)

---

M. Ransom - 08/07/99 05:58:34
Location: Tulsa
Favorite Tulsa TV personality: Tuffy and Bill Mitchell


Comments:
Hi, folks, I just upgraded my computer, so there may be a brief delay in adding new material. But the good news is, I HAVE a lot of new material, courtesy of Mr. Bruchas, with whom I visited KTUL yesterday. I met Wayne "Tuffy" Johnson, Bill Mitchell, Larry Miller, and Kevin King, among others at KTUL, and Matt Bunyan of Starship Records. Got a lot of new photos, some fun video promos from the mid-70s, and more...coming soon to this web site.

---

Mark H. - 08/05/99 00:41:27
Favorite Tulsa TV personality: Beth Rengel


Comments:
Does anyone remember Jill Lyon? She was a reporter and anchor for 2 and 6 in the 80's.

Yes, I sure do. Didn't she get her start on KRMG?

---

Tony Sellars - 08/03/99 18:44:24
My Email:tsellars@frodo.okcu.edu


Comments:
Erick: Ben Tipton was partially responsible for me getting my first TV job at KOCO. He hosted a Saturday morning show called "Black Review" and was an anchor/reporter. Prior to that, he was a popular disc jockey at KBYE-AM, where the "Big Ben Tipton Show" (he was 6'5") was extremely popular. He had a low, smooth voice that made the transition to TV easy in those days. Ben left KOCO and went to Detroit as an anchor for a couple of years, and then returned to Oklahoma City, where he was elected to the City Council for a couple of terms. He later returned to the radio, doing a talk show on KAEZ-FM and operating a recording studio in his home. Ben died in the mid-80s of a heart attack.

P.S. to Mike Bruchas : the organist on Dannysday was Jay Spivey.

---

Erick - 08/03/99 17:52:51
My Email:ericktul@webtv.net
Location: Tulsa


Comments:
This may be off topic, but all of this talk of KOCO anchors makes me think of Ben Tipton, who I believe was the first African-American anchor in OKC. This was back in the 70s, and I remember he hosted some show on Saturday mornings I think. Anyway, I remember hearing about him passing away in the late 70s or early 80s I guess. Was he still at KOCO then? OKC has several stories of anchors losing their lives at seemingly young ages, although I'm not sure how old Ben was.

Still on the hunt for my Gusty book. I know it's around the house somewhere, but I just moved, so it could be in any number of the 60 boxes of crap I carted over.

---

Tony Sellars - 08/03/99 15:58:55
Favorite Tulsa TV personality: Bob Carpenter


Comments:
For Erick: Jennifer Eve began as an intern, then associate producer at KOCO. She had to go to KWTV to get her first reporting job, then became an anchor there, before trying the Dallas market for a very brief time (details her bio does not include. She came back to KOCO as an anchor and has been there since. She never worked in Tulsa, but she did grow up in Bartlesville.

---

Erick - 08/03/99 06:05:29
My Email:ericktul@webtv.net
Location: Tulsa
Favorite Tulsa TV personality: Don Woods and Gusty
Stupidest local commercial: New PSO ad with Clayton Vaughn narrating


Comments:
Re: Don Woods falling off his horse...

There's a photo of this, and short description from James Leake on the KTUL Photographer's site at www.ktulphotog.com ...it's under the History of KTUL section. This site can also be found in the TTM Links Page! Right, Websenior Ran$om? ;)

Si.

---

Mike Bruchas - 08/02/99 21:28:29


Comments:
Another trivial coincidence on how SMALL this industry is - contributors Don Lundy now of KERO aka "Little Tulsa" in Bakersfield, CA (but back then KRIS-TV) and Gary Chew (of PBS station KEDT then) both worked in the Corpus Christi, TX at about the same time after bidding adieu to Tulsey TV stations....

---

Mike Bruchas - 08/02/99 21:23:38


Comments:
I think Woodsy had only 8-10 variations on Gusty that he could whip out - never saw Don do any other artwork other than a captioned note on them. Maybe in the book Erick talks about - Don tells how he learned to do Gusty...Don is a born-again kinda guy and I think he did do Gusty's at church appearances, too.

---

Erick - 08/02/99 20:22:29
My Email:ericktul@webtv.net
Location: Tulsa
Favorite Tulsa TV personality: Clayton Vaughn


Comments:
Just heard a commercial on the radio for PSO with Clayton Vaughn doing the voice-over. It sounded more like a political ad for Steve Largent, though.

Speaking of Gusty and Don Woods, I recently found a book in an antique store circa 1980, featuring lots of Gusty drawings. However, in the short time it's been in my possession, I've already misplaced it. Anyone know the history behind this book? Are there different books out there?

Hey, this site is incomplete without a Gusty. Maybe I can scan one from your book (when you find it) sometime.

---

Gary Chew - 08/02/99 18:55:17
My URL:http://www.csus.edu/npr
My Email:garychew@comcast.net
Location: Sacramento, CA
Favorite Tulsa TV show: Lawzee! Guess!
Favorite Tulsa TV personality: Lionel
Stupidest local commercial: Too many to count
How did you find TTM?: Webmaster Hisself


Comments:
Tulsa has been, is and will always remain a very special place for me. I guess it's because of all the fun things that happened while I was a broadcaster there for so many years. It's given me the unique perspective of seeing, up close and personal, the actual ascension to stardom of G.Ailard S.Artain. Also, having a close working relationship with Lionel and his alter ego, Lee Woodward and their daily disagreements. What a pair! I miss Tulsa still and get back about every two years or so.

I'm glad there is such a web site. By the way I have an unpublicized photo of Woodward and myself acting goofy on the old KOTV weather set. I'd love to get it on this web site, but since I can just barely remember WW II, I'm not up on all this new fangled cyber-stuff. Help! Not being afraid to admit it, I remain,

Gary Chew, Capital Public Radio, Sacramento, California.

Don't worry, Gary, we'll get you up to speed. There is a picture of you on the Newsmen page 2.

---

Mark - 08/02/99 10:23:46
My URL:http://www.angelfire.com/ok/markievhomeworld/
My Email:msvineyard@hotmail.com
Location: Tulsa, OK
Favorite Tulsa TV show: Midday Oklahoma
Favorite Tulsa TV personality: Deirdre Davis
Stupidest local commercial: Anything w/ Bob Hower
How did you find TTM?: Newsgroups


Comments:
Enjoyed your site. Surprised to find it. I remember King the puppet real well, but my best memory was winning a Don Woods Gusty print.

Hopefully, it is enshrined as the centerpiece of your living room.

---

Lowell Burch - 08/02/99 07:50:40
My Email:J9Z1B95@aol.com
Location: Tulsa


Comments:
Does anyone remember the promo where the CH.8 cast dressed in western clothes and riding toward the camera on horses? Just as they fade out, if I am not mistaken, you can see Don Woods falling off his horse into the dust.

No, but I can picture it real well.

---

Tricia - 08/01/99 13:09:32
My Email:PenguinRN@aol.com
Location: Lubbock,TX
Favorite Tulsa TV personality: Beth Rengel
How did you find TTM?: browsing


Comments:
I moved away from Tulsa a long time ago, but I still think of Clayton and Beth ever so often. What are they both doing now. I always thought it was so neat that he was just a huge Rolling Stone fan. This is a great site and keep up the good work!

Check out Guestbook 16 to see a picture of Beth being the spokesperson for Riverside Chevrolet. Clayton retired and is now working in something like corporate relations. Thanks for visiting, Tricia.

---

Erick - 08/01/99 04:25:12
My Email:ericktul@webtv.net
Location: Tulsa


Comments:
That Lynn Hickey is one and the same. Of course, the Lynn Hickey dealership originated in OKC as Lynn Hickey Dodge many years ago, and he still has a huge lot over on May Ave. I believe Lynn has a relative (Don) who has a dealership on MacArthur in OKC.

Jennifer Eve...had the pleasure of meeting her while she was not in the most pleasant of moods. She was at KOCO for a long time before switching over to KWTV about the same time longtime KOCO anchor Jack Bowen went there. Jennifer jumped at the chance to go back to KOCO just a few years later. She's now the main co-anchor for the late news. I thought Jennifer worked in Tulsa for a time, but I just read her bio, and no mention of it.

---

M. Ransom - 07/31/99 22:47:25
Favorite Tulsa TV personality: Sasha Foo


Comments: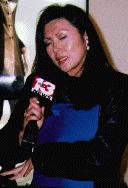 A little internet research reveals that Ms. Foo is currently employed by KCOP, the UPN affiliate in L.A. Here is a comment found on the "News Babes" web site from a real newshound:
"I would like to nominate Ms. Foo and her gigantic raven-black mane of hair to be included on your page."
But alas, the proprietor of that site replied:
"Sorry, there is no picture or bio on the UPN-13 site. Maybe you can convince the powers that be to do something about it. Please?"
Your resourceful webmaster was able to find this shot of Ms. Foo.
Another Foo-related link: Lynn Hickey Farms. Is that OUR Lynn Hickey (Auto World)?

---

Mike Bruchas - 07/31/99 22:10:02


Comments:
Where IS Sasha Foo now? She went to CNN but where to next?

Jennifer Eve - long-time KOCO producer then reporter - while at OSU or OU and before she got "into the biz" named her little dog "Sasha Foo" way back when...

I think also in OKC - someone did a take-off on her as "Sucha Fool" for some show....

8 aired "Soul Train" and did an 8's the Place disco spot with an all-African-American cast that was neat.

Break out those platform shoes, kids!

Visit the official Soul Train archival library at: http://www.soultraintv.com/st/arch.html, this week featuring a video of Ike and Tina Turner: "I Want To Take You Higher".

---

rick koontz - 07/31/99 17:47:53


Comments:
Does anyone remember a Channel 8 commercial, where all of the "talent" were in a disco club dancing up a storm? (promoted their news department.) I remember Sasha Foo tearing up the dance floor?

Rick

---

Pat Powell - 07/31/99 14:19:19
My Email:backyard-studios@msn.com
Location: Yukon, Oklahoma


Comments:
Dear Webmaster, I have a 2 hour video of a New Years Eve 1983 "Night Shift" show from Channel 8 that features "Jeanne (Summers) Tripplehorn" as Hostess, Phil Stone as DJ and has clips of Donna Williams and Fat Tuesday, Mark Bruner and Blue Streak, the Dominant Factor Band and the Host Band for that 2 hour special "Nuthin Fancy". It was taped at Charlie Mitchell's Nostalgia on Brookside and also features a clip of Jeanne Tripplehorn interviewing Charlie Mitchell and asking him what his New Years resolution for 1984 is. He replied "I'm going to try to help all the needy peoples of Tulsa, I don't want phone calls, but I'm going to help the needy peoples"! If you're interested in taking a few screencams off of that tape let me know and I'll get it to you!

Yeah, that would be good. Oddly, we have nothing here yet about Jeanne Tripplehorn. I do have an article about "Creature Feature" on KOKI with Jeanne, Jim Millaway, and Steve Pickle that I will get out soon.

---

Lowell Burch - 07/31/99 12:53:09
My Email:J9Z1B95@AOL.COM
Location: ex-Oil Capitol of the World
Favorite Tulsa TV show: UCFF&CM
Favorite Tulsa TV personality: Jerry Webber, Mr. Garrett & Teddy Jack Eddy
Stupidest local commercial: Price Mart jingle (It was so stupid, I loved it!)


Comments:
Dear Fellow Tulsa Memories Buffs, go to the top of the page and rate this site. I did and it looked like nobody else has done so. It's a great site and well-maintained. Cudos.

I was talking to a old high school chum, Ron Turley, who appeared on UFF&CM as Mazeppa's look-a-like. He received $75 for his appearance. He had not seen Gailard since then, until recently in the airport. Ron decided not to bother him but Gailard turned to him and said, "Hey, Ronnie! Aren't you even going to talk to me?" I've heard similar stories which lead me to believe he is pretty good at remembering people.

Thanks for the vote of confidence, Lowell. The Price Mart jingle would have been better if they hadn't played it twice in a row on the radio frequently.

This is now Guestbook 17. The previous entries are archived as Guestbook 16. We heard from "Tuffy" again, and from new visitors Darrell S, Pat Powell, Rick Koontz, and Phillip Swearingin. We discussed OKC TV, and saw pics of Georgia Jones, and Beth Rengel from her Riverside Chevrolet ads.

---
Tulsa TV Memories main page