Tulsa TV Memories GroupBlog 249

TTM main | What's new on TTM? | GB Archive




August 17 2007 at 03:51:03
Name: Gene Savage
Topic: 14K... For A Day
Email: postmaster aht blacklightradio dawt cawm
Comments: Just a quick note to let you know my internet radio station is running 22-year-old cassette tapes recorded off the radio all day today (Friday) in honor of the anniversary of 14K & 92K (KELI AM/FM) signing off.

We're calling it 14K For A Day and if you go to my site you'll see once again the yellow / orange 14K logo. Listen, and you'll hear DJ's like Mel Myers, Dave Michaels, Tom Brown, Brian Kane, Randy Fuller, Kandi Black, and others spin the hot '80s hits again.

Mind you, the tapes are of varying qualities, in various conditions, all recorded off the air... so pristine audio is NOT likely, ever, today. For a slice of Tulsa radio history, though, it's hard to beat.

We'll run 14K & 92K's last hour on the air twice Friday August 17th, at 11am and again at 11pm central time.

BlackLightRadio.com

---

August 17 2007 at 03:12:11
Name: edwin
Topic: It certainly is tropical here
Email: edwinfincherdottattaoldottadotcom
Comments: Been gone for a bit...as I do. Lew was a fine kinda guy...I, as all here, miss our Elders. Keep, in your Minds, anything they might have told you (or tried to). The artists here are no different than the finest brick layers....we are all trying to make other persons world look as they would wish it. If you are seen, you're not doing your job. You're showing off......



Edwin just sent three actual screen shots from the 1973 KTUL late night show that he had a large hand in, MAINTAIN!
---

August 16 2007 at 15:23:08
Name: Si Hawk
Topic: Larry White
Email: sihawk@bokf.com
Comments: Tony,

I remember your brother quite well. I worked with him at KAKC, KBEZ and KVOO. He was Chief Engineer at all of those facilities. Larry was a great engineer and a plenty nice guy!

---

August 15 2007 at 17:07:18
Name: Patrick Bryant
Topic: Merv?
Comments: (Mike Bruchas wrote: "Didn't Merv also do some of his show in OKC in conjunction with WKY-TV/KTVY-TV, too?")

I don't recall Merv ever coming to town, but Channel 4 did help produce a number of episodes for Mike Douglas, former WKY employee, in the late 1970s. Seems like the Stone Age now when I remember it...

---

August 15 2007 at 16:44:20
Name: Wilhelm Murg
Topic: More Shameless Self-Promotion
Email: wilhelmurg at yahoo dot com
Comments: We just got two new posts up this week.

First up is a review of a new DVD on Texas psychedelic legend Roky Erickson. Roky was the leader of the 13th Floor Elevators, and he had a distinguished solo career in the late seventies and early eighties when he redefined himself for a new generation. In between those eras his life turned into a series of mental illnesses, electroshock treatments and drugs. The DVD tries to make sense out of it all.

We also take our last chance to kick the late Tom Snyder around in a loving and critical memorial in this week's TIGER BEAT FROM HELL!!! If you're too young to know who he was, Snyder was a minor TV legend who put a lot of punk rock on the air before it was fashionable. It wasn't that Tom liked punk, he actually seemed to hate it, but his show, "Tomorrow," was the first of the tabloid television wave, and punk was seen as just another freak show.

All this and more is available at myspace.com/WilhelMurg. Come and check out some of the new graphics. We also got the music player working again; that's right, 75 songs worth of what Wilhelm considers "good" music is right at your fingertips (Give it a try, you're probably being paid by the hour.)

Also remember to check out the source, NONzine.com - Oklahoma City's source for right-thinking articles and stories.

---

August 14 2007 at 14:58:20
Name: Mike Bruchas
Topic: Phil Rizzuto dies at 89
Comments: What a guy, but way, way back when before you ever heard of THE MONEY STORE, us guys at 8 saw this spot and a lot of Noo Yawk TV spots on the ABC lines after what was then Wide World of Entertainment. WWE was Dick Cavett, Geraldo, and concerts after the late news and long before NightLine. When cable nets took off, THE MONEY STORE spots were everywhere.

But back to Phil as a ballplayer...he was a great one but I liked him best as a play-by-play man.

---

August 14 2007 at 12:35:31
Name: David Batterson
Topic: Merv's hotel
Email: davidbat(at)yahoo(dot)com
Comments: Actually, Merv previously owned the Beverly Hilton Hotel, not the Beverly Hills Hotel. ;-)
By the way, Merv had a small part in the 1954 movie, "The Boy from Oklahoma," (IMDb) which starred Will Rogers, Jr. (Tulsa 1957 page). That movie was the basis for a later TV series called "Sugarfoot."



Courtesy of Doug Quick. Check out his great Central Illinois TV/radio site, DougQuick.com.
Will "Sugarfoot" Hutchins (Yahoo Group) has an internet radio show at Boston Pete.
---

August 13 2007 at 19:35:27
Name: Mike Bruchas
Topic: Merv Griffin
Comments: Somehow we missed that Merv had died Sunday at age 82 of prostate cancer. I think I saw him last on Jimmy Kimmel some time last Winter.

He and Sammy Davis Jr at one time owned Trans-American Video or TAV, one of the first fancy mobile TV truck indy groups. Besides his Beverly Hills Hotel - Merv did okay in TV after starting out as a Brit ex-pat, singing "I've Got a Lovely Bunch of Cocoanuts".

He, Mrs. Miller, Totie Fields and Arthur Treacher are probably up there in TV Heaven - hangin' out together.

Mike Douglas, Dinah Shore and Merv were the first "stars" to do daytime talk/entertainment shows. That makes him yet another TV pioneer.

If you go to www.merv.com - you will find now the home page for THE GRIFFIN GROUP - which owns race horses, property, TV show development and his DVD collection.

Didn't Merv also do some of his show in OKC in conjunction with WKY-TV/KTVY-TV, too?

---

August 13 2007 at 17:52:41
Name: Mike Bruchas
Topic: Re pic of KTUL camera crew
Comments: We know where LD - Li'l David, aka Davie Finch, is. Think Tuffy nick-named him Li'l David. Edwin Fincher would remember.

Clint Baul - no idea.

Dee Dee Dodson is happily married with 2 kids in Princeton, NJ. I believe her hubby is an electrical engineer. She still keeps up with TV technology.

---

August 13 2007 at 07:22:36
Name: Sonny Hollingshead
Topic: Lew Brown
Email: sonnyho1955 at yahoo dot com
Comments: Here is a link to Lew Brown's obituary:

http://www.arkcity.net/obits/obits081007.shtml

---
August 12 2007 at 21:21:37
Name: Mike Bruchas
Topic: PGA Tulsans
Comments: From Jack Hobson:

During CBS' Sunday final round coverage of the PGA from Southern Hills, the announcers gave technical credit to the local boys on the crew, Dave Finch and Bob Welch, showing both hard at work. Nice touch, Finch referred to as "the great Davie Finch".

Both are KTUL "boys" who went West in the 1970s.
---

August 12 2007 at 14:11:10
Name: Tony
Email: tonypeggywataoldotcom
Comments: Just now found your site. Grew up in Coffeyville. Lived in Topeka, now in Kingman, Arizona.
My big brother, Larry White, worked for some radio stations in Tulsa. He lived in a house on E 11th street at the three towers. Took me to many Tulsa spots. The old Weber's on Peoria, the movie at the ice rink (the Williams Cinema), Tulsa State Fair, KAKC and KVOO radio events and many more.

Your site is very enjoyable. Especially Mazeppa and TV memories. I met Gailard at the premiere of "The Buddy Holly Story" at that theater near Woodland Hills. This guy was as humorous in person as on TV or in Ernest movies. Great personality.

Sure like reading about old Tulsa as I spent many happy days there in late 60s to 90s. Sorry to hear about Rockin' John Henry. I have a Bopcats album autographed by all original members.

Does anybody remember Larry? He died in November of 2002. His last job was chief engineer or something at KVOO radio.

As I said, very enjoyable site. Keep up the good work.

Thank you,
Tony White



Thanks, Tony. Yes, your brother Larry was remembered by Sonny Hollingshead on the KVOO page (scroll down a little). Here is an item about Rockin' John on Mazeppa page 3.
---

August 11 2007 at 19:30:47
Name: Mike Bruchas
Topic: Lew Brown
Comments: Scott Blaker happened to see an obit for Lew Brown. Lew passed at age 91 in Arkansas City. "Luigi" was a long time Engineering Supervisor later Chief Engineer at KTUL-TV.

Always affable and funny; none of us ever heard a word in anger from him. He was so typical of guys who made things work, often with near nothing in a budget. Yeah, I would call him a KTUL pioneer. And maybe 6 mos. of the year he wore his dayglo hunter orange hat - a Lew Brown trademark.

Oh, Lew! Thank you for so much!

---

August 11 2007 at 19:29:31
Name: Myron Floren
Topic: Norma Zimmer
Comments: Re the photo entry 16 in this GB...that's some accordion John Deas is leaning on.

If I had one like that back in the day, we could have done some electric polkas with the Champagne Lady.

---

August 11 2007 at 17:34:04
Name: Gary Chew
Topic: Southern Hills Sighting
Comments:

I've been watching the PGA in Tulsa on my local CBS affiliate here in Sacramento. It's really fine to see Tiger as well as just how green Green Country is in August; and all the way from dry Cahl-lee-foh-nee-yah, too.

The highlight of the tournament for me so far was catching a glimpse of Tiger getting Lionel's autograph on the 17th.

Genuinely a Hallmark moment.

Delmeaux de Gillette du Coffeyville

---

August 11 2007 at 16:58:18
Name: Si Hawk
Topic: Bill Halford
Email: sihawk@bokf.com
Comments: I suffer from a sin that is probably uncommon in former news reporters; I don't read the newspaper every day. Sometimes I'll read two or three day's newspapers at once. Net result: some really important things are unknown to me in a timely manner.

One such example of this was the passing of an old co-worker at KJRH, Bill Halford. According to the Tulsa World Bill passed away on July 31st. Bill had been at Channel 2 for around twenty years prior to going to work for an OKC TV station. What I remember most about Bill was he, Joseph Hardt and I turning out hundreds of TV commercials back in the '80s when KJRH did most of the television production in the Tulsa market. Bill was a good engineer and loads of fun. His death leaves a hole in Oklahoma broadcasting!

---

August 11 2007 at 14:44:34
Name: Wilhelm Murg
Topic: Brady Street Orchestra
Email: wilhelmurg at yahoo dot com
Comments: I caught the first set, but didn't see anyone. We would have stayed, but hunger set in, and as we all know, everything is closed except for IHOP and fast food after 9 PM in this town.

---

August 11 2007 at 14:40:08
Name: Alan
Topic: Brady Orchestra
Email: nalamosnar at yahoo dot com
Comments: Thanks to all who showed up to hear the Brady Orchestra the last two nights. This is a labor of love for Peter Mayo, I think he looks at it as a gift to Tulsa...I know it costs a LOT to put on a show of this size and ambition. We hope to be back next year.

---

August 10 2007 at 16:09:44
Name: David Bagsby
Topic: Nelson's
Email: daveatchickenfriedsteak
Comments: I will look into this right away. It may be the place with the giant mural of Charles Nelson Reilly.

---

August 10 2007 at 14:15:42
Name: Charles
Topic: Nelson's
Comments: I just got back from our yearly excursion from Fargo to Lawrence, KS and Tulsa. I could swear that I saw a new business going in on the North side of 23rd St. in Lawrence called Nelson's Buffeteria. Did I really see that...or was the Kansas heat getting to me? Mr. Bagsby have you seen this?
---

August 10 2007 at 09:29:52
Name: Webmaster
Topic: Free Beatles tonight II
Comments:

Here is an article about the Brady Orchestra in the Tulsa World Spot section today, "Roll up, roll up..." by Max Porter.

Last night's show was great. We ran into TTM contributors Ken Harwood and Casey Morgan, plus Dick and Alma Schmitz. More about the show 4 items down from here, and I just added a lot of new material to it.

You can still catch the Orchestra's act: tonight (Friday) at London Square, 7 pm.

Here's a shot I took of the magical Utica Square setting last night: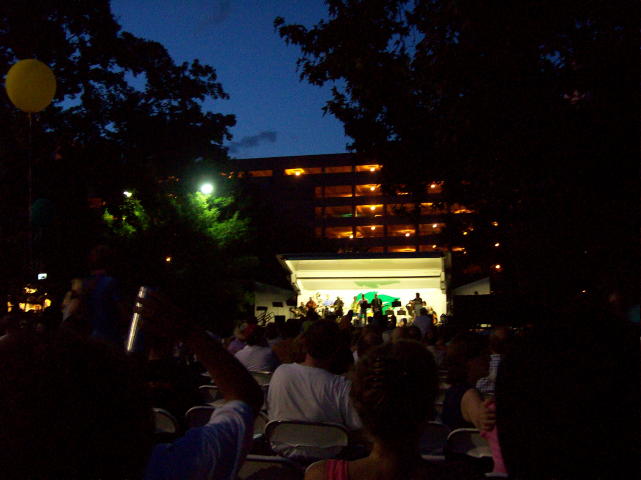 ---

August 10 2007 at 08:45:16
Name: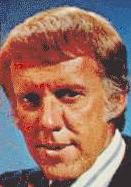 Lee Woodward
Topic: PGA Practice
Email: WanamakerTentDotFrom
Comments: Heat is relative to your physical ability to handle it. I can assure you, that while the pros are sweating it up at Southern Hills, it's not bothering them as much as the press would have you believe. In many cases, it is a blessing for people who have sore backs and muscle problems.

The overweight and out-of-shape John Daly got through the day with NO water; just diet Cokes and cigarettes. He also posted the second best score of the day (very lucky.)

I played last summer when it got into the 104-105 range. If you dress right, drink plenty of liquids and wear a broad brimmed hat, it's not too bad as long as there is a little breeze. No breeze? Head for home.

Then there are those who have suffered heat stroke sometime in their life; these people can't play many times if it gets around 90 degrees.

But between hot and cold? I'll take the heat anytime.

The people who suffer most at Southern Hills are spectators who get caught in the no-breeze and no-shade zones.

This heat does cause Lionel's tongue to hang out when he goes out to practice his "sand shots."

---

August 09 2007 at 22:37:31
Name: Kirk Demarais
Topic: Phantasmagoria at Bell's
Email: kirkdatcenturyteldotnet
Comments: Hi Mike and fellow Tulsaphiles,

I just posted some newly surfaced info and images related to the classic Bell's dark ride, Phantasmagoria. Kyle J. Wood of the Bell's maintenance staff shared loads of facts and photos that span from the ride's earliest days up until its demolition last June. See it all here:

http://tinyurl.com/2d2ffn

---

August 09 2007 at 20:58:41
Name: David Bagsby
Topic: HEAT
Email: davidunderscorebagsbyathotmaildotcom
Comments: A fellow Tulsan who works at a bank in Topeka told me that the PGA guys are having to practice at 4 AM due to heat. Who was the guy that booked that gig?

---

August 09 2007 at 07:45:14
Name: Webmaster
Topic: Free Beatles tonight
Comments:

The Brady Orchestra will take the Summer's Fifth Night stage Thursday at Utica Square at 21st and Utica. The group, which includes my brother Alan on bass, will perform the Beatles' "Abbey Road" and "Magical Mystery Tour" albums in their entirety. Alan says that the string section added this year brings a new dimension to the show. The show starts at 7 pm and is free.

Tomorrow the group will appear at London Square (59th and Lewis), same time.

Ken Harwood reviewed last year's show in GroupBlog 215. See the wild dancing woman!
The Brady Orchestra: Peter Mayo (left), keyboards; Eric Grimshaw, percussion; John Deas, vocals; Rod Clark, trombone; Tom Hanford, guitar; Mike Bennett, trumpet; Jody Naifeh, violin; Jeff Cowen, viola; Karen Harmon, violin; Scott Musick, drums; Cathy Rad, cello; Alan Ransom, bass; Terry Cooper, guitar; Max Wisley, lead vocals. Not shown: Randy Ess, guitar and vocals; Tom Basler, keyboards.


Max Wisley and Bill Phillips (Bill was in attendance but not in the band this time) were members of Cargoe (originally "Rubbery Cargoe"), a legendary band of the early 70s from Tulsa who had a real shot at national stardom. There is a link to an in-depth article about the band by writer Frank Gutch on the KAKC page.

My brother Alan was a member of Randy Ess' Invisible Band. They made a record and had a showcase at the Appollo Delman around 1980. Randy appeared on KOTV's "Dance Party" with the Rogues V in the 1960s. Alan has also worked with Terry Cooper (of "Terry and the Hot Tubbers" fame) and Tom Hanford, who, I believe, won a "Best Guitarist in Tulsa" competition one year. Mike Bennett has played trumpet in the annual Starlight concerts for years. Scott Musick drummed with Boiled Steam/Thunder & Lightning and The Call.

This is a sketchy and woefully incomplete account of these talented musicians. Read more about Tulsa music history in Jim Downing's series for TulsaToday, Tulsa Rocks.

---

August 08 2007 at 08:40:09
Name: DolfanBob
Topic: Leon Russell
Email: MiamiPhin@yahoo.com
Comments: There have been several posts lately about Tulsa's own Leon Russell. I myself love Leon and always have and the picture posted of him made me think of how important image is. I mean with the sunglasses and a choice hat he is Big Daddy Cool. But without, the only thing missing is a red suit and a child on his lap.

---

August 07 2007 at 08:29:46
Name: Webmaster
Topic: Tulsa Fairgrounds, 1930s-50s
Comments:

This TulsaNow forum thread has a lot of interesting photos of the Fairgrounds pre-Bell's Amusement Park.
---

August 06 2007 at 17:46:23
Name: John Hillis
Topic: Back in the USA
Email:
Comments: As I was saying before the Belvedere ran over me...

I returned from a month in France last week as a chauffeur for my spouse (exploits blogged on www.artistinfrance.blogspot.com). Here, exclusive to TTM, is a capsule distillation of what I've learned from this delightful experience:

1. It's hard to find a gas station open off the expressways on Sunday.

2. The 2007 Peugeot is at least as reliable as a certain '57 Plymouth. Mine, with about 2000 km on it, I suspect lies still moribund in a garage in Brittany, its wires dripping vital electrons onto the floor. You don't know how weak you can feel when the mechanic speaks only French, the the only word you understand from about 12 paragraphs is "electrique." To give Peugeot its due, the car did have a great new car smell when we picked it up.

3. Belgian beer can be as good as French wine.

4. You don't learn a language by osmosis or just being around people speaking it real fast. At least, I didn't.

5. If your sole source of English language news is BBC Radio Jersey, you won't know a lot about what's happening in the U.S. (Old Jersey, an English enclave 20-some miles off the coast in the Channel, has, as one expat told us, "32,000 people and 64,000 cars.")

6. There is a hypermarche on the edge of about every French town of any size, each with a remarkable selection of women's underwear, wine, sand buckets, and Coca Cola, but no sliced meat that isn't ham.

7. The tradition of buying your baguette fresh each morning from the bakery is a pretty darn good idea.

8. Lots of people in the parts of France where were, Brittany and Normandy, still remember D-Day, and Patton, and don't seem to mind too much that we blew up a lot of their towns real good in the process of getting the Germans to go home.

9. Weather forecasting in Europe has not evolved into the high art it is in, say, Oklahoma. Our source of weather was the bulletin board down the street at the Commissioner of the Port's office, and it was generally something loosely translated as "partly sunny, unless it rains." Strangely enough, it was right, at least some of the time.

10. Air France has adopted the same baggage-smashing machines that United has been using domestically for years.

---

August 05 2007 at 15:54:38
Name: David Bagsby
Topic: Mooniac
Email: dcbzatsunflowerdotcom
Comments: Shameless plug #419: here's a link to my latest 3 minutes of kooky weirdness...enjoy...



---

August 05 2007 at 09:47:33
Name: Layne Mason
Topic: My Days on KJRH-TV
Comments: I just wanted to say I had a wonderful time as a meteorologist at KJRH-TV back in the early 90's. I'm currently teaching school around the Cincinnati area. Thanks again for the great memories working John Hudson and Jerry Webber.

---

August 05 2007 at 04:08:32
Name: Webmaster
Topic: Special Chew radio show Sunday evening
Comments:

Gary Chew is putting together a 2-hour radio show for this Sunday evening, August 5th. It will be broadcast on KVMR in Nevada City, 89.5, and online at KVMR.org. Air time is 6-8 pm PDT / 8-10 pm CDT (Tulsa Time). KVMR calls the show "Sunday Showcase"; Gary would subtitle it "Third Streaming".

Gary has been going through his library for a listenable and challenging mix of 20th century classical music and jazz. The first recording to air on the show will be jazz pianist Warren Bernhardt playing Chopin's Prelude #20 in C Minor, Opus 28, followed by jazz variations on that piece. Gary says that the first time he saw Warren Bernhardt was at the Rubiot in Tulsa.

Other composers bound to be heard are Ravel, Stravinsky, Honegger, Prokofiev, Faure, Debussy, etc., with orchestral music, piano, brass, guitar, solo strings, small string ensembles, etc.

Gary: "Being the ham I yam, I'd love for TTM junkies to give a listen and even give me some cyber feedback."
---

August 04 2007 at 22:56:26
Name: Beverly
Topic: Hawk's Dairy
Email: BeverlyW58@hotmail.com
Comments: Si,

Thank you so much for clearing that up for me! I went by there the other day and am wondering if the building is still there....or part of it. A building that looks somewhat like the one on the TTM Christmas card was just east of the northeast corner.

I love the Christmas card with the snow falling. When the weather is really warm...too warm...I put it on the computer screen in my classroom so the children and I can all think of Christmas...and possibly feel cooler! For some reason when I see that picture and others of Hawk's, I feel like I've been there. But, if it closed in 1961, I think I would have been too young to remember. I wish I had gotten to go there, anyway.

I meant to get back on here much earlier, but my son and his girlfriend were in a tragic boating accident last weekend on Skiatook Lake. They are both fine, but a good friend died. It's been a rough week.

Now that I have the chance. I'm going to catch up reading what I missed this week on here.

---

August 04 2007 at 16:22:21
Name: Old Man
Topic: Time Passages/Time Bends
Comments: The time: ca. 1963-4.

The place: Horton, Kansas, a small town in NE Kansas, north of Topeka.

I was 12, my sister was 10; we were visiting our maternal grandparents.

(In those days, the trip from Tulsa to NE Kansas was a 2-lane nightmare delight on old 75. Dramamine was a good friend.)

My sister and I had recently read an article about Time Capsules, perhaps in "National Geographic" or the supplementary kid's version thereof. There was a short, dry-set retaining wall in the alley out back of their house.

Perfect.

We loaded an Alka-Seltzer bottle with the signs of the times: a tiny arrowhead we'd found in the gravel spread on the alley, several headlines from the Topeka newspaper, one of our Grandmother's Salems, etc.
We found the perfect stone to worry out of the retaining wall, and ceremoniously consigned the Time Capsule to The Ages.

One of these fine days, I'll travel back to see if it's still there.

Alas, probably in worse shape than the Belvedere. Just a bottle of dust, like something out of the 1960 film of H.G. Wells' "The Time Machine".

Moral of the Story: Memory is the only true time capsule, and time machine.

(Though I hold out a slight "hope against hope", as the Russian poet said, for the latter.)

---

August 03 2007 at 14:29:14
Name: Wilhelm Murg
Topic: Time Capsules
Email: Wilhelmurg at yahoo dot com
Comments: WIth all the talk of time capsules, and the ruining of a perfecly good car, I keep thinking of an old "Word Jazz" by Ken Nordine where he came up with the concept of the do-it-yourself time capsule. The idea is to take the power out of the hands of the corporations and governments an give it back to the people. You could bury your capsule in an obvious place, or put it somewhere where it might not be found for centuries.

If plastic is going to be around as long as we think it will, we ought to look into this.



I'll never forget hearing Nordine's "Hunger Is From" late at night on KGOU in Norman in the early 70s.

On NPR yesterday, I caught a review of a 1958 CD re-issue: Fred Katz' "Folk Songs for Far Out Folk". Katz' group did the jazz backing on Nordine's "Word Jazz" albums.
---

August 03 2007 at 10:57:57
Name: David Bagsby
Topic: Encapsulation
Email: dcbatsunflowerdotcom
Comments: Time for Tulsa to bury a new time capsule; this time however, it should be Professor Fate's car from the Great Race. Push the button, Max!



"The Great Race" was the first movie I saw at the new Boman Twin (Beryl Ford photo) in 1965.
---

August 03 2007 at 00:20:29
Name: David Bagsby
Topic: Popeye some more
Email: dcbzatsunflowerdotcom
Comments: Just finished watching disc 1 of the Popeye set. Spectacular production/restoration. The additional shorts on the origins in Segar's strips are great also. Tell your spouse this is what you want for Xmas.

---

August 02 2007 at 14:03:54
Name: David Bagsby
Topic: Popeye
Email: dcbatsunflowerdotcom
Comments: Mike,

Thanks for posting that pic/story of Leon and the Popeye disc info. That was a halcyon period for cartoons and I'm glad somebody finally is giving it a good release.



The Fleischer Popeyes were tied up in legal knots for years, and only bootleg copies were available on eBay. I was excited to hear that's all been sorted out.
---

August 02 2007 at 13:15:34
Name: Si Hawk
Topic: Hawk's Dairy
Email: sihawk@bokf.com
Comments: Beverly,

In answer to your question about the Tulsa location for Hawk's Dairy, the Tulsa store was located at the northeast corner of 11th and Lewis. This was the headquarters of the business where the milk and ice cream processing, service garage and truck fleet were also located. There were also Hawk Dairy store locations in Sapulpa, Henryetta and Oklahoma City. The dairy farm was located in Owasso. The products were sold in grocery stores in Kansas, Missouri, Texas, Arkansas and of course Oklahoma. The company closed in 1961.



Si, I'll get your comments and Beverly's out to the linked page later today.
---

August 02 2007 at 12:30:32
Name: Webmaster
Topic: Previous GroupBlog summary
Comments:

Archived GroupBlog 248, where we just saw a recent photo of Leon Russell without sunglasses...
---
Back to Tulsa TV Memories main page