Tulsa TV Memories Guestbook 168

TTM main | What's new on TTM? | GB Archive




August 28 2004 at 11:48:03
Name: Webmaster
Comments: Tonight (Saturday) at the Tulsa Overground International Film Festival:
UNCLE LAFF'S LEGACY - 2:33 mins.
Director: Kirk Demarais
Flash animation about a boy in the 1960s who wants to spend his birthday dollar on a comic book novelty such as X-ray specs, Sea Monkeys...or a U-Control monster.
This animation can also be seen online at his site, Secret Fun Spot. Kirk shot a live-action feature of this story in Siloam Springs, Arkansas. It is really excellent, and available on DVD with all the extras.

Then Sunday night, Kirk's other Flash animation:

THE PHANTASMAGORIA - 3:20 mins.
Amazing flash animation involving Bell's Phantasmagoria ride. Look out for the two bumperstickers in the souvenir shop.
The bumperstickers were first seen on this web site!

Lots of other very interesting-looking short films at the Festival...check it out if you can. No doubt many of the directors will be in attendance.
---

August 27 2004 at 12:34:11
Name: Dave Lacey
Email: dlacey at mosquitonet dot com
Location: Fairbanks, AK
Comments: It was good to see the Nine of Cups poster. I was one of the original people who built and operated the Cups in the years 1971 to 1973. Tulsa had quite the music scene then with the nationally recognized performers around and clubs like The Jail to party at. I remember our first bounced check at the Cups was from Emily Smith who Leon made famous in the song and who was featured in the movie Mad Dogs and Englishmen (my own "Mad Dogs" poster can be seen at the link...webmaster).
The movie is available for free checkout at the Tulsa Library. You can reserve it online if you have an up-to-date library card, and get an email when it arrives at the branch of your choice.

I saw it again a year or so ago...it's nice to have that whole counterculture scene of 1970 documented so well, and to see the charismatic Leon Russell on the cusp of his solo career.
---

August 27 2004 at 12:09:39
Name: John Haynes
Email: flickafan at aol dot com
Location: Tulsa
Comments: In case you missed Jack Kiper's signing at Barnes and Noble for his book, The Sixty Year Hurricane, he will have another signing at Steve's Sundry, Books & Magazines from 5-7 this Monday. This beautifully written book is more than just a 'history' of TU football since 1941; it is an important piece of Tulsa memorabilia. The focus is TU football, but his insights go far beyond just scores and stats. A great read (my wife loved the book and she certainly is not a football 'junkie'). Don't miss this book.

---

August 27 2004 at 02:55:44
Name: D Wilbanks
Location: Seattle
Comments: How odd it was to see this site on BoingBoing a few weeks ago. I had the opportunity to explain King Lionel to a few folks around here. They didn't get it.
Speaking of TV of my youth, the TiVo grabbed an episode of Good Eats, the Alton Brown hosted show on the Food Network. The topic was chili. He spends most of the show dressed up as a cowboy, with the hat and scarf... and all a sudden, I point to the TV and say, "UNCLE ZEB!" The wife didn't get it, even after I explained Uncle Zeb the third time. But there's a resemblance between the two. If someone can get some screen captures you can compare. Heck, the voice was actually pretty close, too. I have expected him to look right at the camera and say "I'LL BE LOOKIN' FOR YA!"
A li'l joke o' mine was seen on BoingBoing today. The editor's comment to me about it via email: "GROOOOOOOOOOOOOOOOOOOOOOOOOOAAANNNNNNNN!!!!!"
---

August 26 2004 at 18:41:59
Name: Gary Gunter
Email: gagunter at hotmail dot com
Location: Redding, CA
Comments: Been years since I looked at Memories...worked at 6 for a couple of years '76-'77. I see Bruchas and Hillis are still active here.
A little story that popped into my mind and maybe Bruchas can comment: KOTV had a PT photog-pilot named Henry (Lile) who owned his own plane. He'd fly and shoot occasionally and sometimes just provide transportation for the sports boys to get to a game.
One time during tornado season, Henry called and told us he had some great aerial footage of an actual funnel he'd just shot. He brought it in and it was great...and of course, we played it in every cast! Next day, the insurance agent that had the policy on his plane called and cancelled it. He'd been watching the news and felt Henry was careless in flying too close to the funnel and they didn't want to pay any claims in case he got "sucked up."
I left Tulsa and anchored 5 years in Buffalo (now there's a change!) then anchored in Kansas City. After that, managed to combine anchoring with ND in smaller markets in AR and PA. I never found anything I liked better than TV news so I'm still doin' it... ND & anchor at KRCR TV, Redding, CA for the past 9 years.
Glad you made it back here, Gary.

Here is Gary at KRCR.
---

August 24 2004 at 18:34:49
Name: Erick
Email: ericktul at yahoo dot com
Location: Tulsa
Comments: While we're talking about hilarious TV shows, why not mention Fox's "Arrested Development"?
The only Tulsa connection I can think of is that David Cross, who plays doctor and wannabe actor Tobias Funke, appeared on the final episode of Beef Baloney while performing at Austin's SXSW Festival.

---

August 23 2004 at 00:39:36
Name: David Bagsby
Email: dcbatsunflower.com
Location: Lawrence KS
Comments: The Office Rocks! The 2nd season is out on DVD now.

---

August 23 2004 at 00:11:26
Name: Webmaster
Comments: This is about a great TV show, though not directly relevant to Tulsa: "The Office", from the BBC.
Tim Schmitz (Dick's son, and the host of this web site) insisted that I watch it, and it is the best comedy series I've seen for quite awhile. As I mentioned to Lowell, it occupies a comedic space somewhere near the movies "Best in Show" and "Office Space" (two other Schmitz picks), but is uniquely hilarious.
You can catch it on BBC America if you have digital cable, or on DVD.

---

August 22 2004 at 17:40:41
Name: D. Scott Linder
Email: DSLinder at AOL dot com
Location: Glendale, CA
Comments: Stumbled across this website...gee, does it bring back memories.
I grew up in Tulsa, graduating from Rogers High in 1966. Did lots of theatre and such, as well as music.
In response to a past guestbook entry about Sonny Gray's Rubiot, the Quartet members around 1965-66 were Sonny Gray-piano, Kenny Quinn-vibes, John Rigney-bass, Dave Reynolds-drums and Suzan Gray-vocals. I was a regular at the club and subbed for Dave Reynolds on several occasions. I remember the first tune I ever played with the Quartet was "Witchcraft"...
I have no idea where Dave Reynolds might be these days. He was quite a good drummer, but I believe that all the other members of the Quartet still live in Tulsa(?) I also remember a trumpet player named Tommy Lokey who would sit-in on occasion. I really liked his Miles Davis-ish sound. Funny, I remember he used to complain to me about his dental problems, and how it affected his playing.
I still own the Gretsch drum kit that I played back then. It's a round-badge series with Rogers hardware that I bought at Saied Music while I was a music instructor there.
After a somewhat varied path of employment over the years including NYC, D.C., and a stint at the PAC in Tulsa in the late '70's I landed here in the L.A. area working in television. I attribute any skills I may have to all my mentors in Tulsa. I hung-out at KVOO radio with Jack Moore, Jack Bushnell, Ernie Frisco, Dick Charles, Bill Ryan ("Kaleidoscope"), Don Cummins, Don Gilbert and Jack Campbell. Jack and I still correspond after all these years and chat about "Sleepwalkers Serenade" and such. Our mutual musical tastes have not changed much over the years!!
OK...enough of this rambling. Would love to hear from anyone who shares interest in the music/broadcast scene in the mid-to-late '60's. Thanks for the great website, and for the many memories.

---

August 22 2004 at 17:21:04
Name: Stan
Location: Beaumont, TX
Comments: Visited Tulsa in early August after an extended absence of about 6 years - but drove around some places I hadn't been to in probably 20 years. It was certainly an eye opening experience to say the least.
I, too, was saddened to hear about the loss of Rockin' John Henry. I remember meeting him years ago at the KELi studios at the Fairgrounds (the spaceship). What a loss - my thoughts and prayers are with his family and friends.

---

August 19 2004 at 16:16:21
Name: Erick
Email: ericktul at yahoo dot com
Location: Tulsa
Comments: Not sure about Guy Logsdon. I haven't heard that name in a long time. A good friend of mine named Dale Seawright is a great cowboy poet. I think you can still purchase his books on Amazon.com.
I must've missed the news about the Tulsa TV Icons event at the Tulsa Press Club. Was it covered by any of the local stations??
Yes, I saw coverage on 6 and 8. I was in attendance, and with all the people there, I would rate it a smashing success.

8/21: There is another picture of the new Tulsa TV Icons in today's Tulsa World
---

August 19 2004 at 14:58:45
Name: Mike Bruchas
Location: yippin' in the hot heat in DeeCee
Comments: Anyone know if Tulsan cowboy folklorist Guy Logsdon still publishes his catalog of cowboy poetry and Western Swing music?

---

August 18 2004 at 17:53:12
Name: Erick
Email: ericktul at yahoo dot com
Location: Tulsa
Comments: Some Republicans consider Billy Bush to be somewhat of a liability to the President, and the Prez tries to distance himself as much as possible. Billy recently replaced Pat O'Brien as co-host of Access Hollywood. O'Brien will host The Insider this fall, a spin-off of Entertainment Tonight.
Oklahomans in Greece...Guard Young is a gymnast from Norman. In fact, I think he's on OU's gymnastics coaching staff. In this week's team competition, he was counted on when one of the big guns went down due to injury. I think an OU track star will be running for her home country when track and field competition starts next week.
Definitely not like the days of Shannon Miller, Bart Conner, et al.

---

August 18 2004 at 13:38:54
Name: Jack Hobson (via email to Mike Bruchas to webmaster)
Location: Tulsa
Comments: (Re Bill Certain's memorial service)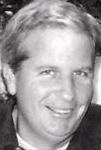 Boston Ave was almost full for the service - amazing how many folks Bill knew, even the Minister said he was not expecting such a large group.
The gathering at the Mayo was very nice - open bar, band, food catered via Bell's and Bill's favorite restaurants and clubs. Apparently Bill's drink was Cuervo Tequila, someone furnished probably 100 pint bottles as "keepsakes" if you will. There were several murals of pictures - the pic of you and Bill I took at the Bell's "office" was there. The family encouraged everyone to take home pictures - should have grabbed a few of Bill on the front porch of the house on Carthage but did not... did not see any KTUL alum, at least any I recognized.

---

August 18 2004 at 10:55:44
Name: John Hillis
Location: Almost West Virginia
Comments:
Mister B referenced the RCA TCR-100 Video Cart Machine a couple of entries below. This was an early-70's attempt at primitive automation of commercial breaks. Instead of rolling film or little reels of video tape on different machines, which required every one to be fired up individually and manually, the TCR had two-inch wide video tape inside red plastic cartridges. Each spot was on a different cart.
The break would be programmed into the monster's primitive memory, and, with much mechanical noise, the conveyor belts would turn, vacuums would whoosh, the cart would be sucked into the innards of the machine, and the spot would play.
KOTV, of course, being a Corinthian station, didn't have one. Instead, George Jacobs and Chan Allen devised a cut-rate video jukebox using 3/4 inch videocassettes. A cue tone on one of the two audio channels would roll the next cassette machine in the row. The video quality was much, much worse than the two-inch RCA, and many's the break when the intercom cracked with the cry "HEAD CLOG!" when dirt from the tapes would wipe out a spot being played back.
Now, this is all done with big ol' hard drives, even in the dinkiest of stations. Much more reliable, much less entertaining.
---

21 August 18 2004 at 08:43:27
Name: Mike Bruchas
Comments: If you watch Access Hollywood or NBC's Olympic coverage you may see BILLY BUSH on-air. I found out that is GW's cousin and George (#41)'s nephew. Has that Bush family square face.
Does Tulsey or Oklahoma have any Olympic contenders in Greece?? With so many Americans of Greek descendent over there - can any Coney-I-Lander be open??????
---

August 17 2004 at 16:10:02
Name: Greg Leslie
Email: gregleslie-at-yahoo-dot-com
Comments: Lee Allen has been at Ackerman McQueen since 1978 (am.com) and Bill Thrash is still at OETA, winning awards and producing those Lawrence Welk specials.
P.S. -- the Tulsa TV Icons celebration was a lot of fun last night! I'm sending a picture with Jim Hartz, Chris Lincoln, Carl Bartholomew and Gailard Sartain.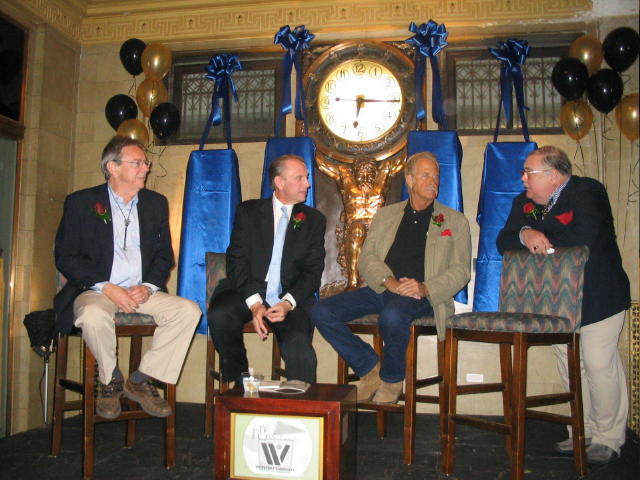 ---

August 17 2004 at 13:14:24
Name: Bill Groves
Email: tvman at earthlink dot net
Location: Tarzana, CA
Comments: Yeah, that's the semi-preserved Uncola card, alright. Back when you could actually read my signature.
By the way, I'm still hoping to find that KTUL Cartoon Zoo postcard I promised way back when. It just hasn't turned up in my old belongings that I've gone through. I'm still hopeful, though, since I did find my autographed picture of Pat Quinn from his Oilers days, and my brother recently uncovered his autographed photo of Stan Musial, along with a Sky King autograph, both of which had gone missing for some time.
Now then, can any informed person tell me what the status is on the Mazeppa DVD? I sent Gailard and Mary Jo an e-mail, but I've been out of touch with them for awhile, too, and I guess they changed ISPs or something, because it bounced back.
I heard from Mary Jo last night that the first DVD is just now complete and the others will be available in the future. Watch Mazeppa.com for more details.
---

August 17 2004 at 09:19:45
Name: Mike Bruchas
Comments: Markee Magazine is an East Coast TV trade publication - thru the new issue I found Troy Fain - now running TL Mobile in Springfield, MO.
"Opie" was his nickname for his red hair and Opie-escent manner! He was an audio and staff engineer at KOCO in my daze there and a great (then) kid! Now he is still a great guy.
Somewhere I have a picture of him INSIDE an RCA TCR 100 video cart machine! TL Mobile does sports, corporate TV and religious event support. His Dad was a longtime OKC FD member....

---

August 17 2004 at 09:04:01
Name: Mike Bruchas
Comments: Lee Allen Smith - my gawd - had forgotten all about him as GM of KTVY in the great years! Is he still alive? I knew Bill Thrash went to OETA for a while. Mike Palmer from 5 also did "some time" at OETA after leaving KOCO.

---

August 17 2004 at 05:17:02
Name: Skip Flippin
Email: mefsdad at hotmail dot com
Location: Lebanon, Mo.
Comments: I wanted to add one last memorial to John Henry. I understand that both KOOL and KMOD have pulled the plug on Bandstand and the Smokehouse Blues. I am glad to hear it. After reading some of the memorials about John, I have decided to write this last one. I don't live in Oklahoma anymore but I still visit quite often. I ask myself, what would John want to do about his music?
I know what he would want, he would have wanted the music to live on. There are no stations in the Tulsa area who will continue to play music from the "roots of Rock N Roll". I know KOOL plays one record an hour from the fifties, or so they say. It is going to be up to the friends and John's fans to keep the music alive. E-mail KOOL, write, phone, visit, take up petitions, whatever needs to be done!!! John would have done it and did do it for us. Now it is time for us to give something back to his legacy. I have already sent an e-mail and made one phone call. Tulsa, I NEED YOUR HELP!!!
If Rock N Roll could survive the plane crash that killed Buddy, Richie, and BB then we can make this happen.
One last item, in 2007. they are going to uncover the car and the time machine. I know that John was waiting to be there. Now he can't be there when it happens. However, we can be. So let's all go down to the excavation site and be John's representatives.

---

August 17 2004 at 00:18:34
Name: Bob Duff
Location: Tulsa
Comments: Been a while since I visited this site. But, I had to stop by to comment on the passing of John Henry. I worked with him at the old KELi when it was on the fairgrounds. I never met anyone who had more music and rock and roll knowledge floating around in their head than John Henry. He will truly be missed. Almost as sad as his passing is that now there will be no one to continue, as John often said, "taking care of the roots of rock and roll."

---

August 16 2004 at 22:53:44
Name: David Bagsby
Email: dcbatsunflower.com
Location: Lawrence KS
Comments: My Dad told me about bootleggers having tommy-gun shootouts and high speed chases down the dirt road in front of his house back in the day. That road is now South 73rd East Ave between Memorial and Sheridan. He told of one guy you would call up and he'd meet you on a road somewhere. You didn't get out of your car. The delivery man would bring you a brown paper sack from his trunk to your window and you'd pay him and be on your way. Ah, commerce.

---

August 16 2004 at 22:41:27
Name: Frank Morrow
Email: frankmor@io.com
Location: Austin
Comments: The subject of bootleggers brings back a lot of memories for us old guys. (See my previous yarn about making a raid on a bootlegger when I was driving the KRMG Newsmobile.) Although I wasn't a beer drinker, I noticed that the 3.2 didn't prevent people from guzzling the stuff.
It was always amusing to see a guy come to TU from out of state. He would always look down on 3.2 beer, and loudly proclaim that this "watered down stuff" couldn't get anybody drunk. He didn't need to say that again after waking up with a hangover the next day.
The old saying was that the Drys had their law and the Wets had their liquor. All that was needed to buy booze was to have some money and the ability to make a phone call. Shortly, you'd have a knock on your door. Any three-year old could theoretically buy alcohol. I frequently heard that some students helped put themselves through college by bootlegging
There were some places in Oklahoma where you actually could buy whiskey by the drink. In Spavinaw there were bars where you could get almost any kind of mixed drink. But, usually there always was the charade of carrying your booze into a night club, making sure that the brown paper bag or special, booze bottle holder stayed under the table. You would then be served set-ups. Everyone knew what was going on, but everyone played the game. I never heard of anyplace being raided.
I was in the Navy when Oklahoma finally became a wet state. I understand that this occurred when the anti-dry governor decided to change the law by enforcing it. When he dried up the state, the boozers screamed. That did it. After that, Jesus could change water into wine and not be put in jail.

---

August 16 2004 at 22:07:36
Name: Frank Morrow
Email: frankmor at io dot com
Location: Austin
Comments: Jack Kiper's book on the history of TU football from Dobbs to Kragthorpe reminded me of something that occurred when Bobby Dobbs was named head TU coach. I was in the KTUL newsroom when the Associated Press sent a bulletin about the new coach. It said, "Bobby Dodds, the coach at Georgia Tech, has been selected to the head football job at Tulsa University." The story went on to give biographical info on the nationally known Dodds. A few hours later a red-faced correction came across the teletype machine.
This gave me a much more interesting story on my next newscast.

---

August 16 2004 at 13:47:10
Name: Bill Groves
Email: tvman at earthlink dot net
Location: Tarzana, CA
Comments: Wow. I haven't been here for awhile, and thought I'd check in to see if there was an update on the Mazeppa DVD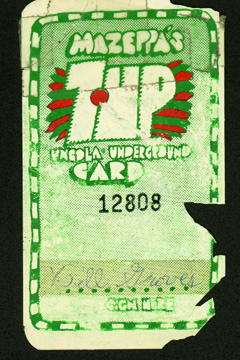 announced for release this week. I was shocked to read of the passing of John Henry, whom I enjoyed listening to on the radio and seeing live in performance, and Bill Certain, with whom I was acquainted during my high school years by virtue of his friendship with the manager of the Brook Theater, where I worked at the time.
One significant memory is the day Bill, as manager (not sure of the precise title) of the recently-opened Performing Arts Center, gave a tour of it to a class I was in at Edison. Although it had been many years since I'd seen him, I found myself thinking about him just the other day. Coincidence? Maybe not.
Bill, hi, good to hear from you again. Bill alerted Gailard Sartain (one of tonight's Tulsa TV Icons honorees) to the existence of this site way back in Guestbook 11. At that time, he sent a scan of his Uncola card, which David Bagsby spruced up for us. He was also the editor of Television Chronicles, a magazine geared for TV addicts, collectors and scholars.
---

August 16 2004 at 04:26:18
Name: Michael Warren
Location: Tulsa
Comments: Driving home from work Sunday night, I turned on the radio to hear the last few minutes of the Smokehouse Blues show & heard folks reminiscing about John Henry. Immediately I felt a sick feeling as I realized John must have died. My fears were confirmed and I cried as I listened to the guys & girls talk about John's life and what he meant to each person.
To this hardcore Rocker, John was a living legend, and I loved to listen to him talk about music and music history in his gentle, soothing voice.
There is no one like John in radio.
We all love John, and may God bless his family.

---

August 16 2004 at 01:28:28
Name: Webmaster
Comments: Reminder: Tonight, Monday Aug 16, from 5:30-7:30 pm, the Tulsa Press Club will recognize four new "Tulsa TV Icons". More about this event on the Bulletin Board.

---

August 15 2004 at 22:27:03
Name: Dave
Location: passing the bar
Comments: I recently bought a couple of August 1945 editions of the Tulsa World at a flea market with front pages that report on post-Japan surrender news. But what intrigued me was the beer ads inside. Falstaff and a couple of other brewers have some quarter-page ads. I know that Prohibition ended in Oklahoma in 1959, and that bootleggers did a big business until then. I also know, courtesy of this site's liquor-by-the-drink page, that 3.2 beer was legal in Oklahoma before 1959. So that's what those big ads in 1945 were ostensibly selling? 3.2? Someone who's old enough to know tell me what was going on.

---

August 15 2004 at 14:07:33
Name: Gary Chew
Email: garychew[at]comcast[dot]net
Location: Sacramento, CA
Comments: To TTVM Surfers & Movie Fans:
I posted a review on this website last October about an unsung film that I just noticed is starting a run now on the HBO Channels.
It's "Owning Mahowny," starring that mighty character actor, Phillip Seymour Hoffman, along with Minnie Driver and the indefatigable John Hurt, who is nigh onto amazing in this one.
I think the now defunct Westby Cinema, that was in downtown Tulsa, played it about the time my review was posted here.
If you haven't seen this one, keep your eye out for it. It's a fact-based flick about impulsive gambling. I loved it. I hope you will too. Web Meister Ransom has kept my thoughts on this movie intact at this address.
That's "Owning Mahowny," now in, what I'm sure will be, many many repeats on the HBO Cable Channels.
Chew says Ciao for now.
Here's HBO's schedule for future showings.
---

August 15 2004 at 10:05:49
Name: Skip Flippin
Email: mefsdad at hotmail dot com
Location: Lebanon, Mo,
Comments: I am sitting here reading different e-mails about Rockin' John Henry. If a person's worth is judged by the people he touched, then we owe John so much that we will never be able to pay. There was not much on TV so I flipped my dish network on and I was surprised. I know in Tulsa, KMOD is doing a memorial on the Smokehouse Blues tonight. It seems that Sirius 6005 heard about John and has been doing a salute to "Rockabilly". I can just hear John telling some story about each of the songs that plays. I had to sit and think. It is really too bad that John never had the chance to be syndicated. America never had the chance to listen to his stories. What a loss.
Since I have lived in different areas around the country, and use to work in the broadcasting field, I feel I can state with authority, that John's knowledge of music, different genres, etc., is as good if not better that the leading experts in the field. This would include Dick Clark, Dick Barclay, Machine Gun Kelly, and Wink Martindale or Gary Owens. I think it was Ral Donner who sang about "You Don't Know What You've Got Until You Lose It."
John taught us well about his music. We will eventually get over the sudden shock of his death. We may even forget about him for a moment or two, or until we hear an oldie playing somewhere. Then we are brought back again asking, now what was it John said about that tune? John, if you are visiting "Tulsa Memories," which I am sure you are, you are gone but will never be forgotten. Good-bye my friend. Skip

---

August 14 2004 at 22:34:33
Name: Greg Leslie
Email: gregleslie (at) yahoo (dot) com
Location: Broken Arrow
Comments: Olympic Festival -- sure! Worked on several of the videos associated with it. It was a huge Lee Allan Smith project.
The slogan was "Winning a Place In the World" and the jingle was burned into my brain.
And yes, Bob Hope did make an appearance at the opening ceremonies, along with an ancient cuecard guy who stood about 3 feet from him in the middle of the stadium.
good times...

---

August 14 2004 at 19:01:43
Name: Erick
Email: ericktul at yahoo dot com
Location: Tulsa
Comments: The Games of the XXVIIIth Olympiad remind me of Oklahoma's flirtation with Olympic glory...the 1989 U.S. Olympic Festival.
The Olympic Festival also had a torch relay, opening and closing cermonies were held at Owen Field in Norman (I think Bob Hope was master of ceremonies), and a bronze statue of two persons running with a torch was erected in front of the Myriad in downtown OKC (I think the statue is now in front of the Ford Center).
I still have a purple "OK '89" t-shirt somewhere. Does anyone else remember this?

---

August 14 2004 at 18:37:55
Name: Skip Flippin
Comments: Mr. webmaster, I know that John Henry had a complete original KELi And KAKC survey collection. At least he did in 1994, because he allowed me to copy a few for a grade school class reunion.
Thanks, Skip. I don't really aspire to have a complete collection out here for the same reasons I don't try for all TV schedules of the past: the volume is overwhelming and they are highly repetitive. It wouldn't hurt to have a broader sampling of each, though.
---

August 14 2004 at 13:42:48
Name: Walter (Skip) Flippin
Email: mefsdad at hotmail dot com
Location: Lebanon, Mo.
Comments: This is a great website. I stumbled onto it accidentally, but glad I did. I was sorry to hear about Rockin' John Henry. I met him over 40 years ago and considered him to be a friend. Tulsa music lost an icon, those of us who knew him lost much more. My heart goes out to his family.

---

August 14 2004 at 07:15:39
Name: Webmaster
Comments: Peter D. Abrams gave us a first-hand report on Hurricane Charley in the the just-archived Guestbook 167.
He and Mike Bruchas remembered Bill Certain, who passed away this week. Bill had worked as an audio engineer in TV and was chief engineer for Bell's Amusement Park at one time.
We also lost Rockin' John Henry, longtime Tulsa DJ with an encyclopedic knowledge of early rock 'n roll and roots music. John played guitar with his group, The Bop Cats, for many years in the Tulsa area.
Frank Morrow reviewed a new book about TU football, The Sixty Year Hurricane (available from Amazon.com). We heard from the author, Jack Kiper.
The webmaster weighed in on exercise in the 60s, relayed an Oom-A-Gog story told by Alan Lambert, and reported on an Admiral Twin Drive-in Theatre outing.
Jim Forbes (voice of VH1's "Behind The Music", and former Channel 2 "Troubleshooter") paid a return visit. Mike Miller recalled the fun of covering past political conventions. Lee Woodward told us about the new "Tulsa TV Icons" to be honored Monday 8/16 at the Press Club.
All that and more in Guestbook 167.

---
Back to Tulsa TV Memories main page