Tulsa TV Memories GroupBlog 298

TTM main | What's new on TTM? | GB Archive




September 07 2009 at 12:59:23
Name: Rick M
Topic: Freddie Fuddrucker's
Comments: Might that be it? (see below) I recall a place with sides of beef hanging behind glass when you walked in and watching them fresh grind the meat. Was long ago for me. I think the franchise is still in business, but they dropped Freddie from the name.



I believe the original 1984 Fuddrucker's location in Tulsa was 72nd & Memorial where Lanna Thai is today, also formerly Tulsa Brewing Co. There is currently a Fuddrucker's on E. 71st St.

Fuddrucker's is a running gag in the Mike Judge movie previous to his current "Extract" (just reviewed by Chew), which is "Idiocracy".

Chew himself keeps this tasteful dialog going in the next GroupBlog (#299).
---

September 07 2009 at 08:29:31
Name: Webmaster
Topic: The real Popeye
Comments:

I heard a story on NPR this morning about the 100th birthday of the Santa Monica pier. Popeye's creator, E.C. Segar, used to hang out there in the 1920s. The online story has a photo of a sailor who may have been Segar's physical model for Popeye.
---

September 07 2009 at 02:56:57
Name: Mike Bruchas
Topic: Canada signs off
Comments: I was always curious if the Canadians ran an anthem sign-off patriotic clip, like we used to do at KTUL.

I found this low dollar, kinda 70s version of O Canada which might have been used for THEIR stations when signing off.

http://www.youtube.com/watch?v=yv-aQY3K8eo

---

September 07 2009 at 00:06:07
Name: Mike Bruchas
Topic: Jerry Lewis MDAA Telethon on WGN
Comments: Jerry looks very aged tonight and frail. I last saw him on live TV 2 years ago on the Telethon and he was "sparkin'". The night is young...he really seems old...

---

September 06 2009 at 23:28:56
Name: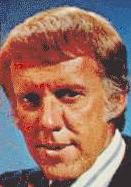 Woody
Topic: "Soundies: A Musical History"
Email: RainAsancedotcom
Comments: Some weeks ago I watched a fascinating show on PBS called "Soundies: A Musical History", hosted by Michael Feinstein.

This program was about a machine that was popular in the forties and lasted into the early days of television. It featured, a large attractive wooden box, which housed a 16mm film loop of popular performers and some newcomers.

Through a series of mirrors, the film was projected onto a large glass screen, easily viewed by the public. One inserted coins to start the process and you had no control of what you were going to see. Each musical number ended when a piece of lead tape passed over a sensor and stopped the film.

These films were shot very quickly in Hollywood and some of the talent played either for free for the publicity, or the usual rate of $25.00

I was surprised to see a teenage Cyd Charisse as a lovely singer. Same for Yvonne DeCarlo. Also a clip of Ralph Blaine and Hugh Martin with their quartet. Ralph looked to be in his twenties. Other major players in their youth like Nat King Cole, Duke Ellington, all the unknowns who became the greats. Doris Day as a band singer, etc.

I was hoping I could find this show available on PBS website, but such was not the case. I Googled it and there are a number of sites that feature the program, but they want to sell it to you. Perhaps the genius Webmaster can find a way to this treasure, should you have an interest.

Many of these short films were done in one take. With some of these talents, one take was quite enough.



Try this YouTube search to see quite a few soundies.
---

September 06 2009 at 19:44:44
Name: over in Ranch Acres
Topic: Jungle Women
Comments: Over a couple Nude Beaches with a Sherman Oaks impersonator last night at McNellie's(this month's $3.00 beer special), the dinner conversation somehow wandered to the guy on late night Cox Cable in the '90's promoting "marriage minded women" from around the globe. Especially "Jungle Women".

I remember a few years back someone thought they had some tape, but nothing more was ever posted.

Comments? Memories? Wedding Anniversary? We'd like to know.



Here is the site of Christina's International Introductions circa 1996, thanks to the Wayback Machine. That was Wayne Ford, Christina's dad, hyping those "Peruvian jungle girls." More to come soon, hopefully.
---

September 06 2009 at 17:00:41
Name: K. Bolen
Topic: MDA Telethon
Email: bojoker@att.net
Comments: Our local MDA is also on our local FOX station, WTIC, Fox 61, out of Hartford. It will be hosted by a former Tulsa anchor, Brent Hardin. I believe he was on KOTV Ch. 6 if memory serves me.

---

September 06 2009 at 14:08:53
Name: Mike Bruchas
Topic: MDAA Telethon
Comments: Is 8 still doing this on Labor Day weekend? I worked 4 years of it in the 1970s...



No, it's KOKI Channel 5, our Fox affiliate. Starts at 10 tonight.
---

September 05 2009 at 14:22:17
Name: Daniel Wright
Topic: Does Anyone Remember
Comments: Does any one remember a steak house/sports bar type place in Tulsa. I was really young about 10 or 11 and the one thing that stands out in my memory is that they had a window by the front doors with a slab of beef hanging in it. The window must have looked into a cooler of some sort. I know it was closed by 1989 or so. This has been driving me nuts for years. Help please!



Could it have been UR Cooks? That's the only place I can think of with a good excuse to hang a side of beef in the window. The novelty was that you got to cook your own steak. I believe I went to the Tulsa one once in the early 80s.
---

September 04 2009 at 17:33:51
Name: Scott Linder
Topic: Brashier's (?) Restaurant
Comments: Does anyone remember Brashier's Restaurant on 11th at about St. Louis, near Utica?

It was a nice place with good food, as I recall. It was the go-to place after shows or gigs for music and theatre types in the 60s.

Owner Charlie Brashier was always a good friend of the regulars, and even ran tabs until you got paid for your gig.

---

September 04 2009 at 09:34:13
Name: DolfanBob
Topic: Bob's Fish & Fowl
Comments: That's why I love this site.
Ask and ye shall receive. Bob's Fish and Fowl indeed.
I can still picture John Chick in that promo spot.
I guess that's what great advertising will do for ya.
Thanks Mitch and Bo. Now on to the next memory.

---

September 03 2009 at 20:31:50
Name: K. Bolen
Topic: Fish and Fowl
Email: bojoker@att.net
Comments: Thanks Mitch!! Yup... that's it!!! I also had my first set of frog legs there as well. I kept on eatin' though. *lol*

---

September 03 2009 at 18:55:09
Name: Tulsa Area Music Archives
Topic: Vol. 3.6 bonus podcast now available.
Email: info at preservemusic dot org
Comments: Volume 3.6 "bonus" podcast now available...hear Leon Russell, David Gates, & Glen Campbell on a Clairol "Is It True Blondes Have More Fun" commercial...go behind the scenes and hear outtakes of a Phil Spector recording session and The Byrds "Mr. Tambourine" session...

PreserveMusic.org or via iTunes

---

September 03 2009 at 18:10:57
Name: Mitch Gray
Topic: Fish O Rama
Email: North Of You
Comments: You folks are thinking of Bob's Fish and Fowl. I ate my first frog legs there. Never again thank you.

---

September 03 2009 at 15:29:05
Name: K. Bolen
Topic: Food Establishment
Email: bojoker@att.net
Comments: Hey BR... I've been racking my brain for a day now trying to think of that place on 71st Street. Years ago, it was an all-you-can-eat fish buffet and it was great.

It changed owners a few times and pretty much went downhill from there. I keep getting the name mixed up with the "Hushpuppy" which I knew was further up 71st and I believe it burned down years ago.

---

September 02 2009 at 14:46:14
Name: Michael Bates
Topic: Did Onion morning anchor used to work in Tulsa?
Comments: I could swear the male anchor in this clip (from the Onion News Network's morning show parody) used to work for KJRH. Am I right?



These Onion videos are hilarious. A couple of my co-workers got me onto them earlier this year.

The anchor in this segment is played by Brad Holbrook, who did indeed work for KJRH, as recalled by Kristi (Conrad) Stewart in GB 177. Good catch!
---

September 02 2009 at 11:57:46
Name: Tulsa Area Music Archives
Topic: Vol. 3.5 "bonus" podcast now available.
Email: info at preservemusic dot org
Comments: Tulsa Area Music Archives Vol. 3.5 "bonus" podcast now available...over 2 hours of Leon Russell session tunes from the '60s...hear Leon with Soupy Sales, Johnny Crawford, The Piltdown Men, The Vettes, Jimmy Durante, Alder Ray, The Munsters and many, many more...

PreserveMusic.org or on iTunes

---

September 02 2009 at 10:28:43
Name: DolfanBob
Topic: Restaurant
Email: DolfanBob@lycos.com
Comments: Speaking of old restaurants...

What was the name of the one at 71st just West of 129th St.? I remember John Chick was a spokesperson for them. It was a catfish and chips kind of cuisine.

I only remember eating there a couple of times with my parents. The building is still there right next to the motor/mobile home park.

---

September 02 2009 at 01:00:46
Name: Mike Bruchas
Topic: McCollum's on 11th Street
Comments: It was a TU Sunday night place to eat in the 70s. TU had no food service on Sunday nights on campus.

We rotated between the Crosstown (before it was torn down), The Ranch House, El Chico next to the Mapco building (and the Louisianne) and McCollum's. Their food was good but not great. I loved their blue cheese dressing but their tap water tasted funny. It was an okay place to take a date to.

I think I started shopping for my first new car ('74 Corona 2 door sedan with aluminum block engine) at nearby Crow Brothers Toyota after seeing it from McCollum's.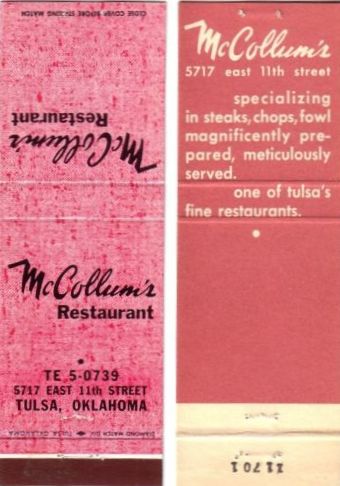 ---

September 02 2009 at 00:08:26
Name: Gary Chew
Topic: Where's McCollum's?
Email: Northeast of Eden
Comments: Roy Lee's right. I saw the building last time I was in Tulsa. West of Sheridan about half way between that street and Yale...on the north side of 11th. Good eatin' it was, indeed. If my memory serves me here, I think it was not too very far one way or the other across 11th from the old 66 Motel on 11th that was still open for bidness last trip I took to God's Country.



| | |
| --- | --- |
| | Michael Wallis from Route 66: The Mother Road (1990): "But next door (to Will Rogers Motor Court), McCollum's Restaurant is still cooking. More than one Route 66 traveller has paused for a meal at McCollum's. Inside are booths and a lunch counter, glass cases stocked with several species of pie, a genuine malt and shake mixer, and a crew of highly capable waitresses who fill glasses from sweating pitchers of water before customers have a chance to open their menus." |




---

September 01 2009 at 22:34:36
Name: roy lee
Topic: McCollum's Restaurant
Email: royleeshouseatgeemail
Comments: McCollum's restaurant was on 11th St west of Sheridan. The building is still there but they sell used cars. We went there regularly and I thought it was great...

---

September 01 2009 at 15:07:05
Name: Kevin
Topic: Tulsa restaurants
Email: kevinj@valornet.com
Comments: Someoe posted a question about a Tulsa "Bass" restaurant. When I was young, my Dad used to take me to McCollum's restaurant for breakfast, and it was really good. Does anyone remember this, and where it was at? I think it may have been off of Admiral.

---

August 30 2009 at 21:30:11
Name: Gary Chew
Topic: California Conflagrations
Email: Northeast of Eden
Comments: Some fires are burning in NorCal this evening. Just east and a bit north of Sacramento. Highway 49, a north-south Foot Hill highway is closed near Auburn,CA. It's on the
I-80 freeway that runs from SF to Sac and on east through Reno and across the rest of the nation.

Local stations are showing live copter shots of burning homes in the Auburn area. Winds are mostly south to north in the region, so where I am---well to the northwest of the fire area---we have no smoke in our air to choke on...yet.

---

August 30 2009 at 10:44:30
Name: Scott Linder
Topic: Fires
Comments: Lots of smoke, ash and acrid smell of fire here in Glendale this morning. The sky is a pale shade of yellow... eerie. All the area brodcasters are concerned that Mt. Wilson, the home of almost all local transmitters, may be in some danger. So far, so good...

---

August 30 2009 at 05:39:14
Name: Dr. Lazarus of Tev'Meck
Topic: Shuttle "Discovery"
Comments: On this date in 1984, space shuttle "Discovery" was launched on its maiden voyage.

She shares the name with the spacecraft in "2001".

"To infinity ... and BEYOND!"

---

August 29 2009 at 05:46:12
Name: Webmaster
Topic: Current Space Shuttle mission
Comments:

The Discovery astronauts left Earth late last night for the International Space Station. They are now heading for bed. Wakeup time is 1:30 pm CST to continue their 13-day mission. Watch them on NASA TV, and listen to SomaFM's Mission Control to hear the realtime audio over electronic ambient music.

Discovery will celebrate the 25th anniversary of its maiden flight during this mission.

---

August 28 2009 at 18:45:16
Name: Tulsa Area Music Archives
Topic: Leon Russell-The Session Years Part 3
Email: info at preservemusic dot org
Comments: Volume 3 of the Tulsa Area Music Archives podcast series is ready to download.

Over 200 minutes of Leon session tunes...hear Leon play with Patti Page, Ray Conniff, Connie Francis, Chris Montez, John W. Bubbles, The Baja Marimba Band, The Four Preps, and many more...

Download at PreserveMusic.org or on iTunes.

---

August 27 2009 at 09:20:19
Name: Jim Reid
Topic: Dick Van Dera
Comments: Dick, who played Uncle Zip (I think) after Carl left the show lived just south of 21st near Florence Park.

---

August 26 2009 at 23:48:13
Name: Billy G. Spradlin
Topic: KAKC Clock and KOME
Email: wildbilltx@gmail.com
Comments: Just wanted to pop my head in and say Hi again. I saw the KOME studios tour and thought it was fascinating, what was the location of this building? And I'm also saddened to hear the news of Uncle Zeb's passing. I watched him every afternoon with my brother when I got home from high school. My neighborhood didn't get cable until 1978, so Zeb was the only good show on!

Also earlier this year someone was selling a early 50's vintage KAKC clock on Ebay. The starting price was around 75 dollars. I was surprised KAKC had a FM station during this time! http://www.flickr.com/photos/24254275@N07/3861122128/



We both spotted that KAKC clock: GB 289. Here is the 1974 KAKC-FM clip you sent to Joe Riddle earlier this year in GB 287
---

August 26 2009 at 15:43:07
Name: Mike Miller
Topic: Sen. Edward Kennedy
Comments: The celebrities are leaving us in droves! Senator Edward Kennedy certainly had an amazing career and might have been President if not for the Mary Jo Kopechne episode.

In 1969, I was a reporter at WTTG-TV, Ch-5 in Washington and covered the Kennedy's return to the Senate following that tragedy. It was a news conference involving the ABM Treaty and Teddy was among seven or eight Senators in attendance. I stood right next to him and his hands were shaking noticeably probably in anticipation of taking questions about Mary Jo. But the Capitol Hill press corps was kind enough to avoid the topic.

My only other Kennedy close encounter was covering a news conference at Hickory Hill, Ethel and Robert Kennedy's mansion, in McLean, Virginia. The thing I remember most about that day as how kind Ethel was to everyone, including the soundmen and lighting technicians. Bobby had been assassinated only the year before.

The Kennedy clain certainly had their share of triumphs and tragedies. RIP Edward M Kennedy.
---

August 26 2009 at 13:55:01
Name: Erick
Topic: Happyness
Comments: Actually, there is a film starring Will Smith called "Pursuit of Happyness". So, even though it is grammatically incorrect, there is a prescedence of that particular spelling.

Happyness!

---

August 26 2009 at 12:35:39
Name: Beverly
Topic: Spelling
Email: BeverlyW58@hotmail.com
Comments: Mike,

It happens when you're 50, too! I don't catch it until after it's posted.

---

August 25 2009 at 17:34:20
Name: Mike Miller
Topic: Unhappiness
Comments: You know you're in your 70s when you can't spell happiness.

---

August 25 2009 at 15:14:13
Name: Beverly
Topic: Uncle Zeb
Comments: Thanks, Mike. I'll try to do that.

Does anyone remember the name of Uncle Zeb's sidekick? A friend of mine and I are having no luck. She used to babysit for him. She said he lived just south of Florence Park (21st and Harvard area.) She said along with working with Uncle Zeb, he was a producer.



That would be Cousin Zack, played by Kent Doll, whom I met at Carl's service. See him at the top of this site's main Uncle Zeb page.
---

August 25 2009 at 14:39:54
Name: Mike Miller
Topic: Picture of happyness
Comments: Beverly:

I think you have to email the attached photo to the webmaster.

---

August 25 2009 at 08:17:34
Name: Beverly
Topic: Picture
Email: BeverlyW58@hotmail.com
Comments: How do you attached a picture from an e-mail to what I'm writing to TTM? I have a picture of my son with Uncle Zeb and I want to post it. I have no idea how to do it. My son is back in Norman now so I'm on my own!

---

August 25 2009 at 00:04:15
Name: Mike Bruchas
Topic: Jim Hartz at KOME studios
Comments: It's hard to believe that I was last in this space circa 1971. I presume this is upstairs from the old Harrington's store or was this at another KOME location?

You newbies will see the outward curved walls in studios; this was for sound deflection. KVOO radio had stuff like this and "hemi-hedral blister" windows when on Peoria in the old building. Ditto the old KWGS in the basement of Kendall Hall.

---

August 24 2009 at 16:51:58
Name: Kelly Franklin
Topic: Sheet Metal Color on Bellaire and Riverside Drive-Ins
Email: pkf81366@gmail.com
Comments: I was wanting to kwow if anyone remembers what the outside sheet metal colors were of the Bellaire and Riverside Drive-Ins?... possibly the Airview as well. It would be greatly appreciated!

---

August 24 2009 at 16:40:51
Name: Emily Elliott
Topic: Hello from the hill
Email: elliott at emilyw dot com
Comments: I just wanted to say hello there. It's been a little while since I've stopped by to say hello. I guess I'm still considered a youngster in all the TV history, I've only been in town since 2001.

It was nice to see so many come to pay their respects to "Uncle Zeb" on Saturday. I didn't have the pleasure of working with him personally, but I met him a few times. I did however work with his son for a while. His son is an outstanding man in his own right.

It was nice to meet the webmaster in person. He's much taller than I imagined!



Pleased to meet you and Gary, too, Emily.
---

August 21 2009 at 15:09:40
Name: Teb
Topic: Zeb
Email: tebii at comcast dot net
Comments: My kids and I have the same fondness for this man as most everyone else who came into contact with him. We, however, had the privilege of living next door to him for many years; what a privilege that was. We'll miss him terribly.

---

August 21 2009 at 13:23:02
Name: Steve Dallas
Email: esskayess@hotmail.com
Comments: Alas, another childhood icon of mine gone. I enjoyed Carl's folksy humor and seemingly limitless energy so much, but will always be especially grateful for him introducing me to those wonderful black-and-white Popeye cartoons. Every time I watch one, I will think of him and his treasure of a show.

Happy trails, Carl!

---

August 20 2009 at 17:42:40
Name: David W Reynolds
Topic: The empty cartoon camp
Email: joelcrowservo at yahoo.com
Comments: I was, like so many others around here (heck, across America) saddened deeply at the loss of Mr. Bartholomew.

Had the good fortune to meet him a couple of times, most recently at the Wagoner City Library where he did a short lecture on writing childrens books. I'll never forget how thrilled I was to hear him end the thing with a hearty cry of "I'll be lookin' for ya!". Wildly entertaining and funny.

He seemed to be a bit taken aback when after it was done, I asked him to sign a picture that I believe I actually printed off this very site. But he was so gracious about the whole thing. Sadly, my kids got hold of it and destroyed it, but I still have a hand painted bookmark made by his wife that Carl gave me.

Even sadder, just two hours after hearing the news about Carl, I got the news my grandmother had just passed. I know your childhood slips away eventually, but does it have to happen so damn fast these days?

God bless you, Carl. You brought a smile to many a face, including a lot of full grown ones. Can't say that about too many people anymore.

---

August 20 2009 at 14:21:45
Name: Gary Chew
Topic: Shyly Riding
Email: Northeast of Eden
Comments: Mr. Donut: Your story is very interesting. And has the real ring of truth to it. As to the way your story ends, I can only say that what you describe for us is simply a very plain and common example of good old American capitalism in action.

(This email courtesy of The May Rooms Consortium.)

---

August 20 2009 at 12:44:37
Name: Johnny Donut
Topic: RIDESHY (circa 1974)
Email: rbidasio@aol.com
Comments: When the characters R-I-D-E-S-H-Y were dialed on the telephone, you were indeed connected to one of Tulsa's most famous brothels.

I think we found the number scrawled on a bathroom wall's For-A-Good-Time-Call section at a local Der Weinerschnitzel. Somehow after numerous prank calls, we managed to 'make an appointment' and were directed to a house behind and directly west of the old Camelot Inn. The house was just recently razed as part of the I-44 expansion project.

As high school kids would, we launched the most heinous assault of taunting and outright vandalism that we could muster. After all, what were they going to do? Call the police? It started one night when John's mother gave us the remains of their Thanksgiving bone-in ham. Naturally, we took it to the residence and threw in through a window. Don't try this at home! We should've been shot!

Another night we egged a baby blue Lincoln Continental parked there, only to be chased by the owner/driver from one end of the expressway to the other several times. We assume the Lincoln was low on gas; at least lower than John's mother's Blue Country Squire station wagon. Lucky for us.

We continued to harangue these poor people for months, driving cars through the yard, throwing water balloons, eggs, biscuit dough from cans, and almost anything else at the front of this house. We even went to the door on Halloween wearing masks to get a closer look. No one came to the door, only a quickly pulled back curtain revealed a woman's face. As we were leaving a taxi drove up dispatching a customer clutching a brown paper bag containing a large bottle. This cemented our suspicion that the location was still entertaining guests.

Finally, after months of harassment, a few close friends took up a collection one night and dared each other to take the funds and complete a real transaction at RIDESHY. Money rolled in more quickly than a volunteer to claim it, but eventually one of our own took the dare. After successfully making a 'reservation' over the phone, we were directed not to the residence we tormented, but to a motel just east of Peoria that still stands behind Waffle House.

As I.. er the volunteer climbed the stairs to the appropriate room number, he became filled with the terror of the 'what ifs'. What if she's hideous? What if I get busted? What will I tell my parents? What if I catch a horrible disease? He thought about turning and running away, but the gang was in the parking lot ready to ridicule any 'chicken', so he knocked anyway. There stood a scrumptious woman in her thirties with long hair and huge breasts. I.. er I mean HE walked inside the room sheepishly as the call girl quickly disrobed. "See anything you like?", she queried.

What took place next I'll never forget. Although a brief encounter, it was also memorable. Exiting the room sans cash, I arrived at the car to a chorus of cheers. He did it! He did it! As we were leaving, that very woman walked out of the room and down to a parked car across the parking lot. It was only then we realized to our dismay that it was a Tulsa County Sheriff vehicle. She bent over and passed something to the occupant through the driver side window. We never called RIDESHY again!

---

August 19 2009 at 14:30:35
Name: Webmaster
Topic: Carl's service
Comments:
From Jim Hill:

Carl's service will be at First Presbyterian Church of Tulsa located in downtown Tulsa at 7th & Boston.

The service will be at 1PM, this Saturday August 22.

And one more thing, Marilyn and Carl's son Blake are starting an Uncle Zeb foundation to benefit children.

-----

And from the Tulsa World today: "TV's 'Uncle Zeb' dies at age 77"
---

August 19 2009 at 13:56:38
Name: Gary Chew
Topic: 60 Minutes Producer Dies
Email: Northeast of Eden
Comments: Don Hewitt died this morning at 86. How many great TV programs has this guy produced for us?

---

August 19 2009 at 13:04:49
Name: Erick
Topic: Uncle Zeb/Nelson's
Comments: Thought I would pay tribute to one Tulsa legend by visiting another. So, this morning, I stopped by Nelson's Ranch House for a Chicken Fried Steak and gravy with eggs and hash browns. Delicious.

I'm too young to remember the "original" Zeb show on channel 8, but I do remember seeing it occasionally on Tulsa Cable in the early 90's. Even though I was in my teens, I found it very humorous to watch, because it was obvious that even though Uncle Zeb loved the kids, he wasn't going to put up with any of their shenanigans.

---

August 19 2009 at 11:17:07
Name: Pamela Hower (by permission)
Topic: Carl Bartholomew
Comments: Dad considered Carl his best friend. They have always enjoyed a beautiful and fun friendship. And every time they hung up the phone they said "I love you".

Marilyn had said Carl was painting the condo last Thursday. He was a real trooper and stayed active through his years of coping with Myelodysplasia. We never ever heard him complain. As Marilyn reminded us, he did not have to go through pain and suffering, he went pretty quickly. That is a big part I think of the surprise for all of us. He was just so present and seemed like himself.

Last night dad stayed up most of the night watching "Cole Justice" a few times, Carl's wonderful movie. I told dad this morning after finding out that Carl had passed around 1AM our time, that Carl probably got a kick "seeing" dad watching his movie. We thought that was the best way to hold vigil for Carl.

We will never forget this man who was larger than life and who lived life in every moment. We not only lost Carl, the creative genius and good man that he was, we also lost the great Uncle Zeb, who entertained kids and even more I think, the adults. We still love watching copies we have today. He was a riot!

We all surround Marilyn now in love and prayer as she bids the love of her life goodbye for now.

We are all here in California but we will be there in spirit at Carl's service.

I can still hear him saying " I'll be lookin' for ya!" and he will be, for all of us, when we join him someday.

Happy trails Carl...until we meet again.
---

August 19 2009 at 09:44:31
Name: Jim Reid
Topic: Carl
Comments: I really liked Carl. I got to direct the show a zillion times. It was a fun half hour. I remember telling the camera guys once to get me a "boy bump". That's what we called it when a shot of a kid would come up with some wild line of audio that Cy had lifted from a soap opera. Well I looked at the monitor to see my nephew Ryan. He was at a birthday party and had come to the show.

Carl was very particular about his cartoons. None of that Harveytoon stuff on his show. Only Warners and the B&W Popeyes. He and I got along really well since we both loved old movies. I can remember him working on a movie promo and he had a clip from Bride of Frankenstein that he loved. It's the doctor saying "now it's time to put in the brain". He just loved that. Not sure he ever found a place to use it. I got a note from Dale McKinney saying how he is getting tired of losing people. I feel the same way.

---

August 19 2009 at 09:11:04
Name: Terri
Topic: Uncle Zeb
Comments: "I'll be lookin' fer ye" - silenced. Thanks for many memories.

---

August 19 2009 at 09:09:13
Name: Webmaster
Topic: Previous GroupBlog link
Comments:
Archived GroupBlog 297, where we learned yesterday that our Uncle Zeb, Carl Bartholomew, has passed away.
---
Back to Tulsa TV Memories main page