Tulsa TV Memories GroupBlog 301

TTM main | What's new on TTM? | GB Archive




October 09 2009 at 00:13:04
Name: Mike (forgetful) Bruchas
Topic: MIKE MILLER
Comments: Happy (REDACTED) Birthday, Mike Miller.

You "age" slowly like a fine cheese!!!

---

October 08 2009 at 23:36:11
Name: Webmaster
Topic: Beef Baloney Blast From The Past
Comments:

Matt Zaller was a member of the Beef Baloney comedy troupe on Tulsa TV five years ago.

He has been working for National Lampoon on "The ZAZ! Report" for the past three years. Yesterday, he posted on the ZAZ! site Beef Baloney's Top 5 funniest local commercials. Check them out!
---

October 08 2009 at 13:56:21
Name: Erick
Topic: Tulsa State Fair
Comments: ANY fair theme song has to be better than the horrible song that has been filling the radio waves this year: "Flying high, the Tulsa State Fair...flying high, flying high!"

Went to the fair yesterday, and here is my yearly list of foods consumed. Sadly, I was unable to locate the chocolate covered bacon or the deep fried butter on a stick. I may go back this weekend for those delicacies.

Cheese On a Stick
Gator On a Stick
Fried Green Tomatoes
Spiral Cut Potatoes with Sour Cream, Chili, and Cheese
Ribeye Sandwich
Deep Fried Cheese Curds
Fried Brownie
Spaghetti Ice Cream
Cinnamon Roll

And washed it all down with enough Orangeades to keep a small orchard running for another year.

I also sampled numerous dips and sauces, wines, and sampled Nitro Ice Cream!

I took a travel-sized bottle of Tums Smoothies, but it wasn't needed. I've mistreated my stomach so much over the years, it has no problem handling these kind of foods.

---

October 08 2009 at 12:59:27
Name: Scott Linder
Topic: Thanks to our Fair Webmaster
Comments: Thanks to our Webmaster for the Fair Jingle info. I feel very foolish to have not realized that the jingle was already included on the Tulsa State Fair page on TTM.

My memory was obviously a bit off on the versions we recorded. The recording on TTM is a full one minute donut, although we did do a few other versions, as I recall.

By the way, the recording on the Fair page really sounds quite good, considering its vintage.

---

October 08 2009 at 12:07:09
Name: Webmaster
Topic: Very trivial
Comments:

Last night at Fat Daddy's Pub and Grille over a burger and beer, "TTM" competed in a NTN>Buzztime network trivia game, edging out SQLAPS and TRIDOCS in a come-from-behind Cinderella story.
---

October 07 2009 at 23:16:36
Name: Gary Chew
Topic: Fair Jingle
Email: Northeast of Eden
Comments: Scott: I remember the jingle. Don't know any of the words, but didn't it have a march feel to it at the top, then swung for the rest of the way out? That's what I remember.

---

October 07 2009 at 16:28:49
Name: Scott Linder
Topic: A very Fair jingle
Comments: In the mid 60s, I recall recording a jingle for The Tulsa State Fair at KVOO which aired on every Tulsa station.

It was written by Mo Billington and scored for vocalists and a big-band with percussion. Jack Moore mixed it, and we did the session down in the KVOO television studio, as the radio studio on the second floor was too small.

I clearly remember the melody, but can't recall the lyrics, except for the opening "Here's to the Fair... the Tulsa State Fair..." opening line. We did a 15 sec full version, a 30 sec donut and a bed without vocals.

Jack Moore gave me a dub, but I can't find it now. Plus, it was on 1/4" and the oxide would have long-since turned to dust.

Does anyone else remember this jingle? I haven't thought of it in 40 years!!



Could it be this one right here, at the top of the Tulsa State Fair page?

Mo' about Mo and the Sleepwalkers Serenade theme in GB 255.
---

October 07 2009 at 15:55:13
Name: Scott Linder
Topic: The Tulsa State Fair
Comments: I have many memories of attending the Tulsa State Fair back in the 50s and 60s, although they are a bit fuzzy, now.

The midway was provided by W.T. Collins Shows. Collins was second only to Royal American Shows, which was the gem of all midways in the U.S. and Canada. Both are now gone.

Ice Capades always ran at the Fairgrounds Pavillion during the Fair. Every performance was packed, and your Capades ticket gave you admittance to the entire Fairgrounds before or after you saw the show.

Bell's Amusement Park spliced well with the Collins Midway and the rides always seemed to be packed.

In addition to the Collins vendors, many local restaurants had spots on the midway and I remember the aroma of chicken and burgers from Johnny Harden's place which was always on the west end, close to the Pavilion.

I also clearly recall a vendor who sold ice-cold watermelon. The melons floated in large galvanized water-troughs along with blocks of ice. You got a really large slice for 25 cents, and consumed it on picnic-style tables that were painted glossy-white, each of which had several salt shakers. It tasted mighty good, especially when fall temperatures had not yet blessed Tulsa.

---

October 07 2009 at 10:50:07
Name: Tulsa Area Music Archives
Topic: Volume 4 podcast available to download
Email: info at preservemusic dot org
Comments: Volume 4 of the Tulsa Area Music Archives podcast series, Leon Russell: The Solo Years Part 1, is now available for downloading.

Early Leon w/ David Gates & The Accents, The Starlighters, David & Lee, C.J. Russell, The Daughters of Albion, The Asylum Choir, Delaney & Bonnie.

Check it out at PreserveMusic or via iTunes.

---

October 07 2009 at 08:17:16
Name: Mitch Gray
Topic: Fair Stuff
Email: North Of You
Comments: One particularly hot freebie at the fair were ..stickers! KELI stickers, STP stickers, Zingo stickers, etc. However, most of those stickers never made it off the fairgrounds. You would see them plastered almost everywhere! Even in places some of us considered physically impossible to get to.

I don't know what year it was, but the fair board, due to the enormous job of cleaning up that adhesive litter, banned giving out stickers for free. I did notice that a few of the vendors this year were selling stickers of all kinds. I'm certain they are priced according to their value. Kinda like that five dollar butter on a stick.

---

October 06 2009 at 22:05:14
Name: John K. Young
Topic: Re: Band Foods
Email: johnk662561atyahoodotcom
Comments: Maybe it's just me, but "Deep Fried Butter on a Stick" sounds like an AWESOME name for a band. Or maybe I'm just hungry for some fair food.

Regarding "Favorite Fair Freebies"...I used to love to get the frisbees that some of the exhibitors would give away. I'd try to get them to spin on the yardsticks (also fair freebies) but my attempts were always less than spectacular. Usually, the dogs would grab the frisbees and, at some point down the road, the yardsticks would get broken across my posterior for the usual childhood "lapses of parental respect".

The lamest Fair Freebies? Ink pens. As a kid, they were lame. Now that I'm a bigger kid (I eschew the term "adult"), they're still lame but in a different way. I'll put the pen in the glove compartment of the car and the first time I go to use it, it'll be dry as Death Valley in August. So, I do the only honorable thing...I take them to work and try to stick them into the ceiling tiles. The area above my cubicle looks like a Ball Point Pen Stalactite Convention. This has led to my boss thinking I'm somehow "unstable" so he has adjusted my work load accordingly. Life is good. :)

---
October 06 2009 at 21:55:06
Name: Robert Walker
Topic: The HMITW
Comments: May I just say that Lee Woodward must be the hippest man in the world? Gawd, he slays me. For years and years, Tulsa's secrete sauce. Now back to my Hollywood night, already in progress.












---

October 06 2009 at 15:18:15
Name: Rex Brown
Topic: Two Wheel Oklahoma
Email: maduko (at) yahoo.com
Comments: File this under "Future Memories" category.

Brad Mathison and myself have put together a travel show called Two Wheel Oklahoma. It airs on My 41 in Tulsa on Saturdays at 9 AM. The first episode premiered last week and followed us on our motorcycles as we traveled a stretch of Route 66 between Sapulpa and Arcadia.

I'm really excited about the possibilities, and so far we've been getting really great feedback. If you're in the Tulsa area we hope you'll spend a half hour with us and come ride along!

Mailing list, blog and more fun and entertaining info available at TwoWheelOK.com.

---

October 06 2009 at 14:25:41
Name: Steve Bagsby
Topic: Stuff at the Fair
Comments: My wife and I always have a laugh about going to the Fair to get freebies, goodies and general stuff toted home in a plastic bag. Rulers, yardsticks, pencils, pens, calenders, pot holders and other "what-nots" Anyone have a favorite "hand-out" they remember?

---

October 06 2009 at 14:17:14
Name: Mike Bruchas
Topic: KKUL = KORU's frequency
Comments: Wasn't KKUL originally the frequency assigned to KORU - but ORU got rid of the FM station and had an on-campus station only for a while?

In the early '70's - before KCMA (fashioned after WFMT in Chicago) - Tulsa had classical music on KAKC-FM, KWGS and KORU at one point in the evening.

---

October 06 2009 at 13:43:00
Name: DolfanBob
Topic: KKUL
Email: DolfanBob@lycos.com
Comments: Back in '76 when I was at the bright green little building next to a mobile home in a field just west of 129th and north of Admiral. The call letters were still KKUL or as we liked to say K-Kool.

It had just changed formats from Funk to top 40 and we had tried to get the call letters changed to KFOX but that was already taken and the closest that we could get was KTFX and the Superfox was born.

I worked with Cousin Lee Walker and Don Landy. That was when radio was really off the wall fun. Cueing up vinyl LPs and commercial carts, playing the A thru D hits (I sure got burned out on the Bee Gees).

Went to Dallas to get my 3rd class Radio Broadcast license. Remember those, old timers?

After I was gone they relocated downstairs over at 61st and Memorial on the NW corner (same building as Varsity Bar). And then long,long after I was gone they moved to Admiral and Memorial and had went Country.

And that's about all I know. It was great times getting in early and cutting your commercial spots and picking your filler songs from a huge library of LPs.

---

October 06 2009 at 11:36:32
Name: Wilhelm Murg
Topic: Radio
Email: wilhelmurg@yahoo.com
Comments: I don't know much about KKUL, but if I remember correctly, it started off as a competitor to KMOD, then changed over to funk around 1974(?) They also put out hit music lists like KELI, only more sporadic.

---

October 06 2009 at 07:38:33
Name: David Bagsby
Topic: Radio
Comments: In case I missed it here, anybody know the story behind KKUL...used to be the Funk station?

---

October 05 2009 at 18:42:16
Name: Webmster
Topic: KOME-AM then and now
Comments:

Tulsa Gal has posted photos from Radio Station KOME, where her dad had a show in the late 1940s. I sent her the link to Jim Hartz' recent Flickr tour of the same building, which she linked to in her item. You can find it here by clicking the Flickr icon in the TTM Photo/video briefcase.
---

October 05 2009 at 14:28:22
Name: Mitch Gray
Topic: Band Food
Email: North Of You
Comments: Don't forget Strawberry Alarm clock on pound cake with Incense and Peppermints.

---

October 05 2009 at 12:27:47
Name: Erick
Topic: Bands
Comments: A better band for dessert: Cake!

I'm going to the fair Wednesday. I'm eager to try the deep fried butter on a stick and the chocolate covered bacon.

---

October 04 2009 at 11:03:41
Name: David Bagsby
Topic: Fair
Comments: Is Sugarloaf playing at the Fair? Seems like those guys and Bread did every year for a while.



Those bands seems kind of high carb. Better add some of the other food groups:

Meat Loaf
Phish
Cream / Korn
Hall and Oates
Red Hot Chili Peppers
and for dessert:
The Jam
The Cranberries
Vanilla Fudge
---

October 02 2009 at 15:58:04
Name: Jim Porter
Topic: Gusty!
Email: jimininola@yahoo.com
Comments: I currently live in Madison, Wisconsin and came home to see family, and just so happens the fair is on! I was disappointed with Bell's being gone and the midway looked almost empty of rides. But, walking through the IPE building (guess they call it the QT Center now), I saw Don Woods and Gusty!

After 40 some odd years of wanting my own Gusty, I have one! I hate to admit it, but as Don handed me my Gusty, I almost cried. I now have my very own Gusty and his 'Fraidy Hole! Thank you Don!



TTM Tulsa State Fair page
---

October 02 2009 at 15:52:17
Name: Webmaster
Topic: Local TV / Route 66 Playhouse
Comments: In today's Tulsa World by Jay Cronley: TV news missing its local luster.

In the previous GroupBlog, JW mentioned that Sam Jones is hosting a live show, Route 66 Playhouse, at RSU tomorrow, Oct. 3. Sonny Gray is the musical director.

My appearance on Sam's KRSC-TV show, Green Country Perspectives, was delayed, but may happen next week.

---

October 02 2009 at 09:36:28
Name: Jeff Todd
Topic: "Boo Roo" The Phantom Kangaroo
Email: acrossstick3@cox.net
Comments: Remember the kangaroo sightings in Tulsa/Owasso Oklahoma around 1981-1982?

Sightings were reported by newspaper delivery people, the Hammacks, in and around the area of 56th St N around Utica & Lewis.

As the story goes, on Aug 31 1981, a man pulls in to a diner/bar joint, nerves are jangled,and starts telling the story to the locals in the cafe that he just hit and killed a kangaroo. Well anyhoo, he drives off with a dead kangaroo in his truck.

The rest is history, making it into two books. Mysterious America and Mysterious Oklahoma. A friend of mine who worked for the Tulsa World actually gave me the original picture laserphoto of the cavy nicknamed "Tripod" that was caught in a trap by Tulsa animal control officers on 56th & Utica.

You can still get a copy of the newspaper clipping at the Tulsa library, just tell them a litte history of it. I have also posted about four YOUTUBE clips on the Phantom Kangaroo of Tulsa:




(More of Jeff's videos at YouTube: the vanishing hitchhiker
called the "basketball boy", the Hex House of 1944...)


The mystery ended when they caught the cavy. But the newspaper delivery guy, Mr Hammack, said the animal he saw in the field had a tail. Patagonia cavies do not. Oh well, this is the stuff urban legends are made of.

Tie me kangaroo down, sport!

"Boo Roo" fan Jeff Todd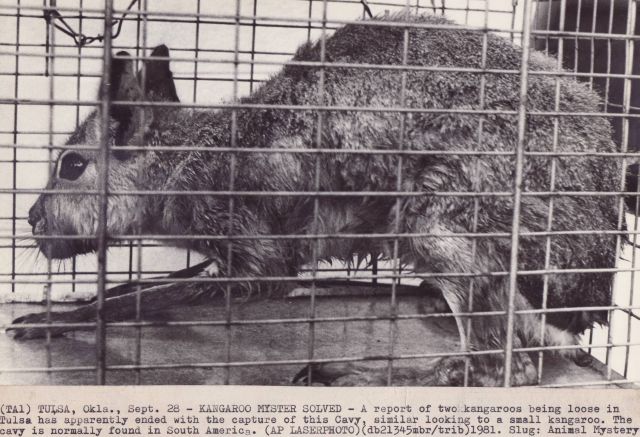 I mentioned the Boo 'Roo myself back in GB 186 after I saw a mention of it on Cox Channel 3. The not-elusive-enough critter also made it into The Field Guide to North American Monsters.
---

October 02 2009 at 00:07:17
Name: Mike Bruchas
Topic: Pat Lopez
Comments: Former KOCO artist and long time Southwest courtroom artist, Pat Lopez, has a section in FineArtViews - a web site for artists.

It's rainin' cats n dawgs in Chicago tonight.

---

October 01 2009 at 19:32:38
Name: Rose Bowl Bunker Commander
Topic: Henry Bellmon
Comments: Henry Bellmon's papers are at the OSU Library. When I was an archivist there in late '70s, I processed the materials from his first term as governor. My favorite correspondence files were labeled "Nutz". Indeed they were.

While his politics were emphatically not mine, I admired the courage of his convictions. Took real guts for an Oklahoma Republican Senator to vote for the Panama Canal Treaty, "simply" because that's what his conscience told him. I remember the sign the John Birch Society awarded him, near the OKC entrance to the Turner Turnpike: "Bye Bye Benedict Bellmon".

Always a gracious gentleman in person.

---

October 01 2009 at 11:47:31
Name: Patrick Bryant
Topic: Jay Spivey, Henry Bellmon
Email: patdotbryantatgmaildotcom
Comments: Too often we are reminded of our mortality.

Though I didn't work directly under Jay Spivey at Channel 4, I saw and spoke with him almost every day during my time there. He was always very tolerant and patient with the "kid engineer" which I was in the early days. He'll be missed.

I grew up in Billings, so I knew Henry Bellmon; his first wife Shirley; his daughters Pat, Gail, and Ann; his brother, cousins, nieces, nephews, etc. They were all great people and I share their loss at this time. Henry always leavened his ambition with a large dose of humility and a sharp intellect. RIP.

---

September 29 2009 at 14:12:33
Name: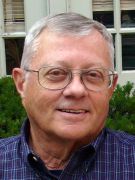 Mike Miller
Topic: Henry Bellmon
Comments:

The Tulsa World is reporting the death of Henry Bellmon, former Oklahoma Governor and Senator. No details as of this moment. (Tulsa World article)

Bellmon was an extremely likeable politician. I covered him in both offices. Always accessible and with straight answers. RIP.



| | |
| --- | --- |
| | |
| | Mike Miller interviewing Henry Bellmon |
---

September 28 2009 at 20:05:19
Name: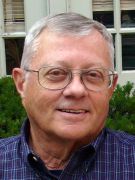 Mike Miller
Topic: Anchors or Actors?
Email: michaelmmillerathotmail.com
Comments: I was watching a 1955 film on TCM recently, "The Phenix City Story" (correct spelling), and a during a documentary-style preface I noticed the reporter doing interviews looked familiar. When he signed off, "This is Clete Roberts" I remembered that he was something of a pioneer TV anchor in Los Angeles.

Roberts had national exposure. Looked him up on IMDb and was surprised at the number of screen (film, but mostly television) credits. (About thirty.) He usually played a newsman or himself in various programs right up until his death 1984. Clete Roberts appeared in several episodes of MASH, Columbo, Cannon, and McCloud.

I worked with another former Los Angeles television personality, John Willis at WTTG-TV in Washington around 1969-70. He co-hosted a noon show, "Panorama" with Maury Povich. Years later I saw Willis in a similar situation where he was interviewing celebrities at a movie premier, way back when. It was black and white short subject and obviously shot years before he came to WTTG.

I got to wondering if anyone out there remembers seeing either Willis or Roberts when they were local TV celebrities in LA.

---

September 28 2009 at 09:42:03
Name:

King Lionel
Topic: The King and The General
Comments: Since my "Right Hand Man" suggested earlier reasons for the plight of Radio/Television's demise from a geriatric point of view; I, being eternally young, due to good genes (Latex), offer the real reason: THE INTERNET and PERSONAL ELECTRONIC DEVICES

When one can watch, communicate or listen to anything in the World, free for the most part, at whatever time one wishes, that medium wins, Paws down.

I think I'll find me some Buster Keaton...clickety click!

It has caused me to have to install claw protection on my keyboard... as the TV remote is mostly idle.

---

September 28 2009 at 07:34:37
Name: Wilhelm Murg
Topic: Keaton and HELTER SKELTER
Email: wilhelmurg at yahoo dot com
Comments: Here, here on Steamboat Bill Jr. I first saw the amazing scene - where he "goes into" the movie screen and reacts to the different scenes cut into the film - on the PBS GREAT PERFORMANCES documentary about him in the 1980s. I've watched the film a few times since then and it still astonishes me. He was a true innovator, on top of being one of the great comedians of all time.

I'm getting concerned with my mentioning HELTER SKELTER on these pages; it seems every time I mention it something happens in the case. The first time, mentioning the anniversary, Squeaky Fromm was released from prison. Last time Susan Atkins died and Polanski has become a political football between the Swiss and the French, over unrelated charges.

So Squeaky is free and Polanski is in prison - somehow that doesn't make me feel more secure.

---

September 28 2009 at 01:20:13
Name: Jim Reid
Topic: Buster Keaton
Comments: I have most of Keaton's extant films on video and many of them on 16mm film. I'm not one to pick favorites, but if I did, it would be hard not to pick Keaton. He did films that were wonderful comedies, but also great films. The General, Our Hospitality or Hospitality as Buster always called it. These were epic scale films that also happened to be funny as hell. Then there is what I consider his funniest, Steamboat Bill, Jr. The special effects are mind-blowing, especially the house front falling on Buster, who is only saved because the open upstairs window fell around him.

When I was in high school, I used to go to the classic film series that Bob Bethel ran at Gilcrease every Sunday afternoon. This is where I saw many classics for the first time. I'm trying to get a series like that started here in Dallas using my own collection. Hopefully I can get some high school-aged kid as hooked on classic films as I was.

---

September 27 2009 at 19:51:24
Name: JAC
Topic: Avalon - RIP
Email: Joetul ta xoc.ten
Comments: Drove by and saw Avalon (new location) is closed. Sign blamed the economy.
Not sure thats the exact reason.
---

September 27 2009 at 01:57:03
Name: Jim Reid
Topic: Keaton Celebration
Comments: Mike, I too would love to be in Iola (for the Buster Keaton Celebration this weekend). I was at Cinecon in LA a few weeks ago and I ran into David Shepard, who is supplying most of the film they watched in KS. He wanted to know if I was going to be there, but I can only afford a few film festivals a year. There's a great silent film festival in Topeka at the end of February. I will definitely be there.



Iola has been a topic of conversation here; start just under the pic of Johnny Martin in GB 205 then scroll down to Agent Hillis' report 3/4 down the page (it's in reverse time order as usual).

Trivia: The makers of the recent Pixar hit movie WALL-E watched every single Keaton and Chaplin silent movie to inform themselves about pure visual storytelling, as the principal characters are robots who use very little spoken language.

Here is Buster Keaton at KVOO-TV in Tulsa.

More about Buster Keaton on Wikipedia.
---

September 26 2009 at 22:43:12
Name:

George Tomek
Topic: Jay Spivey
Email: mranchor@cox.net
Comments: I concur wholeheartedly with the comments by Greg Leslie concerning former WKY-TV/KTVY Stage Manager Jay Spivey. Though confined to a wheel chair for many years, Jay always had a positive attitude and personality which he never lost. He was a consummate professional through and through - like many others who worked at Channel 4 down through the years.

RIP Jay.....you earned it.

Webmaster: George sent an email with these photos yesterday.
Cy Tuma was also confined to a wheelchair for many years.

I found three old pics that you might like to use. One is a dour me doing
the Noon News probably in 1961. One is a shot my Dad took of Sid Lasher
doing the weather. Sid was a great guy to work with. The other is the
"Great" Cy Tuma. What a prince of a man and one helluva news anchor.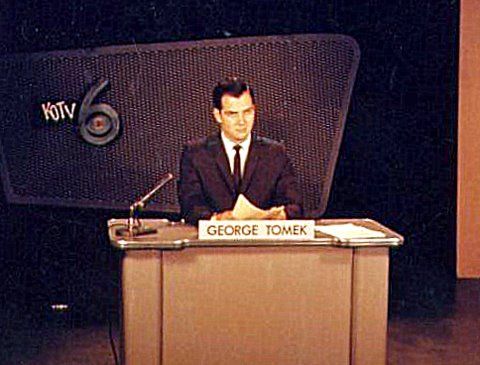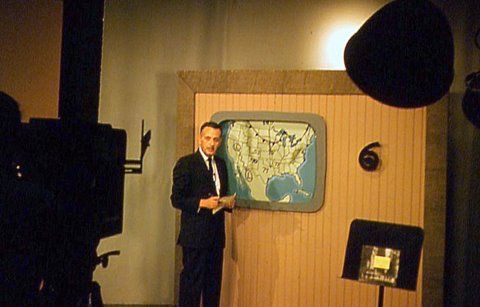 ---

September 26 2009 at 19:07:30
Name: Mike Bruchas
Topic: Keaton Celebration
Comments: I wish that I were in Iola, KS this weekend: Buster Keaton Celebration

---

September 26 2009 at 16:10:21
Name: Greg Leslie
Topic: Dannysday organist
Email: gregleslie at yahoo dot com
Comments: Close, but not quite: Dannysday's "Man of Music" was JOHN Spivey (no relation). Here's a clip from a 1974 show where John gets about three seconds onscreen.

Thanks to Randy Richardson for putting up a wealth of Channel 4 vintage clips. I was the last director of Dannysday before it was cancelled, and it was probably the most fun (and best education) I've ever had.



---

September 26 2009 at 01:06:31
Name: Mike Bruchas
Topic: Jay Spivey - R.I.P.
Comments: I met him and saw him at some TV lighting demos and once watched him directing the lighting of a set at 4 in OKC.

A special part of OKC and Channel 4 history.



Tony Sellars told us in GB 17 (over ten years ago) that Jay Spivey was also the organist on "Dannysday" (see above for correction).
---

September 25 2009 at 22:57:14
Name: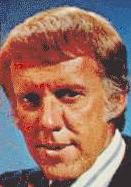 Lee Woodward
Topic: Radio
Email: Dall-Ass.com
Comments: The downfall of radio began when Gordon McLendon gained control of a sizable number of stations in Texas, particularly Dallas. He created Disk Jockeys with synthetic names, so he could fire them if they got too popular and wanted more money. He also was responsible for "Top Forty" music charts, which of course would preclude any Jock from playing something not on the charts. Would one suggest that this started "Payola"? That's why, when you turn on the radio today, it's pure crap for the most part.

There are a few FM stations that play some listenable music and I'm not just talking about pop or classical. I have no idea if there's anyone really there. Everyone is narrowcasting now and I don't know how they sell any time. As has been mentioned before, I know that some of these stations have NO listeners. When I listen, it's to this non-commercial jazz station that changes its call every few months. Many times, I just click over to my Cox Cable music line-up and run it through my stereo system. All this would not add up to thirty minutes a week. Where I really run up the time, is in my car when I'm running errands. I listen to cassettes that I have made using vinyl and CDs of my favorite stuff. It is not uncommon to go through eight, 90 minute tapes a week. So for me...radio is no longer thought of.

I will add; that I always liked the idea of radio better than TV. I wish that I had had the opportunity for a slot on a good frequency, to do my version of the Johnny Martin show. I guess you could say, that in reality, when Johnny and his peers went away, that's when the music died. What are we left with? Blather! Oh...I mean Talk Radio....with Jiminy Glick, er I mean Russ Lumbar or whatever.

By the way, "It's case night in the city." "I'll leave a light on."

---

September 25 2009 at 22:22:49
Name: Webmaster
Topic: Previous GroupBlog link
Comments:
Archived GroupBlog 300.
---
Back to Tulsa TV Memories main page