Tulsa TV Memories GroupBlog 222

TTM main | What's new on TTM? | GB Archive




October 16 2006 at 01:19:51
Name: roy lee
Topic: The Golden Driller
Email: beerdrunk@cox.net
Comments: I voted for him, but I don't think the Golden Driller can take care of a dog, need toilet paper, or need $90,000 dollars due to his ongoing problem of being a statue. That's a good enough cause to me as well, though.
We got a nice plug on "Law and Order" the other night by the way when they found that a stray bullet in a classroom had hit the map, it had hit Tulsa, and the brilliant detective what's-his-name said something clever about it that I don't remember.

---

October 15 2006 at 18:25:05
Name: Judy
Topic: Tulsa Golden Driller
Email: JMCBAOK@cox.net
Comments: I entered a Cottonelle Contest last June and was picked as one of 10 Finalists. Now they are having daily voting on our entries. And the winner gets $90,000!!! Unbelievable!!!
SO...I'm hounding everybody and their dog to vote. ;)
My entry is the TULSA GOLDEN DRILLER. Here's the link to the voting site: http://www.puppytracksusa.com/vote.php
You can vote every day, with every email address you have, until October 23rd! Don't let the Driller get beat by that ball of twine in Kansas! THANKS!!! Judy
OK, that sounds like a worthy cause to me. I added your link to the Bulletin Board.
---

October 15 2006 at 13:21:59
Name: Mike Bruchas
Topic: Charity
Comments: When in NYC last Monday - I went to the new (really re-opened in 2005) Museum of Modern Art. I was surprised to see 2 rooms as galleries donated by former Tulsan and elder Kravis brother - Henry and wife! He is the Kravis in Kravis Kohlberg Roberts or KKR. He is up there with Jock Whitney - who was head of Corinthian - former owners of KOTV many moons again and also a MoMA donor.
Meanwhile in my Fairfax, VA weekly paper - there was an article about a new Ford Orientation Center and the "Donald W. Reynolds Museum and Education Center" at Mount Vernon! Now you too - can be confused in DC by telling a cabbie that you want to go "The Reynolds Center" - because we have 2 now withing 20 miles of each other! Yep that is the same Foundation that funded so much of the National Portrait Gallery renovation - all started with Donrey Media (billboards & TV stations) and Don Reynolds selling papers as a boy in OKC!

---

October 14 2006 at 15:50:09
Name: Dave
Topic: Diner report
Comments: I visited the city Friday and saw to my surprise that the Metro Diner was open after all those predictions that it would shut down by October. So I asked an employee what was going on. I was told they had an extension until May. I don't know if that means there are still negotiations going on with TU. Does anybody here know?

---

October 14 2006 at 02:28:33
Name: Tina Martindale
Topic: Rhonda Cunningham
Email: tlmmart@yahoo.com
Comments: Anybody remember Rhonda Cunningham? She was a little gal with a big voice and could play the hell out of her 12-string. Rhonda played all over Tulsa in the 70s and 80s. She was Leo Kottke's opening act at Chapman. She was a good friend of John Chick and was on his show several times. Well, I am her daughter and I would love to hear any memories that anyone has!

---

October 13 2006 at 15:36:13
Name: Webmaster
Topic: Free Leon Russell concert tonight in Jenks
Comments: Leon Russell live in concert, 7 pm Friday, October 13 at the RiverWalk Crossing Amphitheater in Jenks, across the 96th St. bridge. Free to the public.

---

October 13 2006 at 10:09:48
Name: D Mann
Topic: Hank Killian
Email: md_mann@bellsouth.net
Comments: I read a post about Hank Killian, a singer on the Horn Bros. show - they could not remember his band's name - I will never, never forget - "Hank Killian and the Rainbow Ranch Boys".
Margaret Janeese Brixey Flanagan (on her new page, linked from the Horn Bros. page) also remembers a bit about Hank Killian.

I was sad to read in today's Tulsa World that the late Ike Horn's wife, Zelma Mae "Skippy" Eichhorn, passed away at the age of 81.
---

October 13 2006 at 09:10:58
Name: Gary Folgate
Topic: Tulsa nostalgia
Email: gfolgate[at]tigilinea[dot]com
Comments: I lived at 5532 S. Peoria in Tulsa from 1970 to 1975 and then elsewhere in Tulsa until 1986. I really enjoyed the website. There is so much to reminisce over. I lived a stone's throw away from the old Trade Winds....I forgot how KAKC was in the property. My best friend used to answer the phone - "I love fun-lovin' KAKC" because he might win some money. He thought Scooter Segraves was a God. I literally knew every inch of Peroia. Here are some things I remember:
Pennington's drive-in
Hot Pants night in 1972 at the Oiler Park.
My grandmother shopped at the Red Bud at 45th and Peoria.
Brookside State Bank
George Washington's Elgin Street Auto Trim shop on East 11th.
McCollum's restaurant on 11th St.
Brownie's
Camelot Inn
Wright Junior High - a round school...very unique - closed
Sipes grocery
Petty's
Humpty-Dumpty at 51st and Peoria
Oscar's Oven - at 49th and Peoria. I knew the owner Dave Halford
Betty Loyd's Cake Decorating and Candy Making (51st& Peoria and 2222 E. 61st)
Mason High School - 6350 S. Utica - closed
Harrington's - downtown
Claud's
The Pagoda Restaurant - the $2.00 buffet was criminal.
Zandbergen's nursery on Peoria
Is the old grade school still at 51st and Lewis??? - no way. My dad attended in 1932.
How about the old grade school at 6th and Peoria from 1910??
Or the great diner that closed 20 years ago - Ray's???
The Borden's at 51st and Peoria
Orbach's at Southroads
The old Warehouse Market on the hill downtown?
The old Borden's on the second floor in a strip on Admiral?
And last but not least......my all-time favorite memory of my childhood was when my dad took me to the Continental Theatre (back off a one-way dog-legged road at 31st and Memorial) to see the re-release of "It's a Mad, Mad, Mad, Mad, Mad World" about 1972. Pure luxury in that single-screen theater.
I am a nostalgia nut and I drove every inch of Tulsa.

---

October 12 2006 at 21:18:51
Name: Bill Hyden
Topic: Les Paul
Email: billhyden@cox.net
Comments: Let me add that you may find the Les Paul website at RedHotRed.com. He acquired that reference when he was 13 years old.
I asked Les if he remembered Happy O'Halloran, emcee of the National Barn Dance, and he responded that he did. 'Happy' was Hal O'Halloran's dad. Hal was part of the Wichita radio 'exodus' in the 1950s that included Stan Hagan, Jack Campbell, Hal Norman and Harold 'Lanky' Linstrot joining KVOO.
On 9/11/06 when I was at the Les Paul 'event', an interesting 'drop by' was Jimmy Buffett. Les asked what he was doing in New York.
Buffett said, "I'm at Madison Square Garden".
Les: "What are you doing there...cleaning up?"
Jimmy: "I'm doing warm-up for the headliner."
Les: "Who's the headliner?"
Jimmy: "ME!"
Les Paul's website is hosted by Chris Lentz, whose parents are TU grads.

---

October 11 2006 at 15:49:14
Name: Bill Hyden (via regular mail to webmaster)
Topic: Morgan Woodward, Les Paul, NYC
Email: billhyden[at]coxdotnet
Comments: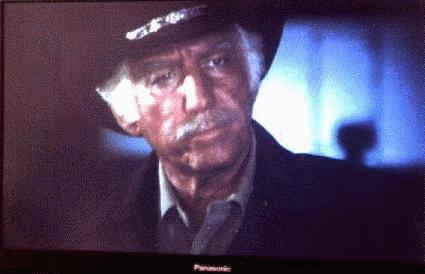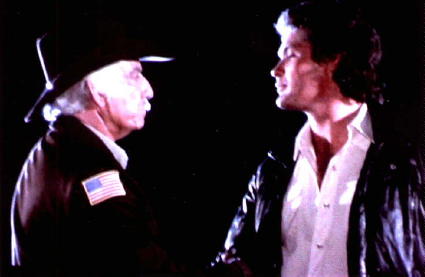 Lee Woodward's brother Morgan is hassled by The Hasselhoff


I am in awe of high definition TV. Got a 44" Panasonic LCD projection, not flat panel, but it is great.
On one of the hi-def channels, I have recorded KNIGHT RIDER...the talking car thing...and enjoy it somewhat. Recently, I noted Morgan Woodward was on an episode, so used my digital camera to shoot a couple of freeze frames.
Also, on 9/11 this year, I was in New York City. My son Randy was involved with a musical event honoring the fallen fire fighters and policemen. We visited Ground Zero on 9/10 and were briefed by a couple of survivors at the fire station nearest the World Trade Center.
At 10 pm on 9/11, we (my daughter Becky and her mother) attended a LES PAUL performance at the Iridium Jazz Club on Broadway. He is there on Monday nights at 8 and 10 pm. Of course, at 91 years of age and having had an automobile accident years before, Les does not play like the Les Paul of old, but I am very glad we got to see and hear him.
The Iridium site linked above states that Les Paul's near-fatal car accident in 1948 was on Route 66 near Chandler, Oklahoma.

As I mentioned to Armin Sebran a week or two ago, I recently got my hands on Jazz at the Philharmonic, 1944. All-instrumental, with Les Paul, Nat "King" Cole, Illinois Jacquet, J.J. Johnson, Red Callender and others. I had taped "Body and Soul" from this concert off a KWGS show sometime in the 80s. Les Paul is especially fantastic, showing some Django Reinhardt influence along with his own sense of humor.

Les Paul was mentioned in two entries in the just-previous GroupBlog 221.
---

October 11 2006 at 11:05:40
Name: Joyce Richardson
Topic: Stairway to Gilligan's Island
Comments: On www.i-am-bored.com there is a link to 101 versions of "Stairway to Heaven", and featured is the Gilligan's Island version, as well as a backwards version. Who knew there could really be 101 versions out there? Enjoy.
Dolly Parton's version is actually very good.
---

October 10 2006 at 13:32:37
Name: roy lee
Topic: Wadin' in jewelry
Email: beerdrunk@msn.com
Comments: Over the weekend, I developed a new appreciation for Miss Jackson's. I got to attend the artists' reception there Thursday night. It was slick. I had been there back when I drove a hotel van, but never went past the candy counter.
The sales staff there is pretty amazing. I was actually tempted to buy a $600 set of 2 martini glasses. Then I remembered that I just drink beer. They didn't have any beer mugs. That's OK, I didn't have $600 either.

---

October 09 2006 at 13:56:54
Name: Jeff H
Topic: Art Fair, Clip-ons, and Orbach's
Email: Stylin' at the Varsity Shop
Comments: Roy Lee, I should have gone to the Art Fair after OU's showing. There would have been less cryin'.
As for my shopping trip to Froug's, I would not be shopping for clip-ons, I'd be buying Tuf-Nut jeans and P.F. Flyers.
What a shame Tulsa has lost Orbach's, Renberg's and Clarke's just to name a few of the fine local retailers we shopped in years past.
As far as Utica Square eateries go, one of my all time favorites was The Glen, located in the Polo Grill space. Best fish and chips on the planet.

---

October 09 2006 at 11:51:28
Name: Monica
Topic: Mr. Zing & Tuffy
Email: mbagwell@ktul.com
Comments: I'm a producer for "Good Day Tulsa". I'm looking for video from the "Mr. Zing and Tuffy" show. With Leafy Bark out of hiding, I thought it would be fun to do a story/tribute to the show and John Chick. Channel 8 gave our old archive video to OU after a warehouse flood. If anyone has pictures, video, etc., PLEASE let me know.
I told Monica about extant filmed footage, some of which can be seen on "Remembering long-lost shows from Tulsa TV's golden days", a segment of Jack Frank's "Oklahoma Memories" program on KJRH. If you need RealPlayer to watch it, here is an info sheet and links to download it.
---

October 09 2006 at 11:26:13
Name: Jane Hamilton
Topic: Orbach's Varsity Shop
Comments: Clip-on ties, now that brings back some memories of days gone by.
Speaking of clothing, remember Orbach's? I can remember listening to Johnny Martin on KRMG. The very hip Mr Martin was the source of weeknight vocabulary lessons in our home. Once while talking about Orbach's, he used the word "sartorial". Asking my mother the meaning of that word prompted her to say "get the dictionary and look it up." This happened on more than one occasion.
Orbach's, Mr Martin told us, was where "the carriage trade shopped." What a shame we can't get that kind of sophisticated entertainment on the radio today.

---

October 08 2006 at 19:10:15
Name: Mike Tie-less Bruchas
Topic: Ties - wassup with clip-on ties in Tulsey?
Comments: I am an American male failure - can't tie a tie, but at one time COULD tie a bow tie.
Bob Welsh at 8 tried to get me a couple of the Marine Corps manual pages regarding the proper way (he was ex-Marine) on tying ties 30+ years ago, but I lost it.
My Dad wore ties to work for almost 45 years but never taught me nor my bro how to tie one! So I always had pre-tied and wrinkled "interview ties" and forever at 8 & 6 wore turtlenecks and clip-on bow ties from Dillard's or John A Brown.
Clip-on ties were too small for most adult males then my brother stumbled on to C.R. Anthony's having zip-a-ties. There are several outfits making now but then - not many in the U.S. Then near all male culture knew how to tie ties. With a zip-a-tie, you zip up the tie from the backside. Though one time at a wedding - I had to be cut out of one when choking after a jokester reached in and zipped me up to my Adam's apple and I could not breathe.
But the tie tide is changing with folks with $200 ties (and often $200 braces for men). Now half the Secret Service guys here that you see wear tear-away ties - now with velcro holding the tie around the neck - wouldn't want anyone to strangle one of them in time of emergency! BTW, those ties sell for $35-45 at law enforcement shops.
So I guess them clip-on tie-makers need to upscale their products to a classier dressin' man.

---

October 08 2006 at 00:33:38
Name: roy lee
Topic: Art on the square
Email: beerdrunk@msn.com
Comments: The show was crowded and enthusiatic all day. They do have Queenie's and PF Chang's there. Both great places but then again, I'm far more interested in good food than football or clip-on ties.
Them's fightin' words to all us clip-on tie fans.
---

October 07 2006 at 20:25:34
Name: Austin T.
Topic: Just stumbled across the UHF page
Email: autaylor@gmail.com
Comments: I was 12 years old when this was filmed in Tulsa, and Weird Al was my hero.
My dad brought me home from soccer practice one afternoon, and there was Al, sitting in one of those director-style chairs. They were filming a scene in his girlfriend's apartment (Victoria Jackson) at 4322 E 66th, Apt. K. My dad happened to live in Apt. V, right across the way, and down a few units.
Anyway, I introduced myself to him and told him I was a big fan. He signed an autograph for me. I got one for my little brother, too, since he wasn't there (we both lost them over the years, unfortunately).
I had a couple of friends that were extras in the movie, as well. Joe Smith was on my soccer team, and if I'm not mistaken, is the kid in the audience with a speaking part that says "I wanna go home!" when Al's ratings are sagging right before Stanley Spadowski's TV debut.
Good memories.

---

October 07 2006 at 10:27:40
Name: Jeff H
Topic: Art on the square
Comments: Roy Lee, I have three words for you: OU-Texas weekend.
Besides, Utica Square does not have a Froug's.

---

October 06 2006 at 13:05:00
Name: roy lee
Topic: Art on the square
Email: beerdrunk@msn.com
Comments: Utica Square's "Art on the Square" show is Saturday from 10am to 5pm. There will be over 125 artists exhibiting including my mom, Laritha Lee. we'll be in front of the American Eagle store. This is always a fun event!

---

October 05 2006 at 13:24:56
Name: Webmaster
Topic: Live Star Trek auction at Christie's, NYC
Comments:


The History Channel presents a live webcast of 40 YEARS OF STAR TREK: THE COLLECTION, the first-ever official auction of items from the five Star Trek television series and ten feature films.
The three-day auction will showcase 1000 lots from the entire CBS Paramount Television STAR TREK franchise including props, scenery, detailed models, and costumes from the television series and feature films. Catalog
If the auction is a little too rich for your Vulcan blood (and these props are going for thousands of quatloos), here's a brand new Type 2 phaser pistol replica and removable Type 1 mini hand phaser, with lights and sounds for under $30. Perfect for Halloween.

A couple of my pix are in Wired's Star Trek 40th Anniversary Photo Gallery: 1967 and 1992.

Other Trek content on this site: "Enterprise" premiere party at the Cinemark Tulsa.
---

October 04 2006 at 07:39:39
Name: Forwarded to webmaster
Topic: Jerry Vaughn
Comments: Dear Friends and Family,
This message is from David and Jennifer Vaughn, the children of Jerry Vaughn. To begin, we express to you our sympathies for having to break the news in this fashion, but we simply do not know the names of all Jerry's friends. However, we want to notify all of you that Jerry passed away comfortably in his sleep Saturday night.
The funeral will be held at Martin Funeral home at 600 W. Country Club, Elk City, Oklahoma 73644. The phone number is 580.225.1111. Flowers or donations to the American Diabetes Association in Jerry's name are greatly appreciated. As always, your prayers and thoughts are welcome.
Love,
David and Jennifer Vaughn

---

October 03 2006 at 15:18:01
Name: Sharon Berry (Mundy)
Topic: OOM-A-GOG
Email: sjs77@comcast.net
Comments: I have sent the original pictures of OOM-A-GOG to the webmaster. Please let me know if you didn't receive them.
Sincerely, Sharon Berry (Mundy)
Got 'em! They are now on the Oom-A-Gog page with your comments. Thanks.
---

October 03 2006 at 00:41:33
Name: Steve Clem
Topic: Jerry Vaughn
Email: jsclemokie@msn.com
Comments: I had the pleasure of working with Jerry Vaughn in the early 80s when he came back to KRMG for the last time. Jerry may be the most talented person I've ever worked with.
He was certainly one of the funniest! I still find myself telling people little Jerryisms like, "Simonize your watches" and whenever someone would talk about running into an old friend or acquaintance, Jerry would break in and say, "Which one of you said 'small world'?"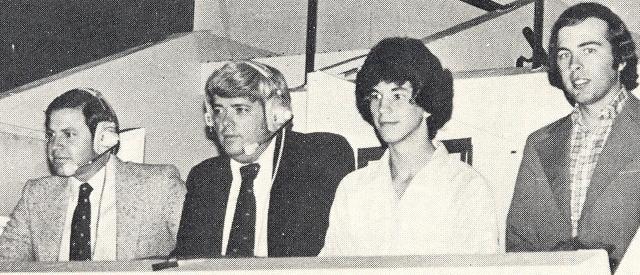 ORU Titans, exclusively on KRMG Radio 74! In the KRMG booth: Carl Arky, Color Commentator, Jerry Vaughn, the Voice of the Titans, David Vaughn, statistician, and Jim Henry, producer-engineer (photo courtesy of Joe Riddle)
---

October 02 2006 at 21:00:12
Name: John Hillis
Topic: Jerry Vaughn
Comments:
Sad to hear about Jerry's passing. When I came to Tulsa and was producing the 6 and 10 at KOTV, his afternoon show was my "morning drive" to work, and Johnny Martin was the "evening drive" home.
The CD changer in my car went out today, and I was able to remark how bad radio is now. Nice to see that KRMG still maintains two radio rarities--a news staff and an archive.

---

October 02 2006 at 12:37:11
Name: Dick Loftin
Topic: Jerry Vaughn
Email: dloftin1@cox.net
Comments: So sad to hear of Jerry Vaughn's passing. I was just thinking about him and the other greats of KRMG just the other day. (Jerry Vaughn, Dick Ralston, Don Cummins, Johnny Martin, represented a great period in Tulsa radio that will never be duplicated.
KRMG's Great Raft Race has to be one of Tulsa's greatest radio promotions. This was, of course, thirty years ago, but radio in Tulsa hasn't been that good since. Not forgetting KVOO (God Bless Billy Parker!) and their great line up of talent during this time, and other stations like KOME/KXXO.

---

October 02 2006 at 12:08:11
Name: John Durkee (via email to webmaster)
Topic: Jerry Vaughn passes
Comments: We just posted this on our website. We thought you might like to have it.

(Ponca City, OK) -- The lights of "Studio J" are dimmed. Long time KRMG radio host and former program director Jerry Vaughn has died. Vaughn was a staple of the KRMG line-up for over 20-years. (Photo courtesy of KRMG Archive/mid-1970s)
His program was one of the most popular in the station's history. He was also the first host of "KRMG's Sportsline". Jerry left KRMG in 1979 to become the sports director of Oral Roberts University . He returned to KRMG briefly in the 80s and had since worked for the Oklahoma News Network in Oklahoma City.
He was currently in management of the broadcast group Team Radio, which operates several stations in North Central Oklahoma. He was found dead in his Ponca City area home. His death is believed to be natural.
(Vaughn1.mp3) is Richard Dowdell's obit piece we are airing today. It includes clips of Jerry's last show on KRMG in February of 79... just before he went to ORU.
(Vaughn2.mp3) is a story produced by Richard on that day in 1979... marking that last show.
John Durkee
News Director
Cox Radio-Tulsa
KRMG, K95.5FM, Mix 96, Star 103.3FM and the New Spirit 102.3

---

October 02 2006 at 08:46:13
Name: Dana LeMoine
Topic: Tulsa World
Email: Twilight Zone
Comments: Now that's just weird...I tried to view several articles yesterday and kept getting asked to enter a password. Now I can view any article with no problems.
Rod Serling, where are you?

---

October 02 2006 at 08:25:12
Name: Jim Ruddle
Topic: Time Marching
Email: jruddle@earthlink.net
Comments: Seeing the comments on old PD movies reminded me of another film series that used to appear in theaters in conjunction with the newsreels and cartoons: "The March of Time."
As a kid watching these things, I got the feeling that I was seeing history happen, and that, somehow, Time Inc. had been able to have cameras everywhere anything was happening.They were narrated by either Harry Von Zell, in the earlier versions, or Westbrook van Voorhis, later, and always came across as dramatic representations of events.
In my only voice-over assignment in the service, I was called on to narrate a training film about boating safety, and worked for a guy who had been a cameraman for TMofT. He enlightened me about the series.
Louis de Rochemont was the honcho for the films, having been a director for Fox, I believe. Apparently, telling a story was more important than sticking to the facts in all cases because the old cameraman told me that they phonied many of the scenes. He said a lot of the stuff was shot in New Jersey and he cited the specific example of a small garage on their NJ lot where guys dressed in German uniforms would haul down, say, the flag of Denmark and run up a swastika. He said they must have surrendered half a dozen countries that way.
The style of "The March of Time" was effectively parodied in Orson Welles' Citizen Kane (1941).
---

October 01 2006 at 22:08:35
Name: Sharon
Topic: Oom-A-Gog
Email: KC_CUPCAKE@hotm ail.com
Comments: My daddy, Jerry Berry, made Oom-A-Gog when I was 2 or 3 years old. It was on a TV cartoon show called Dr. Nventor here in Kansas City, Mo.
I have the original pictures of Oom-A-Gog with my father and also coming out of a TWA airplane when he made a guest appearance on a TV show called Bowlin' With Molin. The picture is also displayed at the Kansas City Museum. Oom-A-Gog is also mentioned in a book about kids' shows (Hi There, Boys and Girls! America's Local Children's TV Programs).
I was scared half to death of Oom-A-Gog! I am so glad to see that he went on and lived a full life on another children's show after my dad passed away in 1956. He made him for the children, he always said. I still have the TV schedule of different TV stations and dates and times that Oom-A-Gog was to appear. I remember one of his appearances being at a Milgram's food store.
My dad would be so happy to know so many children got enjoyment out of him. Thank you so much for putting him on your web site. I finally know what happened to our beloved robot!
Much Love, Sharon Berry
Great information! Thanks, Sharon. If you are able to email any of those photos, we would love to see them here.
---

October 01 2006 at 19:46:03
Name: Dave
Topic: Tulsa World free online?
Comments: No more free viewing of the World online? How so? I was able to get into some articles without any payment or passwords. I didn't see any notice about it on the site. Did I miss something?
I do know that links to stories older than 30 days expire.
---

October 01 2006 at 15:08:05
Name: Scott Linder
Topic: Pierre's
Comments: Yes, I remember Pierre's. I played there as part of a jazz trio for some time... myself on drums, Gayle Williamson on piano and John Raffensperger on bass. I recall that the food was quite good... or maybe it seemed good since food for the band was free-of-charge.

---

October 01 2006 at 10:41:53
Name: Dana LeMoine
Topic: Tulsa World Online
Comments: Looks like there's no more free viewing of the Tulsa World online.

---

September 30 2006 at 21:22:38
Name: Lowell Burch
Topic: Secondary
Comments: I looked up the info on the net here and read that the line about the deerstalker was in the very first "modern day" movie, hence, switching to the newer style headgear.
I also see that all of the Rathbone movies are out in a collection. I'll need to order that through Tulsa TV Memories.

---

September 30 2006 at 20:50:53
Name: Lowell Burch
Topic: Elementary
Email: 221B Baker Street
Comments: I have not seen the full-length Holmes movies in years and it has been awhile since I have seen any but the four public domain movies. Luckily, I have those and some of the TV series on DVD.
Anyway, speaking of the deerstalkers, a funny line in one of the Rathbone/Bruce movies, Holmes and Watson are walking out the door when the detective reaches for the deerstalker. Dr. Watson stops him and says, "Uh, no, Holmes. You promised, remember?" To that Sherlock replies, "Oh, yes. Quite right, Watson." He then hangs it back on the rack and reaches for another hat before exiting.
I don't know if I missed something or if that is just an inside joke. Funny either way, I think.
The Jeremy Brett TV series was truer to the original stories than the 40s movies, but Rathbone is to Holmes as Connery is to Bond for me (though I think the upcoming Bond reboot has a shot at being good).
---

September 30 2006 at 10:14:13
Name: Jim Reid
Topic: Hound
Comments: I remember that well, Mike. In fact, I have a reminder on my living room wall. I went to see Hound at the UA Annex like you did, and struck up a conversation with the manager. I told him how much I loved the poster they had hanging there. He told me they had sent him several, ducked into the office and came out and gave me one.
The reason it was out of circulation was the last line spoken. Rathbone turns to Bruce and says "Come Watson, the needle". It was banned due to the drug reference.
The first two Rathbone Holmes films, Hound and The Adventures of Sherlock Holmes were made at Fox. The remaining 12 films were made on a much cheaper budget at Universal. All 14 films are now owned (last time I heard) by Casper Gutmen, a TV distributor. 4 of the Universal films have had their copyrights lapse and show up everywhere.

---

September 30 2006 at 01:15:27
Name: Mike (I detect a) Bruchas
Topic: Sherlock Holmes - "Hound of the Baskervilles"
Comments: When I lived in Chicago as a kid in the 50s/60s, I swore that I had seen this on WGN, starring Basil Rathbone and Nigel Bruce. Then it STOPPED being shown. Fast-forward to Tulsa and the late 70s and the new UA Theatres just east of Southroads Cinema.
This film had been tied up in a legal battle for years and maybe it DID have to do with ownership rights but I don't remember; maybe Jimmy Reid or Gary Chew would know.
There was a NATIONAL road show showing with NEW prints in 35mm. I saw this on the big screen at the then-new UA and it was great!
I always loved the BBC/PBS series and GoodLife TV carried a few PD episodes of the pretty cheesey Brit/maybe NBC 1950s 1/2 hour Sherlock Holmes mysteries. This, too, I remember as a kid on WGN way, way back in the afternoons.
More recently, DC-area indie UHF, part-time PBS/part time "International" TV outlet the MHZ Stations has shown an excellent Russian-made version of "The Hound" with English subtitles done in the late 90s or early 2000.
PS, Sherlock wears that deerstalker hat less and sometimes he, Watson and half the male characters have one on!
Channel 2 used to show the Rathbone/Bruce Holmes movies around noon Sundays in the mid-60s. After getting hooked on them, I went down to B. Dalton Bookseller at Southroads Mall and used a gift certificate to buy the complete Sherlock Holmes in hardcover, which I still have.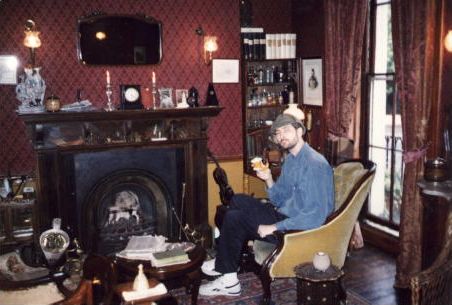 Added 12/24/2009: The webmaster in 221B Baker Street
---

September 30 2006 at 00:22:13
Name: Webmaster
Topic: Previous GroupBlog
Comments: Archived GroupBlog 221, where...
A discussion of public domain movies was in progress. There was a query about a 1957 Bartlesville cable TV experiment, which John Hillis had written about here several years ago.
Coney Island got a 5 year renewal on their lease at the current location. Gary Chew remembered KRMG's Don Cummins. Jim Hartz sent a recent picture of the late Vic Bastien with former Oklahoma governor David Hall.
Gailard Sartain celebrated his 60th birthday. We heard about a new independent movie, "Half Empty". Lee Woodward's son Stan co-wrote the songs (I saw it at the Circle and it was funny.)
There was a question about the various north Tulsa "Hills": Reservoir, Standpipe, Turley and Cincinnati. The roadhouse seen in "The Outsiders has been identified as the "Rose Dew Egg Farm" out east of Tulsa. We learned this from Alan Glasco, a former occupant of the building.
We saw a Brummett Echohawk sketch, which is on auction until 10/22. Les Paul got a couple of mentions (and there are a couple more in the following GroupBlog, #222.)
Aleister provided us with 3 MP3 promos from the early 90s EOI (Edge of Insanity) Radio Network.
That's GroupBlog 221, ladies and gentlemen.

---
Back to Tulsa TV Memories main page