Tulsa TV Memories GroupBlog 256

TTM main | What's new on TTM? | GB Archive
Tuesday 11/20/2007 2:31:33pm
Name:
Mike Bruchas
Topic:
3rd phone/Radio skips
Comments:
I can't find mine any more; had it in a frame. Several friends who got one thru a study academy in OKC never needed them after all! If you have any "tickets" signed by FCC Engineer EJ Gahlens of long ago, he was a childhood friend of my late Dad and Aunt in Chicago.

I enjoyed listening to KNBR from SFO when I lived in Amarillo late night and sometimes got KRMG and KVOO on Sunday nights....the old WHAM jazz radio outta NY like Buffalo(?) was a fave in Chicago 40 years ago - AM jazz!
---
Tuesday 11/20/2007 2:35:44am
Name:
edwin
Topic:
KVOO
Comments:
I know that if the TV truck working at East Side Stadium (not far from the towers) gets the interference, one cuts the ground and it's clear. No 1st class here, but maybe ground waves?
---
Monday 11/19/2007 11:02:39pm
Name:
Rick Brashear
Topic:
Yes KVOO
Comments:
All I know is, KVOO was the ONLY interference we encountered. A few people I knew, myself included, occasionally heard it over our telephones. The frustration of playing a really good set, never to by played that way again, and then hearing some scalded prairie dog wailing over the tracks was a real pisser. KVOO had the highest wattage in the area and therefore was the culprit. The recorder was solid-state, the amp was tube and the phones were direct connections. There were too many different devices effected for the problem to just be unbalanced inputs.

I'm not an electronics engineer but I do how electronic jamming works, intended or not.

In the 1980s, the U.S.S. Missouri was coming into San Diego harbor. Garage doors all over the city began going up and down, sticking and generally goofing up. The culprit turned out to be the Missouri's main radio. It was so powerful that it over-rided the automatic garage door openers.
---
Monday 11/19/2007 7:39:27pm
Name:
Dick Loftin
Topic:
First Phone Follies
E-Mail:
dloftin1 at cox dot net
Comments:
All this talk about First Phones reminds me of the exam I took in Dallas to get mine. I was working at my hometown station, KOKL in Okmulgee, and the owner, Bob Brewer (I learned everything about what a radio station is SUPPOSED TO BE from Bob--who still operates the station) wanted me to get one to sign transmitter and operations logs--Yep, in those days, the operator on duty actually had to be responsible for something. I had my 3rd, and went to Elkins in Oklahoma City for classes to get my First. BUT you naturally had to get a 2nd Phone. To this day, the absolutely hardest test I ever took. The only one that compares is the real estate appraisal exam. I then took my First exam and the license is still framed and in my office.

There would be a better appreciation and understanding of radio as a business and responsibility if there were still exams to get licenses to be a broadcaster. I maintain if there were exams for a better understanding of what broadcasting and the FCC is, we would have a better radio product.

How many of you remember Element 9 on the 3rd phone exam?
---
Monday 11/19/2007 3:53:22pm
Name:
Scott Linder
Topic:
No offense intended.....
Comments:
Bob, no offense intended. I just didn't want non-engineering types to get the impression that KVOO was transmitting with a spark-coil or some other Marconi-esque transmitter, just to annoy Tulsa residents.

By the way, does anyone even care about those of us with first-phones these days? The FCC forgot about us long ago, it seems....
---
Monday 11/19/2007 3:29:23pm
Name:
Bob O'Shea
Topic:
RF
Comments:
Scott-
Boy, after 35 years with a "First Phone" I'm glad someone finally straightened me out on that one!

O'Shea
---
Monday 11/19/2007 1:41:13pm
Name:
Scott Linder
Topic:
Not KVOO....
Comments:
All of those incidents of receiving KVOO on various devices really has nothing to do with the station. It's just all about RF and the un-balanced inputs found on consumer and music equipment, combined with numerous grounding issues. It's "electronics 101".....
---
Monday 11/19/2007 1:38:45pm
Name:
Bob O'Shea
Topic:
KVOO TOWER POWER
E-Mail:
bob reavis at yahoo dot com
Comments:
Rick & John

On a sunny Sunday afternoon in May of 1979, a bored out of his skull Navy Petty Officer was working on his ship's transmitter. He was on a carrier anchored somewhere in Tokyo Bay. While he was tuning the ship's station monitor he happened across some country music. To his great surprise it was Big Country AM 1170 KVOO. I know this because he taped three hours of my show and mailed a scoped down version of it on reel to our then engineer, Don Bahnmeir. I was truly amazed. I knew we were a powerhouse, but Tokyo?

I later learned that, during the cold war, KVOO's signal was jammed by the East Germans and other Soviet occupied countries.

Everytime I read a story about KVOO it reminds me of another 'believe it or not' memory of that wonderful time in my career.

Anchors Aweigh,
Bob O'Shea
---
Sunday 11/18/2007 4:58:58pm
Name:
Rick Brashear
Topic:
KVOO/John Keyes
Comments:
John reminded me of a couple of other times KVOO's power and frequency took over. Long before I had a PC, I had a Sony tape recorder that I would set in the living room near my piano while working on a song. I would make a recording and, upon playing it back, would hear some C&W tune over my piano playing. I wore head phones and the radio NEVER came through while I was recording, even though it got recorded. That got old really fast and I couldn't do anything about it. I mean, I couldn't move a 600lb piano!

The other problem was at a friend's house near 15th & Delaware. I had a Fender tube amp at the time and it would sometimes start playing KVOO when we were trying to play. It only did it in the one room we were set up in. Sometimes if I turned the electrical plug around it would stop. Sometimes it wouldn't. Our general complaint was that KVOO had way too much power.
---
Saturday 11/17/2007 7:02:00pm
Name:
John Keyes
Topic:
East Tulsa/KVOO on the Phone
E-Mail:
jkeyeserathotmaildotcom
Comments:
I lived in Rose Dew (the addition at 161st E Ave & Admiral) for the first 23 years of my life (minus college) and I remember that vividly. I used to remember my computer speakers picking up KVOO all the time. I checked with the manufacturer of speakers and said basically nothing could be done.

I had a similar deal happen when I was living in Grand Junction, CO. There was a tower for a Hispanic radio station next door to the apartment complex I was living in...and all I could pick up was Spanish music.
---
Friday 11/16/2007 7:50:47pm
Name:
Rick Brashear
Topic:
KVOO
Comments:
The KVOO thing brought back a memory.

I had a girlfriend years ago who told me that when she lived in Germany (she was married to a GI at that time) that KVOO was the only English-language station she could pick up on her radio (apparently the BBC and VOA were on FM).

She didn't really give a squat about country music, but it was from home and that made a big difference. AM bounces a long way.
---
---
Friday 11/16/2007 4:03:03pm
Name:
Dick Loftin
Topic:
Big Bob O Shea
E-Mail:
dloftin1 at cox dot net
Comments:
Well, the soup lines have been kinda rough. HA!

God Bless ya, ya ol' dog!
---
Friday 11/16/2007 12:13:34am
Name:
Bob O'Shea
Topic:
FCC
E-Mail:
bob reavis at yohoo dot com
Comments:
Dick-

You poor wretch. Clearly the booze, bitterness and soup lines have taken a terrible toll.

The FCC jumped into bed one night with the publicly-held radio conglomerates and woke up without a soul. They no longer care about the heart and soul of a once-thriving, talent-driven industry.

However right you are, and you are right, even if the FCC grew a new set of fangs it could never breathe life back into the cadaver of a long-dead industry.

Late at night, when all is quiet, with the right set of earphones you can hear the screams and handmuffled sobs from the crew who used to stand watch from the guard towers.

Your Buddy,
Bob O'Shea
---
Friday 11/16/2007 9:03:06am
Name:
Dick Loftin
Topic:
KXXO
E-Mail:
dloftin1 at cox dot net
Comments:
I remember listening to KXXO, but never got the chance to work for them or KCNW. KXXO was a great station to listen to. I remember hearing Glenda Silvey interviewing Susan Bunn. Glenda is one of Tulsa's media treasures and I worked with Susan at KWEN in the late 70s when it was owned by Ron Curtis (now THAT's a story!).

It is interesting to note how great radio in Tulsa used to be. All the AMs were perking along, FM was adding a new dimension, and things were really exciting. I doubt radio will be that good again. Personally, given how automation and voice-tracking has taken over the localization and feel of radio, I hope the FCC will recognize the true need, especially in these times, of having someone "in studio" at all times, 24 hours. It would be good for the business. Radio consolidation/voice-tracking has done nothing for the industry but wipe out a lot of jobs for good broadcasters. One Sunday afternoon I came to work to get ready for a remote. There was absolutely no one in the building--no one. This is not a good thing. Maybe someday the FCC will see what a risk this is. But, as the great Tommy Duncan used to sing (on KVOO)... Time Changes Everything.
---
Thursday 11/15/2007 11:48:29pm
Name:
Gary Chew
Topic:
Home Sweet Oklahoma
Comments:
I was driving to downtown Sacramento mid-morning yesterday. I had on my favorite frequency: 89.5, even though I can't get KWGS on this side of the Sierra Nevada. On the air were Che Greenwood and another gentlemen (whose name escapes me now) holding forth for at least an hour playing music written and/or sung by Oklahomans. Che knows quite a bit about Woody, Mason Williams, Roger Miller, Sheb Wooley, Hank Thompson, Johnny Lee and Bob, 'newcomer' Leon Russell and other folks from or who made themselves famous in the Sooner state.

I heard music from these guys, as well as other songs about Oklahoma, and especially Tulsa and, even Cain's, the neon sign for which I could see from my northern view at Center Plaza when I was fighting the good fight at KWGS in the mid 70s.

I found listening that Che used to live in Hogshooter, OK. It's not very far from Tulsey Town. I shook Che's hand for the first time at the Leon Russell Concert in Nevada City, CA when "Leo" was up there for two nights in September. (You'll find some comments by me on that subject here in the cyber magic posted by our venerable Web Maestro, Mr. Ransom.)

I was so homesick when I got to where I was going in downtown Sac, I called KVMR on my cell phone and got the gentlemen whose name I can't recall. We had a chat.

Tulsa seems to be the signifcant place in Soonerland, outside the state, and I'm glad, 'cause I've always carried a soft spot in my ribs for that lovely city on the Arkansas. In fact, I'm coming back for Christmas and will spend some time with my old radio mentor, Mr. Bob Gregory and his family, as well as my older daughter, Kris. I'm excited.

And any Tulsan would have been excited to hear this very good show on KVMR Wednesday last, chock full of good old Okie music. I especially enjoyed a group doing "Take Me Back To...you know where" as well as Mr. Thompson and his Band doing what they did so damned well. "Oklahoma Hills Where I Was Born". Loved it. Nobody else has
a voice like Hank's. May he rest in peace.

KVMR, as Mr. Ransom has posted elsewhere here, is at KVMR.org. I'll be doing a record show there the Sunday evening before I spread some wings on a---golly---nonstop from Sacramento to Tulsa. I won't know how to act without changing planes by the time I usually would get to Phoenix.

Which reminds me: a local music booker friend of mine in Sac is working on getting Jimmy Webb here. I've already made my reservation, even though the concert isn't scheduled yet. Oh, yes, "All The Sweet Green Icing's Melting Down."

Yahoo.....dot.....calm, Delmeaux de Gillette du Coffeyville.
---
Thursday 11/15/2007 11:04:35pm
Name:
edwin (itself)
Topic:
this very thingy
E-Mail:
edwinfincherataoldotcom
Comments:
Do ya'll think we should send the web master of this here site a buck or somethin'?...not tryin' to be rude, but let us think about it....poor soul...




Nah.
---
Thursday 11/15/2007 10:22:27pm
Name:
Jim Ruddle
Topic:
The Voice of Oklahoma
E-Mail:
jruddle@earthlink.net
Comments:
The phenomenon of signal skip has often led to some weird incidents. The idea of hearing KVOO in the Pacific is not surprising. I recall, as a Coast Guard radio operator on a cutter somewhere between Iceland and Greenland, hearing a "Mayday" from a fishing boat in trouble. I responded and asked the boat's position. Turns out he was in the Gulf of Mexico, off the Louisiana coast. There was also a taxicab company in Memphis that I listened to regularly--that was really strange.

But, on the East Coast, the 1170 frequency was dominated by WWVA, Wheeling West Virginia, and I was never able to hear KVOO.

This has nothing to do with Tulsa, but it sort of fits:

Another Coast Guard ship, in South Carolina waters, picked up a distress call and asked person making the call to give his position.

"I'm vice president of Signet Bank" came the response.




Don Norton also noted in GB 97 that KVOO was heard in the Pacific.
---
Thursday 11/15/2007 1:58:00pm
Name:
DolfanBob
Topic:
KVOO
E-Mail:
MiamiPhin@yahoo.com
Comments:
One of my KVOO memories was living in East Tulsa and how most of the people in that area who had a land line phone were able to pick up KVOO in the background with the dial tone. The closer to those massive towers the less dial tone and the more Billy Parker you would get.

My father also told me that when he was in the Korean War, The ship's radio operator at night was able to pick up KVOO all the way in the far Pacific. He said that KVOO was able to keep those boys feeling a little more close to home.
---
Thursday 11/15/2007 11:42:10am
Name:
Webmaster
Topic:
GroupBlog transplant!
Comments:
The Greek GroupBlog has been too darned slow, so let's use this one for awhile. I'll look for a more ideal one in the meantime.

Saturday @ Circle Cinema: "Bill Boyce - Money Actor", a 30-min doc (produced and written by John Wooley) about actor Bill Boyce of Tulsa. Meet Bill, then watch his "The Slime People". Nov. 17, 9 pm. Details @ Circle
---

November 15 2007 at 02:04:25
Name: J.W.
Topic: KVOO
Comments: Journal Broadcasting lost their chance with me when they came into town and dumped KVOO AM for hate radio. The only time I would even let my dial roam around their frequencies was when the Sunday night shows were on. Whether you enjoy country music or not, KVOO was one of the things that made Tulsa great.

When the Gaylords were thinking about changing another legend WSM, Nashville threw a fit and they soon backed off. I hate to say it, but I wish the Gaylords had bought KVOO. At least we might not have lost it.

---
November 14 2007 at 22:13:04
Name: Rick Brashear
Topic: ORU wattage
Comments: Why would anyone want ORU to have more than one watt of broadcast power? One watt would be too much.

I remember when there was a screw-up in the cable TV service years ago. Some people were watching Oral Roberts and suddenly he was replaced by The Playboy Channel for several minutes. Hot, steamy git-it-on! Apparently the Roberts viewers were not amused. They remembered how their kids came to be and it scared them to think they had ever acted that way. They immediately sent checks to Oral so he could make them right again. "Place your hands on the TV!"

---

November 14 2007 at 19:53:44
Name: Grumpy Old Man
Topic: KayyyyVeeeeOhhhhhOhhhh
Comments: Now we know why there was so much echo when they said the call letters...cause the whole dang place was empty and the last one out turned off the lights.

Find me that WBAP Cowbell....More Cowbell!
---
November 14 2007 at 11:57:25
Name: Bob O'Shea
Topic: Chuck Adams
Email: bobreavis at yahoo dot com
Comments: Hey Chuck- Radio in the 70s indeed!

Chuck, I don't believe I ever thanked you for giving me my first really big break full time job in Tulsa Radio on KXXO-1300. I remember you telling me how you hated my audition tape but loved my resume. I will never forget your wit, your smooth as glass on and off air professionalism and how kind you were to a green as a gourd young nephew of Dan O'Shea.

You will never know how much you influenced my career or really how well it all turned out for me. I cherish the memory of working with Tulsa's legendary Chick Adler, er, I mean Chuck Adams.

Love,
Bob O'Shea

---
November 14 2007 at 10:20:38
Name: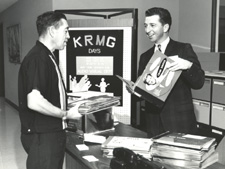 Chuck Adams
Topic: 70s Radio
Email: chuckadams at insightbb dot com
Comments: Howdy from Kentucky!

Been awhile since I "blogged", but reviewing GuestBlog 255 reminded me of a couple of things.

1. I remember when KVOO-AM switched their format to country. I was PD at little ole KCNW, which had a lock on the country fans in Tulsa at the time. But when "Big Country" signed on, they blew us outta the water. Sorry to see KVOO go away.

2. The KXXO logo in the same guestblog reminded me of how it was dreamed up. KCNW switched format after the KVOO thing, and went to "chicken rock'. Seeking a change in call letters, the temporary station manager (a genius in his own mind) spied a billboard for Exxon Oil and the rest is history.

That's it for now from this old-timer, y'all take care up there in Tulsa...I still love your town!



Great to hear from you, Chuck.
---
November 14 2007 at 07:28:50
Name: Dick Loftin
Topic: KVOO
Email: dloftin1 at cox dot net
Comments: There is an editorial on the Opinion page of today's (Nov 14) paper regarding KVOO - called "Signed Off."

---
November 13 2007 at 20:38:09
Name: Gary Thompson
Topic: ORU Memories
Email: garythethompson@gmail.com
Comments: I attended ORU in the 90's. I was a theater major but hated every minute of it. I wasn't taking any radio classes. But had such an interest in broadcasting that the student PD invited me to do a show three times a week on the 1.5 stick that was on for 6 hours a day.

As I understand it, 103.9 KORU (or whatever it was) was actually a high-powered signal in Tulsa at some point. Why was it lowered to only a watt? Didn't some student get on in the late 70's and say something against Oral?

---
November 13 2007 at 17:58:27
Name: Dave Bartlett
Topic: ORU
Email: dbartlettatameritechdotnet
Comments: Only a couple of memories with ORU. I remember playing trumpet with a group the evening of the dedication of the new campus. While waiting for the ceremonies to begin, a couple of us lit up a cigarette and were promptly ask to either put them out or leave the campus. The gig paid pretty well, so we put 'em out.

I also remember being at Edison with Ronnie Roberts and he also attended First Presbyterian Church in our youth group which seemed a bit odd. My guess is that he had some problems with his recognition around his peers at that point in his life. Not a happy ending for him. He was, as I remember, a very nice kid.

---
November 13 2007 at 17:53:44
Name: Webmaster
Topic: KVOO
Comments:

From last Sunday's Tulsa World, by Jennifer Chancellor; an interview with John Wooley as well as John Cooper and Brad Piccolo of the Red Dirt Rangers: Losing the signal; KVOO pulls the plug on all locally produced programming.
---
November 13 2007 at 15:07:00
Name: Mike Bruchas
Topic: Ben Aronov
Comments: If it hadn't been for Jim Ruddle's posting last year on Mr. Aronov, I wouldn't have discovered him. His CD is the most played on my iPod.

Talked to Matt Bunyan of Starship last night. They are hangin' in fine. Please buy your music locally whenever you can! I aim to buy a an ungawdly amount of stuff from him when in Tulsa in 2 weeks.

---
November 11 2007 at 22:25:38
Name: Kenneth
Topic: Ben Aronov
Comments: Ben Aronov was in town April 2000 to attend the Central High class reunion. After a weekend of festivities classmate Walt Lehman invited 'Benny' to the Sunday afternoon jam sessions which were being held at Bourbon Street at the time. He just showed up...no advertising or anything. And he played all afternoon..backing up players and singers, some good..some not so good. But it was all in fun. And Benny was quite amiable about the whole thing and I know he had a good time. And of course he played wonderfully well. He lives in France now and doing well. He's always been one of the highly respected players in Jazz.



Here is Kenneth's photo of Ben Aronov at Jazmo'z Bourbon Street Cafe on 15th Street in 2000. Click to see a larger view of the room.
---
November 11 2007 at 19:06:41
Name: Rick Brashear
Topic: Phil Woods Quartet
Comments: I liked what I heard. Usually, to me, New York jazz sounds like a cat being gutted by a meteor. But Phil's stuff had places to go. I got to wondering, "What if..." What if he and his band were transported back a few hundred years? I know of one person who most likely would pick up on the sound and go with it: Mozart. Mozart was a wild man and freaked out his audiences several times with renditions they weren't accustomed to. He would do the unconventional. And, since he was loaded most of the time, I'm sure he would get into the groove and lay out some vibes with a full orchestra.

---
November 11 2007 at 14:18:30
Name: Webmaster
Topic: Previous GroupBlog summary
Comments:

Archived GroupBlog 255. Some of the highlights:

A YouTube video of Tulsa Central grad/world-class jazz pianist Ben Aronov working with Phil Woods. A virtual tour of the May Rooms gallery.

Country music great Hank Thompson was remembered.

The retrieval of 1945 radio broadcasts requires faster-than-light travel, which entails time travel. There was more discussion of the circumstances of the demise of KVOO-AM from Bob O'Shea and John Wooley.

Great stuff on Jack Campbell's "Sleepwalkers Serenade" theme. The webmaster introduced a new Amazon-based Gift Shop.
---
Back to Tulsa TV Memories main page