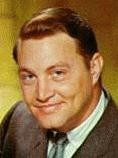 Time: December 04 2002 at 16:11:28
Name: Jim Ruddle
Location: Rye, NY
Comments: Regarding honeymoon cruise and note about Kahanamoku statue:

In 1953, while in transit from a North Atlantic cutter assignment to the cutter Iroquois, based in Honolulu, I stopped for a few days on the west coast. Former KOTV director Herb Lightman, who was working in LA at his own company, invited me to join him for dinner out in the San Fernando Valley at Tex Ritter's house.

Ritter and his wife Dorothy, a former starlet in western movies, had two children who were playing on the floor as we sat talking. One of the boys had CP and the other helped him as they played. That kid's name was John, and he's had a hell of a career for himself.

During dinner, Dorothy Ritter said that since I was going to Hawaii, I should look up an old friend of theirs, Duke Kahanamoku, whom they had met through his work in motion pictures. I silently doubted that I'd do it, but I said I would certainly check up on Duke when I got there.

After I'd settled in on the Iroquois, we docked near the Aloha Tower, in Honolulu, and I saw a charter fishing boat nearby. On deck was a guy who could only be Duke Kahanamoku. I called out, introducing myself, adding that the Ritters had said I should say 'Hello' should I run across him.

The result was that he invited me to dinner with him and his wife at their home and treated me, a swabbie from Oklahoma, as though I were an old friend.

I'm glad he got the statue.



Our cruise ship also docked near the Aloha Tower. Thanks for the great story, Jim.

By the way, the best Mai Tai I've ever had was at Duke's on Kalapaki Beach in Kawai, a darn good Tiki bar.