Date: December 16 2000 at 02:44:10
Name: Ricardo
Location: Tussa
How did you find TTM: Dumpster Overflowed
Comments:

Ahhhh, UHF...I worked on this movie, in the construction department...we built the interiors of the television station in the Kensington Galleria, at 71st and Lewis, on unoccupied space on the second floor...( a large piece of unoccupied space) the rest of the Galleria was, indeed occupied, and open for business, but the shooting that went on there only took the last week or so of filming...the rest of the time, everything was shot on locations in and around Tussa...

The infamous wheel of fish...our call the day we shot the wheel of fish was 6 am, and the producers had obtained from White River Fish Market,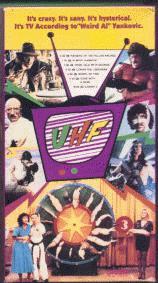 approx. 160# of fresh, whole, dead fishes of various types from mackerel to sea bass, and other large types...these were wired, or directly screwed onto a large "wheel of fortune" type contraption (that worked vertically, not horizontally) with great care by me, personally...(being in the art department has its perks) under great pressure from the producers and art director to get it done, they are going to be ready to shoot at any minute, (you know the drill)...well, it took a great deal of creativity to balance the wheel with the various types and sizes of fishes so the wheel would indeed, spin and stop in random spots, and not go back to the same damn fish every time...(this, as it turned out, was in actuality a moot point, but.....who knew???)
Anyway...after loading the wheel with ever slimier and ripening fish...(starting, once again at 6am) we actually shot the segment beginning at about 4:30 in the afternoon...well, we had to light it, and the crew was after all off at another location in the morning, and was running behind....it was the director's FIRST FEATURE (he had done only music videos previously) so he was still somewhat in the dark, and...well, you know...oh, did I mention that there was no air conditioning in the unoccupied part of the building, and it was, indeed late July (or August, I'm not sure which) and the fishes kept getting riper, and riper, and riper, and we added a studio audience of about 100, plus lots of 10k's, 5k's, and well, you know movie lighting...boy, oh boy, I could see why that uhf station didn't make it...
Others in the cast besides Weird Al...a genuinely nice guy, and really funny...included...Michael (Kramer) Richards, Victoria Jackson (from SNL), Fran (the Nanny) Drescher (yes, folks, that really is her voice) and some other relatively large talents in roles of various sizes...can't remember all right now, as I've only seen the flick once, and dont have a copy of it...I'll find it for sale somewhere one of these days when I have some money in my pocket, if I ever work again, that is...
One hilight from the shooting of the movie was the day they stopped production in the middle of the day, and the president of the record company (Atlantic, I think) came to the set and presented Weird with his very own, first gold record, for "Fat" he was genuinely moved, and after about four minutes of revelry, we all went back to work...and Stanley mopped up, once again...



"UHF" can be found on eBay with this search. It goes for a pretty penny!