KGCT logo courtesy of Rick Schneider.


John T. Bode tells some KGCT stories


April 02 2005 at 07:17:15 (GB 180)
Name: John T. Bode
Email: jmenosu at cox dot net
Location: Stillsville, OK
Comments: Dear TTM,
Stumbling across the KGCT history portion of your website brought back a flood of memories for me. I'm the idiot standing behind the fern in the TV World group shot. The KGCT project was my first foray into broadcasting after receiving my degree from OSU in the summer of 1980.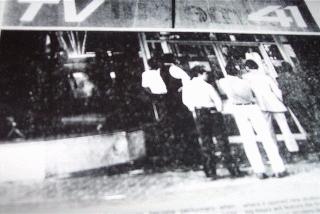 Because I worked construction during the summers through my college years, Station Manager, Ray Beindorf, promised me a production assistant position with the station if I would assist in the renovation of the studio. Eager to gain a foothold in my new career, I agreed. Converting the old Lerner dress shop into TV studio was a daunting, dirty challenge, but we somehow managed a reasonable facsimile.
Getting to know all the players involved with this debacle was a real trip. It was a duke's mix of suits, prima donnas, frustrated sales sharks, short-fused directors, anal techies, and just plain hard-working production types. But they were all very patient and nice to this greenhorn and I learned a lot from them. My first duties were the basics; setup and striking sets, lighting, cameraperson, floor directing, and bouncing the drunks that passed out in front of the studio window on the Main Mall from the night before.
My biggest hassle was stringing cable and busting a studio camera over to the Main Mall fountains everyday at noon to provide our dedicated viewers (all 10 of them) the finest in free musical talent that T-Town had to offer. At that time, Tulsa must have had quite a criminal population that worked downtown. Every time I would shoot someone for a bump shot, they would hide behind briefcases, purses, newspapers, sack lunches, and the ubiquitous middle finger.
Once I had proven myself in the trenches, I was assigned to produce a weekly sports program highlighting the finest in Green Country regional motorsports; Saturday night stock car racing at the Tulsa fairgrounds. It was called "Turn Five" (terribly clever, don't you think?), hosted by former KELI radio jock, the late Ken Rank.
Every Saturday night we'd bust our humps and gear to shoot (one camera mind you) sprint cars going around...around...around...and around for three solid hours. And if that didn't make you nauseous, watching teens toss their cookies over the rail on dollar beer nights eventually would. It never ceased to amaze me, although I had a KGCT logo on the camera and wore my sexy green jacket with station logo emblazed on the back, at least 5 people a night would ask me, "What channel ya'll with?" and "Can I get that channel on my TV?". For most people, the task of tuning in a UHF station was akin to gene splicing.
After the races, it was off to the pits to gather insightful sound bites from these alcohol-fueled gladiators. The grammar that permeated these in-depth interviews was also enough to make a high school English teacher regurgitate. Then it was back to the station to spend the next 4 hours editing this whirling dervish into a one hour show that would air the next day. Needless to say, I haven't been to a stock car race since.
My favorite memory was producing the "KGCT Afternoon Movie" with Sherman Oaks. Being able to joke around with this "Uncanny Film Festival" legend between breaks was a real treat. Also, happy hours with the KGCT gang at the deli next door was a riot as well. As time went on, you could smell the fear and panic of KGCT's eventual demise as soon as you clocked in. To raise capital, we began to produce cheesy 2 minute "Best of" record offer spots of obscure artists I've never heard of. Talk about lip-sync hell.
The all-time low was when we had to produce a one week "Beg-a-Thon" for that sleazy televangelist out of Dallas, Robert Tilton. What an eye-opener into religious broadcasting! Tilton used to get real pissed at director Jim Reid when Jim wouldn't cut to extreme close ups of him shedding crocodile tears during his nightly money-grubbing rants. What was most telling is what happened after we signed off. Instead of thanking the phone volunteers and crew for a great show, he'd race over to the count the money pledges. What a schmuck!
It was a sad day when Ray gathered everyone together to announce the end of the project. He was such a nice guy, we really felt worse for him than ourselves. After all, it was the death of a dream in the twilight of his very successful career. I too laughed out loud when I learned that KGCT was now going to air religious broadcasting during the day, then pay-per-view porn at night. Is this a great industry or what?
After I cashed my last paycheck, I moved on to another loser upstart, "Video Image Productions"; a small production company formed by the ill-fated "Yount-Moeller Advertising Agency". On the day we opened business, YM's main TV AE quit, taking all the TV production accounts with him. Are you starting to see a trend here?
Desperate to save my questionable career that I had invested 4 years and tens of thousands of dollars in, I kidnapped my beautiful new bride and fled to Lawton, OK for a 2 year commercial producer stint with the ABC affiliate. After having my fill of producing mobile home, used car, and pawn shop commercials, I took a producer position at OSU in Stillwater and produced OETA's "Oklahoma Gardening" program for the next 12 years.
Currently I am a successful free-lance producer/director still living in Stillwater with my lovely college sweetheart and two beautiful daughters. Despite the unfortunate turn of events of the ambitious KGCT project, for me it was a great job to cut my broadcasting teeth into. While some of my former colleagues would like to forget this black period of their career, I retain it as a very special time in my life. Thank you for allowing me to share it with everyone. Continued success with your fantastic web site.
Sincerely,
John T. Bode