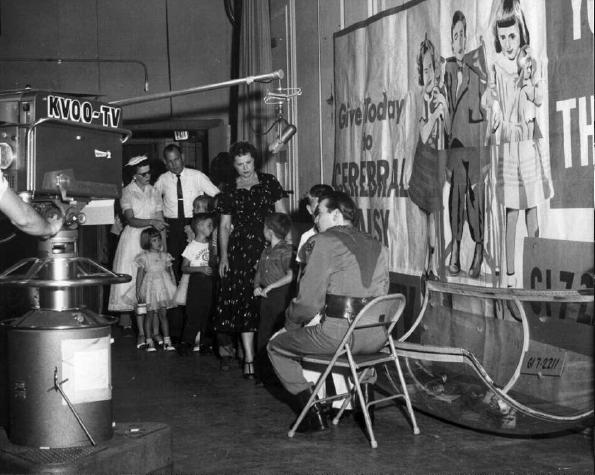 This picture was taken at the Cerebral Palsy Telethon, 9/17/55.
Can anyone identify the gentleman in the space suit?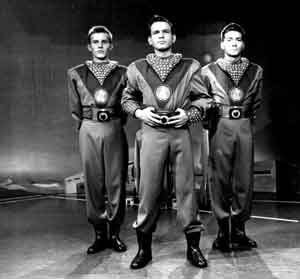 The above picture is from "Tom Corbett, Space Cadet". According to the Ultimate Science Fiction Web Site, "the series only lasted three months at CBS -- probably due to budgetary concerns or disappointing sales of the now-collectable merchandise -- and moved to a couple of years at ABC. NBC merely aired kinescopes of episodes as a summer replacement for Victor Borge...Although technically a childrens' show, this was a high-water mark in television science fiction, and a significant precursor to Star Trek."

This sure looks like the same uniform to me . If you look closely at the KVOO picture, you can see the back of what appears to be one of those funny-looking dickies.


Cadet Ed wrote in response to the webmaster's query:

Hi Mike,

It looks like the Tom Corbett uniform, but the shoulder patch looks more like Rod Brown's Space Ranger emblem.

The actor looks a "little" like Al Markim (Astro) from TC but that may be just the angle.

I will pass the picture on to Frankie Thomas and Jan Merlin for their review. They are still in contact with Al Markim and between the three of them, they may remember.

More later,
Spaceman's Luck
Cadet Ed
Solar Guard Academy
http://www.solarguard.com

Blast off with Tom Corbett, Commander Corry, Rocky Jones , Capt. Video and other heroes of the Age of the Conquest of Space!!


Back to Channel 2 Photo Album Back to main