KVOO-TV Channel 2 Tulsa billboard for Boris Karloff's NBC "Thriller" series. It ran 1960-62.
In late February 1997, I was in Boston taking a computer class and happened to catch a late night episode of "Thriller", "The Incredible Dr. Markesan". Boris himself starred, along with Dick York. I don't know if it was being in a hotel room in a strange city, or the high quality of the show, but it was horrifyingly effective.
---

7/8/2006: I met Richard Kiel at Trek Expo here in Tulsa a couple of weeks ago, as you can see below. He mentioned in passing that he had once guested on "Thriller" with Henry Daniell, who you may remember as one of the actors who played Professor Moriarty in the Basil Rathbone Sherlock Holmes movies of the 1940s.
Contributor Jeff Ballard gave me several video tapes this week. How fortuitous that a promo for "Well of Doom", the 1961 "Thriller" episode with Richard Kiel, was on one of them. I added it to YouTube. Watch out for those big mitts!
Richard Kiel and Fintan Meyler in the 1961 "Thriller" episode, "Well of Doom" (IMDb link).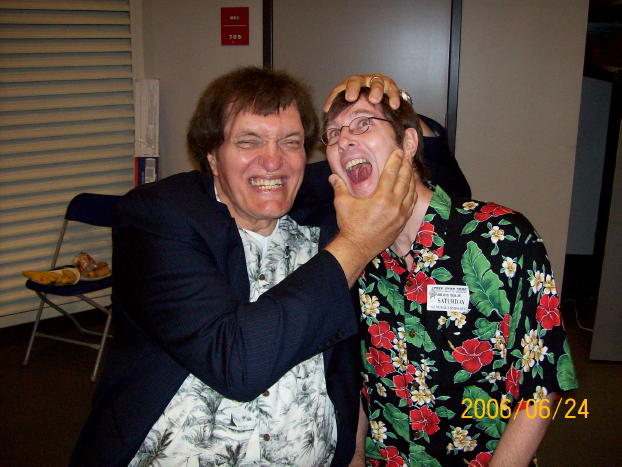 7'2" Richard Kiel and the 6'7" TTM webmaster. A Richard Kiel "Twilight Zone" clip and more on "8's The Place".


Back to KVOO Photo Album Back to main page