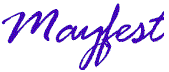 &
Other Uncanny Camp Meetings
The IP Interview with Artist and Actor
Gailard Sartain
(from the May 2001 issue of Infinity Press)

By Wilhelm Murg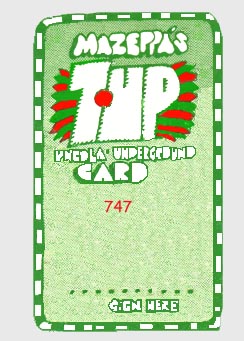 LAW-ZEE!!! Dig out your Uncola Card! This year's Mayfest poster shows downtown Tulsa's buildings dancing to music. The painting is "River View" by Gailard Sartain. Limited copies of the print will be available, along with videotapes of The Best of Mazeppa Volumes 1-3, at the 28th Annual Mayfest in Downtown Tulsa, May 17th-20th.
Sartain has been a local hero since he first burst into the locals' front rooms with The Incredible Mazeppa Pompazoidi's Uncanny Film Festival and Camp Meeting in 1970. The local TV show mixed live, satirical, skit comedy between the reels of a couple of "socko boffo" monster movies, with cartoons and comedy shorts thrown in for no apparent reason whatsoever.
The Uncanny Film Festival was light-years ahead of its time and gained a huge local audience. The show starred Sartain as Mazeppa, a.k.a. G.Ailard S.Artain, Gary Busey as Teddy Jack Eddy a.k.a. Teddy Ja'keddy, and Jim Millaway as Sherman Oaks (Oaks/Millaway also hosted "Creature Feature/Groovy Movie" in the early 1980s on KOKI Channel 23). The Uncanny Film Festival appeared on KOTV channel 6, moved to KTUL channel 8, and finished it's run as a radio show, The Unfilmy Can Festival, on Tulsa's original home of rock 'n' roll, KAKC, in the mid-seventies.
Sartain gained national attention when he joined the ensemble cast of the country comedy show, Hee-Haw, in 1973; he was on the show for 20 years. His first major film role was The Big Bopper in The Buddy Holly Story (1978), with Busey appearing in the Academy Award nominated, title role. Sartain has appeared in over 50 films since then, including Fried Green Tomatoes, Mississippi Burning, Hollywood Knights, The Outsiders, Equinox, and The Grifters. He is currently working on Michael Mann's Ali, which stars Will Smith as boxing great, Muhammad Ali. "I play Ali as a child," Sartain joked. The film will be released during the holiday season.
Sartain is probably best known to America's twenty-something's for his antics in the late Jim Varney's Ernest films, Ernest Goes to Camp, Ernest Saves Christmas, and Ernest Goes to Jail, and the television series Hey Vern. It's Ernest!
Behind the characters that make up his many acting roles, Sartain is also one of the most gifted artists to come out of The University of Tulsa. His painting style is a beautiful variation on lush, glowing, turn of the century, children's illustrations, with a dab of surrealism in the subject matter. He also worked as a commercial artist for Hallmark Cards in Kansas City, and freelanced for various magazines and ad agencies in Tulsa during the 1960s and early 1970s. Sartain's portrait of Leon Russell appeared on the singer's classic Will o' the Wisp album. This fall, Sartain will have a local exhibition in collaboration with his art teacher, the legendary Glen Godsey. Godsey has trained virtually every artist (including yours truly) who has attended The University of Tulsa in the last three decades.
I was at the Mayfest steering committee meeting when it was announced that Gailard would be the poster artist this year. Amid all the tiny quibbles that create Mayfest, everyone agreed that Sartain was the perfect choice. "That's the first time my name has been mentioned and nobody disagreed," Sartain joked in an exclusive IP interview.
"In my earliest recollections, I always wanted to be an artist" Sartain said. "N.C. Wyeth and early illustrations (in children's books), like Kidnapped, always fascinated me. In the funny paper it was Prince Valiant by Hal Foster, and some of those artists. I was always fascinated with that and I wanted to be a part of it."
When asked about "River View," which he painted for the Mayfest poster, Sartain said, "It sort of dictated itself. One color led to a shape, and that shape led to another color. I sat down to sketch out some stuff and it was the first one I did.
I liked the rhythm in it, so I just colored it in."
Mayfest director Michael Patton said "It's a great honor to have Gailard, who is so beloved in Tulsa, as the artist for this year's Mayfest poster. When I asked him to do the poster, he was so moved that he choked up. Gailard loves Tulsa and Tulsa loves Gailard."
"I was really flattered and thrilled with the idea of doing the poster," Sartain said. "I knew of the works that have proceeded mine, at Mayfest, and I knew I would be in good company."
But for all of his skills as an artist, Sartain is embedded in the psyche of thousands of Tulsans because of The Uncanny Film Festival and Camp Meeting. The show was a local phenomenon that had people glued to their televisions every weekend. I remember seeing a live appearance by "Mazeppa," when I was a child, at The Tulsa State Fair; he drew a mob of people.
Sartain and his crew created a marathon, late night TV theatre of the absurd with characters like Coach Chuck, Johnny Donut, Bennie The Crusher, R.B. "Bob" Bevis, and Toby The Toe-headed Boy. The Camp Meeting had a wild Ernie Kovacs/Jonathan Winters/Mad Magazine sense of satire set to the hot jazz of Coon-Sanders Nighthawks Orchestra from the 1920s. Though the television show only last for three years, many of the Tulsans who were watching, mostly in their mid-thirties to fifties today, get misty-eyed when you mention the name "Mazeppa."
"There's not any heavy, lofty thing to say about it," Sartain said modestly. "It was just sketch comedy and we did whatever came to mind. And it was all improvised, by design, because there was absolutely no budget. We barely got paid, so it was just a shoestring thing. Jim Millaway and I were pretty silly people back then. We would just stare at each other for awhile and come up with something funny, or what we thought was funny, and do it.
"The Tulsa market was perfect for it because in the wee hours we didn't really exploit that time. TV used to go off the air when the engineer got tired. I wasn't aware of the show's popularity until way, way later. I just have great, fond memories. There were some hard times, I fought with the powers-that-be, I slipped on a couple of bananas back there, but I don't even remember that with bad feelings anymore. The past takes care of itself. I just remember the fun stuff now.
"I've been writing in a lot of answers to questions people have about the Mazeppa show on the Tulsa TV Memories webpage" (http://tulsaTVmemories.com). You can also hear Uncanny Film Festival audio skits and music on the page.
Though many questions are answered on the site, Sartain explained the tape loop of a strange looking studio audience that he used to play on the show. Older viewer might remember the apathetic, tiny audience led by a bubble bouffant-headed woman.
"The Horn Brothers Show was a country and western show that was on, just before we were, on Saturday nights. They always had a good audience with some intriguing looking characters and I always videotaped them. Sometimes I would sit in the audience and pan the camera by the people real slowly, just to see if they would recognize me. One time I had a little kid on my lap and I bounced him up and down like a jackhammer while the camera was going by. His hair was plopping all over the place. He looked like a puppet. The Horn Brothers Show was hilarious. Those people were for real. That was funnier than Mazeppa ever thought about being."
Like many TV shows, especially local shows, much of the original tapes are now lost. "They were going to throw the tapes away, and the production manager said 'If you want this stuff, just take it.' So I did. I stored it because I didn't have any idea of what I would do with it, so we lucked out there.
"The TV stations erased ninety percent of The Uncanny Film Festival tapes. We scrounged out some stuff which, by good luck, we managed to save. One of the sketches on Volume 3 of The Best of Mazeppa came from someone who had early, primitive, video recording equipment. My wife, Mary Jo, got the tapes cleaned up; they were really in bad shape. But we've exhausted the supply; that's it." Every known surviving clip is now available on the videotape set.
The Uncanny Film Festival fell when Sartain left Tulsa to be in Hee-Haw. "Jim Halsey, Roy Clark's manager had just moved to Tulsa. He saw the show and asked me if I would be interested in doing something other than Mazeppa. At the time, I wasn't, because I was planning to get my masters degree and teach painting, but that was pretty ludicrous too - the idea of being an academic. So when Halsey asked me if I wanted to do Hee-Haw,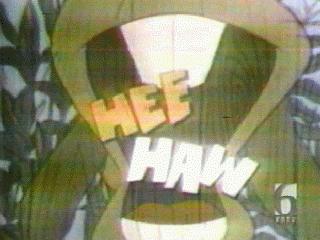 I thought 'God, no.' Then about six months later he asked me again. I asked him what kind of money they were talking about. He said it would be scale, which at the time was about $700 a show. That was like fifteen times more money than I was making as Mazeppa, so I immediately fell to my knees and started weeping. I came on in 1973."
Shortly after he started Hee-Haw, Sartain began to appear in films. His first appearance was in a small role in Robert Altman's meditation on the destruction of the American dream, Nashville (1975). "That was a fluke. Gary Busey was originally cast to be in that film, but some other show came up that was more lucrative. I was doing Hee-Haw out in Nashville so he told me 'When you're there why don't you go out and say hello to Keith Carradine for me.' And I did and I got in the film."
I asked Sartain if he was surprised as everyone else when the former Teddy Jack Eddy was nominated for an Academy Award. "Yeah, kind of. I was in that picture and I knew how good his performance was. It was spellbinding. I was just really tickled for him when he got it. It was a good movie."

Sartain does not hesitate when you ask him which film he is proudest to have worked on. "Mississippi Burning. The Ernest films were great fun, but Mississippi Burning was like a full plate. I started out as a comedy actor, but when I got Mississippi Burning it was a pivotal film, in a lot of ways. I became a heavy after that. I haven't had much luck, except for the Ernest Stuff, in doing comedy."
As for Sartain's current part in Ali, he is playing a serious role again. "I play one of Ali's early sponsors, in the sixties, who got a group of investors together. It's an enormous movie; the budget is $105 million. When I worked on it there were 3,000 extras. Jon Voight plays Howard Cosell and he is absolutely killing it. I saw him in make-up and I didn't recognize him. He even sounds like Cosell. Voight is a consummate actor."
Gailard and his wife/manager, Mary Jo, keep homes in both Tulsa and California. They do not get to spend as much time in Tulsa as they would like to, but Gailard will be making personal appearances at this year's Mayfest. This is a wonderful opportunity to give our friend the homecoming he deserves.
Sartain's poster is available at Mayfest's Main Souvenir Shop at 419 S. Main for $15, $25 signed (all proceeds go back into Mayfest).
On May 17th Sartain will give a special signing from 4-6 PM at the Invitational Gallery, where he will personalize his signature for $50. The extra $25 will go to Sartain's favorite charity, Emergency Infant Service. "Of course they timed it just right; before the recession," Sartain said.
The original painting will be auctioned off in a silent auction on May 16th at a special gallery opening party; tickets are $25 per person. For more information on Mayfest and a complete updated schedule of events, visit www.TulsaMayfest.com. To relive the days of The Uncanny Film Festival, and to see other art works by Gailard, visit www.mazeppa.com.

(Printed by permission, © 2001, Infinity Press. All rights reserved.)


Back to main Back to Mazeppa page 1