(from Guestbook 151) Rogan said:
"Big Bill & OomAhGog"? I always thought it was like "oom uh gah", but I was a kid then.

I remember that mispronunciation, too. I'll bet it came from a mix-up with the nearby town of Oologah, Will Rogers' birthplace.


(from Guestbook 106) Mitch Schauer (creator of "Angry Beavers") said:
My first job following high school was as an artist for Graphic Associates located at the corner of 3rd and Cheyenne. I had the pleasure of working next to a fine illustrator, Ben Brown. Ben and I became good friends.
One day, Ben informed me he had been previously employed as an artist for KVOO-TV.
Naturally, I was quite impressed, but when he told me he had been the artist behind Big Bill and Oom-A-Gog's Magic Window, I was thrilled!
The Big Bill set had a picture frame on the wall with a blank piece of paper mounted inside. Each week, Ben would stand behind the Big Bill set and draw on the newsprint with a black marker. When the marker's ink bled through the paper, Ben's drawings "magically" appeared. I felt honored to become friends with someone so talented and who had worked on one of my favorite kiddie shows.


(from Guestbook 96) Gailard Sartain asked:
Rodney - are you related to Brummett Echohawk? He was a wonderful artist.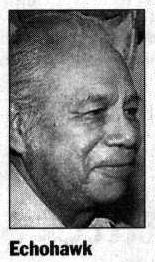 (from Guestbook 96) Rodney Echohawk replied:
Mr. M. Pompazoidi, Indeed, yes, I am related to Brummett Echohawk. He and my father were cousins but apparently always called one another brother. So I grew up knowing him as my Uncle Brummett. He was a regular on the Big Bill and Oom-A-Gog show making kids' doodles into recognizable pictures. I believe he helped start the American Indian Theater Company and has acted in films, such as "Oklahoma Passage" where he played a Cherokee leader. By the way Mr. Pompazoidi, your original brand of humor and countless Saturday nights of fun have made me unfit for human company. Thanks!
Brummett Echohawk passed away 2/13/2006 at age 83. He was a Pawnee Indian. He received three Bronze Stars and three Purple Hearts for his actions in WWII. He studied at TU. He was noted for the syndicated comic strip "Little Chief", which ran in the Tulsa World for many years. His paintings have hung in museums around the world. He also acted in television, most recently, "Walker, Texas Ranger".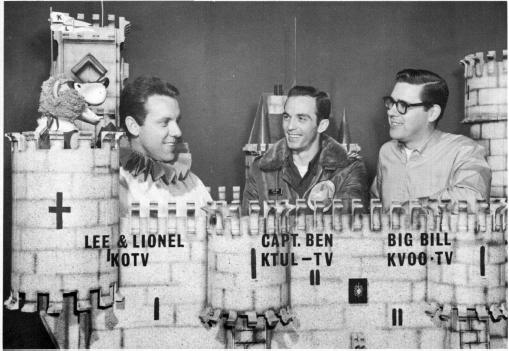 Read more about Captain Ben and Lee & Lionel.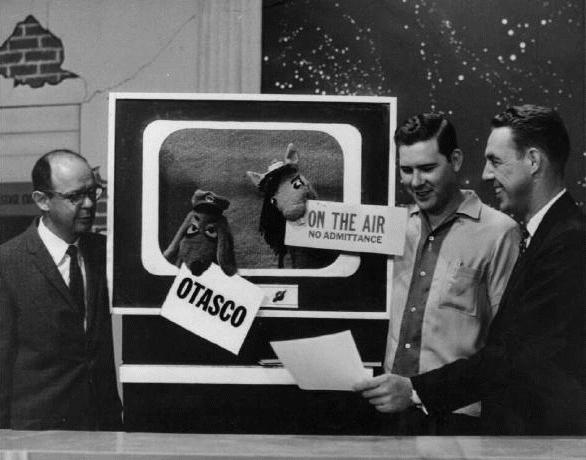 The middle man is Big Bill Blair, minus his trademark horn-rim glasses. (Courtesy of the KJRH archives)



(via email, 4/18 & 4/26/2002) Bill McCright said:
The man on the left is Don Mitchell of Locke Advertising (later Advertising Inc.).
The man on the right is Fillmore Bowen, Advertising Director for OTASCO.
Another brain-flash in the middle of the night makes me think the name of the horse puppet was "Horse Radish."


(from Guestbook 151) Rick Brashear said:
...there is a dog puppet holding a card that says, "OTASCO". The puppet's name was Parcel Post.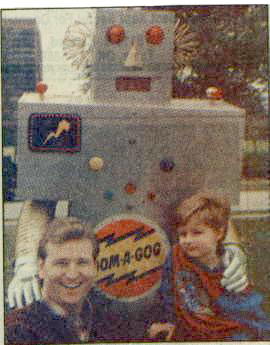 Oom-A-Gog Lives! Evangelist's Son Finds His Youth in TV Robot by John Wooley, 2/21/93

Billy Hargis said in his Oklahoma Memories interview (watch it on RealVideo at the link):

"Not only did I love Oom-A-Gog, I also loved Big Bill because I had a pair of pants that had rope down the side, and those were my Big Bill pants. They were lime green with a rope down the side. I thought I was so cool.

"I'd have my mother drop me of at the bottom of the hill, and I'd run up the hill in my P.F. Flyers to watch Big Bill and Oom-A-Gog."

Childhood Friends Forever: Big Bill & Oom-A-Gog by John Wooley, 1/29/89



(from Guestbook 51) Joe Robertson said:
It was either in '65 or '66 when I was 5 years old, that I hit the pinnacle of my TV career. Channel 2 had a daily contest to draw their famous robot "OOM-A-GOG", and my drawing was selected, and I got to see it hit "air". Not bad for a kid from way up in Osage County. Ironically, I have been the morning show audio man at 2 for the past six years now.


(from Guestbook 51) B. J. Dildine said:
I, too, possess a hand that shook the hand of Oom-a-gog. I will never forget it. I was in 1st grade in 1961. I was a celebrity in our small town classroom.


(from Guestbook 106) Billy Williams said:
When I was REAL young, I appeared on the Big Bill and Oom-A-Gog Show - I won a case of Coke when I said it was my birthday. I lied. Boy! Some peoples' kids!


(from Guestbook 153) Karl Mindeman said:
One of my fondest childhood memories was getting to be in the studio audience of Big Bill and Oom-A-Gog with my friends on my birthday. I even remember Big Bill referring to me as 'a regular' on one of the shows - a true brush with greatness!


(from Guestbook 148) Grama of Locust Grove said:
Thank You!!! For years I've tried to find someone who remembered the Big Bill and Oom-a-Gog show. I've yet to find anyone. I was beginning to think that it only existed in my mind and here it is for all to see!


(from Guestbook 11) Bill Groves said:
Regarding "Big Bill and Oom-A-Gog," I was never on that show, but I did have my first "schoolyard" crush on Bill Blair's daughter in kindergarten and first grade.


(from Guestbook 111) Joe Welling said:
In reviewing old Guestbooks, I saw the references and stories about Big Bill and Oom-A-Gog. You never know how much impact various characters have on little kids' lives.
In the mid-sixties, one of the TV or radio stations sponsored a Halloween costume contest. It was held on the parking lot at Oertle's at 27th and Memorial. The prize was a bicycle.
Since my son's birthday was in October and he wasn't thrilled with what he got that year, I decided to make a costume and enter him in the contest to go for the big prize. He was about 6 or 7 years old.
I got some silver illustration board and taped it into a big cylinder, cut a hole in the "chest" so he could see out, fashioned a sort of head for the top and drew buttons and gauges on the thing. It was kind of a robot cum spaceman suit but not necessarily modeled after Oom-A-Gog. But when we showed up at Oertle's and he got out of the car and put the suit on, you'd have thought it was Elvis and the Beatles all rolled into one. The kids came from everywhere, yelling "It's Oom-A-Gog!" They swamped him.
The poor kid was knocked down and scared to death. An impromptu security force of sympathetic dads surrounded him to get him to the judging stage. Fortunately, he stuck it out and we won the new bike. It was his first glimpse of celebrity stardom and idol worship. (He got more of it as a young adult on the road playing rock and roll shows.)


(from Guestbooks 34 & 88) The webmaster said:
"Junior Auction" was sponsored by Kitty Clover Potato Chips and hosted on Saturday mornings by "Big Bill" Blair. Kids would save up coupons from Kitty Clover potato chip bags and use them to bid on prizes.
Justin Wilson (the Cajun chef) was seen on regional commercials in the 60s for Kitty Clover Potato Chips using his "I guar-on-tee" line.
Question: was Brewster's Toys a feature of the Big Bill show? I remember Mr. Brewster presenting new toys on TV in the 60s. Brewster's Clothes & Toys (later Brewster's Children's Dept. Store) at 1003 S. Peoria was a popular place among my set.
(from Guestbook 16) Jim Back said: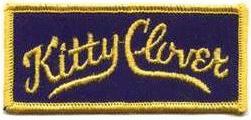 Ah, Kitty Clover Potato Chips. As a child growing up in Kansas City, I remember a kid's auction show on one of the TV stations there sponsored by Kitty Clover. I stored my empty potato chip sacks in our basement, trying to accumulate enough to get on the show and buy something someday. One evening when my mom was in the basement doing laundry she saw a mouse scurrying around in my stack of sacks. That was the end of my sacks, the end of my big chance to be on TV, and the end of my dream of getting a free bicycle!