Tony Randall, a quintessential
New Yorker...from Tulsa


A. Leonard Rosenberg

Dramatics

(from the 1937 "Tom Tom"
Tulsa Central High School
yearbook)

Courtesy of Don Norton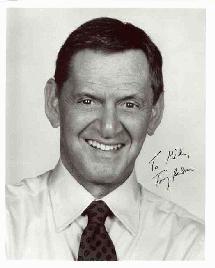 (from Guestbook 49) Frank Morrow said:

Did any of you catch the A&E Biography program on Tony Randall a year or so ago? I was expecting to hear him sing the praises of the sainted Tulsa Central speech teacher Isabelle Ronan, like Paul Harvey does.

Instead, he admitted that he was never in any plays, although he did try out for some. He said that he was just considered an unpopular little wise-ass.
Art Ford in 1968,
courtesy of
Chris Sloan


(from Guestbook 35) John Hillis said:
When I was at 6, Randall appeared on Carson or somewhere and said his greatest disappointment in the theatre was that he lost the lead in the class play in Tulsa to Arthur Ford. So I asked Art Ford, a salesman at KOTV, if he was the thespian in question, he blushed red and admitted it was so, though even under interrogation, he wouldn't admit being able to recall the name of the play.
Here is Tony Randall on the "Tony Orlando and Dawn" show with former Tulsa TV director Mike Denney lurking in the background.


(from Guestbook 163, 5/18/2004) Jim Ruddle said:
Tony Randall, Tulsa Central Grad, has died at age 84. Another of Isabelle Ronan's students.
Webmaster: I was very surprised when I first learned that Tony Randall was from Tulsa. He seemed the quintessential New Yorker in movies like "Pillow Talk" and "Will Success Spoil Rock Hunter?" He was one of those few dependably spontaneous and funny talk show guests. I'll miss him.


(from Guestbook 163) Dave said:
Tony Randall's origins often surprised people. I recall in the 1970s he was a guest on one of the daytime talk shows (maybe Mike Douglas) with fellow guest Dale Robertson (link shows Dale with Lee Woodward and King Lionel...webmaster). Dale was drawling on in full Southwestern accent about being from Oklahoma City. Then the host casually, and apparently unwittingly, asked Tony where he was from, probably expecting him to be from NYC or Philadelphia. The erudite Tony simply replied, "Tulsa," to the amazed looks of Robertson et al.


(from Guestbook 163) Jim Ruddle also said:
Alexander Woolcott, a noted and acerbic theater critic, saw Randall in a number of costume dramas during his early years on the New York stage and said, "He was the finest British actor to come out of Tulsa, Oklahoma."


(from Guestbook 163) Edwin Fincher said:
Mr. Randall was in town to dedicate a new building at TU....Student Union, I think. Must of been in the early '70's? In any case, KTUL covered it live for some reason & I, having less work to do than others, got to drive him around town because he wanted to see the "old home". I, knowing it was torn down due to the Broken Arrow Expressway, tried to talk him out of it. Located near the 14th & Peoria area, it was, indeed, long gone. He was crushed, then cried, then cursed. He vowed to never come back again & made a horrible scene - live - during his speech on "progress" in his old hometown, reading the original speech as it was written, but inserting "remarks".

Webmaster:

Mr. Randall was awarded an honorary doctorate when he was here in 1975 for the dedication of Kendall Hall at TU, according to Thomas Conner's article in today's Tulsa World. The article touches on his reaction to the razing of his childhood home at 14th and Norfolk. But he had good things to say about Tulsa and its cultural opportunities during his youth by the time of a 1997 interview.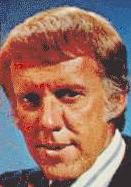 (from Guestbook 163) Lee Woodward said:
I had the great pleasure of interviewing Tony Randall way back in the black & white, no-tape days of early KOTV. I don't know the year or why he was in town.
I made the usual intros and before I could start, he spotted my woven Italian Johnston & Murphy loafers (mentioned here previously) and exclaimed: "Your shoes sir...'Are a thing of beauty and a joy forever'." Leon did a quick lens rack for a close-up.
Tony was also a devoted opera fan and appeared many times on "Opera Quiz" during intermissions of the Texaco Radio Network Met Opera broadcasts. He was just as amusing in that venue as any other. He was a very funny man and had a lot of funny stories to tell regardless of where he found himself.


(from Guestbook 163) David Batterson said: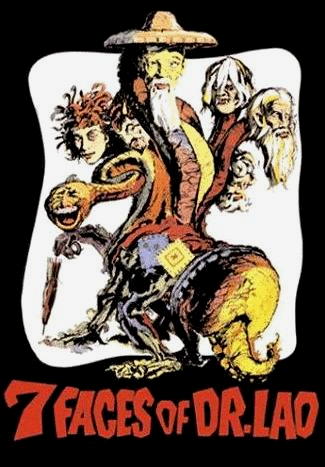 Tony Randall made a wonderful movie released in 1963: "The Seven Faces of Dr. Lao."
It's well worth renting. I saw it when it first came out, and thought it was outstanding, and perhaps his best work on film.
You can read a review of it here.

I believe I remember it playing at the Admiral Twin Drive-In.
(from Guestbook 163) Joe (from inside the padded room) said:
David Batterson mentioned Mr. Randall appearing in 7 FACES OF DR. LAO. What a great memory, all thanks to KOTV. I remember the THE LATE SHOW running it on Friday nights, several times during the early 70s. That movie is still in my top 15 all time favorites.


(from Guestbook 163 ) Wilhelm Murg said:
I just wanted to clear up a nit-picky bit of trivia; THE SEVEN FACES OF DOCTOR LAO was usually shown on the CBS LATE MOVIE (pre-cable's answer to HBO). I don't know how film rights worked back in those days, but it seemed to be locked into the package for a decade, along with the Hammer Horror films and some of the later Jerry Lewis comedies (before CBS gave up and just started showing the NBC MYSTERY MOVIES; McMillan & Wife, McCloud, Columbo, etc.)
The only reason I know this is because it's one of my all-time favorite movies (great philosophical point of view, great effects, and Barbara Eden at her most orgasmic) and I never missed it when it came on. THE LATE SHOW was what KOTV played on Friday and Saturday nights at 10:30 (the Friday CBS LATE MOVIE was recorded and played back on Sunday nights) and they had some cool movies (THE DAY THE EARTH STOOD STILL, THE ILLUSTRATED MAN, DR. STRANGELOVE, etc.) but I don't know about LAO. I think it was later broadcast on KOKI/Channel 23 when they had an all-movie format, before the formation of the FOX Network.
Like everyone else in the world, I too was saddened to hear about the passing of Tony Randall. While everyone else remembers him as Felix on the ODD COUPLE, or the groundbreaking character on LOVE, SIDNEY (beating the whole metrosexual movemement by a decade,) or that guy that complained about smoking on the TONIGHT SHOW, Mr. Randall will always be Dr. Lao to me. The only problem I ever have with Tulsa is that the people in charge of the city's image often sweep some of the most interesting parts of Tulsa's history and culture under the rug to present a squeaky clean image, which in my view often makes Tulsa look boring. They will pay tribute to Mr. Randall's great legacy, but none of them would last ten minutes in Dr. Lao's circus.


Back to Tulsa Central High alumni Channel Changer 2 Back to main