James Bond comforts a bird with a wing down in "Casino Royale"


Royale without cheese


MIKE RANSOM/Tulsa
11/19/2006
In 2004, Quentin Tarantino publicly suggested a remake of "Casino Royale". He also made it known that he was the director for the job. The heirs of Eon Productions, the original Bond movie company, did not deign to call on him, but did move quickly on the remake idea.
A brief history of the "Casino Royale" property:

Ian Fleming's Casino Royale (1953) is a propulsive, moody and dark introduction to 007. A "Casino Royale" teleplay was produced for CBS Television's "Climax Mystery Theater" in 1954, starring Barry Nelson as an American Bond.

In the early 60s, the movie rights found their way into the hands of Charles K. Feldman. His production of "Casino Royale" in 1967 was a spoof, done in a wild, messy style similar to his successful "What's New, Pussycat?" (1965). The whole was far less than the sum of its talented parts. (More about this movie in Dr. Shatterhand's Botanical Garden).

Early on, Eon had secured the movie rights to all the Fleming books except Casino Royale and Thunderball (an option on the latter was obtained by Eon for the 1965 movie; it was remade by another company in 1983 as "Never Say Never Again"). Sony's purchase of MGM/United Artists in 2004 placed the "Casino" rights within Eon's grasp.

The new Bond puts one in the ring



The success of the third Bond movie, 1964's "Goldfinger", had established the template: a series of "set pieces" (self-contained, sensational action sequences), the plot increasingly only a means of connecting the dots. This approach led quickly to a hardening of the series' arteries as the writers ran out of fresh ways to work within the producer-imposed strictures. No doubt Tarantino had hoped to ream out those sclerotic conventions.
Eon's chosen director, Martin Campbell ("GoldenEye"), with the producers, has substantially altered the world of 007 in taking him back to the beginning of his career.
In the gritty pre-title sequence establishing Bond's bonifides as a new double-O operative, Daniel Craig's Bond invites direct comparison to Sean Connery's portrayal in "Dr. No". The 38-year-old Craig displays the tough side of Bond we haven't seen since those early days.
The plot involves a high-powered banker for international terrorists, Le Chiffre, who makes a large stock market bet with his Ugandan clients' money. Though he has heavily stacked the deck in his favor, a wild card comes into play. He then stages a high stakes poker game in the country of Montenegro as a last-ditch chance to recover the funds. Bond is staked to this game in hopes of putting the financier out of business permanently.
The movie opens with back-to-back set pieces to demonstrate the athleticism of the new Bond (and it is impressive). These sequences more than equal previous credulity-straining standards of stuntwork. They also allow the middle of the film to concentrate more on plot and character.
There is no Miss Moneypenny nor Q, but the M of the Pierce Brosnan Bonds, Judi Dench, has been retained in this "reboot" of the series. Since almost every possible change had been previously rung on the minor characters, eliminating them streamlines the movie.

Looking at Le Chiffre across the baize



That decision places greater scrutiny on the lead actor. Fortunately, Daniel Craig is up to the challenge. His canniness and intensity in the part make his Bond worth watching. His interpretation is fresh, and unshackled by previous incarnations. (more about Craig in Gary Chew's review of "Sylvia".)
Eva Green plays Vesper Lynd, a representative of the Treasury who becomes Bond's love interest. Both characters wear psychic armor and they spar probingly, setting the stage for a deeper romantic interest. Mads Mikkelsen, physically resembling a young Christopher Walken, is the ruthless and corrupt Le Chiffre. CIA agent Felix Leiter is played by Jeffrey Wright, who makes an understated but strong impression in the brief time allotted him. I hope he returns in future installments.
The Texas Hold 'Em match is a highlight and gives us the chance to enjoy Daniel Craig's close-up game.
Other elements of the production:
David Arnold's orchestral score ably supports the film's different moods. The title song, "You Know My Name", was co-written and performed by Chris Cornell of Seattle grunge band Soundgarden fame. It strikes me as no more than adequate and somewhat generic. This is a disappointment, considering that Cornell and Soundgarden know how to write a classic tune, e.g., "Black Hole Sun" (MP3) as covered by Steve and Eydie.
The fractal mathematics-informed title sequence could have been more effective if backed with an abstract-sounding tune in sync with the visuals; it is interesting and different from the silhouetted nudes of the past.
Gadgetry: these days, Bond is highly computer literate, and the job requires it. His new Aston Martin DBS reveals few of its features (Q isn't around to give us a briefing), but extrapolating from one heart-stopping sequence that occurs during an unscheduled intermission in the poker game, it must be loaded to the gills. The same scene provides the best tension-release laugh in the movie. Bond himself is armed only with a cell phone and a gun.
---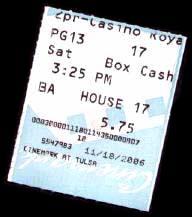 While a bit over-the-top in some of its extreme action scenes (in keeping with today's "xXx" standards), "Casino Royale" is an exciting new beginning for the Bond franchise. Perhaps Quentin Tarantino will get his shot at directing Bond another day.

Personal note: I saw my first Bond, "Thunderball", at age 12. Now that Pierce Brosnan has retired from the role, the movie Bond will be younger than I am from here on. Alas.

Sidebar: Tulsa's 007 Protocrat Club at 3228 N. Lewis


(from Guestbook 122) The webmaster said:

It's still listed in the phone book. It has to have been there since the 60s.

Is it some kind of elite power cult, or just a hangout for drunks? And what is a "protocrat"? There is no such word, but if there were, it would mean an adherent of "protocracy", or "rule by the first" (from the Greek roots).

The first what? The first guy to buy a round? And how does 007 enter into it?

Reader RP describes his experience at the 007 Protocrat.



"Casino Royale" official site.
Showtimes at Yahoo Movies-Tulsa.
007's Aston Martin DB5 at the Tulsa Auto Show, 1997
Copyright © 2006, Mike Ransom. All rights reserved.


webmaster's reviews Chew's Reviews Channel Changer 2 Main page