"Howdy!"
In the pre-cable '70s, when there were only four TV stations in Tulsa, Uncle Zeb owned the afternoon airwaves. Carl Bartholomew played Tulsa's Answer to Bozo the Clown (some might say Krusty the Clown) from 1969-1979 on KTUL-TV and from 1991 to 1998, on TCI Cable.
Uncle Zeb's Cartoon Camp was a brilliant, chaotic mess of classic cartoons, crying children, wild animals, confusing games, and what seemed like a thousand kids saying hello to everyone they ever met. Zeb's persona was a mix of comedic sidekicks from the great cowboy films, serials, radio series and television shows of yesteryear, like Gabby Hayes and Walter Brennan.
Bartholomew is a local boy who started as a cameraman in 1967 at KTUL. He soon became an announcer for the late John Chick, who played Mr. Zing on the afternoon cartoon show Mr. Zing and Tuffy. Because the show was live, Bartholomew created Uncle Zeb to substitute for Chick when he needed a day off. Shortly after a few appearances, Chick quit Mr. Zing to create his highly successful morning country music show, The John Chick Show, and Bartholomew was reassigned to the Cartoon Camp
Uncle Zeb seems larger than life in many Tulsans' imaginations because Bartholomew never appeared publicly out of character. "I was always very protective of Zeb," Bartholomew said in an exclusive IP Interview. "It concerned me greatly if someone who knew me personally would have a child with them and say 'Do you know who that is?' I didn't like that. It was embarrassing to me and it was confusing to the child."
"I tried to do the show with something for everyone. I learned that adults like to see another adult in trouble, where everything was falling apart, and I was exasperated. It really surprised me when I received fan mail from college students. I couldn't believe how many adults were watching."
The magic of the show was Zeb's constant state of cantankerous confusion. "Management never tried to get me to soften the show, but they would tell me about the phone calls they received. I got some mail that led me to believe that I was not as understanding, or as pleasant to the children as the parents would like me to be. When I signed on to do the show I said 'I will not talk down to these children. We're going to be on the same level.' I'm not saying that level is particularly high," Bartholomew laughed.
"I remember my own son watching Mister Rogers' Neighborhood. Rogers said 'Hi, how are you?' And my son answered 'Just fine. How are you?' Rogers and I were on opposite ends of the spectrum. I had people saying 'You don't like children.' In fact I really love children, and the things they do, and the spontaneity; that's what really made the show work. It was 'Hey, it's you and me, kids; we're in this together.' So I would order them around. That came as a result of the limited amount of time we had on the air. 'Get over here. No, I didn't say there, over here. Now you wait over there where I told you.' I learned within a day or two that this was not my show, this was their show. I had to be very flexible without them running amuck or running me into the ground. We were just trying to get organized, but it always appeared to be just organized confusion."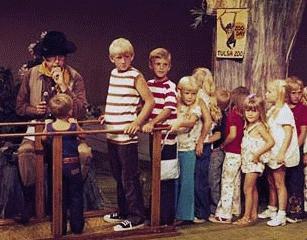 The accidental trademark of the show was when the children walked across the bridge at the conclusion. "I thought 'I'll let them speak for themselves.' After a day or two I knew that wouldn't work, because they were all over the place, just like cattle. So then I though 'If I had a corral, and they came through the corral, like cattle -forgive me- we could get the job done.
"Unfortunately, one day, one of the kids said 'I want to say hello to my mother and father and granma' and that did it. They all wanted to say hello to everyone they knew. They would go on and on and on, and I had to be off the air on time, so I had to be rather short with some of them. I would say 'Okay, yadda-yadda-yadda.' Mr. Rogers was so nice that he really wouldn't have stood a chance against a group of children."
Bartholomew recounted some of the more out of control moments from the show. "One time we had an alligator snapping turtle on Zoo Day, and I wanted to show that the turtle would snap. So I found this soft tube and tied a glove to it, a helping hand. Larry Nunley, The Zoo Guy, says that's the only time he ever heard me swear on television. When that turtle turned around and snapped I yelled 'Shit!' Boy, that just flew out."

The cartoons Uncle Zeb showed were all classics of animation. "We had the Warner Brother's Looney Tunes package, and the Popeyes, which were my mainstays. We had the Black & White Fleischer Popeyes, and a lot of the later, color Famous Studio Popeyes, which were mostly remakes. There was not much effective mumbling and undertoning, if you will, in the color ones."
This June, AOL/Time-Warner recently kept 12 titles from airing on the Cartoon Network's annual Bugs Bunny Junebugs Marathon, due to racial stereotype characters in the cartoons.

Bartholomew was dealing with the issue a quarter of a century ago. "There were certain titles that people would write in about and say 'We don't want you to play that anymore.'

7/2007: 4-DVD set of the 1st 60 Fleischer brothers Popeye cartoons from 1933-1938 has just been released in crisp, restored b&w. 550 minutes of cartoons, plus 5 hours of bonus documentaries and extra cartoons. As seen on Uncle Zeb.

For example, the Popeye cartoon 'You're a Sap, Mr. Jap,' which featured all of these little slant-eyed guys." As most of these cartoons come from the golden age of full animation, Bartholomew's view echoes many animation fans. "The American wartime propaganda cartoons were excellently done. To me it was just a part of history." Ironically, an excerpt from the Popeye cartoon recently played on an episode of Toonheads on Cartoon Network.
While hosting the Cartoon Camp, Bartholomew also created the award winning spots for KTUL's classic "8's The Place" campaign. The promos were very cinematic, utilizing everything from stagecoaches to jets in the production. "I really got involved with the '8's The Place' and 'The News Guys' campaigns, which was a lot of fun. But a point came where I realized I wasn't doing either of the jobs 100% and something had to give. After ten years, I thought Zeb needed a rest."
KTUL changed hands and Bartholomew ended up working at TCI where, after a decade, he dusted off the camp and set it up in the brave new world of Cable TV. "When I came back on cable, the kids from the original show had grow up and had children of their own. . I could say anything to the kids and not get any complaints. The switcharooni was that Zeb had mellowed some, and was not quite as cranky."
"The hardest thing for me is when I am asked to be talent in a commercial where I'm not Uncle Zeb and I'm suppose to just be myself. That is tough. I'm not really sure who I am. After doing Zeb, I made a movie, Cole Justice." Bartholomew produced, directed, wrote, and played the title role in the independent feature about a man who seeks revenge for his murdered girlfriend. "I think you could see Uncle Zeb in that movie because every once in awhile I would think 'How am I going to handle this scene?' Then I would think 'What would Zeb do?"
(At left: a young Carl doing a non-Zeb commercial)
Bartholomew currently resides in Brookside with his wife, Aunt Zeb, a.k.a. Marilyn. He has been busying himself with his new career, writing stories for young readers. "I just finished a series of stories that have the umbrella title The Pawnshop. People buy something from the shop that creates a bizarre situation or changes their lives; it's Twilight Zone-ish.
"I have published one novella about a steam train, Granmax: The Saving of A Steam Train (Ozark Publishing, 1997). It's about a man who rescues a train from being scrapped; he sneaks it across the country, with kids and ponies on board. It was originally a screenplay treatment, but my wife suggested that I publish it for middle-school readers. It came pretty easy for me because that's about my reading level," Bartholomew laughed.
These days, Uncle Zeb is "lookin' for ya" on the web. Mike Ransom's wonderful website Tulsa TV Memories has moved the Cartoon Camp into cyberspace. You can contact Uncle Zeb with questions through the site at tulsaTVmemories.com. It also features pages devoted to Uncle Zeb, 8's The Place, Mr. Zing and Tuffy and just about every other show from Tulsa's golden age of locally produced television.
"I was trying to teach the kids that by using their imaginations, they could have fun, without watching television," Bartholomew said. "I doubt that I was successful, but we had fun trying. When you think about it, that was still early television and we were still feeling our way. Bob Hower (the legendary local newscaster) once said to me 'We were very fortunate that we got to be in television when it was fun.'"
In these days, when after school programming is nothing but babbling syndicated scandal and talk shows, one can only reflect and realize how fortunate we were to have our Uncle Zeb.

(Text printed by permission, © 2001, Infinity Press. All rights reserved.)
Infinity Press Entertainment Magazine serves Tulsa, OKC, Norman, Stillwater and Tahlequah. Some of the many outlets in Tulsa for this free magazine: Starship Records, Oz, Borders, Manhattan Bagel, Suture's, The Rib Crib...