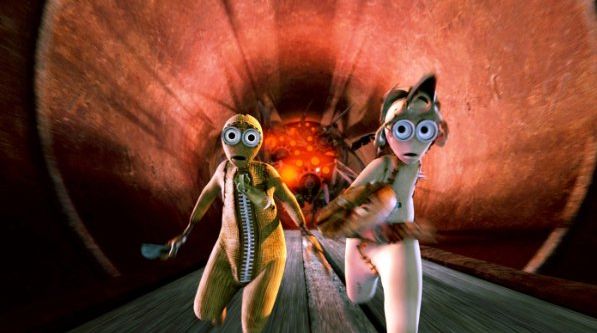 "9"; a film review by Gary Chew


GARY CHEW/Sacramento
9/9/09
Shawn Acker, a truly laudable filmmaker, has elongated his short subject 2005 award-winning film of YouTube fame. It's also titled "9," but runs about 80 minutes. As of 09-09-09, "9" II is now out on the big screen---in search of an audience.
In an impressive CGI animation mix informed by historical art---which also brings to mind prose by Charles Dickens and music by Sergei Prokofiev ("Le Pas d'Acier," "The Age of Steel")--- small robot-like but caring creatures made of burlap seek reasons for their existence as they try to stay alive locked in a string of action-packed battles with overtly technological monsters. The monsters come in various shapes but only one size: very, very, very large.
Each burlap good guy in the bunch is known by his number. Hero and newcomer to the fold is number 9. All these camera-eyed little guys have been produced by a good scientist (from an earlier time) through the doctor's invention that takes his soul and distributes it into the several small burlap entities which then move forward in a familiar post-apocalyptic techno-scenario of mystery and danger where the sun never shines---unless indirectly.
The good guys and one gal in this occasionally grotesque David and Goliath-like parable are voiced by actors whose faces are more familiar: Elijah Wood, Christopher Plummer, John C. Reilly, Martin Landau, Crispin Glover and Jennifer Connelly.
To explicitly contrast in "9" a minacious techno-future populated by soft, emotion-filled automatons is fetching. But there's a hangup. The movie is so damned scary for girls and boys of an age when they're especially known for their love of pliable and furry things, that stark contrast will likely bring on nightmares kids readily have after a visit to the local cineplex. The death and violence in "9" come close to being palpable, especially with all the neat CGI stuff, big bad music (no Prokofiev) and ultra low frequency sound effects.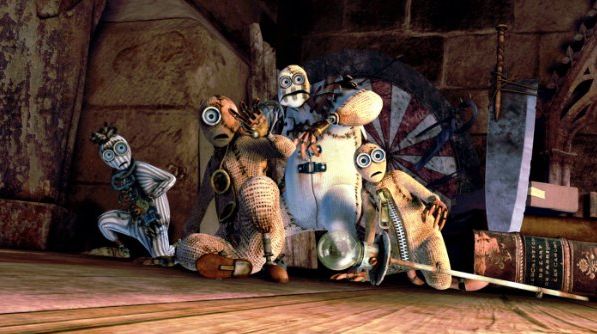 Pamela Pettler's indirect script is simple and predictable. Present are all of the "usual suspect" character-types common to animation films. Much of "9" isn't cutting-edge at all, while a commendation must be cited for director Acker's technological savvy.
So, I'm scratching my head about who might really enjoy this film. Rather young kids will be really fearful of it and junior high and high school kids could be bored with the story but, perhaps, taken by the action. Adults will be there for little else than to accompany their offspring, observing just how scared the kids might become watching "9's" violence, despair and death.
On the other hand, techno-image geeks are likely to be enraptured by the sheer mastery of Acker and crew, just like I'm sure all of Acker's people were when up to their pixels with delight putting together this piece of visual art.
Opens nationwide Wednesday 9/9, in Tulsa at
the Cinemark & the Hollywood Promenade Palace 12.
Check Yahoo Movies-Tulsa for theaters and times.
Gary Chew can be reached at garychew@comcast.net,
Facebook.com/justin.playfair and Twitter.com/orwellingly.

Copyright © 2009, Gary Chew. All rights reserved.