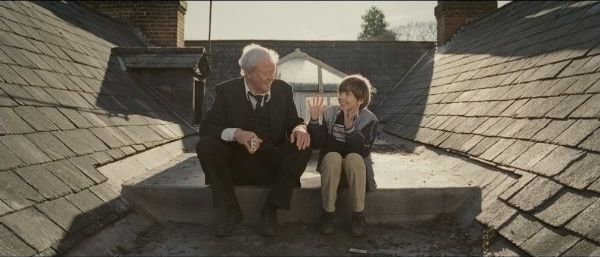 "Is Anybody There?" A film review by Gary Chew


GARY CHEW/Sacramento
5/1/2009
Seeing Michael Caine's newest film made me think about who I see at a church I occasionally attend: quite a few youngsters, some of their parents, then row after row of gray-haired, elderly folks. It's like people in their teens and twenties don't exist.
Not that there would be much to attract that demographic to see "Is Anybody There?" It's about residents in an English assisted-living home and an almost forty-something man and woman who own and run the place and live there, as well, with their 11-year-old son.
Imagine for a moment being an 11-year-old boy growing up in an old two-story residence with your mom and dad and several elderly people not related to you. The old folks can just barely take care of themselves and every once in a while one of them seems to up and die, usually in bed in their room or downstairs on the living room floor.
Meet young Edward (Bill Milner). He's hopeful about getting his bedroom back since the old woman who's taken it has died---in bed. Edward finds their retired tenant expired and notifies his mom of the passing. The lad's accustomed to such events since this home he's growing up in seems to burst with old, senile men and women who act like they're not quite all there while waiting for their last day.
| | |
| --- | --- |
| | |
| Bill Milner | |
His mum, (Anne-Marie Duff) is the nearest thing to a saint I've seen in a motion picture since Ingrid Bergman. For the most part, mum runs the operation with husband and dad (David Morrissey) handling the maintenance and odd jobs around the house. The married couple also employs an 18-year-old girl for doing other household chores. Dad's gaze drifts more toward the young woman probably more than it really should given the family setting in which these characters find themselves. Dad is phasing into his mid-life crisis.
Then there's Clarence (Michael Caine), an old curmudgeon if there ever was one. Clarence is in his late 70s and lives, independently, in his own small vehicular house; a van or truck. Emblazoned on the outside of his motorized home is, "The Amazing Clarence." He's a retired magician. His wife, whom he deeply misses, has been dead for some years now.
Getting closer to the end of his rope makes it clear Clarence must take himself "off the road" and find more appropriate accommodations for someone his age. But, "For only a short time!" he declares to mum as he moves into Edward's old room just vacated with the latest expiration.
Edward and Clarence don't hit it off so well. Both are terribly annoyed by the other. Only one of the two is actually a child but both are acting-out to each other much of the time like children.
Thus begins a process of how and where a relationship evolves between a lonely old man near the end of his life and a young boy obsessed with the supernatural and death. Despite the obvious sepulchral tone of "Is Anybody There?" expect lots of laughs.
John Crowley, who directed "Anybody," takes about 90 minutes to string together a long series of short scenes---each with a bit of a punch line---to tell the story of Clarence and Edward. It's a funny, touching and rather predictable tale set in the early 1980s along the English seaside.
The most significance to be taken from this film is that Michael Caine may be crafting the other "bookend" for this latter day side of his of remarkable career. In casual conversation recently on PBS' "Charlie Rose," Sir Michael, who turned 76 last month, struck me as still being that very hard-charging bloke he's always been in terms of joie de vivre, but it was easy to see he's not far from 80 as Caine and Crowley chatted about Clarence, the magician gone geezer.
Caine started his way toward being a household word after acting in numerous television productions. In 1964 came his first film gig: "Zulu," followed in 1965 by "The Ipcress File" and then his smashing 1966 success as that dirty, rotten scoundrel of a lover called Alfie in the movie of the same name with all the Burt Bacharach music. Caine was even in a movie with Steve Martin in 1988 called, "Dirty Rotten Scoundrels" and more recently as a stoned-out retired political cartoonist reminiscent of John Lennon. That movie was a very serious one and another good one. Recall "Children of Men"?
Sir Michael has won two Oscars. The first in Woody Allen's "Hannah and Her Sisters" from 1986, then for one of my favorite Caine outings: "The Cider House Rules" in 1999. But his list is long and legend---and he's still working. There's another to come after "Is Anybody There?" and some say yet another scheduled to shoot in 2010.
As might be expected, you not only get a first-rate performance from Caine in this latest picture, but young Bill Milner is right there with Sir Michael all the way as each character inflicts discomfort on the other while trading important lessons in the sometimes dark and almost always amusing process.
Anne-Marie Duff, as the abiding mother of Edward, is a standout. Earlier, she had a small part in "Notes on a Scandal" with Judi Dench and Cate Blanchett. If Duff lost her English accent and talked "American Style," you might think you were watching Chloë Sevigny's sister.
After seeing "Is Anybody There?" it wouldn't be imprudent to put somewhere on Sir Michael Caine's gravestone: "What's It All About, Alfie?" or, maybe, "Is Anybody There, Clarence?" I wish Alfie and Clarence could trod the boards forever.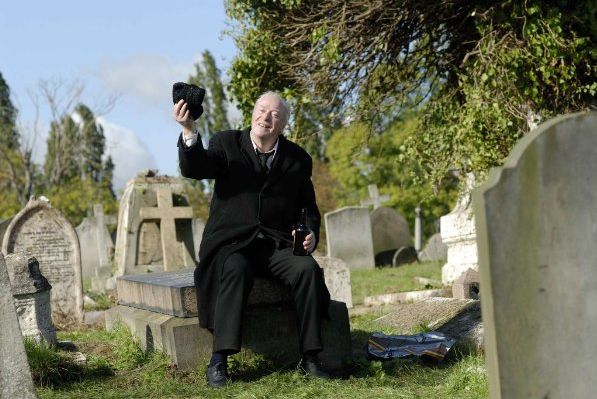 "Is Anybody There?" official site. Opens 5/1.
Check Yahoo Movies-Tulsa for theaters and times.
Gary Chew can be reached at garychew@comcast.net.
Copyright © 2009, Gary Chew. All rights reserved.