"Away We Go"; a film review by Gary Chew


GARY CHEW/Sacramento
6/9/2009
In 1999, Sam Mendes dropped his slam-dunk picture, "American Beauty," on everybody. It won 5 Oscars, including Best Film, Best Director, Best Original Script (by Alan Ball) and Best Actor for Kevin Spacey. This gruelingly compelling movie made people laugh, cry and quake watching the disintegration of an American family.
Mendes latest film, "Away We Go," is also about an American family, but this one isn't falling apart. It's just coming together. In fact, the man and woman aren't even married, but they are most certainly pregnant, and have been living together for a while. They are deeply in love, and unlike the husband and wife in "American Beauty," infidelity is the last thing on their minds.
Burt Farlander (John Krasinski) and Verona De Tessant (Maya Rudolph) are Caucasian and mixed race*, respectively. But the script by Dave Eggers and Vendela Vida makes "all that" no big deal. "Away We Go" isn't about their racial difference. It's about Burt and Verona wanting the best for the little girl in Verona's womb scheduled to make her debut in about three month's time.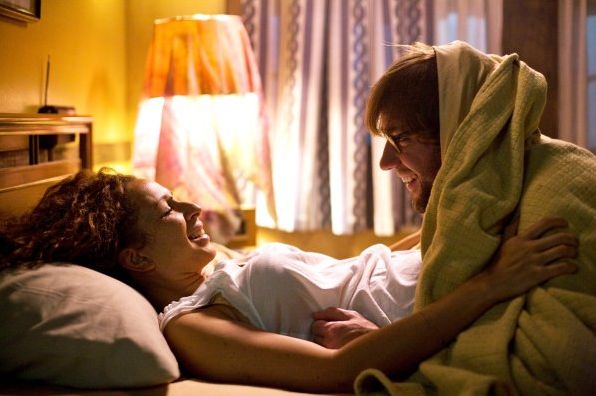 John Krasinski and Maya Rudolph

Then, Mendes and his screenwriters lace in attitudes reminiscent of the late 60s and 70s. Even Scottish-bred songwriter, Alexi Murdock's singing on the soundtrack made me think of Cat Stevens doing his music thing for the cult classic, "Harold and Maude" (1971), way back when my hair was a sort of medium brown. But what really nailed it for me was the laying down of several seconds of Beatle George Harrison's song, "What Is Life," from his classic non-Beatle album, "All Things Must Pass."
It's pretty obvious the title telegraphs "Away We Go" as a road movie which starts at Burt's parents. They live close by and are played by Jeff Daniels and Catherine O'Hara. The Farlanders have made the decision to move to Belgium for 2 years. That's right before their grand daughter will be born. Burt's folks have also rented their home while they'll be gone, so Burt and Verona won't be able to stay in it: Their place leaves a little to be desired insofar as raising an infant. The early thirty-something couple has an amusing back and forth as to whether the both of them are f---k ups or not. (Don't be fooled by the trailer dialogue below if you watch it, the actors don't say "screw up" on the feature soundtrack.)
So, it's onto Phoenix, Tucson, Madison, Montreal and Miami to see if they can get close to some family-type people in their address book. Verona's parents both died when Verona was in college.
A string of brief appearances ensues, allowing for terrific turns by the rest of the cast.
Allison Janney and stand up comedian Jim Gaffigan are the first visited by the parents-to-be. The characters Janney and Gaffigan play probably need their own TV sitcom, but it would have to be only on HBO or Show Time.
Verona's single, upscale-ish sister, played by Carmen Ejogo isn't really a good candidate for the couple to settle near in Tucson, either, so it's onto a sort of cousin of Burt's who's on faculty at the University of Wisconsin in Madison. Her name is not Ellen, but LN. Maggie Gyllenhaal is a feminist prof married to a latter day hippy dude. They have two children LN still nurses. The boys aren't infants. There are good laughs and a great argument at the dinner table during the Madison visit. Maggie is indescribably cheeky and charismatic.

Maggie Gyllenhaal

Montreal puts Burt and Verona in touch with another married couple: Tom and Munch Garnett They parent a bunch of adopted kids of every color. Chris Messina and Melanie Lynskey give fine performances in the Canadian segment which is where the fulcrum for "Away We Go" is found.
Mrs. Garnett can't carry a child to term. Many miscarriages have occurred during the Garnett's marriage. The effect of her latest one is unusually and touchingly reflected on in a Montreal strip bar.
Burt then gets word that his brother's wife in Miami has moved out. That couple has a pre-teen daughter. Burt's bro is beside himself with what he's going to do with his daughter not having a mother to help her grow up. This plays heavily on the sensibilities of Burt and Verona.
Their relationship and the responsibilities to be good parents focuses, even more, their need to make more intimate vows to one another to insure they meet the challenge. Best line in the film is uttered in Montreal by Munch Garnett. She's telling Verona how difficult it is to really be a good parent, "You have to be so much better than you thought."
All of that depends, of course, on the strength of the love between the parents. Most of the moms and dads seen in Mendes' film do share a strong bond, for better or worse, but the families in "Away We Go" are together and staying that way. It's refreshing family fare that brooks no cheesy, unrealistic platitudes. Rated R.
There's one more comparison to draw with Mendes' "American Beauty." Remember the scene where the boy next door is showing videotape to Kevin Spacey's daughter in the film? One shot contains the naturally whishing around of an airborne plastic bag on a fickle breeze in the alley of a storage center. The boy next door sees great poetry in the video he's shot. I liked that video. In "Away We Go," Mendes has another naturally occurring visual that's also memorable. It's the distorted reflection of an airborne jet airliner gaining altitude in the silvery windows of an airport building. I also appreciated this shot and call it to your attention if you see the film.
It's also memorable seeing two newcomers to pictures carry the film. John Krasinski ("The Office") and Maya Rudolph ("Saturday Night Live") deftly handle the freight. Mendes gets really good work from both. And it's especially gratifying to see Rudolph blazing a bit of a trail coming out of the Lorne Michaels milieu by acting so solidly in a story of some substance.
I think I've already used the word, "refreshing."

*For pop music fans and gray-haired disc jockeys, Maya Rudolph's mom is the late singer, Minnie Riperton.

Not safe for work, due to language.


"Away We Go" official site. Opens wide 6/26.

Check Yahoo Movies-Tulsa for theaters and times.

Gary Chew can be reached at garychew@comcast.net.

Copyright © 2009, Gary Chew. All rights reserved.