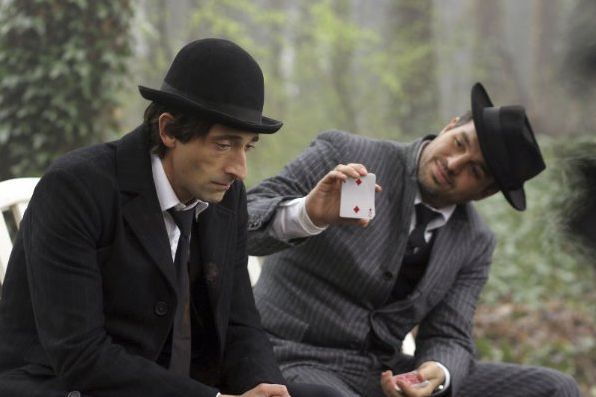 "The Brothers Bloom"; a film review by Gary Chew


GARY CHEW/Sacramento
5/26/2009
As "The Brothers Bloom" sets itself up in the prologue, I was reminded of two other con artists stalking the Great Plains of Kansas under the tutelage of Peter Bogdanovich way back in '73. This time, under the direction of Rian Johnson and his script, the con persons are not dad and daughter, but, yes, you guessed it, brother and brother.
The Blooms, Stephen and uh, well, Bloom (Mark Ruffalo and Adrien Brody) have continued their scams much longer than Moses Pray and Addie Loggins did in "Paper Moon." And play them with more class in locales much more glamorous than Toto's and my native state. Would you believe Mexico, Montenegro and the beautiful downtowns of St. Petersburg, Russia and Prague, The Czech Republic?
The bros are at odds as to whether they should keep on with their serial and complicated fleecing. Stephen doesn't want to stop concocting scenarios his younger sibling must play out on their targeted marks. It's sort of like Stephen is the director and Bloom the actor.
Bloom is weary. He wants to start living an unscripted, unwritten life. Stephen looks to be having too much fun and swindling too much out of their dupes for that. And besides, a grifter is not really such a bad person after all, since Stephen always says that "a good con is an event in which everyone gets what he wants."
The feminine component of this picture is played by Rachel Weisz. And no, her name isn't Trixie Delight (that marvelous character played by the late, marvelous Madeline Kahn in "Paper Moon"). Rachel is Penelope. And Stephen has 'cast' Bloom as her pursuant suitor. Beware Bloom, maintain your professionalism.

Rachel Weisz

After being set up as the Bloom dudes' final mark, Penelope joins forces with them on another con job, armed with more vigor than even Stephen. The ditzy, unknowing Penelope is filthy rich and lives alone in a New Jersey mansion that makes the Hearst Castle in San Simeon look like a shack. She has a string of weird hobbies she displays in a catchy montage mounted by Johnson (see banjo picture), and further defines herself as an epileptic photographer. Don't you just love to see classy women play comedic characters who are, more often than not, the butt of the joke?
Secondary characters, and I mean characters, include the reliable Maximilian Schell as Diamond Dog, the brothers' mentor and Ronnie Coltrane as an intestine-challenged man called the Curator. He's the Bloom boys' competition and sometime collaborator in the art of antique swindling. Then there's the not nearly garrulous enough Rinko Kikuchi ("Babel") in a role that might be the most memorably named character to come into the world of cinema since Honor Blackman caused Sean Connery to believe he was dreaming.
Bang Bang is what the Blooms call her. Using just her last name here, Ms. Bang is an explosives expert who acts as the Blooms' Girl Friday, albeit, not always as funny as filmmaker Johnson would want her to be.
Unfortunately, "The Brothers Bloom" doesn't blossom as much as it should, either, even though it has its moments. Johnson's script thinks too much about itself. The movie works too hard at being clever and slips into lame moments although the music, camera work, special effects, editing and acting are all just fine except for Mr. Brody playing Bloom more morosely than necessary. I say this and realize at the same time that Brody is one of my favorite new film actors, and remember really pulling for him when he won his Best Actor Oscar in "The Pianist" from 2001.
Weisz wins in the category for best in this cast as she did the Best Actor Oscar in 2005 for "The Constant Gardener." Of course, for any female actor, Penelope is the role to have in this movie, but there are several other notable women of the screen who could've really crashed and burned trying to do it. Moreover, it's only when Ms. Weisz emerges in the story that "Bloom" flowers.
The best way to describe "The Brothers Bloom" would be the comingling of two other films in order to give the best taste of what it's really like. They're the aforementioned "Paper Moon" and the recent "In Bruges," that being an Anglo-Belgian bagatelle that vacillates from the ho-ho-ho to the serioso, losing its smart and sometimes elegant effort toward compelling us in any significant way.
So, it's possible that Rian Johnson's new film itself may not be your best bunko---that is, not everyone involved getting in the end just what he wants, especially Stephen, unless he's conning us unto the final frame.

"The Brothers Bloom" official site. Opens wide May 29.
Check Yahoo Movies-Tulsa for theaters and times.
Gary Chew can be reached at garychew@comcast.net.
Copyright © 2009, Gary Chew. All rights reserved.