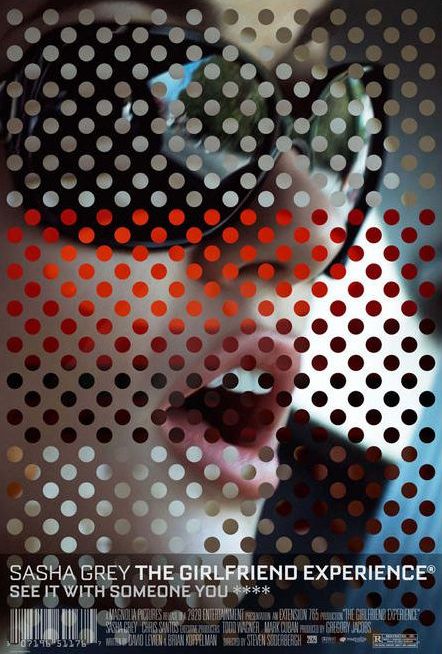 "The Girlfriend Experience"
a film review by Gary Chew


GARY CHEW/Sacramento
6/6/2009
When I moved to Sacramento, Sasha Grey, the prolific, award-winning adult film star. had been born only the year before in California's capital. Little did I know our town, over the years, was nurturing a budding talent, who, on leaving the Big Valley, would soon win recognition at the Adult Video News Awards for her appearances in special scenes of two pornographic films. After at least 80 porno shoots (Some say many more), Ms. Grey, who says her porn is performance art, crosses over into the realm of legitimate feature film acting in Stephen Soderbergh's latest. "R" rated and called "The Girlfriend Experience."
Being the experienced experimental filmmaker he is, Soderbergh knew that Sasha would be right for the lead in a low-dollar, improvisational movie about a high-dollar escort who runs her own one-girl agency in a financially-quaking contemporary Manhattan.
The escort's name is Chelsea. What she's selling is the authentic date. One that's supposed to be like a real date, not a "date" or trick a hooker would unceremoniously call one of her johns. You know: nice, expensive dinner, a movie, back to his hotel room or flat for a nightcap and some old-fashioned necking, a la the drive in----then, whatever else the client wants. Chelsea's rate for a girlfriend experience is only two grand an hour.

Sasha Grey in character: even when her eyes are exposed, they reveal nothing.
The rest of the cast in GFE are non-actors, including Chris Santos, who plays Chelsea's live-in boyfriend. He's cool with Chelsea's occupation and, in his own way, services many of the same kind of guys she does: rich, sort of middle-aged men fretting about losing their assets. But Chris does his job in a gym---as a personal trainer. His fee is $125 an hour. Obviously, trouble ahead.
The trouble being that this film is really about business, not sex. Chelsea is strictly business about her for-sale favors. Much of GFE shows her or her clients talking about finance and the big sucking sound being made by the market down on Wall Street. All of it taking place in less than a week just before last November's election. The time the actual shoot occurred.
Never has sex been played so much a commodity. There's no passion or attempt at passion here. Ms. Grey is nude in a very dark room once in the film. There are no scenes of lovemaking unless the closing moments of the movie could possibly be called that.
The overall look of GFE is a non-sequential documentary. Cold, detached, narcissistic, shot by Soderbergh's up-to-date HD Red Camera in little or available light, keeping the players mostly in silhouette.
That way, much of the time, you can't see the expressions on the non-actor's faces, and maybe, looping (if done) made easier. But everything at a shadowy remove. Especially Sasha and the manner Soderbergh lays out his highly improvised five days in the life of a steely but lovely call girl calculating her way to a success that will have surely soured by the time she gets there.
Sasha Grey turned twenty-one in March.

"The Girlfriend Experience" official site. Now in limited release.
Check Yahoo Movies-Tulsa for theaters and times.
Gary Chew can be reached at garychew@comcast.net.
Copyright © 2009, Gary Chew. All rights reserved.