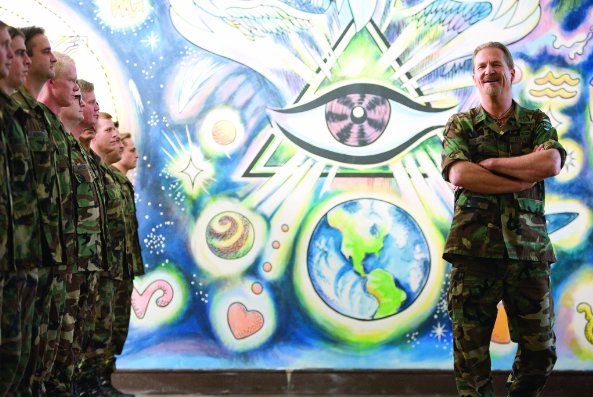 The Men Who Stare at Goats; a film review by Gary Chew


GARY CHEW/Sacramento
11/5/2009
A warning, flashed as the film begins, says, "More of this is true than you would believe." After seeing all of "The Men Who Stare at Goats," it's clear this motion picture, despite all its lunacy, holds more truth than humor.
But how could one swallow the notion that the US Army once employed an experimental unit of soldiers to inculcate New Age counterculture beliefs and techniques and alter the psychology of the military? Well, a nonfiction book by Jon Ronson indicates that did occur, although, apparently, never met with much success.
Using their power of thought and concentration, these seemingly psychic GIs of recent US conflicts felt the project would eventually render all enemies peaceful and take away the foe's desire to make war. But screenwriter Peter Straughan interposes a string of fictitious situations to amplify just how freaking insane the experiment could be, even though what Ronson's book says really happened already is pretty damned absurd on its face.
First thing that came to mind as I began slipping under the influence of the film and the stare given back by the goats was a 1966 picture starring Alan Bates: the anti-war classic, "Le roi de coeur" or "The King of Hearts," wherein patients in a WWI insane asylum hold court while a German bomb is defused.
But as "Stare at Goats" continued, it became obvious that, not since Donald Sutherland jumped into an armored tank back in 1970 as the stoned-out Sergeant Oddball in "Kelly's Heroes," has there been the opportunity to dig such nutty characters: especially confronting the "Stare at Goats" role of Bill Django, played by (who else?) but Jeff Bridges.
The adroit and talented leading man, George Clooney, plays Lyn Cassady, a sort of private contractor-type dude/soldier all rolled into one. Cassady puts the finesse on a wannabe American print journalist with the name of Bob Wilton. That role is handled by Ewan McGregor. Wilton accompanies Cassady from Kuwait into Iraq on some kind of secret mission. Just now, Wilton is sucking-it-up from being dumped---big time---by his stateside wife. He needs to impress her he's in peril as an imbedded reporter trying to stay alive in the sand dunes of Iraq while, with a little luck, winning a Pulitzer.
As the red-headed, comic correspondent, Kent Jones, says on MSNBC's Rachel Maddow Show: "WEAK....WEAK!"
Yes, very weak, in spite of the nuanced, biting satire in this wannabe smart movie that misses the mark by not being funny so far....it's not even funny. And that's too bad…really. Down deep under it all, the absurdity "Stare at Goats" draws on (for what bit of strength it has) comes from all those who've been in total outrage for so long over the bombing and dying in Iraq and Afghanistan. Clooney collaborator and director Grant Heslov (here with his first film) might feel seeing "Goats" is an effective way to cope…thus easing some of the pain and Post Traumatic Stress Disorder the chaos continues to produce.
The movie is a one-joke-film. Let me tell it to you. A goofy, in-denial-dude (Clooney) with the testosterone level of a bull racing down a crowded thoroughfare in Pamplona, Spain preaches and teaches that mind control and concentration will get a trooper what he wants. Then, repeatedly, the in-denial-dude is proved wrong in various scenarios. What he wants, or is trying to do, comes to naught. That re-amazes the accompanying everyman-journalist-guy (McGregor) each time the in-denial-dude makes the claim.
And this goes on for 93 minutes?
Well, I get "Goat's" mocking mood for things militaristic, and don't necessarily disagree with some of them. But dude, where's my plot? Where's an arc I can apprehend? And why all the bits with lame punch lines?
But back to Jeff Bridges' Django: he's "The Big Lebowski" guru with braided pony-tail who gets the first epiphany about what psy-ops has come to call The New Earth Army. The vision comes to the elder Django (with help from some mighty fine weed) as he's wounded years earlier in a Viet Nam firefight. Yip, nobody does hippy better than Bridges, except for (maybe) Donald Sutherland as Sergeant Oddball.
Meanwhile, the nasty adversary in this farcical fraternity is another psychic trooper named Larry Hooper---not to be confused with the deep-voiced singer and musician seen for years on the Lawrence Welk Show. The Hooper role is played by that Oscar-winning wonk, Kevin Spacey. As you can see, there are no slouches in this cast.
| | |
| --- | --- |
| | |
| George Clooney | Kevin Spacey |

The acting is good. And as a movie, the foundation "Stare at Goats" stands on is substantial. The picture is trying to say something. But I'm sorry to say, the only thing flakier than its demented cast of characters is the flaccid screenplay.
Flakey and flaccid. Not good!
I saw "The Men Who Stare at Goats" on Thursday evening, November 5, 2009. Newsroom video files, computers, newspapers that survive and future history books (if not Orwellized) will have recorded what happened on that date at a US Army post in central Texas, USA…unless it secedes.
One short, loony scene about half way through "Goats" shows a naked soldier on a post parade ground. The poor, stressed-out grunt has lost it and begins firing at several of his uniformed comrades marching along in formation. Thank the Southern California movie gods no one is hit, but all the GIs scatter while the soundtrack suggests it's time to laugh. I couldn't.
Occasionally, timing is more important than location.

"The Men Who Stare at Goats" official site.
Now playing in Tulsa at the Cinemark Tulsa
and the AMC Southroads 20.
Check Yahoo Movies-Tulsa for theaters and times.
Gary Chew can be reached at garychew@comcast.net,
Facebook.com/justin.playfair and Twitter.com/orwellingly.

Copyright © 2009, Gary Chew. All rights reserved.