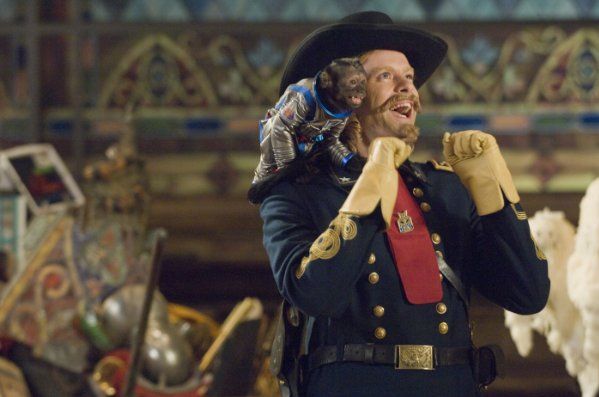 Tulsa's Bill Hader plays General George Custer with aplomb and a 15-pound monkey on his back.

"Night at the Museum: Battle of the Smithsonian"
A review by Gary Chew


GARY CHEW/Sacramento
5/16/2009
Double-tasking in my head, at the age I really am while imagining being a boy once more of about eight years, "Night at the Museum: Battle of the Smithsonian" made me a person of two minds this morning. How weird.
Piquing the senses of young moviegoers for great art and history is good. (You get that a lot in Shawn Levy's new follow up to his 2006 museum movie of almost the same title.) Yes, stirring girls and boys to go and view what's in our great national museums or ones right in our own home towns is more than good. It's really noble. There's nothing bad about that.
Unless you have lots of lame or flat jokes conveyed in dialogues steeped in a process that's come to be known as The Ben Stiller Form of Conversation, which is so ITBH---intended to be humorous.
The comedic and bloodless violence of the new "Museum" seems to be a bit more available during the running time of the film than might be necessary. But at least, the vivid special effects and overall forward-leaning action aren't the drag way too much of the back-and-forth combative spewing is between Stiller and others in the cast.
Speaking of which, the delightful and perky Amy Adams plays 1930s aviatrix, Amelia Earhart. Morkman, Robin Williams, is back as Old T. R. And, just damn near stealing the picture out from under Stiller is the flexible Hank Azaria in three roles: The Thinker, Abe Lincoln and the edgy, Egyptian pharaoh, Kahmunrah.
The worth-the-price-of-admission portion of "Museum, Numero Dos" is Mr. Azaria, talented "Simpsons" voice-man that he is, doing his Kahmunrah lines in the mah-vuhl-uhs, precious and lispy English accent we all know and love that came from the mouth of that maestro of filmic monster guys, Boris Karloff. For me, Hank is sort of the graveyard smash of the movie. (You do remember "The Monster Mash," that Halloween hit from October, 1962 done by Boris Pickett and the Cryptkickers?)
"Battle at the Smith," while pleasantly tugging at our patriotism, should also provide at least a hoot or two with Tulsa's own Bill Hader doing his version of General George Custer. Bill's character is hard at work figuring how to order up a clever attack on the enemy.
One more thing: check out Hark Azaria in "Shattered Glass" from 2003, if you'd like to see where this dude stretches himself to and from as a film actor.

Hank Azaria as Egyptian pharaoh Kahmunra "kicking" sand in the face of a miniscule Owen Wilson

Opens wide on 5/22. Check Yahoo Movies-Tulsa for theaters and times.
"Night at the Museum: Battle of the Smithsonian" official site.
Gary Chew can be reached at garychew@comcast.net.
Copyright © 2009, Gary Chew. All rights reserved.