"Up in the Air"; review by Gary Chew


GARY CHEW/Sacramento
12/10/2009

When I first heard the title, "Up in the Air," I couldn't believe my ears, muttering to myself, "Have they produced a documentary film about Balloon Boy and the Heene family of Fort Collins, Colorado already? That media hoax just happened last October."
Then I realized it was time for another timely and socially relevant movie with George Clooney in it: this one about a guy whose job is to jet around the country all the time firing people from their jobs. The corporate language euphemizing machine dubs these professionals as Career Transition Counselors. Sounds about right.
Ryan Bingham is headquartered in Omaha, but his home is one of the following: above America at 35,000 feet; in a fashionably drab hotel or motel room; on an impersonally crowded or empty airport concourse; or his barren, one bedroom high-rise overlooking beautiful downtown Omaha.
People who actually live in Omaha will get an aerial glimpse of their city when they see "Up in the Air," as will those residing in Columbus, Detroit, Des Moines, Oklahoma City, Wichita, Dallas, St. Louis, Kansas City, Miami, San Francisco and, whoops, Tulsa. There's also something momentous that happens for Ryan during a fly-over of Dubuque, although an aerial shot of that Iowa town has been left to the imagination.
(So as to not get hopes up too much, Ryan's special, mid-air occasion takes place in the first class section with plenty of sun and the cabin lights turned on.)
If this all sounds pretty depressing...well, it is. But don't let that fool you into not seeing "Up in the Air," for I can guarantee that you'll be laughing your butt off while being deafened by that "big sucking sound" (Ross Perot) our economy is currently making with workforce layoffs.
Bingham is such an isolated, self-absorbed, professionally-trained people-sacker, it could be that Rush Limbaugh will invite him to be a guest on the show. But when Rush finds out Ryan is played by George Clooney, the invitation will likely be withdrawn. Clooney is such a liberal!
Ryan has no close relationships: just an occasional mixing-it-up with the woman who lives down the hall in the Omaha high rise. And he's got two sisters and other family in Detroit he sees hardly ever. But he does meet up with Alex, played by Vera Farmiga.
She's lovely and professional, and has an excellent skill set for flying around in her job a lot, just like Ryan. "Catching up" in still more of those drab, but fashionable hotels and motels is their thing...that is, when they can get their schedules to jibe. They have an understanding about the true definition of a casual relationship. Two peas in a pod, you might say.

George Clooney and Vera Farmiga

The big boss back in Omaha, Craig Gregory (Justin Bateman) is cutting expenses at the firing firm, and sets about to bring all his Career Transition Counselors off the road. Firing individuals via a T1 line is quicker and saves the company money.
It's then that a new employee arrives at the Omaha headquarters. She's Natalie (Anna Kendrick), a tough, little cookie just out of Cornell. Natalie looks to be a gal who was born about five to six years after Ronald Reagan became president: and, is she ready to take on those special folks slated for the corporate guillotine. Helping them with all that transition counseling they'll need looks like a neat project for Natalie.
Then they get to come back to the head office and begin the new regimen of downsizing (on a computer screen) the people whose bosses don't have the cajones to sack in-person, in the first place: cowardice being a subtext in this script written by "Up in the Air" director, Jason Reitman ("Juno", "Thank You For Smoking"), as well as Sheldon Turner. And, I will add: an excellent screenplay it is. Making an audience depressed while laughing is art at its best, believe me.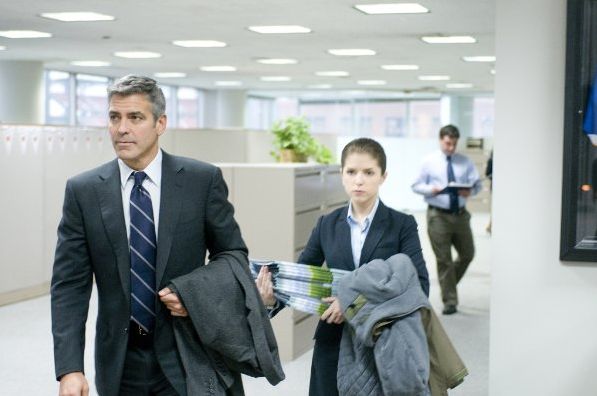 George Clooney and Anna Kendrick

One of Ryan's sisters, Julie (Melanie Lynskey), is about to get married. Older sister, Kara (Amy Morton) works at cajoling Ryan to show up for the wedding. Down deep, big brother is really a "nice guy," so he capitulates and makes it to Motown---but brings along his rendezvous lady, Alex. It's winter in Detroit and Ryan and Alex have just laid-over in Miami---if you get my meaning.
Sounds like this film's big close will be a lark, right? Think again, Pilgrim. Just watch it and see. "Up in the Air" gets very down-to-earth with intensive self-reflection and good old grounding that couldn't be better for Christmastime and other Winter Solstice holidays---not to mention the...uh...Happy New Year that's upon us.
I've seen some excellent movies over the last week or so---as we move into the first-of-the-year Oscar push. And "Up in the Air" is just about as good as any of them. See it, my friend. As Tatum O'Neal says in the old black and white movie, "Paper Moon," "You won't be sorry."

"Up in the Air" official site.
Now in limited release, opens wide on Christmas day.
Check Yahoo Movies-Tulsa for theaters and times.
Listen to an NPR interview with novel author Walter Kirn.
Gary Chew can be reached at garychew@comcast.net,
Facebook.com/justin.playfair and Twitter.com/orwellingly.

Copyright © 2009, Gary Chew. All rights reserved.