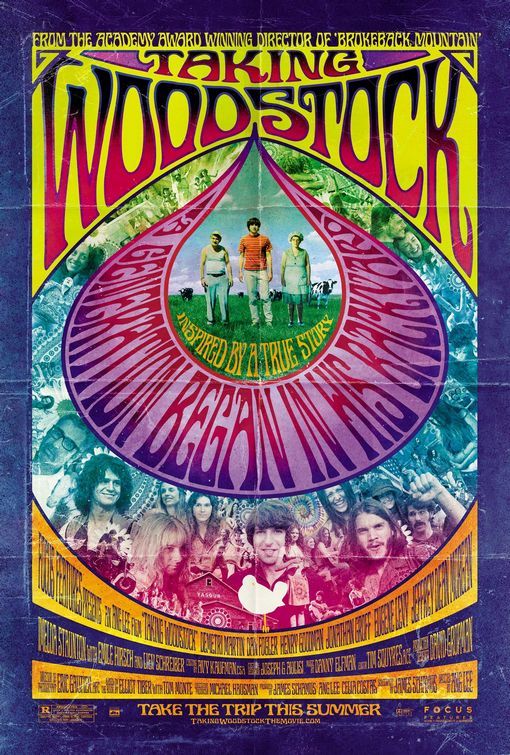 a film review by Gary Chew


GARY CHEW/Sacramento
8/22/2009
To read and learn of Elliot Tiber, it seems he's led a charmed life. "Brokeback Mountain" director, Ang Lee's new film, "Taking Woodstock" puts you in Tiber's youth, 40 years ago, in Bethel, New York at his parent's financially failing B-flat motel where an earthquake was about to shatter cultural seismographs across America.
Bethel is situated in---what someone from Missouri might call--- the boot heel of the Empire State: several miles north and a tick west of Apple City America. It's Bensonhurst where Tiber was raised before he and his parents moved in 1955 to rural New York State.
But before the Tibers left Brooklyn, Elliot had already crossed paths with Michael Lang who'd prove to be a co-producer of the cultural quake soon to happen. And earlier in the summer of 1969, Tiber just happened to be a patron at the Stonewall Inn when the infamous Stonewall Riot occurred in Greenwich Village. And now, nearly in his mid-thirties, Elliot is about to add Woodstock to his résumé.
James Shamus (a producer of "Brokeback Mountain" and "The Ice Storm," one also directed by Lee), adapted his screenplay from Tiber's autobiography, "Taking Woodstock."
In his Ringo Starr haircut, Demetri Martin, a recent arrival to cable TV, plays Elliot Tiber or Teichberg. Mr. Martin's Comedy Central series is known as "Important Things with Demetri Martin."
Jonathan Groff is Michael Lang and Mamie Gummer, Meryl Streep's daughter, plays Lang's girl friend, Tisha. Eugene Levy is cast as the dairy farmer, Max Yasgur, on whose green and muddy acres Woodstock took place. Another familiar face is Paul Dano ("There Will Be Blood," "Little Miss Sunshine") as an acid-dropping dude who, with his girl friend (Kelli Garner), takes Elliot on a long trip in a VW van to see Lucy in the Sky with Diamonds, burning nary a drop of gasoline "on the way."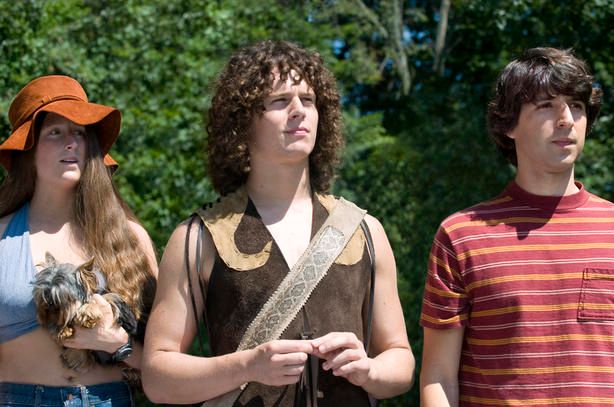 Mamie Gummer, Jonathan Groff and Demetri Martin


Kelli Garner, Demetri Martin and Paul Dano

Emile Hirsch, in the role of Billy, gives poignancy to the film as a P-T-S-D flashing-back Nam Vet who's a Bethel bud of Elliot's. "The Walton's" John-Boy and current Mercedes-Benz TV voice, Richard Thomas, is seen as Reverend Don and Brit actor, Imelda Staunton, is perfect as "Taking Woodstock's" scene stealer. Sonia Teichberg is Elliot's mom: she's more of a Jewish mother than Mel Brooks has ever thought of having. Mrs. Teichberg sees all in life as darkness, and the pounds of guilt she lays on her son and husband, Jake (Henry Goodman), lie heavier than a Woody Allen movie in the style of Ingmar Bergman (See: "Interiors," if you can). Mother Teichberg does see the light momentarily, though, when she eats four especially prepared brownies Vilma has brought for dessert.
| | |
| --- | --- |
| | |
| | Liev Schreiber |
Who is Vilma(?) you ask. Well, it's Liev Schreiber in the breakout film role of his career. In 1999, Schreiber played against Viggo Mortensen as Diane Lane's cuckold husband in another good historical event picture that was set in 1969 Upstate New York: "A Walk on the Moon."
In "Taking Woodstock," the hefty Schreiber's Vilma, in pink dress and blonde wig, packs heat under his skirt and on his thigh playing an ex-Marine back from Nam who shows up for the Bethel bash, takes a liking to Jake and helps out with security for Elliot and Michael. In fatigues, Vilma easily could be one of those Tarantino "Basterds" now playing on another big screen near you.
Yes sir: some pretty humorous stuff with Vilma in a scene. In fact, all of "Woodstock" is pretty damned funny. Chuckles just wave through an audience with all of that reasonably subtle same-gendering, weed-toking and tab-dropping going on. Then there's the getting of everyone's shit together for the rock concert to end all rock concerts that looks like it should be called "The Rains of Ranchipur" with Dick Burton and Lana Turner.
You might think you're seeing a re-mount of the musical, "Hair" watching Ang Lee's "Woodstock." Elliot lets a troupe of stoned-out theater players live in the family barn (for free) where they rehearse for the summer arts festival that was to have taken place in Bethel until Elliot and Michael hook-up for something that would sell a few more tickets.
The thespians are called the Earthlight Players and appear, now and then, doing what theatrical people do (mostly by Chekov) and, take off their clothes. Nothing erotic in any of this, whatsoever, but there are a few glimpses of genitals (either kind) that flash in the brilliant summer sun of bucolic New York. Aquarius re-dawning, I suppose. (Rated-R.)
Please know this: "Woodstock" has nothing to do with CSN&Y or Richie Havens or Arlo Guthrie or Joan Baez or Janis Joplin or Jimi Hendrix or The Who or even placards begging Bob Dylan to appear---although there are some of those, too. It is about the people who, by design or otherwise, made Woodstock happen, especially the Teichberg family. Doing another documentary on the subject would be a sister-kisser.
Director Lee does inter-cut his set pieces with actual shots of Woodstock goers, particularly effective with the mud sliding action (after the rains came) done by actors, Martin and Hirsch and the authentic crowd. A difference in 40 years between film clips is hardly noticeable and works well.
Imagine how much more of a budget "Taking Woodstock" would have required if original performance clips had been included or an actor doing David Crosby or Joe Cocker, etc. I don't think so. They wouldn't have added much, if at all, since the movie is about people on the periphery. Woodstock stars already have their documentary. What we need now is a saga about American capitalism---hippie style. And this is it.
I didn't make it to Woodstock. Green Country was a fur piece from Bethel, New York in 1969 and I had a family up and going as well as a gig then at 3rd and Frankfort at a downtown Tulsa TV station. But I did live those years as a young adult. I remember the news coming out about Woodstock as it was happening and who and how many were there. It was a special time for many of us born in the mid to late 30s, as well as those only in their teens and twenties--- who really boogied---either on the ground (mud) or via the media.
That's what's special now about seeing "Taking Woodstock." It may well be special for other men and women, too (not yet born then), who've been here long enough to know just what kind of a price has been paid for all that irresponsible peace and love over three days one August on Max Yasgur's dairy farm.
Ang Lee closes his film with promoter Michael Lang off to take California in December at Altamont. Sounds like a good title for a film minus Mick Jagger.
And no doubt about 1969. It was a very good year.

"Taking Woodstock" official site.
Opens wide Friday 8/28, in Tulsa at
the Cinemark and the AMC Southroads 20.
Check Yahoo Movies-Tulsa for theaters and times.
Gary Chew can be reached at garychew@comcast.net,
Facebook.com/justin.playfair and Twitter.com/orwellingly.

Copyright © 2009, Gary Chew. All rights reserved.