GARY CHEW/Sacramento
3/7/2009

Joaquin Phoenix' recent bizarre guest shot on the David Letterman Show should be no indication the film, "Two Lovers," is an offbeat, cutting edge kind of picture.

Although Mr. Phoenix plays an offbeat young man suffering from bi-polar disorder in a character called Leonard, this latest film from director James Gray could be a movie set in almost any time or place.

"Two Lovers" is derivative of a short story titled, "White Nights," published in 1848 by Fyodor Dostoevski and has been favored enough by screenwriters to be so adapted no less than four times. This latest one written by Mr. Gray and Ric Menello.

Leonard lives at home with his parents, played so well by Isabella Rossellini and Moni Moshonov. Let me just say, delicately, that Leonard's career track has yet to be determined. His dad has him working in the family dry cleaning business in South Brooklyn. Marriage for Leonard was derailed earlier with an engagement gone south. It's taken quite a toll on Leonard.

The film opens with Leonard trying to end it all with a wintry dip in the ocean. Lack of oxygen compels Leonard to rise, not so much to any occasion, but more, specifically, to the surface. Even more bracing occasions soon begin aligning themselves with Leonard's way forward.

The Cohens, who own another dry cleaning business, come to dinner with their lovely, single daughter (Sandra) who's about Leonard's age. Both sets of parents are matchmaking their offspring while the fathers chat about merging their businesses. The future looms.

Sandra, sensuously played by Vinessa Shaw, is struck by Leonard. Her eyes tell a familiar story as they gaze at the diffident young man. Lennie is bolstered by feeling her attraction to him. Then another occasion soon follows Leonard and Sandra meeting over dinner at his parents' place.

Michelle (Gwyneth Paltrow) has just recently moved into an apartment one flight up from Leonard's flat. He meets her on the landing one day as she has just come downstairs to remove herself from an argument with (she says) her father. Michelle and a male voice from above shout four-letter words back and forth as Leonard becomes protective of her and invites her into the family apartment. Michelle briefly meets Leonard's disconcerted parents.

Leonard is smitten. Much like Ethan Hawke is smitten by Ms. Paltrow in her role as Estella in "Great Expectations," Dickens and Paltrow fans everywhere. Paltrow is at her best in these early scenes what with her animated chatter with Phoenix' character, using that alluring and intelligent voice of hers which is accompanied by her very visage right there on the big screen. The casting couldn't be better. It's good to have her back in front of the camera.

A lovely, but troubled woman, Michelle is. She works as an assistant in a high-dollar Manhattan law firm but seems very convivial toward Leonard and asks him out with a couple of her girl friends for a night of big city clubbing. Leonard not only goes but later accepts an invitation from Michelle to dine at a swanky restaurant with her and her boy friend (Ronald), a married and bit older man from the firm. He's played by Elias Koteas.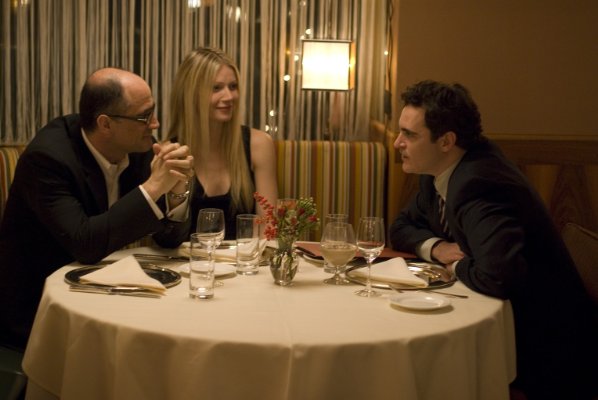 Michelle wants Leonard to assess whether he believes her office lover will ultimately leave his wife and family, then come to her. It's clear to any male seated in the cinema with an I.Q. of 85 or above that Leonard is being gamed by the seductive Michelle but whether she knows that or not is unclear.
Leonard, however, seems unfazed by being stiffed with Michelle's no-shows of one kind or another as their association begins to look like it may be taking his breath away. In the meantime, Sandra's breathing becomes more pronounced in Leonard's presence, as well.
As I sat watching this intelligent motion picture in a dark Sacramento cinema here in the 21st century, I was keen to try to pick up on any nuance that would foretell where the narrative would lead or what would prove to be the real truth behind one character or another.
That's what makes "Two Lovers" a movie that would fit well in any place in just about any year. (The only faddish things are cell phones and text messaging that keep Leonard and Michelle connected.) There are no modern day tricks in this script. So just sit back and enjoy, if you will, the characterization and the fine acting that will spread out before you as "Two Lovers" moves forward.
Most of us have come to know by now that this likely will be Mr. Phoenix' last film. He's only 34 but says he wants to move on and become a rap artist. Despite Phoenix' outré gig on Letterman's Late Show, I can't help but feel a kind of lamentation coming over me due to the first-rate job he gives in "Two Lovers," not to mention "Walk the Line," "Gladiator" and a very funny and underrated film from the mid 90's by Gus Van Sant called "To Die For."
Music notes: Vocal buffs will be pleased to know that, besides Donizetti's "Una Furtiva Lagrima" on the accompanying trailer just below, "Two Lovers" lets us hear the late, great tenor, Luciano Pavarotti also sing part of an aria from Pietro Mascagni's "Cavalleria rusticana," an opera set in an earlier time and place that also deals with the rigors of romantic trianglation.
I must add that the piece of music by the venerable Henry Mancini (YouTube below) is not only used on the soundtrack of the feature and trailer of "Two Lovers," but also on the soundtrack of the 2000 film, "Sexy Beast," with Sir Ben Kingsley, Ray Winstone and Ian McShane. Kingsley in "Sexy Beast" alone is worth the price of admission or the rental fee. And Winstone and McShane are outstanding as well. An unusual, violent, provocative film.
This Mancini instrumental is called "Lujon" (loo-HOHN). I have it on a weird-looking 12-inch black disc that's made out of something called vinyl. In my book, "Lujon" is not only the most sultry, sexy track ever done by Mancini, but may be the most sultry, sexy piece ever recorded (period). And it's in Mancini's great archive of impeccable works.
Dig it.

"Two Lovers" official site
Opens 4/10 at the Circle Cinema.

Yahoo Movies-Tulsa for theaters and times

Gary Chew can be reached at: garychew@comcast.net

Copyright © 2009, Gary Chew. All rights reserved.

Chew's Reviews Who is Gary Chew? Main page