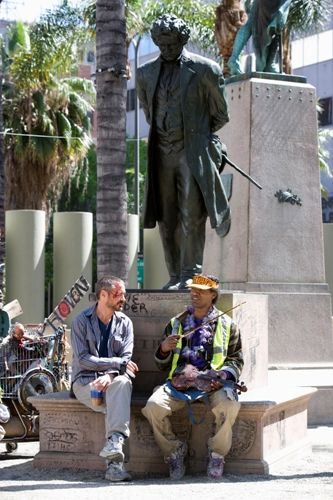 Ludwig van eavesdrops on Robert Downey, Jr. and Jamie Foxx

"The Soloist"
A review by Gary Chew


GARY CHEW/Sacramento
4/21/2009
The plight of the homeless and mentally ill has risen steadily in America over the last three decades. They live under bridges, sleep on sidewalks, squat in abandoned buildings and cars or can make up the population of tent cities scattered across stretches of American real estate best left for dumping trash and garbage.
Los Angeles Times columnist Steve Lopez put together a series of articles he wrote about a homeless, mentally ill man and titled it, "The Soloist." Susannah Grant, who was nominated for an Oscar in 2001 for her script, "Erin Brockovich," has written a screenplay from Lopez's memoir and Joe Wright ("Atonement," a 2008 Oscar nominee for Best Picture) has directed the film.
Robert Downey, Jr. plays Lopez and Jamie Foxx is cast in the role of another real person named Nathaniel Ayers who, earlier in his life, was a string player studying at the renowned Juilliard School.
Lopez happens onto the homeless, shabbily-dressed Ayers playing his two-stringed violin next to the statue of Ludwig van Beethoven in downtown Los Angeles. The newsman knows good material for his column when he sees it. But it has yet to dawn on Lopez what he might be getting himself into writing several pieces about a black man from Cleveland who now sleeps and plays music by Beethoven and Bach on the sidewalks of LA.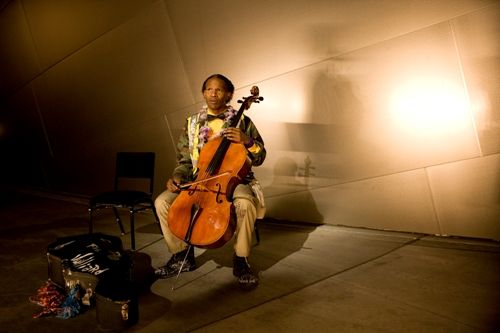 Jamie Foxx

Lopez's book and the film loosely chronicle the relationship that emerges between them. Besides knowing Nathaniel is good copy, the journalist is also drawn to help better the street musician's life. Conversely, Nathaniel, with his mental condition, is very skittish about people putting him in "little boxes," so to speak.
He's also paranoid of psychiatrists and other health professionals who might try to force him to go back on a "head meds" regimen.
It's all new ground for an unlikely friendship blossoming between a man who makes a good living at one of the nation's best-known newspapers and a disturbed musician who exists not far from the Times building along with 90,000 other destitute Angelinos.
The Lopez/Nathaniel dichotomy is intrinsic to the story and brings to mind a bit of a problem: Downey nearly overwhelms with his energy on the screen. The very nature of Foxx's character is one that either briefly shows sublime contentment with music wafting into his ears, or, for longer periods, on the very edge with fear of being hemmed-in or medicated. It's almost nothing but High Tension City that these fine actors provide us in their roles.
Since Nathaniel's character is what the story revolves around, I can't help wondering if Downey's Steve Lopez could have been performed about two or three stops down on the energy meter for there to be more contrast in "The Soloist." I'm just sayin'.
I did catch moderate differences between the book and the film; not something to be surprised about insofar as the printed page and its cinematic offspring are concerned. The steady and solid Catherine Keener plays Lopez's editor at the Times and, quite unbelievably, his ex-wife. She respects Lopez for his work and integrity while being miffed at him for, apparently, not wanting a reconciliation.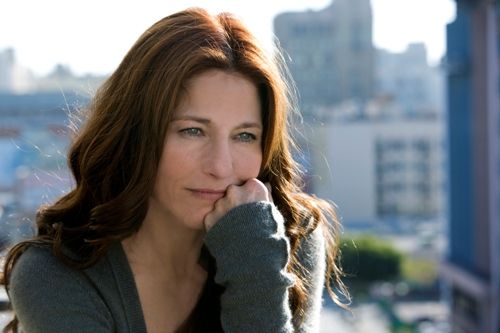 Catherine Keener

This female character doesn't exist in Lopez's memoir. He writes about his wife and children in the book and even invites Nathaniel to his home for a family Thanksgiving dinner. No such scene in the film.
Other embellishments for ticket-buyers include some lame comic relief bits ginned up to play off the darker scenes related to those voices Nathaniel sometimes hears inside his brain, not unlike "A Beautiful Mind," and the almost repulsive display of destitution among LA street people---all a stone's throw from Disney Hall, the LA Times building and the Beethoven statue. My guess is that some of the street people in the film are the genuine article.
"The Soloist" paints its music track with flying colors. The Los Angeles Philharmonic, under Esa-Pekka Salonen, plays brilliantly as the entranced Nathaniel and Steve sit, wide-eyed, in the audience.
Other music scenes that score heavily contain moments when Foxx, as Nathaniel, begins a Beethoven piece with the solo line, then, as the player's rapture for the music elevates, director Wright selectively and deftly intrudes other sections of a full orchestral rendering of the piece. Gradually, the music returns to a solitary line coming from the soloist's instrument.
It's a real treat for those of us moved by great music. And even better, the speakers at the cinema I was in almost put us in Disney Hall where the performance scenes were shot. Fans of Symphony No. 3, Beethoven's "Eroica," will be gravitating to the frontal edge of their seats.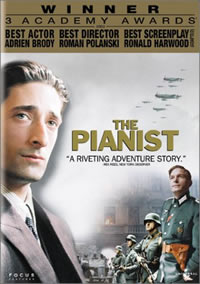 Over all, "The Soloist" stretches itself more than necessary in getting across its marvelous point. But it did remind me of the moving scene in "The Pianist," Roman Polanski's award-winning film from 2002.
Remember when the wounded Nazi officer confronts Adrien Brody's character hiding out in the Warsaw ghetto? The pianist, Wladylaw Szpilman, plays a Chopin piece on the battered piano in the abandoned flat. The officer, although a bruised and brittle soldier of Hitler's Third Reich, is a cultured, educated man. He knows Art. And in that scene, Art makes a very long leap between the sensibilities of a Nazi officer and a sequestered Polish Jew, courtesy of Frédéric Chopin.
Such a thing happened in The City of the Angels, courtesy of Steve Lopez, Nathaniel Ayers and Ludwig van Beethoven.

Opens wide on 4/24. "The Soloist" official site.
Check Yahoo Movies-Tulsa for theaters and times.
Gary Chew can be reached at garychew@comcast.net.
Copyright © 2009, Gary Chew. All rights reserved.