Tulsa TV Memories Guestbook 200

TTM main | What's new on TTM? | GB Archive




January 01 2006 at 11:40:09
Name: Scott Linder
Location: Hollywood-land
Comments: To Dana LeMoine....thanks for the note about Frank Nelson. I believe the Benny episode you were watching contains the famous Frank Nelson line "No, I'm a float in the Rose Parade". There are several Frank Nelson web sites, including one that has several sound bites from the Benny programs...just search his name.
By the way, my friend Doug (Frank's son) tells me that the "Yesssss" bit began during a read-through of a Benny radio program. The script contained a simple "yes" in response to another character's line which Frank stretched into "yessss". Jack fell-off his chair with laughter and insisted that Frank include it on the air. This led to one of the longest laughs in the show's history, and became a signature of Franks numerous characters. OK, I have more stories, but I'll quit rambling...
So, how are the dogs at Gus'? Will they FedEx to LA?
---

January 01 2006 at 00:05:34
Name: Webmaster
Location: 2006, on tape delay
Comments: Happy New Year! Did anyone else have a reality check moment when "Frazier" reruns were shown instead of the live NYC dropping of the ball? The Rockin' Eve ball dropped on my TV at midnight Tulsa time. And what happened to the "New Year's Around the World" coverage? I must have snoozed the last two New Years, based on this entry in John Battelle's Searchblog.
---

December 31 2005 at 09:52:57
Name: Jim Ruddle
Email: jruddle@earthlink.net
Location: Rye, NY
Comments: Don't forget to watch the mighty TU Golden Hurricane on ESPN, today.
The TU Alumni Association is having a gathering of alums in New York at some joint down in the Bowery.
The idea of trekking into Manhattan on New Year's eve--even in the afternoon--leaving the bar after a few drinks, running into the hordes of wingnuts who will be crushing each other in hopes of watching a lighted ball descend over Times Square, while an embalmer continues working on Dick Clark, with the ghost of Guy Lombardo waving a baton in the Great Beyond, and then trying to get back home before dawn--well, I think I'd rather visit a proctologist at an outdoor clinic in Antarctica.
Anyway, Happy New Year!
---

December 30 2005 at 17:39:10
Name: Mike Bruchas
Comments: With so many neighborhood landmarks being torn down in Tulsey - what will many of you miss most from 2005?
---

December 29 2005 at 18:20:42
Name: Armin
Email: arminsebran@hotmail.com
Comments: Mike...could not overlook a major oversight in the Tulsa Coffee House article: The Bastille Coffee House, on Positively First Street, T-Town USA. Is there such a weak cultural memory of such an important place? Demolished to make way for a post office parking lot. Yep, in the shadow of Bardon Loans, pawn sign and all. Across from the Jewel Box. Really interesting when passing winos got the wrong address.
Anybody out there got game? Write in about the Bastille.
More about the Bastille on the Tulsa Coffee Houses page.
---

December 29 2005 at 05:14:53
Name: Dana LeMoine
Email: d4wdw@valornet.com
Location: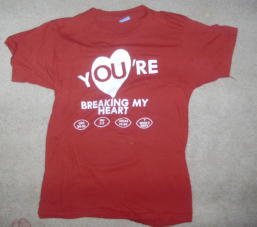 T-town
Comments: Thanks Steve! I thought it was Stan Sharp. I agree that Jim [as well as others] would be a breath of fresh air to the local airwaves. Here's a picture of a T-shirt KMOD put out capitalizing on Stan Sharp's popularity.
It may have been from the same year he did the "When I'm Six and Four" parody of The Beatles song "When I'm Sixty-Four". Switzer's Sooners had the audacity to lose to USC 28-24, tie Iowa State 7-7 and lose to Texas 34-14 in the first four games of the '81 season. Of course that had the Sooner Nation up in arms and questioning the competence of Switzer.
Funny how some things never change. Anyway, Stan Sharp piled on as well with his very funny bits on the Sooners' woes that would include the catch phrase, "Barry Switzer, you're breaking my heart!" Obviously that bit was the inspiration for the T-shirt. I wish I had some tape of Jim on KMOD...
I picked up an "11th & Delaware" T-shirt at the new Starship today to replace the one I wore out. (Also bought a Robert Fripp album, "Let The Power Fall" and a Darol Anger/Barbara Higbie LP.) I like the "Inner City Mall" painting on the new building, too.
---

December 28 2005 at 16:24:59
Name: Steve Todoroff
Email: info@preservemusic.org
Location: Houston, TX
Comments: to Dana LeMoine...to my recollection, Jim Millaway's sport's slot was "Stan Sharp: Speaking Of Sports"...it was hilarious...Barry Switzer was still the coach @ OU, and he did a segment one time using the title of a Beatles tune, asking the question for Switzer, "will you still love me when I'm 6 & 4?"...he's one of a kind and needs to be back on the airwaves (along w/ his old pardner, G.Ailard S.Artain!).
---

December 28 2005 at 16:05:55
Name: Dana LeMoine
Email: d4wdw@valornet.com
Location: Eating at Gus' Coneys [21st and Garnett]
Comments: To Scott Linder in Hollywood.......It's strange you posted a note about Frank Nelson. When I read your post, I had just watched a Jack Benny Christmas program with Frank playing the part of the floor clerk in a department store. What a great actor he was! When you see your friend on New Years Eve, please relay my admiration of his father to him. Happy New Year, Dana LeMoine
---

December 28 2005 at 15:19:30
Name: Dana LeMoine
Email: d4wdw@valornet.com
Location: Paintin' my name on the 4th place and 169 bridge!
Comments: On KMOD in the early 80's, Jim Millaway [A.K.A. Sherman Oaks] played a brash, heart on his sleeve, sports reporter on the morning show. What was the name he went by? Seems like it was Stan Sharp.......Anyone know for sure?
---

December 28 2005 at 12:56:14
Name: Russell Litterell
Email: Russell.Litterell@pilot.fedex.com
Location: Memphis
Comments: I would be interested in seeing those pics. The Colonial Furniture I am speaking of closed in 1967. There is or was an Ace Hardware in the old building. Maybe it has been resurrected? The former owner was Mr J.C. Jones. I wonder if the Colonial Furniture you speak of is owned by the same family? Thanks I look forward to seeing the pics and any info you can find about the owners. Regards Russell
---

December 28 2005 at 10:06:22
Name: Randy Kindy
Email: rkindy@mac-dot-com
Location: Tulsa
Comments: Hey, Russell. Colonial Furniture is indeed still in business. I pass by there every day. I'll take some shots today and e-mail them to you.
---

December 28 2005 at 07:01:16
Name: Russell Litterell
Email: Russell.Litterell@pilot.fedex.com
Location: Memphis, TN
Comments: Mike, Thanks for posting these links. I will show them to Mom tonight. She will love the photo of Main showing the old Crown Drug. Seidenbachs was across the street so she will enjoy it.
If anyone has photos relating to Seidenbachs, Clarkes Good Clothes or The Colonial Furniture Company that you would share, please contact me.
Your kindness in posting these links overwhelms me.
Your Friend Missing Tulsa
Russell Litterell
---

December 27 2005 at 18:22:48
Name: Mike Bruchas
Comments: Pauls Valley blaze today. KWTV aerial footage is all over CNN. Scary stuff.
The "new" Nightline re-aired a lot of an ABC weekend sports special from early in the Fall on the history of MNF last night. I was watching all on 15 year old - Wichita Salvation Army Store-bought Sony b&w WatchMan in an airport - waiting to catch a very early morning flight. The overnight cleaning crew thought I had a high-tech gizmo - too bad the WatchMan never took off!
Way back when in the 70s - Tom Roberts and others in Engineering at 8 used to go over the yearly ABC MNF show opens - trying to figure out how they were done. The opens were the epitome of sports "art" to many tape editors.
---

December 27 2005 at 14:46:24
Name: Erick
Email: ericktul@yahoo.com
Location: Tulsa
Comments: The MNF move has prompted other big sports moves. ESPN will lose its Sunday Night Football package to NBC (John Madden will move to NBC for Sunday Night Football, Al Michaels will stay with the MNF package despite a big offer from NBC). This move prompted NBC to decline to bid for another contract with NASCAR, because NASCAR would not agree to NBC's request to have races held earlier in the day to avoid conflicting with football. Because of this, ESPN and ABC have re-entered the NASCAR broadcasting world beginning in 2007.
Unrelated to the MNF move, the Bowl Championship Series' 4 games will move to FOX from ABC in 2007.
---

December 27 2005 at 13:51:54
Name: John Young
Email: johnk662561atyahoodotcom
Location: On the 50 yard line
Comments: Did anyone catch the final episode of Monday Night Football last night? Who is picking this up from ABC? Does anyone know?
ESPN, another Disney-owned network, will carry it.
---

December 27 2005 at 12:05:05
Name: Russell Litterell
Email: 468414atpilotdotfedexdotcom
Location: Memphis, TN
Comments: I am writing on behalf of my 79 year old mother who is a native Tulsan and is now terminally ill with cancer. She was employed by Seidenbachs, a women's clothing store located at or near 4th and Main in downtown Tulsa. She would like to see any old photos of the stores exterior or interior that any of your readers might have.
Also if anyone has photos of employees any other photos relating to Clarkes Good Clothes (her employer after the demise of Seidenbachs) or any photos of Colonial Furniture Company (my father's employer), now defunct and located on South Harvard near 21 Street. I am attempting to fulfill a dying request and any help you could provide would be greatly appreciated. It was suggested that I post this request on your website.
Russell, I'm sorry to hear about your mother's illness. There is this Clarke's ad and story on the Cy Tuma page. You might want to look through the Photo briefcase, though we don't have the specific pictures you mention. Here's a large photo of Main Street around 1954 of Bud Blust in the KTVX/KTUL station wagon by Loe Gillette of the Tulsa Tribune. Can anyone help?
---

December 26 2005 at 18:22:21
Name: David Bagsby
Email: dcbatsunflower.com
Location: Lawrence KS
Comments: Just returned from Tulsa and was able to get to the new Starship. They were very busy and I was able to find DVDs by Steve Morse (the Dregs/Deep Purple guitarist), ELP and Edgar Winter live with Leon Russell. As always, great selection of the more obscure material.
Got to speak with Matt the owner briefly at checkout. I asked him if this was the new Odyssey Mall. Parking is no longer a problem either. He did have a DVD of Saturday Night Live's "Best of Christopher Walken" which I now regret not buying.
There are also murals of the old Starship/Honest John Inner City Mall complex on the south side of the building. What looks to be the full size version of the mural on the old building is hanging by the front also. It was nice to see a pristine version of that artwork after so many years.
---

December 25 2005 at 18:18:34
Name: Scott Linder
Location: Hollywood-land
Comments: To David from Tulsa. I do not know the name of the writer to which you refer from the Jack Benny Program. Although, I may be able to find out from a long-time friend and mentor, Doug Nelson. Doug is a Emmy-Award winning sound mixer here in Hollywood and is the son of actor Frank Nelson who appeared on the Jack Benny radio and television programs as well as many "I Love Lucy" episodes, etc. (You know...the guy who often said "Yessss......." and was the game-show host with Lucy and Desi).
Doug, his lovely wife Carol and myself have shared a traditional New Years Eve dinner for many years. So, next week I'll see what Doug may know of this.
---

December 25 2005 at 17:49:56
Name: David
Location: Tulsa
Comments: A number of years ago I remember an obituary on TV and in the paper of an old radio gag writer. Both obituaries mentioned that his big claim to fame was that he wrote Jack Benny's "Your money or your life" gag. Does anybody know that writer's name?
---

December 25 2005 at 14:38:26
Name: Si Hawk
Email: sihawk@bokf.com
Location: T-Town
Comments: I wish for all my friends, former media co-workers and associates and TTM users and administration a Very Merry Christmas and Happy Hanukkah!! I hope this one is the best for all of you!
---

December 24 2005 at 14:50:58
Name: P. Casey Morgan
Email: p-casey-morgan@utulsa.edu
Location: Public Radio Tulsa
Comments: When I was 19, I was living with a 31 year old Canadian guy, a very charming man named Al Beauvais. He worked at Terry's Old Bookstore for about a year. I used to go in there every day to drop him off or pick him up because we shared a car.
There were indeed some sections to the place, but it was a never-ending headache to catalogue and shelve books. Al used to bring home grocery paper sackfuls of them for me (I mention this without fear of retaliation because of the number of years that have passed - this was 1972 or 73 - and because both Al and store owner Walter Terry are long gone from this earth.)
For someone who reads as much as I do, it was heaven. The store was on North Main, in the first block or so, on the west side. And there was an ENORMOUS basement, also filled with books and magazines. Walter was rumored to have a copy of the first Playboy down there, but he could never find it.
---

December 24 2005 at 14:03:28
Name: John Young
Email: johnk662561atyahoodotcom
Location: OTASCO Toy Aisle
Comments: I just wanted to wish all my friends here at TTM a very Merry Christmas and a Happy and prosperous New Year!
JohnnyK
---

December 23 2005 at 19:20:30
Name: Lowell Burch
Email: lburch3@cox.net
Location: Wrapping Christmas gifts. OK, done.
Comments: Terry's was the first used book store I ever went to. It was a warehouse of books piled high. Consequently, I was surprised when I got older and went into other used book stores and saw that they had their books were on shelves and in order. Also, Terry's always carried a good selection of current comic books.
As a kid, I often got my hair cut at the barber college on First Street. The area was teeming with derelicts. In retrospect, I can't even believe my mom would take me down there but I guess a fifty-cent burr haircut was worth the risk.
---

December 23 2005 at 14:24:23
Name: Charles
Location: Looking at Amity
Comments: I remember going to what I assume was Terry's. My parents love books. I grew up at the Sheridan Village and Downtown libraries. They also liked going to used book stores. I remember going to two used book stores in the Brady District.
If Terry's is the one I am thinking of, it was immense and there was no logical order to it. It was a blast going there. I definitely remember seeing some intersting people in the area. I also remeber that it was next to (or very close to) the old Cozy Movie Theater. I remember walking by the theater and wanting to see what it looked like back behind its boarded up front.
---

December 23 2005 at 14:09:54
Name: David Bagsby
Email: dcbatsunflower.com
Location: Lawrence KS
Comments: Terry's Bookstore ruled! We went there as kids on Saturdays and perused the rummage shops along the way. It was somewhere up the street from the old Goodwill building and someplace close to the Union Station. It seems like a place called the Archer Bargain Box was in that vicinity.
---

December 23 2005 at 12:58:50
Name: Wilhelm Murg
Email: wilhelmurg@ yahoo dot com
Location: Somewhere close to the Arkansas State line...hey wait! I'm still in "Tulsa"
Comments: Ironically, I was planning to go to Gardner's right after lunch today. They have streamlined their trading policies, so it's a lot easier to trade books there now. I just did a literary make-over on my library and wiped out a good chunk of their rock'n'roll biographies and art books. I'm looking forward to finding time to read them all in the next few months.
I remember hearing about Terry's bookstore back in the seventies, which I believe was there on North Main, somewhere in the Brady District. I was heavily into collecting National Lampoons and Mads at the time. I remember being overwhelmed at the amount of books in the store (in practically no order what-so-ever). My grandmother, who drove me there, was overwhelmed at the amount of hobos that were passed out on the street in front of the store. I was never allowed to go back (little did anyone know I would become a promoter of the Brady District in a latter life).
Gardner's is like an orderly, much better smelling, version of Terry's, sans hobos. And they also trade DVDs and CDs.
Does anyone else have memories of Terry's? Was it as raw an experience as I remember, or was I just a mid-town kid freaked out by the downtown style? I remember prostitutes jumping in front of cars to "flag them down" in that area as late as 1985. I never heard of a fatality.
---

December 23 2005 at 10:00:55
Name: David Bagsby
Email: dcbatsunflower.com
Location: Lawrence KS
Comments: I dated a girl once who looked like a fireplug. 36-24-36 and 5'2". Thanks for the heads up on Rob's Records moving. We'll be in Tulsa this weekend and plan to go there and Starship before Festivus. Another place you should frequent is Gardner's Books out on Mingo. A great way to spend the afternoon. Drive friendly!
---

December 22 2005 at 20:56:29
Name: Stephen
Location: Copperas Cove
Comments: Regarding the painting of the fireplugs. It was a Bicentennial Celebration in 1976! I did not participate, as I was out with the Army, but my sister did.
It was done everywhere. Tulsa still has quite a few.
http://www.firehydrant.org/pictures/southbend-decorated.html
---

December 22 2005 at 17:40:29
Name: Randy Kindy
Email: rkindy@mac-dot-com
Location: Shopping at Oklahoma Tar
Comments: Hearing the OTASCO jingle after all these years is just plain spooky. Major time-travel device!
I never noticed until re-hearing it just how much the instrumentation and tempo are derivative of Gene Autry's "Rudolph the Red-nosed Reindeer." By the way, they had several versions of the jingle over the years, set to the same music. One of the most memorable, in the late sixties, went:
It's holiday time, time to be gay
Save on your gifts in a wonderful way
With a Merry Christmas value from OTASCO!

My friends and I snickered about that one at the time, since the definition of the word "gay" had recently been expanded to mean a lot more than happy and/or festive. That version continued for at least a year or two more, I think, and then was changed to "It's holiday time, wonderful day."
The other thing I remember about OTASCO is that the old timers and good ol' boys never called it that. It was always "Oklahoma Tar."
Well, I must go and don my, um - er - festive apparel.
---

December 22 2005 at 16:25:15
Name: Wilhelm Murg
Email: wilhelmurg@ yahoo dot com
Location: empty lot at 15th & Delaware
Comments: Thanks for the unity, Brother!
I should have known something was going on earlier this year when I was having trouble buying a copy of "Heavy Metal" at the store. You can find my experience related in Guestbook 194.
Rob's Records is simply one of the last outposts where music lovers run a record store, which in this day and age, is an oddity.
---

December 22 2005 at 14:51:42
Name: Erick
Email: ericktul@yahoo.com
Location: Tulsa
Comments: I know this isn't necessarily the place to gripe about Vintage Stock, but I will anyway.
Not only have their prices increased, but their selection is getting very stale. I guess the new owners don't see any point in rotating their stock to other locations, like the previous owners. I saw Rob's Records the other day (the new Warehouse Market in the same shopping center is very close to my house). I'll definitely be checking it out this week. Thanks for the tip!
---

December 22 2005 at 13:27:35
Name: Jim Ruddle
Email: jruddle@earthlink.net
Location: Rye, NY
Comments: Merry Christmas to all who ever worked for a station with a "K" call letter. And the same goes for "W."
I know of a couple of us who also did time at an "X", but that's another yarn.
Have a happy.
And Seasons Greetings to you.
---

December 22 2005 at 12:48:26
Name: Scott Linder
Location: Hollywood-land
Comments: OK, I'm finally on Holiday hiatus from both of my shows and wanted to take a moment to send my kindest regards to all Tulsans, no matter where you may be. Please have a wonderful Holiday season. My best to you all in 2006.
We'll be looking for that new show you are mixing sound for, "Crumbs", with Jane Curtin, premiering January 12, Thursday on ABC at 8:30 CDT.
---

December 22 2005 at 11:14:36
Name: Charles
Location: Fireplug @ 2nd St. S. and 102nd E. Ave.
Comments: I believe that the fireplugs around town were painted as part of the bicentennial.
---

December 22 2005 at 11:08:31
Name: Joyce Richardson
Comments: I don't know what jogged this memory loose. Maybe the holidays.
In the 70s it seemed every fire plug in Tulsa was painted up like some sort of person or character. I think I first noticed it while cruisin' with my friends and checking out the holiday lights in different areas.
Does anyone now whay they did this? Was it some sort of beautification idea, or what? They were kind of cute.
Do they still do this?
Happy Holidays to all, and a special thank you to the webmaster for helping us all to enjoy this site and share memories with others.
You're welcome, Joyce. This is Guestbook 200, and TTM will be 7 years old on the 29th...a couple of milestones. This site has been around longer than many of the shows it covers!
---

December 22 2005 at 10:42:47
Name: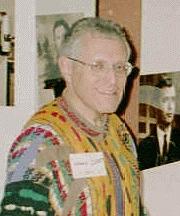 P. Casey Morgan
Email: p-casey-morgan@utulsa.edu
Location: Public Radio Tulsa: KWGS and KWTU
Comments: Friends and former students of Edward Dumit - Edward is currently hospitalized in Las Vegas. While there to visit a friend, Edward suffered a heart attack and underwent a successful double bypass. He is expected to have a full recovery, thank goodness.
Cards and well wishes (by mail) may be sent to Edward here at the station (600 S College, Tulsa, 74104) and we will get them to him. Please send them care of me (Casey Morgan) so that I'll know that the mail is personal and not the usual business-oriented mail that Edward still receives at the station 13 years after his retirement.
We all wish Edward a speedy recovery and return to T-town.
---

December 22 2005 at 07:08:29
Name: Wilhelm Murg
Email: wilhelmurg@ yahoo dot com
Location: The Boman Twin...HEY! WHO PUT THIS RECORD STORE HERE?
Comments: I have a heartwarming Holiday story about a locally-owned hard-working record store showing up a chain. I'll censor out the cussin'.
My friend McKenna gave me a used DVD from Vintage Stock II that, unfortunately, I already owned. She bought it yesterday and she said they did not give her a receipt, but the store's price tag of $17.98 was still on the disc. I have literally spent and traded over couple of thousand of dollars worth of business at the store over the last few years, so I figured taking it back and getting something else would be no problem; WRONG!
Vintage Stock has recently changed hands from the original owner to a corporate owner, which, one would presume, is why there is a change in the marketing, a recent explosion of new store openings, an abundance of clerks who haven't heard of Eric Clapton, and higher prices all around.
Because I didn't have a receipt, they basically accused me of lying and offered me only half of the dollar amount, $8, in trade, which seemed like a disservice to my friend's hard earned money. When I mentioned the amount of money I spent there, I was told that they didn't care, because they had a store policy. I went ballistic. In this case it was strictly the principle of the matter; I'm sure McKenna wasn't interested in donating $8 to Vintage Stock for the "pleasure" of shopping there.
Ironically, I gave McKenna a shirt that didn't fit from Hot Topics WITHOUT THE RECEIPT, and Hot Topics (a corporate chain, no less) had no problem exchanging it for her, as their tag was still on the item.
To make a long story short, I used an offensive word in the discussion, and I was told to leave because they were a family store, which anyone can tell by their wall of R and NC-17 movies, not to mention their gangsta rap section. My final line in the store was a loud "#%*# ALL YOU NERDS!"
So I left and went to Rob's Records, in the Boman Acres, and told the owners, Rob and Barbara, my story. When they got through laughing, they gave me the full amount (owed to me by Vintage Stock!) in trade in THEIR store, so I picked out another disc, and I and the friend I was with bought $40 worth of merchandise, which is what we would have done in Vintage Stock had they given me the full credit owed to me.
The moral of this tale is: support your local music store (or if you must use a faceless giant, click through to Amazon.com through the Tulsa TV Memories website). At 400 DVDs in my collection and another 600+ CDs, I'm a pretty good account for a record store, and I'll be dealing with Rob's exclusively for used items and collectibles (and thank Elvis that Starship is up and running for the new stuff!). As my friend who was with me through the whole ordeal said; "I wish I were into vinyl! I would have bought even more from Rob's!"
If you have a problem with a store like Vintage Stock, talk to Rob or Barbara, they would be glad to have your business.
Happy Holidays to all! And To all a good night!
---

December 21 2005 at 15:54:31
Name: Mike Bruchas
Location: Listening to The Incredible Jimmy Smith Christmas 1964 CD - in wunnerful MONO
Comments: Remember when everyone with the exception of Jimi Hendrix HAD to do a Xmas album? Like ZZ Top? Didn't Zappa do one??? Am wondering if Starship has it in stock! Heck - "Regis" has one this year!
I am glad Matt has reopened and I am sure the decor will change in time. Matt was one of the best employers for Xmas gifts and bonuses to his small staff - and a charitable giver to many more. The folks who painted his original store murals are scattered to the wind - among them Jerry Pope who did the rabbit motif many moons ago. Jerry is somewhere in NC doing "pageant productions".
Xmas funny - I work in a so-called Christian firm which has just been handed over to a UK-based religious group - yet we do news. Our secular management staff gave all of us male staffers wine and Seagrams VO as Xmas present. Hic! Where's the turkey?
Happy birthday today to Bob Hower and Ed Morris (wherever you are) and to Don Lundy this week. I hit 55 today and am still working in TV but not where I thought I would be when I first clocked in at KTUL in May 1972. But had Bob Hower not hired me - I would have never been part of the KTUL "extended family".
Congrats on the double nickel, Mike, and happy birthday to you.
---

December 21 2005 at 15:47:58
Name: Steve Bagsby
Location: Full Service Island at Sinclair
Comments: PREMIUMS!! Save those boxtops, proof of purchase seals, Icee points, and alike. I've still got a fuel truck from when the folks bought so many gallons of Texaco. What were your favorites? Did you have to send in anything or did you dig it outta the bottom of the box?
Webmaster: The late Jim Back told about saving Kitty Clover Potato Chip bags on the Oom-A-Gog page.

I just found this free and downloadable movie (shot circa 1970) at the Internet Archive: "A Case for Beer". It's a cautionary film made for convenience store owners about underage alcohol sales. Some of you may experience déjà vu when you see the opening scene of a police flashlight shining on a car full of youths full of beer.

It's a charming little slice of life in the early 70s. The acting is believable.

Tulsa's own Chester Cadieux, co-founder of Quik-Trip, was a consultant. The film was produced at Kansas State University. You will need a recent version of Apple QuickTime, a newer computer, and broadband internet service to view this MP4 file.

Watch it on YouTube!
---

December 21 2005 at 13:46:24
Name: Webmaster
Comments: Archived Guestbook 199...
---
Back to Tulsa TV Memories main page