Tulsa TV Memories GroupBlog 229

TTM main | What's new on TTM? | GB Archive




January 21 2007 at 11:25:35
Name: Stacy Richardson
Topic: Mark O'Connell obituary/Minneapolis Star-Tribune
Email: stacyr@usa.net
Comments: Radio personality O'Connell was 'stand-up guy'

The former KSTP Radio broadcaster, who died Saturday at age 52, was a quick wit who also knew news.

By Tony Kennedy and Deborah Caulfield Rybak, Star Tribune staff writers

Twin Cities radio personality Mark O'Connell, a multi-talented broadcaster who was adept at news but also made audiences laugh, died Saturday at age 52 from complications of melanoma.

O'Connell joined KSTP Radio in 1998 as part of the "Babs and the Boys" show with host Barbara Carlson. Attorney Ron Rosenbaum joined the show at the same time, starting a friendship and an on-air partnership with O'Connell that lasted years.

The two were broadcasting together on Sept. 11, 2001, which Rosenbaum described as "the high point of both our careers." Later they co-hosted a morning show and then a midafternoon show that was canceled in September.

"Mark was a radio professional from head to toe," said Rosenbaum. "He was a stand-up guy in a business that wasn't always like that. He wasn't a screamer or yeller; he was a guy who called it as he saw it."

Rosenbaum described his radio partner as a man with "tremendous integrity who cared very much about the show and about his audience."

Ginny Hubbard Morris, president of Hubbard Broadcasting's radio operations, agreed. "At the very heart of Mark was his professional integrity as a top-notch newsperson with a curiosity about the world that was very unique."

O'Connell's wife, Gloria, said he died at their Burnsville home after receiving hospice care for several days.
Raised in the Chicago suburb of Wilmette, Ill., O'Connell attended Marquette University in Milwaukee in the early 1970s. He dropped out to take a job at the city's all-news station, WRIT. In 1977, he moved to Tulsa, Okla., to be news director at KRAV-FM.

Gloria O'Connell said her husband made the jump from news to on-air personality in 1989, when he and Tulsa radio colleague Charlie Derek moved to the Twin Cities to host a community-minded morning show for KOOL-108. Their show lasted until 1993, and O'Connell stayed at KOOL until 1997.

"He was the funny guy," Derek said.

But O'Connell never lost touch with journalism, and he worked briefly on investigative news for KSTP-TV before joining Carlson's radio show.

Lillian Samolis, O'Connell's sister, said he was a natural comic who had a microphone in his hand since he was 19 years old. He also was a devoted father, she said.

"He was like Mr. Mom to his kids," she said.

Funeral arrangements are pending through White Funeral Home in Burnsville. Survivors include his wife, his three sisters and his four children: William, Christopher and Elizabeth of Minneapolis, and Catherine of Houston.



Thanks for letting us know, Stacy. Our condolences to his family and friends. In this KGCT-TV group photo, Mark O'Connell is in the front row, on the far left.
---

January 21 2007 at 11:20:49
Name: Stacy Richardson
Topic: Former KRAV news director Mark O'Connell passes away
Email: stacyr@usa.net
Comments: From the St. Paul Pioneer Press, 1/21/2007:

Radio host O'Connell cared about community
Shows aired on KSTP, KOOL 108

BY EMILY GURNON
Pioneer Press

Mark O'Connell, a longtime radio host for KSTP-AM and KOOL 108 (KQQL-FM), died Saturday morning at his home in Burnsville. He was 52. He was diagnosed Dec. 29 with a virulent melanoma, his friends and family said.

"He was a wonderful person in a business that's not always full of wonderful people," said Ron Rosenbaum, his co-host on KSTP-AM 1500, where both men had worked since 1998. The station canceled their show, which aired most recently in the noon-to-2 p.m. slot, in September.

Before that, the two had paired up for a program that focused on the Sept. 11 attacks and their aftermath and had joined Barbara Carlson for a morning show.

O'Connell grew up in Chicago, attending Marquette University in Milwaukee and launching his radio career in that city. He spent 12 years as the news and information director at a station in Tulsa, Okla., before moving to the Twin Cities to take a job as a morning host at KOOL 108 in 1989.

He moved to KSTP in 1998, said his wife, Gloria O'Connell.

The show he did with Rosenbaum went against the grain of the mostly conservative voices on the station, Rosenbaum said.

"As he put it, it was like singing rock 'n' roll on a country station," Rosenbaum said.

But O'Connell's wife said he was somewhat apolitical ­ often saying "you just couldn't trust anybody" in politics.

On a personal level, O'Connell was a witty, gregarious man who had an opinion about everything, his wife said. He loved to play golf and read ­ from biographies of nearly every president to fiction by Carl Hiaasen. And he remained a staunch fan of the Chicago Cubs and Bears.

He had been looking for other work shortly before his death, Rosenbaum said.

Charlie Derek, O'Connell's partner in Tulsa and on KOOL 108, said O'Connell went the extra mile when it came to public service, going out on Christmas to host a ball for the elderly in Tulsa, for instance.

"He was a real stand-up, community kind of guy who did more than say, 'You really ought to come out for the blood drive.' That's what set him apart professionally," Derek said.

O'Connell had been feeling ill for some time ­ losing weight, unable to eat, weak ­ but he wanted to wait to get checked until after the holidays, his wife said.

"Like a lot of men, he didn't want to go to the doctor," she said.

He finally went to the emergency room at Abbott Northwestern Hospital on Dec. 29, when the cancer, which had started as bumps on his skin, was discovered throughout his body. Then his kidneys began to fail.

O'Connell is survived by his wife, Gloria; their four children, William, Christopher and Elizabeth, of Minneapolis, and Catherine, of Houston; and three sisters.

Funeral arrangements are pending.

---

January 20 2007 at 23:26:58
Name: Daniel Wright
Comments: The Sand Springs home was torn down this year.

The Welfare Association Childrens home that is now a hotel was empty as of the mid 1990s. It was quite creepy with kids' toys and clothes scattered around. There were even still little beds in the rooms.


---

January 20 2007 at 19:58:13
Name: Tom
Email: tom3309@verizon.net
Comments: Does anyone know where to get old 70s concert posters/ads from Tulsa? I haven't been able to locate any to complement some concert ticket stubs I recently ran across in the attic.

---

January 20 2007 at 19:06:27
Name: Don Lundy
Topic: Porter Wagoner
Email: don_lundy@rtv6.com
Comments: Just got back from the National Association of Television Program Executives, an annual convention, where buyers and sellers get together to launch new shows into syndication. Or they used to. With the consolidation at the studio and station level, there's less of that going on.

I was lamenting about missing the old days when the convention was glitzier, with stars pitching you on clearing their shows.

A friend told me a great story, perhaps apocryphal, but great, nevertheless.

The general manager of an Indianapolis station came home after NATPE almost forty years ago to report that he'd bought a show titled "The Porter Wagoner Show." Asked what it was about, he admitted he wasn't quite sure but that he was swayed to buy it when this really good-looking blond girl sat down on his lap and charmed him into clearing the show in Indy.

Dolly Rebecca Parton. And the rest....is history.

---

January 19 2007 at 19:40:10
Name: John Hillis
Topic: Hillbilly Heaven
Comments: If you have direcTV or Dish, you'll want to tune in RFD-TV Friday night/Saturday morning around 2am or Sunday at 9:30 am (I think) Tulsa time for a remarkable Porter Wagoner Show, circa 1963, in glorious black n white. Guests are a very young Mel Tillis (only sings, this was before the stuttering act began) and a clean-cut Waylon Jennings--the voice is the same, only the face is clean-shaven and a flat-top haircut.

If you're of the hillbilly persuasion and would like to see what it was like back before the corporate talent agency types, recycled rock rhythm lines and hat acts took over, you might want to give it a look-see.

Girl singer alert: this is way before Dolly Parton--the girl singer on the show is "Pretty Miss Norma Jean" in a Patty Duke-do.

If your tastes are, shall we say, eclectic, it's a must-see. Otherwise, it's just real odd.



Porter's patent medicine sponsors, Black Drought and Cardui (19% alcohol!), were discussed in GB 33.
---

January 18 2007 at 23:01:46
Name: Mike Bruchas
Topic: Len Slesik
Comments: Long time Amarillo KVII TV weatherman Len Slesik must have retired. He is a friend of Fred Norman and came to visit us at KOCO many years ago. When I was in "purgatory" at KVII before I went back to OKC, Len was one of the nicest folks there. Unfortunately I almost never directed prime news there; funny how I could do it at KTUL and some days at KOTV...He always had an interest in sketching or watercolors and I hear he and wife Ginny (?) are teaching in Amarillo now.

Paul Matney was the great weekend weatherman and a prof at Amarillo College. I believe he is still teaching there.


---

January 18 2007 at 20:52:02
Name: Gary Chew
Topic: Mr. Buchwald
Email: Just SW of the Donner Party Family Grill
Comments:
Following up on Brother Bruchas' remarks about Art, I just want to throw in my two-cents worth. I'm glad Mike put something up about this truly extraordinary guy.

Talk about thumbing one's nose in the face of Death. I only hope I can muster up half the courage when I'm leaving the building as Mr. Buchwald has done over the recent past.

Art Buchwald's columns were always very easy to read, very clear in the position they took, exceedingly humorous and had the marvelous quality of skewering, while always causing the target of his pen to laugh along with everyone else. Well, at least anyone with a modicum of a sense of humor.

Mr. Buchwald was, indeed irrepressible and most wise.

Let's hear it for that old Marine!

Delmeaux de Gillette du Coffeyville

---

January 18 2007 at 18:44:24
Name: Mike Bruchas
Topic: The old Sand Springs home
Comments: Not Hissom; wasn't there an orphanage in SS donated by Charles Page many years ago? It was still active when I was at TU, ditto The Tulsa Boys Home. Really, are EITHER still in operation???

---

January 18 2007 at 18:34:24
Name: Bryan
Topic: Water slide
Comments: Yes, Alicia, there was a water slide just east of the Sand Springs K-mart on Charles Page in the early to mid 80's. It was behind a Ken's pizza. You're not going crazy.

---

January 18 2007 at 13:46:33
Name: Mike Bruchas
Topic: Art Buchwald
Comments: He died today at 81 of a long bout with kidney failure. On his own terms. He had been in hospice for like 5 months then said to hell with it and went on vacation at Martha's Vineyard, came home and finished a book. In Time or Newsweek last year he mentioned the loss of his wife 2 years ago probably was the worst thing to have ever hit him.

Hospice International or some group honored him as Man of the Year for his method of dealing with life issues but also for talking about what life at a hospice is like.

I presume he will get Marine funeral honors; folks forget he wrote a great early biography. A goodly section was on his younger years as a Marine. He was a big booster of the Corps and back in the 50s or 60s; Life magazine sent him back to boot camp as a feature.

I saw him live at TU many, many years ago, one of the speakers they brought thru for students.

---

January 18 2007 at 12:05:20
Name: Lowell Burch
Topic: While we're on the subject of radio ...
Comments: 100.1 FM in Bartlesville carries the Ben Miller Show, opposite of KRMG's Community Theater, on Sundays at 6:00 p.m. I mention this in case you don't know of the program. He plays the music of a lot of great musicians, singers and radio stars from about first 50 years of radio, thereabouts. He features a lot of locals, including Roy Clark not too long ago.

---

January 18 2007 at 10:30:41
Name: DolfanBob
Topic: Roy Clark
Email: MiamiPhin@yahoo.com
Comments: Tonight at the UMAC is a sort of Roy Clark Star Night revisited. Roy and Mel Tillis, Moe Bandy, George Lindsey and many other stars will pay tribute to Roy.

I went to one of the Star nights and saw Jerry Lewis, Ben Johnson, and Adrienne Barbeau, who did a Belly Dance. That alone was worth the price of admission.

Tickets are just $10, I think. I paid more than that back in the 70s. Should be a lot of fun.

---

January 18 2007 at 09:34:28
Name: Steve Bagsby
Topic: CBS Radio
Email: sbagsby@tulsacc.edu
Comments: KRVT AM 1270 (formerly KWPR Claremore) recently started carrying CBS news. Pretty good Pop, Swing, and Big Band Stuff on there.

On another Radio topic, during the winter months, I can pick up KTNN-AM 660 from Window Rock, Arizona. This station serves the Navajo Nation and between some country music and syndicated ads, you get announcements in Navajo and traditional Native American music. Pretty neat to hear a stomp dance drifting in from the static.

And on yet another radio topic, check out WWOZ radio on the web. Great New Orleans music - past and present, especialy now that we're in Carnival/Mardi Gras season.

Enjoy!



Appreciate the update.
---

January 18 2007 at 09:16:15
Name: Erick
Topic: CBS Radio
Comments: KWON 1400 AM in Bartlesville is the closest CBS Radio News outlet to Tulsa.

I think 1430 AM in Tulsa used to be an affiliate until a few years ago.

---

January 18 2007 at 03:15:05
Name: roy lee
Topic: Mikel Automatic
Email: beerdrunk@msn.com
Comments: I always liked that kid and he even got away with calling me "Joe Danger, Junior" just a few months ago. He will definitely be missed. He was a good guy and it was always fun to watch him play live. He wore thick glasses he held to his head with a piece of wire, and could play guitar better than just about anyone. It is truly sad to see him go because nobody like that will be coming around again for a very long while.

---

January 17 2007 at 15:17:56
Name: Mike Bruchas
Topic: CBS Radio/Tulsa/Phillie
Comments: All of CBS Radio's OK storm coverage came from Muskogee. Is there no longer a CBS RADIO afilliate in Tulsa amidst all the semi-right-wing talk stations?

Was in Phillie Tuesday; cold wind blowing but folks there KNOW Tulsa now from all the TV accounts. A person on bus with me blurted "...well, we could be in Tulsa!".

Sad thing about going thru Independence Hall on the next to 1st tour of the day. There was more security there inside than tour guides or visitors. And hard to get any good exterior pix due to myriads of the ugly "temp" security fences.



Here is a list of Tulsa-area radio stations. No CBS, even in Muskogee.

On TTM, some current Tulsa radio stations are spotlighted.

---

January 17 2007 at 14:32:01
Name: Rex
Topic: Crystal Pisshole
Email: rex@maduko.com
Comments: Ahh yes, 725 N. Sheridan.

I think I was the one carrying that drunk cowboy out the door, Roy. He had taken a swing at Charlotte when Eric the Pale intervened. As the guy was lunging at Eric I tried to grab him, but all I grabbed was a handful of polyester leisure suit. In desparation I grabbed the guy around the neck and headed for the door. Fortunately I was a couple inches taller!

I remember it was a big coup reserving the first Thanksgiving show at the Pistol for Radio Milan. It hadn't quite soaked in yet that Thanksgiving is always on a Thursday- thus that Wednesday would be huge. At that time I think Larry Brandt was handling the bookings. He looked at me funny when I asked to book a date (gasp) over 4 weeks out!

It was a huge night. The place was so packed you couldn't two-step. Probably one of our best shows ever. We recorded some of it on a ghetto blaster behind the bar (available at www.cafepress.com/radiomilan).

I run into Greg every once in a while. Charlotte is still around too, she works at the Sears on Yale. On a sadder note Mikel Automatic, lead man for the Automatic fathers, passed away a few weeks ago.

---

January 17 2007 at 14:14:41
Name: roy lee
Topic: Crystal Pistol
Email: beerdrunk@msn.com
Comments: Now that I think about it, I never saw the subcultures of cowboy (real cowboy, by the way not "urban") and punk get into a fight. One time, some drunk businessman took a few swings and was quickly outta there. Other than that, I don't remember a single punch.

---

January 17 2007 at 13:56:29
Name: David Bagsby
Topic: Crystal Pistol
Email: dcbatsunflower.com
Comments: The Pistol was an anomaly. You'd got to see X or some band like that, and in the background would be cowboys playing pool. I guess it's one of those rare moments where all factions were content to be amused by each other.

I played there a bunch of times with various groups. It didn't pay much but you got to drink free if you were in the band...which led me to stop drinking, because there was one show that I got so smashed beforehand that I almost passed out live on stage.

The best shows I saw there were provided by NOTA. Seems like I saw a DVD of one of those shows somewhere. Rumour had it that Jello Biafra of the Dead Kennedys proclamimed NOTA to be the fastest/most punk of the punks. Nothing to sneeze at in 1984.

---

January 17 2007 at 13:36:07
Name: roy lee
Topic: Crystal Pistol
Email: beerdrunk@msn.com
Comments: Greg Sewell's mother-in-law owned the Crystal Pistol. She allowed him to take over on Wednesday nights and I guess a few Sundays but I don't remember Sundays.

Greg proceeded to book bands like Husker du, the Meatpuppets, ch3, Black Flag, the Minutemen and just about anyone who happened to be coming through town.

Wednesdays were perfect for bands who had a show in say, Austin on Saturday and St. Louis on the next Friday. Lots of local bands like NOTA, Los Reactors and the Zebra Makers to name a few. People in these bands and the regulars such as myself still speak fondly of Charlotte who let the kids go nuts at her place.

---

January 17 2007 at 12:04:17
Name: MD2020
Topic: Crystal Pistol
Email: mwolfe@mail2web.com
Comments: When I was a kid in Tulsa around '81 or '82, there was this place called the Crystal Pistol. It was usually a C&W bar until Sunday nights when it opened up to the more hardcore rock bands. Anyone remember this place?

---

January 16 2007 at 13:08:30
Name: Dana LeMoine
Topic: Sledding
Email: d4wdw at valornet.com
Comments: Seeing all of the ice-covered neighborhood streets brings back memories of being pulled around on a sled behind a car.

It was usually one of the neighborhood dads that provided their services for this dangerous practice.

It's a wonder that none of us were ever seriously injured!


---

January 15 2007 at 17:33:05
Name: Gary Chew
Topic: Golden Globes (and I don't mean Scarlett Johansson's)
Comments: NBC, 7 pm, Tulsa time.

"Babel," "Little Children" and "The Queen."

All three are superior films; any of them could win in terms of quality of craft and script. I pick "Babel" to win.

But having seen the other two, I wouldn't complain if either of them got Globulated. Each is very much different from the other two.


"Babel", it is.
---

January 15 2007 at 01:11:13
Name: ALICIA
Topic: MEMORIES
Email: STACYSGIRL4EVER@GMAIIL.COM
Comments: Just found this site. So neat. I swear I remember as a child, there was a water slide near either the Kmart in Sand Springs, or the Kmart on Harvard. Am I losing my mind? STAY WARM EVERYONE......WE HAVE BEEN STUCK AT HOME W/THE KIDS SINCE FRIDAY......EEEK


I've noticed an uptick in hits while everyone is iced in.
---

January 15 2007 at 00:04:26
Name: Jim Reid
Topic: The good ol' Riverside
Comments: My family usually went to either the Bellaire or Riverside Drive-In. I went to the Riverside with my friend Joey and his mother to go see Psycho when I was about 7 or 8. I watched the whole thing pretty paralyzed with fear while Joey had his face buried in the car seat.

For my 9th birthday, I could do whatever I wanted (within reason). I picked going to the Riverside to see a double bill of Goldfinger and Thunderball. Those title sequences almost made my mother take us home. We pleaded though and she gave in.


---

January 14 2007 at 22:02:33
Name: Dan Winders
Topic: Riverside Drive-In Theatre
Email: dwinders@goblueview.com
Comments: I grew up in my early childhood home directly across the street from the Riverside Drive-in Theatre from 1958-1970. I lived with my grandparents who along with my father and his sister worked the concession stand, ticket office and did the janitorial duties.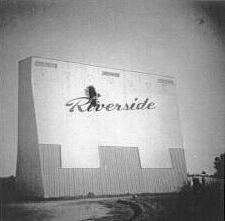 I spent many, many nights and days with the theatre looming over me. I rode go-carts up and down the hills where the speakers hung. Had the playground up front to myself on many Saturday mornings and explored every inch of that theatre and its grounds.

Woody the Woodpecker cartoons usually played before the movies started. I watched the cars night after night come and go from my bedroom window.

We had a Deep Rock service station between our house and the auction house (which is still there) to the west which some may remember.

I used to help my grandfather change the letters on the large marquee on the northeast corner of the property. Lots of good memories there.

Thanks for the opportunity to share these.



Thank YOU!
---

January 14 2007 at 16:33:19
Name: David Bagsby
Topic: weather channel
Email: dcbatsunflower.com
Comments: The Weather Channel has been broadcasting from Tulsa for the last 2 days. Oddly, I can't seem to figure out WHERE they are in town. They do a satellite zoom in from space to the metroplex that's pretty cool. Don't take any wooden igloos.

---

January 14 2007 at 11:20:08
Name: Gary Chew
Topic: Rare Bird
Email: Just SW of the Donner Party Family Grill
Comments: Imagine my surprise when I saw my old friend, Lee Woodward's
kitchen photos posted on this blog.

Kidder to the marrow, Lee thinks we'll buy his suggestion that it's Lionel, at the window, lobbying for sustenance when we all know this venerated weatherman (and expert ornothologist) has really caught, on film, a rare glimpse of a rare bird, indeed: l'Oiseaux de Lion!

Sacre Bleu? No, Sacre l'Orange.

Be Warm, Tulsans! It's cold here, too.

Delmeaux de Gillette du Coffeville

---

January 13 2007 at 22:43:34
Name: Margie Watts
Topic: I Remember
Email: lvngod05@yahoo.com
Comments: WOW I just found the site...it's great!! I haven't heard people talk about those old shows in....well, a few years! My sis and I and our cousin were on Big Bill and Oom-a-Gog. And Mr. Zing and Tuffy!!!! And I even sang on the John Chick Show with Johnny Steel!!! We loved Captain Kangeroo, Hopalong Cassidy and The Lone Ranger! Rin-Tin-Tin, Ozzie and Harriet and the Beaver. I remember when we got color WOW!!!
You know I agree that the most annoying commercial was Linda Soundtrack!!! I loved Mazeppa Pompazoidi, Creature Feature, the real original Saturday Morning Cartoons.
I also listened to KELI, KRMG and KTOW...had a real crush on the DJ on KELi in the evenings, what was his name? It's on the tip of my tongue....we used to call him all the time and flirt with him.
Wow, there is so much about that era that I could go on forever. THOSE WERE THE DAYS MY FRIEND.

Yea, I forgot to mention Lee and Lionel and Don and Gusty. They were the best! Huntley and Brinkley, Walter Cronkite, woops here I go again! Thanx for the memories!

---

January 13 2007 at 16:52:43
Name: Jeff H
Topic: For the birds
Comments: When I first took a look at the photo, I thought Lee was giving the bird to the bird.

Every one in Green Country stay warm and toasty!

---

January 13 2007 at 13:35:56
Name: Lee Woodward (via email)
Topic: Feeding the wildlife
Comments: For years, each winter, a mockingbird arrives to take control of a Yaupon Holly tree that is close by our kitchen window. It is a habit of these birds to raise hell outside the window if you do not feed them during inclement weather; such as now.

How friendly and bold they can get is illustrated below.
| | |
| --- | --- |
| | |
| | Photo assist by David Batterson |
The King and his right-hand man on a warmer day, April 11, 2004
---

January 13 2007 at 10:21:49
Name: Mitch Gray
Topic: Mid-Sixties Diamond Dinner
Email: mitchwerx@cableone.net
Comments: Back in 1964 or 1965, I was one of the kids living at the Tulsa Welfare Association's Childrens Home at Easton and 25th West Ave (now Gilcrease Museum Rd). The place is now a Holiday Inn Express.

During that time, some of the boys in the home were treated to an evening out at the Mayo Hotel for a Diamond Dinner. As I recall, Warren Spahn, and Mickey Mantle were present. The event was reported with film clips on the 10 o'clock news that same night. I remember seeing myself on the broadcast, eating roast duck (yucky for a third grader).

So, I'm looking for any info that might lead me to archived footage of the broadcast (I think it was KOTV) or emails from anyone who may have been living at the Childrens Home at that time.

Any help greatly appreciated! Thanks, Mitch

---

January 12 2007 at 18:11:47
Name: Lowell Burch
Topic: Ice? What ice?
Comments: No doubt about it, Mike, global warming is here! We are iced in here with the temps in the low twenties and observing a state-wide winter storm emergency status. Of course it is not much worse than the 10-20 inches of snow we had last month.

Much more of this global warming and I am moving to Florida!

---

January 12 2007 at 14:44:33
Name: Mike Bruchas
Topic: TUL WX?
Comments: Any sign of the ice storm there yet? East Coast is wet, CA has snow - on the coast.

I think this global bozo warmin' thang is happenin'.

---

January 11 2007 at 18:53:12
Name: Mike Bruchas
Topic: 6 degrees of separation from Jim Hartz
Comments: Nostalgia TV which became GoodLife TV and now is American Life network may be hard to find in Tulsey any more on cable.

Jim Hartz did news, albeit soft, not too dated stories, for several years in the 90s on Nostalgia TV. It was close to home in Alexandria, VA and he was doing his normal multi-tasking of 5 or 6 gigs at once on the air, in P.R. and for PBS.

Fast forward to today, now American Life, it uses Bettina Gregory (remember her?) and Nick Clooney for several of their lifestyle/talking head shows.

This week: George Clooney and dad, Nick, are promoting a documentary which they have made on Darfur in Africa.

So far, ONLY American Life TV is showing it. So you may hear about it ON tv but chances you will never see it in Tulsey! And neither will a lot of the rest of the US.

---

January 11 2007 at 15:43:46
Name: Webmaster
Topic: Previous GroupBlog summary
Comments: Archived GroupBlog 228, where we just saw an unusual clip of Jim Hartz in 1974 at WNBC in New York. Jim was featured on the "Today" show during this week's retrospective.

We learned that Lewis Meyer, besides being an author and bookseller, was a Western Swing composer!

We were sad to hear that Tulsa DJ and Cushing radio station owner Don Kelly, of "Kelly and Chauncey" fame, passed away.

Gary Chew retired from broadcasting after 51 years in the business. He will continue to do movie reviews for this site. Lee Woodward reviewed the hi-def presentation of the Metropolitan Opera at the Cinemark.

The webmaster contributed scans of a program for 1978's OKon II, a sci-fi convention held at the Mayo Hotel. Erick provided a link to a hilarious YouTube video of OKC weatherman Fred Norman. Lowell Burch's home movies of Skyline Park in Jenks and a Westside ice cream truck were seen.

We saw video of Oklahoma's Rocket Man in the Rose Parade. There were stories about President Gerald Ford in Tulsa. Writer Mark Roe paid a visit.

All the above and more in GroupBlog 228.

---
Back to Tulsa TV Memories main page