Tulsa TV Memories Guestbook 175

TTM main | What's new on TTM? | GB Archive




January 31 2005 at 09:29:26
Name: David Bagsby
Email: dcbatsunflower.com
Location: Lawrence KS
Comments: Shatner plays a crazy lawyer on Boston Legal named Denny Crane. My wife's favorite show because of its twisted nature.

The character of Denny Crane is in the beginning stages of Alzheimer's disease. Would this improve his credibility as a spokesman for a lawyer?

---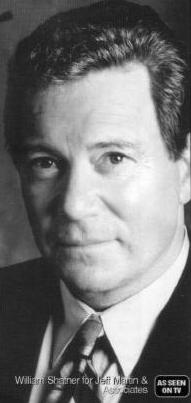 January 30 2005 at 21:36:39
Name: John Young
Email: johnk662561atyahoodotcom
Location: Frozen Food aisle at Humpty Dumpty
Comments: I've seen those commercials. Shatner looks and acts a little too intense, IMO. Isn't he playing on one of those law shows on Fox or WB now?
"Cap'n Kirk" as a lawyer. Who'da thunk it...?

---

January 30 2005 at 18:39:09
Name: Webmaster
Location: "As Seen On TV" Dept.
Comments: Anybody notice those TV commercials with William Shatner for local attorney Jeff Martin?
Stardate 2005.083: Kirk doing a Tulsa TV ad for a lawyer? We would have laughed in disbelief at all aspects of that proposition When Star Trek Was New.
---

January 29 2005 at 14:02:47
Name: Gary Chew
Location: Sacramento
Comments: I can't recall what year it was, but I saw Stan in a Cardinal/Oiler exhibition game. As I recall, Stan was pinch-hitting mostly by that time. That's what he was doing that evening.
Stan The Man hit a triple that night. Just as easy as pie. It was like a grand slam homer for me.
Before I ever moved to Tulsa, I worked at an AM in Jefferson City, along the Wide Missouri. KWOS was the Cardinal affiliate for that other lovely capital city I lived in. I got to know the Red Birds real well riding the evening board there. I learned the proper way to root for the Cards under the tutelage of Joe and Harry. Holy Cow!
Note to younger readers: That was before Mr. Caray moved north. And when I worked at OETA, I lived in Edmond. I "missed out" on living in Oklahoma City.
Although I wasn't born there, I really consider myself to be a Tulsan with all the appropriate geographical biases found in the Sooner state.

---

January 29 2005 at 11:16:16
Name: Rob Keil
Email: robshow04@hotmail.com
Location: Tulsa
Comments: I love reading this site and remember some things of old Tulsa TV. (I lived here when I was a little boy).
Congrats to the 2005 OAB Hall of Fame inductees -- John Erling, Don Wallace (I used to watch "Wallace Wildlife" all the time when it was on) and Dick Schmitz.
Oh...if anyone is wondering what happened to Bill Southard...he's an instructor at the American Broadcasting School here in Tulsa (and just happened to put up with me for 9 months).

---

January 28 2005 at 08:11:45
Name: Lowell Burch
Email: ten.xoc@3hcrubl
Location: Tye's Barbershop
Comments: I remember Stan Musial standing at the entry of the old Oilers park as I entered for a game. I had just picked up a foul ball that had landed outside the park during an earlier batting practice so I walked over and asked him to sign it. He did, graciously. Yes, I still have it.
I haven't been able to pick up a copy of "The Prize Fighter" yet. It is in high demand here in the city. I am eager to see it since it was produced by Tulsans, shot here in town, and stars several TTM personalities. Also, the Burch clan was in the audience during the big fight scene that was filmed by at the Brady. If you look closely, you might catch a glimpse of us.
I was not a big Carson fan, but I still enjoyed his show. It had great chemistry and it is still the template for all other talk shows. A great showcase for talent - and egos, too.
My favorite regular on the show was Doc Severinsen and the band. Besides coming to the Sooner State to perform a number of times, he as had several business concerns here.
I saw Doc walking down the sidewalk in OKC one day and stopped to talk. Specifically, I remember him asking about my old trumpet teacher, the late Bill Shellenbarger. Bill is buried in Rose Hill and his resting place is marked by a very interesting headstone, prominently etched with a trumpet. It is easy to see, on the right, as you enter the cemetary.
I put "The Prize Fighter" on my Netflix list the other day.

Back in the late 60s, I checked out Doc's 1966 album, "Swinging & Singing", from the Tulsa library and taped it. I found a copy of it on eBay a year or so ago and picked it up. Almost all of the songs from that album ("Walk On By", "So Nice", "Don't Go Breaking My Heart", "Mas Que Nada", "Goin' Out of My Head", "It's Not Unusual"...) are on this CD, "Doc Severinsen and 'Friends'".

I'm also a big fan of Pete Christlieb, a tenor saxist in the Doc-era Tonight Show band. In the 90s, Henry ("and Sam's is still next door") Primeaux drove Pete from a gig in Arkansas to the Elks Club on 53rd and Harvard for a Tulsa Jazz Society concert. Thanks, Henry.
---

January 27 2005 at 09:19:27
Name: Danny Creekmore
Email: drums4life69@yahoo.com
Location: Panama City, Florida
Comments: I was reading Mike Green's comments about Denise Burress back in the 70s being "Miss Sand Bass". Come on, Mike, you know what we really called her! It was just a joke between us guys at the time, Miss "Northside Carp"! I haven't seen her in years, nor have I seen Mike!
I remember us playing all those Tuf-Nut shows in front of C.R. Anthony's on that Channel 8 float, flatbed trailer! John Chick, Betty Boyd, Dad, (Ted Creekmore), Jimmy Lee on guitar, Mike Green on bass, so many people, Hank Killian, Lori Hanes, James Parker, who used to pick me up on Wednesday morning about 5:30 a.m. at home, about 51st & Charles Page. Going up that hill to Lookout Mountain to Ch. 8 in the sleet and snow!
Back then, the road was straight up and slick, carry my drum equipment (seemed like a block or two) into the studio where it seemed colder inside than out! Get all set up and ready to play at 7:00 that was a experience I'll never forget!
And all the people in Oklahoma! I just bought a set of Rogers drums here in Panama City, Florida. My brother, Kenny Creekmore also lives here, and he is a refined bass/guitar player! I'm waiting on a good friend and guitar man Mike Hunter to get here in March 2005. Mike worked for Firey Bros. giving guitar lessons, where another good friend of mine works, Gary Brumley. Dad, and my other brother Robert (also a seasoned drummer/singer), are up there in the cold Tulsa winter!
Dad still has a band, playing Tulsa and surrounding cities! He is 72. He looks the same except for the gray! THANKS DAD FOR ALL MUSIC IN ME, YOU ARE STILL # 1!
I worked for him 16 years from 1970 to 1986 and then some after that! Dances, TV, studio all over Oklahoma, Kansas, Arkansas! An unforgetable experience!!!

---

January 27 2005 at 00:50:38
Name: Emmett Mathis
Email: EmmettMathis@aol.com
Location: Mojave Desert, Ca.
Comments: After looking at the pictures of the old Tulsa Oiler Stadium, I remember in 1962 when my mother worked as an elevator operator at the Tulsa Hotel. The St. Louis Cardinals stayed there when in Tulsa to play against the Oilers in what is now called preseason play. Stan Musial asked my mother if she had any kids and she said yes.
He told her to have me meet him and all the Cards in the lobby. He walked up to me and asked if my name was Emmett and then proceeded to introduce all the Cards to me and also had them sign their autographs for me. What a memory compared to the players of today asking money for their autographs.
Thanks
Emmett Mathis

---

January 26 2005 at 23:52:50
Name: roy lee
Email: beerdrunk@msn.com
Location: the Cognito Inn
Comments: That big plastic bull outside of Moss and Co. on 15th is the same big plastic bull design as the one on the Sirloin Stockade at 21st and Sheridan. Could be the same old bull, but I'm curious too! What do they do with retired ornamental livestock?
Move them out to the entrances of breeding ranches?
---

January 26 2005 at 13:56:08
Name: Wilhelm Murg
Email: wilhelmurg@yahoo.com
Location: At 15th & Utica looking for my old friend
Comments: When I was child going to Hoover I remember the steakhouse (I BELIEVE it across the street from Casa Bonita) that had the giant concrete(?) bull in front of it. Later, in the wilder days of my youth, the bull was moved to 15th and Utica, in front of an electrical repair store. I had a couple of friends who lived in the apartment buildings that used to be opposite of the bull; it was your basic punk-rock-ghetto-classic-old-Tulsa building that was demolished for the bank that is now on the corner. We used to go out on their balcony and "meditate" on the bull.
Over the years I've felt like I had a relationship with that bull; it's like the giant roadside mascots that followed Zippy The Pinhead around in his underground comix (and now his newspaper strip). Does anyone out there know where it is? I feel like a giant pet has ran away.
(P.S., Zippy DID make it to Catoosa!)

---

January 26 2005 at 09:05:25
Name: Danny Creekmore
Email: drums4life69@yahoo.com
Location: Panama City, Florida
Comments: Hello from the Sunshine State!
I recently moved here from Tulsa where I grew up. I attended Tulsa Central downtown, Madison Jr. High and Riley Elementary. I'm trying to locate anyone who might have pictures of the time when I played music with my Dad, Ted Creekmore, on the John Chick early morning show! I've seen Mike Green on here talking about Dad and John! Anyone who knows anything about this time period who wants to talk, I'm at the above e-mail address!
I love Tulsa, and Channel 8. I moved here to Florida for health reasons during the time I was playing on John Chick's show. I was involved in an automobile accident in 1973.
OK, I'm out of space. Thank you Tulsa for the memories!!!

---

January 25 2005 at 21:43:51
Name: Anita Justus
Email: ajustus@ktul.com
Location: Tulsa
Comments: Hmmm, is there anybody out there that I know? Dale McKinney, how the heck are you?

---

January 25 2005 at 14:34:43
Name: Mark Hyatt
Email: mjh5364@prodigy.net
Location: west of the Oklahoma Aquarium
Comments: I enjoyed watching The Tonight Show back when I was young. A couple of things I remembered about Johnny was that he portrayed Mr. Rogers. That scene showed he flushed a flower pot down the toilet and that he had a 6 pack of beer in the fridge. Another line he said, "Snoopy was arrested for not carrying Woodstock with a pooper-scooper. I don't know if any of you remembered those scenes. I watched Carson on Friday nights. He'll be in our memories forever.
(P.s., Oh yes and Johnny's famous character, "Mr. Floyd R. Turbo.")

---

January 25 2005 at 13:49:03
Name: roy lee
Email: beerdrunk@msn.com
Location: at the ole Union Depot
Comments: I wasn't really a Ma-Hu kind of kid, I guess. When I was in junior high, we used to catch the bus downtown to go "to the library", usually ended up climbing to the roof of the old train station and eating our coneys there. There was also an old mail chute that served as a 2-story slide. Got really dirty in there, and it's amazing we were never injured. Never felt threatened by the people living in there either.
We also went to the then-abandoned ruins of Greenwood to search through some of those buildings too. Also dangerous, but fun for the kids!
Does anyone remember the House of Prayer thrift store? I think it was on Archer or Brady...

---

January 25 2005 at 10:20:47
Name: Mike Bruchas
Location: DeeCee - land of Federal slight of hand....outta yer pocket...
Comments: Do any of you remember Johnny Carson doing some shows for PBS? May have been under their American Heritage banner. I think he did narrator duties on a Jimmy Stewart bio while Jimmy was still alive and Johnny was still hosting TONIGHT.
Also for magicians - I agree Carson was a big fan - as a former practioner and a push-over for good close-in magic.
I have a book by the Amazing Randi on quacks and fakes - he's a treasure.

---

January 24 2005 at 23:40:06
Name: Pat McRoyne
Email: pat_mcroyne at yahoo dot net
Location: Up late at night for the last forty years
Comments: Has anyone besides me noticed the facial resemblance George W. Bush has to Johnny Carson circa 1980?

---

January 24 2005 at 19:04:03
Name: Jack Schriewer
Email: jsthe2ovus@peoplepc.com
Location: Piedmont, Ok
Comments: Here's a Johnny Carson story from me.
I worked at Ch-4 (KTVY,KFOR) during the 70's & 90's. Once during a trip to LA myself and Jack Davis got tickets from the station to go see the Tonight Show. We got out there, stood in line talking with all the people, went inside before showtime and they put us in the very back top row to the far right. You could hardly see the band. I thought if this is the best we can do getting free tickets, I'll try on my own next time.
Well, time went on and the next time we were out there again doing a remote (we had a 40' trailer and I drove it after Bob Hayward retired), we tried to get some more free tickets to see Johnny. You guessed it, we sat in the very same seats. We had a good time anyway.

---

January 24 2005 at 18:14:06
Name: Jim Ruddle
Email: jruddle@earthlink.net
Location: Rye, NY
Comments: Everybody has a Carson story, and why not? He was the whole thing for late night.
At KOTV, in 1956, I believe, we were treated to a summer replacement show. They used to do that, you know. The star of a 36-week show would take off, and a lesser show would pop up for a few weeks. In this case, it was Jack Benny. (I've read somewhere today that Carson's break came as a sub for Red Skelton, but Benny was his acknowledged benefactor. Pun that one if you will.)
"The Johnny Carson Show" was often hilarious, and frequently flat. He hadn't hit his TV stride yet. When the replacement show went off the air, the final episode had the cast emulating the navy and putting it in mothballs for future service. Boy, were they right!
I became a Carson fanatic when he was doing "Who Do You Trust?" on ABC, in the later fifties, or early sixties. This was a dorky audience-quiz cliche, except for one thing: It had Carson, the fastest quip in the biz.
I recall one memorable program, as one of a myriad examples, where some schlub was recounting how he had met and married his wife.
"We used to drive up in the hills."
"And what did you do there?"
"Aw, we just talked baby talk."
"And did you have the baby?"
Nobody else ever came close.

---

January 24 2005 at 10:28:10
Name: Matt Kinney
Email: mattandcathy@comcast.net
Location: Denver, Co
Comments: Another Ma-Hu memory...
Does anyone recall a one-room concrete building located on the south side of the property? I think it was about 6' x 6' and, if memory serves, was next to a creek bank. My sister Donna took my brother Pat and me to explore the mansion one summer day in 1973 or '74, and I distinctly recall this...

---

January 24 2005 at 00:10:00
Name: roy lee
Email: beerdrunk@msn.com
Location: in my pj's watching the monologue
Comments: When I was a kid, the treat for the night (unless I was a complete monster) was getting to stay up to watch the monologue. Bedtime was officially 10:30 but my dad was a softy. I've been a confirmed night-owl ever since! (but I haven't seen 10 minutes of Leno. Just not quite the same...)

---

January 23 2005 at 21:04:18
Name: George Tomek
Email: mranchor@cox.net
Location: Edmond, OK
Comments: Up to and including Jay Leno, I have always felt that NBC has set the example for a late night TV talk show. Johnny Carson was certainly the most durable and in many ways the most entertaining.
I remember living across the street from Skelly Stadium on Florence Steet in '60 or '61 in a house converted into an apartment (obviously long since demolished). One night, the stadium was booked for something called the "Starlight Concert." The emcee or at least the headliner was billed as Johnny Carson. Paar was still king at 10:30 central time each night. I didn't see the outdoor spectacular, but the damn crowd noise was deafening.
Seeing Carson and Ed Ames wince with sympathy pains after the hatchet hit the target's most vulnerable spot is still an all-time classic from the Tonight Show. Too bad the average viewer can't have fun seeing something that tame today.

---

January 23 2005 at 18:03:57
Name: David Bagsby
Email: dcbatsunflower.com
Location: Lawrence KS
Comments: The funniest thing I ever heard Carson say was the tale of the people from the island of Shiffer. They were so stupid that folks said they had Shiffer Brains.
He was sometimes funnier when the joke got a silent reception. He was the jiu-jitsu master of getting a laugh out of a misfire.

Johnny worked in his early years as a magician, "The Great Carsoni". In 1973, "psychic" spoon-bender Uri Geller was a guest on the Tonight Show. Unbeknownst to Geller (and the audience), magician/skeptic James Randi had worked with Johnny to cheat-proof the props. Geller attributed his total failure on the show to negative vibes, but it was a major blow to his credibility.

Here's the Wikipedia entry about Johnny Carson. And over at MSNBC are some thoughts from their readers.

I saw Johnny host the Tonight Show in person in 1986. I'll see if I don't have a few artifacts from that occasion.
---

January 23 2005 at 16:22:27
Name: Dave
Location: Slawson cutoff
Comments: One irony in Johnny Carson's death is that it came the same day as the death of Rose Mary Woods, the Nixon secretary who said she caused the 18-minute gap on the Watergate tape. Carson got a lot of mileage out of that fiasco. About that time he was being interviewed by TV Guide for a feature story and was asked to give a mike test for the reporter's recorder. Rather than offer the mundane testing-1-2-3-4 bit, he instead said, "Rose Mary Woods lives."
In the 1970s, long before CNN, the internet or even Nightline, if you wanted to keep up with the news you were usually out of luck if you missed Cronkite at 5:30. But Carson's late-night monologue, especially during Watergate, turned out to be an alternative way to catch up on events. Foreshadowing of Jon Stewart's influence today.

---

January 23 2005 at 16:07:12
Name: Gary Chew
Location: Sacramento
Comments: There are probably too many times that I've complained about television and most of what's on it, but one guy I could never do that to would be the icon who passed early this morning: Johnny Carson.
I loved Johnny Carson, just like I loved Steve Allen and Jack Paar and Dick Cavett; even though all of these guys had a different, but masterful, take on how to do a late night talk show on the tube. Cavett's still around and I wish him the best.
If I were only half as talented as any of these dudes.
Although we didn't get to see much of Johnny after his retirement from The Tonight Show, it would have been nice if that droll, funny man could've kicked the tobacco habit and lived maybe another 10 or 20 years at his digs along the Pacific down in So-Cal. It ain't easy to do. I know.
I think the funniest bit I saw on "Carson" was when Ed Ames of the Ames Brothers vocal group was throwing a tomahawk at a piece of wood with a human figure etched on it. We all know where the tomahawk just happened to strike the figure's anatomy. Ouch! Now you're a tenor.
Just one of the many serendipitous moments along with the planned ones that made us laugh so hard and so long when we watched "The Tonight Show with Johnny Carson."
Love ya, John.

---

January 23 2005 at 14:39:11
Name: Mike Bruchas
Location: freeze-o Dee Cee-o
Comments: Big news is the passing of Johnny Carson at age 79. Didn't he play OU several times in the '70's?
When going to TU in the early 70's and rooming at John Mabee Hall - most of us never hit the hay without watching his monologue on KVOO-TV.
In about '71 - when visiting college roommate Jim Stack's family up in Hastings, NE - we ate at the Johnny Carson restaurant in Lincoln, NE - a one of kind place........

---

January 22 2005 at 18:07:02
Name: Gary Chew
Email: garychew@comcast.net
Location: Arnoldstadt aka Sacramento
Comments: Kudos go to our masterful web person again; this time for reminding me of the great television series, "Run For Your Life."
I never missed it. I've been a Ben fan ever since.
When it first began, I figured the show wouldn't last long due to the dark motive driving it: a man, knowing he has a short time to live, learning and succeeding at how to spend his dwindling time. Tough and tender at the same time, just like Ben.
Not long after its success, NBC began airing a series, the name of which escapes me now. It had rotating leads, E.G. Marshall, I think. And, without doubt, Roy Thinnes. It seems to me now it had to do with lawyers and doctors and other professionals, but it didn't pull any silly, sentimental punches like most of what one must sit through watching the Vast Wasteland.
And thanks, too, Mike for making me recall the great Hollywood studio musicians and arrangers with jazz credentials who helped make "Run For Your Life" such a great and unforgettable gallop.
If any tulsatvmemoryfreak can remember the name of the NBC series, please let me know so I can Google it.
Today, if you can develop something that goes into the lexicon as a capitalized verb, you've struck paydirt.
Webmaster: E.G. Marshall starred in "The New Doctors", one of the rotating segments of the NBC series, "The Bold Ones" (1969-70). The other segments were "The Senator" (starring Hal Holbrook), "The Lawyers" and "The Protectors" (starring Leslie Nielsen in his pre-comedy days).

Roy Thinnes starred in "The Psychiatrist", part of a separate, but similar NBC series called "Four In One" (1970-71), also with rotating segments, the others being "San Francisco International Airport" (Lloyd Bridges), "McCloud", and "Night Gallery", the latter two of which became full-fledged series.

I remember seeing all the "Four In One" shows, except "The Psychiatrist". If I recall correctly (and I may not), it was a victim of local preemption, previously discussed in Guestbook 143.

Roy also starred in a scary mid-60s sci-fi series, "The Invaders".

The above reminded me of the syndicated "Answerman" column by Richard K. Shull, still seen in the TV World section of the local paper. He was once asked about Tulsa TV's "Uncle Hiram", but he focused exclusively on the "Winky Dink" aspect of the question.

I did a rude parody of his column for the January 1984 newsletter of the Tulsa Tip Toppers (a club for tall people):

---

ANSWERMAN BY RICHARD H. SKULL


Q: Help me settle a bet. My brother says that a cosmic consciousness will soon manifest itself, and that it will raise humanity to a new level of harmony and understanding. I say no. Who's right? - R.M., Tulsa

A: Watch the "Dukes" next week for the answer.

Q: I saw "Rescue from Gilligan's Island" last week. Is that show going to make a comeback? - L.B., Ft. Smith

A: Yes. Producer Sherwood Schwartz intends to update the show for an adult cable audience. You'll see the Professor and Mary Ann become "as primitive as can be" and the Skipper "do his very best" with Ginger.

Q: Is it true that "Gopher" is leaving "The Love Boat"? He's my favorite!! - C.P., Tulsa

A: He'll be written out of the show next season. In his last episode, the passengers learn that Gopher is the practical joker who slipped saltpetre into the champagne supply. They then forcibly disconnect his dinghy.

Q: "Little House", "The Waltons" and "Walt Disney" are our family's favorites. Why can't there be more programs like these that everyone can watch without having to see heaving bosoms, wet sensuous lips, tight behinds in Calvin Klein jeans, and throbbing, quivering ecstacy? - R.P., Tulsa

A: Don't worry. The audience for these programs appears to be "swelling".

Q: How come you're always putting down the "Dukes"? I suppose you like "Hill Street" and "Cheers" better. "Dukes" is the only show that has something for everyone. It has Bo for the ladies, Daisy for the guys, and lots of car chases for everybody else. - D.M. , Tulsa

A: Shall I put you down for car chases, ducky?

Q: Please tell me where I can write that gorgeous hunk of man, Phil Donahue. I want his child. - R.F., Tulsa

A: You're in luck! With $19.95 and a signed release form, you can order the "Donahue Artificial Insemination Kit". On "Super Sunday" this January, viewers across the nation will be instructed in its use. Throughout the year, Donahue will guide your pregnancy with special theme shows.

Write:

Donahue Kit
P.O. Box 280
Chicago, IL 60606


(3/13/2005: The real Richard K. Shull has announced his retirement. His last "Answerman" column appeared today.)
---

January 21 2005 at 08:14:28
Name: Mike Rogers
Email: mj_rogers59@hotmail.com
Location: OKC, OK
Comments: For anyone interested, the old CH 5 building at NW 63 and Portland in OKC was demolished in December of 2004 to make way for a new medical building. Lots of TV history in that place including the 'Ida B' show, and of course the early years of HoHo and Pokey. It was the local TBN affiliate, CH 14 from 1981 to 2001. Good-bye, Farewell, and Amen.

---

January 20 2005 at 17:18:39
Name: roy lee
Email: beerdrunk@msn.com
Location: choking next to the blackjack table
Comments: Took my mom and sister to the Cherokee casino last night. They have opened some blackjack tables, but it looked like a long wait to get on there. Sadly, they have done away with the non-smoking area (with the fun nickel machines in that section!)
It's back to the horse races for me! That place is far too crowded and smoky. If we had won, I might have better comments about the place.

---

January 18 2005 at 22:56:16
Name: Bob Duff
Location: Tulsa
Comments: Folks I have sad news to share, which I just learned today via letter. Many of you may recall Jim Ellis from his days at KRMG and KELi when it tried a total news-talk format. Well, Jim passed away November 24th, 2004 at his home in Hermitage TN.
Jim was my neighbor when he first arrived in town and became one of my best friends. He will be missed.

---

January 18 2005 at 20:34:08
Name: Dave
Location: Looking for the third 7
Comments: There has been some coverage lately of the new blackjack games coming to the Cherokee Casino, which already seems to have a few thousand slot machines. All the expanse and glitz tells us it's certainly not just another roadside juke joint with some gambling. The Cherokees have had a casino on that property on 193rd East Avenue for several years now dating back to when their place was quite a bit smaller and not nearly as impressive. But theirs wasn't the first place to host slot machines on the property.
The Cherokees bought the adjoining Indian Hills Golf Club a few years ago. The golf course had been though a series of owners over the decades along with a few name changes. In the 1960s, it was known as Rolling Hills. The clubhouse for awhile had a small room with four slot machines and the door wide open for all to see and partake. No big payoffs and they were largely just for amusement.
Interestingly, the slot machines disappeared from view every October of even-numbered years. Speculation had it that the club management didn't want to give the Rogers County sheriff any excuse to stage a raid with photographers in tow shortly before Election Day. Or maybe it was just an understanding with the sheriff to keep the heat off him. (The bring-your-own-liquor-bottle law of the day wasn't exactly being followed closely either.) Anyway, the slot machines usually reappeared by the third week in November.

---

January 18 2005 at 15:31:46
Name: Bryan April
Email: bapril1956@aol.com
Location: Edmond, Oklahoma
Comments: Like many who have recounted their memories of the 60's and 70's while growing of age in Tulsa, I also share the many warm moments with you. It has been written that the 60's was a time in our nation's history, and reflected in our local history, of innocence and bliss. I agree and reflect often on what growing up in Tulsa was all about. Completing a thorough review of this web site took me back to a place in time that perhaps my children now are experiencing in Edmond, Oklahoma. There is only one Tulsa but what we saw and felt may be common to each generation regardless of the location one is in.
Thank you for the memories but I will be back in the near future.
Thanks, Bryan.
---

January 18 2005 at 13:11:38
Name: John Hillis
Location: Out Behind the Barn
Comments: Rick Lavon correctly recalled the credit roll drum at KOTV. Back in the days before sophisticated character generators, that was how you did rolls: paper glued to a big drum in front of a b/w camera.
If memory serves, when I arrived at KOTV, they were using a Chyron I for name supers, which made blocky type-font letters on screen, but was limited in the roll and crawl functions. Around 1977, 6 got a Chyron III, I think, which made multiple fonts available, including the clunky font that CBS used, which we also used for news supers. The crawl and roll functions were good enough that the drum and its paleolithic robotic b/w camera, George Jacobs home-brews, were retired.

Chyron example from 1978

I think the big switcher with the rotary wipe (but not Squeezoom) came later that year or the next, replacing even more Jacobs technology and moving the control room to Studio A overlooking the big studio. The monster news set we called "Battlestar Corinthian" took over Studio A another year or so later. Until that happened, A was the home of commercial production, Joe Krieger shows, Lewis Meyer, "Easy Country" sets, and the fabled KOTV Christmas Parties.

---

January 17 2005 at 12:39:06
Name: Webmaster
Comments: Archived Guestbook 174.
We heard from Jerry Vaughn, formerly of KRMG, for the first time. Also heard from Rick Lavon, and Marc Maupin, son of "Bud" Maupin who was seen in a 1940's KAKC photo (viewable via link).
Wilhelm Murg wrote about Cain's Ballroom and used record stores, in particular, Rob's Records at 15th & Memorial. An old Honest John's ad is with Wilhelm's comments.
Preaching on local radio and TV was discussed (and heard). The new Steak n Shake opened and the chain was extolled in words and pictures. Lee Woodward paid a visit.
These and other communiqués are now in Guestbook 174.

---
Back to Tulsa TV Memories main page