February 17 2002 at 16:06:23
Name: Sonny Hollingshead
Location: Sand Springs
Comments: Since we're on the topic of grocery stores, does anyone remember National? There was one on East Admiral at around Peoria or Utica. The small store's sign was still visible from the Crosstown until a few years ago. The building is still standing, but I think it's being used as a warehouse.

There was a National in my other hometown of Slidell, Louisiana when I was a kid in the mid-Sixties, as well as a Jitney-Jungle and an A&P.




---

February 17 2002 at 15:16:07
Name: Don Norton
Email: donaldhnorton@hotmail.com
Location: Tulsa
Comments: The Great France Laux Mystery is solved, at least partially, for Jim Ruddle and others.
In his slim but meaty book, "Voices on the Wind: Early Radio in Oklahoma" author Gene Allen reports that Laux ("a Tulsa kid") was coaching in Bristow in 1927 when the manager of KVOO (in Tulsa) bought the rights to Western Union-recreate World Series baseball games that October. However, the announcer assigned to do them quit just before the first game. The station manager dispatched an employee to Bristow to find Laux, who asked him,"Can you broadcast a ball game?" Laux reportedly replied, "I don't know, but I'll try anything once!"
Allen writes that Laux got to the station "only a couple of minutes before air time. He could not read the abbreviations the Western Union operator gave him, and he had to follow the score sheet to get the players' names. He did not have time to get nervous and somehow got through the ordeal. He stayed on to become KVOO's sportscaster and in 1938 won the Sporting News' trophy as "radio's outstanding baseball announcer."
Now I have another mystery: there's a photo in the book labeled "1927 or 1928" calling a Bob Graham "KVOO's sportscaster."
Allen's book is very good but I could not fail to notice there's no mention of KOTV in connection with KVOO's venture into television, though it came five years later. The only comment is that when the Skelly-Kerr application waas filed for Channel 2, it was "the only remaining channel." Thia may be the result of financial backing by the Oklahoma Heritage Association which was supported by Harold Stuart and Edward Gaylord. A picture of both is in the front. However, it must be admitted KOTV didn't develop out of an existing radio station. Also, Professor Ben Henneke's name is spelled correctly only once. But I digress.
While searching for more about Gene Allen's book, I stumbled onto this online book: Oklahoma Musicians and The Broadcast Frontier by Kelly Raines. Lots of good stuff about WKY, KVOO, Bob Wills, Danny Williams, the rise of media consultants, television from the beginning through the early 80s, and...Jude and Jody!
---

February 17 2002 at 12:43:08
Name: Jim Reid
Email: jimreid56@aol.com
Location: Dallas
Comments: Concerning Jitney Jungle. I remember one of the two grocery stores that we used was a Jitney Jungle. It was either the store at 49th & Peoria that for years was a Sam's and is now a pawnshop, or the store at about 45th and Peoria that is now a Salvation Army thrift shop. This would have been around 1960. Anybody remember this?
From Hoover's Online:

How easy was it to steer a Jitney through the fierce grocery jungle? Not very. Jitney-Jungle Stores of America was slammed by larger rivals, such as Wal-Mart, forcing it to seek Chapter 11 bankruptcy protection and then sell its assets in 2001. JJSA ran about 140 stores in four southern states. In early 2001 JJSA sold some 125 stores to grocers Winn-Dixie Stores and Bruno's Supermarkets.

Did you bring bottles? is a fascinating personal web site about supermarket history, and includes pictures of Jitney-Jungle.

By the way, "jitney" was slang for a nickel in the early 1900s. "Jitney" also became the term for a small bus designed to carry paying passengers over a regular route according to a flexible schedule (the original fare being 5 cents). This double meaning makes sense of a comment found at NCTE-Talk:

"(Jitney-Jungle) got their name when a newspaper ad made a giant typo. The ad was to have read "Jitney Jingle." The typo caught on as a way to refer to the store and was eventually adopted as its official name."
---

February 17 2002 at 08:12:47
Name: Lowell Burch
Email: j9z1b95@aol.com
Location: Tulsa, 26, Okla.
Comments: There was a Jitney Jungle at Apache Circle. The pole with a large metal ball that marked the location still stands in front of the old building. I believe the store is a church now. We sometimes called it Gyp Me Jungle because the prices were a little higher than IGA.
I was helping my dad get his old 8mm films in order. I promised Jack Frank that I would dig out some footage of the old Lakeview Amusement Park but it took too long to find it. I did find footage of the old Springlake Amusement Park. Back in the 50's they had a real steam engine and a horse-drawn stagecoach. I was able to acquire some old railroad track from the site last summer.

---

February 16 2002 at 01:36:20
Name: Don Norton
Email: donaldhnorton@hotmail.com
Location: Tulsa
Comments: KVOO's original call-letters in Bristow in and after 1924 were K-F-R-U (Kind Friends Remember Us). There's a great book on early Oklahoma radio stations in the library; I'll look it up Saturday.
Also, not to nit-pick a little too much, but the suffix "AM" didn't come in until much later--there wasn't any FM then (and FM stations weren't generally licensed until after World War II). But I guess we're so used to distinguishing between the broadcasting systems that we almost have to use "AM" and "FM" regardless of the period we're talking about.

---

February 15 2002 at 23:14:51
Name: Webmaster
Email: tulsatv@mail.com
Location: Tulsa
Comments: Jim Ruddle brought up baseball broadcaster France Laux in Guestbooks 55 and 95. I found mention of a Bristow attorney, "F.J. Laux", who changed the call letters of KFRU-AM in Bristow to the more familiar KVOO sometime in the 20s (W.G. Skelly bought the station in 1927 and moved it to Tulsa). Has to be the same guy, don't you think?
Off-topic a bit, but a recent trip to the library reminded me that there was a grocery store at 834 N. Sheridan called "Jitney-Jungle". I learned that this had been a popular chain in the deep South since 1919, but sold its remaining assets last year. It couldn't have been around Tulsa any later than about 1960.
Other businesses in that area: Sara's Hamburger & Malt Shop (6518 E. King in the 50s), The Chuc Wagun (1028 N. Sheridan and 11th & Lewis), featuring the Wheel Burger and the Hub Burger, and the Lucky Seven, later the One-Stop Dairy Store (and before that, Dr. Brumfield) at 6626 E. King. Lucky Seven is mentioned on the Pop bottles page.
(Added here on 12/18/2010 from the Tulsa 1957 page: Michael Bates of BatesLine.com had the brilliant idea to create a Google file from the 1957 Polk's City Directory showing Tulsa's restaurants as of 1957, marked with a knife-and-fork icon: Google Map of Tulsa eateries in 1957.)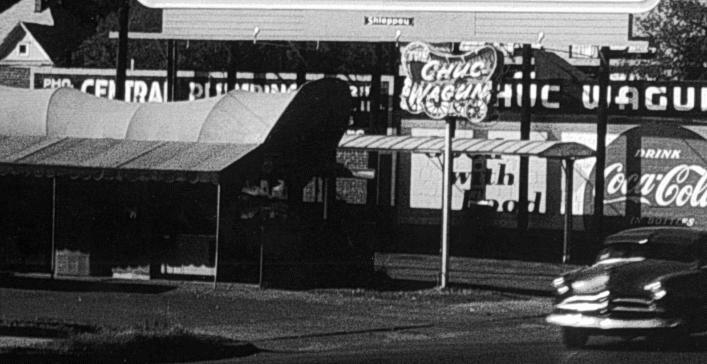 The Chuc Wagun at 11th and Lewis

Now this is really going far afield, but Don Lundy informed us:
Dr. Thomas Jefferson (T.J.) Brumfield moved from the East King location to the small office building north of the Sheridan Road Chuc Wagun around 1958-59 or so. At last report, he was fairly prominent in Las Vegas. (See a picture of him at the Las Vegas Institute of Preventive Medicine.)

---

February 15 2002 at 22:32:54
Name: Robert Porrazzo
Email: bobanthony17@aol.com
Location: Cos Cob, CT
Comments: I never lived in Tulsa, but I am a fan of the rarest of TV oddities--the sign off. Seeing a 1979 one of KTUL-TV makes me proud to know there are some people out there who are keeping the memories of this art form alive and well.
And the Television Code--WOW! This 28 year old has some memories of sign-offs and music. One of my state's TV stations, WTNH-TV also channel 8 and ABC, used Barry White's "Love's Theme" for one of its sign-offs in the early 1980's. They then went to the National Anthem.
I know KTUL had the Ray Charles America the Beautiful at one point and that's all well and good. But what stations played the SSB (Star Spangled Banner) at sign-off/on and which if any still do it today? Given of course Sept. 11, the need for patriotism has been needed now more than ever. This is a great page dedicated to TV in one of the Sooner State's biggest cities. Keep it up!
Thanks, Robert. Our local PBS affiliate, KOED, Channel 11 still uses "High Flight" as their sign-off (see the 8's The Place page for several sign-offs), but the only other stations here that actually do sign off are the Fox and UPN affiliates, KOKI and KTFO. Anyone know what they are using?

I will have the Ray Charles sign-off on the site this weekend.
---

February 15 2002 at 19:28:54
Name: Peter D Abrams, non esq.
Email: pabrams@bellsouth.net
Location: Jaxburgville Fl.
Comments: Here's some (related to here) good news. Bob Hardie, former Chief Eng/architect of the *original* Tulsa23 (which signed on the air on his birthday) , former (in the '60's) engineer at KTUL, and my very first tv boss ('73) at WLFI 17 in West Lafalot Indiana has replied to an email of mine and promises to check this place out and hopefully contribute to the conflagration. He's currently CE of the Sinclair station in KC. He bumped into me (I swear I was standing still!) at NAB '98, and that was the last I'd heard til now. What a hoot! regards, pda Jax Fl.

---

February 14 2002 at 20:37:56
Name: Gary Thompson
Email: Gary@ShadoWingProductions.com
Location: Joplin, Mo.
Comments: Hey, Chris Kelley. Thanks for the info on Inspiration Broadcasting.

---

February 14 2002 at 17:27:40
Name: Lowell Burch
Email: J9Z1B95@aol.com
Location: On Hold
Comments: Margi, I haven't thought about those old clubs much in a long time, and had completely forgot about the Hallucinations, though sometimes I think about some of the musicians you mentioned. Thanks.
Anyone remember Standing Room Only or the Derrick Recording Studio?

---

February 14 2002 at 12:13:39
Name: Sara Crombie
Comments: Where's the cream filling?

---

February 14 2002 at 07:23:52
Name: Jim Ruddle
Email: gardel@erols.com
Location: Rye, NY
Comments: Wondering--Did Waylon have any Tulsa connections? Anybody remember particular performance?

---

February 14 2002 at 00:59:46
Name: Margi
Email: margaret-enright@utulsa.edu
Location: Tulsa
Comments: Besides The Machine (which was upstairs at the old Southland Mall) there were a couple of other teen clubs in Tulsa that I remember: the Green Rooster, the Closing Gap, and Pepperland.
The Gap was in an old house downtown (where the Doubletree now stands) and I think it was open @ 1968, maybe '67. The genesis of many Tulsa bands was there; it's where I first met David Tanner, Rick Durbin, Steve Bailey and the guys from the Hallucinations, Jim Byfield, etc. Pepperland was a great place - it was upstairs @ 38th and Peoria and was owned by Wendell Brown, Tony Brown (no relation) and Captain America, AKA Steve Robertson. It was open, I think, the fall/winter of 1970.
None of these places served alcohol, but with all the great music and a car to get stoned in, who cared...

---

February 13 2002 at 21:26:15
Name: Mitch Schauer
Location: L.A.
Comments: Wouldn't an order of Shrimp in a Basket and a piece of Blackbottom Pie from Pennington's taste good right about now?

---

February 12 2002 at 23:14:02
Name: Margi
Email: margaret-enright@utulsa.edu
Location: Tulsa
Comments: Do you remember Bo Velvet and the Desert Snakes on the Mazeppa show? It was a joke band of local musicians (Rob Armstrong, Ronnie White and Jim Carly from the Urchins, John Story etc.) plus Deborah, Susan, and Vicki as the back-up singers, Bo's Belles. They did great, funny songs like "Psychedelic Wild Thing", "Bend over got a new pair of shoes", and "Is that a banana or is that your face?" They were such a hit that Mazeppa took us all out for some road shows and we were literally run out of town in either Joplin, MO or Pryor, OK. - can't remember which.
Also, the dancers on Dance Party were started by Leslie and Cindy Ashton, two sisters and ballet dancers. I think their brother (John?) was also a dancer. I haven't seen Leslie in years and years - hey Leslie, if you're out there, write in.
I love this web site!
Margi Enright

---

February 10 2002 at 00:19:39
Name: ricardo
Email: Snakebird7@aol.com
Location: Tussa, of course
Comments: As an answer to Lowell Burch's question about the establishment on 11 Street (actually Admiral...webmaster)...I believe it to be the original location (there was only one)...of KON-TIKI-KONEY... a coney joint drive in with a definite Polynesian decor... flaming torches at the entrance, and all...sorry, no hula dancing car hops, you had to go to the little "grass shack" yourself and place your order....as I recall, the coneys weren't bad (as though you could make a bad coney) but unfortunately, the place didn't last too long as a coney joint...the building has lasted considerably longer than any of the subsequent businesses at the location have survived...
We hope to have more about the Kon-Tiki Koni soon on the Tulsa Tiki page.
---

February 10 2002 at 00:02:09
Name: Frank Morrow
Email: frankmor@io.com
Location: Austin
Comments: I had a special sign-off for my first disk jockey program "Music for Listening" on KAKC in 1951. At 11:30pm, just before station sign-off, I would play an string adaptation of the first movement of Beethoven's "Moonlight Sonata" by Henri Rene's orchestra. Over the music I would read a short poem, then, after saying goodnight, I would fade the music back up full, wait for about five seconds, then whisper slowly and softly, "Barbour."
Shirley Barbour was my girl friend---actually my first big girl friend as a callow eighteen-year old. She would get up close to the loud speaker in the room of her TU dorm. I whispered softly enough for her to hear, but not loud enough for anyone else to notice. Her friends in the room would quiz her about what she was doing. She wouldn't tell. It was a mystery.
"Did he say something to you?" a perceptive friend once said. Shirley only smiled. It was driving her dorm-mates crazy with curiosity.
Soon her friends started crowding around the speaker to try to hear for themselves. One night I guess I whispered a little too loud, because a couple of Shirley's friends heard it. The secret was out. Her buddies thought it was terribly romantic.

---

February 09 2002 at 14:42:32
Name: Webmaster
Email: tulsatv@mail.com
Location: Tulsa
Comments: I got the free Pulfrich 3D Glasses I ordered. They work best with horizontal motion across the TV screen. Figure skating, moving water and fire are particularly good. The glasses are no more than a clear left frame and a gray right frame. The image from the right reaches your brain a split-second later than the left. The resulting parallax lets you see the scene in 3D.
---

February 09 2002 at 12:08:02
Name: Webmaster
Email: tulsatv@mail.com
Location: Tulsa
Comments:
Lee Woodward contributed this talent rate sheet: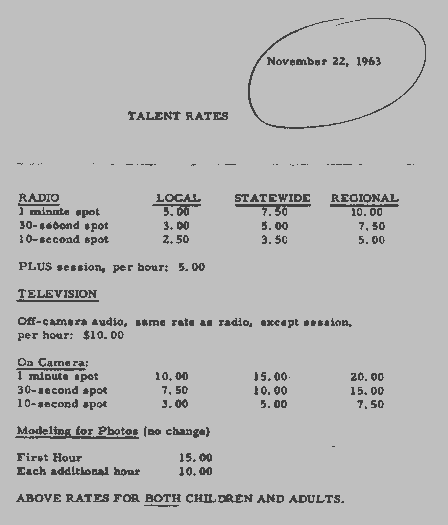 ---

February 07 2002 at 22:47:32
Name: Jim Reid
Email: jimreid56@aol.com
Location: Dallas
Comments: Speaking of sign-offs, at KTUL in the late '70s one of the news photographers, Glenn McReynolds put together a really nice music essay for the 4th of July. It was picnic scenes, outdoor concerts, etc. edited to Ray Charles' America the Beautiful. It turned out so nice that we replaced the High Flight tape with it. It ran every night for a couple of years.
Steve Smith sent that video to me awhile back with the Dick West sign-off...I will get it out here shortly.
---

February 07 2002 at 21:26:39
Name: Chris Kelly aka Chris Shannon
Email: chris.kelly@cox.com
Location: Tulsa
Comments: Yes Gary, Inspiration Media as it was known, owned both KCFO AM & FM at the same time. It was not long after he sold the FM to First Stuart(then the owner of KVOO), that he sold the AM to a company that I cannot remember. Ken Staley who was the midday guy at KCFO FM when it was sold is still at KCFO-AM as the general manager. There are several employees at KCFO-AM that are still there from the AM-FM days. By the way, I was the very last person to sign off the station as KAKC and in turn, the very first to sign it on as KCFO-AM. A bittersweet ending to the original frequency for the great KAKC.

---

February 07 2002 at 21:16:29
Name: Gary Thompson
Email: gary@shadowingproductions.com
Location: Joplin, Mo.
Comments: In relation to this post:
"Another station, now KVOO 98.5 FM, was originally placed on the air by Tulsa evangelist Billy James Hargis; hence the original call sign KBJH, also in the early 70's. The studios were located at Hargis's American Christian College on South Sheridan. The station devoted much of its programming to Hargis's conservative anti-communist style of religious programming. I know, I worked there a short while. However, I was NOT a student at the school. Was sold in the late 70's after the demise of the school and ministry to Stuart Epperson. With the call letters KCFO, they maintained the religious programming until sold again to the KVOO folks in the late 80's"
Several current Tulsa broadcasting mainstays like KVOO's former midday gal Charlene Lewis, Rock 102.3 KTRQ's PD Chris Shannon, Mix 96.5 KRAV's Chuck Stevens and others got their start at KCFO 98.5 FM and 970AM (KAKC was turned to religious talk under the KCFO calls at some point.)Does anybody know if Stu Epperson owned 970 while he owned 98.5?
By the way, Stu still owns the land up on the hill in west Tulsa that the current studios for 970, KCFO still stands on.

---

February 07 2002 at 18:35:37
Name: Webmaster
Email: tulsatv@mail.com
Location: Tulsa
Comments: neoTulsa.com has printed a short interview with me.
(2/21/2006: neoTulsa's page is available ifrom the Wayback Machine, but the interview was not captured. Not a big loss).

---

February 07 2002 at 12:21:22
Name: Keith Purtell
Email: keithpurtell@keithpurtell.com
Location: Kansas City
Comments: I'm a former Tulsan with an obscure question. If this is impossible for anyone here to answer, I'll gladly settle for any suggestions as to where else I might ask. I've already tried the television station and a Web site devoted to television sign-off themes.
I'm trying to identify title and composer (and performers?) of an instrumental used in the 1970s as sign-off music for the educational television station (at least, I'm pretty sure it wasn't one of the other local stations). The style was spacey-pop with a jazz touch. It resembled the string background to Marvin Gaye's "What's Going On" album. The instrumentation is mostly strings or maybe synthesizer trying to sound like strings, with a wordless chorus (sounds like they're just saying "Oooo") and some subtle electric guitar. The tempo is moderately slow, and the melodic theme gradually rises through a scale; just the kind of thing that floats off into the horizon so the engineer can kill the power to the broadcast tower. I've got this music in my head and it won't go away until I identify it. Any thoughts? Or is this in the "likely hallucination" category?
You've come to the right place, but I must admit that your detailed description isn't ringing any bells for me.

Sign-offs I know about: the "8's The Place" page has on RealVideo both "High Flight" (from OETA), and the Lord's Prayer with Native American Dick West. A possibility is Channel 8's sign-off with Henry Mancini's "Dreamsville" from the Peter Gunn album (ID'd by Steve Smith here; go to the TTM Gift Shop for RealAudio sample) followed by Ray Charles singing "America the Beautiful". You might try humming a few bars on a WAV file (as I did to ID the Fantastic Theater theme) and I could post it out here.
---

February 06 2002 at 21:39:13
Name: Lowell "Tiki" Burch
Email: J9Z1B95@aol.com
Location: Walkin in a Winner Wonner Lan
Comments: Just read the Tiki page. I still have some strange mugs and glasses that look tiki to me that I bought about 1969 or 1970 from the first Pier One Import, back when it was a really cool place full of all kinds of off-beat junk. It still handles some unique merchandise but it is much more of a main-stream store.
One odd little building that may have had a tiki theme is just west of Sheridan on the north side of 11th. It is round with a simu-thatch roof. It is repainted now but at one time it had a definite grass hut look. It has been a used car lot for years, maybe always, but maybe someone knows the origin.
I always liked the name Scooter B. Segraves. The man behind the name wasn't any slouch, either. I will drop him a get well wish.

---

February 06 2002 at 19:43:56
Name: Robert W. Walker
Location: Miami FL
Comments: Scooter Segraves is one of the most brilliant creative-on-the-fly minds I have ever witnessed. He mentored me when I was a green high-schooler who got a first break at KAKC; he gave me my second step up the radio ladder when he hired me at WHBQ/Memphis. His energy and mind-blowingly fast, weird humor have been sheer marvels for the 35 years I have known him.
I am THRILLED that they fixed his ticker. Couldn't figure out how to sign the get-well page at kxkc.com, so I emailed him direct. He's at hawg@kxkc.com for anyone interested.
Yes, the Get Well page appears to have stopped accepting new entries. Pics of Scooter and Robert W. Walker are on the KAKC page, along with RWW's new comments.
---

February 04 2002 at 17:30:04
Name: Webmaster
Email: tulsatv@mail.com
Location: Tulsa
Comments: On January 16, Scott "Scooter B." Segraves, formerly of KAKC in the 60s, underwent successful quadruple bypass surgery. You can sign his Get Well card at KXKC in Shreveport:
http://www.kxkc.com/forms/getwellscoot2.asp

---

February 03 2002 at 10:24:29
Name: Jim Ruddle
Email: gardel@erols.com
Location: Rye NY
Comments: A couple of personal notes about Isabelle Ronan.
As a teacher at Central High School, Miss Ronan was not in the high income brackets. She wore the same clothes year after year, and lived frugally.
In the school year 1948-49, the Southwest Theater Conference, a creation of the depression era Federal Theater Project, held its annual meeting at the University of Oklahoma. She was invited, but said she couldn't attend. Instead, she asked Ted Machler and me to represent her there. Two high school students among the leading university and community theater leaders in the Southwest. I will always remember the appearance of B. Iden Payne, the legendary actor, director, and Shakespeare scholar from the University of Texas. It was a heady weekend for Ted and me.
We were broke, as always, and had no way to get to Norman, but we hitchhiked down. She gave us an envelope which she cautioned us not to open until we got there. Of course, we opened it as soon as we were on the road. It had a five-dollar bill and a note telling us to have a good time.
Every year, the Tulsa Public Schools held dramatic reading contests for students, including all the high schools. Dramatic monologues and poetry presentations made up most of the performances. I decided to offer Oscar Wilde's "The Ballad of Reading Gaol," a work that was, no doubt, beyond my full comprehension because I knew so little of the background of Wilde's own imprisonment.
Some time later, Miss Ronan gave me a small volume, one of the old Peter Pauper Press editions, of "The Ballad of Reading Gaol," which she had purchased and which she inscribed "Because you read this so well."
Unfortunaately, it was lost when my family's home burned a couple of years later, but it, and the five bucks, still stand out in my memory as acts by a great teacher who took an inordinate interest in the growth and education of her students. I'm sure she did many other similar generous things for other students, never getting public recognition for her kindness and interest.
As somebody once said: They don't make 'em like that anymore.
Added this note to the Tulsa Radio: Central High Alumni; Isabelle Ronan, teacher page.
---

February 02 2002 at 16:23:36
Name: Webmaster
Email: tulsatv@mail.com
Location: Tulsa
Comments: Today's paper shows that mayoral candidate Accountability Burns' record of voting in municipal elections over a 4 year period is not bad...he equalled or bested 7 of the other 14 candidates! More on this unusual candidate in the previous Guestbook (#100).

---

February 01 2002 at 17:57:21
Name: Webmaster
Email: tulsatv@mail.com
Location: Tulsa
Comments: There are two more weekends left to see "The Wonder Bread Years" at Wonderama Theater, site of the old Park Lane Theater at 49th & Sheridan. It is a one man show by comedian Pat Hazell, a former "Seinfeld" writer, and seven-time guest on the Leno show.
It works much the same turf as this web site, without the emphasis on the local. I saw it last weekend, and it was definitely worth seeing. The theater itself has been completely overhauled and features a new stage, sound and lighting system. The lobby is decorated with blacklight posters and other cool stuff. I found the service and the attitude of all the personnel to be excellent.

---

February 01 2002 at 14:51:42
Name: Frank Morrow
Email: frankmor@io.com
Location: Austin
Comments: I was given a 1927 Tulsa Central Tom Tom that had many pictures of the teachers I had who were still there in the late '40s and early '50s. One of these pictures is of Isabelle Ronan, the sainted speech teacher about whom I and other people have written so much.
Here is her picture from that yearbook.
Not only did this incredible woman inspire so many people to excel in broadcasting and the theater, she enriched the lives of everyone with whom she came into contact. Here is the memory that a Central classmate recently shared with me:
"Although I had Miss Ronan for a teacher, I was never a good enough Thespian to participate in any of her productions. One day I was bemoaning this fact to her, saying that I wished that I had more talent. She said gently, 'It is not what you accomplish in life that is important. It's the type of a person you are.' That made me feel so much better, and I never forgot her words."
Added your comments to the Tulsa Radio: Central High alumni page.
---

January 31 2002 at 23:59:47
Name: Dan Losey
Email: loseydmkm@cox-internet.com
Location: Lake Charles, LA
Comments: Was anyone else out there watching Mannix with their mom when the camera switched to Mack Creager all of a sudden, right in the middle of some chase scene? Can you guess what Mack was doing and who, I heard later, was behind the TV camera in the Channel 6(?) studio? I remember not knowing whether or how to acknowledge, as a 9 year old, to my mother, that I noticed it, let alone knew what that meant!
The word we have is that the person you think was behind the camera is not guilty...check this page.
---

January 31 2002 at 16:28:39
Name: Mike Bruchas
Location: Norf Caryliner
Comments: John Doremus did "Patterns in Music" on WMAQ radio in Chicago with sporadic TV specials with the then NBC Chicago Studio Orchestra.
See previous postings on his all night show later on WGN where he succeeded the late Franklin McCormack.
In between were several years on WAIT-AM - for years an FM-quality AM station in Chicago now defunct. See also postings on the reprise airings of John's best shows on a great station in MN!
But the big money maker and new career for John was the American Airlines in-flight music package programming deal plus his national exposure on the Union 76 "Spirit of '76" national radio vignettes.
We lost John too soon......

---

January 31 2002 at 07:35:03
Name: John Lyons
Email: CRL324@AOL.COM
Location: Jenkintown (Phila.) PA
Comments: In 1963, I was attending the University of Scranton (PA) and working on the student radio station (WUSV-FM - 89.9). Several of us began listening to late night broadcasts and came upon John Doremus' "Patterns in Music" at WMAQ Chicago. Wanting badly to be a big city announcer, I sent a letter to John and asked him if I could visit him. (At the time I had a cousin in Evanston Il.) Amazingly, I received a response the following week inviting me to spend a shift with him in the studio.
I hopped on a Greyhound bus and rode for 16 hours to Chicago and spent that shift with him. I was awestruck. I will never forget the old-timers (v/o) announcers doing live commercials in the studio. Such impeccable timing. They even wore ties. John was gracious and encouraged me to pursue my dreams.
Since then I have been doing v/o for educational programs, both audio and video and looking forward to having my own morning show..perhaps "Coffee at 8" at some small station in the North Carolina mountains... dreams die hard. Rest well, John, and thank you for your inspiration and your music. We will always remember you.
Thanks for writing, John. I added your comments to the John Doremus page.

John Doremus was from Sapulpa, and did a music program on KRMG in the early 50s, "Music 'til Midnight". He then moved to WMAQ, in Chicago, where he was billed as "America's Greatest Voice". He was later heard on WGN and on American Airlines' syndicated "Music 'til Dawn" radio program. He was followed on the KRMG show by John Chick (later, "Mr. Zing" on KTUL-TV), then TTM contributor Frank Morrow.
---

January 29 2002 at 03:52:52
Name: Dale Williams
Email: DWilli8392@aol.com
Location: Oklahoma City
Comments: Enjoy the pages devoted to Tulsa radio. As a native Tulsan, and growing up there in the 70's, I took a particular interest in broadcasting. Here's a little history.
The station KKUL (if I recall, it was an urban format, somewhat unusual for its time) went on the air in the early 70's under the ownership of then State Senator Gene Howard. Gene still practices law (Howard & Widdows) in Tulsa and can give you some interesting background on the station.
Another station, now KVOO 98.5 FM, was originally placed on the air by Tulsa evangelist Billy James Hargis; hence the original call sign KBJH, also in the early 70's. The studios were located at Hargis's American Christian College on South Sheridan. The station devoted much of its programming to Hargis's conservative anti-communist style of religious programming. I know, I worked there a short while. However, I was NOT a student at the school. Was sold in the late 70's after the demise of the school and ministry to Stuart Epperson. With the call letters KCFO, they maintained the religious programming until sold again to the KVOO folks in the late 80's.

---

January 29 2002 at 02:38:57
Name: Richard Wilson
Email: Snakebird7@aol.com
Location: Tussa
Comments: I remember Hal O'Halloran telling me once that he had gotten a memo from Mr. Leake imploring him to stop breaking up Don Woods on the air. As Hal said, "Hell, half the time I'm not even in the studio......Don cracks himself up." and you know, it was true....as I witnessed many times on the six and ten over the years........ more later, as our coverage of broken news continues......

---

January 28 2002 at 23:35:59
Name: Webmaster
Email: tulsatv@mail.com
Location: Tulsa
Comments: Just archived Guestbook 100...that's a lot of Guestbooks!
There, we had just discussed Garry Kemp, a multi-talented Brit who was heard on KWGS and KVOO in the 70s and 80s. Another Brit(?) who owned the Gramophone Shoppe on 15th Street was recalled by several. KELi Radio was discovered to be the subject of a German band's song, and we saw a KELi bumpersticker.
"Beany & Cecil" was a tentative answer to a question posed by Mitch Schauer. Brian definitely answered David Bagsby's previous query about a 60s movie (it was "Wild, Wild Planet").
Lee Woodward remembered a woodcarver who may have carved Tikis for the Jade East, the Tiki Nook and/or the Kon-Tiki Koni. Lee did a bit of totem-carving himself with this fellow in the early 60s. He recalled Art Linkletter's impeccable sense of timing, plus Chili Bowl midget car races at the fairgrounds. The latter topic was introduced by Frank Morrow; Jack Morris was the P.A. announcer at these events.
Kirk Demarais created an amazing animated web cartoon of Bell's "Phantasmagoria" ride. The Camelot Inn is selling all furnishings and memorabilia--the sale still has a few more days to run. Mayoral candidate Accountability Burns' platform was just added above his campaign ad...it's a doozy.
We found out that Lionel, who was first "Charlemane" on Bil Baird's network show in the 50s, also served Soupy Sales as "Pookie the Lion" in Detroit. Ken Broo had a story about Tulsan Tim Blake Nelson, star of "O Brother, Where Art Thou?"
This is Guestbook 101. Here is Guestbook 100.

---
Back to Tulsa TV Memories main page