Tulsa TV Memories GroupBlog 234

TTM main | What's new on TTM? | GB Archive




February 28 2007 at 10:22:03
Name: Keli
Topic: KELi AM 1430
Email: jyoungfamilyof4 at aol.com
Comments: Hello - I am looking for a t-shirt from KELI radio station in Tulsa, OK. I was born in Bartlesville, OK in 1966 and am named after the station...KELI... : ) Can anyone help me with this?

Thanks!!!

---

February 28 2007 at 09:43:13
Name: Frank Morrow
Topic: Ice cream
Email: frankmoratiodotcom
Comments: Jim Ruddle's remarks about Burt's ice cream store and Glencliff brings back fond memories.

After a hard day of practice at athletics at Central high, many of us loved to go to the Glencliff ice cream store east of the school to get one of their great sundaes or milk shakes. There was a hazard, though: The coaches considered that a violation of training rules. Consequently, one boy would be assigned the job of lookout from the big, front window. When he would yell, "A coach is coming!," we'd all drop to the floor, giggling.

At Burt's place on 6th and Boston we loved those huge Malt-o-Plenties. If you ordered a sandwich to go along with the main treat, it was tough to finish the meal because of the size and thickness of the milk shake or malt.



---

February 28 2007 at 09:05:02
Name: Steve Bagsby
Topic: Fuzzy Recollections
Email: sbagsby at tulsacc.edu
Comments: Hello to Mitch! Good hearing from you again. Yeah, I was the "four-armed" guy playing steel at the Brook Alley. That Sunday night jam served as good "decompression" after a week of playing freelance gigs, some stranger than others.

On the fuzz topic, I bought a super-cheap fuzz box that gave my steel a "David Lindley" type sound. Used it for ten years through all kinds of extreme abuse and never had a problem with it. Then I lent it to a 15 year old going through hormonal rage. Took him three days to kill it "Graveyard Dead". Reminded me of the American Tourister ads where they throw the suitcase in the Gorilla cage.

Well, have we got enough people for a "TTM Jam"? Mr. Woodward handling the vocals while backed by 6-7 guys running Fuzz boxes.

---

February 28 2007 at 08:50:37
Name: DolfanBob
Topic: 70s Concerts
Email: MiamiPhin at yahoo.com
Comments: Reading about the Jeff Beck non-intro, takes me back to a '77 concert with Cheap Trick and Kansas at the Fairgrounds Pavilion.

I waited in line for hours and was able to get standing-room-only right at the stage. The lights were still on and this geeky-looking guy that looked like my math teacher sat down at the drums and started tapping on them like he was tuning them up. All the sudden this other geeky-looking dude jumped right in front of me with a flipped-up ball cap way too small for his head, playing this massive power cord and spitting and throwing picks at us. The lights went out and these two cool-looking rockers walked on stage and then it hit me, good Lord this is the opening band.

I at that time had never seen Cheap Trick and had no idea what they looked like. They were good and Kansas was great. It just took a few years for their gimmick and music to catch on.

---

February 28 2007 at 08:37:56
Name: Wilhelm Murg
Topic: Shameless promotion: NONzine
Email: wilhelmurg at yahoo dot com
Comments: I have three new pieces up at http://www.myspace.com/wilhelmurg

There is a review of the film "Who The #$&% is Jackson Pollock?" an independent documentary about a retired truck driver who bought an apparent Jackson Pollock painting for $5 in a thrift store so she could throw darts at it. Once she found out it could be worth $25 million dollars she decided not to throw darts at it. It follows her journey as she attempted to authenticate the painting, and finally did using forensic evidence, yet the art establishment still refuses to do business with her. The film is not so much about art as it is greed.

"The U.S. vs. John Lennon" is an entertaining, yet shallow rockumentary on the political activism of Lennon and Yoko Ono that just came out on DVD. It follows the Nixon White House's attempts to deport the couple throughout the early 1970s.

This week's "Tiger Beat From Hell" is on minimalism, based on four new releases, a vocal and percussion version of Terry Riley's classic "In C," a new collection of recordings of Glenn Branca from the 1980s, a new collection by Paul Lansky, and the first in a series through iTunes of a new complete recording of Philip Glass's epic "Music in 12 Parts."

All these articles will appear in NONzine this weekend. If you are in the Oklahoma City area, please pick up a copy of the magazine, everyone else can check out their website at NONzine.com. -WM


---

February 28 2007 at 07:23:10
Name: Mitch Gray
Topic: Jeffhavisnu
Email: mitchwerxatcableone.net
Comments: T'was indeed 1975, however this was a Tulsa show at the Frisbee-O-Rama-Beachball-Bouncing Civic Center.

Jeff started the show totally unintroduced with his Blow By Blow material. Some folks in the crowd didn't know it was Jeff! Thought it was some sound guy warming up a gitbox.They kept yelling "where's Jeff"?!

Jeff played alone (no band, no Max Middleton-sniff!) for about 15 minutes, then brought the other members out. Yes, Mahavishnu was the full-fledged orchestra! Seemed like about 30 folks in the group.

It was a great show.



---

February 27 2007 at 23:17:38
Name: roy lee
Topic: Tulsa Oilers hockey
Email: beerdrunk at msn.com
Comments: Tonight I went to my first Tulsa Oilers hockey game since I was a small child. As a former pretty good ice skater and not too much of a hockey fan, I can truly say it was a great evening's entertainment!

QuikTrip has free tickets for Tuesday night home games, so it's affordable as well. Only one really good fight, but a heckuva good time! Finally got back to Coney Island to boot!

---

February 27 2007 at 19:03:51
Name: Mitch Gray
Topic: Mustang Sally
Email: mitchwerxatcableone.net
Comments: Thanks for the reply David. Isn't Mustang Sally "The Tulsa Sound"? Or is it any 1-4-5
song? I can't remember. They all Tulsa Sound the same to me!

I saw Mahavishnu with Jeff Beck back in the 70s. Inspiration. Say Hi to Steve. See Ya.



Was it the OKC concert in '75? I was at that one, and it WAS great. Mahavishnu's lineup was large and included the musicians who would be on the "Inner Worlds" album. Beck was really "on" that night, taking off from the "Blow By Blow" material. Bernard Purdie was his drummer. Before the show started and before I realized who he was, Purdie came out to do a drum check. He only hit a few, single wallops, but they packed a lot of authority.
---

February 27 2007 at 15:14:19
Name: David Bagsby
Topic: Fuzz Zig
Email: dcbatsunflower.com
Comments: That was my brother Steve on steel/fiddle. I did jam with the Zigs once at that Brookside Bowling Alley but it was on keyboards.

I remember they got mad at me because I asked what key 'Knockin' on Heaven's Door' was in. I'd just returned from playing in a progressive/jazz group for nearly a year in Dallas and wanted to say; "hey guys, anybody want to jam on some Mahavishnu Orchestra or Dixie Dregs?" I forget that it's heresy in Tulsa if you don't know the key of 'Mustang Sally' or 'Killing Floor'.

---

February 27 2007 at 13:36:27
Name: Mitch Gray
Topic: FUZZ
Email: mitchwerx at cableone dot net
Comments: I never owned a Big Muff Pi either, but I still have my Marshall Guv'nor. Talk about bumble bees! Or is tungsten a better description? I don't use it anymore but I'll never part with my old equipment. I still have a Mitchell 100 watt tube head. It wails!

Seems like I did a jam or two at The Brook Alley with a feller named David Bagsby. The Zigs were hosting. Bagsby played the steel and fiddle. His business card portrayed a guy with four arms playing both instruments at once. Be you that there feller?

Every one in Tulsa has been in a band together at one time or another. I was a Zig for a bit. Played with Wanda Watson, David Dover, and many more. I'm sooo dormant now...

---

February 27 2007 at 10:00:36
Name: David Bagsby
Topic: Fuzz Box
Email: dcbatsunflower.com
Comments: Used to have a Big Muff Pi and it rocked until it shorted out. Traded it for an MXR Distortion + which I still have and use.

The box with the most shred has got to be the Foxx Tone Machine. These things were covered with fake red fur. They sounded like an electric razor routed through a speaker with a torn cone. Check out Adrian Belew's song 'Big Electric Cat' for a Foxx Tone feast.

---

February 27 2007 at 08:15:43
Name: Jim Ruddle
Topic: Ice Cream
Email: jruddle at earthlink.net
Comments: While Glencliff may have been the grand old man of Tulsa's premium ice creams, the most important freezer in my young life was Burt's, at Sixth and Main.

Here, the milk shake and malted took on an entirely new form. Burt's, the original Good Humor company, had something they added to ice cream and milk that made for malteds so thick that they required a spoon. And the flavors. Who in Tulsa had ever attempted a peanut butter milkshake until Burt's came along? The blenders whirred as a variety of flavors--the usual strawberry, root beer, chocolate, etc.--and the banana malted got a whole banana tossed in to be liquified.

A Burt's milkshake or malted was a full meal by itself.

---

February 26 2007 at 21:58:35
Name: Rick Brashear
Topic: Electro-Harmonix "Big Muff Pi"
Email: In a box behind the ranch market.
Comments: I seem to remember the Big Muff at Guitar House. I had a FuzzWah. When it died I didn't replace it, though I did want a Cry Baby. I learned that my tube Fender amp and the Humbuckers on my Les Paul gave me all the bite and sustain I needed. I was just fooling myself with the FuzzWah, thinking it made me a better player. I still play my Les Paul and use no artificial ingredients. Just crank 'er up!



My fuzzbox had me fooled for years.

I remember a garage guitarist in the 70s who used THREE fuzzboxes in series (not me!)
---

February 26 2007 at 18:11:06
Name: Mike Bruchas
Topic: Honkytonk Bob Schieffer
Comments: The CD arrived today and I laughed on the way to work.

Fun stuff on "his CD" but he only sings on 1 cut, does a news tag on another and makes no other appearances on his other 3 songs "that he done wrote".

HONKY TONK CONFIDENTIAL is a great group and would sound good at Cain's or anywhere! Even without Bob Schieffer!

---

February 26 2007 at 08:56:57
Name: Pat McRoyne
Topic: Speaking of Pi
Comments: Speaking of pi, did any of you guitarists ever own an Electro-Harmonix "Big Muff Pi"? What a great name for a great fuzzbox!



I remember it. I had the MXR Distortion +.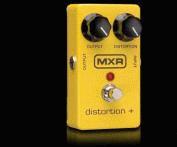 ---

February 26 2007 at 05:08:13
Name: Wilhelm Murg
Topic: YOU ARE ALL CORRECT!!! (This Site's Starting to Pay Off!)
Email: Wilhelmurg at yahoo dot com
Comments: First, YES, Homer, Comic Empire is the same comic store from the 1970s. Mike bought it in 1985, around the time I found it, so I believe it's the oldest comic store in Tulsa. It is still in its original location.

And YES, Odyssey Mall was the Brookside Waterbed/head shop that sold underground comix (Thank you Mr. Bagsby). I think I have visited every headshop to ever grace our fair city except for Odyssey Mall and the one that was in The Falls (anyone know the name of that one?) It turns out a close friend of mine worked at Odyssey Mall in its dying days, around 1980. He said they did not advertize and people stopped coming in. Apparently the main thing they sold that last year was baby laxative to cocaine dealers to cut with their product. Cocaine was the main reason for the peace/kite-flying/hippie movement coming to an end; dark days, indeed.

---

February 25 2007 at 15:29:58
Name: Scott Linder
Topic: My Pi sound system
Comments: As I recall, the My Pi sound system was installed by Harry Rassmussen of Sound Unlimited in Brookside. The speaker system was indeed early-vintage Bose and the tape deck was a 1/4" 4-track Teac.

---

February 25 2007 at 13:10:28
Name: Rick Brashear
Topic: My Pi sound system
Email: In a box behind the ranch market
Comments: Lowell Burch asked about the sound system.

The tape deck was a quadrophonic reel-to-reel (I don't remember the brand) located by the cash register and the speakers were Bose. The people who set up the configuration were professional installers. The Bose system was fairly new to the market and the location of the speakers were akin to primitive surround sound. The big central fireplace was also taken into account for the music.

As an aside note, the ceiling was painted black so diners would get a feeling of being under an open night sky instead of in a restaurant. They also thought of putting tiny lights in the ceiling tiles to mimic stars, but that was canceled because the deadline for opening was coming up.

---

February 25 2007 at 10:23:28
Name: Frank Morrow
Topic: Merchant
Email: frankmor at io dot com
Comments: Regarding the Merchants:

After being graduated from Webster, Paul was an outstanding basketball player for OU in the late '40s. Jack was graduated from Webster in 1952 and later went to Miami JC, I think, where he played basketball.

I remember Jack well because he won the city basketball championship from Central when he hit a free throw with about five seconds left. He hadn't made a basket all game. Who fouled him? Moi. (I really didn't touch him, though.)

---

February 25 2007 at 08:43:11
Name: Lowell Burch
Topic: My Pi sound system
Email: lburch3 "at" cox.net
Comments: Just a note on the store. I remember the menu had a blurb about the state-of-the-art sound system that had been installed. The speakers were hung from the ceiling and their placement was designed to, according to the copy, take advantage of the acoustical properties of the room, the waves bouncing off of the reflective surfaces of the buildings interior to give the music an ambient presence.

Maybe someone else knows more about this than I do.

---

February 25 2007 at 00:30:33
Name: Rick Brashear
Topic: My Pi manager
Comments: To John Stevens:

Jerry, as I recall the name, was the guy from OKC. I figured him as an attorney or some such. Maybe he was like Robert Duvall in The Godfather. He never let on as to what he did, other than wear diamonds and gold. For the life of me, I don't remember what the original Tulsa manager's name was. He was in his 20s and nervous. I ate there several times after leaving the building business, so they could have had another manager that I didn't know about. Maybe the first one wound up in the trunk of his car.

I do know this: all of the ingredients of those pizzas and other offerings were not canned. The kitchen staff prepared everything from fresh. The hearts of lettuce were torn out and discarded, the mushrooms and tomatoes were in crates, and the sausage and pepperoni were cut by them. Larry didn't allow "store bought" items in the food. The pizzas were cooked at an exact temperature for an exact period of time. I guess that's what made the food so tasty. Either that, or it was the guys they bumped off.

---

February 24 2007 at 20:39:37
Name: Jeff H
Topic: London Square Apts. & More
Comments: Those apartments must be jinxed!

That complex has been flooded or on fire more times than Fire Marshal Bill......"Let me show you som-thin". And not to mention the power outages.

Now, if we could get the Italian Inn, the Bull 'N' Bear and Petty's back in the shopping center life would be a little sweeter on south lewis.

Can I get an Amen!!!!!



More about the Italian Inn in GB 224. (Amen)
---

February 24 2007 at 20:00:07
Name: Rick Brashear
Topic: My Pi & Joe Creek
Comments: I sure remember the Joe Creek flood. We, along with the renters, had to clean tons of mud from the businesses. Anything below a few feet was toast. The My Pi doors were ruined. Whoever applied the varnish (we didn't build them) didn't bother with the bottom of the doors, so when the water hit they soaked, swelled and split and were never replaced.

The bit about the Tee shirts reminded me of a funny episode. Joe apparently had never seen a Pi symbol, or had forgotten it. He was from a little West Texas town that couldn't afford extra math symbols, or even grass. He was calling the soon to be built place "My IT", until corrected by Larry. Don't get me wrong about Joe. He taught me how to build structures that would last past our lifetimes.

---

February 24 2007 at 19:02:28
Name: Gary Chew
Topic: My Pi T-shirt rhetoric
Email: Just SW of the Donner Party Family Grill
Comments: Oh, I'm so glad you can't remember. I'd love to post it here on TTM.

"Everybody Loves My Pi." I can't remember, however, if the word for "pie" was "Pi" or the symbol for Pi, which Dell left off of my keyboard.

Delmeaux de Gillette du Coffeyville

---

February 24 2007 at 16:08:15
Name: John Stevens
Topic: My Pi manager
Email: jssok99 at hotmail.com
Comments: I loved this place! We ate there at least once a week. Wasn't the manager's name Jerry Bonus? I think that I remember that he also had something to do with a jewelry store. I don't remember what the shirts the waitresses wore said, however.

---

February 24 2007 at 12:47:15
Name: Gary Chew
Topic: My Pi: Deep Dish Delight
Email: Just SW of the Donner Party Family Grill
Comments: My Pi on south Lewis at London Square was one of my frequent stops. Yes, the deep dish was just about as good as pizza gets. I didn't have to go far for this treat. I lived in London Square during some of those days just a bit behind that establishment. (On another subject: it was at that residence I became intimately acquainted with the waters of Joe Creek one stormy evening.)

Who remembers what the tee shirt worn by the waitresses said?

Delmeaux du Gillette

---

February 24 2007 at 10:21:06
Name: David Bagsby
Topic: My Pi
Email: dcbatsunflower.com
Comments: My Pi Pizza is still in Chicago. It's not too far from the main part of downtown. We've been there a couple of times and it's good. Never got to go to the one in Tulsa but my wife was a fan and I guess they are comparable. It tasted good to me.

---

February 24 2007 at 09:44:27
Name: James Dalphonse
Topic: Al Clauser/Patty Goodman/Pat Swinney
Email: bullhead3031@yahoo.com
Comments: Whatever happened to these artists that were on Alvera Records right outside of Tulsa? Does anyone know who now owns the "masters" for the label?

---

February 24 2007 at 00:52:24
Name: Jeff H
Topic: My Pi Pizza and other Pie Joints
Comments: All Rick's talk about wood and pizza is making hungry!

My Pi pizza was great and so different from the chain joints. Tulsa did have "Shotgun Sam's", Clancy's and I don't know if Lea's was still around in the mid 70s. There was a little known pizza place down from My Pi, around 65th and Lewis called "Happy Joe's". Three words describe H.J. Fab-U-Lous. It rated three snaps. The chain is still in business, big in the north country.

Back to My Pi, does anyone remember the "Mountain Climber"? This was the cheese and fruit board....BORING! Give me the Deep dish Pie.

Gotta Go, TUMS A CALLIN'!

---

February 23 2007 at 18:44:30
Name: Rick Brashear
Topic: London South: The Bagelry & My Pi
Comments: I remember Swenson's, but not much about it.

I helped build the Bagelry and all the other stores in London South (except for The Argentina which had steakfingers and white gravy to die for) starting in 1973. It was mainly my boss, Joe Hardin, and me. We occasionally had temporary helpers, but it was me and Joe for 99% of the time.

The Bagelry had the best bagels I have ever eaten, especially the egg bagels. We would get them right out of the oven. They were also the first I had eaten. The owners were from NYC.

The Final Touch picture frame place was interesting to build. The two women who owned it diassembled an old barn because they wanted a "rustic" look. That petrified oak was murder on our saws. We had to rewire the table saw for 220 and pre-drill nail holes.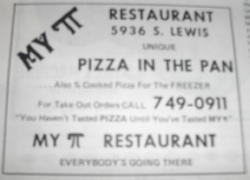 My favorite was My Pi. We used Malasian mahogany 1" thick planks and solid cedar paneling. It was 220v time again and carbide blades. I also did the stain glass window installation and trimming. In fact, all of the mahogony was done by me. I think Joe figured it was good experience for me.

The Bose sound system and reel-to-reel tape deck was great. The heavy maple front doors were 3" thick with a golden Pi symbol for handles.

The owner was from Chicago and returned there after the place was completed and would make surprise visits from time to time. He said he got the idea for the deep-dish pizza when he was a boy. He said he couldn't eat certain things but the "pie" worked.

His name was Larry and we just knew he was with the mob. Jewish mob, that is. He did say some things that gave us that idea, plus, him and his "associates" all wore the same yellow cats eye rings on the same finger and drove the same black Cadillac Sevilles.

Joe was dumb enough to tell Larry we knew he was with the mafia and they made pizzas out of the guys they bumped off! I wondered at that point if I'd be dinner. Larry just laughed and then told us about a guy who was found in his trunk with his schmuck in his pocket for fooling around with another guy's girl. I wondered how he know about it in such great detail. I could picture a Tommygun about to be pointed at me.

The manager was apparently being hid out, though we couldn't figure out what he had done. We knew he had been with a short-lived Tulsa football team called the Thunderbirds, but that was all.

Larry was really friendly, while the others wouldn't say squat about their past, or their present. I think they were laundering money. We later built another My Pi on OKC and one of the other "associates" who had visited Tulsa was the manager.

My Pi had the best pizza and pizza sandwiches anywhere in the world and we could have a discount lunch there each day if we wanted. I took several dates there and no one was ever dissapointed and the place was always crowded. Too bad it's gone.

I spent 3 years building and maintaining stuff at London South. It was fun, it was interesting, and I'm glad I don't do that stuff anymore.



Yet another great post from Rick.
---

February 23 2007 at 17:03:32
Name: Mike Bruchas
Topic: Swenson's in Tulsa
Comments: I knew there were several locations in Tulsey but Matt Bunyan, Demi Rosenthal, Wayne McCombs and I seemed to end up at the Utica Square store in the 70's. Whomever ran the Swenson's franchises in Tulsa did a great job. Swenson's was new in DC when I came in 1985 and just awful and nasty; it is long gone. I think Swenson's and THE BAGELRY South near ORU will be among my favorite Tulsa snack stop memories AFTER la Coney Islander!

---

February 23 2007 at 15:41:52
Name: Erick
Topic: Ice cream
Comments: First of all, I didn't know TTM had an ice cream page. Secondly, I looked over the ice cream page, and was appalled that no one had yet mentioned Swenson's. I know there was a location at the Fontana Shopping Center in the early 90's, and I think there was one for a time around 65th-ish and Lewis.

---

February 23 2007 at 15:19:50
Name: Seacalmed
Topic: Dr. Redlove's and Jetzeppa
Comments: Mark Watkins said in Guestbook 167 (and on the Ice Cream page):
"I've been racking my brain for a couple of years about Dr. Redlove's Ice Cream Parlor...that was out south on Lewis, wasn't it? Near 61st Street? I can't find anyone who remembers."

Dr. Redlove's was at 51st and Sheridan in the shopping center there. I worked there in early high school as a waitress. They had us wear these verrry short-skirted red and white uniforms and seemed to only hire cuties for that work. We lit large fires on birthday cakes and there were many bells and whistles for such events. No wonder... Mark probably liked those short skirts.

I also spent a lot of time at Eskimo Joe's when it first opened when I was in college. More and more people kept coming there when my sister and I went there. Hmmmm... I need to have a talk with Stan about that. I remember when he chased me into the 'then gravel' parking lot and begged me to put his EJ sticker on my orange and white Renault Le Car... Funny isn't it? Stan and my brother used to say, "Two Four Six Eight, Win before we graduate!"

Well, I don't know when Mark posted that question, but there is a long answer.

Also I remember Jetzeppa on Friday nights. All the high school kids in the neighborhood would get together in Hollowhead's basement and watch it. Coach Teddy Jack Eddy and Benny the Crusher's Sister were something to look forward to every weekend. Hollowhead is now an Oklahoma MD. I moved to SF, CA where my Granny was from before Tulsa and there learned programming.

I particularly liked the episode where the Coach had GB on the ground for push ups, then on his back for sit ups then belly back belly back and GB was flipping like a fish on the floor. Very memorable happy times.

Nice website Mike... keep it up :)

---

February 23 2007 at 11:13:12
Name: Kirk Demarais
Topic: Phantasmagoria Photos
Email: kirkd'at'centurytel'dot'net
Comments: For anyone interested, I posted over fifty photos from a recent walk-through tour I took of the defunct Phantasmagoria ride at Bell's Amusement park. The pictorial post includes a rare glimpse of the workshop and even some secret passages that were used by employees.



That's a great tour. Here's hoping the next Phantasmagoria is better yet. I added your link to the Tulsa State Fair page, where your Phantasmagoria bumper sticker can also be seen.
---

February 23 2007 at 09:25:24
Name: Ron Enderland
Topic: I Remember JFK website
Email: enderland at gmail.com
Comments: Hi, all. I saw I got some traffic from Tulsa TV Memories and wanted to express my appreciation.

I'm Ron Enderland, born in Miami in 1959, moved to NW Arkansas area in 1968. But I have a head full of great memories of Miami before they goofed up Main st. ;-)

Anyhow, I did a piece on picking up pop bottles for cash a while back and credited Tulsa TV Memories with some good pop bottle photos and stories. Someone returned the favor by mentioning my site.

Anyhow, thanks for the mention, and come check out my Boomer (and Oklahoma!) memories at IrememberJFK.com.



I heard about your blog on the CBS Saturday Early Show. Added it to the Links page.
---

February 22 2007 at 22:33:58
Name: Johnnie Merchant Jr.
Topic: Jim Hartz and Jack Merchant
Email: jmerchant at epikitchen dot com
Comments: I was searching for information on a relative of mine, Jack Merchant, when I happened on the message written by Jim Hartz. I never met Jack, but he and my father are cousins.

The only other Merchant my father spoke of was Paul Merchant, who I believe played basketball at OU in the 50s.

Unfortunately my father, Johnnie Merchant Sr., and his only brother, James Merchant, have passed away and I only have the limited information on Jack they provided. The last time dad spoke of Jack, he said he thought he was living in Florida.

Jim Hartz, if you get this message, I sure would like to know if you still keep up with Jack. Jack and Paul were the only two "Merchant" cousins dad ever spoke of. It would be nice to find out a little more about them, and I of course hope they are still with us.

---

February 22 2007 at 20:44:23
Name: Mike Bruchas
Topic: Pete Abrams update
Comments: Pete is living in Jacksonville, FL and working with a TV group - planning, designing and doing Engineering on soon-to-be new stations in FL and GA.

---

February 22 2007 at 17:56:18
Name: Larry
Topic: Mark Baker
Comments: I read Mike Bruchas' comments about two Mark Bakers in Amarillo, one a reporter, one a news director.

They were one and the same. Mark Baker was a reporter at KVII. He got married and took his wife's name as a new hyphenated name--Mark Robertson-Baker. KVII would not let him use it on the air, so he quit and went to KFDA as a reporter then became news director. He is still in Amarillo but recently had a heart attack.

---

February 22 2007 at 16:29:03
Name: Homer
Topic: Comic Empire
Comments: Yes indeed, that is the same Comic Empire. Hard to believe that it has been in operation for thirty years at the same location. Interesting to hear that the name remains, eventhough ownership has apparently changed.

Why Comic Empire? The founder stated that he always wanted to be an "emperor" of something, and comic books were something.

Bob Hower visited the store once in either 1977 or 1978 if I remember correctly. He did a segment of "Bob Hower's Tulsa". Business increased quite a bit as a result.

Another reporter from Channel 2 showed up on the same day with the same idea. It may have been Jack Bunds. I seem to remember the Channel 2 photographer referring to the reporter as the "Mummy Bunds" due to some recent surgery and the bandages that were still visible.

Mr. Bunds was not too happy when told that Mr. Hower was going to arrive in a few minutes to complete his "Tulsa" segment. The Channel 2 crew left in disgust after the owner of the place let it be known that Bob Hower was MUCH more popular than anyone at Channel 2.

Ah, the good ole days.

---

February 22 2007 at 09:44:40
Name: Brandy
Topic: KAKC
Email: bykerdruid at yahoo.com
Comments: I need to keep up with this little board a little more. HIYA DICK!!! Nice to "see" someone I know. I don't know what happened to Randy Anson. Last I heard of Jim Richards was he went to news on a country station here in Tulsa, years ago. Last I actually laid eyes on him he was at the Country Fox...tells you how long ago that was.

I also remember the fire extinguisher. I was on the air, open mic and all, when Pooty took a high jump over the news room desk and into the KAKC studio, closely followed by Randy, shooting anyone in his path as he went. I got shot by that extinguisher and everyone in Tulsa knew it (well, at least those listening to my show). Hard not to squeel when you're hit by the cold of one of those.

God, the good old days. Back when money wasn't that important to me so low pay was a non issue. The fun of radio was all that mattered. How times change, and not always for the better.

And Dick...I'm still working in Tulsa, just not in radio. ***sigh***

---

February 21 2007 at 20:45:11
Name: Mike Bruchas
Topic: Bob Schieffer CD/Dave Banks
Comments: I ordered a copy. Will have to give ya'all a review.

Diana Quinn with the band works with some of my friends at CBS DC in the newsroom. Or maybe Bob Schieffer is the back-up vocalist. My friends at CBS Engineering say Bob was always playing around music-wise when based here. They just aren't honkytonk fans. Maybe Schieffer can get "Uncle Walter", Dan Rather, and Tom Brokaw to be celebrity back-up singers!
---
Former KTUL and Claremore Junior College director/instructor - now long time Hollywood cameraman/producer/director Dave Banks is working a new venture at story-telling, maybe a tad bit of motivational speaking with video clips and his photography. It will be called "The Virtue of Risk".

---

February 21 2007 at 15:52:25
Name: Webmaster
Topic: Previous GroupBlog summary
Comments: Archived GroupBlog 233, in which we had just heard CBS anchor Bob Schieffer unleash his songwriting and singing talents.

There was a lot of radio talk: Brandy, John Durkee and Dick Loftin visited and talked about KAKC-AM in the mid-70s when the transition was made from Top 40 to Middle of the Road (MOR). Joe pointed us to a YouTube clip that includes KAKC Drake-Chenault radio jingles of the 60s.

Writer Wilhelm Murg remembered Mazeppa's "Unfilmy Can Festival" as being on KAKC-FM (or was it AM?) around that same time. He recalled KTBA carrying the "National Lampoon Radio Hour", and KMOD the "King Biscuit Flower Hour" in line with a general discussion of head shops, underground comix, and waterbed palaces.

Wilhelm also recalled the absurd 1980s claim that Mr. Ed's theme song contained "backmasked" satanic messages, and tooted the horn for NONzine, an OKC entertainment paper he writes for. (Mr. Ed arose as a topic due to the passing of Ray Evans, one of the composers of the tune).

Both Lee and Lionel expressed their displeasure with saturation TV coverage of Anna Nicole Smith and Britney Shears (er, Spears...thank Chew for that one). We saw a thick cousin of Lionel's on YouTube. Mike Miller sent a newspaper clipping showing weathergirl Gay Miller (no relation), Lee, and himself on the early 60s KOTV "Sun-Up" program.

I was interviewed on OETA's "Tulsa Times" (now viewable on Google Video). I also mentioned a new blog, "I Remember JFK", written by a Miami, OK native. It does a great job of conjuring up the texture of life in the 60s and 70s.

Former KOTV and ABC cameraman Robert Jennings passed away. We saw his photo of a KOTV cocktail glass and read my 2002 correspondence with him.

There was more "jerk joint" (foosball parlor) discussion. Lowell Burch's dad was seen on TV and in the paper in connection with the 1957 Tulsa time capsule.

Readability changes: the GroupBlog "Topic" field is now rendered in this TTM logo color, in an attempt to make it easier for the reader to scan. Went with the straight line separator instead of the wave graphic here in the current GB.

Let's hear it for GroupBlog 233, ladies and gentlemen!
---
Back to Tulsa TV Memories main page