Mike Bruchas - 03/23/99 01:22:11


Comments:
Yoicks! You, too, can now own ON CD ONLY - some of the music from Uncle Zeb! Amazon.com has the Perrey-Kingsley CD re-release of "The In Sounds from Way Out" for sale at $12.57. I stumbled across this tonight! Love this internet thang!

I remember seeing Perrey and Kingsley on "The Mike Douglas Show" in the 60s. I see that the shows where John and Yoko co-hosted with Mike have been released on video, too.

When I was searching for the Fantastic Theater music (which proved to be "Sonik Re-Entry" by Dissevelt and Baltan), I received this interesting comment from Des Hill, Jean Jacques Perrey's manager:

"It was created by Tom Dissevelt, a Dutch electronic composer, with Kid Baltan, who together were to have a considerable influence on Perrey's own creativity."

---

Erick - 03/22/99 19:39:00
My Email:ericktul@webtv.net
Location: Tulsa


Comments:
That's weird about KOTV donating OETA's tower. I remember KWTV in OKC giving OETA ch 13 tower space when the network first started. At some point, OETA had problems with their transmitter, and were knocked off the air for what seemed like an entire summer in the early 80's. I remember thinking that KWTV and OETA shared a transmitter for a while. Also, sometime in the early 90's, KWTV's control room filled with smoke during the World Series. The station had to go off the air to find where the smoke was comi g from. They made a deal with OETA to carry the Series until the problem was solved (I remember this, because I was watching the series, and every few minutes, a crawl would run saying to turn to OETA for the game). I visited KWTV the next year (my friend was a studio camera operator), and was talking about this with the asst. program director. He denied that OETA ever carried any CBS programming, and refused to talk about the subject again. At one point, he became quite irritated with me, and threatened to have me removed from the station if I continued to talk about it.

Maybe some legal matter was involved?

---

RL Bullock - 03/22/99 18:48:58


Comments:
Engineers were encouraged to practice their editing skills on 2" machines and every station used to have a "party" or gag reel of bits and pieces that were NEVER shown on air. One of the most terrifying moments of my youth came one afternoon while working in Videotape.

Remember that Bob Hower was Program Director and News anchor. A very powerful man. Whether deserved or not, Engineering Supv. Leon Holland had us young guys convinced that Bob was a terror. It was in June, around the D-Day anniversary. I had been saving pieces from the DEF (ABC daily electronic news feed) and got the idea to edit an exploding airplane onto a Bob Hower News 8 promo, in which Bob took some Cub Scouts for a plane ride in a yellow Stearman biplane. Senior Engineer Huck West puffed on his pipe, chuckled and puffed some more. His eyes were bright and his hair snow white. Huck got Leon and I believe fellow engineer Ed Morris to look on. Whoever the on air director was, saw what I was doing on the monitors in the control room and made a phone call downstairs. The next think I knew, Bob Hower and GM Tom Goodgame come around the end of the tape machines.

Huck, Leon and Ed scattered!!! I can still see Ed choking back laughter as he ran for cover. I spun that 2 inch tape off the RCA TR 22 and slid it onto a spot reel slot, in that big wooden reel container which stood amid the machines.

Tom and Bob were in their starched white shirts, $50 slacks and latest ties. Gold cuff links and probably Rolexes accentuated their perfectly in- place, hair. Tom pulled on his cigar and said, "Let's see it.". See what, I replied. Bob joined in with, "I hear you have something we should see.". The projectionist sheepishly came around the corner holding the clip board which held the log. I figured I might as well fess up, so I pulled the tape out, set it up and played it. My heart was pounding and I was wondering how I would explain being fired to my parents.

For icing on the cake, I had edited Bugs Bunny after the explosion saying "Eeeeh Next"! When the plane exploded, so did Tom and Bob. Fortunately, they did so in laughter and Tom placed his hand on my shoulder. "That's really good, R.L., just make sure it doesn't get on the air.".

Bob and Tom left the room. The ones who ran for cover returned to the machine area. Huck smiled, chuckled and quipped, "You're lucky, real lucky.".

I still have a VHS copy of the spot.

My best to you and yours.

Thanks for another good story, R.L.

---

Mike Bruchas - 03/22/99 18:33:07


Comments:
Music notes: Uncle Zeb used Jean Jacques Perry's music from "The In Sounds from Way Out" - a 1966 or 68 release. It was early fun sounding synthesizer stuff. My brother bought a copy of the album in Jr. High and here years later it was the staple of Uncle Zeb fill/background music. I am sure it is long out of print. I wish I knew where the record ended up at. Cy Tuma and others also used to roll reel to reel tapes during the Warner Brothers cartoons or old movies and snatch snappy remarks or music for "carting" later. Zeb built up quite a collection of stingers and sound effects this way. Incidentally for Carl Bartholomew (Zeb), sitting at the end of "the bridge" for kids to walk past - wasn't fun somedays. Kids would hit, poke or fall into him intentionally or not. The hazards of a being a kids' show host, I guess....

---

Mike Bruchas - 03/22/99 14:28:53


Comments:
TV reception in Tulsa- I think this may have varied where you lived as I mentioned with the Radio Shack antenna "special" in another note.

Tulsa Cable TV was the big equalizer - wasn't Harold Stuart of KVOO and Jimmy Leake trying to get the original franchise, but didn't. That was controversial but in other markets like Rockford, IL station owners had pulled it off, only to have the FCC force them to sell off the TV station.

The stations in Tulsa have had several eras in transmitters. All had their first b&w models then were forced to go color as the networks went color. I know 6 kept their old xmitr as a standby (it had less power and had been "made" to xmit in color) to the r newer model in the 70's. I don't know about 2 - I presume all - when they went to Oneta, put in new then state of the art xmitrs (you can't move one and stay on air!). I'd swear all were about the same output power by law.

For some reason I also thought the original OETA xmitr in Tulsa was donated by 6, too. 6's engineering staff at the transmitter took meter readings and manned both in a dual control room.

I know when KTUL's towerful,powerful stick collapsed several years ago - it was a major hit to them. They supposedly used a SNG truck at the studio to feed a downlink dish at Tulsa Cable to get ABC programming back on in the Metro area and all interconnected to it by cable.

It may have been those rabbit ears on your home set...

I don't know...Channel 8 came in just fine, (no static), but the picture just seemed to have a different look to it.

---

Ron Henderson - 03/22/99 06:34:39
My URL:http://www.hendersoninc.com
My Email:rona1d@aol.com
Location: Tulsa, Ok.


Comments:
Mike, I looked at your site and want you to know this is a very good site. Very interesting stuff...I have book marked this site and will be back.

Keep up the good work ........

thks., Ron H.

Thank you, sir.

---

Erick - 03/22/99 04:37:41
My Email:ericktul@webtv.net
Location: Tulsa


Comments:
About the stations' picture quality... I've noticed that most ABC stations have a "hazy" quality to their picture, while CBS and NBC stations have a much "clearer" picture. I'm sure some of it has to do with the network, but I've also seen this during local programming. Veddy interesting.

Yes, I had always thought in the past that 6 had the brightest image, and 8 a somewhat muted look, with 2 in between.

---

Mike Bruchas - 03/21/99 23:51:55


Comments: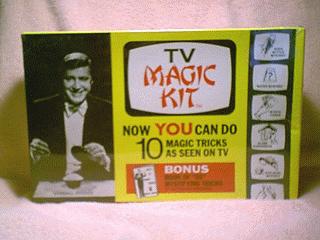 A friend jogged my mind on TV MAGIC CARDS - a guy named Marshall Brodine was the pitchman on these. I guess they were a kind of card trick kit - no one I knew was dumb enough to buy them. Thanks for the Popeil update!

Re KOTV vs. KTUL look on Mazeppa - I think his show was funnier and crazier on KOTV, he may have tamed it down a touch for KTUL. Why it didn't last - I don't know. There was a gap of time between him at KOTV and KTUL I thought and Jim Buck Millaway may have had a radio show in the interim. I guess you would have to ask G.Aillard for the real scoop. Maybe GS' Hollywood career started. Sometime in there he was in "Nashville" the Robert Altman movie. I never knew what TV spots sold for on either show. Usually ad time that late was cheap, a lot of slide spots predominated. Wasn't Greer's a Mazeppa KOTV sponsor? I remember them on 11th Street by Hillcrest Hospital - selling 8 tracks and players. The late Honest John (Foutz) of Honest John's started there and I think opened his business because of what Ed Greer didn't carry - acid or hard rock. I think only a certain type sponsor - unafraid of being lampooned by Mazeppa - would buy time in his shows....

Marshall Brodien, yep, you're right! Another memory rescued from oblivion.

Now that you mention it, the show did seem wilder on KOTV, although they did a lot of good material on KTUL, too. Do you know what I mean about the picture quality on the 3 stations?

I, too, associate Greer's more with KOTV.

---

Erick - 03/21/99 05:11:43
My Email:ericktul@webtv.net
Location: T-Town


Comments:
I couldn't possibly name all of Popeil's products, but I have several favorites. The pasta/sausage maker, the hair in a can, and my favorite, the inside-the-egg scrambler.

Good start!

---

Mike Bruchas - 03/21/99 02:42:03


Comments:
2 Gaillard S.Artain questions: Wasn't the Paul Prudhomme-like character in the movie, "The Big Easy" played by GS? Wasn't in the original Walker Texas Ranger episodes - GS played the Ranger that owned a restaurant on the side before being replaced by Noel Willingham?

I think you are wrong on Gary Busey - he was on the KOTV shows before he came to KTUL with GS' flight of shows there. The restaurant set was from some other KTUL production and GS adopted it I think.

Delmo Gillette - heard this name on the air in Tulsa before Gaillard and always loved it for it's "okieness". May have come from Chuck Adams but also may have been the real name of a KOTV translator engineer in Coffeyville, KS. Am not sure now.....

You might be right about Gary Busey...I was relying on sometimes-unreliable memory. I associated him with the KTUL "look". Did you notice a different picture quality to the 3 stations?

---

Mike Bruchas - 03/21/99 02:11:57


Comments:
The Popeil spots and all of today's lesser sophisticated infomercials remind you of the Tulsa State Fair pitchmen that had the little boothes pitching juicers, ginsu knives, massager chairs. We always avoided thes in the IPE building, but blue haired grannies seemed drawn to them. If you look at current infomercials today - the ones without former athletes, go for fast talking Brits or Aussies. Is this a charm factor - maybe they are the last of the fast talking pitchmen. They often seem to be selling the same kind of "needed" household stuff we saw pushed at the Fair. We knew at KTUL it was close to Xmas because besides the Popeil like spots - it was TV MAGIC CARDS time! I cannot remember the guy on those film spots, but he did them forever! Junk for last minute, unthinking shoppers to pick up at Oertle's (or drug store or some discount shlock shop) for heir loved ones for the holidays!

I think this brand of selling dates all the way back to the Boardwalk in New Jersey where pitchmen set up their stands and developed a patter to attract the crowds. Here is a book review I found:

The Salesman of the Century

By Ron Popeil Delacorte Press, $23.95; Dove Audio, $17.95

Review by Michael Pellecchia

It slices, it dices, it makes julienne fries!

Since the late 1950s, Ron Popeil has had three miserable product failures. One of them was the Inside the Outside Window Washer. The other was the Hold-Up. And the other was the Prescolator.

Those are three reasons you would never have heard of Ron Popeil. Now for the reasons his name does ring a bell. The Veg-O-Matic. The Pocket Fisherman. Mr. Microphone. The Popeil Automatic Pasta Maker. And on and on.

Yes, we're talking about Mr. Ronco here, who is probably one of the few authors who would propose buying an extra copy of his book, The Salesman of the Century , to use as a doorstop and perhaps another for a paperweight. Starting out at county fairs, he ractically invented direct selling on TV. He also invented many of the products he sells. When I saw this book I rejoiced that the time had come for Ron Popeil to tell his story. He's a one of a kind. If you're a marketer, you could not fail to appropriat a few good money-making ideas from Ron Popeil's quiver of bullseye-seeking arrows. But I'd recommend this book to any student of contemporary popular culture. Ron Popeil is one of the giants of television, and a history of the medium would not be complete without him.

---

Mike Bruchas - 03/21/99 00:52:12


Comments:
Popeil products had the unknown announcer till Ron Popeil decided to star in them. Pocket Fisherman, some kind of pocket sewing machine are all I can remember. The spots usually appeared around Xmas-time - all too often it seemed. Now Popeil is a big kitchen type. I do not think Vegamatic was his.

There was some burly guy seen in the Veg-A-Matic commmercial who pounded that potato on thru there. You only see him from the chest down.

How about the Kitchen Magician...makes whole Julienne fries in seconds? Or the "Hook-A-Loop"? I believe Mazeppa did a parody of this as "Hoop-A-Loop".

---

Corny - 03/21/99 00:36:41
My URL:http://figblabber.dreamhost.com
My Email:figblabber@usa.net
Location: Tulsa, OK
Favorite Tulsa TV show: Uncle Zeb's Cartoon Camp!


Comments:
Wow! Great memories flooding back... almost makes my head spin! =) I was a little young to truly appreciate Mazeppa's humor, but I know my folks used to plan their evening around his show. I remember they would pack into the living room with their friends, and I'd be laughing along not really getting the jokes. Still had a blast, anyway!

Thanks for writing, Corny.

---

The proprietor - 03/20/99 19:36:31
Location: Tulsa


Comments:
This is slightly off-topic, I know, but who was the guy who did the old "Popeil Veg-A-Matic" commercials? Not Ron Popeil himself, I know what he sounds like from the current infomercials. This guy was a real fast-talker.

How many Popeil/Ronco products can you name?

---

RL Bullock - 03/19/99 00:26:09
How did you find TTM?: Mike Bruchas


Comments:
The TV station engineers use to have a color slide of a very pretty lady which they used for setting the color on the GE and Gates-Harris cameras (both 8 & 2 had these). This lady had absolutely no clothing on. No doubt, while performing some very important testing, someone recorded this lady on a two minute spot reel. As was done in those days and probably still is today, a commercial would be produced at one station and dubs would be made and sent to other stations for air. Sometimes, KTUL would send a tape to 6 or 2 for a dub. One afternoon, I received a dub from 6 on a tape which one of my Channel 8 associates had chosen. I was playing the spot to check the quality of the dub before going onto the news spot reel. When the spot ended, there was 1/2 second of black and our lady popped up in all her glory. She was boldly displayed in both control rooms for all to enjoy! Someone at 6 had a sense of humor. I am sure their intention was to catch a projectionist or director, during a sloppy break, and get her on the air. Fortunately, I caught it and erased her......

Welcome to TTM, R.L.

---

Mike Bruchas - 03/18/99 21:35:37


Comments:
Yow! I forgot the 1 and only Little Rascals' Spanky MacFarland worked at KOTV. I remember KOTV ace cameramen Buddy (Allison) and Leon (Meier) telling me one day I had missed him - first thought I was having my leg pulled, till other old time 6 staffers mentioned it.

Do you remember what years he was on?

---

Don Lundy - 03/17/99 20:54:02
My Email:donald_lundy@mcgraw-hill.com


Comments:
Does anyone remember "Zeta on Satellite Six", a hosted kids show on KOTV in the 50s...or Spanky McFarland, also on KOTV, with a kids show featuring Little Rascals shorts?

Re: Richard Ruhl...wasn't he renamed Richut and taught sketch drawings in his Meadow Gold route sales/delivery uniform?

How could I have forgotten Spanky being on Tulsa TV??

---

Mike Bruchas - 03/17/99 15:57:55


Comments:
Here is a KTUL story from RL Bullock - former engineer there, later at CBS as a part of the "KTUL bunch goes West", now in VA Beach, VA at CBN.

"(This is) about the time someone walked into Audio Control room B which overlooked the old news studio from the second floor; turned on the lights and found several guys leaning over the console, looking thru the window above the grid & watching the Clarke's Good Clothes models changing clothes in studio B. (Must have been when they were using the young models, not the grannies who did modeling for Clarke's). Madge Clarke looked up from the studio floor to see all those shining faces. By the time GM Tom Goodgame got up to the audio room the only person left was Cy Tuma in there. Cy was laughing so hard he couldn't roll his wheelchair out the door. Cy was totally innocent since he couldn't have gotten his wheelchair around the console for a peek.".

Such a good, good feeling about Clarke's Good Clothes. We used to call them Clarke's Bad Clones as an in-house joke.

Had to be careful here because at one time we saw either Madge's name or a relative's on KTUL's license papers. Remember the FCC used to want have local ownership of stations - we figured since the Griffins and Jimmy Leake were from Muskogee, Madge must have been the Tulsa "owner"/partner name on the application to move the station there.....She was always thick with Jimmy Leake and wife.... They WERE big advertisers, too - almost every primetime newscast...

---

Mike Bruchas - 03/17/99 15:03:13


Comments:
Ugh - Uneedum Tires came from I think - Jim Wheaton who had a small agency with a couple of other radio accounts. Needham was his biggest - hey, we still remember his semi-sarcastic voice. I was told that was the goal of the commercials WAS that it sounded amateur and grating. It's held up the test of time, right?

It's indelibly etched.

---

Erick - 03/16/99 23:15:12
My Email:ericktul@webtv.net
Location: Tulsa


Comments:
Wow...I didn't know Bill Mitchell worked in Tulsa before KOCO. I guess he's a study in coming full circle. Danny Williams is doing mornings at KOMA in OKC, and his website is www.telepath.com/ddd/. It has lots of info on his career, I spent well over an hour there when I first found it. I actually appeared on the OKC talk show Dannysday with Danny and current Entertainment Tonight host Mary Hart in the late 70's. I was just a little kid, but it stuck with me that his guy was something big.

I believe I remember Danny Williams from the "Championship Wrestling" program shown in Tulsa. It looks like Bazark was the equivalent of our Oom-A-Gog.

---

Mike Bruchas - 03/16/99 22:05:28


Comments:
Isn't Dick Schmitz still running Irving Productions on 21st Street in Tulsa. I know his son was joining him. He runs a stable of current and former radio voices in Tulsa!

How about the late Jay Jones on KVOO - who would have thought he survived the switch from MOR to country so well? Or that Billy Parker would become a country music "icon" in Tulseytown.

Who was the OTASCO man on TV and radio forever? Help! Was it Joe Henderson? If so where is he now? I know Bill Mitchell did it for a while before doing weather on KTEW then going to KOCO-TV in OKC for many years as a reporter....

Chuck Adams also did a Saturday afternoon bad movie show on KTUL for a while with comedy bits sandwiched in between - don't think it failed because of him - no one was home watching early afternoon movies on Saturdays in Tulsa. Always remember him citing news from "the Daily Glom" when he noted something in the paper on air.

Anyone remember Danny Williams of WKY radio and TV. He was Danny D Dynamo on TV, too. He is still alive and kicking on some station there after being on the air since the 1950's. Last year he was on Wheel of Fortune plus written up in some national magazines and has his own web site (will try to find it).

Back to TV - was it me or did KOTV seem always "classier" with it's 60's/70's news talent than 2 or 8???? KTUL in the 70's really began to dominate the market, hire better reporters and 6 started to fade a bit... How do readers of this GREAT PAGE feel about news folks then and now in T-town???

I know Tim Schmitz, Dick's son, very well. Yes, Dick still owns Irving Productions (Trivia question: where did "Irving" come from?). Who was the OTASCO man who said "Thank you, here's your change"? Dick Schmitz!

Tim reminded me of a classic radio commercial series: "Ugh! U-Need-Um tires." Easy to figure out why that one is not still with us!

Chuck Adams ran a Batman parody serial in the mid-sixties, "Dratman".

Yes, I share your perception about KOTV in the 60s. News folks then vs. now? Well, I don't watch as much TV now as I did then (fortunately), but it seems to me that today's formats are completely dictated by consultants---each station has the same kind of feature at the same time. So there is less individualism. You aren't going to have a "Gusty" or a "King Lionel". The arrival of cable changed things, too. Back then, you had 3 channels, period, so you developed more of a "relationship" with local broadcasters. There seemed to be less turnover as well.

---

Erick - 03/16/99 17:16:32
My Email:ericktul@webtv.net
Location: Tulsa


Comments:
Beau Weaver is in LA working as a freelance voiceover artist. I think he's the voice of RealTV and Access Hollywood.

---

Erick - 03/16/99 05:39:42
My Email:ericktul@webtv.net
Location: Tulsa


Comments:
Mike, Johnny Martin's son is Dave Martin. An awesome radio voice. He's currently a big cheese with CBS radio in Dallas. There's a DJ at KOMA in OKC named Dave Martin, and the 2 are often confused with each other. By the way, I've already suggested the radio page idea to Mike, and he's been a little slow in getting it going. Get the lead out, Ransom! =-)

Hmmm...that's an idea...

---

Mike Bruchas - 03/16/99 02:53:51


Comments:
How about a companion Tulsa RADIO page? Ole T-town had more than it's share of stars. You should try to run a companion site!

Johnny Martin was a late night fixture on KRMG till he died - his son worked at KMOD. What was his name????

Scooter Seagraves did several tours at KAKC (WHAT A STATION IN IT'S DAY!) and I hear is in the LA bayou country these days....

Long before KVOO was country - it had Bob Wills and his Playboys on every day at noon performing live. KTUL radio was only a 5000(?) watt AM but tried to compete with it's country bands - like Al Clauser (later he was Uncle Zeke on the Uncle Zeb Show) and the Oklahoma Outlaws.

Who else can ya'all remember????

How about Bo Weaver, Johnny Laine, Don Bishop and Dick Schmitz of KAKC? Or Chuck Adams of KRMG? He was in the morning slot in the 60s.

---

Mike Bruchas - 03/15/99 23:35:32
Comments:
Hal O'Halloran was replaced at KTUL for reasons never understood. He tried a fishing show after that for a while shot by former KTUL photog, Johnny Rauser - maybe Looboyle's or someone sponsored it.

Steve Zabriskie - the BIG Z came in later to replace Hal. Don't remember who did Sports in the interim. In Austin, TX, where Steve came from - Zabriskie sounded "too Polish" to management there so we were told he was Steve Zanon there. Zanon sounds too ??? Weird.

Bob Coxey (or was is Cocksey) was a KTUL announcer who did weekend sports along with other talent work. They thought his name objectionable - so he was Bob Shannon at KTUL.

Reallly old Tulsa radio Trivia. Your remember Harrington's Men's Store. Sometime in the 70's they had to move - I guess they were once by the PAC site. A TU friend worked at the new Harrington's building and took us to the abandoned upstairs. I cannot rem mber if it was KRMG's or KOME's old studio site. We wandered thru the studio space and offices - a flashback to the 50's though almost all of the gear was gone, I think some consoles remained.

On a glass door was Hal O'Halloran's name stencilled as Sports Director - which blew us away....

---

Karl Soliday - 03/15/99 22:34:09
My URL:http://www.mindspring.com/~mauikarl
My Email:mauikarl@busprod.com
Location: Owasso,Oklahoma
How did you find TTM?: I know Mike Ransom


Comments:
Does anybody recall a Meadow Gold milkman by the name of Richard Ruhl who would draw cartoons on Saturday morning? I believe Richard worked for Walt Disney before he was a milkman. Circa 1956?

---

Erick - 03/15/99 21:34:09
My Email:ericktul@webtv.net
Location: Tulsa
Stupidest local commercial: Andy Ewing Toyota (snap!) In Muskogee!!


Comments:
Speaking of weather and call letters (a reach, I know), KTEW had their call letters on their studio tower in Brookside until a 1974 tornado sideswiped the area. They lost the "E", and the rest of the letters were badly damaged. The "2" was not damaged and is still used.

---

Mike Bruchas - 03/15/99 21:16:58
Favorite Tulsa TV show: Tulsa Teen-Town Topics on Mazeppa


Comments:
KTEW vs. KTWO. KTWO in Laramie WY had the call letters first and KTUU in Alaska was already on the air. We snots at KTUL used to jokingingly sneeze and say Ka-TEW and "wonder" if it was a "legal" id for channel 2.

Who was the booth announcer and sometime weekend weatherman at 2 but couldn't say W? It always came out sounding like "double ya". He was a nice guy. Maybe Frank Hummingbird????

How about George Hummingbird?

---

Mike Bruchas - 03/15/99 19:58:58
My Email:jmbruchas@juno.com
Stupidest local commercial: Ernest Moody - Your Jeweler (not all of them)


Comments:
Speaking of Tulsa TV and weather - always remember Mingo and Joe Creek's flooding before the Corps of Engineers "fixed" this. One of KTUL's directors was a guy named JOE Creek - who took a zillion and one puns about "Joe Creek is rising again" whenever it was rainy season.....

When KTUL re-introduced radar in the 70's - it was UN-sophisticated! I guess they had another at some time and it burned up. Someone joked the unit came outta Bob Hower's B-17. Really it was a re-built radar unit and we married the signal electronically of a map of NE OK as a template over it. To give the signal color - we matted color over it rather than show a b&w signal during a color newscast. I laugh now at how unsophisticated and inaccurate it was compared to today's mega-Doppler units on the air in Tulsa.

---

Erick - 03/15/99 19:48:15
My Email:ericktul@webtv.net
Location: Tulsa


Comments:
Speaking of transmitters, KOTV was still using their old Sand Springs transmitter up until a couple of years ago. It was the site of the old Doppler 6 radar. The images were microwaved back to downtown. When they bought the new AdvancedDoppler 6 radar, they thought it would be easier to have the radar and transmitter in the same place, so the dome is with the Coweta transmitter. What happened to old Doppler 6? It was sold to KTVE in Monroe, LA and is available on their website http://www.region10.com/doppler2.html . How's THAT for useless info??

Here's more...during the massive '84 flood, almost all of Tulsa's stations were knocked off the air. KJRH sent a truck out to the Sand Springs transmitter to get the station back up. En route, the truck ran into some water. The crew had to abandon the truck, and it was lost. Most every media outlet in town lost some equipment during the flood.

---

Mike Bruchas - 03/15/99 19:03:34
My Email:jmbruchas@juno.com
Stupidest local commercial: Kotv "Kitty Come Home" promos for Kitty Gibbons


Comments:
KTUL's original call letters were???? A station in Salt Lake City later got them assigned to them after KTUL-TV happened. ANSWER - KTVX. Jimmy Leake or the Griffins owned KTUL-AM with studios on the park by the 21st Street Bridge and adopted those TV call letters.

KTUL studios are on Lookout Mtn. It is named that because: a. You can see the city from there? b. It is owned by Fred Lookout - a Native American Oklahoman? c. On the Jack Morris KTUL News "open", Jack said to the the helo pilot "flying" him to the studio "Look out! Mountain!". You make the call.... ANSWER - probably a & b - Fred Lookout did own the Mountain - never was sure if Jimmy Leake leased or owned the KTUL land. The TV station was built for a failed UHF station but I don't remember the call letter . Hence the short "stick" there of an antenna. Ch. 8 moved from that bastion of culture, Muskogee, to Tulsa and microwaved their signal to the tower in Coweta which I guess was half way between T-town and M-town.

Radio Shack sold their "Tulsa Special" antenna in the 60's and 70's - why? ANSWER - 2 & 6 transmitted from Sand Springs in the NW - KTUL was in the opposite direction, so you had to have this schizoid antenna that could pick up TV signals from 2 direction . That was never a problem in OKC - there all the stations are in the NE part of town on the highest ground in town, too.

When ABC and KTUL came to dominate the market in the 70's and later 2,6, and OETA moved their "sticks" to Oneta, OK - it was because??? ANSWER - the T-town population boomed, they needed higher sticks to compete with KTUL's signal too cover more of NE OK. Also I guess there were limitations on how tall a stick could go up in Sand Springs with urban sprawl getting close to the old tower sites - wouldn't help to have a 1800' tower fall on a neighboring home. Remember when KTUL's tower DID collapse, no houses were hit. It may have been a moot move as Tulsa is one of the best cabled cities in the US, though. Cable really was a great equalizer for strong and weak signaled stations.

I ought to turn this site over to you---you are the undisputed master of Tulsa TV trivia.

---

Denise - 03/15/99 04:29:59
My Email:mdlundy@flash.net
Location: Tulsa
Stupidest local commercial: Chick Don't Care!


Comments:
In answer to Jack Morris' real name...Morris Eisen(sp?). Lee Bayley, a DJ at KAKC was also a host on KOTV's Dance party in the 60's.

I also believe you may remember Georgia Lloyd Jones as a newsanchor on KOTV in the 60's. Her name is now Georgia Snoke, works with Tulsa Ballet and is involved in the arts community. She is married to Ken Snoke, a U.S. Attorney.

RE: Ike Horn's furniture factory..you must be referring to the "Zamora Home Pack". You got a whole houseful of cheap vinyl Spanish style furniture, plus your choice of free bunkbeds or a stove. All for a couple of hundred dollars!

Georgia Jones...yes, I remember. I didn't associate her with Georgia Snoke, whose column I read for years. Here's another name: Hal O'Halloran, the sportscaster for KTUL. He coached a Little League team that played against my brother's team. I saw Tim O'Halloran in the newspaper recently... I believe he is a teacher.

---