Tulsa TV Memories Guestbook 209

TTM main | What's new on TTM? | GB Archive




March 26 2006 at 12:26:53
Name: Scott Linder
Location: Hollywood-land
Comments: My thanks to Lee Woodward and The King for recommending their favorite blend of herbs and spices. I have seen Cavender's, but have never tried it. I shall correct this culinary oversite at once.
---

March 25 2006 at 12:59:26
Name: Alex Rivers
Email: alexrivers(at)earthlink(dot)net
Location: The banks of Davis Creek, Odessa, Mo.
Comments: I had Ken Selby of Ken's Pizza and Mazzio's as a teacher way back when. I was one of his victims of corporal punishment for being late to class (had to walk my girlfriend to her class). These days, he would have been fired. Three whacks with a wooden paddle out in the hall, no witnesses, no schoolboard review. The only school board a teacher needed back then hung on the wall by their desk.
Here in Missouri, the closest Mazzio's is in Harrisonville about 45 miles from where I live. We occasionally make the drive because it's worth it and my 17 year old daughter was hooked on Mazzio's when we lived in T-town. Her grade school served it every Thursday (Eastwood Baptist).
However, I still "pucker-flinch" every time I drive by a Ken's business. He made his point and I am a better man for it.

Wiry Phys-Ed Coach Perrier at Lewis and Clark Jr. High was renowned in the mid-1960s for his "skip lick": he got a running start and skipped once before delivering a mighty blow to the posterior. The luckless transgressor was given the option of taking a skip lick or six "regular" ones.

The coach's paddle had a "stinger" (the tip was wrapped in red and white tape), and a given name I can't remember, something like "ol' Sparky".

Once during a recess at L & C, a teacher's paddle was given into the temporary custody of a girl classmate. She tried to talk me into taking a whack from her. She was very petite, so I figured, how bad could it be? It hurt like hell! I was glad I hadn't run afoul of Coach Perrier.
---

March 24 2006 at 22:56:44
Name: Ken Harwood
Email: JayhawKen@aol.com
Location: Tulsa
Comments: For those of you who may have lost track of Bob Losure, he moved out west once again early this year after he and his wife Jana sold their Bellissima salon at KingsPointe.
He now does an Internet video broadcast each weekday from the San Diego area about the real estate industry. You can get a taste of that broadcast, and of Bob, at dnn.tv.
Bob is delighted with his new job and the environs of San Diego, but he'll still return to Tulsa from time to time for special events and to visit Jana's family who is from the Bristow area, as I recall.
Bob also has his own website at BobLosure.com but he hasn't updated it in quite some time. Drop him an e-mail at Losure@BobLosure.com.
---

March 24 2006 at 19:48:51
Name: Dave
Location: jazzin' it
Comments: I drove over to Tulsa from here in Fayetteville the other day and stumbled onto the new jazz station at 107.9 FM and wondered where this one came from. Mighty fine sound. So when I Googled it I wound up on a Tulsa TV Memories page with the station's link and the info about it being a 76-watt low power station. And that is its only problem.
See, over here in Northwest Arkansas, 107.9 is the home of 100,000-watt powerhouse blowtorch KEZA, which you can pick up clearly all the way down Highway 412 into East Tulsa. The result is when driving in T-Town, I noticed that east of Sheridan there's a lot of interference with both stations overlapping. So who in the FCC let this happen?
Otherwise, good station. Sorry I lost it eastbound once I got to Memorial Drive.
---

March 24 2006 at 17:08:50
Name: Gary Chew
Location: Just Southwest of the Donner Party Grill
Comments: Congrats to Mr. Murg on his new gig. And best of luck with the new paper. It's always good news, indeed, when diversity seems to be "marching again" in the eternal effort to de-petrify the monologue.
---

March 24 2006 at 16:47:50
Name: Dana LeMoine
Email: d4wdw@valornet.com
Location: On the midway meeting my parents at the KELI building
Comments: To KC Bishop,
I remember going to your batting cages with my little league team, the Reed Redsox. It was fun because one could see how far they hit the ball instead of just hitting into a net. We always got a kick out of trying to hit the ball buggy as it cruised around gathering up balls.
Since you worked there, maybe you can shed some light on an early childhood memory of that corner of the fairgrounds.....
I remember there was a large statue of some sort that could be seen from 21st street, laying in pieces on the ground by the batting cages. I'm guessing it may have been a smaller forerunner to the Golden Driller. Seeing it laying there in the weeds always scared the heck out of me. I imagined it rising up at night and roaming around terrorizing children. I'm sure either my siblings or my dad were responsible for planting that vision of terror in my young mind.
I must admit that I told my three boys a similar tale about the Golden Driller when they were young. That may explain why they always wanted to enter the fairgrounds via 15th street!
Anyway, does this ring a bell with you or anyone else?
---

March 24 2006 at 16:10:31
Name: Wilhelm Murg
Email: wilhelmurg@yahoo.com
Location: Back on the chain gang
Comments: I wanted to remind everyone that tomorrow is the big "T-Town Record Show," hosted by Rob's Records. It will be held at the American Legion Hall at 8th & Peoria from 9 am - 5 pm. Admission is $3. I never can get out of there without spending $50 at least.
The other big news is that my friend and former editor, Andrew Hicks, has bought the Gayly Oklahoman, and I am the paper's editor. Look for big changes! We are hitting the stands in 8 days. It's amazing to me; I've worked in mainstream newspapers, underground newspapers, Native American newspapers, African American newspapers, and a metrosexual newspaper - it doesn't matter what group is putting out a publication, it's always mass pandemonium, regardless of the sub-culture. I feel alive again, exhausted, but alive!
---

March 24 2006 at 10:21:32
Name: Lee Woodward
Location: Tulsa
Comments: No offense to Scott Linder and his preference for seasonings, but for forty years... I (along with serious chefs across the Country) have favored an Harrison, Arkansas product called, "CAVENDER'S" All-Purpose Greek seasoning. I use it on everything. Lionel uses it for E.D.! (eating disorders) If you're still hungry after four hours, go to the emergency diner!
Available everywhere!
---

March 23 2006 at 22:14:37
Name: Josh
Email: studio(dot)mars(at)yahoo(dot)com
Location: Downtown Tulsa
Comments: I read with great delight here about KOTV's "Dance Party" featuring local rockers The Rogues V from the 1960's era. I'm working on producing a 60's themed dance party for Tulsa's oldest contemporary non-profit gallery, Living Arts, and need a rock band for the May '06 event. Are there any good rock bands left in Tulsa?
---

March 23 2006 at 18:07:39
Name: Margie Music aka KC Bishop
Email: sportsdish@cableone.net
Location: Lake Texoma basically
Comments: I grew up by the Fairgrounds close enough that Zingo and the roaring of engines from the stock car races were the typical background noise on a Saturday night in my neighborhood.
We had a family of 6 kids and our parents had a partnership on the batting cages located at the SE corner of the Fairgrounds in the early 70s. There was a driving range next door. We had a Volkswagen with a cage body that we drove to pick up the balls. We worked basically for free other than my mom bought us Subs from Little Lannie's, in lieu of pay of course. By the way, I can still hit a fastball!
---

March 23 2006 at 14:06:01
Name: Darrell
Location: Midwest City OK
Comments: I do miss the old days of radio when you could trust it for local news & weather information and had real DJ's 24/7. Probably gone forever. I was wondering what became of Jack Fox, Jay Jones, Will Jones from KVOO.
Jay was a colleague of Mike Miller's at KTUL radio (which became KELi), as touched upon in an excerpt from Mike's new book, How High Can A Guy Stoop?

By the way, I found the book riveting, not only for the plentiful Tulsa media stories, but also Mike's later adventures in D.C. TV, as press secretary for 3 Congressmen, and as spokesman for the National Republican Senatorial Committee. I highly recommend it.

My wife couldn't believe what saucy Connie Chung (who appeared on The Colbert Report this week) teasingly whispered over Mike's shoulder in the WTTG newsroom in 1969.
---

March 23 2006 at 13:04:26
Name: Scott Linder
Location: Hollywood-land
Comments: OK...I'm talkin' about food again. Just a note to those who do chicken fried steaks, etc. at home...
I highly recommend the all-purpose seasoning available from the Hammett House in Claremore. I often dined there with my folks in the '70s. The food is very good. Take a little drive on the weekend, visit the Will Rogers Memorial and have some good home cookin'. If you live too far away, you can order the all-purpose and chili seasoning on-line at: HammettHouse.com.
For those of you who contacted me with regard to the fake "Coney Islander" recipe, you can order Cincinnati chili from Skyline at SkylineChili.com. It's very good, and will make the Coney Islander experience complete for those of us who don't make it back home very often.
---

March 23 2006 at 12:41:54
Name: Lee Woodward
Location: Tulsa
Comments: I don't think I saw it mentioned here but the Tulsa World had a small blurb about Channel 2 Weatherman...Mike Anderson, going for the gold! That is; he has joined the staff of "Tulsa Gold & Coin" on East 41st Street. Gold is a lot more steady than the weather in this state and likely a lot more remunerative for Mike.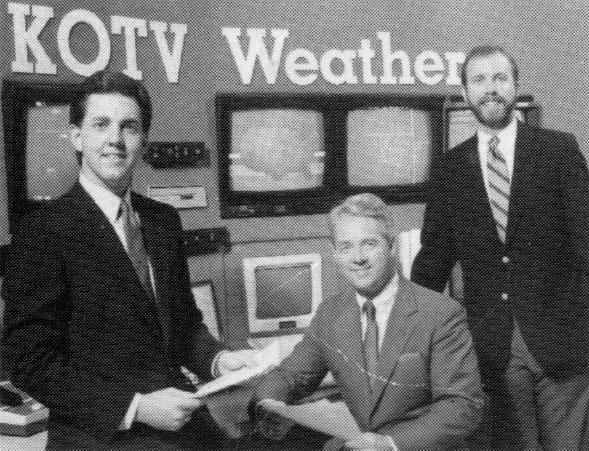 David George, Jim Giles and Mike Anderson at KOTV in the 80s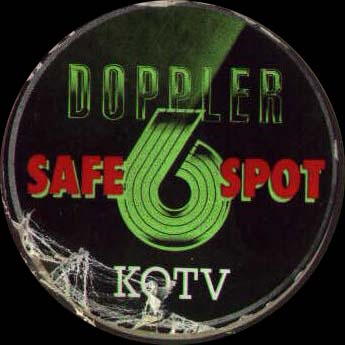 Here's what happened when someone tried to peel
this Safe Spot sticker off their computer screen.
---

March 23 2006 at 10:59:24
Name: Erick
Email: ericktul@yahoo.com
Location: Tulsa
Comments: TTM has been visited on numerous occasions by Gailard Sartain. I believe there was also a possible visit by the boys of Hanson.
Erick originally suggested a list of folks to be contacted in Guestbook 10 (June 1999).
---

March 23 2006 at 10:39:09
Name: DolfanBob
Email: MiamiPhin@yahoo.com
Location: Broken Arrow
Comments: I was just wondering if our wonderful webmaster could possibly list all of the famous people from Tulsa that have contributed to TTM over the years. I for one would be interested to know who I might be able to leave a fond memory of or for. Is this request possible? I sure hope so. I think it would be very interesting and fun for all the readers of this web page. Keep up the great work, I love this web site.
Here is a list of Tulsa TV/radio people who have visited the site, plus an incomplete (by necessity) list of folks who have not. I've probably missed some who should be on the "visited" list, but it can at least serve as a memory jog for readers. If you have updates, additions or corrections, feel free to email them to me.
---

March 23 2006 at 08:54:07
Name: Mike Bruchas
Location: briefly in ccccold Indy
Comments: Richard Thomas aka John-boy Walton seems to be the hottest voice-over guy today - he is on national Mercedes spots (the ghost cars), regionally for BB&T bank up and down the Mid-Atlantic, and some national insurance spots...long road from Walton's Mountain, ya hear. Incidentally Walton's Mountain is a 30 min. drive from Thomas Jefferson's Monticello.
Somewhere - TTM has a picture of a vintage KWGS program guide with long time Texaco Operacast voice MILTON CROSS on the cover.
As I recall KGGF and KWGS (or was it KWON and KWGS) usaed to carry the opera broadcast. Ed Dumit will remember.
---

March 23 2006 at 01:52:43
Name: Webmaster
Comments: Found at TulsaNow.org's forum: miscellaneous Tulsa radio/TV commercials from the 70s and early 80s in MP3.
---

March 22 2006 at 10:36:04
Name:
DolfanBob
Email: MiamiPhin@yahoo.com
Location: Broken Arrow
Comments: Hey can anybody tell me the correct version of the demise of the Ken's Pizza chain? I have heard some rumours but was unsure about the truth involved. Some say it was the same thing that closed the old Charlie Mitchell's Restaurants?
Ken Selby, the wildly successful founder of Ken's/Mazzio's/Zio's, simply phased out Ken's Pizza in favor of Mazzio's. His first venture was "The Pizza Parlor" near TU. Here is a history.

Charlie Mitchell coached in recent years at Northeastern State in Tahlequah until he resigned in June of 2005.
---

March 21 2006 at 21:28:04
Name: Jim Peters
Email: jamespeters02@sbcglobal.net
Location: Southern Cal
Comments: Don't you think we need a headline and some more details about Roger's death? If it weren't for Beau Weaver and Casey Morgan, I would not have known. As it is, I certainly would have gone to the memorial service, had I known when and where. Roger and I went to grade school together. He had a huge model train set-up in his loft, and we played there for hours.
He was a huge part of the reason I got into radio. We went to different high schools, but when I heard him on KAKC I began to think well, if Roger can do it, obviously I can do it. Plus, he had the record which played on the station, a nice little tune about Judy, his former wife and one of the all-time coolest Tulsa people. He had a kind of Ricky Nelson vocal style. I thought, man, the guy is on the radio, making records, I gotta get with it.
I had been hanging out with Dick Charles at KVOO Radio, sitting in while he did his show, but thanks to Rog I actually auditioned at KAKC. Bob Brown ushered me through the audition process - which was not easy and took a long time, over two months, I think, to get the job. But thanks to the groundbreaking work of Roger Borden , I was able to begin my career at KAKC.
In fact, when I went to Dallas for acting and voice work, it was Roger who helped me into that market, introducing me to his agent, who would become my manager there.
So for me, I think the young man deserves a headline on your home page, at least, and not just because his family owned the Borden's Restaurants that fed Tulsa for so many years. It's a loss, if not for the city as a whole, then for those of us Tulsans who knew him. This is a person some of us have known all - ALL - of our lives. Jim Peters
Jim, I'm sorry for everyone's loss. Here is a blog entry by a friend of Roger's. By the way, nice to see the real Jim Peters here.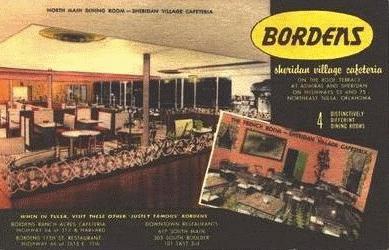 ---

March 21 2006 at 19:43:41
Name: Beau Weaver
Comments: Mike,
Just thought the folks who visit your website would like to know, Roger Borden died on March 14, after a year long battle with cancer.
Roger was one of the jocks I used to visit at KAKC and KRAV when I was thirteen. You will remember his work on camera at Channel 6 as the host of Dance Party, later hosted by Lee Bayley. I learned to run a board at his elbow. I was able to return the favor in 1971 when I introduced him to the station management who hired him in Houston. He in turn helped me make the transition into freelance voice work; Roger was one of the top Dallas VO guys for years, and served on the local and national levels of our union, AFTRA.
In the late 1980s, he came out to Los Angeles to pursue voice work, where another former Tulsa radio great, the late Danny Dark, helped him get into NBC where he did fill-in for Danny himself from time to time. Roger got involved in much public service with recovery programs, and was ordained as a minister in the Church of Religious Science, where he was a frequent teacher and speaker.
Also in the eighties, Roger's son Shawn died tragically. A big piece of Roger's heart was buried with him. He will be laid to rest next to Shawn in Dallas.
I will be at the memorial service tonight...and thought I would remember Roger to your readers tonight.
Good rest, and thanks, to you, old friend,
---

March 21 2006 at 17:36:59
Name: Frank Morrow
Email: frankmor@io.com
Location: Austin
Comments: Skilly's School of Ballroom Dancing was part of the passage from the awkward, inexperienced junior high years to the senior high social scene. Skilly and her husband, Bob Forsman, taught you, not only how to dance, but what to do on a date, something that helped young boys gain confidence in their struggle to develop skills to deal with their new urges and the strange, new creatures that were called "girls." If I remember correctly, the cost of the series of lessons was something like ten dollars. It might have been more, but in the late '40s, ten dollars was a lot.
Skilly was a beauty, but it was an icy beauty. I heard that she and Bob divorced. They both had strong personalities, particulary Skilly. I also understand that she continued to teach dancing up into her later years, still retaining her attractiveness.
Skilly simplified the swing dance/jitterbug/lindy hop. Although I was aware of the term jitterbug, I only heard the term swing dance used for what we did.. I didn't hear the term lindy or lindy hop until I got into the Navy and met people from back East. The word "jitterbug" also seemed to be more applicable to the more wild, fast dance of the Black folks, although we did apply it occasionally to the swing dance.
Skilly's legacy lives on. When you go to high school and college reunions, you can continue to see old geezers still doing the swing dance the way Skilly taught us.
---

March 21 2006 at 16:02:55
Name: Gary Chew
Location: Just Southwest of The Donner Party Grill
Comments: Hear, hear to my old colleague and mentor for tellin' folks watchin' KOTV what the weather is gonna be: Maestro Lee Woodward. Yes, since the oil company has gotten so poor, I've put my Texaco plastic gas card through the shredder, too.
And my best to the world's only laissez-faire lion.
---

March 21 2006 at 12:05:31
Name: Lee Woodward
Location: Tulsa
Comments: The Metropolitan Opera broadcasts have had a tough time in many markets, including Tulsa. Obviously, it's hard to find commercial stations willing to block out three to five hours of time for this endeavor; besides, they're 99% Rock.
One such station, an AM station in either Kansas or Bartlesville, did carry the Opera and with good atmospheric cooperation could be heard in Tulsa. Then, I discovered KOSU-FM could also be picked up here and I was elated. Lo and behold, KWTU-FM was born and began to carry the Met. Oddly, then KOSU got on the local dial at 107.5, just below the new Jazz station. Whether they duplicate the broadcast or not? I'll have to check it out. I do know that KOSU will program Classical Vocal sometimes; a practice KWTU seems adverse to? Of course, I do not listen 24/7 to anything.
The Met is currently fund-raising to continue the Met broadcasts. The Toll Brothers (Lux Home Builders) have stepped in for the interim as Texaco gave up this prestigious expense. You see... they could no longer afford it! There's just no profit in the Oil Business these days. There is no longer a Texaco (Shell) card in my billfold these days either!
On another subject: "Skilly's" was the dance school of choice, for the south side of Tulsa, anyway. Skilly Forsman was the major-domo of that school. My daughter even taught there for a year or two.
Question? If you really wanted to go out to a club in Tulsa and wanted to dance...where would you go? (No Western, please.)
Note to Bill Mitchell: great work all these years and don't wait too long to find your beach.
---

March 20 2006 at 13:38:50
Name: Frank Christel
Email: fchristel@publicradiotulsa.org
Location: Tulsa, OK
Comments: Gary Chew discussed the Met Opera in his March 13 guestbook entry and mentioned that it can't be heard in Tulsa.
The Met has been broadcast over-the-air in T-Town on Classical 88.7 since December 2004. During the Met's off-season, one can hear NPR's World of Opera every Saturday afternoon.
Classical 88.7 KWTU's schedule and up-to-the-minute playlist can be seen at PublicRadioTulsa.org.
Gary said only that the opera was live from the Met Saturday; I'm afraid I was the one who concluded it wouldn't be broadcast in Tulsa.

I looked for the Met's broadcast of Tchaikovsky's opera, "Mazeppa", on KWTU's Saturday schedule for last week, but found instead "World of Opera with Lisa Simeone". Since Mr. Chew had said that "Mazeppa" was to be presented live from the Met, I presumed that meant the Met must not be carried in Tulsa.

Sorry about that. But the schedule still shows "World of Opera" in that slot.

(Later note: Frank says this was an error in the online schedule, and it will be corrected.)
---

March 19 2006 at 19:20:44
Name: John Hillis
Location: Stuck in the 70s
Comments:
About the same time KWGS was trying out friendly persuasion, I had my most memorable ad-lib at a radio station in Georgia. Scheduled to do a 3-hour live radio remote for a house trailer tie-down firm. Two of us were making the big bucks of $2.25 per hour for this gig.
We've done our research, and the idea was to do a "play by play" of a house trailer being secured to the ground. Obviously, the number one reason to tie the trailer down is to keep it from being picked up by the ever-present tornado.
Exactly five minutes before airtime, Mr. Tie-Down comes over to us and says, "Boys, you know talk about tornados scares people and brings them down. So don't say anything about tornados on the air this afternoon."
Without saying that it keeps the house trailer tied to the ground in a tornado, there's really not a lot you can say in the way of friendly encouragement for getting the trailer tied down. That was an extremely long three hours, and I don't think Mr. Tie-Down ever bought a remote again.
Zig Ziglar couldn't have sold that pile of tripe.
---

March 19 2006 at 15:19:01
Name: Webmaster
Comments: In late 1973, the following was required for would-be KWGS DJs. How would you do?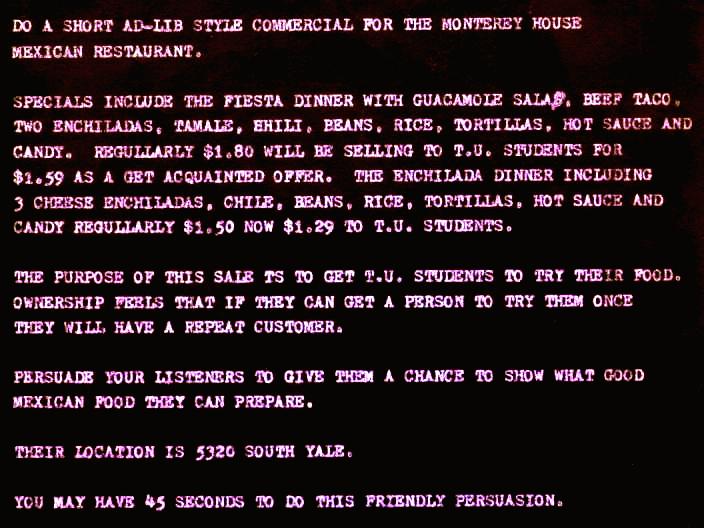 ---

March 17 2006 at 15:13:19
Name: Dana LeMoine
Email: d4wdw@valornet.com
Location: Still at Clancy's
Comments: I noticed the seller neglected to mention the recent fires at the Rose Bowl. I'm curious to see if it sells.
I think Bill Stokely needs to buy it and make it a Route 66 museum where he could display, among other things, his extensive collection of signage. Maybe the old Meadow Gold sign could even find a new home out front.
I wonder if the seller knows about Lloyd Wallisch's bunker under the Rose Bowl?
That was on my mind, too, using the Rose Bowl as a home for those neon signs. It would be a wonderland.

Dana, Lloyd and I have a high school chemistry teacher in common: Weird Ward.
---

March 17 2006 at 13:30:50
Name: Webmaster
Comments: Got an extra half million laying around? You could own your own Rose Bowl (courtesy of David Bagsby).
---

March 17 2006 at 13:03:41
Name: Charles
Location: Joining Dana at Clancy's
Comments: The Clancys were also great neighbors. We lived 3 houses down from their corner house. The yards in our neigborhood were not large; especially for a group of boys wanting to play a game of football. Since the Clancys were on the corner their yard was substantially bigger...and that is where our games took place. Unlike a lot of people who would not like a group of kids showing up in their yard, the Clancys welcomed it.
I added these last two entries to the Rasslin' Page.
---

March 17 2006 at 12:24:02
Name: Dana LeMoine
Email: d4wdw@valornet.com
Location: Clancy's Pizza - 11th and Mingo
Comments: Each year, St. Patrick's Day always brings the focus on Arnie's Bar, but for me personally, it takes me back to my time working at "Irish Mike Clancy's" back in the early to mid-seventies.
St. Patrick's Day was always a huge yearly event at Clancy's. Mrs. Clancy began preparing the traditional corned beef and cabbage a few days before. To this day I can still remember the smell of it cooking. Of course there was also the green beer. We went through many a keg on this day! The celebration always lasted well past midnight and usually spilled out into the parking lot due to the large crowd inside.
The Clancys were a wonderful family to work for. I cherish the time I spent working at Clancy's.
---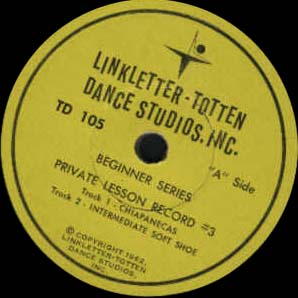 March 17 2006 at 08:35:53
Name: Steve Bagsby
Location: Linkletter-Totten Dance Studio
Comments: The Pink Barn Location at 15th and Memorial was demolished several years ago, and now a FedEx distribution Center sits in it's place. Oops, gotta go now...time for Soft Shoe class....out-back-down, out-back-down-step, kick-step-kick-step...
I had forgotten about the "Totten" Studio. Where was it? As a kid, I decided that "Totten" was an misspelled attempt to say "Tot-teen". I didn't imagine it to be a name, since they already had a famous one. Why would they need another?



Art with Lee & Lionel. Maybe Art was here to promote his studio.

---

March 16 2006 at 22:54:19
Name: Mike Bruchas
Location: DC
Comments: My brother's college and work buddy, Clayton Crawford, sometime Winfield/Wichita blues man and current Boeing employee - took my brother on a road trip to Ft. Scott, KS today.
To attend the funeral and memorial service of American legendary photographer, Gordon Parks. I did not realize that Ft.Scott was where he was being buried - after passing last week at 93.
His book - and movie - THE LEARNING TREE is set there.
My brother said that actor (Spencer for Hire/Star Trek) Avery Brooks gave part of the eulogy and also sang at the service.
---

March 16 2006 at 18:45:11
Name: Scott Linder
Location: Hollywood-land
Comments: To M. Tyler...
The Pink Barn was owned by Jerry and Roberta Keith. I was a student in the very early 60s and met my first real sweetheart there while attempting to master the basic swing-dance steps. (change-weight-touch-back-change weight...etc.)
The studio was a long narrow building which sported a Bogen turntable and amplifier system, along with lines of pre-pubescent youths on opposite sides of the floor, all hoping to experience a dance with their partner of choice. My sweetheart was Eva Skinner. I remember my parents taking us on a good many movie-dates after we had met at the "Barn". We did the hold-hands-and-steal-a-kiss thing a few times, as I recall. Don't know where she is today, but I wish her well and thank her for some very sweet times, if she's a TTVM visitor.
I have no idea what happened to the Pink Barn or its owner/instructors, Jerry and Roberta Keith. They can both feel proud that they may be responsible for teaching some dance-steps of the time and for stirring the hormones of many of Tulsa's youth.
---

March 16 2006 at 02:47:52
Name: Bill Mitchell (via email)
Location: Tulsa
Comments: I started in 1971 at then-KTEW, as announcer, audioman and weather person. Put magnets on a map. Boy, was I bad.
Then, after a year and three months, got an announcing job at KOCO-TV. Also did "Dialing for Dollars", an afternoon movie show that tried to give away money. Went to California for almost a year. Then back to Tulsa where Mister Leake hired me in news.
When he sold the station, went to Little Rock to anchor a morning show...at the NBC affiliate. That's when the news job at KOCO opened. Stayed there almost 11 or so years. Now back in Tulsa for the past 11 as senior reporter. Have a 19 year old daughter in college, UCO in Edmond. Lives there with her mom and step-dad. She and I are very close.
Still here at KTUL-TV...for at least another couple of years, while she finishes college. After that it's off to a radio gig on a beach somewhere along the coast.
P.S., I was the OTASCO man for about a year back in 1971. Also did a couple of crazy professor car commercials. Oh, those were the days.
Here's a photo of Bill from 1980: "Even my feet are pretty."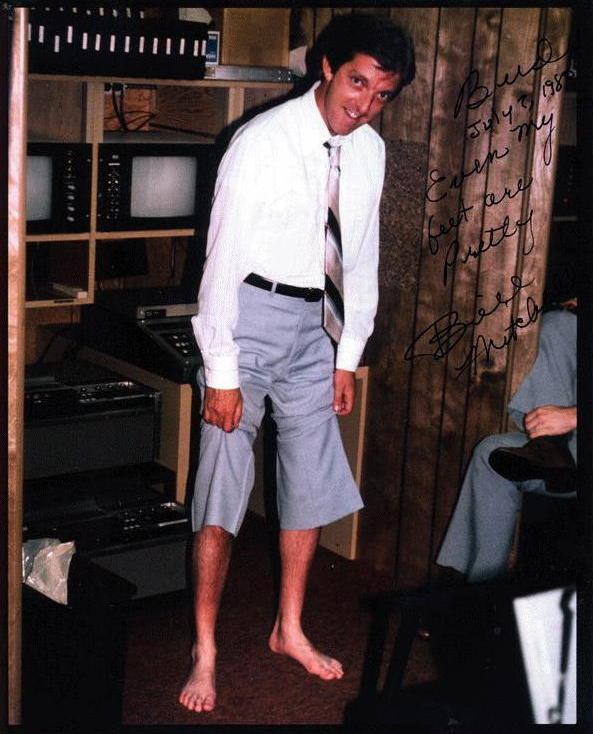 ---

March 15 2006 at 20:47:18
Name: M Tyler aka KC Bishop
Email: sportsdish@cableone.net
Location: Sherman, TX
Comments: Does anyone know the story behind the Pink Barn? I think it was located around 15th and Memorial. I remember my older siblings all got to go there to learn to dance when they reached the 7th grade. I don't think I ever made it to dance lessons which makes me think it may have closed in the early 70s. I was curious who owned it, etc...etc...etc.
---

March 15 2006 at 14:50:51
Name:
Alan Lambert
Email: alambert@rsu.edu
Location: Rogers State University at Claremore
Comments: Since I was news director when KVOO moved from Channel 2's building in Brookside in 1985...I know the helicopter story well.
There was no landing arrangement at 29th and Yale near the BA. We did use live helicopter at that time but those reports were the work of Bill Stokely. We contracted for his "solid gold" chopper and several different pilots including Bill himself.
Alan Lambert
KRSC-FM Real College Radio, 91.3 FM
and "Big Band Saturday Night" on Public Radio 89.5
I appreciate you setting that straight, "Captain" Alan.

I am enjoying Alan's Saturday night big band show on KWGS. He's reminded me what a great singer John Gary was. You've got to like Alan's theme, the Nelson Riddle title music for the early 60s TV series, "Route 66".

And don't forget about Alan's excellent lead-in, John Wooley's "Swing On This" from 7 to 8 pm. John's Tulsa World story about "Shock Theatre" was just reprinted here.
---

March 14 2006 at 21:47:27
Name: Webmaster
Comments: Archived Guestbook 208 where Mr. Hillis just explained the unlikelihood of the KVOO building ever serving as a helipad. We had also just learned from Gary Chew that the Metropolitan Opera will air live this coming Saturday, Tchaikovsky's opera, "Mazeppa". Kirk Demarais finally found a Phantasmagoria bumpersticker. We were happy to learn that Ed Dumit is doing well after suffering a heart attack in Las Vegas late last year.
Here is a preview of Mike Miller's new book, How High Can a Guy Stoop?, available from Amazon and AuthorHouse via links on that page.
---
Back to Tulsa TV Memories main page