Tulsa TV Memories GroupBlog 237

TTM main | What's new on TTM? | GB Archive





March 31 2007 at 12:09:19
Name: Jim Reid
Topic: Judge Nelson bombing
Comments: My first day of high school was the day of the Judge Nelson bombing. My father was driving me east on 41st Street to Bishop Kelley, when we passed the judge's house. I remember the wrecked blue station wagon with police cars all around the area.



Mike Miller covered the Pugh/McDonald/Brinlee stories as a reporter in the 60s. He talked about them in GB 22 (scroll up and down on that page for more), and in his book, How High Can A Guy Stoop? (highly recommended).
---

March 31 2007 at 10:55:04
Name: Jeff H
Topic: Bombers and Comics
Email: Back booth at Ma Bell's
Comments: Thanks Lowell for clearing up my bombing question. I sure thought it was a D.A. that was the victim, but I do remember the facts now.

Have you noticed most notorious figures have three names: i.e., Tom Lester Pugh, James Earl Ray, etc. etc.

If I am not mistaken, Dave Gardner was also known as "Brother Dave Gardner". My dad had a bunch of his records and I thought he was really funny. Another of my favorites was Stan Freberg. Does anyone remember Woody Woodbury? I would have to sneak a listen to those records, "they were not meant for small ears". Fire up the ole Stromberg Carlson and give the party records a spin.

Thanks again to the TTM brain trust.

---

March 31 2007 at 09:38:43
Name: Lee Woodward
Topic: Bomby
Comments: Ah! Lowell to the rescue: perhaps it was Lester after all, who propelled Judge Nelson's "hybrid." I can't keep my "miscreants" straight.

---

March 31 2007 at 09:31:54
Name: Lee Woodward
Topic: Buddy Bomber
Comments: I don't think that Buddy Fallis' car was rigged with an I.E.D., although, it could have been. I remember a Judge's car levitating, courtesy of the infamous Rex Brinlee. I can't remember the Judge's name.

That Rex was a "scamp"... as Dave Gardner would say.

---

March 31 2007 at 09:29:47
Name: Lowell Burch
Topic: District Judge Bombing
Comments: Fred Nelson, Distict Judge, was seriously injured by a car bomb on August 25, 1970. I have always understood that it was designed to maim, not kill, the judge. There is a new free magazine on the stands called Crime Scene. It is a slick publication and well done. It does a good job of covering Tulsa crime, past and present, along with articles on crime trends and methods for preventing crime in Tulsa.

There is also an article on how Tom Lester Pugh murdered Cleo Epps. Included in the article is a reference to the assault on Nelson.

Good magazine. Pick it up next to the free real estate, car dealer and job broker magazines found at fine food stores and laundromats everywhere.

---

March 31 2007 at 06:44:49
Name: Rick Brashear
Topic: Buddy "Porn Bomber" Fallis
Email: There're lumps of it 'round the back.
Comments: To Jeff H.:
According to Dan Fallis' website, his father, Buddy, was DA from the late 60s to early 80s. I have done a Google search for anything related to Tulsa DA history and really can't find diddly. You have to have a name or it goes to the present.

This question was asked to me many years ago: If Oral Roberts married Buddy Fallis, would his name be Oral Fallis?

(I know, that was lame, but the question still stands.)

---

March 30 2007 at 23:46:47
Name: Jeff H
Topic: Sluggo and the D.A.
Email: Bustin' a move on Dance Party
Comments: Webmaster, sorry I cannot help you with Sluggo's real name. How old would he be now?

Since I can't help you, maybe you could help me with a question that I have.

What was the name of the Tulsa District Attorney in the late 60s or early 70s that was car-bombed in his driveway and who did it? I think S.M. "Buddy" Fallis was D.A. after him.

---

March 30 2007 at 22:22:19
Name: Webmaster
Topic: Linda Soundtrak
Comments: I just received this query:



Do you remember the name of Linda Soundtrak's son? It started with a "B" I believe and was very unusual. It has driven me crazy all day trying to remember it.

I'm thinking his stage name was "Sluggo". Any help out there?

---

March 30 2007 at 16:46:43
Name: Terri
Topic: HindSight
Comments: I'd recognize that uh,...er,...uhm... backpack anywhere.

---

March 30 2007 at 12:23:52
Name: David Batterson
Topic: Mike Smith
Email: davidbat(at)yahoo(dot)com
Comments: No, Mike doesn't play drums (although he owns an old Moog synthesizer). He's a longtime first-class photographer, cinematographer and videographer. TU grad, and has lived in TX for decades.

As for skin bangers, two drummer friends in Tulsa were Kirk Felton and Jim Perry. Both still play.

---

March 30 2007 at 11:37:33
Name: Mitch Gray
Topic: Mike Smith
Email: Homesteadin' in B-Ville
Comments: Note to Rick Brashear:

I know a Mike Smith who is/was a drummer, then owned a heat and air company, then moved to Hawaii and open a nudist camp. Don't know about the film though.

HawaiianRhythms.com
Could this be the feller?


---

March 29 2007 at 18:37:40
Name: Rick Brashear
Topic: Don't Remember
Email: I was just holding it for some friends.
Comments: David Batterson: Mohawk Park
If you were IN the VW, how could you lose your keys? I know! The electric snakes ate them! They got my shoes, once.

I knew a Mike Smith at Hale. Could he be the same one?

Lowell Burch: 21st birthday
My 21st birthday started at the Town Pump Lounge and then went to The Black Forest. By the time the night was over, I was the only one in the place who wasn't drunk. There were two committed bikers across the table who were out. Any other time I would have been plastered hours before. But for some Einsteinian reason, unknown to science to this day, I hardly had a buzz that night. All I did was drink and whizz. It figures.

---

March 29 2007 at 10:52:58
Name: David Batterson
Topic: Mohawk Park
Email: davidbat(at)youwho.com
Comments: Ah, Mohawk Park: two things come to mind.
(1) Tripping with friend/drummer Kirk Felton in my VW bug. Somehow we got stuck in the mud very late at night, and also lost the car keys. Had to hitchhike back and get another car to come pull out my VW with a piece of cable, and pick up my spare key.
(2) Mike Smith's multicolored film, "Mohawk Rock", shot at one of the concerts there.

---

March 29 2007 at 10:03:11
Name: Lowell Burch
Topic: Everything
Comments: From Woodward Park to the Camelot, Peoria was teeming with free-spirited hippie types back in the early 70s. If Tulsa would have had an Haight-Ashbury area back then, I think we could have supplied the characters to populate it.

My 21st birthday was a little like "American Graffiti". I was building oil field equipment that summer and, after I got off work, my friends were waiting for me at my house to celebrate. We went swimming at Lortondale and then went to Brookside. This was when Peoria businesses welcomed young people to the area instead of chasing them off. The shopping center across from the Camelot even had my band set up a flat bed trailer that night and we played all evening for a parking lot full of kids - and adults.

After the gig, my buddies took me to the Admiral Twin to see "Billy Jack". We laid on the hoods of our cars to watch the movie. Then we drove around town for a while before we went to my girlfriend's house. She fixed me a sack lunch and I went back for another 12 hours of building oil field equipment.

Our regular drummer, Jim Lee, was serving in Germany at the time. He said he celebrated his 21st birthday sitting under tree and eating a hot dog. I don't know why I wasn't drafted. I was #1 on the draft list and carried a 1-A card for about a year. Usually, I had a 2-S (student deferment).

Rick's Amazon story reminded me of when I worked on the health department Vector Control spray truck. My first two summers out of high school, I took a job killing mosquitos. We would begin work early morning and continue, sometimes, all night. Mohawk Park always had the strangest folks, especially after midnight.

People often came to us for help since we were driving an official-looking truck. They would want a ride, ask directions or, a time or two, need medical attention. Once we pulled a young couple's car out of the mud after they had gotten stuck driving into one the park's wooded areas for a little privacy. Another time, about six in the morning, we drove past one of the shelters and there was a young woman standing there dressed in black lace leotards and high heels. My partner insisted that we stop to see in we could "be of assistance". She said no, she was just waiting on a friend.

---

March 29 2007 at 02:33:28
Name: roy lee
Topic: Things I don't remember
Email: beerdrunk@cox.net
Comments: OK, I can play that game but only one for now.

Sure, everyone knows "Accountability" Burns, the wacko who hangs out at the library and runs for office, but back when I was about 7th or 8th grade ('75-'76) there was a guy who used to hang out around the downtown library who wore pretty much a nazi outfit without the swastika. Blond and blue-eyed and very strange. He saved the swastika for both sides of his car, with large large black letters stating "I have been born again".

Who was that guy and how did he manage to drive down the street without being pelted with rocks? Actually I think we did throw a rock or two at him, there in the police dept. parking lot. I've got a few more of them, but he's the first one to come to mind in that challenge.

---

March 28 2007 at 23:06:54
Name: Rick Brashear
Topic: Don't Remember
Email: Near the whale market.
Comments: I want to discuss the people you never really knew. You know, there was that guy or gal who you can't remember their face, but their name is still there, burned into your brain. There is the one with the face, but no name. How about at the Mohawk Park concerts? Zillions of folks milling around, selling stuff, taking stuff, being stuff, chatting and in general being aloof.

I remember some chick during a concert at Mohawk being traded by her biker-man to a kid for a Zippo lighter. She was not pleased.

There was some fool at Der Wienerschnitzel on Peoria one night who was demonstrating his prowess with a machete when he sliced his leg open and had to be taken to a hospital. Management material in the making.

I was in an apartment downtown (I don't remember where or when, maybe 1971) when a cop pulled up, in his cruiser and uniform, and bought pot. That was a wakeup call for the surreal.

Sonny Barger, the president of the Hells Angels, told a load of people at Der Wienerschnitzel one night I was his nephew. I had never laid eyes on him before in my life other than in a movie. For some reason, people acted strangely polite around me for some time after that.

Me and two friends were at Mohawk one winter day and two girls showed up at the big shelter where we were hanging out. The biggest one decided she needed me and the hunt was on! Think of Jethrene Clampett. I was petrified! I tried climbing through a window opening but she grabbed me by my belt and pulled me back over a concrete table! I finally escaped with a little help from my friends. We booked it outta there to safety. Looking back, being 17 at the time, I was a fool. I mean, a chick wanted me! I don't care if she was an Amazon.

Pick your brains and tell us what you don't remember.

---

March 27 2007 at 13:18:22
Name: Scott Linder
Topic: Howard Orms of Tulsa Little Theatre
Comments: Just a note to Lee Woodward.... I was a little kid working at Tulsa Little Theatre during the "Mary, Mary" run. Howard Orms and I became life-long friends. I visited him on a few occasions during his tenure at Southwest Missouri State College, and we often talked by phone.

Howard was a great director and a gruff-but-generous teacher. He guided the careers of many theatre professionals. Perhaps the most notable is John Goodman. I ran into John on the CBS lot a couple of years ago and we had a nice chat about Howard and how much he meant to us.

---

March 27 2007 at 08:55:50
Name: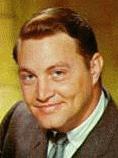 Jim Ruddle
Topic: Tulsa film actor
Email: jruddle@earthlink.net
Comments: The Tulsa actor who probably appeared in more films than any other is also the least remembered.

He was Billy Benedict.

Born in Haskell, his family moved to Tulsa and he attended Central High where, who else, his guiding influence was Isabelle Ronan.

He went to Hollywood in 1934 and stayed there for the rest of his life, having parts in at least 150 films. Although he was a constantly in demand character actor, working into the seventies, or maybe even later, he was forever set in movie-goers minds as "Whitey" in the Bowery Boys series.

Benedict died in 1999.

---

March 26 2007 at 21:50:02
Name: Terri
Topic: "All Aboard, Come With Us..On A Continental Trailways Bus"
Comments: My sister and I had the opportunity to motor from Amarillo to Tulsa on a Continental Trailways bus, circa 1968.

Our split-level bus ride was made more entertaining by the "stewardess", who, we figured, couldn't hack it in airline hostessing school. This uniformed, mini-skirted, boufanted lass with a serious overbite reminded us both of the swayback secretary as portrayed by Carol Burnett, in her weekly variety show.



(Mrs. uh-huWiggins, as Tim Conway's ill-toupeed, Swedish-American character, "Mr. Tudball", called her.)

The hostess lady really earned her pay, with her cat-like prowess, navigating the main aisle of a swaying bus.

The grand finale was when it came time to serve up the vittles. We each got a ham samich in a baggie, a bag of chips and a Little Debbie oatmeal creme pie. To my impressionable sister and me, it may just as well have been Beef Wellington and champagne.

Thanks for resurrecting a long-repressed memory.

---

March 26 2007 at 20:40:59
Name: John Hillis
Topic: More Silver Screen Tulsans
Comments:
Don't forget, Bob Wills made a few low-budget oaters, too. My favorite, "Take Me Back to Oklahoma" features KOTV's favorite son Wayne Johnson, Johnnie Lee, Eldon Shamblin, Son Lansford, and Take-It-Away-Leon McAuliffe.

I think this was the film from which the famous still used on the Bob Wills TV record offers came from, where Wayne Johnson would run the commercial featuring Wayne Johnson, Bob, and the 'boys on horseback. Piano player Al Stricklin wasn't in this one because they couldn't figure out a way to put a spinet on a horse.

Tex Ritter got top billing, and his horse, White Flash, was billed above Bob as well.



Woodward "Tex" Ritter was named after Lee Woodward's uncle.
---

March 26 2007 at 18:35:28
Name: Mike Bruchas
Topic: OKC work in progress/RR Stations
Comments: An OKC friend passed this along from Gaile Poole over there.

"Just to let you all know, a new documentary on the OKC Crosstown/Union Station fiasco is now available for viewing online. Presently you can view it at http://vocallocals.net and once there, click on "Projects" and it will automatically load and show (assuming you have software for viewing movie type clips). At a later date it will be available on additional websites."

Did Jack Frank or anyone ever do anything on Tulsa's rail stations?

When I came to Tulsa in '69, the Midland Valley station was business only, no passengers. Tulsa Union Depot was in bad shape and home to winos and crazies, and the Santa Fe former freight office was the Santa Fe Station. Trains came in nose-first and were turned later in the yards to head back to KC.

Tulsa had the Greyhound Station and the newer Trailways Station busy with a lot of bus travel and express then. Trailways was trying to have a stewardess type on some long-haul buses to serve drinks and play hostess. That didn't last long...some place in an old National Geographic issue, I have an ad on this then-new service.

---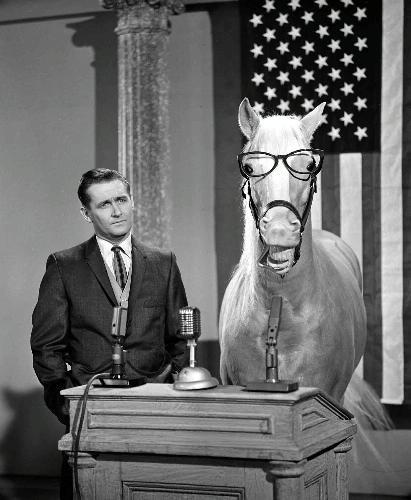 At last, a politician with good, old-fashioned horse sense.
Alan Young wrote Mister Ed and Me and More! (updated in 2007)

March 26 2007 at 11:23:42
Name: Dave
Topic: Where is Mister Ed?
Comments: The following article is just too wacky. Anyone know anything else?

-------------

AP - 3/26/2007

TAHLEQUAH, Okla. (AP) -- A man who owns the property where famed television horse Mister Ed supposedly is buried wants to take advantage of its notoriety and develop it. Tahlequah homebuilder Todd Carroll has a monument to the horse on his 16-acre property in Tahlequah, where the horse may, or may not be, buried. His plan is to build 12 to 15 log homes and create a subdivision, with the entrance going past the Mister Ed monument.

The 1,000-pound granite monument commemorating Mister Ed has been in Tahlequah since 1990.

There is some debate about whether Mister Ed actually is buried in the eastern Oklahoma town.

Some of Carroll's neighbors recall the horse's owner bringing him to Tahlequah after his retirement, but some Internet accounts say the horse buried there is one that was used in publicity shots after Mister Ed died in 1969.

A representative for Alan Young, who played Mister Ed's owner on the TV show, says the horse died in Burbank, California, was cremated and had his ashes spread there.



Interesting connection with Jim Hartz' comments just below this TTM item: HorseFacts.org states that the original Mr. Ed, "Bamboo Harvester", was "liberty trained (no lead line) by Lester Hilton, who had learned the practice from performer Will Rogers."

TV Acres reported:



"...on February 28, 1979, a look-alike palomino (owned by Clarence Tharp) which once posed for a Mister Ed publicity shot, died in Oklahoma and was mistakenly reported to be the real Mister Ed. In July 1990, a local radio station collected money for a Mister Ed monument, unawares that the real Mister Ed had died 11 years earlier. Flying in the face of the truth, the radio station took the money and built a statue with a relief of Ed looking out from his stall door."


Update, 1/12/2009:

See the monument in this 10/5/2007 Tulsa World story,"Only in Oklahoma: The famous Mister Ed still keeps 'em talking".

I believe that KRMG's John Erling the KMOD morning team might have been behind that stunt. Can anyone confirm or deny?

Agreeing with TV Acres, the book The Encyclopedia of TV Pets (2002) states: "at best, that (Tahlequah-buried) horse was perhaps a horse used in a one-time publicity photo for the 'Mister Ed' series."

It also confirms that the real Ed died and was cremated no later than '73 or '74 by Alan ("Wilbur") Young's account, and possibly as early as 1968 by others. The heartbroken trainer, Les Hilton, died in 1976.

The book paints a delightful picture of Mr. Ed's real-life personality and antics. A star is a star, whatever the species, of course, of course.



---

March 25 2007 at 21:07:24
Name: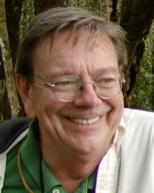 Jim Hartz
Topic: Will and Jim Rogers
Comments: Woody wrote the other day about people from Tulsa who went on to have some impact in the theatre or movies; sometimes... from humble beginnings.

He was referring to contemporary folks, of course, but we shouldn't overlook the most famous and influential movie star from Tulsa (well, Oologah), Will Rogers.

At the time of his death in a plane crash in 1935 he was the biggest thing that ever hit Hollywood. He was the top-grossing star and the highest-paid actor of his day.


Jim Rogers at age 85 in Tulsa, 1999
But I have a real soft spot in my heart for his son, Jim. Jim tried out in the movies but never made it. His big role, he told me, was as one of Hopalong Cassidy's earliest sidekicks. Jim made famous the now clichéd line, while pointing, "They went thattaway, Hoppy." But Jim said his real contribution to the series was handling Hoppy's horse, Topper. Bill Boyd, the actor who played Cassidy, was born in Ohio but grew up in Tulsa. Despite being from a horse-loving state, Boyd could not stand the critters. And never learned to ride very well. Jim Rogers was his handler, mentor, trainer and occasional stuntman.

Jim Rogers was a longtime member of the board of directors of the Will Rogers Memorial in Claremore until his death in 2000. He spent most of his life on his ranch in Bakersfield, California, where he said he was very happy watching the south end of a cow heading north.



Jim Hartz, chair of the Will Rogers Memorial Commission, took this photo of Jim Rogers.
---

March 25 2007 at 19:35:16
Name: Daniel Wright
Topic: Saratoga
Comments: I remember once as late as 1983 having to pay for TV in a small motel we stayed in. My mom worked at the Saratoga for about a week back in the mid-1970s. She quit after overhearing two of the other maids discussing stabbing someone in the parking lot.

---

March 25 2007 at 18:15:17
Name: David Batterson
Topic: Saratoga Motor Hotel
Email: davidbat(at)yeehaw.com
Comments: I find it amazing that the motel had a lifeguard at the pool. And I see they offered "Free T.V." too. Wow! Is that anything like TV? ;-)

---

March 25 2007 at 16:29:57
Name: Webmaster
Topic: Saratoga Motor Hotel postcard
Comments: Here's a nice, big postcard of the Saratoga Motor Hotel on 11th St. Check out the bathing beauty on the diving board (hubba, hubba).

---

March 24 2007 at 10:19:12
Name: John Boydston
Topic: Not Lost in Austin
Email: johnatdaddyagogodepartmentoftransportioncom
Comments: A wee bit off topic here but I thought someone might get a kick out of this clip:





Daddy A Go-Go played a show at SXSW last weekend -and since I don't have a band, I put one together using my 2 young teens and a couple of their friends. We did a cover of a Hendrix song because my 12-year old guitar playing son does a pretty good job with it...someone in the crowd posted this later in the day and sent me the link which I share for your amusement.

---

March 23 2007 at 00:29:03
Name: Charlie Tooley
Topic: Joe Bratcher
Email: Charlie_Tooley[at]wellsfargois[dot]com
Comments: Just wanted to add a name from my days in Tulsa that I grew up with, Tulsa born-bred Central High School graduate, 1964 by the name of Joe Bratcher.



The linked bio mentions that Joe acted in "Coma", "The Howling", "Modern Romance", "All In The Family", "Laverne and Shirley", "Mary Hartman, Mary Hartman", "Rockford Files", "Dallas" and more...webmaster

Joe and I were very good friends through the latter portion of our elementary school days at Riverview (sadly another loss in Tulsa) and Horace Mann Jr. High...now also demolished. Joe and I did some really minor acting together at Horace Mann.

My parents bought a new home out in North Tulsa and I attended McLain at the time, i.e. brand new school and neighborhood, etc. and Joe remained at Tulsa Central; doing a great deal of drama and acting under the drama teacher of high fame at the time, Iona Freeman. My recollection at the time is that Miss Freeman was a student of the famous Isabelle Ronan, who taught Tony Randall and others during her reign at Tulsa Central in the stage/drama area.

Joe was in many of the Tulsa Central "DAZE" and I believe was elected King or "Mr. Daze" or some accolade at the time.

Funny to recall those memories of our acting days with Joe, as we did several plays at Horace Mann, both "modern" as well as a lot of Shakespeare. Joe and I specifically were "stars" in our ninth grade play, "Desperate Ambrose". Joe was "Ambrose" and I was his side-kick "straight man". We did many "All-Star" Reviews and Joe was always willing to do tap dancing, and played a mean sax and clarinet as well as being a "hoofer". Joe was every bit as well-known at Tulsa Central, as was Tony Randall in his high school days there.

He left Tulsa and attended drama at Northwestern University, Evanston, IL and served as an Army officer in the Vietnam-era conflict.

Joe is now married to Oklahoma star, Judy Farrell, ex-wife of Mike Farrell (aka B.J. Hunnicutt in **MASH** --the TV version). Judy played the part of a nurse in the series when married to Mike. Joe Bratcher and Judy married sometime later. Judy is from Quapaw, OK.

Joe recently helped fledgling actors do a low-budget movie entitled "Long-Term Relationship", which debuted last year.

Many thanks again. I visit your site almost daily and have given so many of my ex-Tulsa friends the site address as well. Keep up the very good detailed work. It's just a tremendous connection for me... - Charlie



You're welcome and glad you are enjoying it.
---

March 22 2007 at 17:58:17
Name: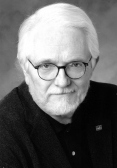 Gary Chew
Topic: Oklahoma Film Actors
Email: Just SW of the Donner Party Family Grill
Comments: Hey to Woody.

G.D. Spradlin was born in Garvin County Oklahoma in August of 1920. I've seen him in several character roles on the big screen. He has a good, distinctive Southwest accent sort of like a cool guy who once wore shades in a Paul Newman movie---if my synapses are firing correctly today.

Delmeaux de Gillette du Coffeyville

---

March 22 2007 at 13:41:49
Name: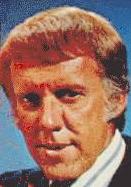 Lee Woodward
Topic: The acting thing
Comments: From time to time in this blog, I see a name mentioned here and there about someone from Tulsa who went on to some impact in the theatre or movies; sometimes... from humble beginnings.

A separate section would be needed for all who qualify, I'm sure. I know that many TV and radio people did their turns as well as high school and college students. As a matter of fact, I think that Tulsa (and Oklahoma) might push any state for the honor; although, Texas would give us a race.

Many people have asked me why I didn't follow my brother Morgan to Hollywood. My simple answer was: "I tried it and didn't care for it."

I was dragged into acting by a very fine theatre teacher named Dick Slaughter. He taught at Arlington State College in Arlington, Texas (Now U of T at Arlington). He fancied my work and improv abilities; so much so, that he got me into Margo Jones' Theater in The Round, in Dallas Texas. I had to ride the bus from Arlington during the rehearsals and the run of a musical called "Horatio." One of the young writers of that musical was Sheldon Harnick. During that musical, Margo had a controversial play in rehearsal called, "The Tin Cup." This play eventually made its way to Broadway as "Inherit The Wind," I believe, with Paul Muni.

The lead actor in "Horatio" was a fellow named Charles Braswell. He was from McKinney, Texas and he and Morgan used to have an entertainment act in college that they made extra money with, entertaining business meetings. Charles took me under his wing at Margo's theater (he made $75.00 a week) and we had some great times. When I was at NTSC in Denton, I would run into him because he was dating a girl there. He went on to Broadway and was becoming very successful; he was in "Company" and was opposite Angela Lansbury in "Mame," to name a few. A gifted actor who could sing and dance and do any number of things. Sadly, a lack of urgency caught up with him when he was fifty years old. A doctor in California alerted him to a spot on the back side of his knee and said he should have it looked at when he got back to New York. He didn't do it soon enough; and as you know, melanoma waits for no one!

I didn't mean to wander. The thing I lacked for theatre was that ability to get into a character and present it night after night. Howard Orms asked me to do "Mary Mary" at Tulsa Little Theatre early on and I accepted because Ben Hevel and Judy Pryor were also in it. I thought it might be fun. It was for about a week. The play was held over and ran a month and then we took it on the road once or twice. I can't even remember where? I swore after that, that it would be my last theatre gig and it was. I never had any real interest in movie acting.

So, who can I remember from Tulsa? Off the top of my head. Stage or screen.

Well....of course we start with Gailard Sartain (with 60+ movies) Chuck Bowman; Jennifer Jones, Patti Page (Elmer Gantry) Tony Randall; Ridge Bond; Clu Gulager; Mary Kay Place; Hopalong Cassidy (?) That's enough to get the ball rolling.

"Noises Off." "Cut."



Here's a list of movies, TV shows and people whose TTM coverage is linked from the IMDb...it's NOT an exhaustive list of Tulsa entertainment personalities.

Lee followed up on 3/24 with this:

I may have erred in saying that Hopalong Cassidy (Bill Boyd) was from Tulsa; influenced, as it were by the fact his brother lived here; he was a "floor walker" for Vandevers store in downtown Tulsa years ago. Hoppy would visit from time to time.

(and)

Jim Hartz just told me that Boyd was born in Ohio but grew up in Tulsa. Should-a known?

---

March 22 2007 at 11:38:19
Name: Webmaster
Topic: Space Age Pop
Comments: If you like Space Age Pop music, as discussed on the Fantastic Theater page, check out these free online programs on Basic Hip Digital Oddio. A nice mix for your home or place of business.

---

3 March 22 2007 at 09:35:23
Name: DolfanBob
Topic: Tuffy
Email: MiamiPhin@yahoo.com
Comments: I just watched Wayne Johnson aka Tuffy on "Good Day Tulsa" with D.C. Roberts. Very good interview with classic video from the old Mr Zing and Tuffy show. Really brings back a lot of good memories of my childhood times in good ol' Tulsa, when all we had was a black and white TV and 4 stations to choose from. It sure made it easy to pick what you wanted to watch.



Aw, shucks, I missed it! I just sent an email to D.C. and GDT's producer, asking if the video could be placed on the KTUL web site. 8 already has a bunch of the classic "8's The Place" videos available for viewing online.
---

March 21 2007 at 22:03:36
Name: Lloyd Under the Rose Bowl
Topic: Joy Cooper Rolls-Royce Date
Comments: Must be the Joy Cooper, a couple years ahead of me in high school, who played the lead in Noel Coward's "Blithe Spirit".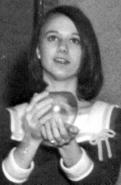 I never became a full-time thespian (starving for art ain't necessarily my thang), but did some gigs in NYC.

Lucky to have some fine teachers in the Tulsa Public Schools, and many fine fellow student actors, and I made like a sponge for all the chops they had to teach.

We're talking four decades ago, and Joy's performance still resonates in my mind.

There it is: the glory and sorrow of real theatre.

In movies, one does it over and over until one gets it right, and then it's in the can forever.

In theatre, one must do it right, over and over, every perf, and it "only" lives in the minds of the beholders.



Much to Joy's delight, I'm sure (hmph), here is an "encore" depiction of her as Madame Arcati in "Blithe Spirit" at East Central High School in 1969. I agree, it was a fine performance.

While we're tooting the horn for Joy and ECHS, I might mention that our chemistry teacher, Mr. Ward (aka Weird Ward), has a Fellowship of Heathen Chemists meeting with his former students coming up. It's on Saturday, 3/31, at Panera Bread, 71st & Garnett, from 9 'til 11 am. More at the Weird Ward site.
---

March 21 2007 at 12:10:32
Name: Webmaster
Topic: Previous GroupBlog summary
Email: mike@tulsatvmemories.com
Comments: Archived GroupBlog 236. A few highlights:

Joy Cooper might be in a 1965 pic in front of the KOTV studios with a Rolls. Former Tulsa broadcaster Virgil Domenic has been located. Craig Roszel says he was the kid Mazeppa bounced on his lap during a Horn Bros. taping around 1970.

Edwin Fincher is looking for another TV gig here in Tulsa. Bob Cooper checked in. I learned that the Bat Masterson lyric "he wore a cane and derby hat" is not as preposterous as I thought.

Lee Woodward mentioned that world-renowned Tulsa flamenco guitarist, Ronald Radford, will play here on 3/31. There may soon be an EOI (Edge of Insanity) radio page.

That and more in GroupBlog 236.

---
Back to Tulsa TV Memories main page