Tulsa TV Memories Guestbook 180

TTM main | What's new on TTM? | GB Archive




April 02 2005 at 07:17:15
Name: John T. Bode
Email: jmenosu@cox.net
Location: Stillsville, OK
Comments: Dear TTM,
Stumbling across the KGCT history portion of your website brought back a flood of memories for me. I'm the idiot standing behind the fern in the TV World group shot. The KGCT project was my first foray into broadcasting after receiving my degree from OSU in the summer of 1980.
Because I worked construction during the summers through my college years, Station Manager, Ray Beindorf, promised me a production assistant position with the station if I would assist in the renovation of the studio. Eager to gain a foothold in my new career, I agreed. Converting the old Lerner dress shop into TV studio was a daunting, dirty challenge, but we somehow managed a reasonable facsimile.
Getting to know all the players involved with this debacle was a real trip. It was a duke's mix of suits, prima donnas, frustrated sales sharks, short-fused directors, anal techies, and just plain hard-working production types. But they were all very patient and nice to this greenhorn and I learned a lot from them. My first duties were the basics; setup and striking sets, lighting, cameraperson, floor directing, and bouncing the drunks that passed out in front of the studio window on the Main Mall from the night before.
My biggest hassle was stringing cable and busting a studio camera over to the Main Mall fountains everyday at noon to provide our dedicated viewers (all 10 of them) the finest in free musical talent that T-Town had to offer. At that time, Tulsa must have had quite a criminal population that worked downtown. Every time I would shoot someone for a bump shot, they would hide behind briefcases, purses, newspapers, sack lunches, and the ubiquitous middle finger.
Once I had proven myself in the trenches, I was assigned to produce a weekly sports program highlighting the finest in Green Country regional motorsports; Saturday night stock car racing at the Tulsa fairgrounds. It was called "Turn Five" (terribly clever, don't you think?), hosted by former KELI radio jock, the late Ken Rank.
Every Saturday night we'd bust our humps and gear to shoot (one camera mind you) sprint cars going around...around...around...and around for three solid hours. And if that didn't make you nauseous, watching teens toss their cookies over the rail on dollar beer nights eventually would. It never ceased to amaze me, although I had a KGCT logo on the camera and wore my sexy green jacket with station logo emblazed on the back, at least 5 people a night would ask me, "What channel ya'll with?" and "Can I get that channel on my TV?". For most people, the task of tuning in a UHF station was akin to gene splicing.
After the races, it was off to the pits to gather insightful sound bites from these alcohol-fueled gladiators. The grammar that permeated these in-depth interviews was also enough to make a high school English teacher regurgitate. Then it was back to the station to spend the next 4 hours editing this whirling dervish into a one hour show that would air the next day. Needless to say, I haven't been to a stock car race since.
My favorite memory was producing the "KGCT Afternoon Movie" with Sherman Oaks. Being able to joke around with this "Uncanny Film Festival" legend between breaks was a real treat. Also, happy hours with the KGCT gang at the deli next door was a riot as well. As time went on, you could smell the fear and panic of KGCT's eventual demise as soon as you clocked in. To raise capital, we began to produce cheesy 2 minute "Best of" record offer spots of obscure artists I've never heard of. Talk about lip-sync hell.
The all-time low was when we had to produce a one week "Beg-a-Thon" for that sleazy televangelist out of Dallas, Robert Tilton. What an eye opener into religious broadcasting! Tilton used to get real pissed at director Jim Reid when Jim wouldn't cut to extreme close ups of him shedding crocodile tears during his nightly money-grubbing rants. What was most telling is what happened after we signed off. Instead of thanking the phone volunteers and crew for a great show, he'd race over to the count the money pledges. What a schmuck!
It was a sad day when Ray gathered everyone together to announce the end of the project. He was such a nice guy, we really felt worse for him than ourselves. After all, it was the death of a dream in the twilight of his very successful career. I too laughed out loud when I learned that KGCT was now going to air religious broadcasting during the day, then pay-per-view porn at night. Is this a great industry or what?
After I cashed my last paycheck, I moved on to another loser upstart, "Video Image Productions"; a small production company formed by the ill-fated "Yount-Moeller Advertising Agency". On the day we opened business, YM's main TV AE quit, taking all the TV production accounts with him. Are you starting to see a trend here?
Desperate to save my questionable career that I had invested 4 years and tens of thousands of dollars in, I kidnapped my beautiful new bride and fled to Lawton, OK for a 2 year commercial producer stint with the ABC affiliate. After having my fill of producing mobile home, used car, and pawn shop commercials, I took a producer position at OSU in Stillwater and produced OETA's "Oklahoma Gardening" program for the next 12 years.
Currently I am a successful free-lance producer/director still living in Stillwater with my lovely college sweetheart and two beautiful daughters. Despite the unfortunate turn of events of the ambitious KGCT project, for me it was a great job to cut my broadcasting teeth into. While some of my former colleagues would like to forget this black period of their career, I retain it as a very special time in my life. Thank you for allowing me to share it with everyone. Continued success with your fantastic web site.
Sincerely,
John T. Bode
I think you could have been a comedy writer, too, John. Thanks for all the great KGCT behind-the-scenes stories .
---

April 02 2005 at 03:59:18
Name: Wilhelm Murg
Email: wilhelmurg@ yahoo dot com
Location: HEll (Fifth level of WHACKED on the Xbox)
Comments: I am getting old, I finally beat my first video game - Remember the days when there was no way to win? I'm sure it's better, psychologically, as oppose to my generation's Atari 2600s, where you were DOOMED! NO ENDING! As Juliette Lewis said in NATURAL BORN KILLERS: "There is NO Escape!" It might have been a little nihlistic, but at least we got industrial music out of the deal.
I had an interesting April Fools situation. My friend McKenna met a soldier (one of our boys) who is heavily into death rock, angry kraut music, like Rammstein. They got into an arguement because he was also into Spinal Tap, but he was (and still is) convinced they are a real rock group,
Last week I picked up a copy of Goldmine, the record collector's magazine, and Spinal Tap is on the cover, along with a complete discography of their albums, including the fake ones. That ought to confuse the poor boy.
There are also articles on Paul McCartney admitting that the "Paul is Dead" hoax was planned by The Beatles, and another on how cut-outs are the next heavily collectible item (with a comeplete discussion on how you can tell which factory the the cut-outs were discounted in by examining the saw blade mark or drill hole on the LP cover). Of course, it's the April issue (but if you find a still sealed cut-out of a rare album, it will probably be a heavily collectible item in a few years).
So is Saddam Hussein really going to be on next season's "Surreal Life" along with Michael Jackson, Robert Blake, and Tiffany?
Let me know...

---

April 01 2005 at 21:54:43
Name: Tiki Queen
Email: tikiqueenarts@hotmail.com
Location: Kihei, Maui, Hawaii
Comments: I was first directed to Tulsa TV by my good friend Cody Hoover, a native of Tulsa now living on Maui.
I was surprised to see pix of my other great friends, Gecko & Ailie, in our old stomping grounds on Oahu, La Mariana's Sailing Club.
We just recently lost Augie Colon and Martin Denny, undisputed king of Exotica. Martin was a lovely man, and I had the pleasure of meeting him several times and visiting him in his home with Gecko & Ailie. Gecko made a custom tiki bar for Martin, and my other half, Michael, did a custom montage of Martin's album covers for the bar top, which was then sealed under a thick resin coat on top of monkeypod. Martin loved it...and Gecko loved Martin.
We'll all miss him and I count myself extremely lucky to have met him. We were all glad he lived to see Tiki and Exotica make a comeback. He performed right to the end of his life and would come alive in front of the crowds. And, you can bet there were ALWAYS standing ovations for the king.
Anyway, cool site! Enjoyed seeing it. Check me out at TikiQueenArts.com and let me know if you enjoyed my stuff.
Thanks,
Holly Lewis a.k.a. Tiki Queen
Maui
Hey, Holly, thanks for dropping in. We had a great time at La Mariana, meeting Gecko & Ailie (and Annette La Mariana) on our honeymoon. Please say hi to them for us. We have a Tiki Bar sign by Gecko in our "Tiki room".

You all really are very lucky to have met Martin Denny. I'm glad, too, that he got his due with the revival of interest in his music. Someone sat down and played his signature tune, "Quiet Village", on the piano while we were at the La Mariana, and it was charming.

Did you happen to catch La Mariana featured on Rachael Ray's "$40 a Day" show on the Food Network?

I'll check out your site.
---

April 01 2005 at 17:02:51
Name: Linda Bean
Email: bean_linda@yahoo.com
Location: Houston
Comments: WOW... this is wonderful and so cathartic! You guys are the best! I've never done this before so please forgive me, I was responding back to Mike Ransom, but really want to thank all of you!!
Frank Morrow, your comments especially encouraged me in my search. It was fun to see the picture of Roy "Pierre" Pickett. Just from what you said I know it would have been a HUGE treat for him if you had stopped by. He was so low-key that people may, me included, have thought that he wasn't impressed, but the people in his life meant a great deal to him, especially studio folk, who, as we know, are special!
Thank you all, I love all the new stuff I'm learning, like the group I thought was called the "Greers" didn't think about the photography studio. My mom always said, "If you live long enough, you're bound to learn something." Thanks again for everything!!
A BIG special thanks to you Mike for all your help and support!!

---

April 01 2005 at 16:29:55
Name: John Young
Email: johnk662561atyahoodotcom
Location: Allergy City ....aaaaachoo!!
Comments: Linda... First, allow me to offer my condolences on your loss. I'm not in radio or TV so I never met Roy, but from what I've read here he was afine man.
In response to your question about the signature on the photo...at the time this pic was taken...I'm guessing 1930's-1940's...it was not uncommon for the portrait studios to sign off on work they did and their location. In this case, it was Greers Photography out of Sherman, Texas.
Hope this helps! :)
John

---

19 April 01 2005 at 12:47:41
Name: Linda Bean (via emails to webmaster)
Email: bean_linda@yahoo.com
Location: Houston
Comments: Perhaps you can tell me how Uncle Roy got the name "Pierre"?
Mike Bruchas:

"All I know is - someone gave it to him and the older KTUL folks often referred to him as 'Pierre'. He could do a French-sounding accent well!"

Ah yes, I've heard it...and that sounds right to me. Thank you and please thank Mike Bruchas!
I was really in the dumps because the obituary and what was being said did not do him justice. So it did my heart good to go online and see that he was still remembered for the great guy he was and learn even more. He never bragged about all he had done, just had a lot of interesting information to share.
You know they say you don't really know someone until you go on a road trip with them. Uncle Roy and I drove from Tulsa to Los Angeles and had a great time! We took turns driving, stopping when we wanted, and it was just the best road trip I've ever taken because he is so laid back and full of stories!
He was always fun to be with. He and my dad would talk about walking on wings of airplanes and all sorts of crazy stunts. The two of them together would always be up to something to see if they could get a rise out of my mom and Aunt Stella (Roy's first wife who died, and then he married Virginia). The four of them were really sharp and a good match to keep things interesting!
I drove up to Tulsa to celebrate his 90th birthday, he still had stories I hadn't heard and that sparkle in his eye!
Thank you so much for blessing me by honoring him in sharing your memories! It really helps to know that I'm not the only one who knew there was so much more to the man than any one person could tell. He was so giving and would go out of his way to help anyone and you can't help but love and miss someone like that!
I was looking at a few pictures that I have...one where he looks really young (no mustache). He is wearing a shirt with what looks like "KRRV" and a transmitter above the pocket, and standing in the middle of four guys that appear to be a country-western group. One has a hat like Hoss and it is signed, "GREERS Sherman _____ (starts with a T but can't quite make it out).
Here are the happy cowpokes... this picture always makes me smile! Do you know any of them beside the one with the ears and old timey hair in the middle?

Roy Pickett, top middle

According to Dallas-Fort Worth AM Station History, KRRV operated in Sherman-Richardson, Texas, established 10/1936. The call letters stood for "Red River Valley."
And TexasPlayboys.net describes:
"...Knight's Happy Cowboys on KRRV, a transitional band that straddled the fence between Western Swing and older styles..."

I posted a query at TexasPlayboys.net. Kevin Coffey responded April 10, 2005:
Hi. The guy holding the acoustic steel standing at left is Don McCord, longtime Dallas musician, brother of Fred McCord, who had McCord's Music in Dallas. I can't positively ID the other guys, though the fiddler looks slightly like Junior Greenlaw, who worked with Texas Jim Lewis on the coast in the early '40s and then again after the war. Junior was from Texas, but I don't know enough about his career, nor know his face well enough to tell you for sure that it's him. I have another photo of this group, with a slightly different lineup...

---

April 01 2005 at 12:40:40
Name: Erick
Email: ericktul@yahoo.com
Location: Tulsa
Comments: Just found out that KRMG's John Erling will be leaving his post as morning drive host. Supposedly, he will remain at KRMG in public relations.
Hmmmm...what day is this again?

I pulled an April Fool's joke on my wife Gaye today.

When I stepped out to get the paper this morning, a squirrel was hanging out in our yard. Also, I had watched a little Monty Python late the previous evening. As a net result, I called Gaye at work and asked her if she had seen the dead stoat, paws-up in the middle of our yard.

Of course, she hadn't, and a train of nervous questions ran through her mind: "Is it really dead? Was it rabid? Will kids try to pick it up? How soon can we get rid of it? Are flies buzzing around over it? Will Mike bag it up for the trashman? Will it stink up the garage? What is a stoat?"

It was quite a relief for her to hear that it was a figment of my imagination.
---

March 31 2005 at 22:15:49
Name: Joel Genung
Location: Tulsa
Comments: I wanted to pass you a short note re the current whereabouts of Harry Volkman.
Earlier today, I had the pleasure of sharing lunch with Harry here in Tulsa. I have been doing some research on the 1955 Blackwell tornado and after sending him an e-mail earlier this month, he graciously replied to my query and indicated he would be in town in late March and asked if I would be interested in talking with him. You can imagine my utter astonishment!
Harry retired about 6 months ago from Fox Television (I believe, WFLD) in Chicago, ending an over 50-year career as a television weatherman. I watched him in 1955, when he was on WKY-TV in OKC and later, when he moved to KWTV. Of course, most of the older Tulsa TV viewers know he got his start here in Tulsa, as your site has already indicated.
Needless to say, this will go down as one of the most memorable days in my life and I can tell you he is a wonderfully warm, cordial and humorous individual.
Incidentally, he will be 80 next year. I have included a picture taken of Harry and me at the National Weather Services office here in Tulsa, where I took him to meet the staff there following our lunch and at the invitation of Steve Piltz, the Meteorologist-in-Charge.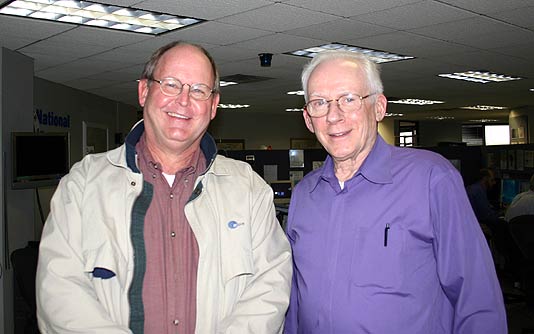 Joel would like to hear from you if you have stories about the 1955 Blackwell tornado. Here's what he has so far: http://members.cox.net/joel.genung/blackwell.htm.
---

March 31 2005 at 19:27:22
Name: Sonny Hollingshead
Email: sonnyho1955@yahoo.com
Location: The Record Aisle at Oertle's
Comments: The song CherBoy is looking for was a summer of '69 release from a fellow named Duke Baxter. The song is "Everybody Knows Matilda". You won't find it on any CD because it wasn't a national hit. Your best bet to find it is an old stack of used 45s from this part of the world.
Please add my condolences to the family of Roy Pickett. I worked with him briefly at KTUL in the late 70s.

---

March 31 2005 at 16:50:21
Name: CherOkie Boy
Location: Deep South (no, not Bixby)
Comments: Looks like I need to check in a bit more often, but I trust I'm not too terribly late to offer my condolences to the family of John Henry and say I was tremendously saddened to learn of his demise.
I happened to be listening to an Unfilmy Can Festival 10 yr. anniv. show one Sat. yrs. ago and was treated to the voices of John, Mazeppa, Sherman and TeddyJack whilst they played tunes, reminisced and generally acted up.
What a Tulsa treasure John was.......
And now I've missed my chance to ask Mr. Henry about a particular tune I've never been able to locate anywhere. So, I shall ask anyone who reads this. I can recall only a couple of lines and they are: "heard a rap, rap on the door, scared me so bad I fell on the floor, we were havin' so much fun, she said sorry baby but you have to run." And I think the name Matilda was in the lyric also???? I was hearing this song on Tulsa radio in the early 70's.
Lawzee, thank you and goodnight.

---

March 30 2005 at 23:09:15
Name: Mike Miller
Email: michaelmmiller@hotmail.com
Location: Houston
Comments: I worked with Roy Pickett at KTUL Radio in the late 50s and again, some years later at Channel 8. I am saddened to learn of his passing.
Looking back, I will always remember Roy's friendly and familiar face at both stations. My deepest sympathy goes to Linda and the rest of his family.

---

March 30 2005 at 20:05:11
Name: Mike Bruchas
Location: "monitoring network lines" and job searching at work....
Comments: "Mouse Trap" - that fun kids game of the 1960's was mentioned in a character flash-back on "LOST" tonight. Many childhood hours I spent with that game. I wonder if it is still made?

---

March 30 2005 at 19:38:34
Name: Lee Woodward
Location: The Lazy Boy
Comments: Frank Morrow in his last post mentioned something that has never changed for the better in Television: Car Commercials! Some today are even worse if that is possible. I think the "Growly Voice" and the "Out of Breath fast walking-fast talking" hustler is alive and well on the tube.
Some of the out of town Dealers are even reverting to the fifties type presentations offered by their "Add Men?" All going to prove that a fool and his money are soon parted.
The net spots "Blow", but in a different way.

---

March 30 2005 at 19:19:19
Name: Frank Morrow
Email: frankmor@io.com
Location: Austin
Comments: When I started to work at KTUL, I was just an eighteen year-old kid out of high school who was a freshman at TU. I had already had a year's experience from working the evening shift at KAKC, the same spot where Jim Ruddle and Noel Confer toiled before me and where Bob Griffin worked after me.
KTUL was big time compared with the grimy, Coliseum basement dungeon of "The Old" KAKC, with its rodents and lone barred window. KTUL, having the CBS network, was always second in ratings to the redoubtable KVOO, which had NBC. Not only did KTUL have nice studios, including a couple of grand pianos and vibraharp, but operated with an engineer flipping the switches on the other side of the studios. All the other stations except for KVOO operated "combo," where the announcer sat in front of the console and did all the knob twisting as well as the announcing.
Roy Pickett had been working at KTUL for a long time. His voice was very recognizable for its beautiful, rich, low tone. When I was still in secondary school, I loved to listen to his newscasts just to hear his voice. I was looking forward to meeting him. I wasn't disappointed.
Roy was easy-going and friendly, never condescending to this comparative neophyte. He was always pleasant to be around. He didn't hang around with the loud group that played vigorous card games of Crazy Eight--Vic Lundberg, newsman Jack Morris, and occasionally Jack Charvat. (Charvat was Sports Editor of the Tulsa Tribune and did the fifteen-minute sportscast week nights.)
I was a little surprised at Roy's attitude toward work. He didn't sweat anything, nor did he put much effort into his announcing and news casting. He was so good he didn't have to. He didn't seem to have any burning ambitions to "reach the top" by moving on to bigger markets where the salaries were better. (I seriously doubt if any of the announcers at KTUL made over $350 a month, certainly no more than $400. The program director at KAKC made $90 a week.) Roy was satisfied where he was. He came to work, did his job, and went home. I never saw him outside of work.
I was therefore surprised when I saw a Tulsa Little Theater production in which Roy had the lead. I don't completely remember the name of the play, but it was something like "Silver Whistle." My surprise occurred because Roy played the part of an upbeat, always-smiling, energetic guy who loved life and got the most out of it. I remember one line of Roy's forty-ish character that cause a big stir in the audience: "Also, I still have my full sexual powers." This was at a time when the word "pregnant" never was said on the radio, much less "sex." All this was so different from the Roy Pickett whom I knew.
A semi(?)-shyster car dealer came in to town by the name of Charlie Shepherd who opened a Kaiser-Frazier dealership. His mode of operation apparently was to hit a town running, and inundate it with a huge media blitz, particularly on radio. He'd peddle as many cars as he could, sell his business at a profit, then move on. His commercials contained loud sound effects and two screaming announcers talking so fast that you almost couldn't understand them. I was astonished to find out when I started at KTUL that Roy Pickett and Jack Morris were the two announcers. When I asked Roy about doing such rather debasing commercials, he simply shrugged his shoulders and said gently, "It pays the bills."
In the many times I have come up to Tulsa the past thirty years, I frequently thought of visiting Roy, but I never did. It is my loss. But, I'm sure that to Roy, although he would have been friendly, it probably would have been no big thing to him. Just something else in the big flow of life.

---

March 30 2005 at 17:41:13
Name: Mike Bruchas
Location: balmy DC - ya know we have CHERRY BLOSSOMS here!
Comments: I am so sorry to hear that Roy "Pierre" Pickett has passed. The next time I got to Tulsa - was wanting to look him up. I wanted to know more about his work in WWII and at KTUL radio. Besides being in Tulsa radio and an early KTUL employee - he was great photographer and one NEVER would pitch pennies against him the studio! When I worked at 8 - he was relegated to maintaining the film processors and shooting nearly all promotional pictures.
We'll remember you, "Pierre"!
Mike took this photo of Roy.
---

March 30 2005 at 17:17:47
Name: Linda Bean
Email: bean_linda@yahoo.com
Location: Houston
Comments: Hi, my name is Linda Bean and I currently live in Houston, Texas. My Uncle Roy Pickett graduated to glory on Easter Sunday. I was looking to see if there was anything on the internet, since he was my favorite uncle and very special!! I was so happy to see that he had been remembered on your site back in 1999...and was hoping that perhaps you might like to know...I would love to share any information and would be very grateful for anything regarding my uncle.
Thank you for your time and consideration.
Linda, our deepest condolences. Just today I had looked up Roy's number to ask him Mike Miller's question in this Guestbook. But as you can see on this site, Roy is well-remembered.
---

March 30 2005 at 12:36:23
Name: Mike Miller
Email: michaelmmiller@hotmail.com
Location: Houston
Comments: When I worked at KVOO-TV and radio back in the 60s, I heard a story that the unique radio echo station break was first recorded using the Philtower's elevator shaft. Later it was done electronically.
Does anybody out there know if this story is true?
You can hear the electronic version here, on the KVOO-AM page.
---

March 30 2005 at 03:01:11
Name: Webmaster
Comments: Previously-unmentioned (here) Tulsa kiddie shows from the book, Hi There, Boys and Girls! America's Local Children's TV Programs:
OKC's Foreman Scotty (Steve Powell) first broke cayuses in KOTV's Circle 6 Corral. We knew he had hosted the Don Scott Show around the same time, and it may have been essentially the same show.
How about "Grandpa Zeb" (Boyce Lancaster) in 1955 on KTUL-TV's first incarnation as KTVX in Muskogee? With a corncob pipe in his teeth, he told stories and showed cartoons. Possibly Uncle Zeb took his name from this TV elder (Boyce was in his mid-twenties at the time).
Then Boyce became "Johnny Jet Pilot" (again, perhaps spawning the later Captain Ben). The book quotes Boyce as saying that the opening showed Johnny emerging from an F-80 that had just touched down at a nearby air force base (Tinker?) He headed immediately to a briefing room with air maps on the wall and talked aviation talk between cartoons and commercials.
His next character, Circus Jim, was Bozo's (Doug Montgomery's) straight man. Bozo frequently made calls on an old-style crank phone to "Fiddle-Dee-Dee 55555555-2". Jack Farrell played "Barker Bill" and Al Clauser (later "Uncle Zeke") animated puppet B.J. Bluejay.
Does anyone remember a show "Mr. Thatch and I" in 1961-2? The NAB report that year characterized it thusly: "An old-fashioned train depot, an unclaimed scarecrow, two red squirrels, a book, a film, and a kindly old stationmaster are the components of this weekly Saturday morning half-hour program." Mr. Thatch was the scarecrow, "I" was the stationmaster, Mr. Clickety-Clack, the squirrels were real.

---

March 30 2005 at 02:14:12
Name: Lee Emery (by permission from the Nathan Hale Class of 1970 Yahoo Group)
Comments: Not to brag, but I was the person responsible for producing the first Scream in the Dark in 1972, located at the Ma-Hu Mansion. I was the Administrative Director for Campus Life, and responsible for coordinating all city-wide events. In previous years I was told that Scream in the Dark was held at various houses that had been targeted for demolition by the city. Usually 2,000 to 3,000 people attended the annual event, netting about $2,000 each year for Campus Life.
When the 1972 Scream fell into my lap, I knew the perfect location: the Ma-Hu Mansion. By then the house was abandoned and in disrepair; it sat on a hill and with the moon above looked absolutely spooky; it had a long, winding, tree-lined stone driveway (great place for remote speakers and spooky stuff); it was on a major street (Memorial) with plenty of traffic for posting a large advertising sign; it sat across the street from Tulsa's largest discount store (Oertle's--long since gone) which had a huge parking lot; and it was located within a stone's throw of I-44 (convenient for the entire city). The site was just perfect.
In 1972 the house was owned by a Kansas developer who gave us permission to use it, and we enlisted the support of the Tulsa JCs, and KELi radio station. Each Campus Life High School club was designed a room and staffed each show, the JCs helped us with all of the construction (electric and carpentry), and KELI helped us sell the event on the radio. I oversaw 200+ volunteers build and run the event.
The house had about 9,000 sq. ft. of space, so we set up two routes. One the went through the basement and part of the first floor, but was less popular than the second route. The other went through the upper floors and ended on a slide through one of the second story windows that emptied the guest onto the lawn in the back yard. People stood up to an hour in line, and more than 26,000 visited us that first year. It cost us about $5,000 to build the Scream house, and we netted more than $25,000 for Campus Life.
I left Campus Life and Tulsa in 1973, so I don't know what happened to the event in later years, though I understand the mansion burned in 1977 and then it was razed.
Those were heady days!

---

March 30 2005 at 02:07:37
Name: Scott Linder
Comments: Pursuant to my note with regard to studio equipment at KVOO, I was contacted by Pat Tobin, long-time KVOO engineer who now lives here in the LA area.
Pat was there for the move from the Philtower Building to the new Broadcast Center in Brookside, and designed and installed many of the features in the "new" studios. We had a great chat, and Pat corrected/enhanced a few of my recollections:
The "Cobra" pickup arms on the turntables in Master Control were Fairchilds. The large "cobra head" feature accomodated three cartridges: microgroove plus lateral and vertical transcription, and were rotated into place via a knob on the end of the arm shell. Pat designed a custom arm-rest to replace the somewhat flimsy Fairchild version.
Also, the studio monitors in Master Control and the announce booths were NOT Altec 603's as I recalled. All were made by Bozak and were spec'ed by engineer Harry Rasmussen who later owned Sound Unlimited in Brookside.
My thanks to Pat for the corrections to my fading memories. But, hey...he was there when it happened!!

I added this info to your comments on the KVOO-AM page, Scott. Thanks.
---

March 29 2005 at 07:04:34
Name: Wilhelm Murg
Email: wilhelmurg@ yahoo dot com
Location: Listening to my way cool CD collection
Comments: Saturday's record show was fun. There was more vinyl than I anticipated, and most of it seemed to be out of order, and either dirt cheap or ungodly expensive. I ended up buying mostly from our local dealers, the legendary Chris/ Wolfman/Wizzard (CDs of such mind expanding bands as Chocolate Watchband, The Seeds and SRC,) and Blue Moon Discs ("200 Motels" on DVD). I snatched a YELLOW SUBMARINE DVD disc as soon as it was put on one dealer's table, and got some...uh..."imports" of The Beatles, The Stones, and Zappa from another. The show-stopper was the LSD Album (I think it warns against the dangers of the drug) for $150. Sorry I can't find a graphic of it.
Brian Parton at Flashbacks reminded me of the scene in the Blues Brothers where they play behind chicken wire - the bar was split with a few new people who came to hear music and the regulars seemed confused by it.

---

March 28 2005 at 12:27:23
Name: Erick
Email: ericktul@yahoo.com
Location: Tulsa
Comments: Ross Dixon, mentioned in the previous guestbook, is still around. He does weather weeknights on OETA's Oklahoma News Report with fellow KOCO alums Gerry (Harris) Bonds and Dick Pryor.
Mick Cornett, also mentioned in the previous guestbook, was an OKC city councilman for several years before becoming mayor. Sometime in the mid 90's he ditched his toupee, and went from sports to news at KOCO. He's also very smart. I wouldn't be surprised if he ran for governor in a few years.

---

March 27 2005 at 12:35:41
Name: Mike Bruchas
Comments: Hoppy Easter, ya'all!
Saw Mark Hershey's post on LD Ewy - I worked with him at KOCO in the new building. Very quiet, unflappable and competent. 5 had automated their xmitr so much - we inherited 3 engineers who worked as video shaders and feed painters on on all microwave feeds in-bound to 5. I am embarrassed to say I have forgotten all their names. There was LD, Dale - a man of puns almost as good as Gene Tincher (and whose son worked many years for Ampex) and I want to say "Ray" as the third.

---

March 26 2005 at 14:23:18
Name: Webmaster
Comments: Archived Guestbook 179, where we just heard from Harry Wilson, and saw some counterculture logos...

---
Back to Tulsa TV Memories main page