Tulsa TV Memories Guestbook 105

TTM main | What's new on TTM?




April 06 2002 at 18:36:45
Name: Mike Bruchas
Comments: Have we mentioned it before? Bob Losure is doing some infomercial now on cable channels - saw it briefly but did not know what the product is....

---

April 06 2002 at 12:22:59
Name: Webmaster
Comments: We earlier mentioned the band "Purple Overdose" (Lee's son Merritt Woodward is in it.) Their music is melodic, psychedelic pop with heavier overtones. But here, from Lee's generation, is a very different take on a heavy-metal/pop classic: check out Steve Lawrence and Eydie Gorme's fantastic version of Soundgarden's "Black Hole Sun". My brother passed this one along to me.

---

April 04 2002 at 21:08:03
Name: Leslie Swiggart
Email: undertoadphoto@aol.com
Location: Tulsa
Comments: Great site! I grew up hanging out at Channel 8 where my dad, Hurst Swiggart, worked. We were all together for Easter, and my mother mentioned that she had seen an obituary for a Homer Wayne Johnson about a month ago. She assumed that it wasn't Channel 8's Wayne because there was no mention of TV or of Tuffy. But how many Homer Waynes could there be? Anyone know if Wayne is still alive and well? I hope? Best wishes to all!

---

April 03 2002 at 18:04:08
Name: Dave Jones
Email: djones@weather.com
Location: Atlanta
Comments: I can't believe I stumbled on this gold mine of memories. I was a "Big 97 jock" in the late 60's along with Scooter B, Lee Bayley, Steve Suttle, Robert Walker and all the others. In fact, Scooter hired me as a green 18-year old starting in the overnight slot.
I went on to KRAV "the sounds of the seventies" and eventually to television at KTEW (KJRH) and KTUL.
I am now at The Weather Channel network in Atlanta as Director of Broadcast Engineering. I am glad to see Scooter B. is well and it is great to hear about all of the people I grew up with in Tulsa radio and television. Keep up the good work! I have audio and pictures from the 60's to share soon.
Welcome, Dave! We eagerly anticipate hearing more from you.
---

April 03 2002 at 17:24:50
Name: John Hillis
Location: Washingtoon
Comments: Chet Atkins is indeed departed to the Big RCA Victor thumb pickin' Studio in the Sky...
Incidentally, I picked up a Rhino compilation of Hank Thompson hits at Best Buy this weekend. From "Humpty Dumpty Heart" (predating Billy Ray Cyrus by a good half-century) to Jack Guthrie's "Oklahoma Hills." Last I heard, Hank was still with us. But I'm back east, where news travels slow.

---

April 03 2002 at 13:55:11
Name: Webmaster
Comments: Sonny Hollingshead just sent me this link to an article about a new book, Hi There, Boys and Girls: America's Local Children's TV Programs.
The author, Tim Hollis, did some of his research on TTM. It will interesting to see what he has to say about Tulsa TV. If anyone has read it yet, please let us know. You can read about it on Amazon.com by clicking on the book cover.

---

April 03 2002 at 11:20:54
Name: Mike Bruchas
Comments: We had an argument here today - I said Chet Atkins has left this planet and a friend said, nay....if you are looking for a site to verify who's still with us - try http://www.whosaliveandwhosdead.com.....Chet is truly gone but his music and talent discoveries play on.....RIP 6/30/2001.

---

April 01 2002 at 19:22:56
Name: Mitch Schauer
Location: LA LA Land
Comments: During the mid 60's, KTUL-TV sponsored a contest for viewers to submit drawings of Don Woods' Gusty. (I have no memory of what the contest was about or what the prizes were.)
Being an artistic elementary school student and a big fan of Woods' drawing ability, I submitted my drawings of Gusty doing various "weather" things.
Naturally, I was heartbroken when the winner was a little girl who had drawn and colored a Gusty in hues of a rainbow.
But, I had the last laugh of sorts when my design of Gusty holding an umbrella and extending his hand out for a drop of rain began being used by Woods on occasional forecasts! What thrills we seek when growing up in the great city of Tulsa!
Mitch

---

April 01 2002 at 17:36:57
Name: Webmaster
Comments: Here are three Tulsa TV titans: Lee Woodward, Bob Hower and Bob Mills (more about Bob Mills at the bottom of the Fantastic Theater page), photo courtesy of Lee. Don Lundy told us in Guestbook 1 that Bob Mills passed away in 1998.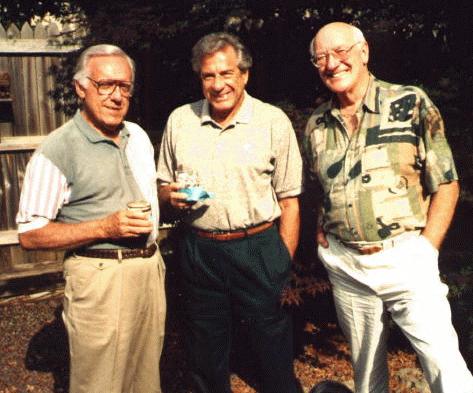 ---

April 01 2002 at 16:47:15
Name: Mike Miller
Email: typo1@erols.com
Location: Vienna, Virginia (Beltway, DC)
Comments: The Washington Post this morning reports the death of Ed Turner, a former reporter and news director at KWTV in Oklahoma City, who later helped launch CNN in Atlanta.
According to the Post, the 66-year-old Turner, a native of Bartlesville, died of liver cancer at George Washington University Hospital.
Ed left Oklahoma City television in 1966 to set up the news department of then Metromedia-owned WTTG-TV, Channel 5 in Washington. When I joined the Channel 5 news staff in '69, Ed was Vice President of News. Mike Buchanan, also from Oklahoma City, was news director at that time. Turner launched the highly successful 10 p.m. news here in D.C. and it soon became the top-rated newscast, airing an hour before the network affiliates' news shows.
Ed Turner's nickname at CNN was "No Relation." In 1984 he was named executive vice president for news gathering, a post he held for most of his CNN career.
The Post reports Turner helped the network open all its bureaus and oversaw coverage of the space shuttle Challenger's explosion, the Iran-Contra hearings, the Tiananmen Square protests and the attempted coup in Russia in 1991.
Ed was a likeable, laid-back executive. I'm sure some TTM readers will remember him.

---

April 01 2002 at 12:28:29
Name: David Bagsby
Email: david_bagsby@hotmail.com
Location: Lawrence KS- where it's 74 degrees right now
Comments: Primate Control Institute is indeed a spin on Climate Control Institute. I imagined that if the movie, "Conquest of the Planet of the Apes" had been shot in Tulsa, that would have been the name of "Ape Management".
Swooty Crawdad is a composite of Swooty (a Mazeppa neologism I learned about here at TTM) and Crawdad (which were plentiful in the ditch outside my house growing up).

---

April 01 2002 at 12:06:10
Name: Webmaster
Comments: Speaking of Bobby Goldsboro's "Honey", Mazeppa once lip-synched it on his show. The record repeatedly got stuck on the line, "...and I surprised her with a puppy...", which permanently gave the song surreal overtones in my mind.
I believe Mr. Bagsby was punning on the Climate Control Institute, where you could learn air-conditioning/heating repair. It was frequently advertised on local TV. Mitch Schauer defined the word "swooty" for us in Guestbook 27; oft used by Mazeppa, it means "funky", which means "smelly", just like the dress in Three Dog Night's version of "Try a Little Tenderness" (pre-Lewinsky).
I switched to a different Guestbook; the regular one again decided not to let the same person sign more than once. I'm hopeful that it will be corrected soon. You can always get to the correct Guestbook by clicking on a Guestbook link on the main TTM site.

---

April 01 2002 at 11:21:22
Name: Wilhelm Murg
Email: wilhelmurg@yahoo.com
Location: Hobo Jungle, Tulsa OK
Comments:

March 31 2002 at 19:08:43

The most surreal experience of the weekend (and there are a few to choose from) came Friday night when I and OUTline (www.tulsaoutline.com) publisher Andrew Hicks went to see T-Town's loudest and greatest band, the mighty Billy Joe Winghead (www.winghead.com) at Curly's. The night before, Winghead bassist Steve Jones (no relation to the Sex Pistol guitarist except in spirit) called me and mentioned that Purple Overdose would be on the bill, which I knew was young Mr. Woodward's band. I can not describe the sensation of hanging out with Lee Woodward in the Brady district as Winghead blew the roof off the place with their theremin version of "The Peter Gunn Theme" (not to mention their hardcore/thrash version of the Bobby Goldboro death classic "Honey").

My favorite moment was when Jones shook hands with Lee and said "I ought to know you." I said "Imagine him with a lion puppet on his hand." You could see the look of excitement on Jones' face as he screamed "AND THAT WAS THE HAND!" Jones also noted that Winghead is really into eating hard-boiled eggs (you don't know what a relief it was to finally see Cool Hand Luke again recently - I hadn't seen it since I was a child - now every week I'm finding a reference to it on everything from The Simpsons -"takin' it off, Boss" - to Billy Joe Winghead humor). Winghead will be one of the main bands at Mayfest 2002 if you missed them at the Curly's show.

Purple Overdose has an intense sound based in the later day style of the British Invasion (post-Sgt. Pepper) with an alternative/metal edge mixed into the paisley gum. I only got to hear a few songs (yes, Virginia, writers and publishers have meetings at midnight) but I liked what I heard and I'm looking forward to their CD.

Totally off the subject: My friend Roy Lee - who went to school with David Bagsby - and I were sitting around listening to David's Jethro Tulsa-The Magic Empire Strikes Back. We were trying to figure out all of the puns on the disc, and suddenly realized that we are the same age, from the same part of Tulsa, and from the same punk rock scene as Bagsby and WE were having trouble figuring it out. Maybe that would be a good contest - see who can get the most of Bagsby's puns (we got caught up on "Primate Control Institute" (Shadow Mountain + Monkey Island?) and "Swooty Crawdads" (no clue).

Even more off the subject: Jethro Tull (The Real Deal) is coming to Tulsa in June. I'm interviewing Ian Anderson Tuesday for OUTline. If you've ever wanted to ask the man a question, here's your chance; shoot me an email. Until Next Time - Wilhelm



Thanks for the report, Wilhelm. I would have gone, too, but had to work. Purple Overdose has three free downloadable songs in MP3 available from their website. I'm listening as I type this, and I like it very much.

I thought Winghead was the most entertaining band at Mayfest 2001. I can just imagine the pathos oozing from their version of "Honey".

Cool Hand Luke featured Lee's brother/Merritt's uncle Morgan in the role of Boss Godfrey, aka The Man With No Eyes. According to the IMDb, Paul Newman really did eat all 50 of those hard-boiled eggs.
---
Date: March 30 2002 at 21:09:44
Name: Mike Bruchas
Location: Chicago this week
Comments:

Well - we lost another TV comedy icon from TV's formative years with Milton Berle's passing this week at 93. Someone said he never met someone else's joke that he didn't like...Someone told me once that he had been at ORU one time but forgot the occasion. Anyone know more about this??? I presume too that if his show initially aired in Tulsey, it was probably on KOTV - can anyone confirm seeing this way way back when?
---
Date: March 30 2002 at 15:51:08
Name: John Young
Location: Sand Springs
Comments:

This is in response to Frank Morrow's story about the two students who didn't "get" the imagery from the radio dramas. Some people, for whatever reason, aren't able to visualize things. It's not lack of imagination so much as it's the person being too "literal minded". I am acquainted with a guy who can't get a mental picture when he is reading something. He says he "hates to read because all it is is words on a page..." It's sad when you stop to think about some folks having that problem. I love to read and I love the old radio dramas for the same reason: The mental pics I get are better than anything I could see on a screen!

---
Date: March 29 2002 at 13:12:49
Name: Lowell Burch
Location: In front of the TV waiting for the Final Four
Comments:

Jim, I was obviously wrong about how many movies you were in. Probably I saw the same movie twice. Are you sure you weren't in UHF? OK, I didn't think so.

I am enjoying the guestbook and it was good to hear from Dr. Kraus. Being a former Scot, I remember him from McLain.

Dan Call gave me tickets to the Lou Rawls concert last week. Pretty decent concert. Tight rhythm section and the Tulsa Philamonic was brilliant.

---
Date: March 29 2002 at 13:06:34
Name: Frank Morrow
Location: Austin
Comments:

When I was in graduate school at the University of Texas at Austin in the 1970s and '80s, I had a class where we compared and contrasted all the various media. I chose to make a presentation on radio drama, using excerpts of "Gunsmoke" and "Inner Sanctum" as examples.

What was curious was that, because the younger students in the class had grown up only watching TV for drama and only listening to the radio for music, some of them expressed difficulty in comprehending how radio could present drama. I explained how radio drama let you form the pictures in your mind, making the experience very vivid, because your mind produced the most ideal and perfect images. Some of them expressed doubt about this.

After we darkened the room, I played the tape. When the lights went on I noticed the wide-eyed reaction to almost all the students. They couldn't believe what they had experienced. What an impact!

And yet, there were two students who had strange looks on their faces. All they had heard were a bunch of rather unrelated, disconnected sounds. They explained that they had not been able to put all the sounds together in their mind in order to make the experience comprehensible.

And, this was incomprehensible to me.

---
Date: March 29 2002 at 11:54:40
Comments:
Lee's son, Merritt Woodward, is in a "psychedelic dream pop" band called "Purple Overdose". John Wooley interviewed Merritt for an article in the Spot section of today's Tulsa World. The band plays at Curly's@The East End (216 E. Elgin) in the renascent Brady district tonight at 9:30. This is their third appearance at Curly's; a CD on Buddah Records is due out in late April.
The article mentions that Merritt's brother, Stan Woodward, is a drummer with the Dallas Jazz Orchestra.

---
Date: March 29 2002 at 04:53:23
Name: Webmaster
Comments:

Archived Guestbook 104...

National newsman Jim Hartz visited for the first time. He started at KOTV in the early 60s on "Sun Up" and as news anchor.

New grad David Reynolds asks for advice about breaking into the radio business. Several books about radio were discussed. National talker Art Bell was mentioned. Joe Riddle at KRMG has an old-time radio show from 8:10-10:00 p.m. on Saturday nights. Legendary Johnny Martin of KRMG was remembered.

This year's Easter Pageant was cancelled, but we learned that it has not always been a staid event. Weird Al's "UHF" is coming out on DVD 6/4/2002. Upside-down yodeler and guitar player Charles Marsh was in "UHF" and a subject of conversation in this Guestbook. We heard from several new readers and many regular contributors.




---
Back to Tulsa TV Memories main page