Tulsa TV Memories GroupBlog 264

TTM main | What's new on TTM? | GB Archive




April 15 2008 at 11:19:25
Name: Gary Chew
Topic: Lesser Known Modern Harmony Groups
Comments: Adding to Woody's list. The Axidentals; The Signatures, that included an early member of the Four Freshman; The Blue Stars of Paris; The Swingle Singers; New York Voices; The Mel-Tones with Torme; Manhattan Transfer, of course; The Free Design, a one-LP-group that had two sisters and two brothers in it (all of the same family); another all male quartet inspired by Stan Kenton called (as I remember) The Modern Men, or something like that; and one more I can conjure: a fairly large SATB choir called (I think) the Russell Garcia Vocal Choir. I have that one on a Bethlehem LP titled, "Sounds in the Night." One of the stand outs on this one is "I Lead A Charmed Life."



Russ Garcia's orchestral music can be heard in the promo for the Plenty Scary Movie. It's from a track called "Nova (exploding star)" on his "Fantastica" album.
---

April 15 2008 at 10:51:05
Name: Lee Woodward
Topic: Modern Harmony
Email: CastleMoatDotCalm
Comments: The names of forgotten modern or jazz harmony groups can grow exponentially. Mention has been made of the Anita Kerr Singers and they were very fine. Another group of ladies called the "King Sisters" were also very fine. They were part of Alvino Rey's Orchestra. They had a big hit with "Temptation". I had to go dig through my 45s to make sure about that. I also found another group of women called, "The Womenfolk", They had a brief popularity, particularly with a Tom Paxton song called, "The Last Thing on My Mind". Their harmonies were not purely modern, but interesting.

If I had one of those new hi-dollar turntables that can plug into my PC and send samples along to the Webmaster, we could all share some of these rarities not found on YouTube, etc.



Those USB turntables are getting pretty cheap. When I replace my 1977 SEVCO-purchased Pioneer manual turntable, that's what I'll get.
---

April 15 2008 at 00:58:08
Name: roy lee
Topic: BBQ
Email: dutchtreatroyatgmail.com
Comments: Latimer's painted the place up really nice a couple of years ago and looked like they might open but it's never seemed that way. They have always sold sauce in the Northside grocery stores but I've never actually eaten there!
Wilson's is in full effect with their makeover and it's still just as good as before. Stutt's is also right down the street and on my list. She does great barbecue and I haven't been in awhile.
By the way, Wilson's hot is pretty damn hot and mixes well with the sweet. It's easy street if you mix it. Trust me.

---

April 14 2008 at 20:21:45
Name: Mike Bruchas
Topic: Edwin's bro
Comments: Thanx, Sherry - boy, am I embarassed re Edwin's brother. I am too danged old.

---

April 14 2008 at 17:53:27
Name: Frank Morrow
Topic: Latimer's
Email: frankmoratiodotcom
Comments: Is Latimer's BBQ still in Tulsa? Here's my favorite story about the place:

MEDIUM SAUCE

One evening my TU roomate, Dave, and I took Eddie Morris to Latimer's Bar-B-Q in the Black part of town. Latimer's had great food, but highly seasoned, as Dave and I found out the first time we went there. Latimer's barbecued bologna was particularly popular. That is what we ordered.

It is in the choice of sauce where Eddie got into trouble. Dave and I ordered mild sauce, remembering our previous experience with medium. We suggested Eddie follow our example, but he said he liked hot sauce. We were aghast. We begged him not to do it. "The medium sauce will blow the top of your head off," I warned. "For God's sake, don't try the hot sauce!" Eddie wouldn't be deterred. We pleaded with him to no avail. Finally a glance exchanged between Dave and myself indicated that we'd just sit back and enjoy the fun.

The food came. Eddie dove right in with a big bite. Immediately his face turned red. The red turned to purple, and he started sweating profusely. He also couldn't talk. We didn't know whether we should laugh or call 911. (Actually, we didn't have 911 back then.) Eddie dove for the water, and I could swear that steam came out of every visible orifice. It's no telling what emerged from the invisible ones. When asked if he was Okay, Eddie could only nod. He wasn't about to let us enjoy his defeat. He tried a few more bites, then finally capitulated. It certainly was not pleasant for him, but it gave us a good source of yarns to spin when we got back to the frat house.

---

April 14 2008 at 17:43:56
Name: Frank Morrow
Topic: Hi-Los
Email: frankmoratiodotcom
Comments: Lee,

Thanks a lot for the post-HI-Los history. Because I entered the Navy in mid-'57 and spent most of the next decade overseas, I missed out on the music you mentioned. I guess I have some buyin' to do.

---

April 14 2008 at 13:12:00
Name: Sherry Fincher Davis
Topic: Edwin Fincher
Email: sdavis@aapg.org
Comments: Greetings! In reply to Mike Bruchas, Edwin's brother, Glenn, is still alive and well and is a music minister at some church in Okmulgee (I think). He was a music teacher at Monroe Middle School until he retired a few years back. Both of Edwin's parents, Earl and Eva Jo and his brother and sister, Glenn and Janice, are still living. He and I have four children; James, Jason, Sara and Todd and he and Tami have a daughter, Candace.

---

April 13 2008 at 11:16:01
Name: Scott Linder
Topic: Singers...
Comments: John, thanks for your nod to Anita Kerr. Yes, she and her singers did countless jingles and station music packages as well as providing vocal backgrounds for hundreds of recordings in Nashville and LA. Anita has quite a nice website with lots of history, photos, etc.

AnitaKerr.com



Comments about Anita Kerr from SpaceAgePop.com/Kerr.htm:

"...one of the most talented and professionally accomplished women in the history of popular music."

"...in 1965, her quartet's album, We Dig Mancini!, beat out the Beatles' Help! for the award for 'Best Vocal Group Performance'...(the former of) which many Space Age Pop fans with plenty of listening time under their belts rate as one of their all-time favorites."

Added some Anita Kerr CDs to the Bulletin Board.
---

April 12 2008 at 23:57:50
Name: Barry Robb
Topic: J Cook - Riverbend in the 70s
Comments: This is all too scary...
Too many people remember... AAAAAAAAH!

Good to hear from you again too! Hope you're doing well.

I'll post more about what I have been doing over the years after I left Tulsa radio some other time... as if anyone is really interested. But, I am back in radio in Spokane,WA though. We live in Coeur d'Alene, ID. Google it and ya'll see why.

---

April 12 2008 at 23:18:41
Name: J Cook
Topic: B Robb
Comments: Barry, I was there at Riverbend in the 70s as well as J Henderson. Anyway, just wanting to say hi.
---

April 12 2008 at 23:02:24
Name: Gary Chew
Topic: Hertz and the Hi-Los
Comments: Hey, John: Yes, I think you're right about that. My ear's memory is saying yes to that, too; just as my eyes' memory (without fondness) remembers a former pro running back leaping hurdles to get to his Hertz rent-a-car and into the driver's seat.

Good call.

---

April 12 2008 at 20:56:24
Name: John Hillis
Topic: Anita Kerr Singers and others
Comments: I recently ponied up a few bucks for access to the radio aircheck and arcana archives at ReelRadio.com.

One of the unexpected things they have there are large collections of station jingles, including some beauties done by The Anita Kerr Singers, which were really quite masterful compositions sometimes as short as three notes ("W-L-S"), sometimes full-length songs that got released in their individual markets as 45s.

For me, the aircheck of Dewey Phillips, the DJ in Memphis who played Elvis for the first time, was worth the cost of admission (anybody sells beer by saying, "if you can't drink it, freeze it and eat it," is aces by me), but there is also a jingle for KSFO, the Gene Autry station in San Francisco featuring Mel Torme and the Johnny Mann Singers. Just a little bit of talent in that studio to sing a few call letters!

Of course, Dallas was (and I guess still is) a hotbed for jingle production--with a group of very specialized singers who were capable of making all kinds of sound for commercials and jingles, such as the epic, "KVOO, Weather Summer-ize."

Listening to those ancient air checks of the radio of my youth, I'm stunned by how much stuff is going on in a simple "20-20 News," Teletype in the background, telegraph key sounder between stories, big reverb on the "dateline" the music beds and lead ins and outs to keep the kids from moving the dial --it all showed somebody was working really hard, especially back in the day before tape cartridges, when everything was run off reel-to-reel, much less the random-access "instant replay" digital machines of today. Top 40 Newscasts were noisy and exciting back then...a good reason to put on a Hi-Los LP to calm down.

And speaking of jingles, didn't the Hi-Los do the original "Let Hertz put yooooou in the driver's seat" jingle?

---

April 12 2008 at 16:25:32
Name: Scott Linder
Topic: Vocal groups
Comments: Let's not forget about the Anita Kerr Singers in the 60s. Their "Mellow Moods of Love" and Grammy-winning "We Dig Mancini" albums on RCA were first-rate. They were arranged and conducted by Marty Paich. The group consisted of Anita Kerr, Dottie Dillard, Gil Wright and Louis Nunley. Sadly, these recordings have never been re-released on CD. Jack Campbell often played them on "Sleepwalker's Serenade".

Anita and I exchange emails from time to time. She has lived in Switzerland for a good number of years...

---

April 12 2008 at 14:53:46
Name: John Boydston
Topic: Edwin
Comments: I'm very sorry to read about Edwin's passing. I only knew him by what he wrote on these pages - and he usually made me laugh or think, sometimes both.

He seemed to have a real knack for saying only what needed to be said, and nothing more, which is a rare talent indeed.

---

April 11 2008 at 23:38:51
Name: Barry Robb
Topic: Playing my guitar...etc.
Email: cdacoffeeX@Xmsn.Xcom
Comments: After all these years, there is still somebody around who remembers the Riverbend happy hours. God, I had hoped the contrary were true...I'm just sorry you remembered the dive, much less my guitar playing in the small hours. Did you have to mention it?

I wish it were true what Jackson Browne wrote in one of his songs, "...that somehow it seems it could (should) be easier to change the past."

Sadly enough, Jeff, I still play.

Good to see your blog. Hope you're well, too.

---

April 11 2008 at 16:34:48
Name: Marc Hall
Topic: Movie promo taken as "terrorist threat" against Muskogee
Email: fox23stormchaser@yahoo.com
Comments: I wanted to pass this on, it may interest you and it may not. I just thought it was funny to see how things can get blown out of proportion .

These are the links to the Muskogee Phoenix articles related to the thought to be "terrorist threat" against Muskogee .

The BREAKING NEWS article :
http://www.muskogeephoenix.com/breakingnews/local_story_101134345.html


The actual story that ran in today's paper :
http://www.muskogeephoenix.com/local/local_story_101215454.html

---

April 11 2008 at 14:38:14
Name: Donna Jones
Topic: Autographed Postcard
Email: donna_jj@hotmail.com
Comments: Hey..My dad ask me to see if I could find any info out here about this postcard he found among his mothers things..it is exactly like the one under The Sons of the Range...Cy, Geo, Tex, Kenny and is Autographed by all four on the back...is there a place for this? Also a 5x7 postcard from KRLD CBS of someone called the Stamps quartet.

---

April 11 2008 at 13:42:27
Name: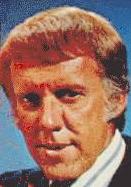 Lee Woodward
Topic: Four Freshmen
Email: BagatellNotFrom
Comments: Frank Morrow...

You touched my musical muse in bringing up "The Four Freshmen." Their kind of harmonies were not unheard of even in the mid to late forties, but they indeed, took over the shop for "Modern Harmony" in the early fifties. When I was at North Texas State, there was a men's clothing store on the square that played their records all day long. They even had a monthly "record washing" which I participated in; being the `expert' from radio.

Then came the group that blew everyone away, "The Hi-Los". Frank shouldn't have stopped with the Hi-Los though, as two of the mainstays of that group, then founded the quintessential vocal group, "The Singers Unlimited." That would be Gene Puerling and Don Shelton. They in turn, brought in the amazing Bonnie Herman and Len Dresslar.(the voice of Tony the Tiger.) They then started doing over-dubbing on up to four tracks and created heart breaking harmonies not heard before except by the rare choir that would do anything modern. Of course now, the vocal choir "Chanticleer" owns that domain.

I have five LPs of the Freshmen, seven by the "Singers Unlimited." I also have "Lambert, Hendricks, and Ross" as well as "Manhattan Transfer." However, when they sing just good straight Gene Puerling-type arrangements, the winner of them all...to me is "Take 6." They can do some amazing things with those six voices. Honorable mention to "New York Voices", "Evening in December" and many others you never hear of.

And how often do you hear any of these groups on radio?
Almost Zero! But hey! I know you love me a bunch of Jay-Z !
P.S., You can find some these groups on YouTube.


---

April 11 2008 at 12:55:46
Name:

Lee Woodward & King Lionel
Topic: Edwin Fincher
Email: CrustyDotCom
Comments: We are saddened to hear about Edwin. He was a favorite at KOTV and one of those individuals who kept the mood light in the studio; I meant "light" in both ways in which he was expert in that department.

He astonished me one day some few years ago, when I pulled into a gas station at 31st & Sheridan. I had not seen him in years, he came up and re-introduced himself,(not needed) and handed me a twenty dollar bill. I was astonished as he told me that I had loaned him that years before and he had felt badly that he had forgotten to repay me. But, that was Edwin.

He always laughed when I called him Marty Feldman when we were joking around. He was unique and I know his friends and family will miss him. Our condolences.

---

April 10 2008 at 18:44:09
Name: Sara Fincher (4/10 email)
Topic: Edwin Fincher's Memorial Service
Comments: There will be a memorial service for Edwin Fincher on Saturday, April 19th, 2008, at 2pm. It will be held at the Mark Griffith Memorial Funeral Home, Westwood Chapel, at 4424 S. 33rd W. Ave., Tulsa, Oklahoma. All are welcome.

---

April 10 2008 at 15:34:07
Name: Sara Fincher (4/9, 4/10 emails)
Topic: Edwin
Comments: Hello. I'm Sara Fincher, Edwin's daughter.

The family would like to let you know that he passed away this evening, April 9th, at 6:40 p.m. at St. John's Hospital from heart disease. Funeral arrangements are pending at Mark Griffith Memorial Funeral Home's Westwood Chapel on 33rd W. Ave.

We all agree that Dad would have wanted the folks who frequent Tulsa TV Memories to know. It was the one online community that he was glad to be a part of. Television was his life.

I'll keep you updated on the funeral service information as it becomes available. Anyone who wants to attend will be very welcome.

---

April 10 2008 at 11:17:03
Name: Jeff H
Topic: Dick Schmitz and Barry Robb
Email: A nickel short at the Sears candy counter
Comments: I just wanted to mention that there is a nice article about Dick Schmitz in the April issue of Tulsa People magazine (pg. 27).

The Barry Robb that has posted here recently has to be the same Barry Robb that lived at Riverbend apts. in the mid 70s. If so, you have to remember the Friday night "happy hours" at the clubhouse and the late night sing alongs with you and your guitar. If that's a little fuzzy you must remember the dive you invented at the pool "The Barry Robb" Great times in those days, we only left the complex on summer weekends to go buy more beer.

It was great to see you post and hope all is well...take care!

---

April 10 2008 at 09:41:38
Name: Frank Morrow
Topic: Hi-Los
Email: frankmoratiodotcom
Comments: Until the Hi-Los quietly came upon the scene, the Four Freshmen were considered the most advanced vocal quartet in the jazz world. Even after the Hi-Los demonstrated their consummate superiority, many jazz aficionados would sniff that the Freshmen were purer. What they either wouldn't admit or didn't know was that the Freshmen's favorite singing group was the Hi-Los.

In a way, the Hi-Los destroyed the medium. How could any subsequent group top them? They were as far out and perfect as you could go.

---

April 10 2008 at 01:56:27
Name: Anne Pace
Topic: Edwin Fincher
Email: a_m_pace at hotmail dot com
Comments: I had the privilege of knowing Edwin from the day he met Tami, who has been my friend for many years. I also had the honor of being at his side shortly before he passed. He was full of life to the last, and kept us laughing until the final hour. He taught me to love television, love life, and above all to love and honor family. I was glad to have him as a part of my "extended family." Thanks for everything, Edwin!

---

April 10 2008 at 00:25:04
Name: Dave Harmon
Topic: TG&Y
Comments: I drove my grandmother to the TG&Y store in Utica Square and she asked what kind of a store was 'To Go & Yo?'
She thought the periods after the letters were 'O's....HAW

Regards from Tall Chief Cove.

---

April 09 2008 at 21:16:49
Name: Mark Hershey
Topic: TG&Y
Email: mhershey@viewcast.com
Comments: Ahhh, yes...Golden T!

My father, George Hershey, worked for TG&Y's Central Sales Promotions division in OKC for many years as a graphics artist. CSP (later known as CSPi because of objections from Chicago Screen Print in...Chicago!) was TG&Y's advertising and promotion arm, much like their Central Fixtures Mfg. (store fixtures) and Central Merchandising groups.

Dad made some of the Golden T mock-ups and models used for photographing for ads. The most memorable to me was a partial car battery he carved which was later used to create a mold that was used to make dense-foam models on the battery racks in stores.

Dad created most of the TG&Y Kids window art for years...TG&Y had Back-to-School, Christmas, and other seasonal promos. I remember most his fabulous Santa Clauses, year after year. And there was the Back-to-school Homework Computer promo one year, inspired from a Boy's Life story. I used to go to work with him as a kid sometimes and pester Jim Boyd (the Friden Flexowriter billing machine operator), and various folks who ran their silk-screen printing presses. A very nice and tolerant lot; all always very kind to me.

Dad was something of a cut-up at work and wreaked havoc on ocassion with fellow employees. One of his talents was crazy voice characters, which he did occasionally on WKY.

Thanks for the Golden T mention...brought back memories from years ago.

---

April 09 2008 at 21:12:42
Name: John Hillis
Topic: Edwin, alas
Comments: One of the (many) crappy things about getting older is losing friends. Though I hadn't seen him in 30 years, I'd count Edwin as one.

I don't know if the non-TV folks realize how amazing it is for someone to spend all those years in media in one place. It speaks well of Edwin's skill and his sense of humor that he did, and was well respected.

My recollection of Edwin will always be of the long-haired kid on the headsets at KOTV with a quick remark and a passion for good lighting, and, as Mike said, living his own life.

---

April 09 2008 at 18:38:31
Name: Mike Bruchas
Topic: Edwin!
Comments: Nooooo - well he lived his own way. Any more info on his passing would be of interest.

His bro I think pre-dated him maybe 25-30 yaers ago in passing - believe that he had taught theatre tech in Tulsa schools but can't remember.

I worked with him at 8 and at 6 and with his former wife, Sherry, as a weekend fill-in at Starship 25-26 years ago at the old location.

MAINTAIN, old son, MAINTAIN....

---

April 09 2008 at 16:45:29
Name: Steve Bagsby
Topic: TG&Y
Comments: And don't forget all those "Golden T" brand products to get you through all sorts of daily woes. I remember the automotive stuff (Oil, Brake Fluid, etc). Anybody remember any other "Golden T" stuff? Radio

---

April 09 2008 at 16:15:43
Name: Derick Snow
Topic: Edwin, RIP
Email: studiosound at yahoo dot com
Comments: J. Edwin Fincher passed away today, I thought you folks at TV memories should know. Edwin was a great storyteller and I've had great fun working with him. He helped to design the set and lighting for my little show here on TPS, Quick Draw Derick and worked with me in many, many other venues through the last eight years I knew him. He was just about the most unique, "bizarre" character I ever knew. I'll miss making Edwin sounds around my work. I loved that guy!

Here's the last picture I took of Edwin: King of the world

Some of Quick Draw Derick, that Edwin helped me out on:

Quick Draw Derick Episode 2

Regards,
Derick Snow
http://www.snoweyes.com
Photojournalist
Cox Cable Channel 20
TulsaSchools.org



This is a terrible shock. Just today, I had sent Edwin an email about a newer, computer-based approach to the video realizations he had created for MAINTAIN in 1973. Thank you, Derick. Our deepest condolences to Tami and the family.

Here is a painting, done by Derick last night during Open Mic at the Gypsy Coffee House in memory of Edwin.

Derick also helped Edwin get this realisation to us for the MAINTAIN page eight months ago. It's a fitting way to remember Edwin.
---

April 09 2008 at 15:53:31
Name: Gary Chew (via email)
Topic: Gene Puerling
Comments: Gene Puerling obit @ AllAboutJazz.com

First LP I bought with the Hi-Los (Rosie Clooney, too) was at Donnelly Music Store in beautiful downtown Blackwell, OK. Too hip! I think it was 1956, or thereabouts.

Nobody even got close to Gene's ability to write parts for voices, in any 20th century genre. The Hi-Los will always be a vocal group ahead of their time. Chanticleer, out of San Francisco, is the only other vocal group, other than The Singers Unlimited, that could cut a Puerling arrangement.

Having perfect pitch was a requirement, I think. The melody was constantly being shifted from one voice to another in that ensemble and your ear never lost the sense of the melody in a Puerling chart.

Not long after I moved to Sacramento, I was listening to KJAZ-FM (when it was still on the air with good jazz) in Alameda, CA on cable FM when the afternoon man had a long live interview with Puerling. I thought I'd died and gone to heaven. I had the pleasure of interviewing Don Shelton (tenor), of the Hi-Los and The Singers Unlimited, some years back when he did a vocal ensemble workshop for students at Sacramento State. A very nice guy, who blows a fine alto saxophone as well.

(If there's anybody in Tulsa who knows how to get this info to Jack Campbell (formerly of KVOO), please send it on to him. He's a big Puerling fan, as well.)

Back in Blackwell and 1956, Mr. Donnelly didn't like the Hi-Los when I'd play a side of theirs in his store. He said none of the chords they sang resolved. And I suggested, with a slight stroke of (hopefully) humor, they also sang lots of parallel fourths and fifths which really made them 'unlistenable.'

Life Is Just A Bowl of Cherries, I've heard.

---

April 09 2008 at 01:36:51
Name: Frank Morrow
Topic: TG&Y
Email: frankmoratiodotcom
Comments: When in doubt, consult the Internet:

The company was organized by Rawdon E. Tomlinson (ca. 1883 1948) of Frederick, Enoch L. "Les" Gosselin (1901 77) of Cordell, and Raymond A. Young (1904 2002) of Kingfisher. When they met at a trade show in Oklahoma City in 1932, they individually operated variety stores throughout the state. In 1935 the three men pooled their resources and formed a firm known as Central Merchandise Corporation to build a warehouse in Oklahoma City. The storage facility allowed them to purchase bulk quantities directly from manufacturers rather than from wholesalers such as Butler Brothers. When Tomlinson, Gosselin, and Young opened their first jointly owned outlet in 1936, the company's name came from the initials of their last names, placed in order of their age, with Tomlinson being the oldest. On February 1, 1946, the business incorporated under Delaware laws as T.G.& Y. Stores Company. (http://digital.library.okstate.edu/encyclopedia/entries/T/TG001.html)

---

April 08 2008 at 19:44:06
Name: Michael D. Trout
Topic: T G & Y
Email: michaeldtrout at earthlink dot net
Comments: Another joke name I once heard was "Tulsa, Galveston, and Yokohama." Since I didn't know what it really stood for, I started repeating it.

---

April 08 2008 at 18:47:01
Name: Mike Bruchas
Topic: T G & Y
Comments: I had always been told that it was for "Toys, Games & Yarn" - never knew it stood for original owners' names!

---

April 08 2008 at 18:44:59
Name: Mike Bruchas
Topic: TG&Y
Comments: As mentioned here before from hearsay and working for a while at a DC outfit financed by Hooby Lobby - after TG&Y's collapse - Hobby Lobby was beget. Mr. Green (never sure of spelling and forgot his first name) - was an exec with TG&Y and his knowledge of manufacturing outlets//suppliers in the US, South America, and Asia - helped him create Hobby Lobby from the ashes. With a lot of hard work.

It IS or was Oklahoma's largest employer. His kids and chosen younger execs run it today. And yes, they made it a very successful Christian-work ethic run business. They also fund a great variety of Christian groups and colleges.
Kind of like the secular DonRey Media fortune is contributing to national shrines like Mount Vernon and a zillion other college campuses - including TU.

The Mardel Christian Office Supply spin-offs are the Green kids, I hear.

---

April 07 2008 at 19:18:13
Name: IludiumPhosdex
Topic: What did "TG&Y" stand for?
Email: thedailyphosdex@yahoo.com
Comments: Having noticed a few references to the TG&Y stores in this message board, I was curious to know what exactly the three letters stood for.



From Wikipedia: Tomlinson, Gosselin and Young (not "Turtles, Girdles, and Yo-Yos").

Most recent reference: the Brookside T.G.&Y. in 1954.
---

April 07 2008 at 18:58:31
Name: Michael D. Trout
Topic: My experiences with Tulsa broadcasting
Email: michaeldtrout at earthlink.net
Comments: Hello, everybody. I stumbled upon Tulsa TV Memories about a year ago while seeking information about Fantastic Theatre. I was delighted….I could never have imagined an Internet version of my childhood.

My first encounter with broadcasting was about 1960, on Big Bill & Oom-A-Gog. Among the children in the studio was my Cub Scout Pack 35. It also happened to be my birthday, so Big Bill asked me to stand and be recognized. I did so. Fortunately, my father filmed this at home by pointing his 8mm movie camera at the television screen. We have saved this little bit of history on video tape, although it's of poor quality and lasts only a few seconds. I also recall that Big Bill gave "birthday kids" a six-pack of Pepsi. To me, it seemed like a lifetime supply.

About 1967, I met Bob Brown, when my best friend Mike Deibler got a brief gig playing piano in the nightclub in the University Club Towers off Riverside. Bob played guitar, if I remember correctly, and there was a female vocalist and perhaps a bass player. Mike and I were all of 15 or 16 years old. His mom and I were allowed in to watch, and I thought getting a free soda (well, back then I called it "pop") was about the coolest thing that could happen. Mike and I had been warned that we would be receiving no booze. Bob hadn't been on camera with KOTV for very long, but I liked his work. Anyway, it was a real quiet crowd, with the group playing simple pop standards as background music. To tell the truth, it was kind of boring. During one of the breaks, Mike's mom told him that his mouth was hanging open like a fish and it looked awful the way the lighting was set up. "She's right," I told Mike, but he replied "maybe that'll be my trademark when I make it big."

Mike was an amazing guy, and I was privileged to have him as a friend. A brilliant musician with a brilliant mind, Mike was sometimes difficult to keep up with. At about age 13, Mike was a major factor behind Hamilton Junior High's success with a full-blown version of Bye Bye Birdie, which received nationwide attention. Mike also served as the accompanist for the Tulsa Boy Singers for a while. We grew apart in 1970 when he moved to Dallas and I moved to Arizona. As the years went by, knowing his talent, I started to wonder when I realized I was hearing Elton John and Billy Joel on the radio, but not Mike Deibler. I last saw him in Tulsa about 1975, and he had changed a great deal. I suspected a drug problem. I never saw or heard from him again. He killed himself in Spain about ten years later, but I never learned any details.

About 1969 or 1970 I appeared on Bob Hower's quiz show for high school kids, representing Will Rogers High. During the interview that he conducted for the contestants, I said that I was an amateur astronomer and was planning to major in astronomy (hah! How naive I was then….) In the final round the four-student teams were allowed to confer amongst themselves. The final question of the match came to me: "Who was the Polish astronomer who first claimed that the earth rotated around the sun?" Without conferring with my teammates, I shouted out "Copernicus!" We had won, and the place went nuts. Hower asked me how I knew that, and all I could think of in reply was "That's the only Polish astronomer I know of!"

After graduating from Rogers in 1970, my first broadcasting job was at KWPR-AM in Claremore in the summer of 1973. I was a disc jockey, news reporter, and commercial producer. It was a great place to work, with incessant practical jokes. When reading my first newscast the program manager set the bottom of my copy on fire. He was impressed by how I still read all the copy by remaining calm and just reading a little faster. Unfortunately, the job didn't last long—a new manager came on board and announced that the station was losing too much money, so the layoffs began. After graduating from the University of Arizona in 1974, I worked with Sonny Hollingshead at KXOJ-AM in Sapulpa for a couple of years (1975-1976). For most of that time I also worked as a backup newscaster at KMOD-FM.

I'm sure Sonny will agree that KXOJ was a real learning experience. There were a grand total of three people working there: owner/manager Mike Stephens, Sonny, and me. Mike and Sonny handled all the programming and engineering; Mike's wife put the logs together. Sonny was on the air for most of the day, researched and wrote all the news, helped me out with programming, and did a dozen other jobs that kept the place on the air. I disc-jockeyed afternoons and evenings and recorded all the public service announcements. I also handled the Sunday broadcast.

I mean I really handled it. I arrived at 6 A.M. Sunday, unlocked the building, and cued up the first of many pre-recorded religious broadcasts. KXOJ was an MOR station, but Sunday was all religious broadcasting; mostly preachers spreading the word, but also a fair amount of religious music. Actually, there was a pre-recorded OU football report stuck in there somewhere, but some might argue that's religion too. KXOJ had a well-worn but very serviceable recording studio, and sometimes a preacher would come in to do a live performance, often accompanied by live music. That could get pretty entertaining at times; I well remember the woman who came in to speak in tongues.

But most Sundays I was alone in the building and never saw another person all day, until I shut the transmitter down, locked the door, and went home at 6 P.M. Usually, at least once each Sunday there was a 30-minute gap between pre-recorded sermons which I would fill by playing religious LPs. No announcements (I never said a word all day), just music. There was an ever-growing library of religious LPs that I could choose from. I wasn't very familiar with it, so I just picked the stuff that looked good.

In those days, a fair number of LPs would arrive in the mail that I would describe as "heavy metal for Jesus." We would toss them in the library for me to look over on Sunday. I found them a little more interesting than most of the other religious records, and I would try to play a song once in a while. I had to select carefully, as our audience was thought to be primarily rural, conservative, and very traditional.

One day I found a new LP that was a "heavy metal for Jesus" version of Shakespeare's Othello. Yes, you read that right. "How bad can that be?" I thought as I cued it up, noting with pleasure the long play time. But as it went out over the air, I began to get nervous. The music was loud and not all that pleasant, and the vocalist was borderline screaming. The lyrics seemed to have little to do with Shakespeare and less to do with Jesus. I was seriously thinking about fading it out when the vocalist howled out an obscene phrase that I wouldn't say in the worst bar in Newark.

I yanked the tone arm off the record so violently it almost came off in my hand. Luckily, I had another LP cued up—fortunately something like "Favorite Hymns by Lawrence Welk"—and I had it on the air in seconds. I sat down and waited for the phone to ring off the wall, calculating how many minutes I had left in my job.

And waited. And waited. Nobody ever called. Not even Mike, which amazed me since I figured he was probably getting irate phone calls at his home. The incident was never mentioned, and I never touched another "heavy metal for Jesus" LP.

One day I noticed there was an alarm clock in the studio. Since there was also a large couch there, a one-hour tape playing, and nobody expected that day, you can guess what I was thinking. I must admit that over the years I took more than one nap.

And you can also guess what happened once. Fortunately, the silence after the tape ran out woke me up, and I ran into the control room and had another pre-cued tape on the air with minimal dead air. Again, nobody called.

Perhaps Sonny can remember the day we blew a transmitter tube. I was reading the news when there was a flash and bang, and then I wasn't on the air any more. Sonny and Mike crawled into the transmitter box and discovered four tiny grey feet; the rest of the mouse had vaporized. We had to order a new tube from Minnesota and were off the air for a day or two.

When Sonny or I went on vacation, Mike would hire another local jock to cover. I don't remember them all, but one was Stan Tacker, who seemed to be working all over the dial. I also remember Kathy Kronister (I'm probably spelling her name wrong), who I think may have been at KAKC.

With KMOD, I typically got an oh-dark-thirty emergency phone call at home, informing me that I needed to have a newscast ready to read on the air at 6 A.M. It wasn't too difficult except that my voice wasn't at its best then. One morning Stan Tacker and I arrived at KMOD simultaneously, both of us expecting to do the news. The half-asleep news director had called me, then called Stan, forgetting she had just called me. Stan said it looked like he was more awake than me, so I went back home.

There was a weekend jock at KMOD—I can't remember his name—who started his shift at 6 A.M. We worked out a pretty good on-air banter for those early mornings; if anything, he was groggier than I. He insisted on starting every shift with Harry Chapin's "WOLD." The owners, San Antonio Broadcasting, told him to mix it up. So he started alternating "WOLD" with "Take it to the Limit" by the Eagles. SAB ordered him never to play either song again, he made some on-air comments about SAB, and that was the end of him.

In late 1976 I quit both KXOJ and KMOD and went to work at WABY-AM in Albany, New York. NBC Radio was starting an experimental 24-hour news broadcast called the News and Information Service. WABY had signed on, to become Albany's first 24-hour news station. We did six minutes of state and local news on the hour and half-hour.

I handled the 6 P.M. to midnight shift at WABY alone. I enjoyed it a lot; it was a crash course in New York State politics and Albany machine corruption. No naps here. One night I was doing my shift when a horrific blizzard hit—the still-legendary 1976-77 blizzard that buried Buffalo in 12-foot drifts. The station was located in an old house and the doors were all warped. Snow started blowing under the doors and drifting into the control room. I stuffed some rags under the doors but the wind was so intense, and the snow so fine, it made little difference. Looking out the windows, it looked to me like the whole city was shutting down. I began to get a bit alarmed when I realized that the Amtrak main line right next to the building, normally very busy with rail traffic, had been silent for an hour. The station manager called to see how I was doing, and told me to tough it out until my replacement arrived at midnight. I was wiping snow off the control boards when I realized the heating system couldn't keep up and the temperature was dropping. I put on my coat and stuck it out. For an Oklahoma boy, it was a real introduction to a New York winter.

It was a lot of fun, though, with just as many practical jokes as at KWPR. Of course, working night shift I didn't get to see very many other staffers, but when I did it was quite the zoo. When I went off at midnight we switched to pre-recorded newscasts, and the fellow who took over from me just ran the boards. He previously had quite a lucrative government job, and broke into radio in order to "meet girls." Yeah, right. I must confess that I was somehow involved in the panoply of sound effects that would sometimes go on the air at around 3 A.M.

I was laid off from WABY under mysterious circumstances, then went to work for WWOM-FM in Albany. An early version of a fully-automated light-rock station, WWOM was a big letdown for me. All the music and commercials were on carts, loaded into about 20 carousel cart machines. An early computer (this was 1977) selected the songs and played them. Even the station IDs were automated. Once in a while I gave a weather alert, but mostly my job was to watch the machines go round and round and call the engineer if something went wrong. Nothing ever did.

After a short time, I quit WWOM. I eventually ended up at an electronics manufacturing firm, where I settled into technical writing as a career. Making infinitely more money than I ever made in broadcasting, I've stayed with technical writing for more than 20 years. In 1991, I returned to broadcasting part-time at WMHT-FM in Schenectady, New York. An NPR affiliate, WMHT played mostly classical music, with some public-affairs stuff. WMHT was located in a former World War II hand-grenade factory, which we shared with WMHT-TV Channel 17, a PBS affiliate. I had done a lot of volunteer work for Channel 17 over the years, so I had a lot of contacts and getting the job was easy. My job was rather mundane, just working the boards on the 10 P.M. to 6 A.M. weekend shift. Union regs prohibited me from speaking on the air. If I got too bored I could wander over to the TV control room and chat with the two guys on duty there; usually the three of us were the only ones in the building in the wee hours. But it could get challenging, juggling satellite feeds, carts, RTR, cassettes, simulcasts with TV and other NPR stations, fundraisers, and DAT on a split-second schedule—especially with weather alerts, of which there seemed to be a lot. And yes, there was some nappy time, although no comfy couch or alarm clock.

In March of 1993, the Albany area was hit by its second-worst snowstorm in history (worst was the blizzard of 1888). I had worked the Saturday morning shift at WMHT and on my drive home the snow was just starting to come down. The forecasts were ominous, describing what was coming as "a major hurricane, but with snow instead of rain." All day the snow came down so thickly it looked like a heavy fog, and by mid-afternoon there was nearly two feet on the ground. It usually took me 30 to 40 minutes to get to WMHT, but this night I decided I would give myself two hours to get there for my Sunday morning shift. I started clearing my car at 6 P.M. and had it ready to go an hour and 15 minutes later. Then I heard a news report that the Schenectady County Sheriff's Department had declared a "blizzard emergency zone" and that anyone driving anywhere in the county would be subject to arrest. The last two or three miles of my drive, as well as WMHT itself, was in Schenectady County. And the snow was still coming down as heavily as ever.

I call my boss at his home (which was in Rensselaer County). He didn't know about the emergency declaration, but I told him that I was psyched up, my car was ready, and I was willing to drive to WMHT. I figured that I'd be able to talk my way out of an arrest, being sort of connected to the media and all, but I wanted to be sure he was aware of the possibilities.

He gave me some good news. The evening board guy that I would take over from was worried about being arrested as soon as he drove away from the building. He had been talking with the TV crew and they had all agreed they should stay put. They ransacked the building and found several cans of Spam, along with a leftover sausage pizza and some ice cream in the employee refrigerator. They then called station management and volunteered to remain in the building by themselves and keep both TV and FM on the air for as long as it took. I was relieved. Looking at all the snow outside, I felt that getting arrested was the least of my worries on what would be a long, agonizing drive through a total whiteout.

The next morning the snow stopped, and my neighbor and I went outside to help each other clean the snow off our cars. Of course, first we had to find our cars. Just about four feet had fallen. We had to interrupt our shoveling to help a guy dig out his four-wheel-drive F-350 pickup, which he had driven into a six-foot drift. The good thing about the storm was that it was in March, so all the snow was melted away within a couple of days.

I worked weekends at WMHT from 1991 through 1996, even though I got a full-time job in New York State government starting in 1993 (yes, I worked seven days a week for three years). After a major promotion into the New York State Tax Department, I finally bid WMHT-FM goodbye and left broadcasting. I miss it a lot, but I don't miss the tiny paychecks. Maybe someday….



Thanks for all the great stories, Michael. I, too, remember the 6-pack of Pepsi on Big Bill as being a coveted prize. I'm trying to remember which Cub Scout Pack I was in. I'll check my old uniform tomorrow.

I believe Bob Brown was playing music with Dick Schmitz of KAKC as "The Bugs", maybe a few years before your story.

There were some good radio preacher stories in GB 26.
---

April 07 2008 at 15:32:31
Name: Mike Bruchas
Topic: That Mudd Book
Comments: It is CHEAPER here via the TTM link to Amazon than what I paid for it - with a $5 off coupon - at a Borders.

It is a great book that will make ya laugh. Buy it here! (THE PLACE TO BE)

---

April 07 2008 at 10:21:33
Name: Frank Morrow
Topic: Sportscasters
Email: frankmoratiodot com
Comments: I'm old enough to have heard the great sportscasters from the '40s to the present. It was magic to hear the voices of people like Ted Husing, Harry Wismer, Red Barber, and Bill Stern. Stern specialized in dramatic presentations, particularly for football games. One person told me that he once took a portable radio to a game that Stern was broadcasting. The man couldn't believe the liberties that Stern was taking with what was actually happening on the field. Stern also had a weekly network program in which he told stories in a very dramatic way. TV killed Stern. His dramatic style and descriptive license didn't fit in with his normal presentation.

I also remember the local men who did Tulsa sports such as Dave Manners (Oilers baseball in 1941), Jack Charvat (Tulsa Tribune and KTUL), John Henry (KVOO and TU football), and Mack Creager (KAKC and KRMG.) Charvat's efforts mainly consisted of doing the evening 10:15 sportscast. Henry did a similar program. His calling of the TU football games was terribly boring. A friend of my Dad's told me that, if he wanted to take a nap, he'd put a TU game on the radio. Creager was at KAKC and KRMG when I was there and was a fun person to work with. He was capable with any sport.

Later on in enjoyed the efforts of Tony George who did the Oilers' baseball games and TU basketball games on KOME. I still have a reel-to-reel recording of his calling of a TU-St. Louis basketball game in 1955. He was very good at providing a description of what was happening on the court.

Hal O'Halloran, like Creager did both TV and radio. I recall his play-by-play radio broadcast of an Okla. A&M basketball game against Kansas during Wilt Chamberlain's days as a Jayhawk. Kansas was practically unbeatable, but A&M won in an incredibly close and exciting game. Hal was so excited by the game that I feared for his health. I thought that a heart attack or stroke surely was to happen. He almost lost his voice numerous times.

Coming to the present, I think that TU's Bruce Howard is the best I've heard in providing descriptive clarity, insight, supporting information, and emotional excitement. It's not easy to describe what's going on in a fast-moving game, but to insert other information at the right times without losing game continuity is very difficult.

Harry Wilson and I once took a tape recorder to a high school basketball contest in the '50s to practice calling a game. Harry wasn't so bad, but I was terrible. For one thing I couldn't remember the names of the players. I quickly found out that I'd better stick with regular news and announcing.

---

April 07 2008 at 09:25:28
Name: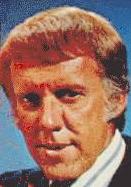 Lee Woodward
Topic: KOTV Reunion 1997...PHOTOS
Email: Braindaid.calm
Comments: If you're like me, most times you skip the WHAT'S NEW section on this site and barrel right into the BLOG.

A few months ago, I unearthed the photos taken by myself and a couple of other contributors at the 1997 KOTV Reunion held at the now closed 'Fountains" restaurant. Mike Ransom and I bantered about as how best to make them available. Turns out, that my unused FLICKR account was the perfect place and so, yesterday, I uploaded them, added names to guide you.On the WHAT'S NEW page, you'll find a link that will take you to them. (Photo/video briefcase)

Sadly, many of the people attending back then are no longer with us, but many are the names that you have seen written about on this blog. Also of course, is the fact that all have friends and relatives who might enjoy seeing these treasures.

If you know of anyone who worked for KOTV from its start-up through the 90s, let them know about it. And if you have ever wondered what some of these people you have read about here looked like? Here's your chance. I hope you enjoy them.



If you are one of those folks who go straight for the GroupBlog, here is an easy way to keep up with What's New on TTM. If you use Yahoo or Google or AOL for your email online, subscribe to TTM here:
---

April 06 2008 at 15:57:43
Name: Mike (again) Bruchas
Topic: Edwin & DXing
Comments: Hate to say it but on the East Coast - I got all sorts of AM and FM signals with my various radios. Have a Grundig Satellit (German spelling) radio that is NOT a sat receiver but is purty darned good. I think car radios of today pale to the car radios we had in the 70's for DXing. My 1969 Opel AM and add-on Standard Radio FM converter (the latter bought at Radio, Inc.) - probably were the best that I had in any car for many years.

Used to know a music teacher who drove his 1955 Olds forever because of his AM/FM sound; this was in the 1970's in Chicago area. It WAS a fantastic GM product for sound.

---

April 06 2008 at 15:17:35
Name: Mike Bruchas
Topic: Charlton Heston
Comments: Yep the ABC TV perennial The Ten Commandments, the Planet of the Apes, The Omega Man, Soylent Green and that great pic with Orson Wells, A Touch of Evil, showed the diversity of what he could do. I think his last acting gig was in that movie with Arnold Schwartzenegger and Tom Arnold - TRUE LIES.

He did Bible readings to tape that are hawked on all the religious channels. I worked at a studio maybe 20 years ago in DC that he did NRA spots at, then very sharp in anything he did.

His last few years were struggling with Alzheimer's and in court, some wacky neighbor in L.A. was suing him for imagined damages to their adjacent house (his had been there 40-45 years) "caused by his land" or something silly like water run-off. It was a gambit to fleece Heston.

Though I did not agree with a lot of his political stands - I appreciated his talent.

---

April 06 2008 at 15:10:10
Name: Mike Bruchas
Topic: Richard Widmark + Roger Mudd
Comments: Sorry to hear that actor, Richard Widmark, died at 93 last week. He briefly had an NBC NYC cop series, MADIGAN, back in the late 60's - it was re-vamped from a movie that he starred in with (then hubba hubba) Inger Stevens as his slutty wife. Think he was killed off in the movie but resurrected for TV.

Also died last week was writer/producer Abby Mann - who did a lot of movies but I think was also the creative brains behind, KOJAK.

Thru our TTM Amazon links or at your local library - get Roger Mudd's THE PLACE TO BE - Washington, CBS and the Glory Days of Television News. Mudd was at CBS from 1961 to 1980 before moving to NBC. It's a great book of anecdotes and life-long friendships. No, he and Dan Rather are no longer buds. Nor is Bob Gregory mentioned in there; it was a time of great newsroom growth under Bill Small, so I am sure Gregory had a great time there!

Roger Mudd is 80 but still can crank out great stuff. He said he left CBS in DC in 1980 but never reentered the building till 2006, when he started this tome.

---

April 06 2008 at 02:49:59
Name: Preem Palver
Topic: The Death of Charlton Heston
Comments: Charlton Heston died last night at age 83.

During most of his career, Heston, like Hepburn, never really acted, but just played himself. However, his was a bravura turn in TOUCH OF EVIL. And, as a dedicated dystopian with the greatest of fears for the future, I will forever be grateful for his work in SOYLENT GREEN.

Heston had little in the way of acting chops, but he had that titanic "Presence" the camera adores.

Godspeed, "Pilgrim."



Don't forget his bitter, existential hero in "Planet of the Apes". He acted in quite a range of productions over his lifetime (Hollywood Reporter). He took part in the 1963 civil rights march in Washington, D.C.---and also one in Oklahoma City in 1961 (just over halfway down the linked page).
---

April 05 2008 at 00:46:11
Name: Paul Royse
Topic: Old channel 8 video
Email: magnumpi29@wmconnect.com
Comments: Does anyone know how I would get a copy of a newstory done on channel 8 at Christmas 1978??? Thanks!



There are only a few snippets of film left from that period, not a systematic archive. Sad to say, it's unlikely, though not impossible that anyone has that specific video footage.
---

April 04 2008 at 10:15:39
Name: Barry Robb
Topic: Radio
Email: cdacoffee at msn dot com
Comments: I worked at afternoon drives at: KMOD, KXXO, KTOW, KGOW, KVOO and KTFX. I now live in Coeur d'Alene, ID. I'll write more later.

---

April 03 2008 at 18:58:43
Name: Frank Morrow
Topic: Radio coverage
Email: frankmorat iodot com
Comments: Edwin, several years ago I sent in a map of radio station coverages in the '50s. It has all the stations including their coverage if they have to reduce power at night. I can't find it in the archives, but I'm not too good at this computer-internet-blog stuff.

If you can't find it either, I'll re-send it when I return to Austin from Tulsa next week.



It's just below, and on the 3rd page of the TTM Flickr site, which can be found on the Photo/video page.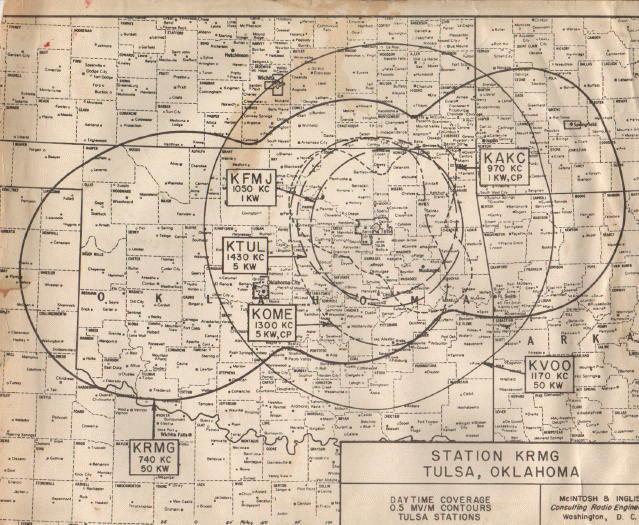 ---

April 03 2008 at 01:12:08
Name: Webmaster
Topic: Previous GroupBlog summary
Comments:

Archived GroupBlog 263.

Once again, we are switching back to a different host that seems to be responding faster than last time we tried it.
---
Back to Tulsa TV Memories main page