Tulsa TV Memories GroupBlog 310

TTM main | What's new on TTM? | GB Archive




April 28 2010 at 11:32:32
Name: Webmaster
Topic: Jeff Beck in Tulsa
Comments: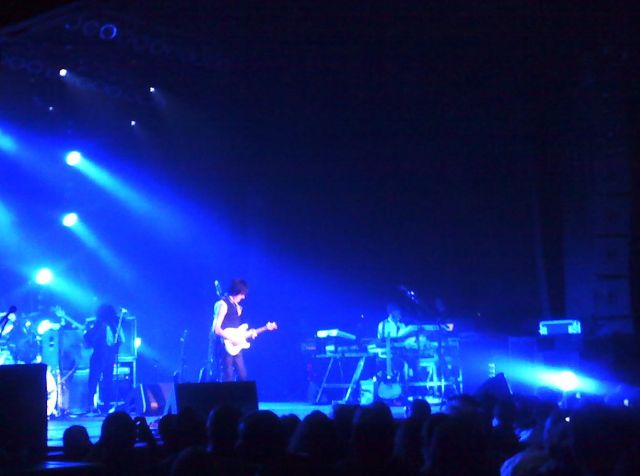 Jeff Beck at the Brady Theater, 4-27-2010, touring on his new album, Emotion & Commotion (Amazon link).





Photos by Gaye Brown.
---

April 27 2010 at 22:14:19
Name: Karen Brakefield
Topic: Admiral Twin Anniversary Party
Comments: Mike, it was so good to see you and Gaye at the party!

I was told the attendance was 1700 paid adults, and the number of paid children was unknown at that exact moment. I think it's safe to say there were an estimated 2000 people at the drive-in.

I appreciate the people of Tulsa coming out to help us all to celebrate the 60th Anniversary of the Admiral Twin! Thank you everyone!



Karen, we had a great time, and it was good to have you here in Tulsa again.
---

April 27 2010 at 17:40:38
Name: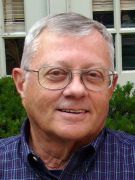 Mike Miller
Topic: Emergency weathermen/women
Comments: When I was at KOTV in the late 60s, I recall a news anchor doing the weather in an emergency situation. Gary or Lee will probably remember. If not, Mike Ransom, our beloved webmaster.

It was Bill Pitcock, or Clayton Vaughn who did it. Maybe both at different times. (Memory is the second thing to go.)

I do remember thinking I couldn't have done it and it greatly impressed me. I had enough trouble just anchoring.

---

April 26 2010 at 23:15:48
Name: Webmaster
Topic: Gailard Sartain article
Comments:
From the Tulsa World today, by Matt Gleason:

"Art of living; Gailard Sartain's painting benefits a center that saved his son"
---

April 25 2010 at 12:57:00
Name: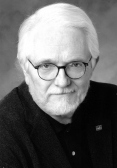 Gary Chew
Topic: Admiral Nostalgia
Email: Northeast of Eden
Comments: Too Cool: the Admiral Twin pics and think-back. The still from "The Outsiders" showing the marquee and the MG really took me back.

That existential black & white new wave French thriller, "Closed For Repairs" really rocked me. I saw it instead of the feature about bingo on the beach.

Again, too cool. Would loved to have been there.



Here is a review of the popular sequel, "Closed For The Season", often in extended showings at drive-ins 'en hiver'.
---

April 22 2010 at 11:52:40
Name: Mike (make me greener) Bruchas
Topic: Happy Earth Day
Comments: It's 40 years old today. I can remember a 70s celebration on the TU campus so long ago.

I can recall folks wanting TU to be greener, so the college planted more trees, really planned landscaping.

---

April 22 2010 at 06:31:52
Name: Webmaster
Topic: Saturday at the Twin
Comments:




Article from the Tulsa World:

"Twin Sneaks; The Admiral Twin is cheering 60 years of the drive-in movie experience"



"The Admiral Twin Drive-In will recognize 60 years of operation on April 24, with a ribbon-cutting and a special screening of 'The Outsiders,' the 1983 film directed by Francis Ford Coppola and based on Tulsan S.E. Hinton's book.

"Scenes from the film were shot at the drive-in during 1982 filming. A pre-party begins at 6 p.m. that brings together local extras and crew members from the movie and a display of memorabilia from filming. The movie follows these events."

If you go, here is TTM's 5/18/2001 Drive-in Checklist (the one in the World article is amazingly similar;)

Also, from "Get inside 'Outsiders'":



"On Sunday (4/25/2010), a filmmaker planning a documentary about the local filming of 'The Outsiders' is asking that Tulsa-area residents who took part in the filming -- any Greasers or Socs extras or crew members -- come to Circle Cinema for an interview.

"Whether to reminisce, share photographs or talk about taking part in the film's production, those participating are asked to meet with documentary director James Clarke between 2 and 5 p.m. Sunday at Circle Cinema -- which is also seen in 'The Outsiders' -- at 10 S. Lewis Ave. More details are available by calling the theater at 592-3456."


Sunday notes...

A surreal moment occurred during "The Outsiders":

There is a scene in the movie where the characters watch "Beach Blanket Bingo" on the distinctive screen of the Admiral Twin.

We were watching a movie in which the characters watch a movie on the same screen that we are watching them on.

Besides that, our family watched "Beach Blanket Bingo" at the Admiral Twin when it played there in 1965, so there was yet another level of recursion for me.




The Admiral Twin Drive-In Theatre as seen in "The Outsiders"


A quest was consummated: I finally got an Admiral Twin T-shirt. For years, we had asked about them and they were either sold out or not available. This time they were available in three styles and all sizes. Black with the old Admiral sign in yellow was perfect. I felt as Captain Ahab might've, had he succeeded in reeling in Moby Dick.

A free goodie bag with a Twin keychain and magnet was handed out at the gate. KRSC-FM's Gary Rofkahr was in front of the concession stand handing out swag, too. It so happened that we had our radio on 91.3 listening to some jazz as we entered the Twin, where we switched to 89.9 for the movie sound.

Before the show, many of the folks who had been actors, extras and crew on the movie spoke on the P.A. system set up front of the concession stand (now featuring White Castle burgers, aka 'sliders', aka 'gut bombs'). To my surprise, I was called up there myself. Tulsa TV Memories got a nice round of applause. I met a number of people who like to look at this site. Donna Leming, who owned and drove the MG seen in "The Outsiders" was there (without the MG this time).




Donna Leming in her MG in "The Outsiders"


Thanks to filmmaker James Clarke, Blake Smith of Select Cinemas, Clark Wiens and Stephanie LaFevers of the Circle Cinema and Karen Brakefield of the Outsiders Book and Movie site for making it happen.

If you missed the show last night, head over to the Circle Cinema today and meet James, Karen, actors, extras, crew and fans.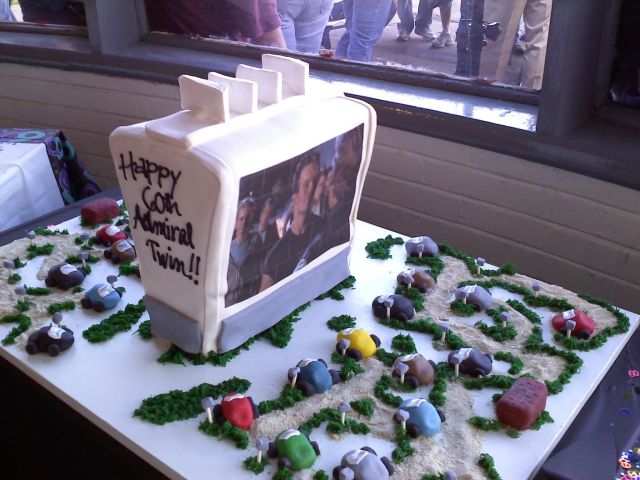 Everyone got a piece of tasty birthday cake. The drive-in was full.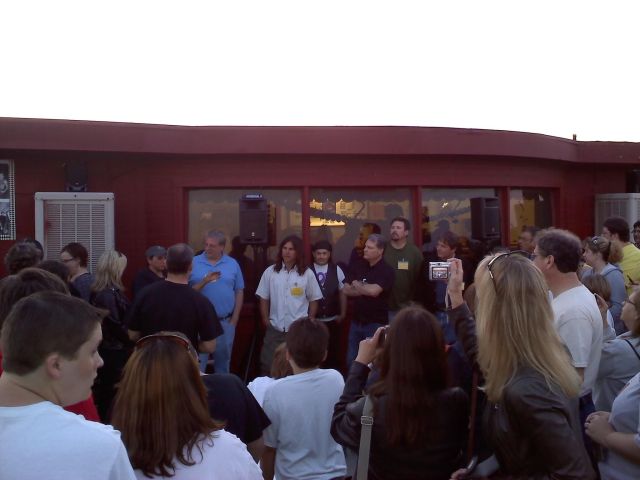 The long-haired fellow was Tom Cruise's stand-in. Check out the old water coolers. (above 2 photos by Gaye Brown)
---

April 21 2010 at 12:24:48
Name: Steve Bagsby
Topic: McElroy's
Comments: I was driving down 11th St. this morning and noticed the McElroy's tire store being torn down. The back end of the building was gone, but the big blue sign was still standing. I seem to remember them being pretty heavy advertisers when I was a kid.



I think McElroy's sponsored Jack Morris' newscasts on KTUL in the 1960s if I remember correctly. I hope someone saves the sign.
---

April 20 2010 at 21:47:37
Name: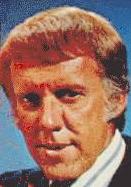 Lee Woodward
Topic: Annette Sanders
Comments: Richard,

Looking at the bio of Annette Sanders, this is surely her. I went to YouTube and oddly, there's not one thing of hers there. However, on that page, you find a bunch of stuff by her on Amazon.com (where you can hear samples of her music). They have MP3 downloads and I think three or four albums.

Too many years have passed to describe her talent but I do remember that it was a major instrument. Besides the Rubiot gigs, she also did a one woman show at Tulsa University which was unbelievable.

Glad to know she's still viable.

---

April 20 2010 at 13:14:46
Name: Richard Eby
Topic: Annette Sanders
Email: richardunderscoreebyathotmaildotcom
Comments: Mr. Woodward, is this the same Annette Sanders?

AnnetteSanders.com

---

April 20 2010 at 12:12:42
Name: Rickey Ray
Topic: KTOW AM/FM
Email: elrayrancho@gmail.com
Comments: I read with interest former KTOW "Golden Years" DJ Rob Bowe's Guest Book entry from (GB 186) on your KTOW page.

I was an avid (if not rabid) follower of these wonderful people and their mighty alternative/indie rock radio in the late '80s and early '90's. I was listener from the early AM days and after they also went FM.

I really loved the zany, individual, talented and creative personalities of the DJs with their wacky, one-off spots previously mentioned by Rob, and the TONS of GREAT MUSIC they brought in from their own personal collections. I was always enlightened by stuff that one would never hear within a 250 mile radius of Tulsa, and would often call in and rap with the gracious DJs about the music.

As Rob mentioned, KTOW was truly in the spirit of the early underground"/"free-form" radio stations of yore such as KWGS, KTBA, and early KMOD. The DJs would add their own personal touches with creative segues between songs and hilarious commentary.

What a coincidence that I had been introduced to David Bagsby around that time and was jamming and recording with him and former members of The Ducks Bob Horn and Rob Crockett. No band came out of those sessions but we had a great time.

Back in the mid-90s, good friend and local artist and graphic designer Steve Carpenter made me a series of 6 cassette tapes of KTOW broadcasts for a total of 9 hours of radio! He even made covers for them and knowing my love for KTOW, named them RicRadio! I recently came across those tapes and a buddy of mine digitized them for me, so if anyone is interested, let me know and I may be able to put them up on my server for FTP downloads.

Rickey Ray

TulsaTVMemories.com/OpenDoor.html


---

April 19 2010 at 17:16:44
Name: Scott Linder
Topic: Rubiot, etc.
Comments: Lee, you are certainly correct that Kenny Quinn was/is a fine pianist, as well as his mastery of vibes with the original Sonny Gray Quartet at the Rubiot.

I also seem to recall doing a few gigs with Annette Sanders, as well as a trumpet player named Tommy Lokey who had a very Miles style, as well as a pianist named Gayle Williamson.

Ahh... Tulsa jazz of yore that now fades ever-quickly in my memory...

---

April 19 2010 at 16:34:05
Name: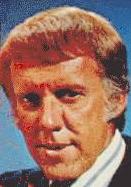 Lee Woodward
Topic: Kenny Q
Email: anondotcom
Comments: Scott,

Correct that Kenny was the MAIN vibraphonist...however, he was a pretty good pianist too. He accompanied me a few times when I was out and about. Not surprising I guess as I have known many musicians who played a handful of instruments. Some were singers.

Speaking of the Rubiot, I'll never forget Annette Sanders' great voice.

---

April 18 2010 at 15:52:08
Name: Scott Linder
Topic: Record Store Day and Kenny Quinn
Comments: Glad that you spotted Kenny Quinn at Record Store Day. I hope he is well. I might mention that Kenny was the vibist for the Sonny Gray Quartet at the Rubiot, not the pianist. The Quartet consisted of Sonny Gray on piano, Kenny Quinn on vibes, John Rigney on bass, Dave Reynolds on drums and vocalist Susan Gray who sang the best version of "Guess Who I Saw Today" that I ever heard.

I subbed for Dave Reynolds on several occasions and always enjoyed playing at The Rubiot. I clearly recall that the first tune I played with the quartet was "Witchcraft"...



Oops. I think of Kenny as a pianist, but of course, Sonny filled that role at the Rubiot.
---

April 18 2010 at 11:37:09
Name: Webmaster
Topic: Record Store Day at Starship Records
Comments:
I'm studying "cloud computing" at TCC while continuing to work my full-time computer job. That's why updates here have been more infrequent of late.

A way to earn extra credit in my current class (not that I need it) is to visit the once-a-month Tulsa Computer Show at the Ramada, north of Admiral and Garnett (one of my two early neighborhoods, the other being near the Admiral Twin).

Just before heading out the door to check it out yesterday, I noticed in the World that Tulsa-based, internationally famous Jacob Fred Jazz Odyssey was playing a free show at Starship Records at 1 pm. I altered my plans immediately.

At Starship, I bought my first brand-new vinyl record in years, JFJO's limited release for the national event they were home celebrating, Record Store Day 2010.

Spotted Kenny Quinn, TTM contributor and regular pianist vibist at the legendary Tulsa jazz club, the Rubiot. He introduced me to Walt Richmond, whom I had seen just last month playing keyboards with Eric Clapton at the BOK Arena. Walt and co-keyboardist Chris Stainton were notably great on that date. I last saw Chris with Joe Cocker in OKC on 11/14/1972!

And then there was Jacob Fred. I could not believe how good they sounded in the record store setting. A challenging and hypnotic performance. Now that's good head gift shop music! After the show, I complimented all the Freds as they signed my record.

I still had time to make it to the computer show after 2:30 pm (no admission charge then).

On my way home, I noticed that the old Village Theatre is now a Mexican bakery. I stopped in to take a look and bought "chorreadas de piloncillo" for a get-together we had planned for the evening. (The building shows no sign of having been a theatre from the inside.)

What a day in Tulsa!

Watch JFJO in action at Starship below. You can see me in the audience at the end of the video in a green 'Downbeat' sweatshirt (it was cool and drizzly outside).

More video from the event on afreistedt's Channel.


---

April 15 2010 at 11:18:18
Name: David Batterson
Topic: Radio jingles
Email: Find me on LinkedIn!
Comments: Check out jingles from KYW-AM/FM Cleveland (mid '50s). Cool!

You can listen and also download them for free:

http://www.archive.org/details/KywRadioJinglesSignOffsEtc

---

April 14 2010 at 12:46:52
Name: Si Hawk
Topic: Anita Kerr and Radio Jingles
Email: sihawk@hawkshometown.com
Comments: Scott,

The PAMS site is WONDERFUL! Thanks for the suggestion. I wish I had collected copies of all the old jingle packages we used on all of the radio and television stations over the past 40 years. It would be quite a collection.


---

April 13 2010 at 07:33:50
Name: Dave Bartlett
Topic: Scott's comment
Email: dbaameritech.netrtlett@
Comments: I would gladly give the $8500 for one of Tex's corned beef and swiss on rye with potato salad right now! Spent many an afternoon skipping TU classes (make that studying) for exactly that.

---

April 12 2010 at 16:03:20
Name: Scott Linder
Topic: Electronics/Hi Fi stores
Comments: For those of us who still think of the 70s and 80s as "recent", I would submit that the best electronics store in Tulsa was "Sound Unlimited" in Brookside. It was owned by Harry Rasmussen, and managed by Winston Cunningham... both of whom were fine audio engineers. I bought my first serious audio system there, which was a pair of Heil towers, a Crown D150 power amp, IC150 preamp and a Bang and Olufsen turntable and cartridge.

I recall that Win Cunningham and I went across the street to Tex Meyer's Deli to discuss the purchase, and I then wrote them a check after a lovely corned beef and swiss on rye, with a side of Tex's not-to-be-believed potato salad.

The lunch was wonderful, and the system served me well for three decades. I sold the system in 2003 for $8500.00... amazing.

---

April 12 2010 at 13:53:23
Name: Webmaster
Topic: SEVCO
Comments:

Blog entry from RetroThing.com about Tulsa electronics store of the 70s and 80s, SEVCO:

"There Are "Ironclad" Warranties, And Then There's..." including this video.

Commenter 'Nash Rambler': "Joe Pierre gets points for rocking the sweet hairdo, but I must subtract points for that suit."

---

April 10 2010 at 21:19:22
Name: Mike Bruchas
Topic: Tale of a Munchkin who became Little Oscar on TV
Comments: Meinhardt Raabe, who played in "The Wizard of Oz" and proclaimed in the movie as 'coroner' that the Wicked Witch of the East was "really most sincerely dead," has died. He was 94.

Raabe was one of the 124 Munchkins in the film classic and one of only nine who had speaking parts. He portrayed the diminutive Munchkin official who pronounces the witch dead after Dorothy's farmhouse lands on her.

He later toured the USA for 30 years in the Oscar Mayer Weinermobile, promoting hot dogs as "Little Oscar, the World's Smallest Chef."

---

April 09 2010 at 23:46:09
Name: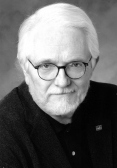 Gary Chew
Topic: Great Dissonant Harmony Singing Groups
Comments: To Si and Scott on the great radio jingles of yore.

So right you guys are about that station sound emitted by customized jingles. I always enjoyed punching them up on the air.

Some years back here in Sacramento, the university where I worked on radio stations had a student seminar for their music students in jazz vocals groups. The guy who lead the masterclass was Don Shelton, one of the Hi-Los. I think he sang the second tenor part under Clark Burroughs in that group and the second voice under Bonnie Herman in The Singers Unlimited.

I sort of approached the dude in awe as I saw him working with young singers. He also is a trumpet player, and lives in the LA area, I believe. Very nice guy with so much talent, it's intimidating for an old amateur close harmony quartet singer like me back in the late 50s when the Freshmen and the Hi-Los were doing their thing.

Anita Kerr was always a fave of mine, as well. Her group had a very distinctive dissonant harmony sound I loved. I remember going over to Jack Campbell's a few times near Brookside with he and I just sitting back and drowning ourselves in, mainly, Singers Unlimited sound.

Also, shortly after I moved to Sacramento, I listened on cable FM to KJAZ (now defunct) in Alameda, CA, across the Bay from SFO. One day, listening to the afternoon jazz jock, Gene Puerling came tripping into the studio for an interview. Gulp. Thought I'd died and gone to heaven. Puerling, who died not too long ago, lived just north of SFO in Sausalito or somewhere like that. I didn't have a recorder set up at my pad at the time, and missed taping it.

Impeccable music, arranging and marvelous singing. And difficult to cut, fur shur. Ever try to sing a Hi-Lo chart? Perfect pitch is required.

---

April 09 2010 at 16:54:13
Name: Scott Linder
Topic: Anita Kerr and Radio Jingles
Comments: Si Hawk, thanks for your nice comments with regard to Anita, and radio jingles in general. If you haven't, you might enjoy taking a look at the PAMS website. There's lots of good history, great photos and they have CDs available for those who enjoy re-living this part of radio history.

---

April 09 2010 at 12:08:15
Name: Si Hawk
Topic: Anita Kerr
Email: sihawk@hawkshometown.com
Comments: Scott,

The old KRAV featured jingles sung by the Anita Kerr Singers. I always looked forward to hearing those punctuating IDs.

That's really something that has been lost in modern radio and television (to a much lesser extent for TV). Jingles really said a lot about who a station was. Most of the stations for whom I worked had enormous collections of jingles for virtually any musical or news situation.

They were quite an art, now apparently lost.


---

April 08 2010 at 19:13:47
Name: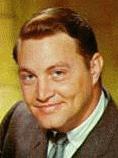 Jim Ruddle
Topic: Channel 6 and Art
Comments: Acee Blue Eagle and Woody Crumbo were important to Tulsa television in their representation of regional art and artists. However, before that, on Channel 6, was one of the totally forgotten, yet seminal figures in Tulsa arts history: Martin Wiesendanger.

Martin, and his wife, Margy (pronounced Margy, with a hard "g") were Tulsa artists and great people. He was the first curator Thomas Gilcrease hired to build the collection that became a jewel in T-town's cultural crown. He persuaded Gilcrease to purchase the magnificent Cole collection of Russells, Remingtons, Schreyvogels, and others that served as the expanded core of what later evolved into the wondrous museum that we know today.

Both Martin and Margy were artists in their own right. He was also an author and art scholar.

They built the damndest, eclectic house on the side of a hill out near Gilcrease museum where, according to Martin's view of American life, the automobile was an integral part of the scene. Therefore, they had their car on a slab in the middle of their home, surrounded by living room furniture and kitchen pots and pans.

I knew them slightly, visited their home a few times, and wished I had the opportunity to have known them better.

Martin did an arts show on Channel 6 and was wonderful character on air.

He should be remembered more often.

---

April 08 2010 at 17:54:07
Name: Mike Bruchas
Topic: Massad's
Comments: When it was adjacent to the Delman in the 70s, sometimes the scanty swim suits on headless mannikans in the window could have caused a car wreck.

Ironically, while sitting there at the stoplight, only once saw a lady walk in; a kinda biker chick. Wondered WHO and WHEN folks were shopping.

35+ years ago, I remember Leslie McDonald telling me that Massad's was the place that kids might shop (45 years ago) for fancy lace handkerchiefs for Grannie at Xmas.

---

April 08 2010 at 10:18:47
Name: David Batterson
Topic: Massad's
Comments: I remember Massad's store in downtown Sand Springs. I guess it was the same family as the Tulsa store.

---

April 07 2010 at 13:05:38
Name: Joanne Krieger
Topic: Woody Crumbo
Email: daisyfoxxx@gmail.com
Comments: Does anyone remember when Woody Crumbo and Acee Blue Eagle were on Channel 6? Either the Joe Krieger Sportsman Show or Betty Woodward?

---

April 06 2010 at 23:23:55
Name: Wesley
Topic: Anita Kerr albums
Email: whorton4 at cox Dot Com
Comments: Darn short list! What a shame too, sounds like great stuff.

---

April 05 2010 at 15:49:58
Name: Scott Linder
Topic: Dreamsville
Comments: It's nice to hear the comments with regard to Mancini's "Dreamsville". Perhaps the best recording ever made of this tune was by the Anita Kerr Singers on their 1966 album "We Dig Mancini", which won that year's Grammy for Best Vocal Performance. Jack Campbell played it and other cuts on "Sleepwalkers Serenade" for many years.

Sadly, this and the "Mellow Moods of Love" album have never been released on CD. I have chatted with Anita for many years, and we have often discussed this. Despite her efforts, RCA will not release these wonderful recordings. She sent me a CD of both from her DATs of the original masters. Sweet...

By the way, Anita is doing fine and living in Switzerland, as she has for many years.



Space Age Pop Music calls Anita Kerr "one of the most talented and professionally accomplished women in the history of popular music." What a dirty shame that RCA is bottling up this music! Anytime in the last 15 years would have been a perfect time to re-release it with the resurgence of interest in the music of that era.

Here are some of the Anita Kerr albums that ARE available:
---

April 05 2010 at 14:55:44
Name: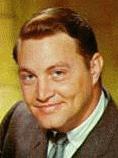 Jim Ruddle
Topic: Massad's
Comments: I went to high school with Lily Massad, daughter of the proprietors. She was a lovely girl and extremely pleasant.

Alas, I never had occasion to shop for ladies' underwear.

---

April 05 2010 at 14:27:58
Name: DolfanBob
Topic: Massad's
Email: DolfanBob@lycos.com
Comments: I hate to hear that about Massad's.

Back in the early 80s, my girlfriend was one of his traveling models around town at different bars and clubs.

I will never forget how upset he got when I pronounced his name wrong. I was making it sound all foreign like i.e. Muh-sods. He quickly corrected me saying it is Mass-ads not the other way.

I know I had to have given him the 'well, excuse me!' look.


---

April 05 2010 at 06:46:00
Name: over in ranch acres
Topic: Massad's closing
Comments:
Massad's matchbook cover
Who is this? See GB 280.

Driving down 15th Street Saturday I noticed the "Quitting business after 60 years" sign in front of Massad's.

Any stories you have to share?

-----

Webmaster: Lowell Burch had a good one in GB 78.

And so did I in GB 280, with photos.

A Beryl Ford photo of the place is in GB 277.




---

April 04 2010 at 15:05:14
Name: Tulsa Area Music Archives
Topic: Rockin' John Henry
Email: info at preservemusic dot org
Comments: A good friend of TAMA, the late Rockin' John Henry, would have been 66 today.

In honor of John's birthday and recognition of his contributions to Tulsa's music history, the TAMA Staff has put together a tribute and teaser of some of the material that we will have in the upcoming John Henry Tribute podcast.

We've included parts of a couple of recent tribute songs by Bugs Henderson and Don and Steve White, as well as approximately 43 minutes from one of John's Saturday Bandstand broadcasts on December 12, 1990, when John was hitting his stride as a rock historian and Tulsa's Oldest Teenager.

RIP Rockin' John... you'll always be remembered here at the Tulsa Area Music Archives!

PreserveMusic.org/podcasts/media/john_henry_tribute.mp3

---

April 04 2010 at 11:00:21
Name: David Batterson
Topic: Peter Gunn
Email: Just send smoke signals!
Comments: Loved that show. And the brilliant graphic and title designer Saul Bass did the Peter Gunn opening. Bass did titles and sequences for so many movies and TV shows. Remember "The Man with the Golden Arm," "Vertigo," "Psycho," "Spartacus" logos?

---

April 03 2010 at 23:35:18
Name: Webmaster
Topic: Dreamsville
Comments:

We just finished watching the first season of Blake Edwards' late 1950s series, "Peter Gunn", on streaming Netflix. (Amazingly, Blake Edwards was born in Tulsa.)





I pulled this beautiful little fragment from streaming Netflix.



Henry Mancini's crime jazz for the show is fantastic. One tune that was never heard on the show, but did appear on the soundtrack album was "Dreamsville".

The original instrumental "Dreamsville" was played behind the KTUL sign-off (YouTube) in the 1970s, and as the background for the "Nightowl Movie" in OKC in the early 70s, which I sometimes caught while at OU. TTM contributor Mike Bruchas directed inserts of the couple who owned Trust House Jewelers, sponsor of the late-night OKC show.

Here is "Gunn" co-star Lola Albright performing the title tune from her album with the Mancini orchestra. The album is a big favorite of John Wooley's.
---

April 03 2010 at 20:58:00
Name: Tulsa Area Music Archives
Topic: TAMA Easter Podcast
Email: info at preservemusic dot org
Comments: As a special treat for our friends, here's the TAMA Easter Podcast...

PreserveMusic.org/podcasts/media/easter_podcast.mp3

1. Intro - Joe Cocker & Leon Russell
2. Peter Cottontail - Gene Autry
3. Easter Parade - Judy Garland & Fred Astaire
4. God, Love, Rock & Roll - Teegarden & Van Winkle
5. The Easter Song - Larry H...osford
6. Please Carry Me Home - Jessi Colter w/ Shooter Jennings
7. No Tears In Heaven - Hee Haw Gospel Quartet
8. By The Rivers Dark - Leonard Cohen
9. Roll Away The Stone - Leon Russell
10. Picture of Jesus - Ben Harper & The Blind Boys of Alabama
11. Not Dark Yet - Bob Dylan
12. Sending Me Angels - Jerry Lynn Williams
13. When Jesus Comes - Leon Russell

Enjoy and Happy Easter from the TAMA Staff.

---

April 02 2010 at 11:27:21
Name: David Batterson
Topic: Frankie Laine
Email: dwbatterson(at)gmail(dot)com
Comments: Frankie Laine has been talked about a few times here, including Leon Russell working with the legend. Anyway, I had the pleasure of seeing Frankie (who passed in 2007) honored March 30 with the first "Little Italy Legends" plaque in San Diego (where he lived in his final years).

Frankie's former music conductor/arranger Benny Hollman had his awesome band and guest singers performing Laine's hits, including "That's My Desire," "I Believe," "Jezebel" and more in a free concert.

Today's digitally-enhanced, off-key singers would get blown off the stage if Frankie were around today. He was the real deal, one of the greatest pop singers EVER. Let's keep his memory alive! (FrankieLaine.com).

If you saw him sing in Tulsa, share your thoughts.



---

April 02 2010 at 04:33:39
Name: Webmaster
Topic: Previous GroupBlog link
Comments:
Archived GroupBlog 309.
---
Back to Tulsa TV Memories main page